Original Post Date:  Feb 12, 2010)
When I was about 12 years old, and gaining more confidence in the kitchen, my mother decided that this would be a good time for her to quit cooking.  Overnight, I became the household "dinner chef".  I enjoyed meal planning, and often accompanied my mother to the market to do the grocery shopping.
I had always been a fan of Chili Cheese fries at the mall, and even though I had never made it before, I thought maybe now was the time to try making Chili?  Somehow I convinced my mom to purchase a small plastic bottle of Gebhardt Chili powder one day at the market.  She probably only agreed to buy it because it was less than $1.00, I think.
A few nights later, I decided to attempt making chili.  We had ground beef in the freezer, onions in the pantry, and now… chili powder.  But what about the beans?  Sadly, I hadn't been successful getting my mom to agree to buy beans along with the chili powder.  What was a chili-craving 12 year old to do?  I searched high and low in the pantry… and found half a bag of dried Azuki beans (small red Japanese beans).
I'm not sure how long this bag of beans had been sitting there in the cupboard behind stacks of ramen packages and the year-old G.I. Joe cereal that my brother had never finished.  We ate Azuki beans all the time… in seki-han (a Japanese bean and sticky rice dish), as a sweetened filling in mochi, as a topping on snow cones… but these treats were bought at restaurants or Japanese markets, and were never home-made in our house.  I never saw my mother actually cook Azuki beans before…. and frankly, I don't think she knew how.
I took the Azuki beans and boiled them for several hours until they were finally soft.  (I didn't know you were supposed to soak dried beans before cooking them.)  And I made my chili.  Everyone loved it, except my little brother, who had sworn to hate everything that I cooked.  Across the dinner table, my dad said to me, "Hey, this chili is good!  But where did you get the beans?"  I happily declared, "Oh these are the Azuki beans from the cupboard!"
Have you ever seen the scene from the Exorcist, where the little girl's head spins 360 degrees, and she has a demonic look on her face?  My mom slowly turned her head toward me, and from the look on her face, I thought her head might start spinning around like that, and we might need to call for a priest.  Umm… I guess I didn't know any better, but apparently those were some really expensive Azuki beans imported from Japan.  Oops.  I thought my mom was going to kill me – and in the end, I was grounded for a week. What a price to pay for a chili craving!
However, I did learn some valuable lessons that day:
1.  Homemade chili is way better than canned, and easy to make.
2.  Maybe it's not a good idea to let your little kid watch "the Exorcist" on HBO re-runs?
3.  Definitely don't make chili with your mom's secret stash of $30 Azuki beans.**
(**Not sure if $30 was the actual price, but I'm trying to reconstruct the value of the beans from the horrified image of my mother's face that still lingers in my head to this day.)
This chili recipe is earthy and hearty.  It pairs perfectly with a nice warm slice of cornbread, on a chilly winter day.  Obviously, you don't have to use Azuki beans… any small red beans will do!  (Scroll down for my Cast Iron Skillet cornbread recipe.)
Azuki Bean Chili
1/3 c. dried Azuki beans (or small red kidney beans)
1 lb. lean ground beef
1 medium onion, chopped
3 c. peeled, diced tomato plus juices
2 c. chicken or beef broth
1 c. water
2 – 3 T. chili powder
2 tsp. cumin
2 tsp. ground sage
1 tsp. cayenne pepper
1 tsp. garlic powder (not garlic salt)
2 tsp. sea salt
2-3 T. sugar
1/2 tsp. black pepper
1/2 tsp oregano
1 tsp soy sauce
2 T. ketchup
1.  Soak the beans overnight (10-12 hours in advance) in 2 cups of cold water.  After soaking, drain, and bring to a simmer in 4 cups of fresh water, cook for approximately 1 hour or until soft, adding water if needed.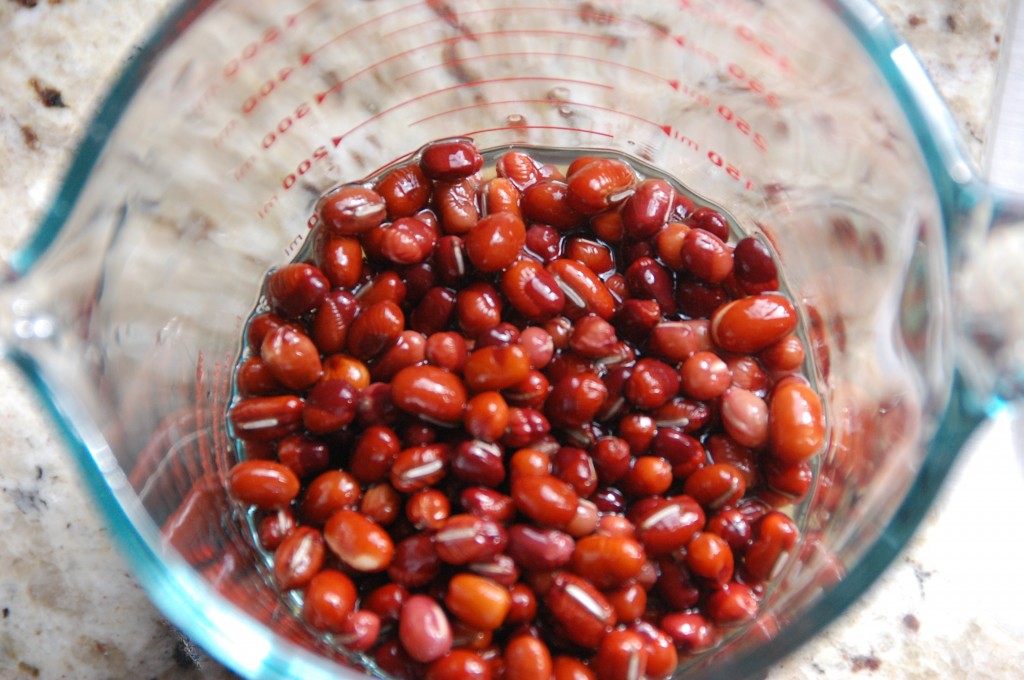 2.  Brown the ground beef in a large pot.  Drain off all grease by soaking up with several paper towels.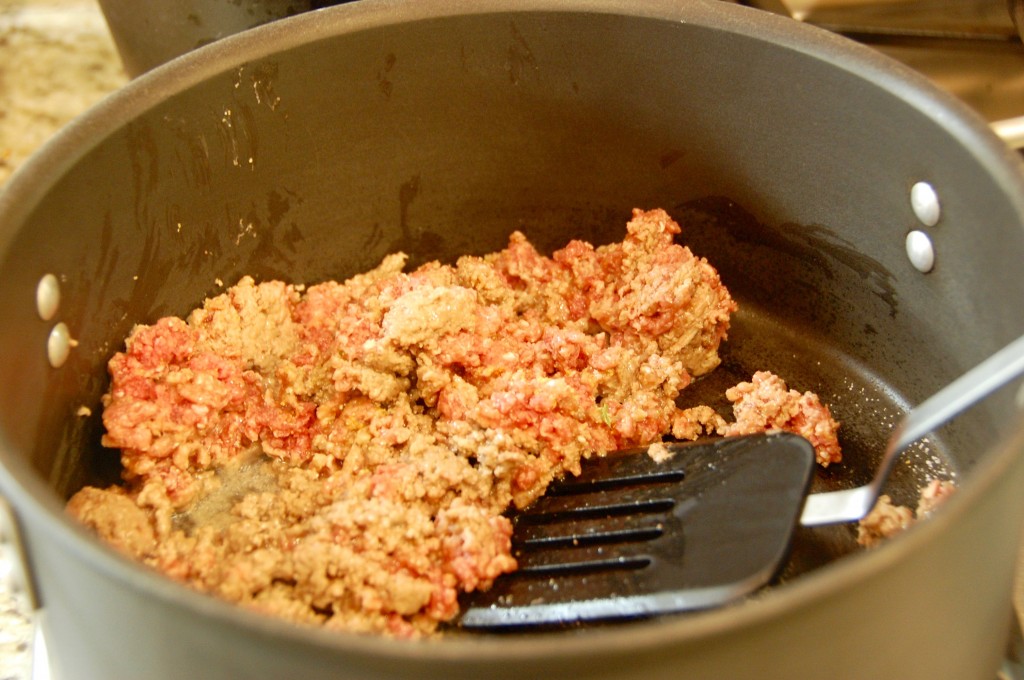 3.  Add chopped onion and saute with salt, black pepper, and garlic until soft.  Add tomatoes, cayenne, chili powder, sage, cumin, oregano, sugar, ketchup, soy sauce, and chicken broth.  Simmer for 30 minutes.  Taste for seasonings, and add more salt, sugar, or chili powder if needed.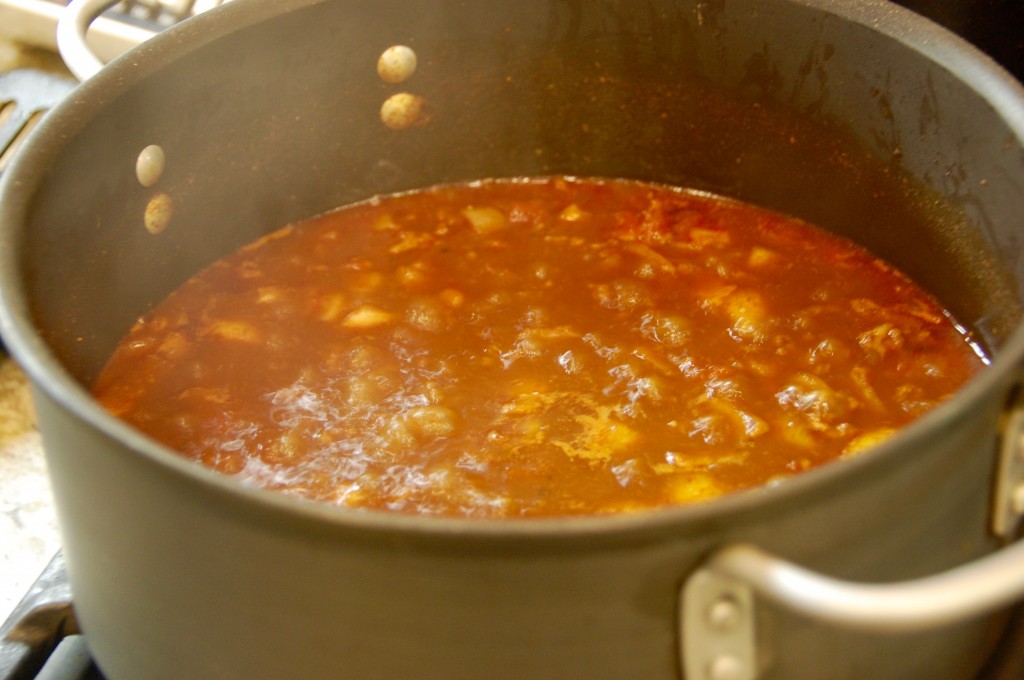 4.  Add cooked beans, and simmer, covered, 30-45 more minutes, adding extra water if needed.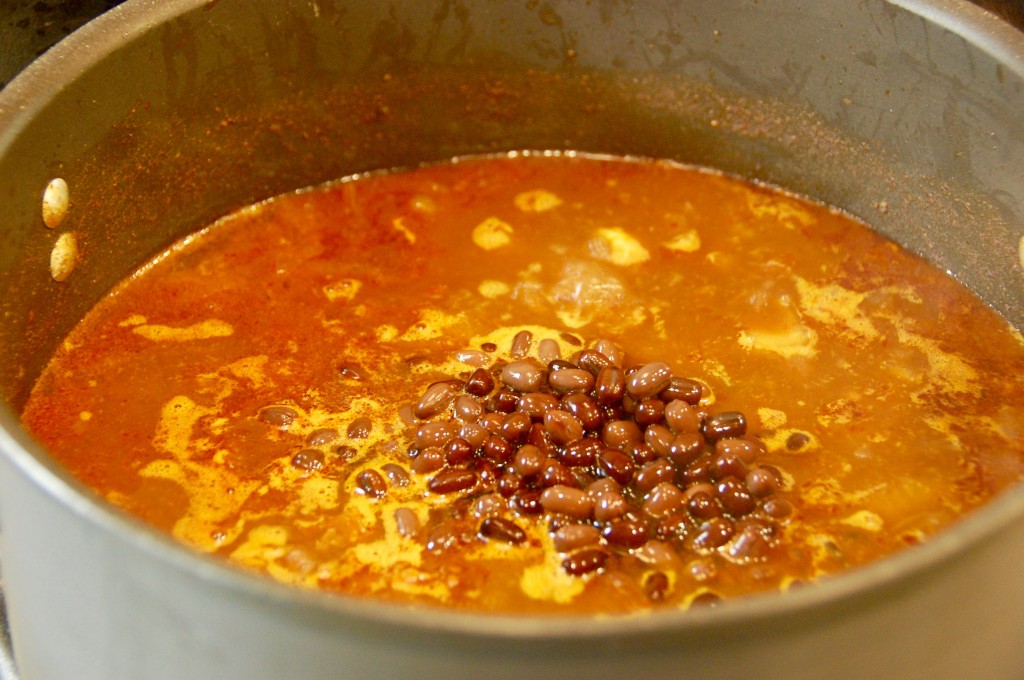 5.  The chili is done when it has a "saucy" consistency – thick, and rich and no longer watery or soupy.  If you want to eat it Asian style, serve it on top of a scoop of steamed Calrose rice.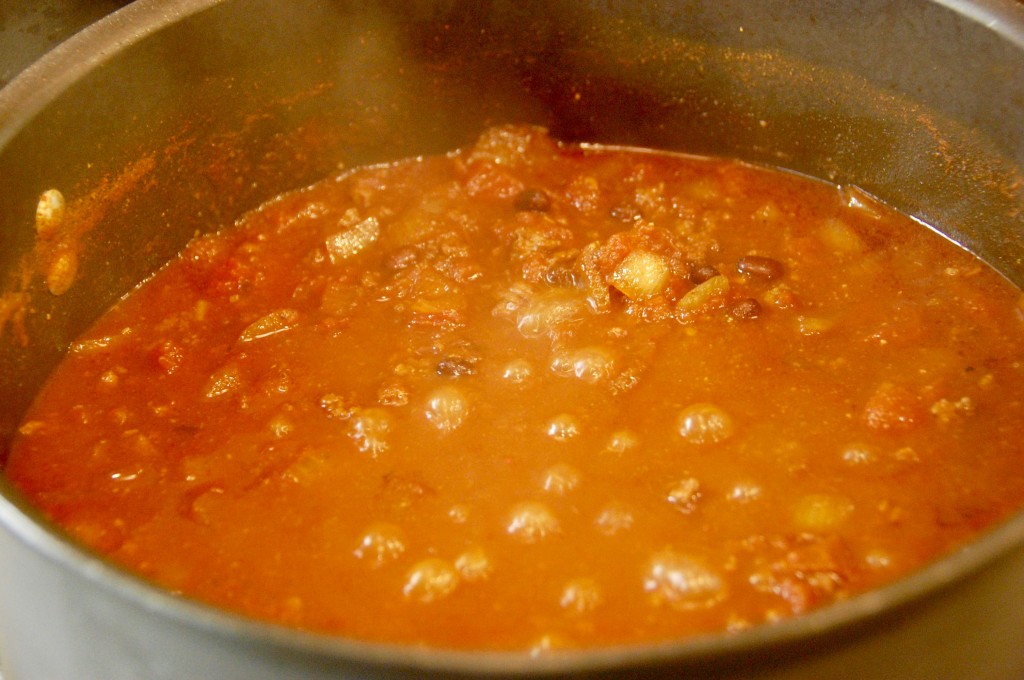 But in America, what is chili without cornbread?  Here's the recipe for cornbread that I have developed over the years.  I like my cornbread on the slightly sweet side, with just a little kick of cayenne.  You can omit the cayenne pepper if you're not a fan of spice.
Mika's Cast Iron Skillet Cornbread
1 1/2 c. yellow cornmeal
1 c. flour
1 tsp. sea salt
1 T. baking powder
1/2 c. sugar
2 eggs
1/2 c. oil
1 1/2 c. lowfat milk
1/4 – 1/2 tsp. cayenne pepper
2 T. unsalted butter
This cornbread comes out best if baked in a 10 inch cast iron skillet.  My Lodge cast iron skillet has been around for many years… and will probably still be around for many more – it's virtually indestructible.  If you don't have an iron skillet, I recommend you get one!  They are great for baking cornbread and pineapple upside-down cake, and also turn out perfectly seared stove-top steaks.  But if you don't have one, you can certainly substitute with a 9 inch round cake pan – but your cornbread will be lacking the wonderful golden brown crust that comes from the iron skillet.
1.  Preheat your oven to 400 degrees F (205 degrees C).  Place your iron skillet into the preheating oven.  Sift all dry ingredients (cornmeal, flour, baking powder, salt, and cayenne pepper) in a large bowl with a whisk.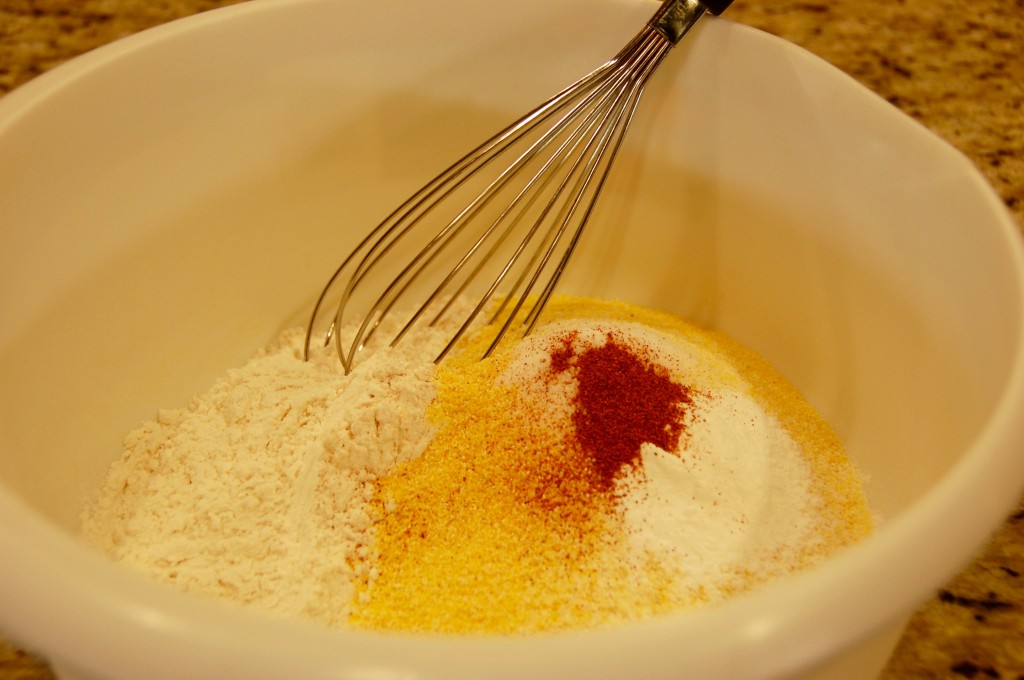 2.  Combine the sugar, eggs, oil, and milk in another bowl and whisk to combine.  At this point, put the unsalted butter into the heated iron skillet to melt.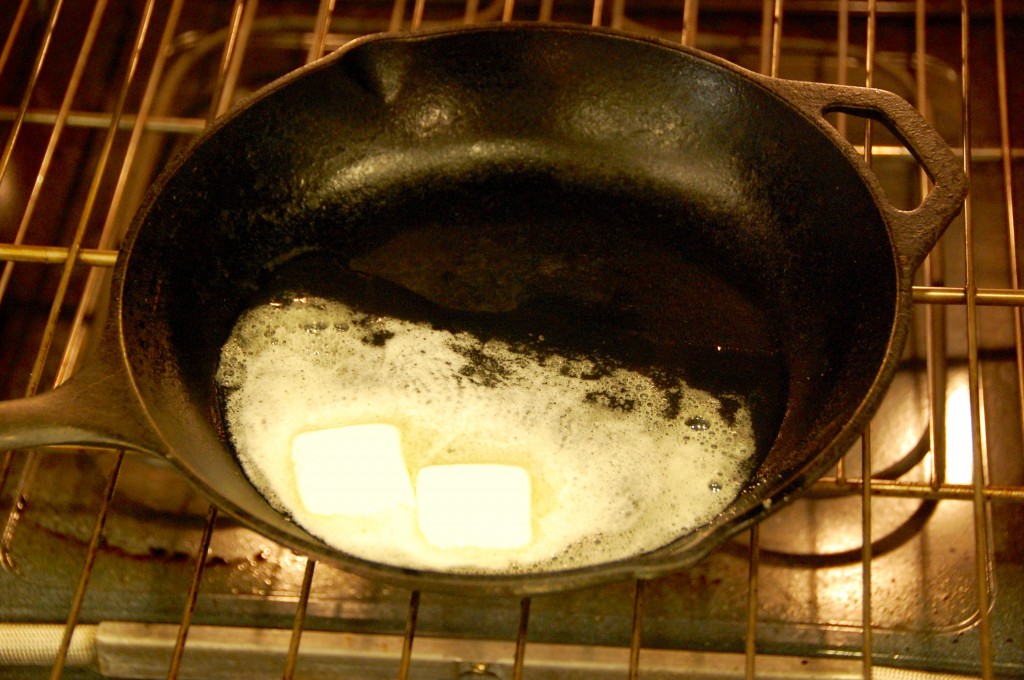 3.  Pour the wet ingredients onto the dry, and whisk to combine.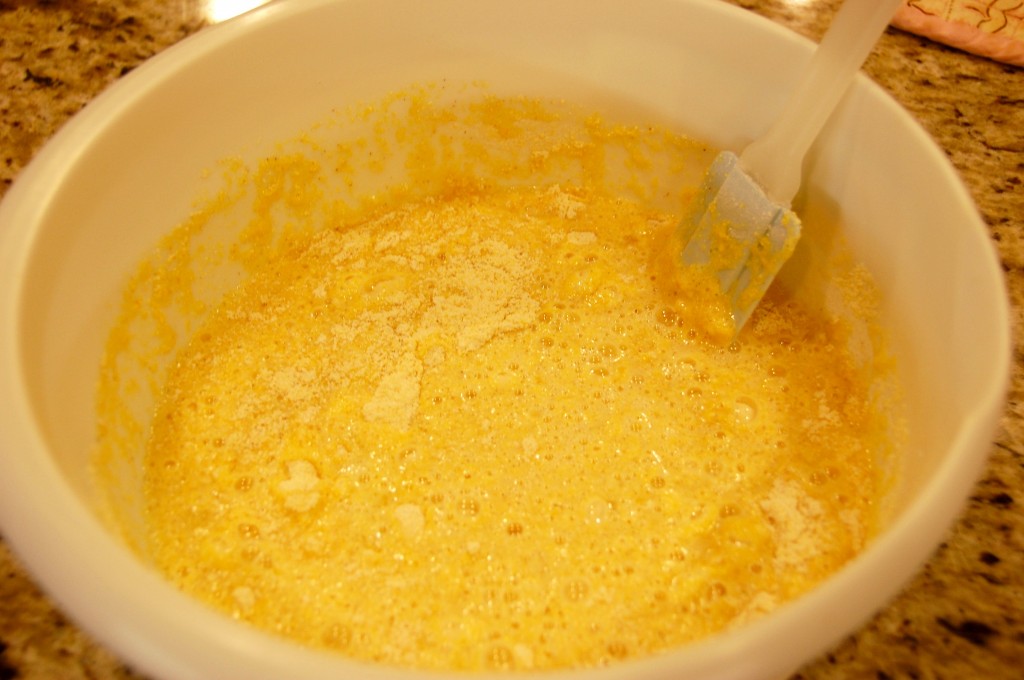 4.  Pour the prepared batter on top of the melted butter, in the preheated pan.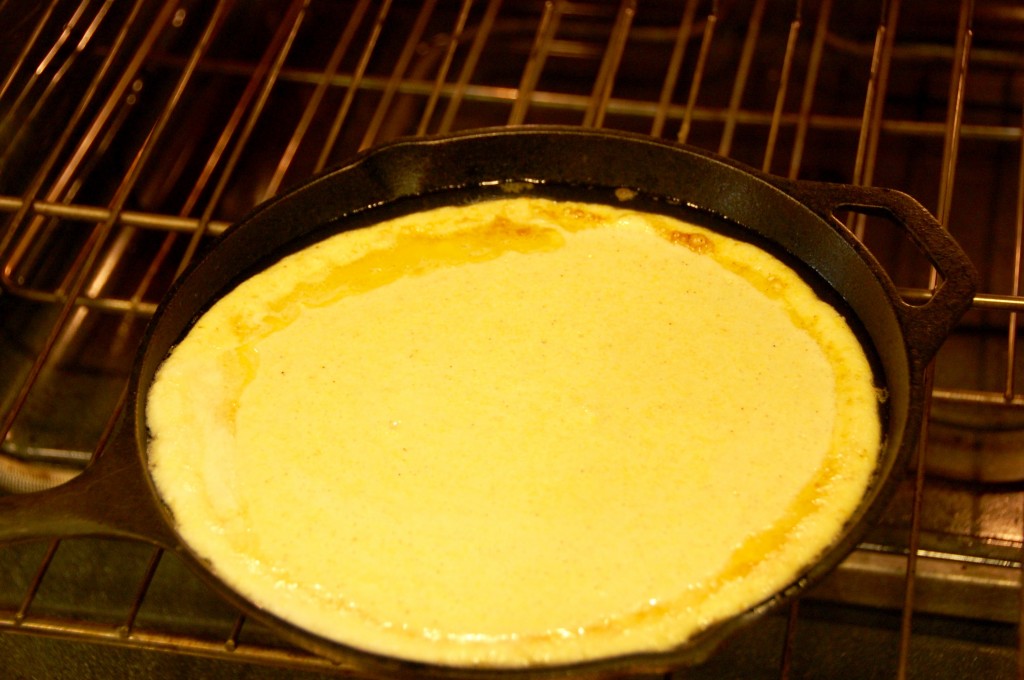 5.  Bake for 22-25 minutes, until golden brown.  Lightly touch the top with a clean finger to test for doneness.  The edges of the cornbread should have pulled away from the sides of the pan. Cool for 5 minutes, then turn out onto a cutting board.  Cut into wedges, and serve.