Sometimes I feel like eating a really rich, decadent dark chocolate cake.  Butter cream frosting simply does not satisfy when I get in that CHOCOLATE mood.  This is one of my most favorite chocolate cakes to make for those times – but consider yourself warned: it is a really rich cake – a little slice will go a long way!
The recipe below makes a 9″ two layer cake, but I've included directions at the end of this post to turn it into an 11″ X 15″ birthday sheet cake, if desired.  I made the "Thumper Cake" immediately below for my brother's 30th birthday party just a few days ago (Yes, Disney's Thumper, the rabbit from "Bambi"… and yes, my brother is 30!  What can I say, my brother is strange…)
Dark Chocolate Cake: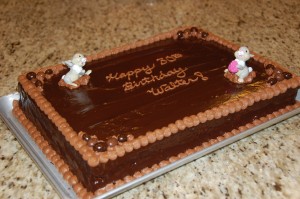 2 c. flour
1 1/2 tsp. baking soda
1 tsp. baking powder
1 tsp. salt
3/4 c. unsalted butter
2 c. sugar
3/4 c. cocoa powder (Hershey's Special Dark)
2 tsp. vanilla extract
3 eggs
1 1/4 c. water
1/4 c. milk
Chocolate Ganache Frosting:
15 oz. good quality chocolate
1 1/2 c. heavy cream
1.  First, make the frosting.  Weigh out 15 oz. of chocolate.  (I used four 3.5 oz bars of Ghirardelli Dark Chocolate for a total of 14 oz., and added about 1 oz of chocolate chips to bring the total weight up to 15 oz.)
2.  In a large 2 cup measuring cup, microwave the heavy cream for 4 minutes.  Pour the hot cream over the chocolate, and allow to sit for about 5 minutes.
3.  Whisk the chocolate and cream together to make the ganache.  It will appear grainy at first, but will smooth out after a minute or so.
4.  Cover the surface of the ganache with plastic wrap, and set aside at room temperature for a couple hours until set and firm enough to frost the cake.
5.  Preheat oven to 350 degrees.  Sift the flour, baking soda, baking powder, and salt together in a bowl.
6.  Cream the butter for several minutes until smooth, and gradually add the sugar.  Continue beating for 2-4 more minutes.
7.  Add the vanilla and cocoa powder and combine thoroughly.  (I used Hershey's Special Dark Cocoa powder to give this cake more of a dark chocolate taste.)
8.  Add the eggs, one egg at a time, making sure each egg is fully incorporated before adding the next.
9.  Combine the water and milk in a 2 c. pyrex measuring cup, and microwave for 2.5 minutes.
10.  On low speed, slowly add the flour to the butter mixture.  Then, gradually mix in the hot water/milk mixture, being careful not to splash hot batter out of the bowl.  (The batter will be somewhat watery).
11.  Divide the batter between two greased 9 inch round cake pans.
12.  Bake for 30 minutes.  Remove the pans from the oven, and allow to cool for 5 minutes before inverting on a cake rack to cool.
13.  Wait until the cake is completely cool before frosting.  Spread about 1/3 the ganache on top of the first layer.  Place the top layer over the ganache, then frost the sides and top of the cake with the remaining ganache.
To make a sheet cake: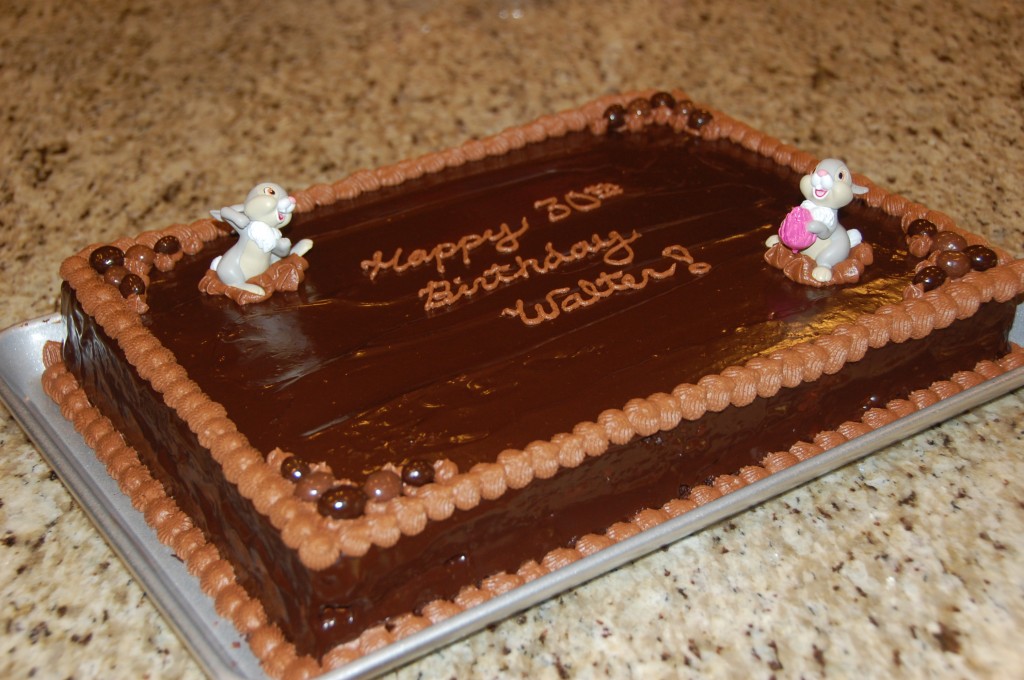 Double the recipe for the cake batter, and bake in a greased (and waxed paper lined) 11″ X 15″ sheet cake pan – you will need to bake it at 350 degrees for 35 – 40 minutes.  Allow the cake to cool for 15 minutes before removing from the pan by inverting it onto a large wire rack (or two normal sized racks, pushed together).  Cool completely.  Use a large serrated knife to slice the cake horizontally into two layers.  Slide a flat cookie sheet pan under the top layer to remove.
To frost the cake, I made two large batches of ganache – Batch #1 = 25 oz. chocolate + 2 1/2 cups heavy cream.  Batch #2 = 15 oz. chocolate + 1 1/2 c. heavy cream.  Once the ganache is set (about 2 hours), use an electric mixer to whip ganache batch #1.  You can add up to 5 T. of liqueur for flavoring, if you like (I added Kahlua).  Spread about 65-75% of the whipped ganache over the first layer, and top with the second layer of cake.  Reserve the remaining whipped ganache for decoration/piping.
Use ganache batch #2 (unwhipped) to frost the sides and top of the cake.  You can decorate the cake with the reserved whipped ganache.  I also used some chocolate covered espresso beans for garnish on the top of my birthday cake.