So apparently "cake balls" or "cake pops" are a new American dessert trend right now… everyone is making them, and some people (like Bakerella) are making some really extraordinary designs.  I decided it was time to jump on the bandwagon, and give cake balls a try.
Cake Ball truffles are sooooo good – I can't believe I waited so long to try them!  Even Mr. Picky (my dear husband) liked them… so they must be good.  This recipe is for a basic vanilla cake version, but you could mix it up with different cake flavors and frosting flavors, such as:
Lemon cake + lemon frosting + white chocolate coating
Strawberry cake + strawberry frosting + chocolate coating
Carrot cake + cream cheese frosting + white chocolate coating
Chocolate cake + nutella or PB (instead of frosting) + milk chocolate coating
Chocolate cake + chocolate frosting & kahlua + dark chocolate coating
Red velvet cake + cream cheese frosting + white chocolate coating
Yellow cake + vanilla frosting + milk chocolate coating (and sprinkles) "birthday cake"
The vanilla cake recipe below is a "reduced fat cake" recipe… I figured since the cake balls are coating with chocolate, and have tons of frosting in them, it would be better to go a little light on the cake portion.  Each cake ball (using this recipe) works out to be about 125-130 calories per piece.  (To use cake mix for a lower fat version, mix 1 box cake mix + 1 can diet soda and bake according to box directions – do not add eggs, oil, or water.)
Next time, I will probably use regular cake mix just to speed it up.  I would probably also use chocolate chips to coat the truffles, rather than candy melts or the dolci frutta that I got in the produce section of the supermarket.  Microwave chocolate chips in the microwave at 70% power for 30 second intervals, stirring in between to melt.  Add a couple of teaspoons of canola oil to thin (do not add any water or water based liquids or the chocolate will seize!).  3 regular sized (16 oz) bags of chocolate chips should be enough to coat one cake mix worth of cake ball truffles.  I did half chocolate, half white chocolate, and used contrasting (leftover) melted chocolate to decorate.
Vanilla Cake: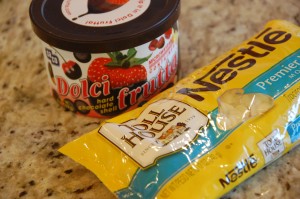 2 c. flour
1 tsp. baking soda
1 tsp. baking powder
1 c. sugar
1 can diet 7up
3 T. canola oil
1 T. vinegar
2 tsp. vanilla extract
1 tsp. almond extract
Cake Balls:
1 recipe vanilla cake (or any boxed cake mix, baked)
16 oz. can cream cheese frosting
16 oz. white chocolate chips (1 1/3 bag)
8 oz. melting/dipping chocolate (1 can)
1.  Make the cake:  Preheat oven to 350 degrees.  Sift the dry ingredients together, and mix the wet ingredients together.  Mix the wet into the dry, and immediately pour into a greased 9″ X 13″ pan and bake for 25-27 minutes.  Cool.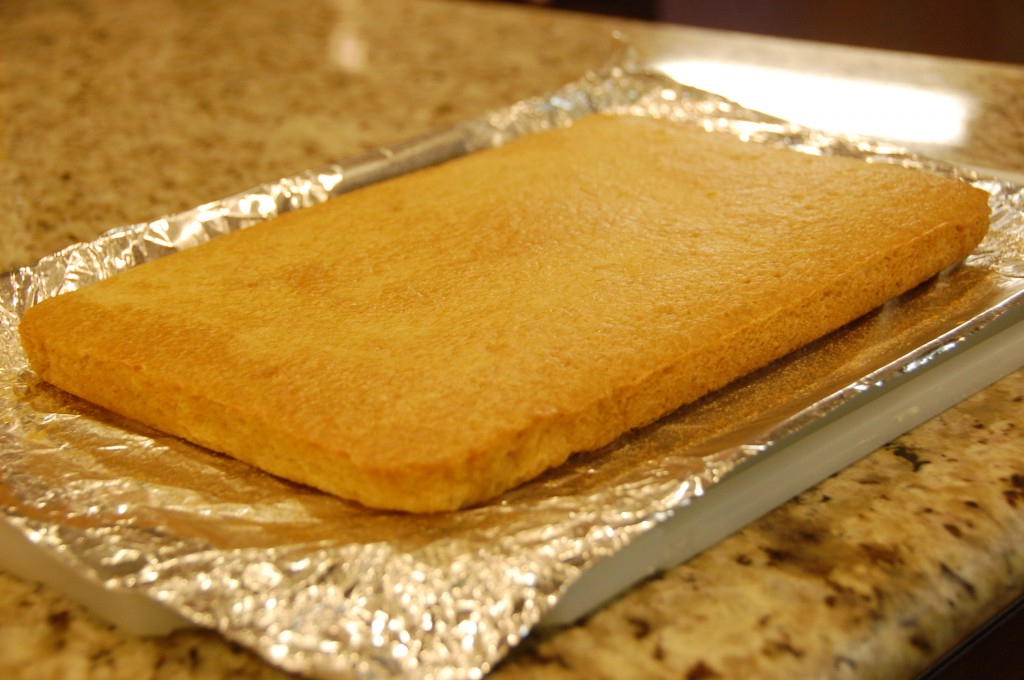 2.  Mash the cake (into crumbs) with a fork in a large bowl, mix in the frosting.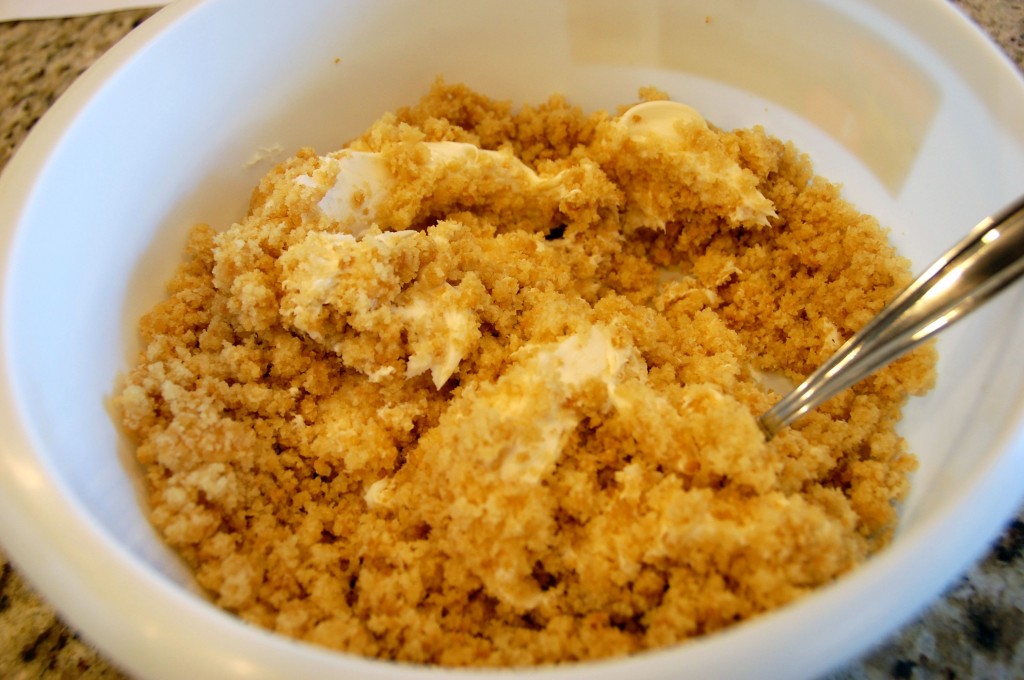 3.  Roll rounded teaspoons of the cake crumb mixture between your palms to form 1″ balls.  Set them on a waxed paper covered cookie sheet.  Put the cake balls into the freezer for 1-2 hours until fairly firm (but not frozen).  (I was able to make about 53 one inch cake balls with this recipe.)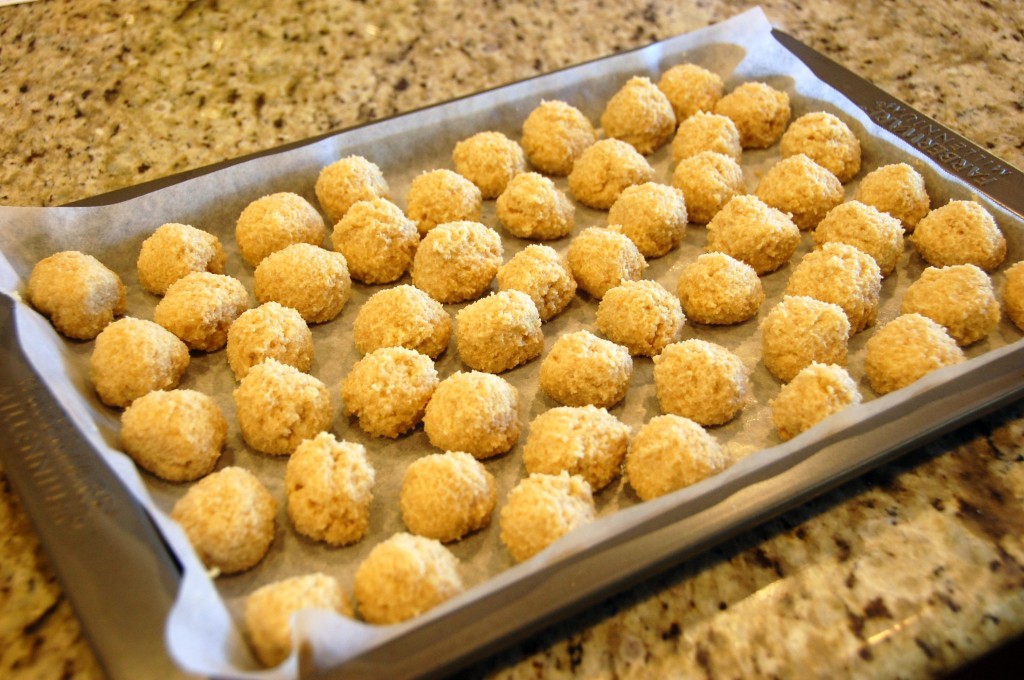 4.  Melt the chocolate according to package instructions (Basically, microwave at 70% power for 30 second intervals, stirring in between, until melted.  Thin with a teaspoon of canola oil if needed).  Using chopsticks (or toothpicks) to swirl each cake ball in the melted chocolate, remove, and set on waxed paper to cool.  It's best to do this in small batches, and remove only a few cake balls from the freezer at the time (if the cake balls warm up too much, they will fall apart while you are coating them).  Do not let any water or moisture get into the melted chocolate, or it will seize.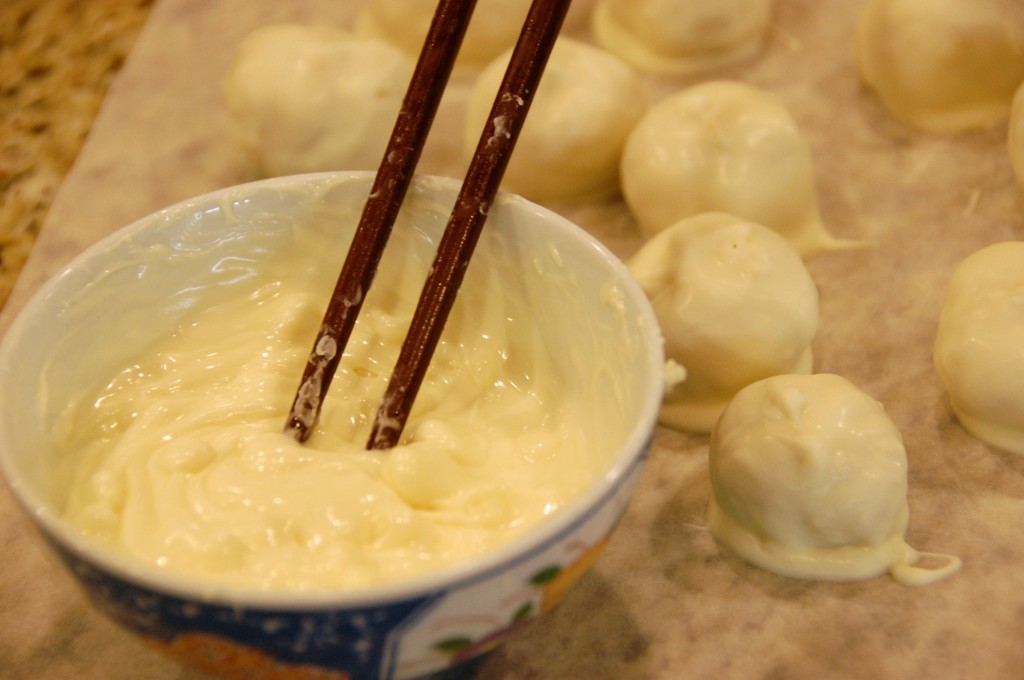 5.  Once all the balls are coated, use the remaining chocolate to decorate.  I put the chocolate into a ziplock bag and snipped off the tip, and drizzled ribbons of melted chocolate over the top of the balls.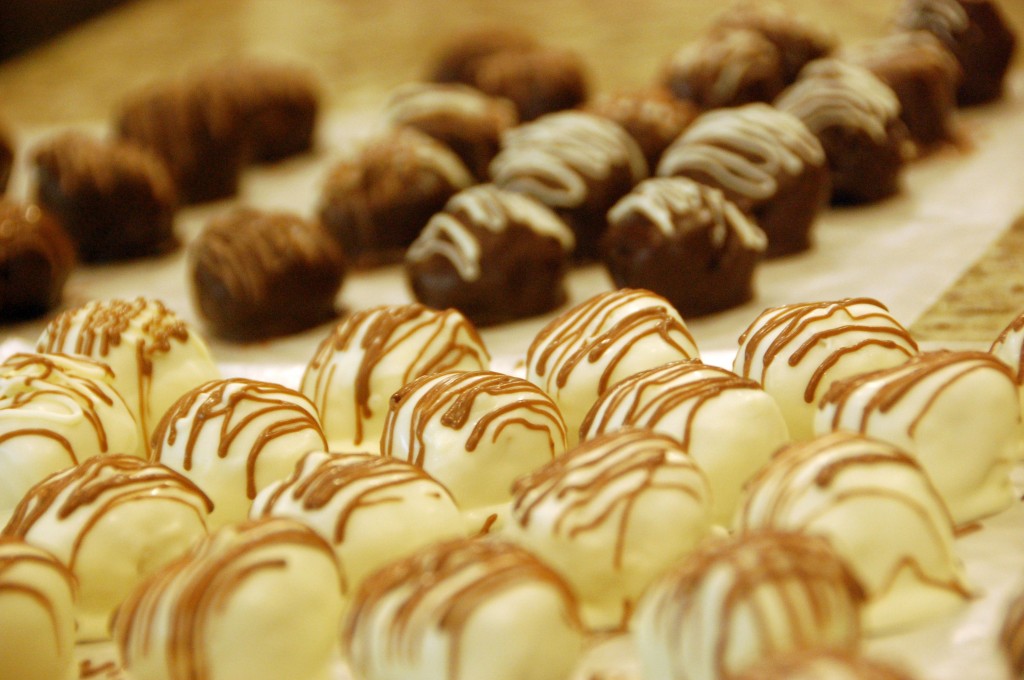 6.  Store the cake ball truffles in a plastic containers at room temperature.  It's best not to refrigerate, otherwise condensation will form on the surface of the chocolate.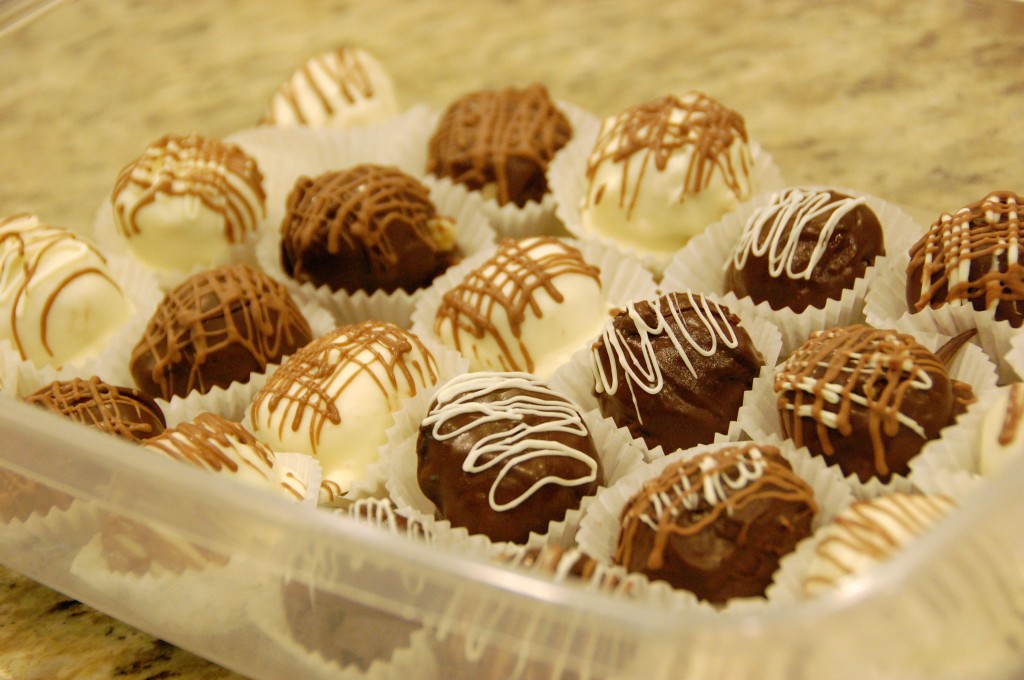 **Update 5/11/2011:  Since my blog post, I have made some more flavors:
Peanut Butter:
White cake (from a box) + 1 1/4 c. peanut butter.  Use about 2+ bags of milk chocolate chips to coat.  These are to DIE for!!!
Chocolate Hazelnut:
Devil's Food cake (from a box) + 1 jar (13 oz) Nutella.  Use a 1:3 ratio of milk chocolate chips to white chocolate chips for a nice light brown chocolate coating.