I love tamales.  I remember my first taste of a tamale was in the 5th grade, when a classmate shared her lunch with me.  Since then, I've always looked forward to eating tamales around Christmas time when all the local Mexican restaurants have them available for bulk purchase.
Frozen tamales from the supermarket just don't cut it!  And Christmas only comes once a year… so what do you do when you need a tamale fix in July?
Lucky for me, I happened to catch a re-run of a Good Eats episode where Alton Brown showed how to make tamales.  His recipe was for turkey tamales… and I am not a big fan of turkey.  Even my cats don't like turkey or turkey flavored cat food.  Turkey = yuck.  Blech.  So turkey was out… and I ended up using my second favorite meat of all time… pork.
I found Masa Harina (a special corn flour which has gone through the process of nixtamalization) next to the flour in the baking aisle, and the corn husks in the "international foods" section of the market with all the Mexican spices.   To be truly authentic, you can use lard… but I didn't want to have any leftover lard, so I went with vegetable shortening (Crisco).
Pork Tamales
1/2 package of corn husks
Filling:
2 lb. pork shoulder (pork "butt")
2 tsp. chili powder
1 1/2 tsp. cumin
1 tsp. cayenne pepper
1 tsp. oregano
1 tsp. salt
1 tsp. pepper
2.5 qt. water (about 10 c.)
2 T. oil
1 onion, chopped
3 cloves garlic, minced
1 jalapeno pepper, minced
Dough:
3 1/2 c. masa harina
1 tsp. salt
2 1/4 tsp. baking powder
1/2 c. shortening (or lard)
4 c. reserved cooking broth
1.  Make the filling:  In a crockpot, add the pork, chili powder, cumin, cayenne, oregano, salt, pepper, and water.  Cook on high for 6-8 hours.  (You can also cook on low in a stock pot for several hours.)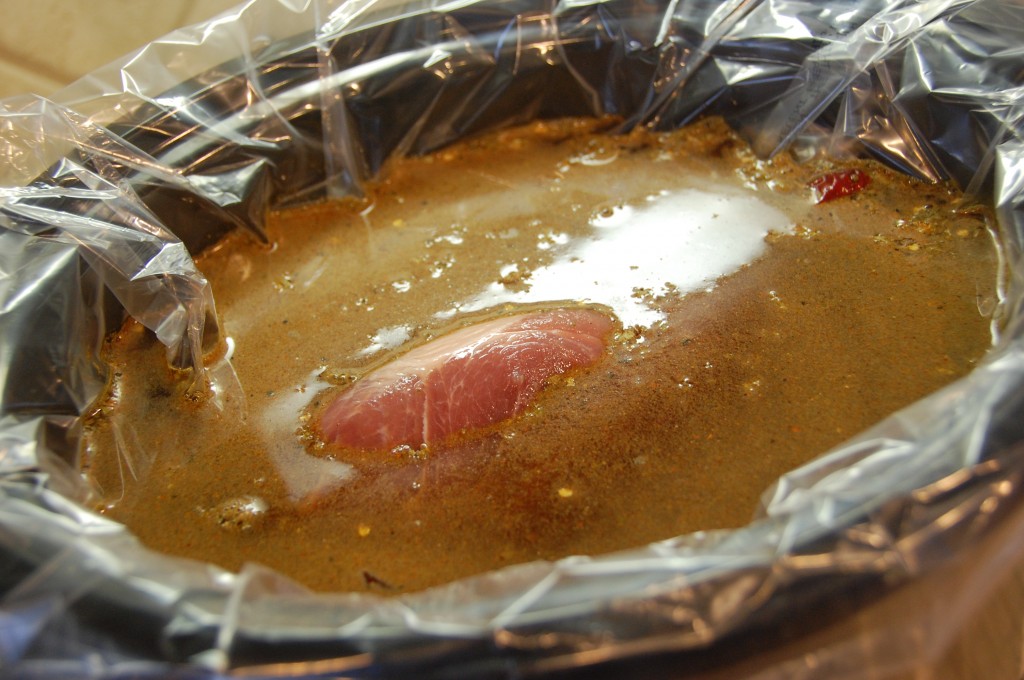 2.  Remove the meat, and cool.  Reserve the cooking broth and strain.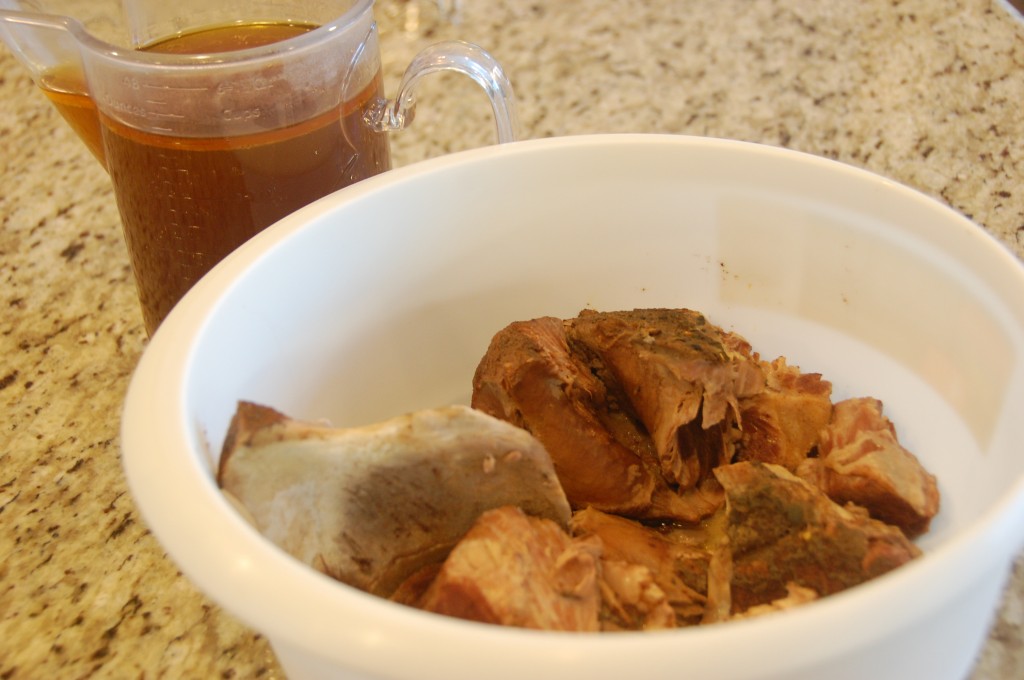 3.  Shred the pork when cool.  Saute the onion, garlic, and jalapeno in the oil for several minutes until translucent.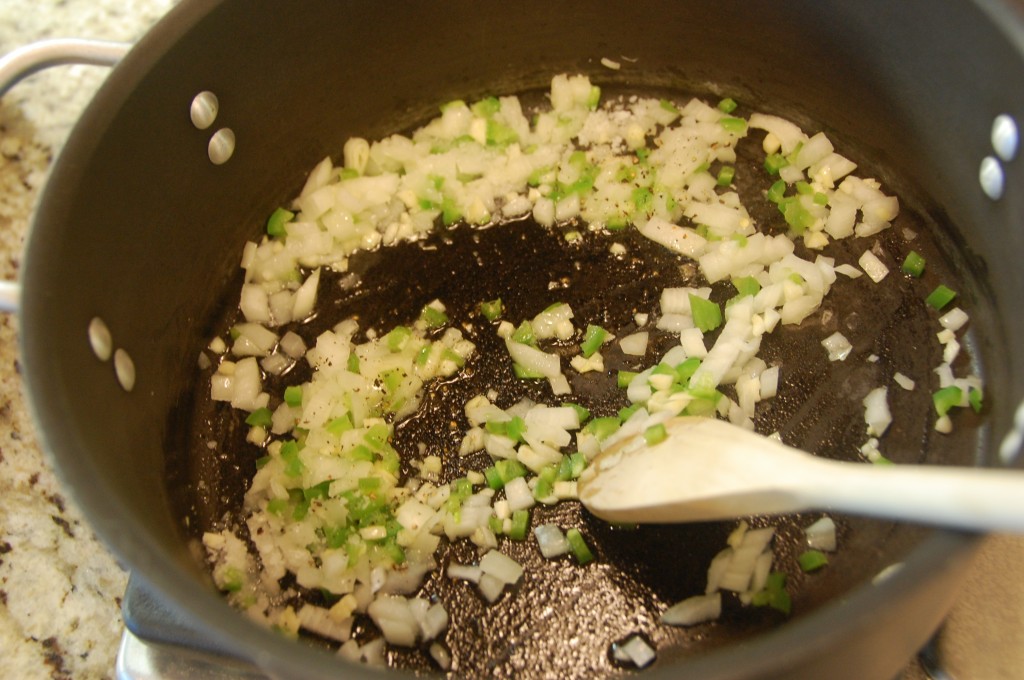 4.  Add the shredded pork and 1/2 c. of the reserved broth.  Cook an additional 2-3 minutes until the liquid is absorbed.  Set aside.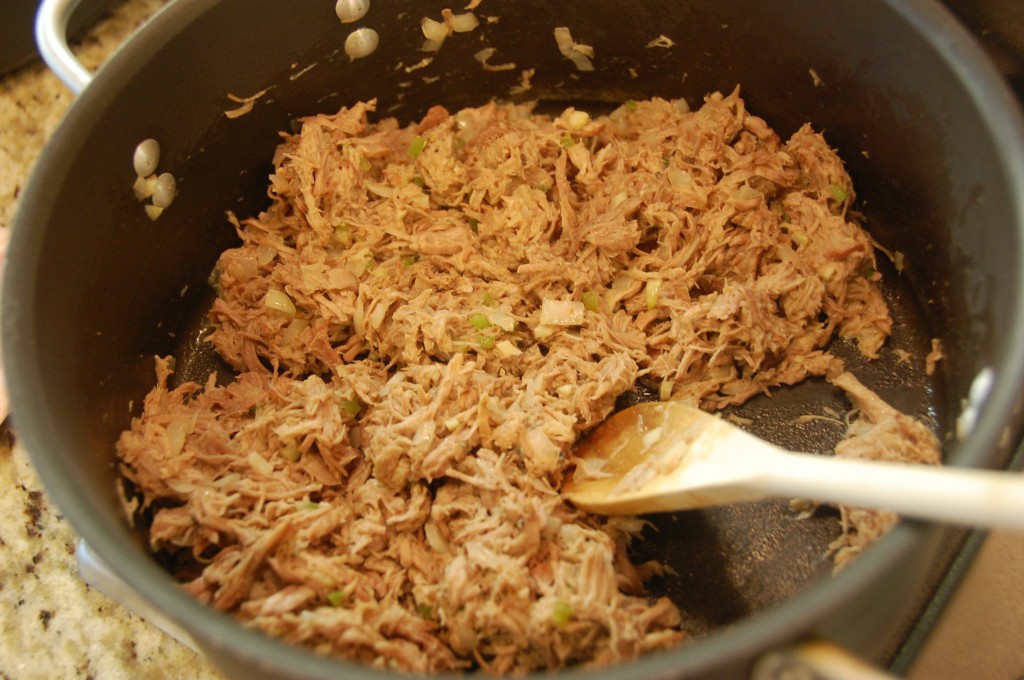 5.  Soak the corn husks in hot water.  Set aside.  (Any large husks can be cut in half)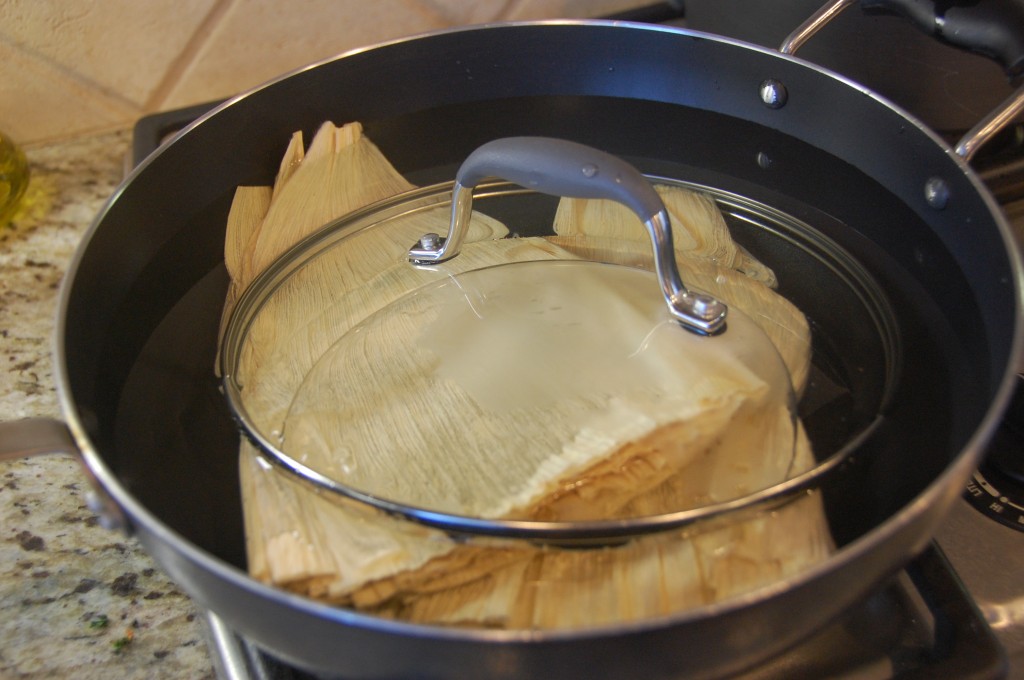 6.  Prepare the dough:  Combine all dry ingredients, and work in the shortening with a fork or pastry blender.
7.  Add the reserved cooking broth, 1 c. at a time (up to 4 c.).  The texture should be that of soft mashed potatoes.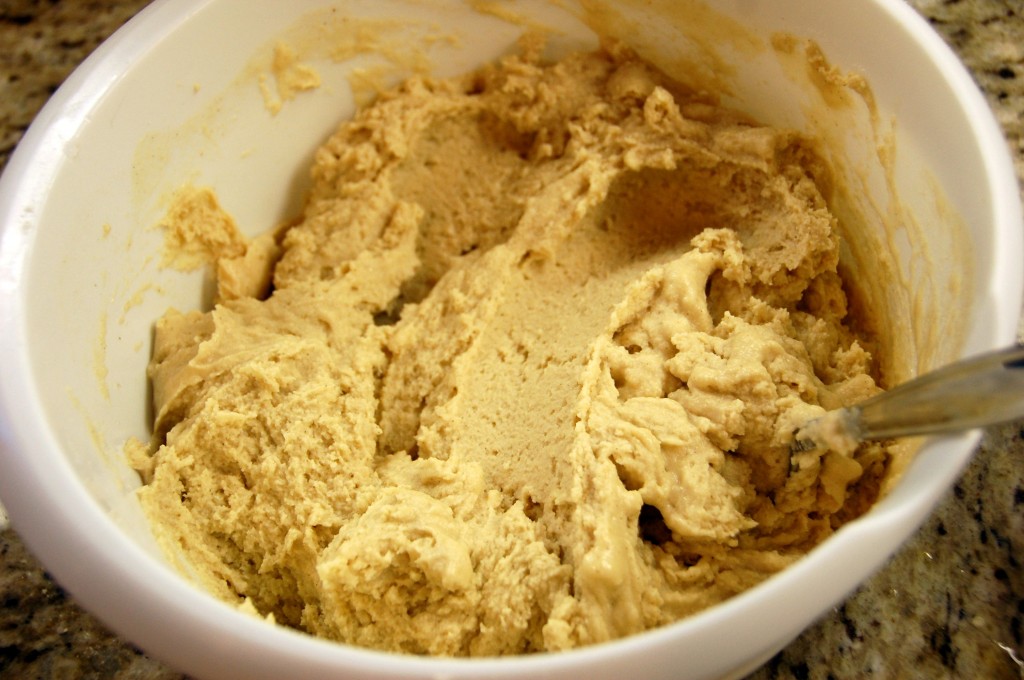 8.  Assemble tamales:  Put about 2 T. masa dough onto the soaked corn husk.  Spread it out into a thin circle.  (1 cookie scoop is about 2 T.)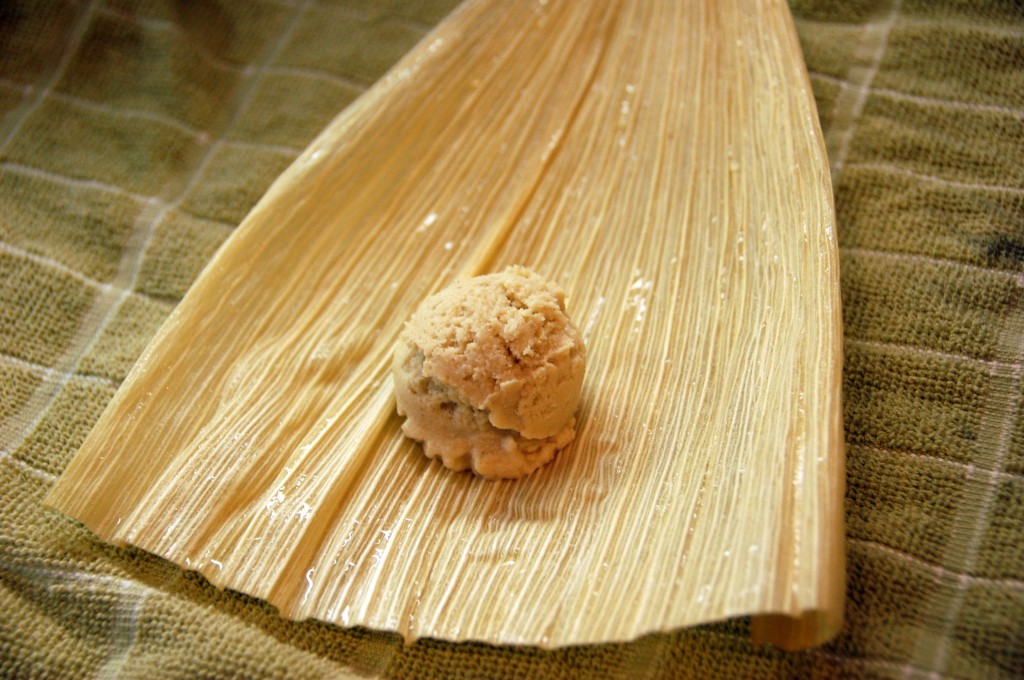 9.  Add about 2 tsp. meat filling in the center of the dough.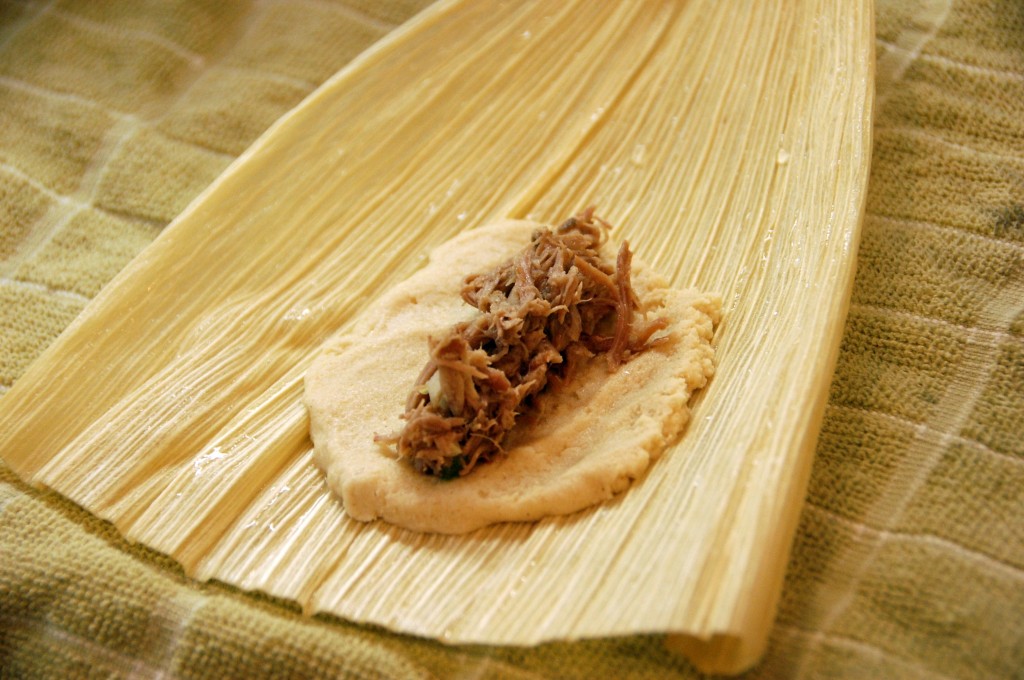 10.  Fold the sides of the corn husk up to push the dough edges over the top of the filling, forming a filled cigar of dough.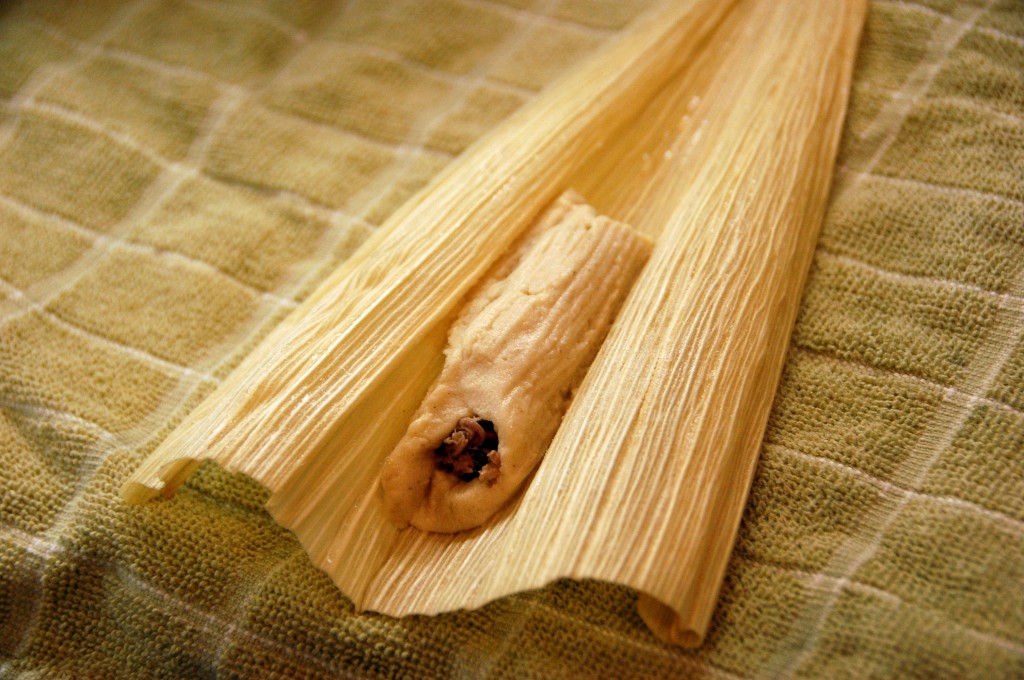 11.  Wrap the sides of the corn husk over, and roll it up.  Then fold the top down.  (One end of the tamale will be open.)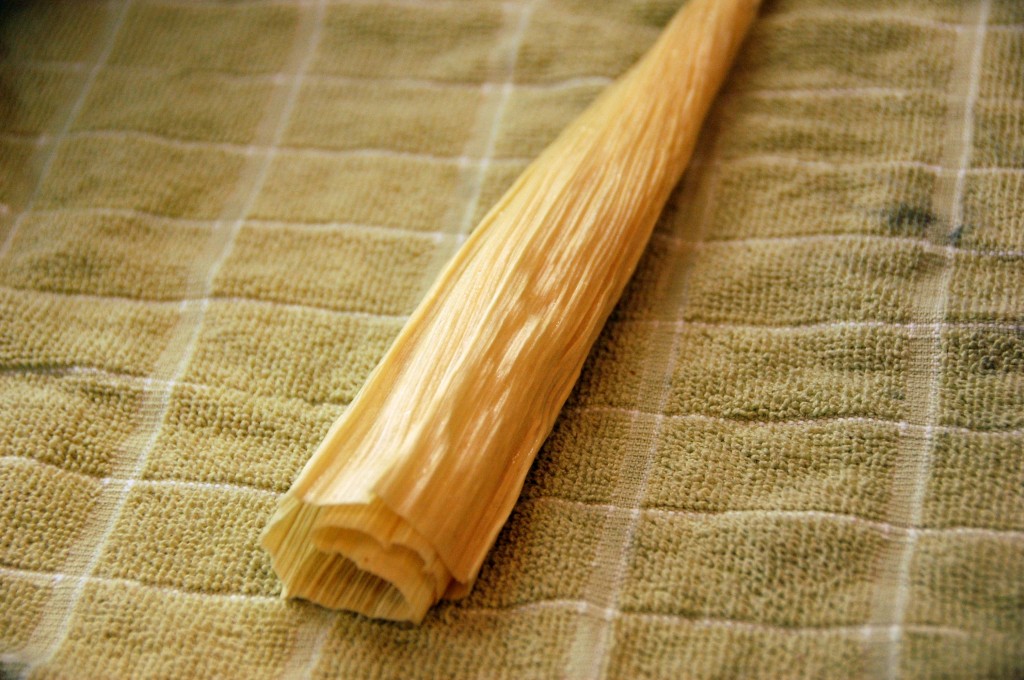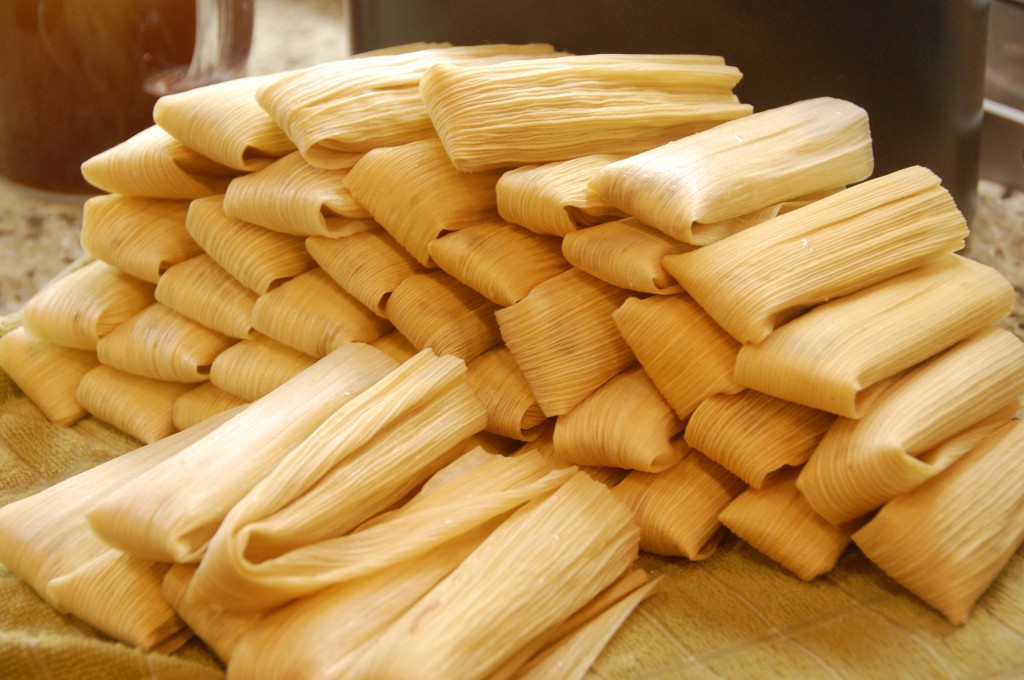 12.  Stack the tamales over a steamer basket in a tall stock pot, open ends facing up.  Fill the pot with the leftover broth, and add water to the bottom of the steamer basket.  Steam over medium heat for 1 – 1 1/2 hours.
Makes about 44 tamales.  Serve with salsa and diced avocado.