A few months ago, I bought a pizza stone at Target for $20.  For awhile, it's been sitting in my cupboard, waiting to be used.  Last week I finally took it out of the box and put it on the bottom rack of my oven.  Pizza stones are essential in creating a real pizza crust.  If you bake a pizza on a metal baking sheet, it turns out ok… but not awesome.  Pizza stones will take your crust to the next level… from mediocre to awesome!  The stone absorbs the heat of the oven… creating a little extra lift in your dough, with a more authentic pizzeria style crust.
Since then, I have left the pizza stone in the bottom of the oven – when it gets hot, it keeps the temperature in the oven more stable (with less fluctuations) leading to more evenly baked goods.  (Just make sure it's on the bottom of the oven – don't put anything you are baking directly on the pizza stone unless you are actually baking pizza or hard crust bread.)
When cleaning your pizza stone, make sure it cools down completely before you scrub it with a sponge and warm water – do not use soap as it will get absorbed into the porous stone and affect the flavor of your next pizza crust.  Treat the stone as you would a piece of glass – let it heat up slowly and cool down slowly (extreme temperature changes will crack the stone).  The stone will discolor over time… so don't be upset if you get big black or brown blotches on your stone the first time you use it… these discolorations are normal, and will not affect your pizza.
This dough has become one of my favorite pizza doughs.  It's very simple and easy to make, and you can create a wonderful pizza with just a few pantry staples.
Pizza dough: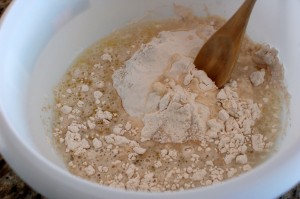 1 1/2 c. all purpose flour
1 tsp. sugar
1/2 tsp. salt
3/4 tsp. yeast
1 1/2 tsp. olive oil
1/2 c. + 2 T. warm water
Pizza: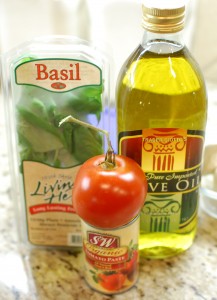 3 oz. tomato paste
2 tsp. olive oil
1 tsp. sugar
1/2 tsp. salt
1/2 tsp. pepper
1 clove garlic, minced
6 oz. fresh buffalo mozzarella
1 organic tomato, sliced
small handful basil leaves, chopped
1.  Make the dough.  Mix all of the dough ingredients together (make sure the water is warm – not hot).  Knead a few times to form a ball, cover loosely with plastic wrap.  Set aside for 1 hour or so to rise.  (You can leave it up to 6 hours on the counter.)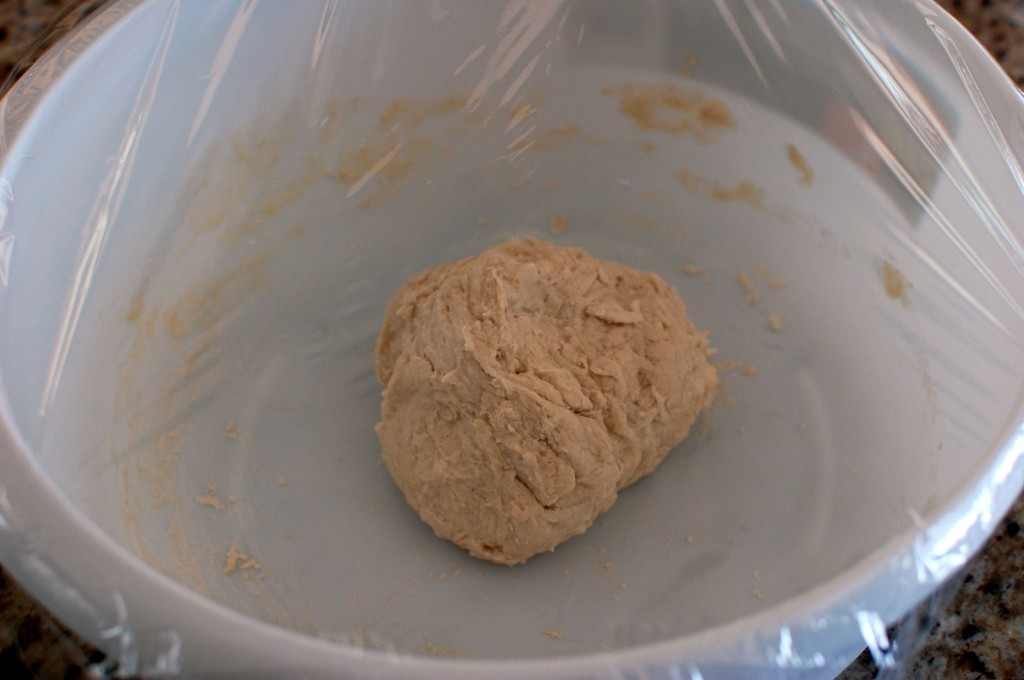 2.  Once the dough has risen, punch it down.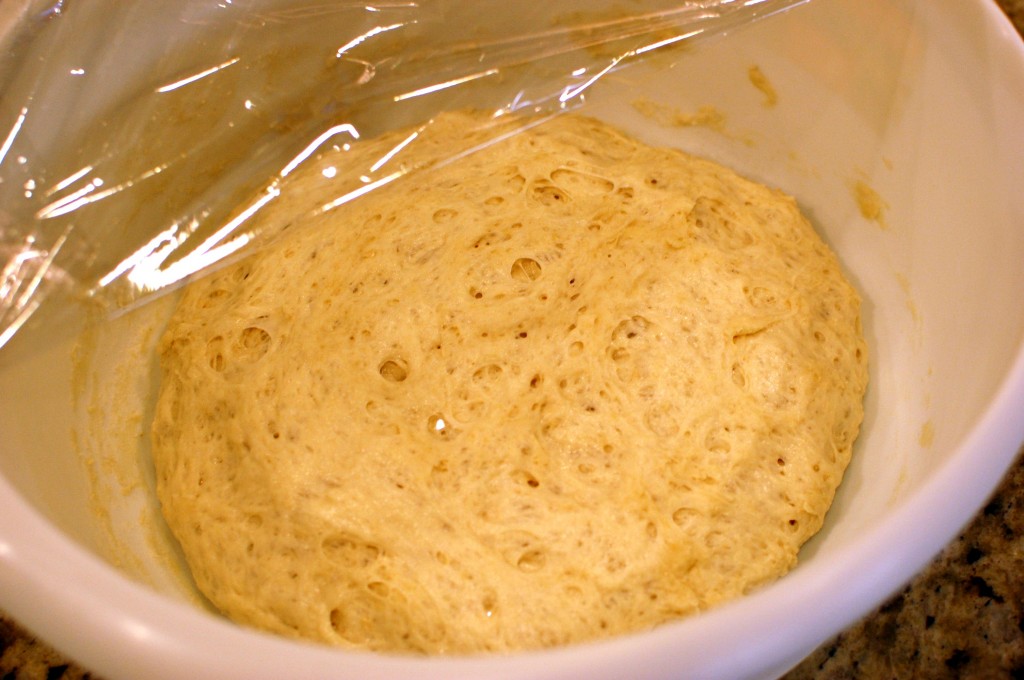 3.  Put a pizza stone on the bottom rack of the oven, and preheat the oven to 500 degrees.  Make sure you start with a cold oven so that the pizza stone does not crack.  You want the pizza stone to heat up for at least 15 minutes (preferably 30 minutes).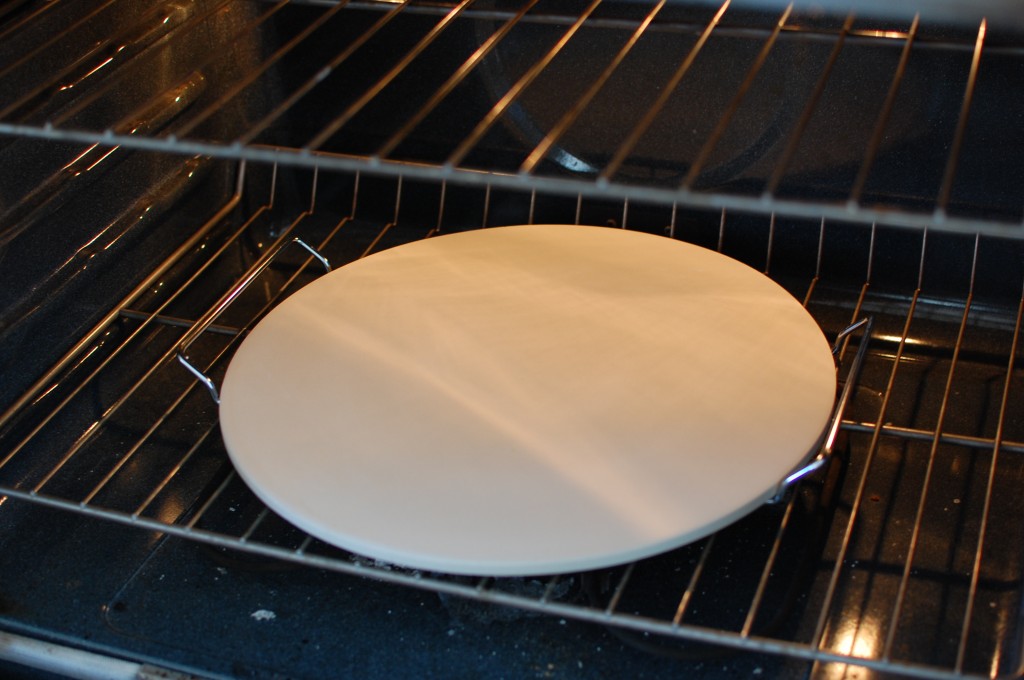 4.  Roll out the dough on a floured surface – you want the final diameter of the circle to be around 12 inches.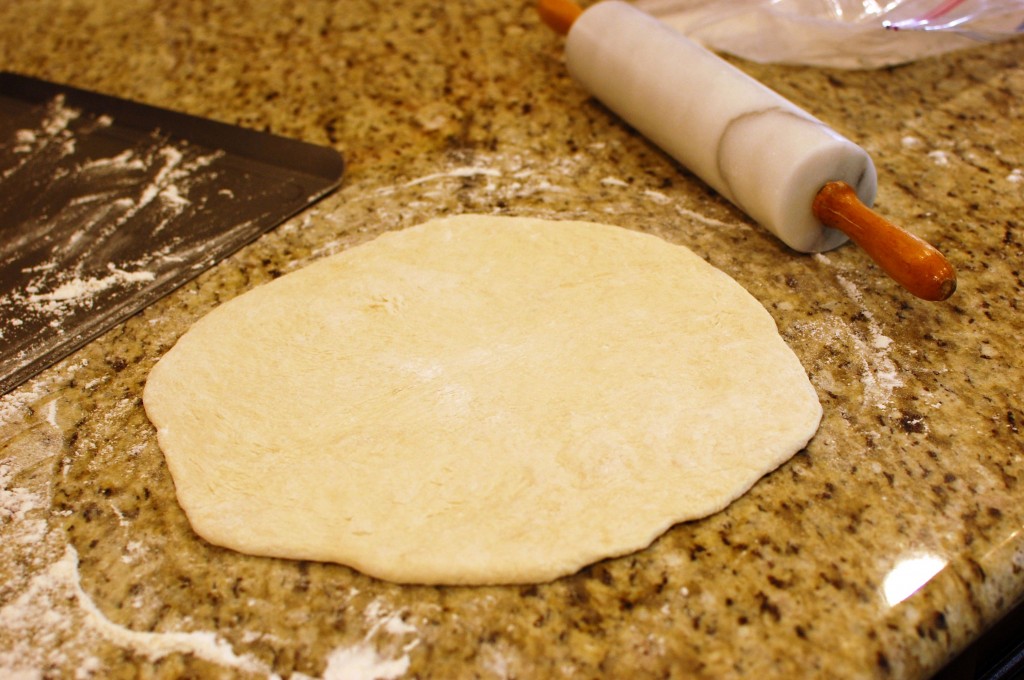 5.  Allow the dough circle to rest for about 10 minutes on a floured baking sheet with no lip or edge.  You can also do this on a large cutting board.  (Basically, this will be your pizza "peel.")  Make sure the dough slides around easily if you shake the baking sheet back and forth.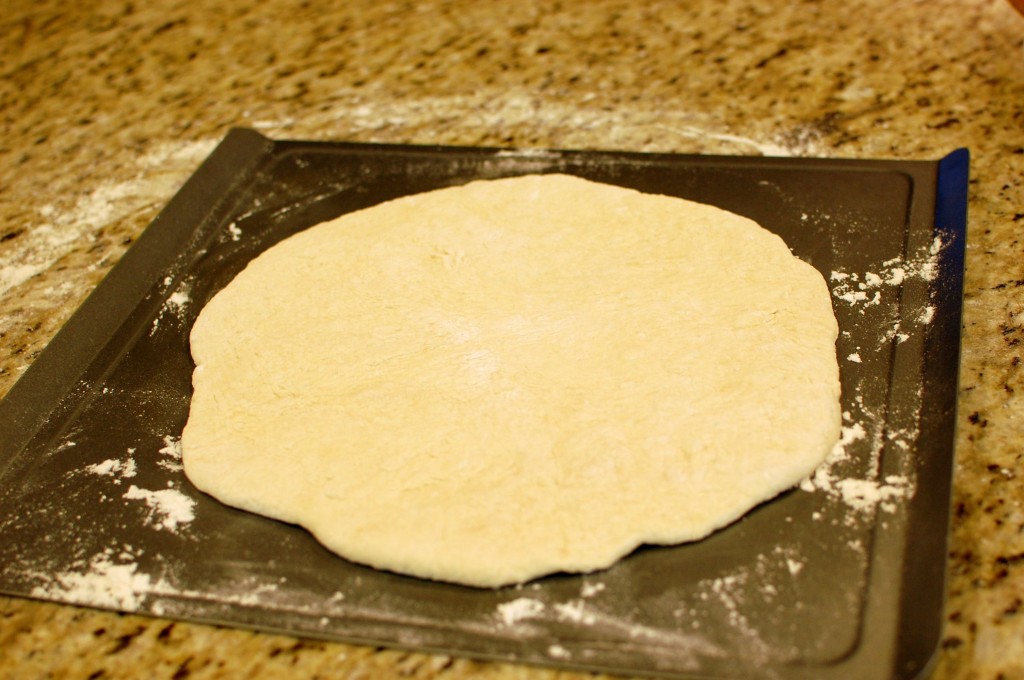 6.  Mix the tomato paste, olive oil, sugar, salt, pepper, and garlic to form your sauce.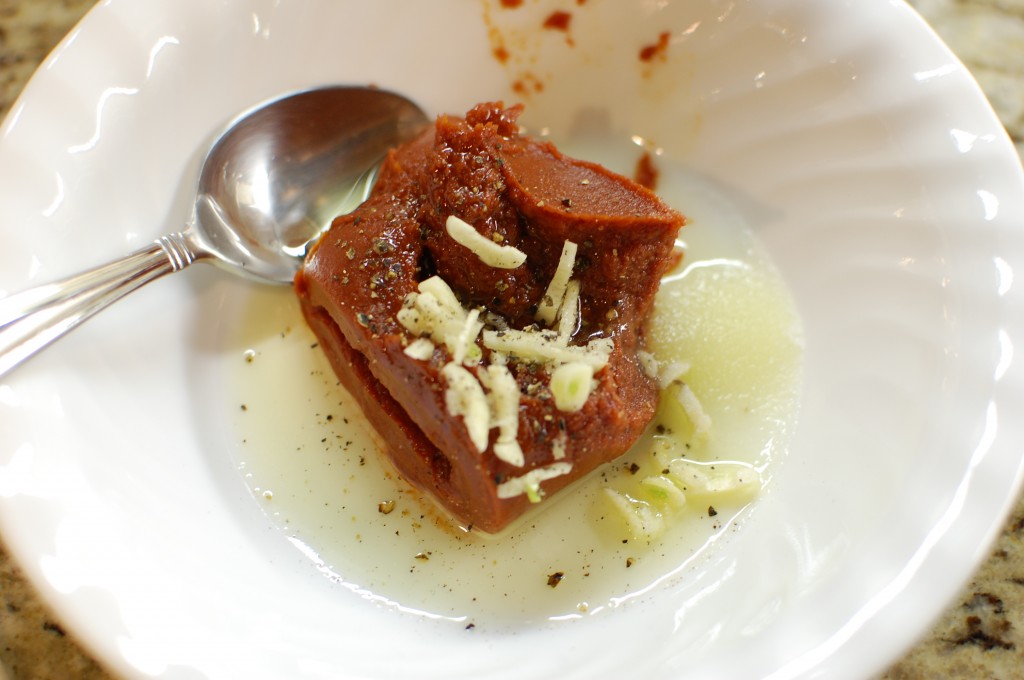 7.  Spread the sauce over the dough.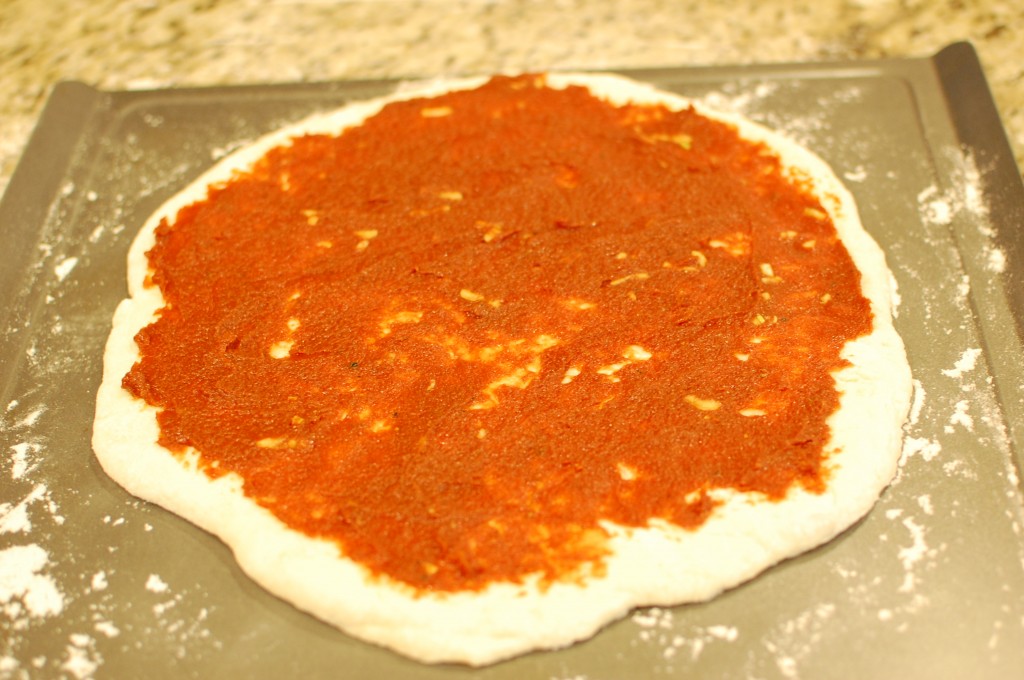 8.  Then top with tomato slices, buffalo mozzarella, and basil.  Grind a sprinkle of black pepper directly over the top.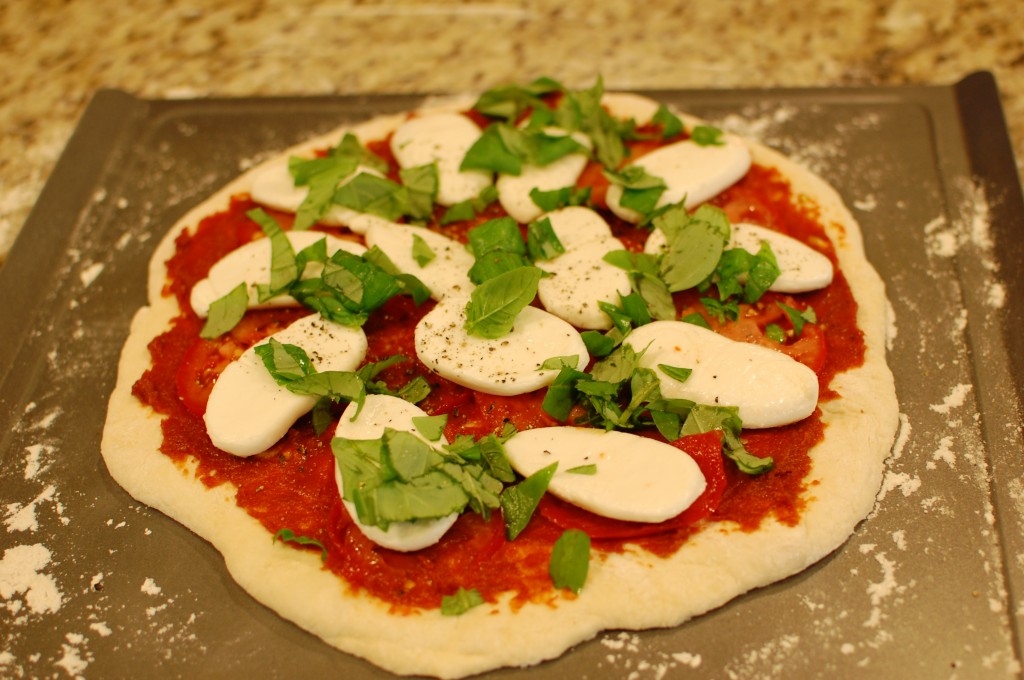 9.  Slide your pizza onto the pizza stone, and cook for 5-7 minutes.  Mine baked for 6 minutes at 500 degrees.  Halfway through cooking (after about 3 minutes), change the oven setting from "bake" to "broil."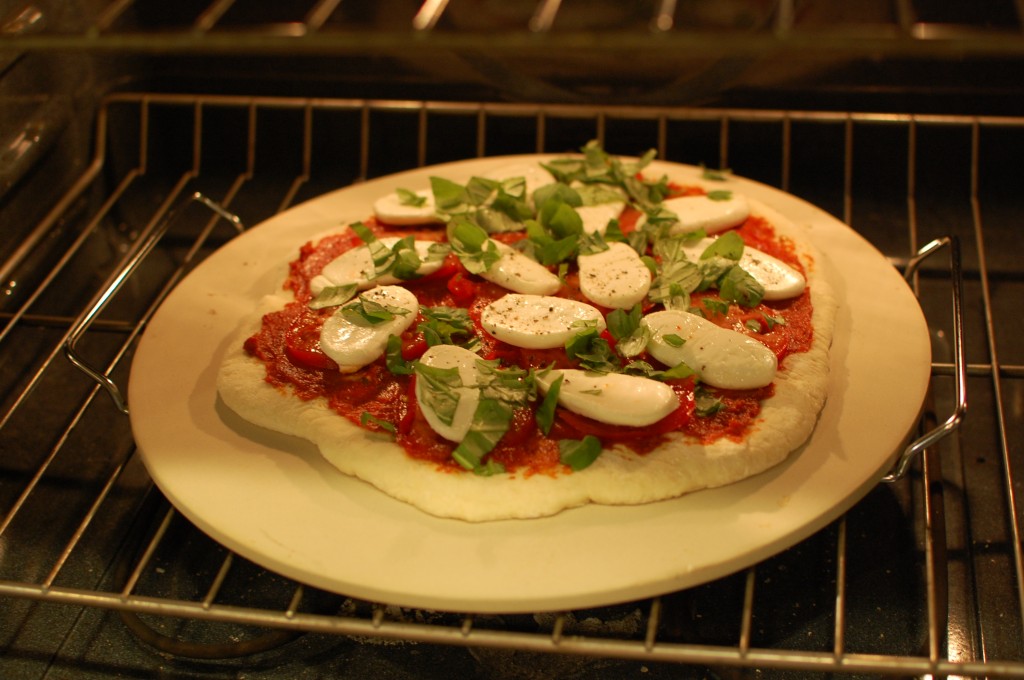 10.  Remove the pizza to a cutting board when done.  Slice and serve!