Last week, I bought two sugar pumpkins at the market – it's that time of year again!!!  A few days ago, I baked the pumpkins and pureed them, with the intent of making some pumpkin pies.  Then I made the pies.  Everything was going just fine until I baked them… and somehow my oven ended up burning the crusts!  I thought, oh, it's not so bad… but then I tasted them.  The pie filling was awesome, but since I had used a little bit of whole wheat flour in the crusts… once burnt… it tasted like cardboard.  Blech!  My pies were ruined!!!!
I spent about 2 days moping and getting mad every time I opened the refrigerator and looked at my messed up pies.  But yesterday night, I had an epiphany.  I scooped the filling out of the pie shell, and discarded the yucky pie crust.  Then I made these awesome "Pumpkin Pie Cupcakes".
If you want to cheat, you can probably use the filling from a store bought pumpkin pie.  Or if you prefer to make your pumpkin
pie filling from scratch, just mix up 1 3/4 c. pumpkin puree, 2 eggs, 3/4 c. sugar, 1/2 tsp. salt, 1 tsp. cinnamon, 1/2 tsp. ginger, 1/4 tsp. cloves, and 1 can of evaporated milk and bake in a glass pie plate at 350 degrees for 35-45 minutes until set.  Cool thoroughly before using.
This recipe makes about 16 cupcakes.
Pumpkin Pie Cupcakes:
1/2 pumpkin pie (about 1 c. filling only)
1 c. flour
1 tsp. baking powder
1/2 tsp.baking soda
3/4 tsp. salt
1 tsp. cinnamon
1/2 tsp ground ginger
1/2 tsp. ground nutmeg
1 c. pumpkin puree
2 eggs
1/2 c. sugar
1/2 c. brown sugar
1/2 c. canola oil
Cream Cheese Frosting:
6 oz. cream cheese
3 T. unsalted butter
1/2 tsp. salt
1/2 tsp. maple extract
2 c. powdered sugar
1.  Preheat oven to 350 degrees.  Scoop the pumpkin pie filling into the bottom of 16 paper lined cupcake pan depressions.  (I used a cookie scoop).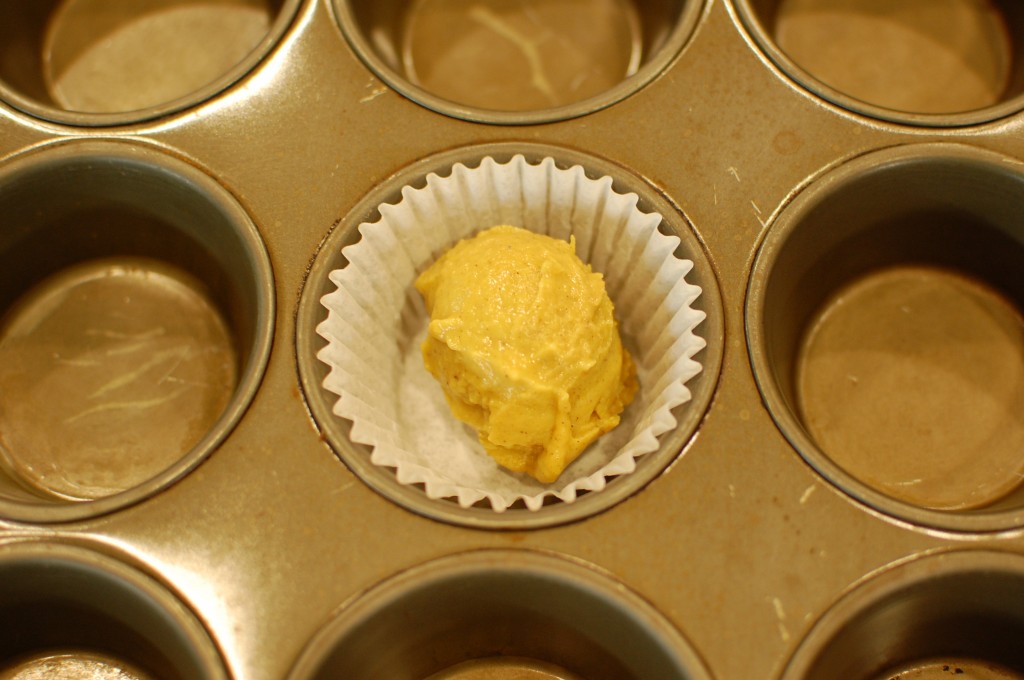 2.  Sift the dry ingredients (flour, baking powder, baking soda, salt, and spices).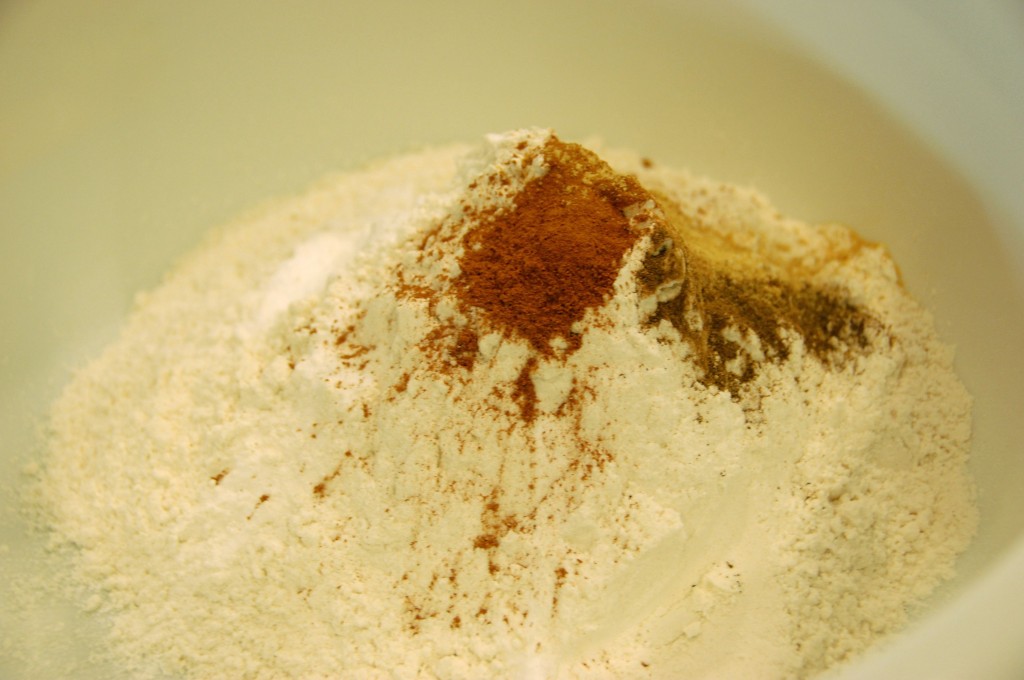 3.  Combine the wet ingredients (pumpkin puree, eggs, sugar, brown sugar, and oil).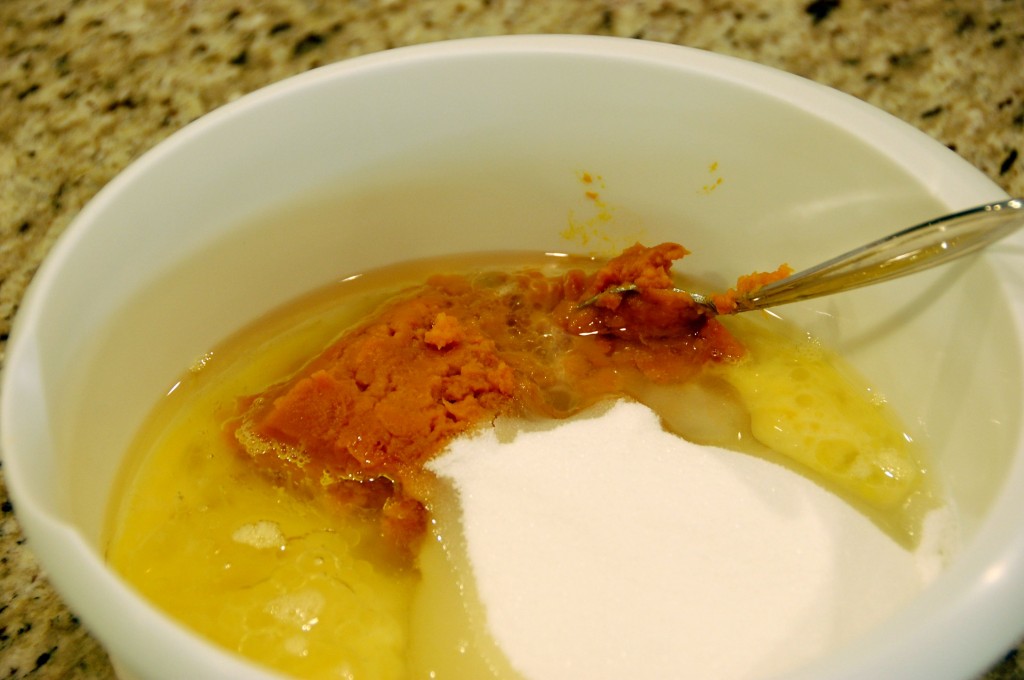 4.  Pour the wet ingredients into the dry, and mix.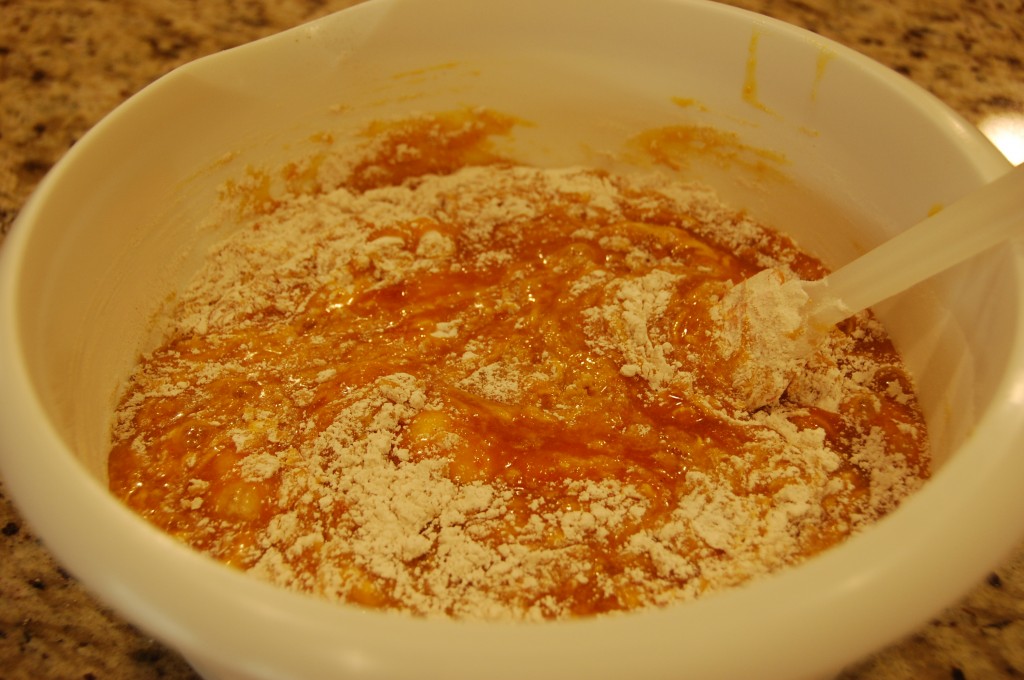 5.  Pour the batter over and around the scooped pumpkin pie filling.  Bake for 22-25 minutes at 350 degrees.  Remove and cool the cupcakes.  In the mean time, prepare the frosting by slowly beating the cream cheese, butter, salt, maple extract, and powdered sugar – first on low, then bump up the speed to high for a nice smooth frosting.
6.  Frost the cupcakes and decorate with a few pieces of chopped toffee or toffee bits (I used Heath bar toffee bits from the baking aisle – next to the chocolate chips).  Refrigerate in a plastic container to store.