Apparently, there are two styles of "Kung Pao Chicken"!  The original Szechuan version was created during the Chinese Qing Dynasty, and normally contains Szechuan Peppercorns.  These "peppercorns" do not come from the Piperaceae family (Pepper)  - they are actually from the Rutaceae plant family (Citrus).  This unique spice gives a tingling/numbing flavor which is typical in Szechuan cooking.
From 1968 to 2005, it was actually illegal to import Szechuan peppercorns into the United States.  (The United States felt that the peppercorns were not sufficiently sterilized, and were a risk for spreading the tree disease Citrus Canker to American commercial citrus crops.)  The ban was lifted in 2005, when the processing methods for Szechuan peppercorns were improved.  (Yay for us!)   However, due to that long-standing ban, the American version of Kung Pao Chicken is without that distinctive original flavor.
I use Szechuan peppercorns in a variety of dishes, but am not used to having that flavor in Kung Pao Chicken.  So for that reason, this version is an American version of the famous Qing Dynasty dish.  However, you can add Szechuan peppercorns to this dish if you like – just crush a few with a mortar and pestle and add them to the sauce.
Kung Pao Chicken:
9 oz. chicken (about 5 chicken tenderloins)
1 T. canola oil
1/4 c. raw peanuts
8 oz. (1 pkg.) mushrooms
2-3 green onions
8 oz. can sliced water chestnuts
Marinade for Chicken:
1 T. Xiaoxing rice wine
1 T. soy sauce
1 T. cornstarch
1/2 tsp. salt
5 red chili pepper pods, broken in half
Kung Pao Sauce:
3 T. soy sauce
2 T. Xiaoxing rice wine
3 T. rice vinegar
2 T. honey
2 T. hoisin sauce
1 1/2 tsp. sugar
1/2 tsp ground ginger
1/4 tsp. white pepper powder (optional)
1/2 – 1 tsp. red chili pepper flakes (omit if you don't want too spicy)
1 clove garlic, minced
Thickening Slurry:
1 T. cornstarch + 2 T. water, mixed
1.  Cut the chicken into bite-sized pieces and combine in a bowl with all the marinade ingredients.  Mix and set aside.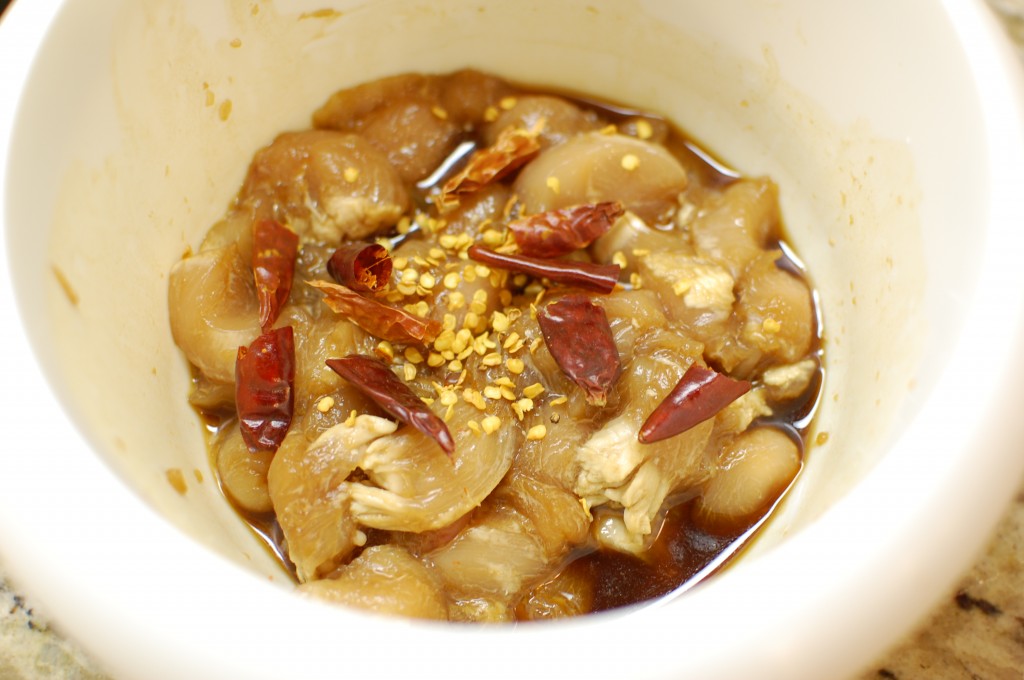 2.  Combine all the Kung Pao sauce ingredients in a measuring cup, set aside.  (You can substitute Michiu, Mirin, or sherry for the Xiaoxing rice wine – but Xiaoxing is better if you have it.)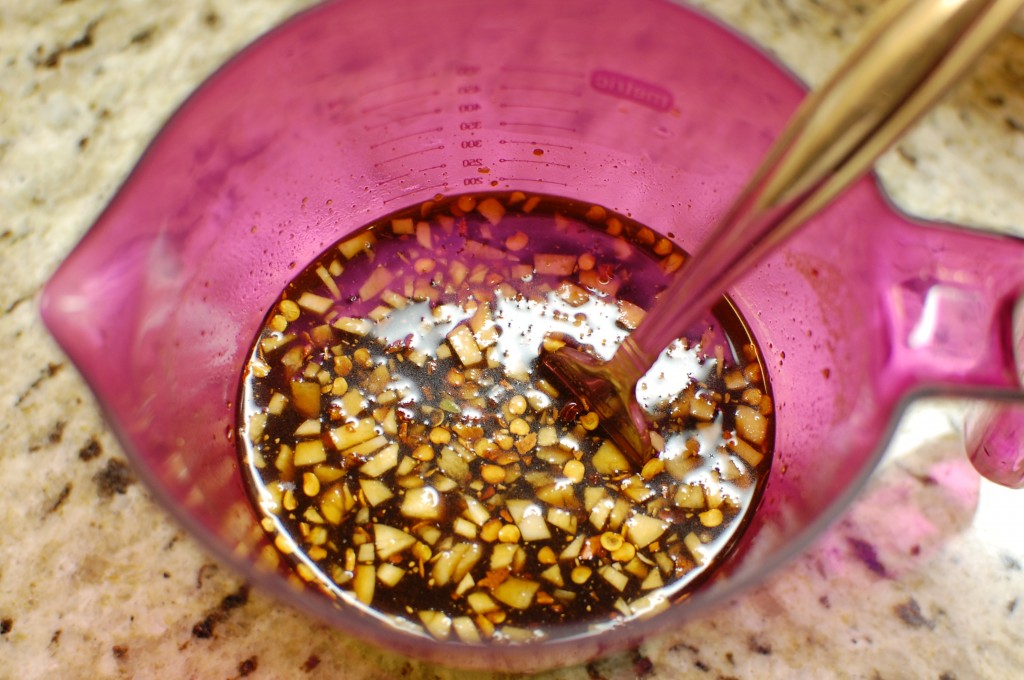 3.  Quarter the mushrooms, and slice the green onions into large chunks.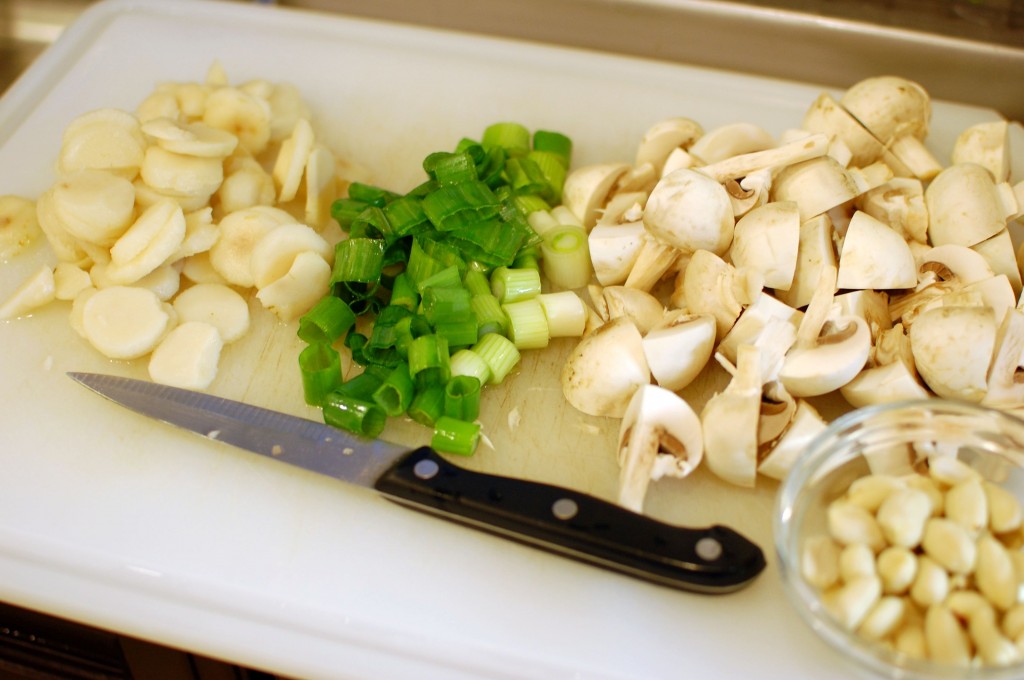 4.  Heat the canola oil in a large wok over medium-high heat.  Add the chicken, and cook until browned (about 2 minutes).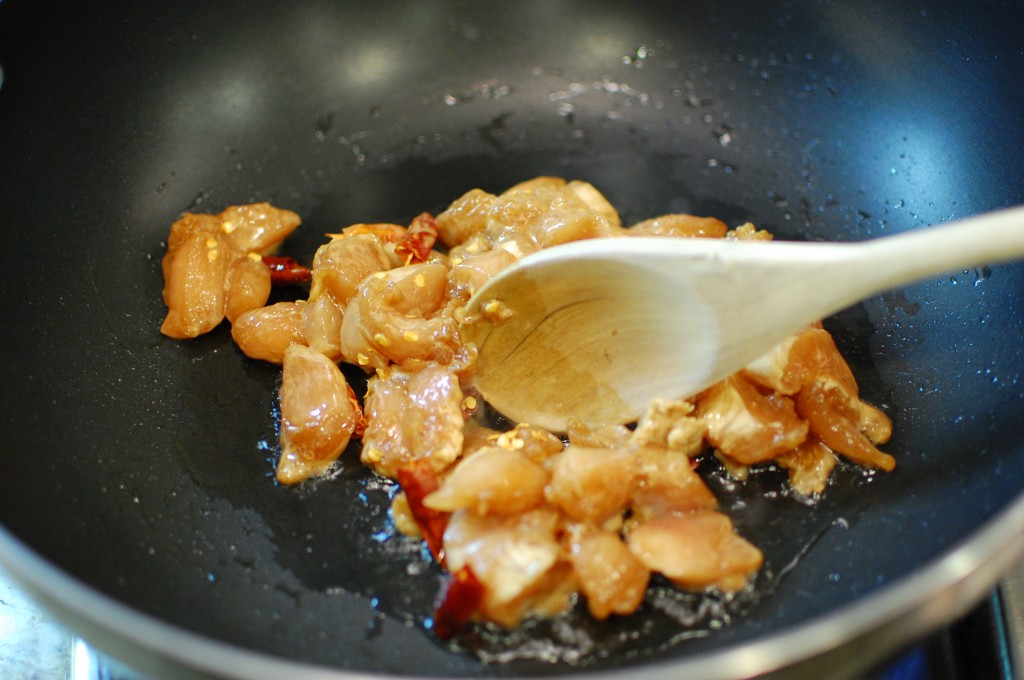 5.  Add the peanuts and green onions, mix together, and cook for about 30 seconds.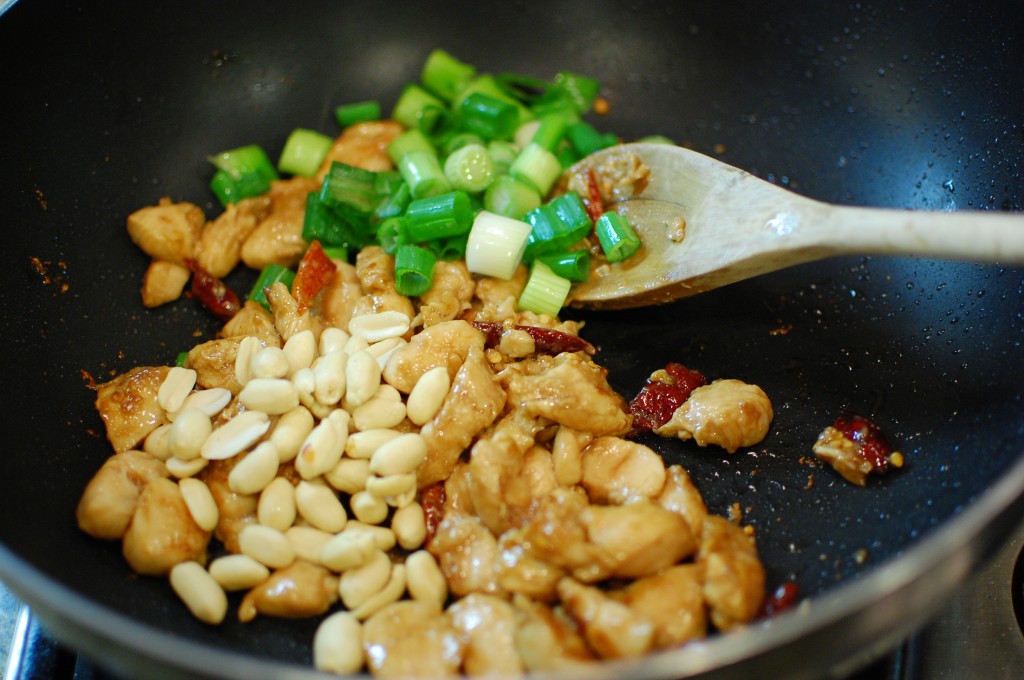 6.  Add the mushrooms and water chestnuts.  Mix together, and cook another 30-60 seconds.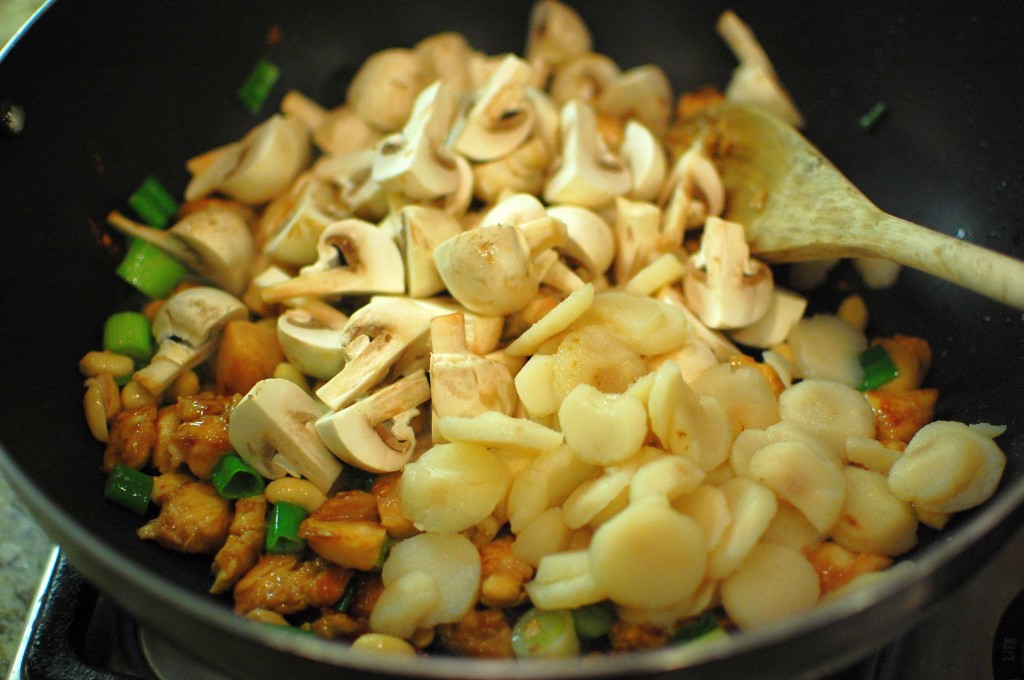 7.  Add the Kung Pao sauce, and mix.  Cook 1-2 minutes until the vegetables are almost done.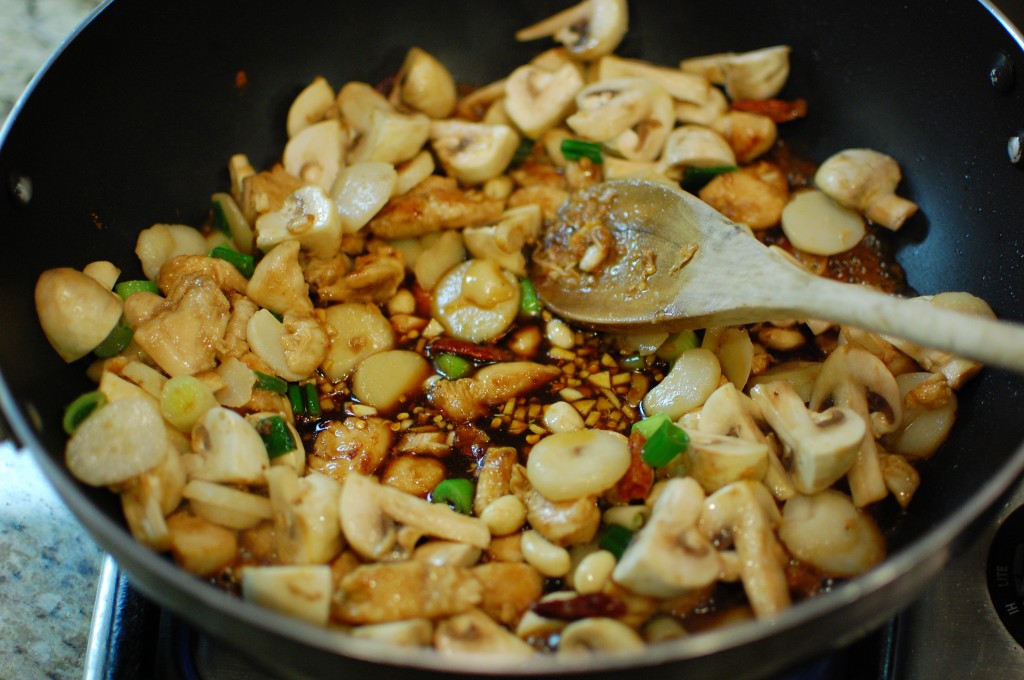 8.  Add the slurry, and stir.  Cook 1 more minute until the sauce is thickened and bubbly.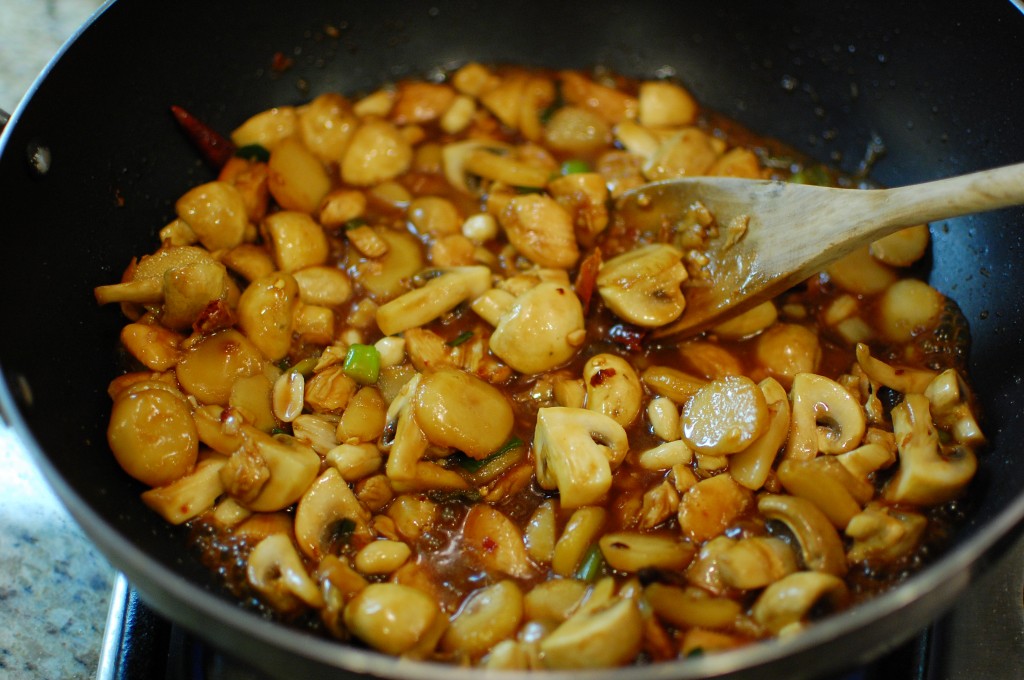 9.  This recipe makes 4 servings.  Serve over steamed Jasmine rice.