It's been cold and rainy the past couple of days.  :(  This is the kind of weather where you want to relax on the couch with some hot tea and watch movies all day (Alien vs. Predator anyone?).  I felt like making a warm and comforting dessert… and since I just bought some taro at 99 Ranch Market… this seemed like the perfect occasion.
Sweet Taro and Tapioca soup is often served as a dessert in Chinese and Taiwanese homes… and it's one of my husband's favorite.  It's really easy to make, and you can adjust the sweetness level to your own taste.  You can also add more or less tapioca (depending on your personal preference) – I like just a little sprinkle of tapioca, but you can add up to 1/2 c. of tapioca if you like.
Traditionally, this soup is made with rock sugar – which you can use if you have it.  But if not, regular granulated sugar works just as well (and for me, doesn't compete with the coconut flavor so much).  But please feel free to change it up – the ingredients in this recipe are just suggestions, and you can make substitutions with few problems!
Sweet Taro & Tapioca Dessert Soup: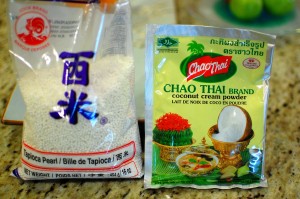 1 lb. taro
6 c. water
3/4 c. sugar
3 T. small pearl tapioca
1/2 tsp. salt
2 oz. package coconut cream powder (or 1 can coconut milk)
1.  Peel and slice the taro into cubes.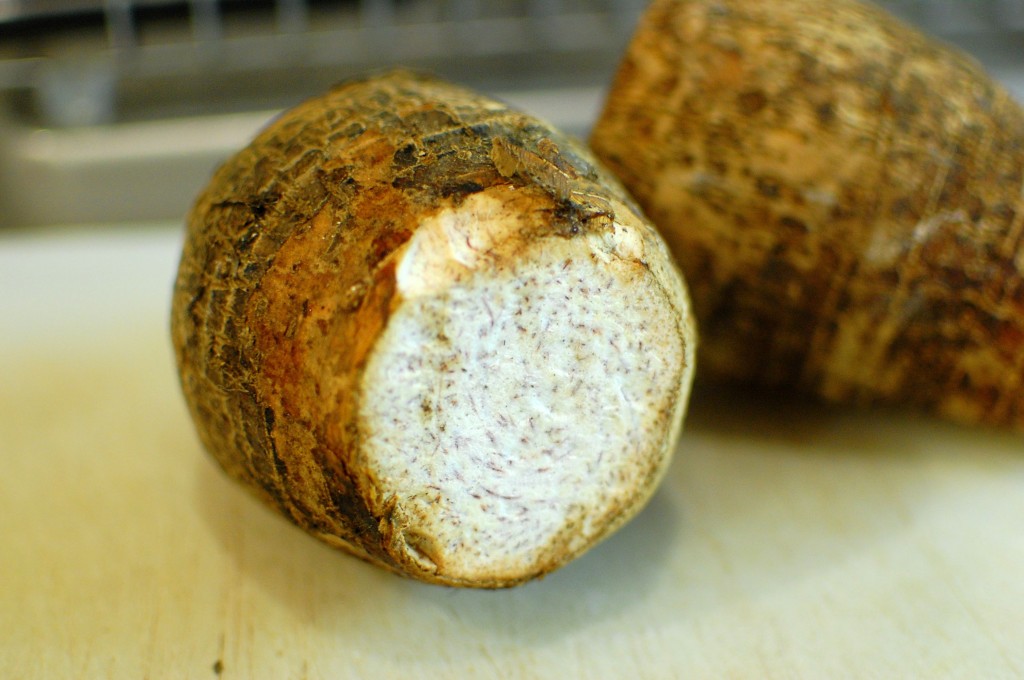 2.  Put the taro into a pot, and add the 6 cups of water.  (If you are going to use coconut milk instead of coconut cream powder, reduce the water by 1 cup.)  Add the sugar and salt, and bring to a simmer – allow to cook for about 15 minutes.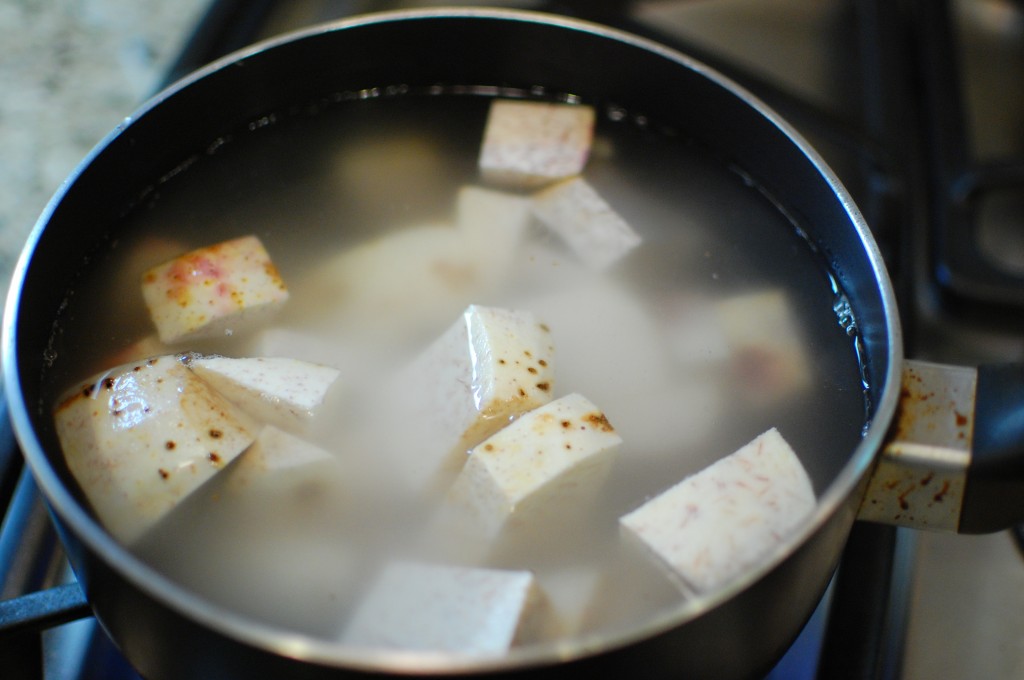 3.  When the taro becomes soft, use a potato masher to begin mashing and breaking up the taro chunks.  (I like to leave a few small chunks, just for the texture – But you can make it as smooth or chunky as you like.)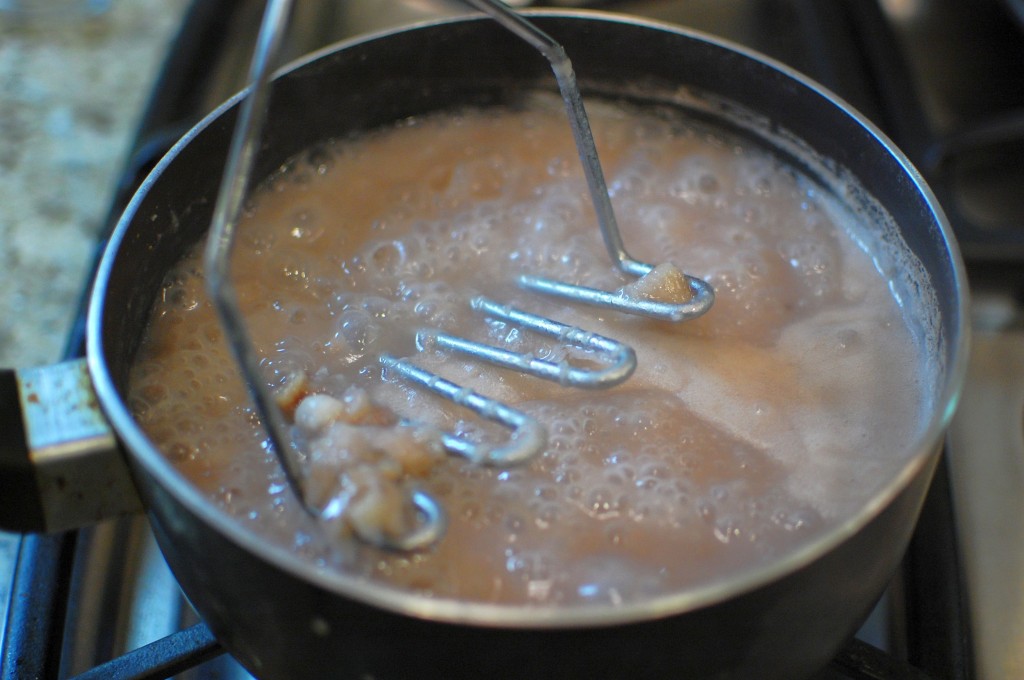 4.  Add the tapioca, and stir.  Simmer for another 15 minutes until the tapioca are clear.  Add the coconut cream powder (or coconut milk) and mix together.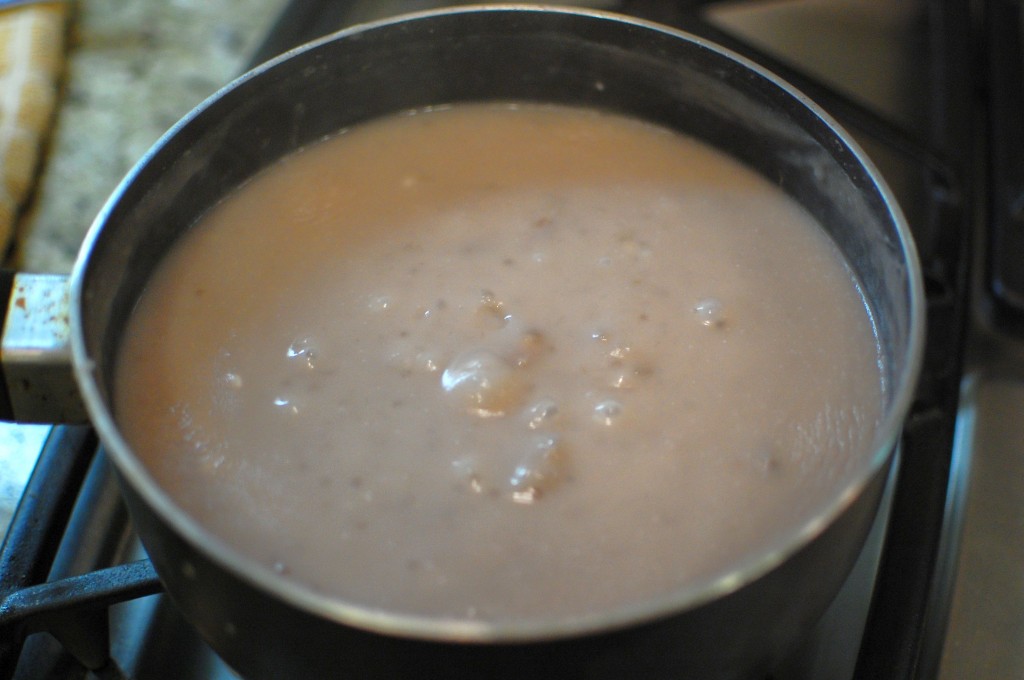 5.  Simmer for another few minutes, while stirring, then serve hot in small rice bowls.  This recipe makes about 6 rice bowl sized servings.