This is one of my favorite chocolate cake recipes!  Interestingly, it calls for no eggs and no dairy for the cake portion – which makes it easy to make with basic pantry ingredients (in addition to being vegan).  This cake recipe was very popular during the Great Depression (since it could be made without expensive eggs or milk) and is also known by the name "Wacky Cake".  Although eggs and milk are easy to come by these days, this is still one of the better recipes I have for chocolate cake – it is moist, flavorful, and rich.  Add the chocolate frosting (which, sorry, is not vegan, nor dairy free) – and you have a wonderful "Old Fashioned" style chocolate cake.
The typical "wacky cake" recipe calls for water, but I think using coffee enhances the chocolate flavor much better.  (I always substitute coffee for water when I can in chocolate flavored recipes.)  Trust me – it won't taste like coffee… it will just taste more rich and chocolaty!  For the vinegar, you can use regular white vinegar – but I like using balsamic since it has a little sweetness to it.  But really, you can use any type of vinegar you like and the results will probably turn out just fine.  Just make sure you get the cake into the oven ASAP after mixing the dry and wet ingredients together (you will see the batter fizz a little bit from the vinegar reacting to the baking soda).  (And by ASAP I mean within 5 minutes or so – don't leave the batter hanging out on the counter all day because it will eventually deflate, and your cake will be flat.)
This frosting recipe is also one of my favorites – as it just calls for standard pantry ingredients that I normally have.  Also, it's EASY!  It doesn't require any whipping/beating so I don't have to haul out the electric mixer from the cabinet, and I can make it in a saucepan without making a thousand bowls (yes, I'm exaggerating) dirty in the process.
*If you are looking to make a Vegan cake… bake it as a bundt cake instead (may need a few minutes longer to bake), then substitute the Easy Chocolate Frosting with a Peanut Butter Glaze/Icing.  It's easy to make the glaze… just mix up about 1/4 c. peanut butter + approx 2 cups powdered sugar + coconut milk or almond milk to thin to your desired consistency.  Then just drizzle or pipe over your cake!
Old Fashioned Chocolate Cake: 
3 c. flour
2 c. sugar
1/2 c. unsweetened cocoa powder
1 tsp. salt
2 tsp. baking soda
3/4 c. canola oil
2 T. vinegar (balsamic)
1 T. vanilla extract
2 c. hot coffee
Easy Chocolate Frosting:
1/2 c. unsalted butter (1 stick)
1 1/2 c. sugar
1 1/4 c. unsweetened cocoa powder
1/2 tsp. salt
1 1/4 c. heavy cream
1/4 c. sour cream
2 tsp. vanilla extract
1.  Preheat the oven to 350 degrees.  Prepare two 9″ round cake pans by spraying with non-stick baking spray and pressing a circle of waxed paper into the bottoms.  Mix the flour, sugar, cocoa powder, and baking soda with a whisk until thoroughly combined.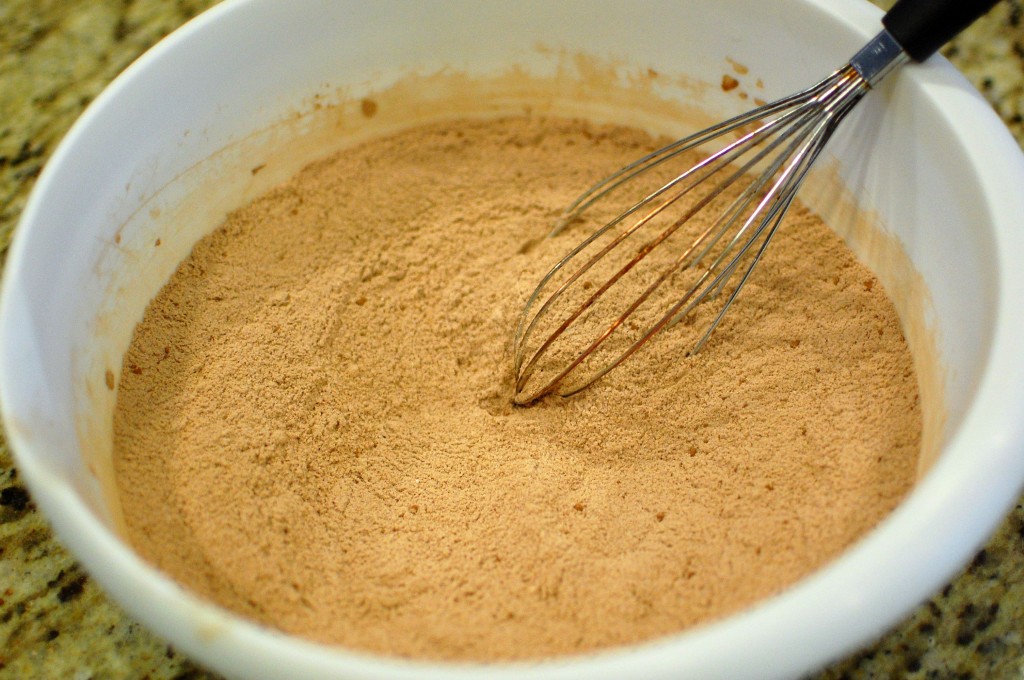 2.  Combine the oil, vinegar, and vanilla with the hot coffee, then mix into the dry ingredients.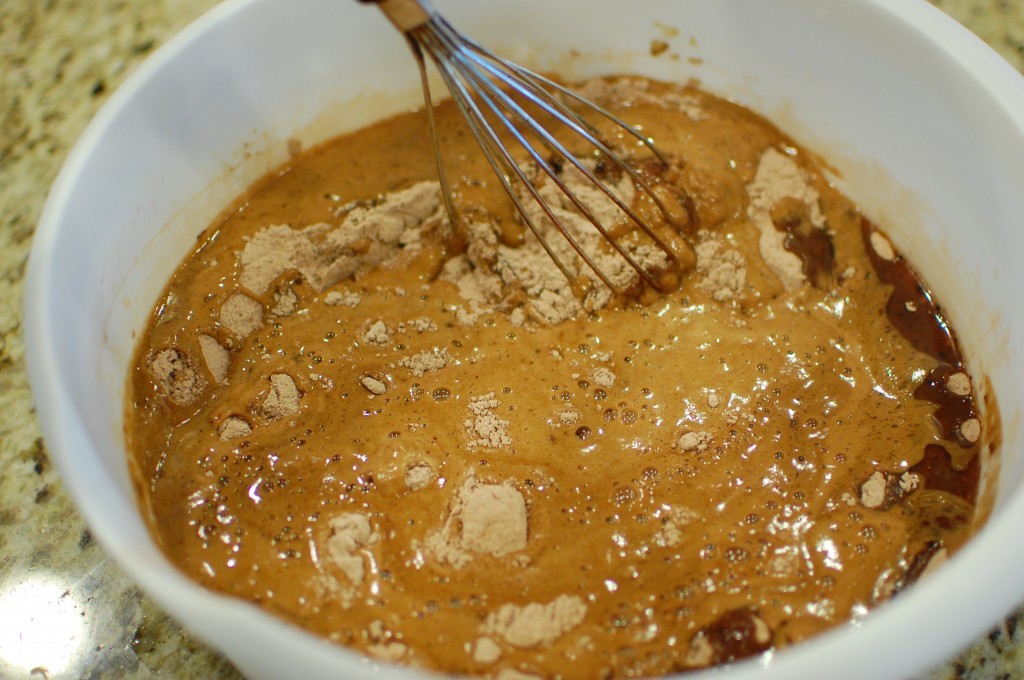 3.  Quickly pour the batter into the prepared pans, and bake for 35 minutes at 350 degrees.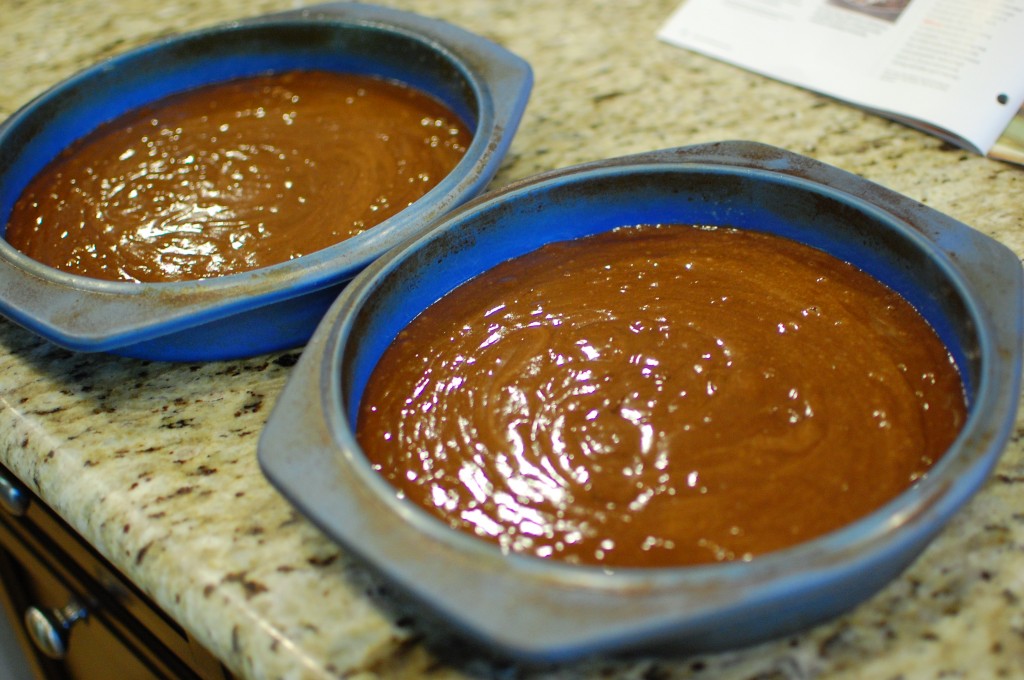 4.  Remove from the oven and cool for a few minutes before inverting onto wire racks to cool completely.  (Peel off the waxed paper from the cake.)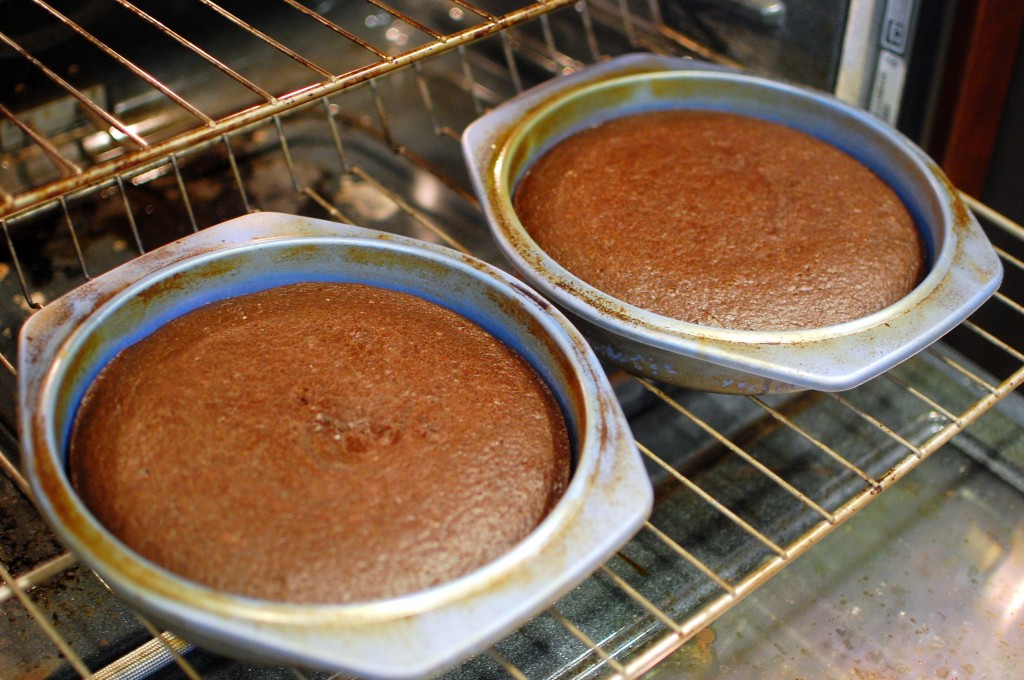 5.  While the cake is baking, make the frosting.  Melt the butter in a saucepan over medium low heat.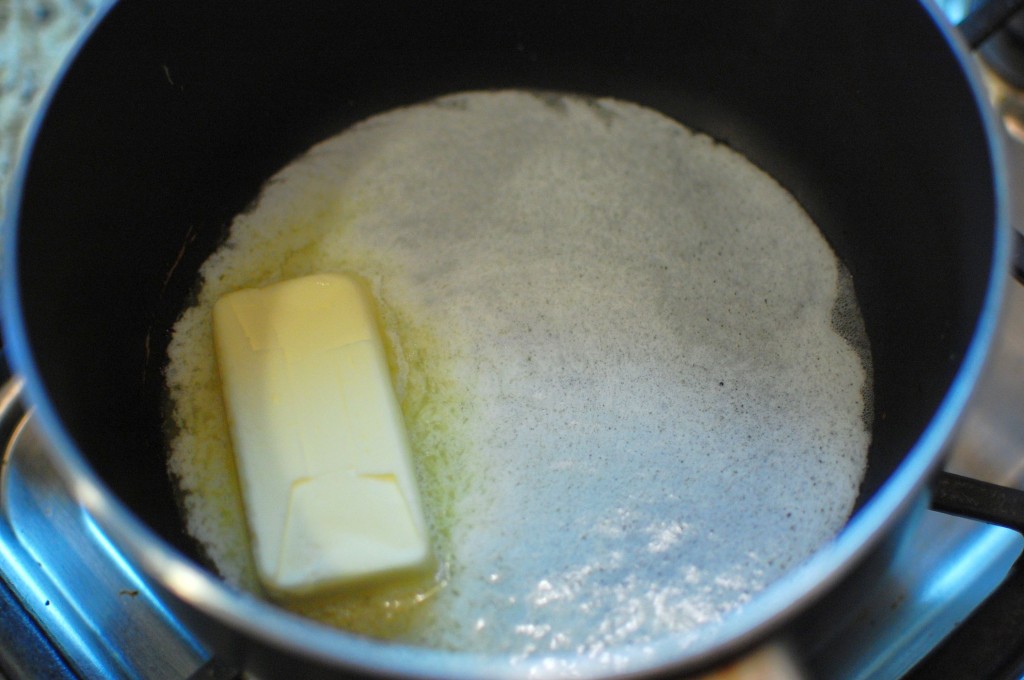 6.  Add the sugar, cocoa powder, and salt.  Stir – you will have a thick, grainy paste.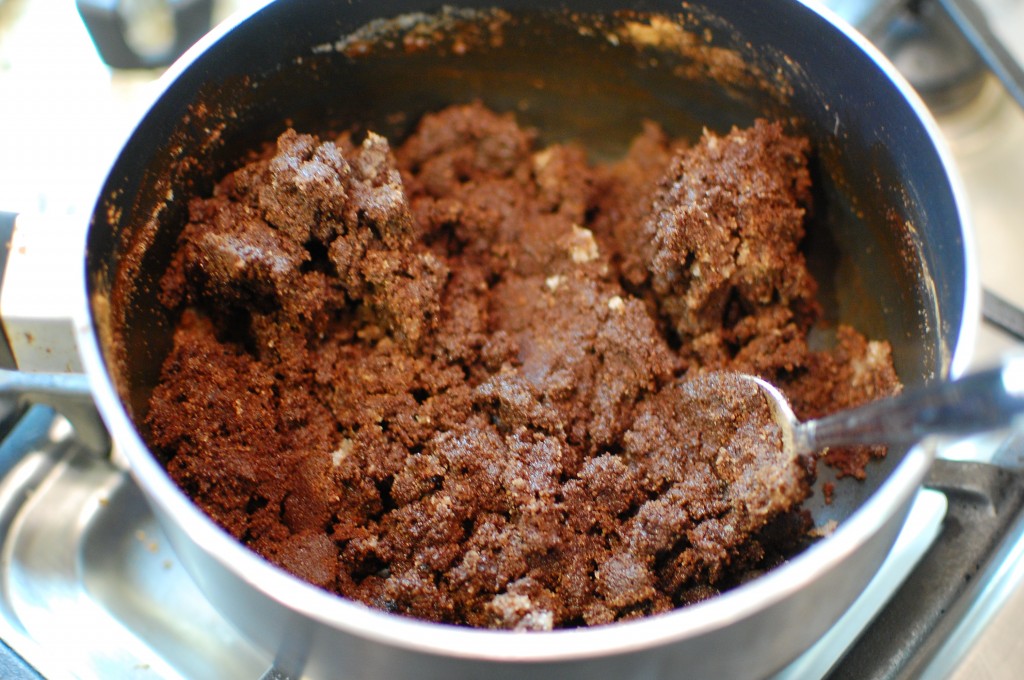 7.  Add the heavy cream and sour cream, and begin to whisk while continuing to heat gently.  The mixture will be grainy at first, but will eventually come together.  (Do not boil!)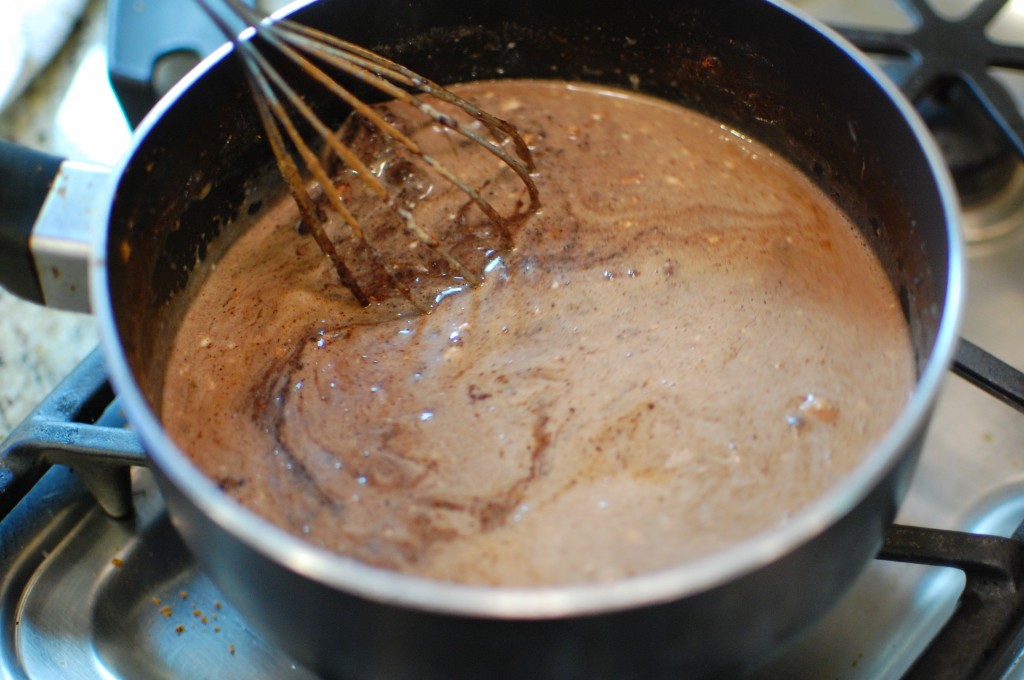 8.  When smooth and the sugar is dissolved, remove from heat and stir in the vanilla extract.  Set aside for several hours to cool and thicken.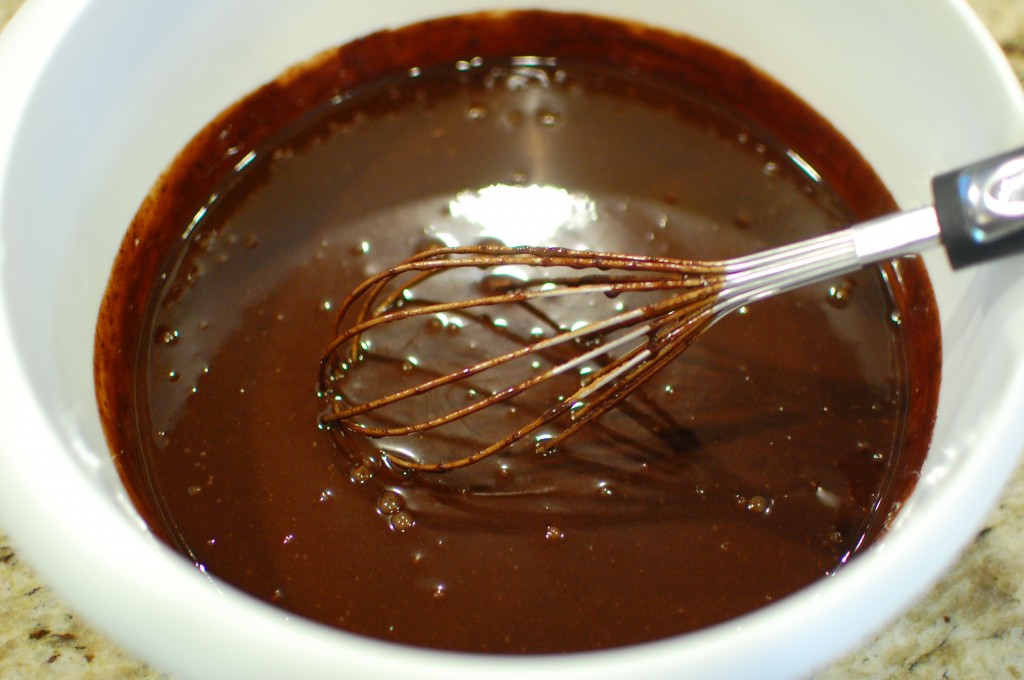 9.  Fill the cake with about 1 – 1 1/2 c. of frosting, then frost the top and sides with the remainder.  Makes 16 servings.