I LOVE yomogi flavored mochi!  "Yomogi" is a Japanese herb, called "Japanese Mugwort" in English, a.k.a. "Artemesia princeps" in the plant world.  This is a very vigorous plant that grows like a weed all over Japan.  It is a member of the Asteroideae – the same subfamily that contains tarragon, sagebrush (NOT sage… which is from the mint family), and wormwood (flavoring for Absinthe).  It has a unique and amazing flavor that I adore!
While yomogi is EVERYWHERE in Japan… I had a really hard time finding it here in the USA – even here in California where there is a large Japanese population.  To my dismay, I could not find fresh yomogi leaves anywhere (not even at Mitsuwa Market)!  I've been dying to make this mochi for months now… but you can't make yomogi mochi without yomogi!  In the end, I decided to buy yomogi seeds online, and grow my own plant (which is why this "spring" confection is being featured on my blog during summer – it took awhile for my plants to grow to the point where I could harvest enough leaves).  If you are impatient, you can try buying Yomogi Powder online instead – just mix the powder into the 1 1/2 c. water called for in the mochi recipe.  But fresh leaves are best if you can get them.
There are two types of mochi you can make with yomogi (both are considered seasonal spring favorites in Japan – right around the time where yomogi begins to sprout up all over the place).  The most popular is Yomogi Daifuku:  green mugwort-flavored mochi with sweet red bean paste filling, topped with a sprinkle of kinako (yellow soy bean flour).  My husband loves red bean filling, so I decided to make this type for him.  But for me, I prefer the flavor of the mugwort to stand out – without any red bean distracting me.  So I also made Kusa Mochi: plain green mugwort-flavored mochi, topped with kinako (no fillings).
So of course, the day AFTER I made this mochi… my dad showed up with two large potted yomogi plants for me that he dug up out of his yard.  A few years back, my dad had yomogi growing in his backyard… but got rid of it, since he didn't really use it… and because he needed the space for tomatoes and peppers.  But since yomogi reproduces via underground stolons (which are hard to completely remove from the soil)… it came back!  (And since I had been asking my dad for yomogi for awhile… he pulled it up, potted it, and brought it to me.  Now I have way more yomogi than I need!  Sigh.  That's Murphy's law for you…)  So… don't go planting yomogi anywhere that you think you might want to get rid of it in the future – it is quite weed-like – and will keep coming back no matter what.  Plant it in a pot!  There is a reason why the direct translation of "kusa mochi" means "WEED mochi" or "grass mochi" in Japanese…
In this post, I will show you how to make both Yomogi Daifuku and Kusa Mochi.  The only extra ingredient that you need for the daifuku is half a can of sweet red bean paste.
*If you are looking for other types of mochi, try my Apple Pie Mochi, Pumpkin Pie Mochi, or regular Daifuku Mochi recipes.
Yomogi Mochi:
1 c. loosely packed fresh yomogi leaves (about 8 grams or 0.3 oz.)
2 c. water (only use 1.5 c. liquid in the mochi batter!)
1 1/2 c. mochiko (sweet rice flour)
1 c. sugar
1/2 tsp. salt
2-3 drops rice vinegar
1 drop green food coloring (optional)
Mochi filling for Daifuku/topping for mochi:
1/2 can sweet red bean paste
3 T. kinako (soy bean flour)
Mochi dusting powder:
1/4 c. potato starch + 2 T. sugar
1.  Wash the fresh yomogi leaves.  (If you are picking your yomogi fresh, choose the inner leaves that are darker green – not the outer/older leaves that are more yellow).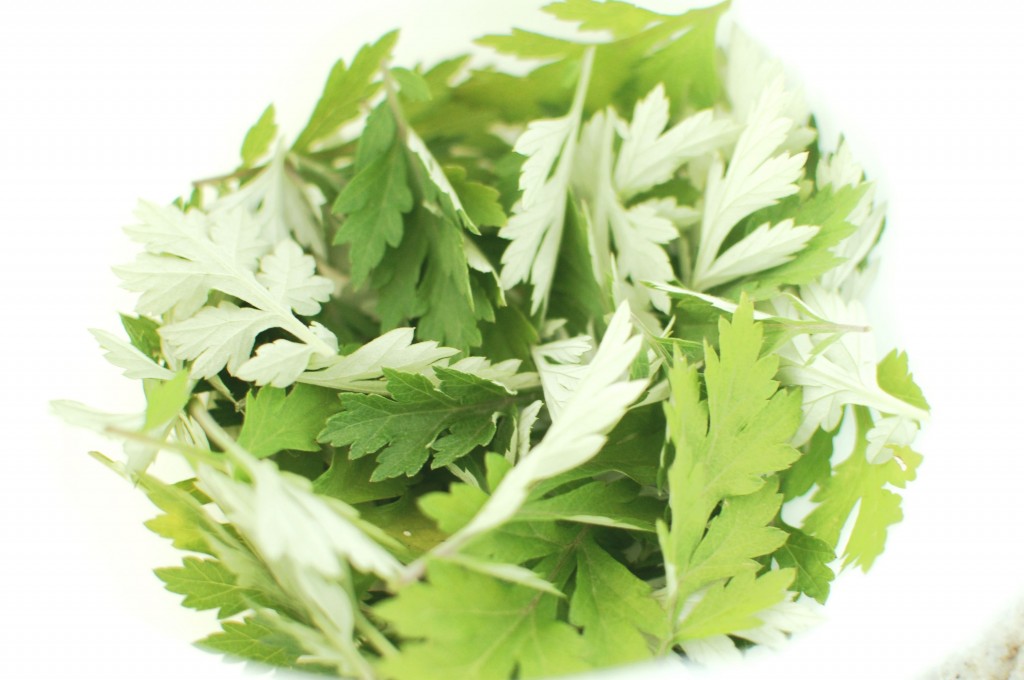 2. Bring the 2 c. water to a boil in a small saucepan.  Add the yomogi leaves, and simmer 1-2 minutes until wilted and soft.  Allow to cool.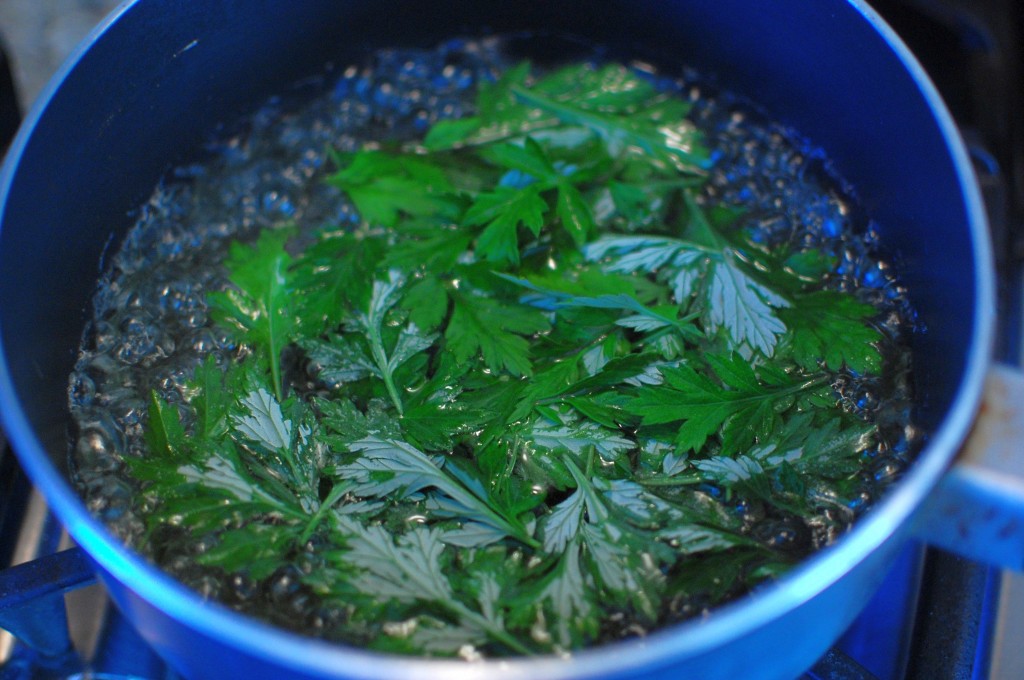 3.  Meanwhile, scoop the red bean paste (using a cookie scoop) into 12 balls.  Set aside.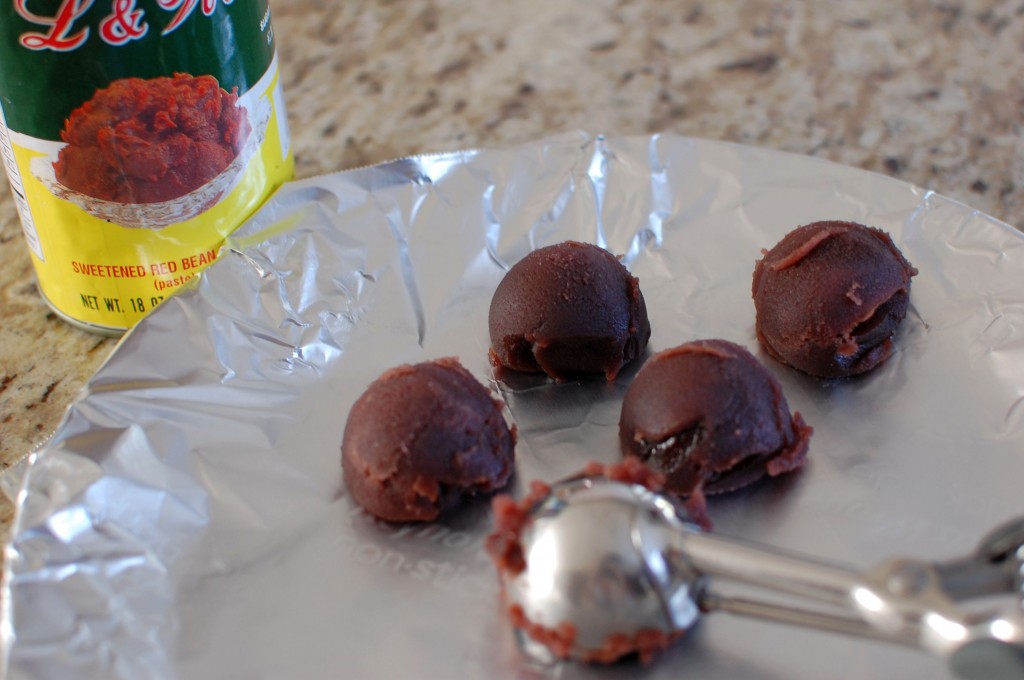 4.  Place the cooked yomogi and about 1 1/2 c. the cooking water (save the rest of the green cooking water) into a blender, and blend until smooth.  (I love my Blendtec Blender… 15-20 seconds on speed 6 pulverizes the leaves perfectly… this is seriously the best blender I have ever used!)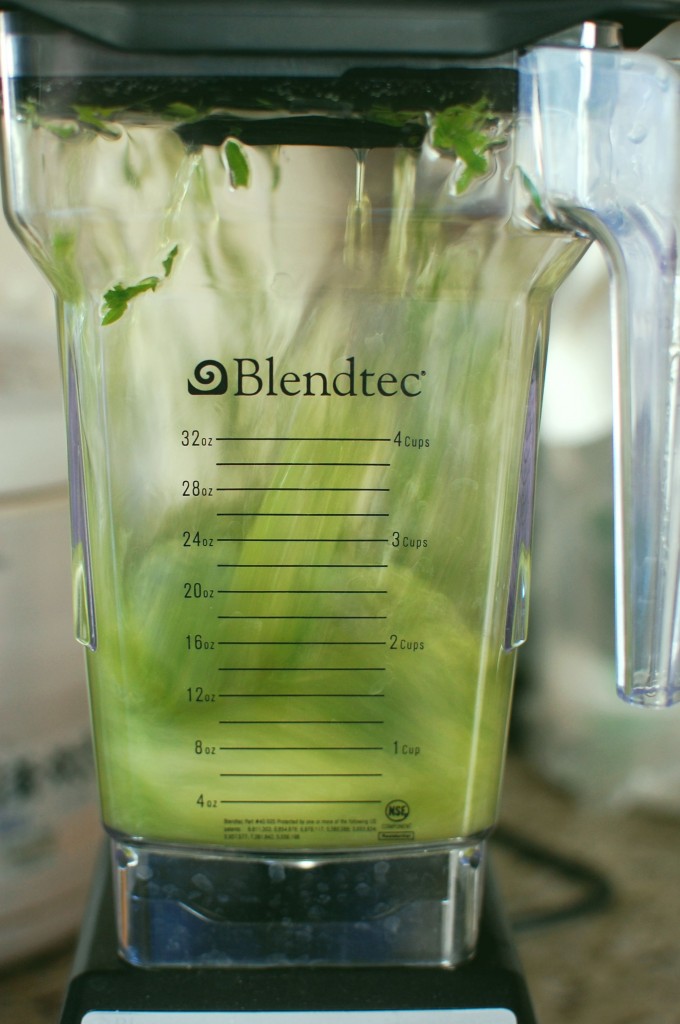 5.  Strain the yomogi juice into a measuring cup.  Add reserved cooking water to the measuring cup to make a total volume of 1.5 c. green yomogi water, if needed.  (Reserve the drained yomogi pulp.)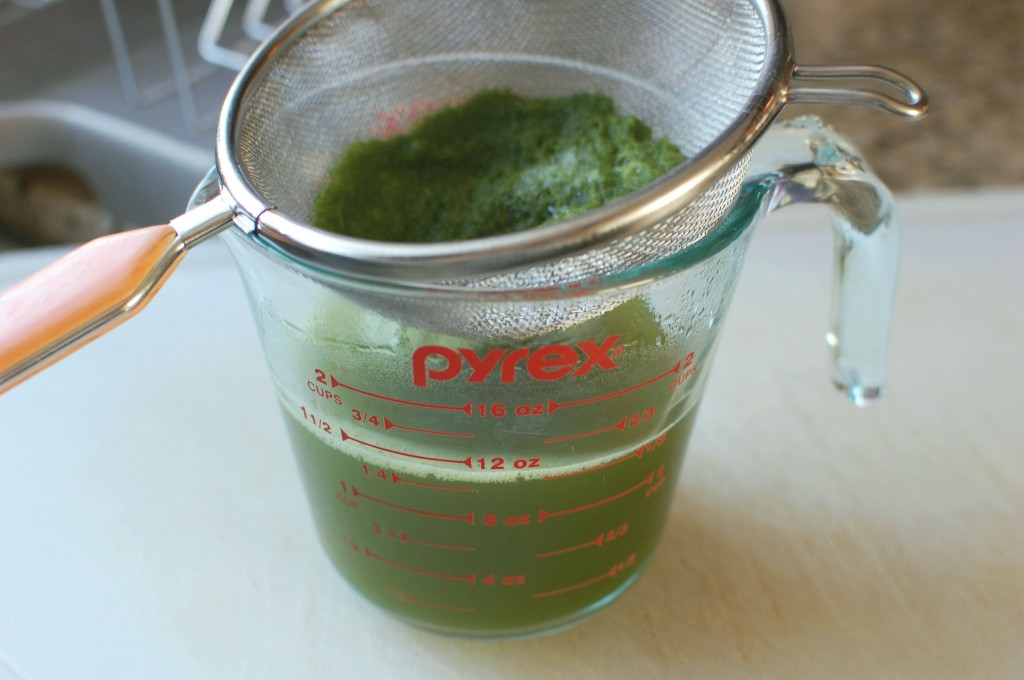 6.  Add the mochiko, sugar, salt, and vinegar into a large microwaveable bowl.  Add the 1.5 c. of green yomogi water, and stir with a whisk until uniformly combined (no lumps).  Add 1 drop of green food coloring, if desired.  (The color of the batter will be  green without the food coloring, but once cooked, it will turn more greenish brown… if you want your mochi to look more appetizing, add one drop of green food coloring.)  Stir in the drained yomogi pulp if you want to have little bits of the leaves in your mochi  (optional).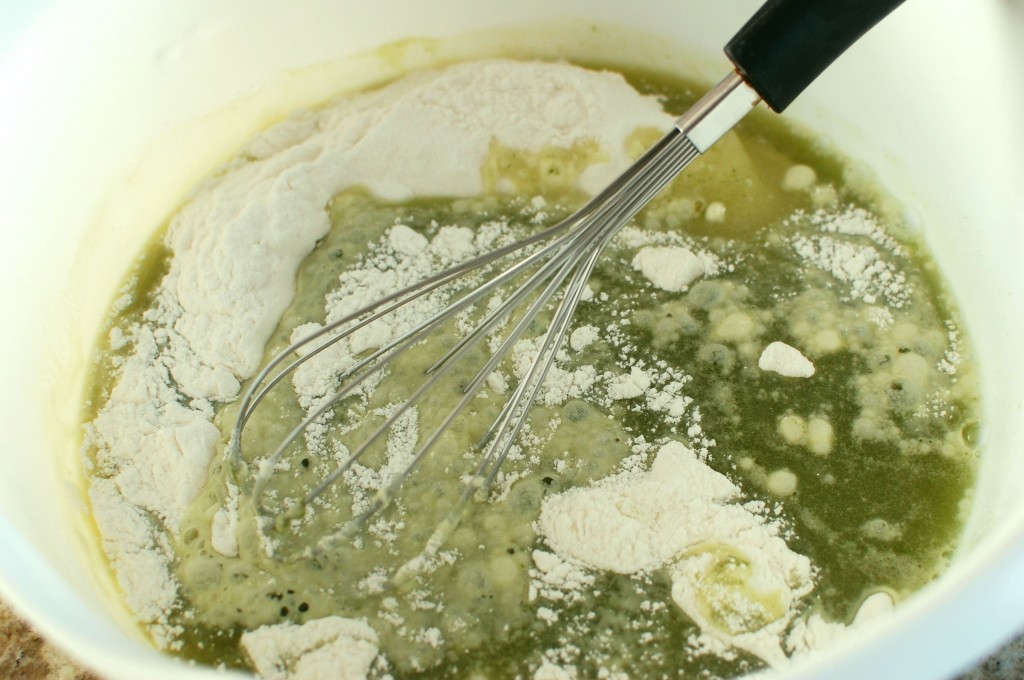 7.  Microwave the mochi for 8-10 minutes on high.  Your mochi is done when it is molten and doesn't have a grainy taste.  (Be careful – it really is like lava… it will hurt if you get it on your skin because it is VERY hot at this point.)  Dust a little bit of the mochi dusting powder on the surface of a large cutting board.  Dump your hot mochi on top, and sprinkle with some more dusting powder.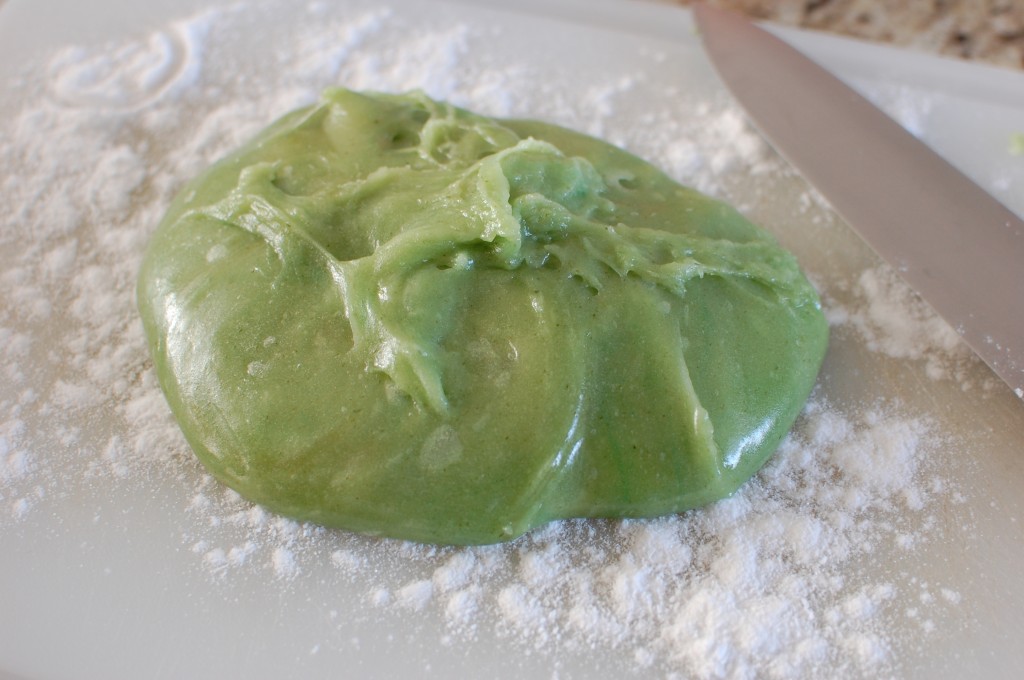 8.  Using the flat edge of a large chef's knife, flatten the mochi to an even thickness, and square the edges into a rectangle shape.  (If you want plain Kusa Mochi (草餅), then just slice into 24 squares at this point, roll in dusting powder, and sprinkle with kinako (soy bean flour).  If you want to make Yomogi Daifuku (蓬大福), go on to the next step.)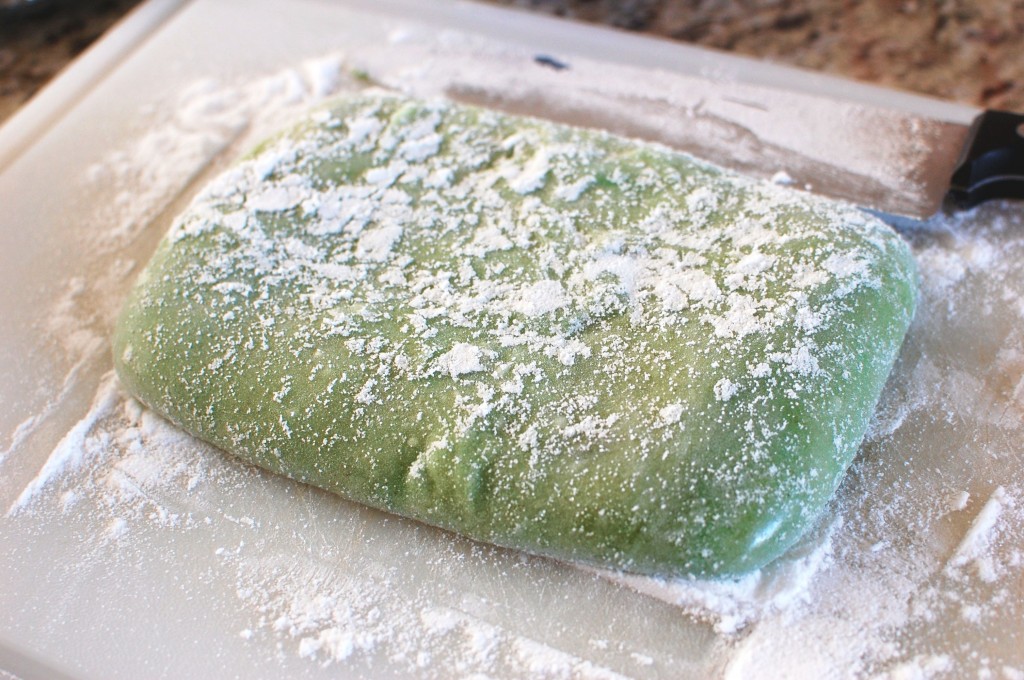 9.  To make Yomogi Daifuku, cut the rectangle into 12 pieces.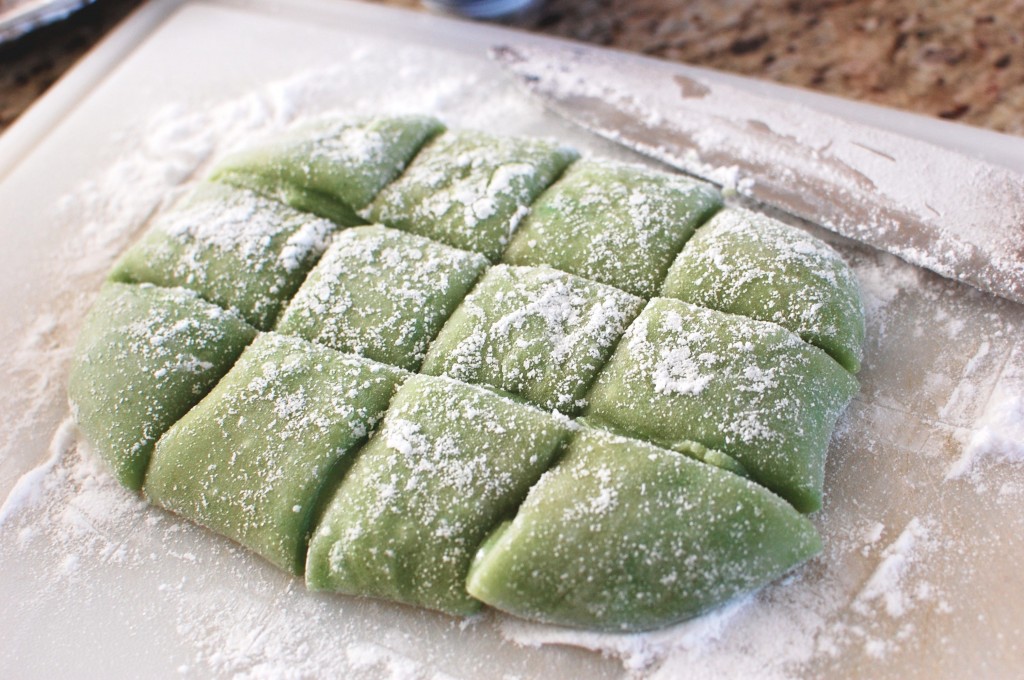 10.  Taking one piece at a time, flatten with your fingers.  (It doesn't have to be perfect… just somewhat flat and spread out enough that you can wrap a ball of red bean paste.)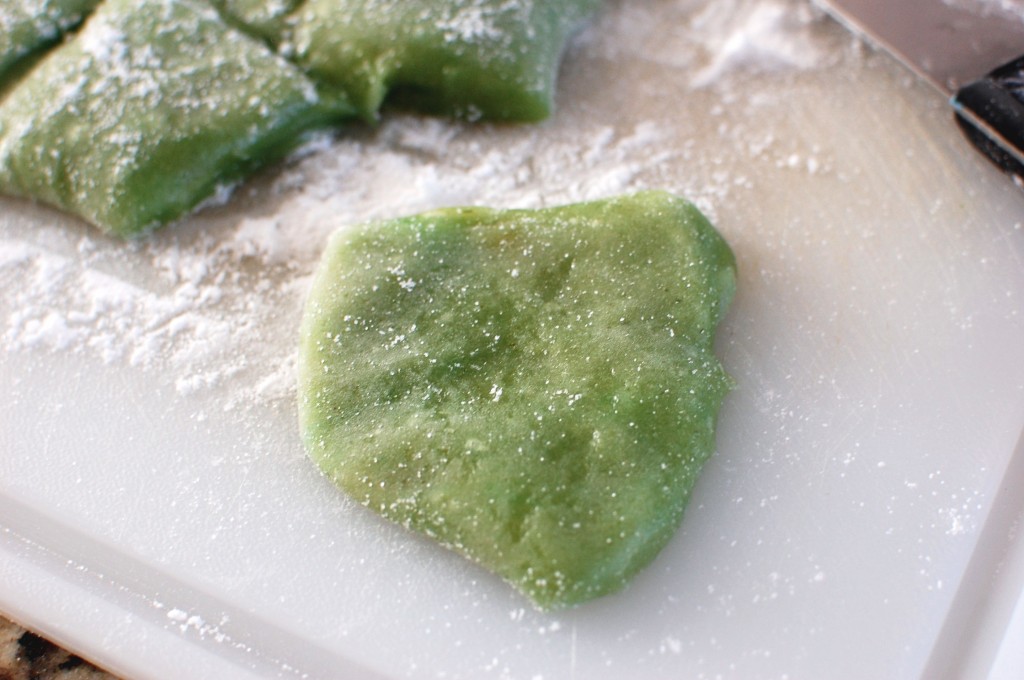 11.  Put one ball of red bean into the center.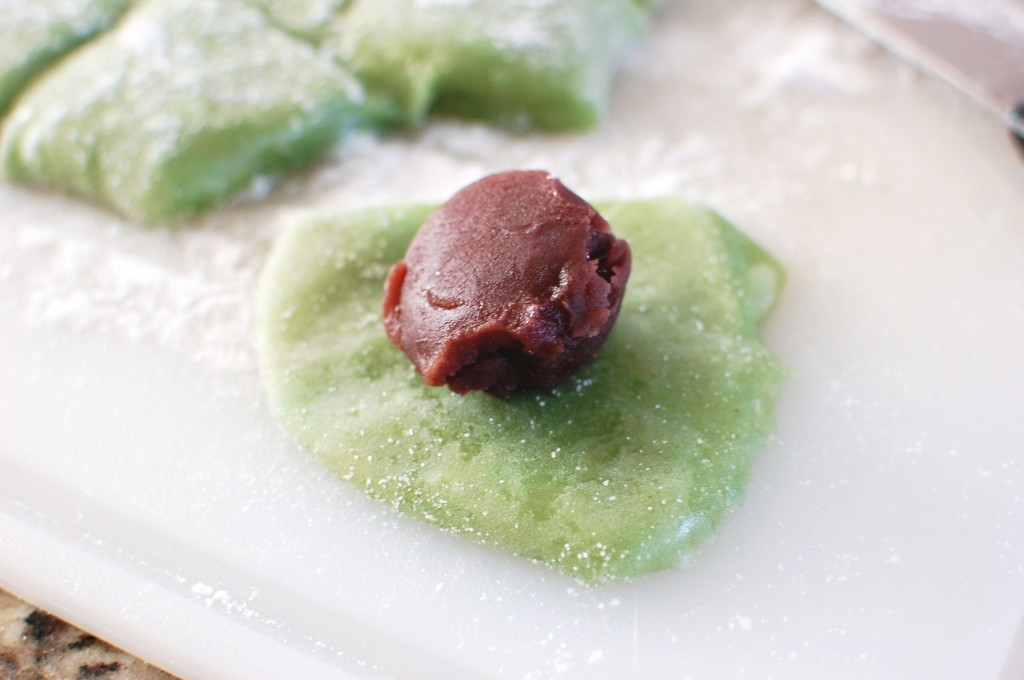 12.  Pinch the edges of the mochi upward to seal.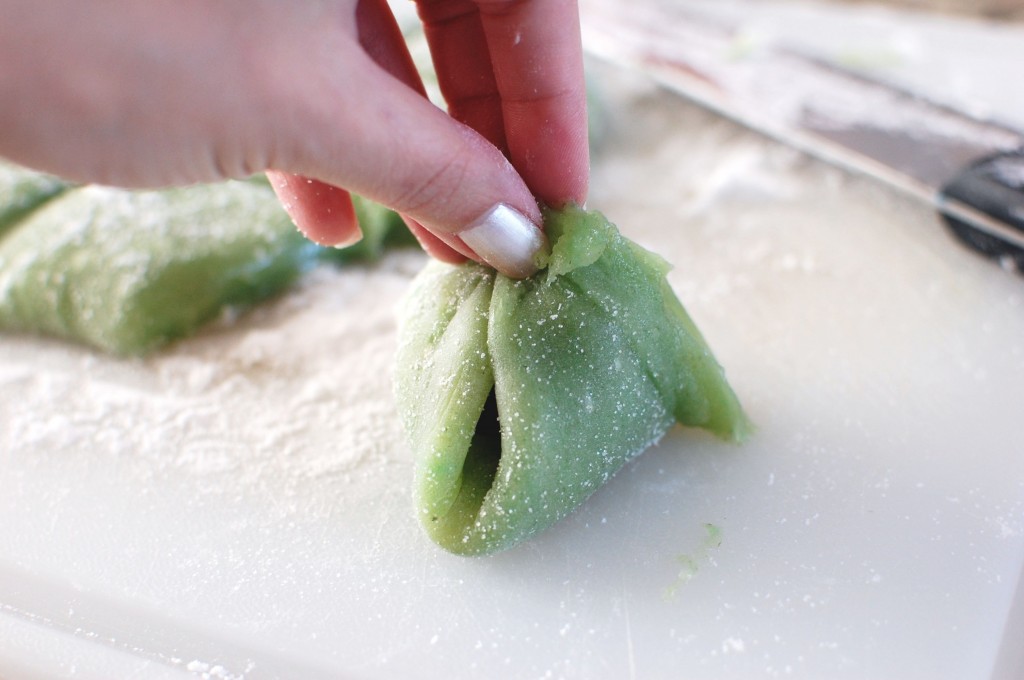 13.  Dust the sealed edge with a little bit of the dusting powder, and turn over so the pinched/sealed edge is on the bottom.  Set the mochi aside on a dusted surface to cool.  Repeat with the remaining mochi.  (Try to do this fast, the mochi is easier to work with when hot and pliable – if it gets cold, it will be much harder to shape.)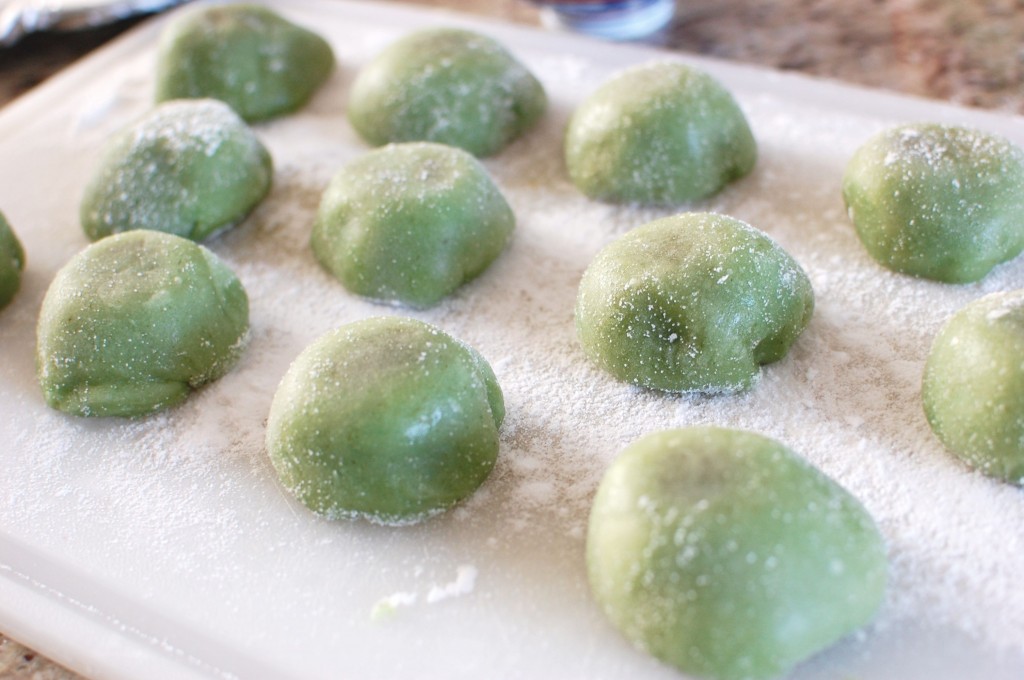 14.  When your mochi are done, dust them with the kinako (soy bean flour).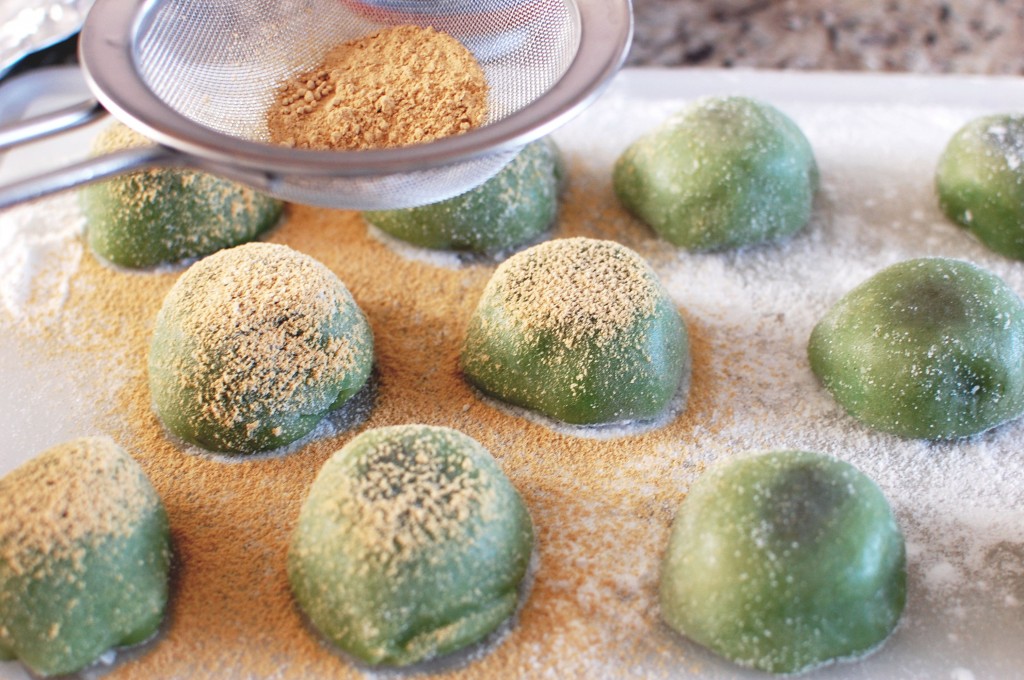 15.  Store your mochi covered with plastic wrap, and eat within 2-3 days.  If you store in the refrigerator, it will get hard – but you can soften slightly by microwaving at 15 second intervals until soft again.