My husband isn't much of a 'foodie'.  He doesn't get all crazy about food the way I do… unless… it's something sweet.  He LOVES desserts.  One day, several years ago, he was reminiscing about the amazing fudge that he used to buy while in primary school in Capetown, South Africa; "It's creamy, not chocolaty, and it melts in your mouth".  Hmm.  Sounds awesome.  But how was I to make it when I've never tried it before?!?!   (Luckily, his sister gave me her recipe!)
Now, I've always heard that making fudge was really hard to do.  In fact, the only type of fudge I ever make successfully is the "cheater" chocolate fudge that uses sweetened condensed milk and the microwave.  (There was this one time I tried to make pumpkin fudge – and it was a disaster!  I didn't end up with fudge, but instead made a crumbly mess.  It was ok in the end, since I used the failed fudge as an awesome filling for pumpkin cinnamon rolls!)  Thankfully, this recipe has never given me any problems – even with substitutions.  Half the time, I don't even bother with the candy thermometer!
One of the ingredients in South African fudge is Golden Syrup.  For the first couple of years I made this recipe, I didn't really know what "golden syrup" was.  I had never heard of it, and I had never seen it.  I figured it was some sort of sugary syrup, and brownish or 'golden' in color.  (Haha wasn't that sooo smart of me???)  That's it.   So in its place, I have used: honey, dark corn syrup, maple syrup… you name it.  The recipe has always been fine, no matter what kind of syrup I used.  Last year though, I discovered a German supermarket in town – and they carried all sorts of European grocery items.  When browsing through the different flavors of Austrian jam… I saw a can on the next shelf that said "Golden Syrup"… and I bought it.  Since then, I've used Golden Syrup in the recipe instead of whatever random syrup I had on hand, and I'll admit… I think it's a little better with it… but it's not 100% essential.  So use what you have, unless you have a supply of Golden Syrup.
South African Fudge:
2 cups sugar
5 T. water
4 T. unsalted butter
2 T. Golden Syrup (or dark corn syrup)
14 oz. can sweetened condensed milk
1/2 tsp. salt
1 tsp. vanilla extract
1.  In a heavy pot (I used a pan that was too small in these photos – try something a little bit bigger, like a dutch oven), dissolve the  sugar into the water over medium-low heat.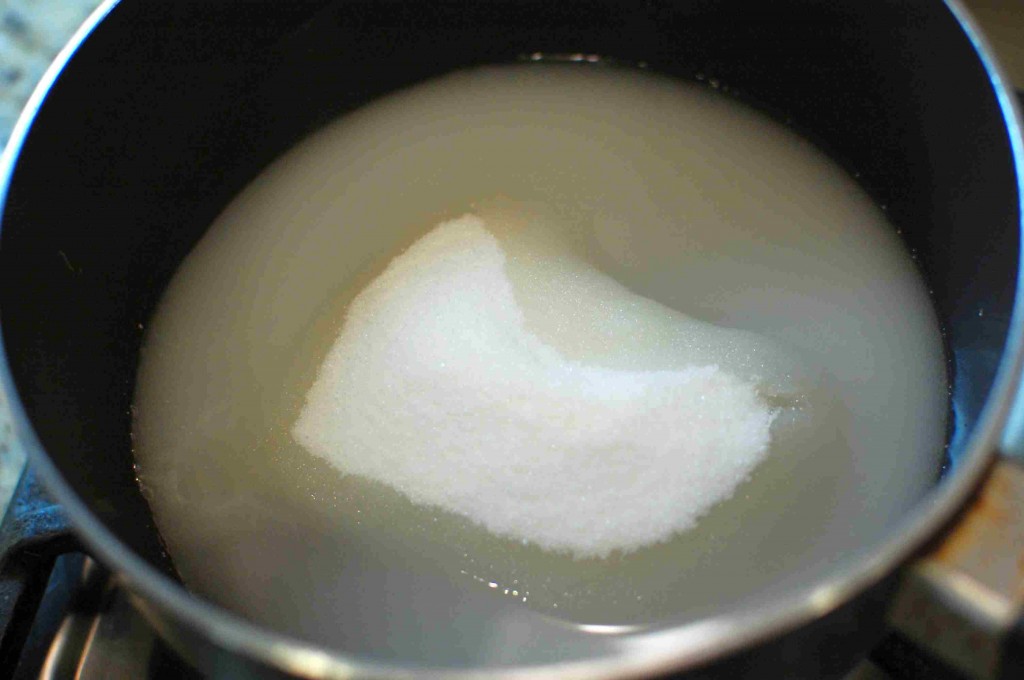 2.  Add the butter and golden syrup, and stir with a wooden spoon until the butter is melted.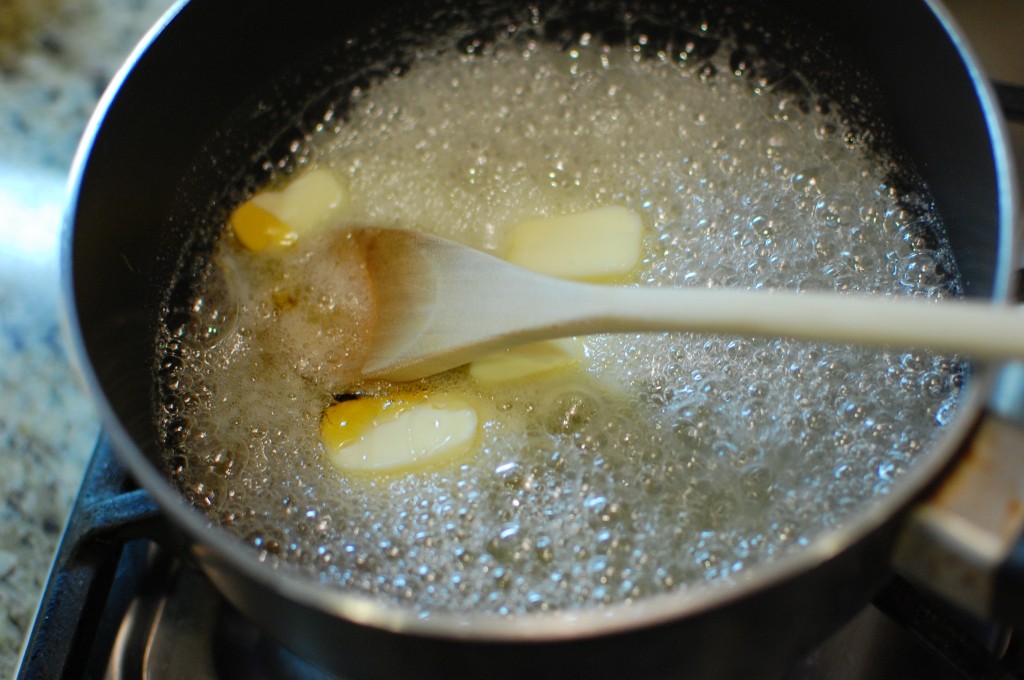 3.  Add the salt and the sweetened condensed milk, and bring to a boil.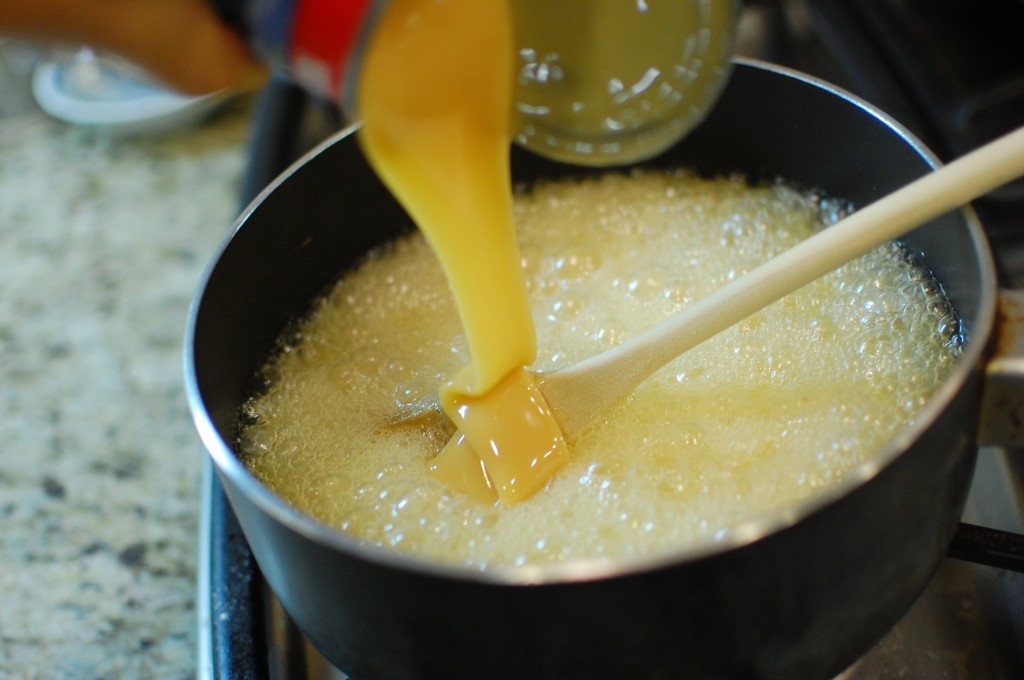 4.  Continue cooking the mixture over medium-low heat (it should be simmering, or boiling very gently) while stirring with a wooden spoon.  You will need to cook this mixture on medium-low for about 20 minutes to reach the "soft ball" stage.  (Don't worry – this is not as hard to do as it seems.  Basically just cook the mixture for 20 minutes, stirring, and you will pretty much be there at the 20 minute mark.  I have made this recipe a bunch of times without the candy thermometer and it turns out just fine.)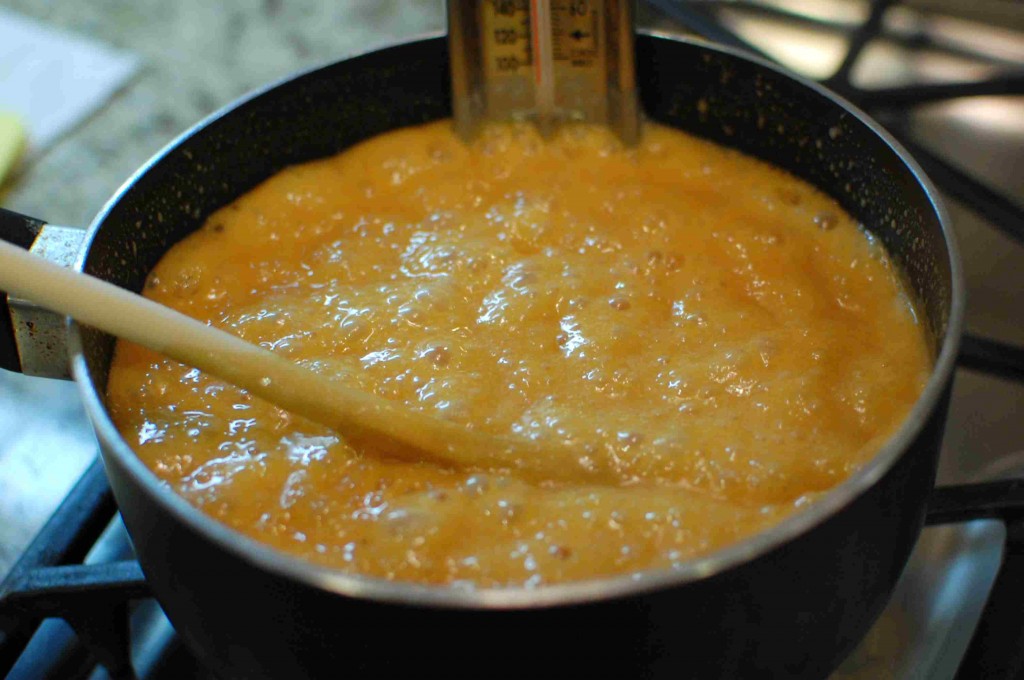 5.  When the mixture becomes thick and reaches the "soft ball" stage (235-240 degrees F), turn off the heat.  (You can use a candy thermometer to judge when you are at the soft ball stage, or you can also drop a small amount of the mixture into a cup of cold water.  If the mixture firms up so that you can form a soft ball of candy between your fingers, then you are done.  If you are using a candy thermometer, I would stop cooking somewhere around 237 or 238 degrees… if you go all the way to 240, you might end up overcooking.)  Another way to tell if your mixture is cooked to the right stage, is to look for the mixture to "sheet" off the back of your wooden spoon.  If you dip the spoon into the mixture and pull it out above the pot, look for the syrup to slowly drip off the back of the spoon – it may start off as individual drips, but they will coalesce into a single sheet of syrup coming off the spoon.
6.  Remove the pot from the heat, and add the vanilla extract (stirring as you go).  THIS STEP IS THE MOST IMPORTANT!  Keep stirring the mixture with a wooden spoon – actually, you want to stir vigorously or beat the mixture – for about 3-5 minutes until it becomes thickened.  You will notice the mixture beginning to crystallize and form a paste on the sides and corners of the pot – the syrup will start looking a little chalky.  At this point you can stop.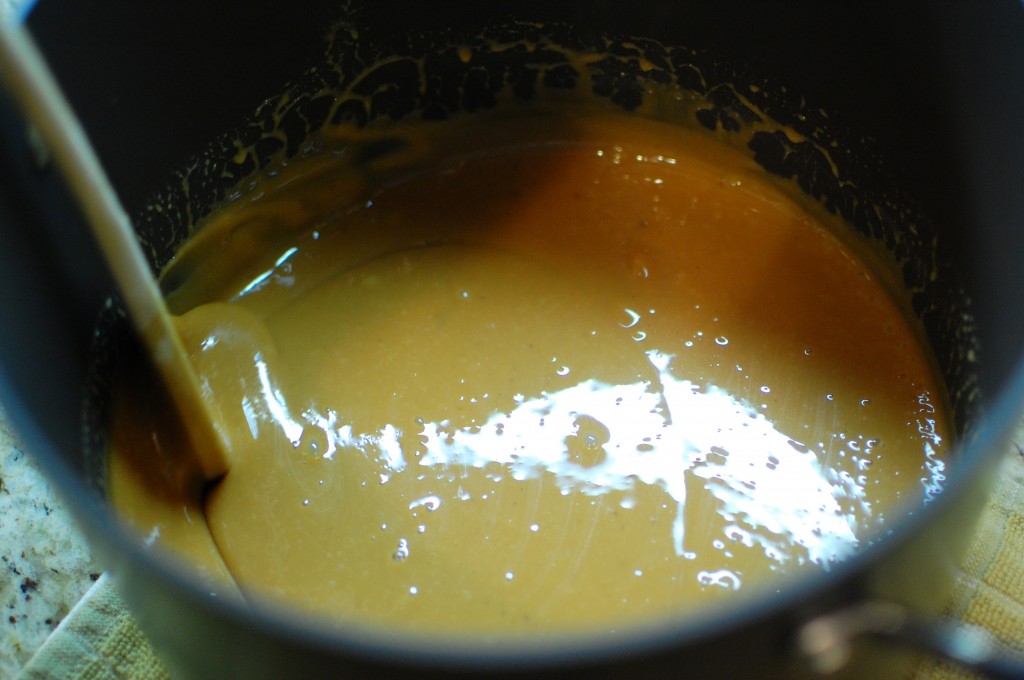 7.  Pour the fudge mixture into a non-stick foil (or greased foil) lined 8″ or 9″ square pan, or a 7″ X 11″ rectangle pan.  (The pan size doesn't have to be exact – basically, the bigger the pan, the thinner the fudge.  The smaller the pan, the thicker the fudge pieces will be.)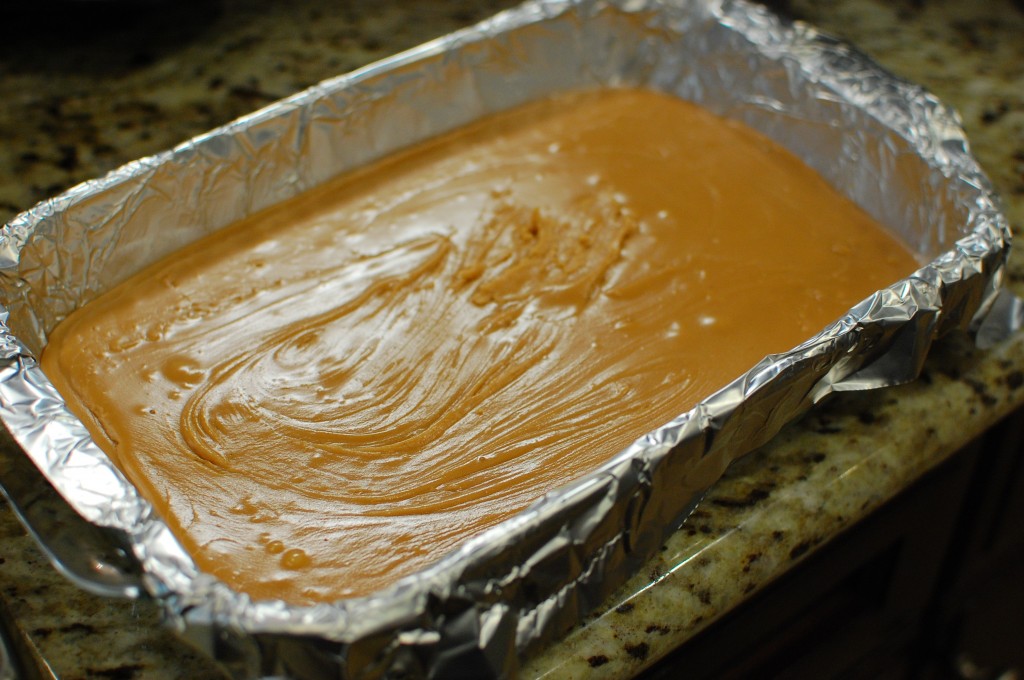 8.  Allow the fudge to rest on the counter for 2-3 hours until firm.  Remove to a cutting board (use the foil as a sling to remove it from the pan), and cut into squares.  Store in an airtight plastic container.