There are quite a few "Starbucks Iced Lemon Pound Cake" recipes circulating around the internet these days…  Judging from the ingredients, most of these are made from boxed cake mix (with no butter) or are just basic pound cake recipes with a bit of lemon juice thrown in.  I wanted something that would be closer to the original (described by Starbucks as "a moist lemon cake with sweet icing") that we are all trying to copy – so I decided to tinker around and make up my own recipe.
Now, nothing against cake mix (I use it myself here and there)…I just found it easier to change ingredient proportions around with a from-scratch recipe vs. a cake mix based recipe.   Also, for people who have allergies and are looking to substitute specific ingredients – it's much easier to do so in a scratch recipe than to try to scrutinize labels of all the various cake mixes.  In addition, many cake mix boxes have downsized!  Have you noticed this?  Some of the previous brands used to be 18.25 oz. of cake mix, and are now closer to 16.5 oz.  Because of the down-sizing, I'm leery of using cake mix in any of my recipes – because who knows what sized box people will have in their pantries or on the shelves at their markets?  And cake mix does not make real "pound cake" – which is supposed to have a denser, tighter crumb (cake mix produces a looser, larger crumb).
My recipe (below) is a hybrid – something between a traditional buttery pound cake and a fluffier oil-based cake.  The flavor comes mostly from the zest of the lemon, but the juice is also incorporated into the recipe – as a soaking syrup and glaze.  I like to add a bit of lemon extract in addition to the zest to punch up the lemon flavor without making the batter too acidic (as you might get with adding too much straight lemon juice).  (Lemon extract is sold in the spice aisle of the supermarket, right next to the bottles of vanilla extract.)  While butter is a key ingredient (for flavor and texture), oil and mayo lighten the cake, making it a bit moister than a traditional pound cake.
You will need about 4 large lemons for this recipe – juice and zest.  The lemon soaking syrup step is optional, but you will probably have a lot of leftover juice if you don't do this part – so you might as well do it (it adds a bit more moisture and lemon flavor into the loaf).  Yield: 2 loaves.
UPDATE 8/12/13:   I received a few emails alerting me that this recipe, prepared exactly as written didn't work out.  I wasn't sure why this was happening… since every single time I make this pound cake, it works out great… and I get rave reviews.  So I checked my notebook (where I write down all of my recipes), and I realized that I must have accidentally posted an earlier version of this pound cake… one of my experimental versions that didn't turn out.  I sincerely apologize if anyone tried this incorrect version!  I have corrected the errors, and the  ingredient amounts listed below are now accurate.  And just to be 100% sure… I made lemon pound cakes this morning, using the corrected recipe listed below, and they turned out exactly how they should.  
Lemon Pound cake:
1 c. unsalted butter (2 sticks)
2 c. sugar
zest of 3 lemons
1/2 c. mayo
1/4 c. canola oil
1 T. lemon juice
2 tsp. lemon extract
1 tsp. salt
6 eggs
4 c. flour
2 tsp. baking powder
1/4 tsp. baking soda
Lemon Soaking Syrup (optional):
~1/3 c. lemon juice (whatever juice you have left)
~1/3 c. sugar (same volume as the lemon juice)
Glaze:
2 c. powdered sugar
zest 1 lemon
3 T. lemon juice
1.  Preheat oven to 350 degrees.  Spray two 9″ X 5″  loaf pans with non-stick spray.  Zest and juice 4 lemons.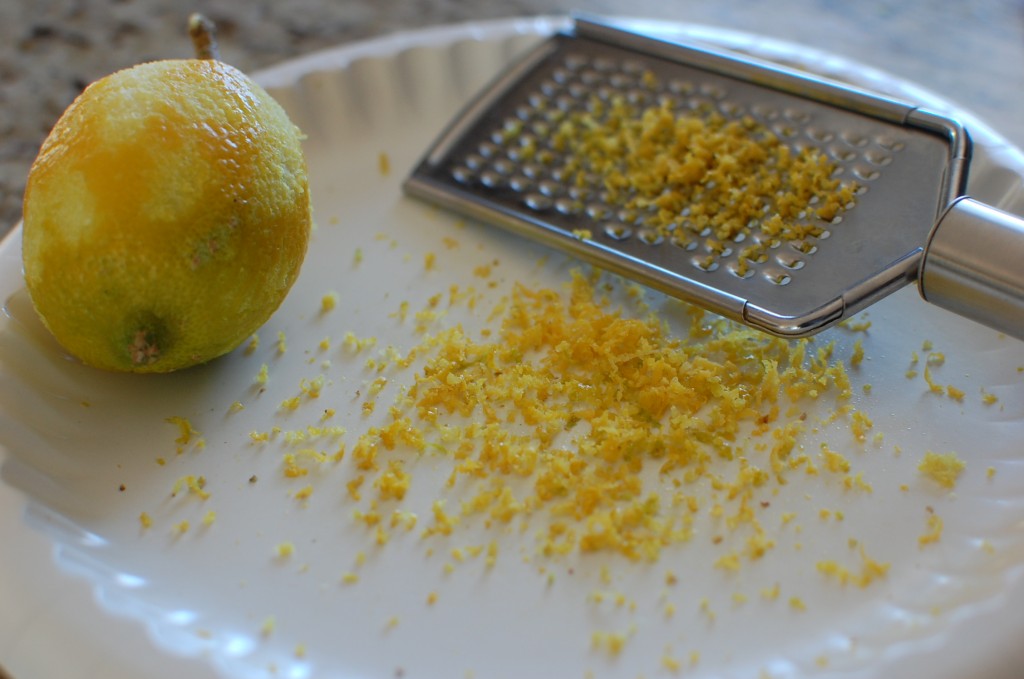 2.  Cream the butter and sugar with zest of 3 lemons (set aside the zest of the 4th lemon for use in the glaze).  (***Remember, this is a pound cake recipe… so the creaming step is actually very important in producing part of the lift for the cake.  When you cream your butter and sugar together, you are also incorporating air bubbles into the mixture – these air bubbles will expand when baking, and will help your cake rise.  Make sure you properly cream the butter and sugar for at least 5 minutes – don't just mix them together and then call it quits.)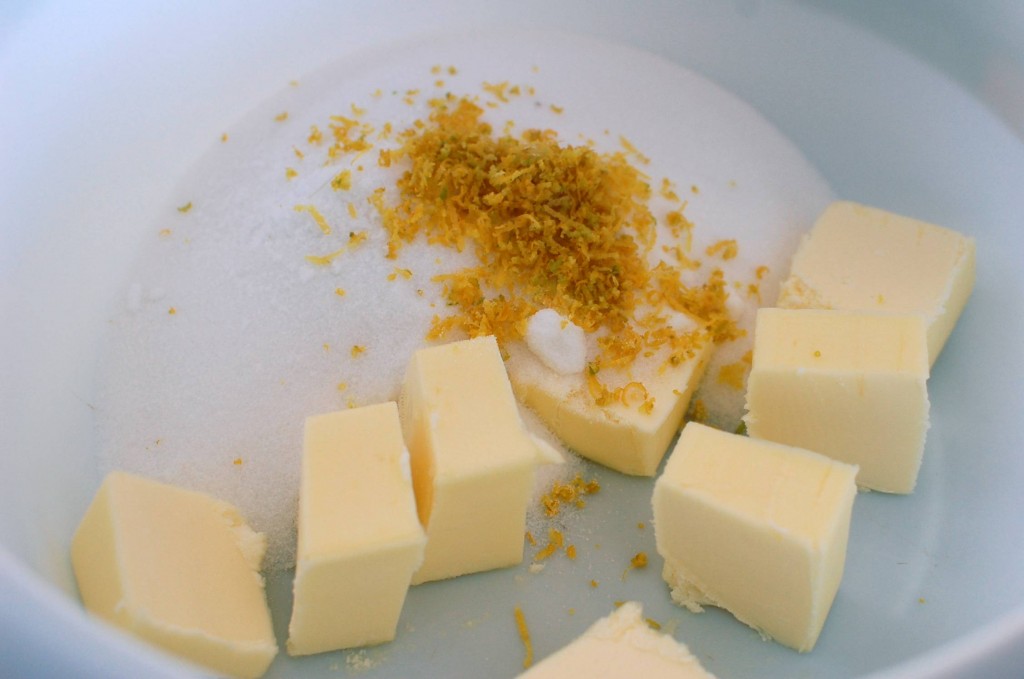 3.  Add the mayo, oil, lemon extract, lemon juice, and salt.  Continue beating until smooth and combined.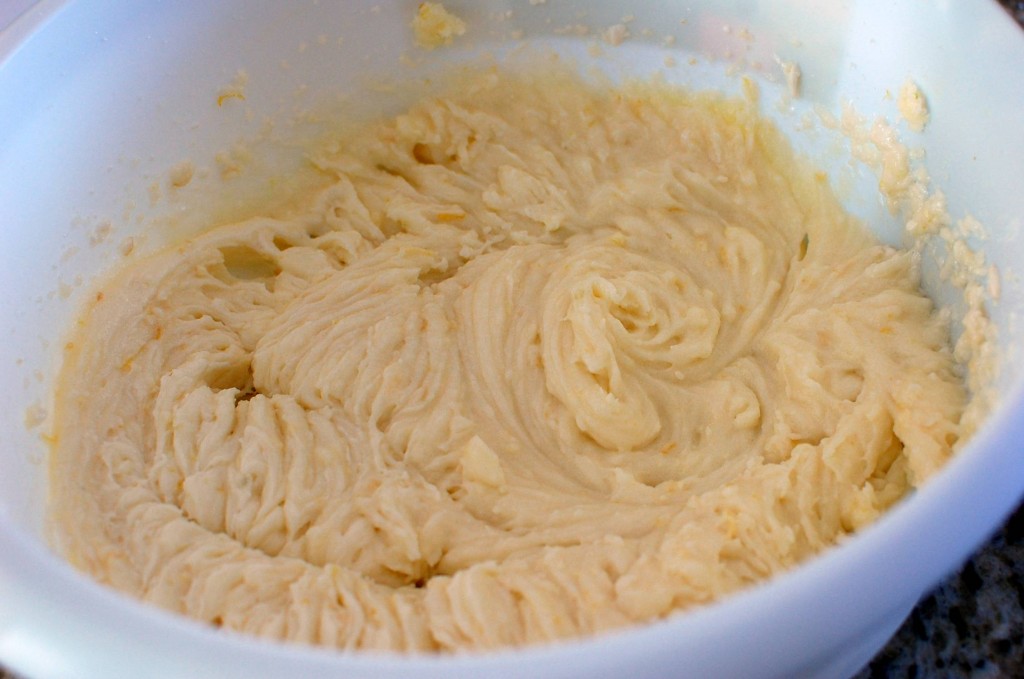 4.  Beat in the eggs, 2 eggs at a time, until the mixture is smooth and uniform.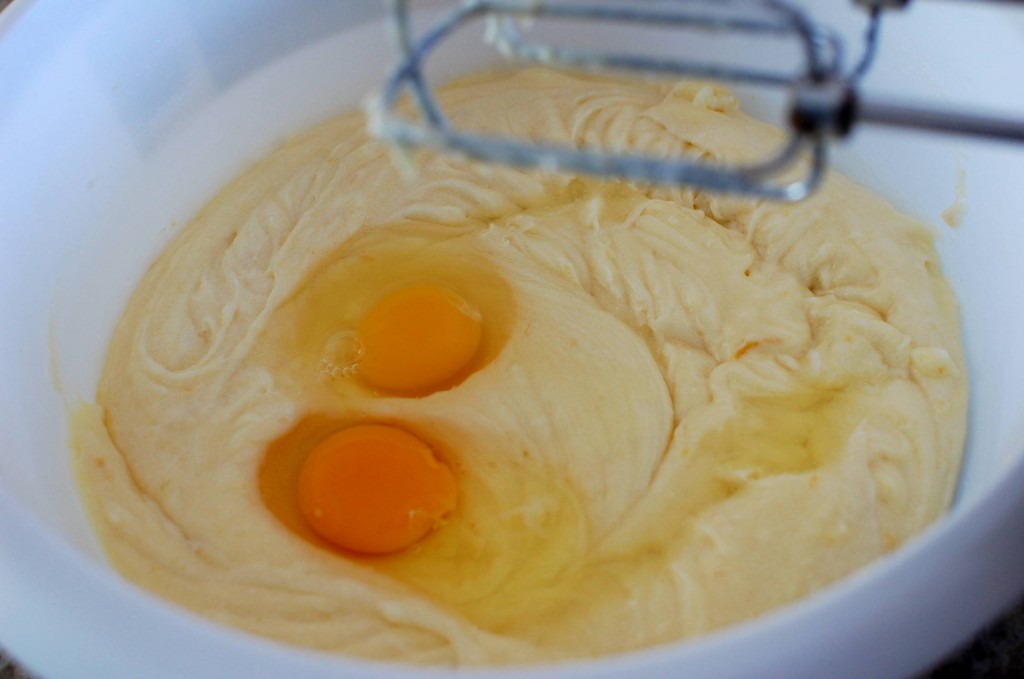 5.  Sift the flour, baking soda, and baking powder.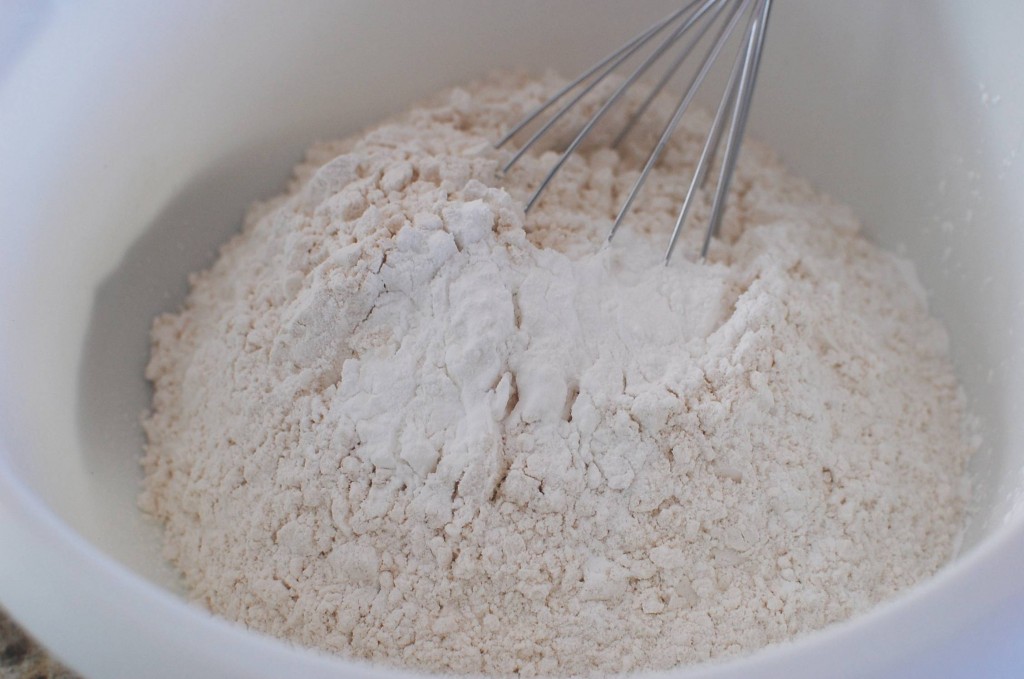 6.  Dump the dry ingredients on top of the wet ingredients.  With a rubber or silicone spatula, fold the flour into the wet mixture, until thoroughly incorporated.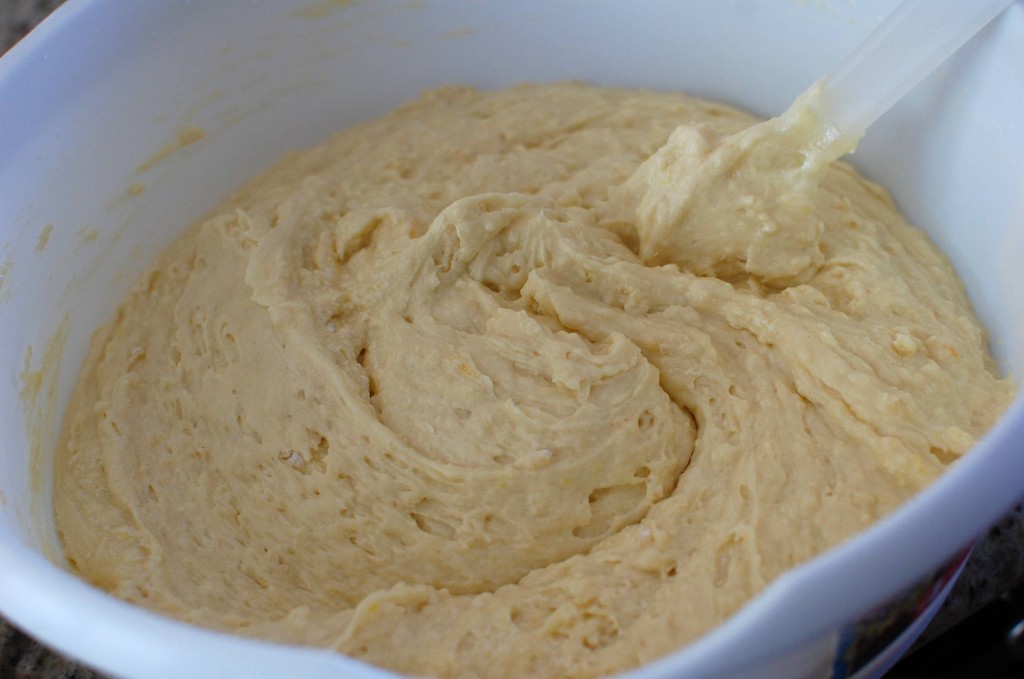 7.  Divide the batter between two 9″ X 5″ greased loaf pans.  Spread and flatten the top into the corners of the pan with the spatula.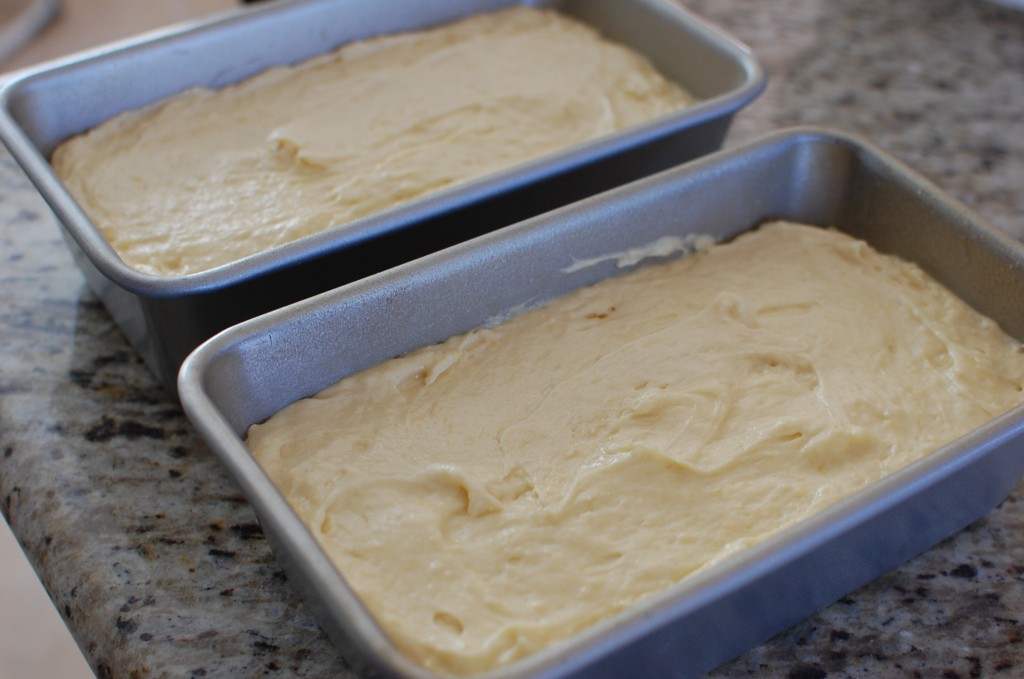 8.  Bake the lemon pound cakes for 45 – 50 minutes, until a toothpick inserted into the center comes out clean.  Remove from the oven and allow to cool for 10 minutes.  (**Make sure the loaves are actually DONE before you remove from the oven.  Remember, not all ovens are the same – so you definitely want to check and make sure the centers are fully set before you remove and continue!  If the centers are not fully set, bake the loaves longer – adding 5 minutes at a time until they are done.)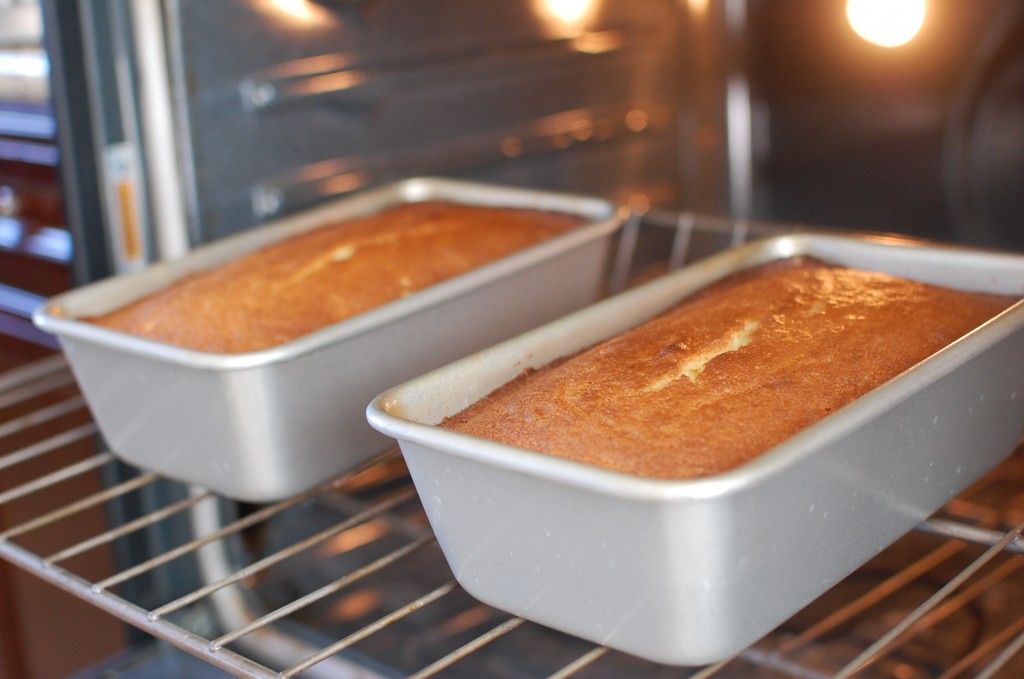 9.  While the pound cakes are baking, make the glaze by mixing the powdered sugar with the lemon zest and lemon juice.  Set aside in a small bowl covered with plastic wrap.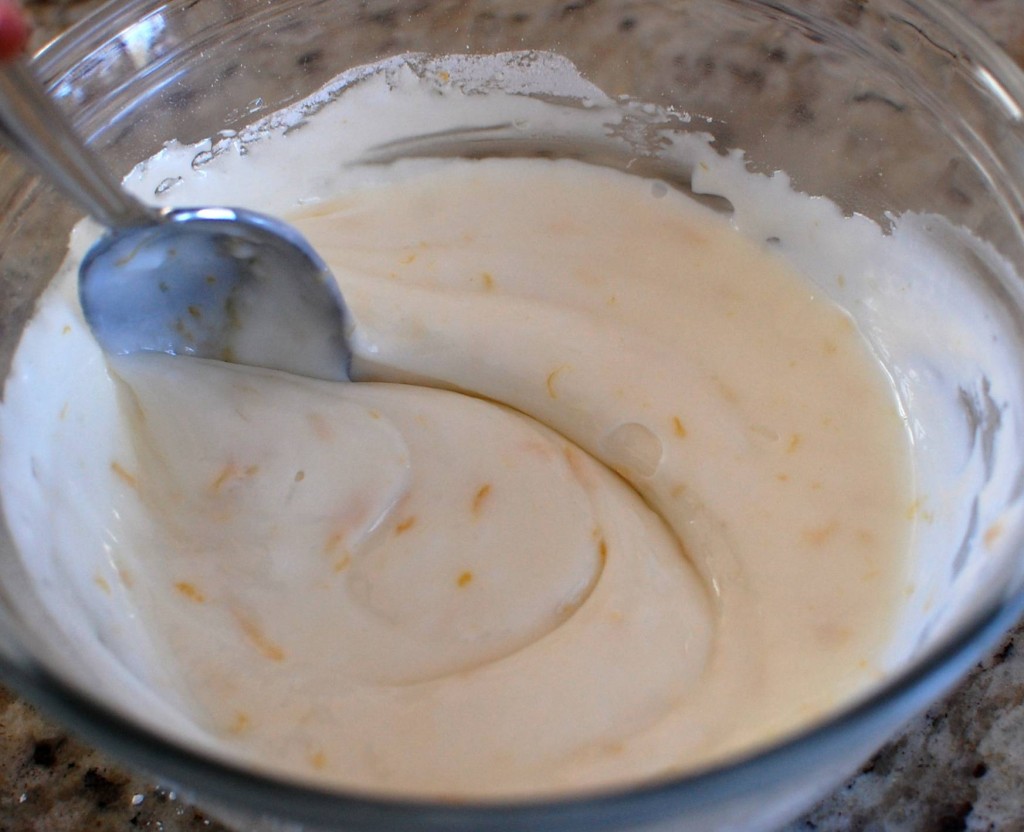 10.  (Optional Lemon soaking syrup:)  Put the remaining lemon juice into a liquid measuring cup – your total volume should be roughly 1/3 c.  (If it is a little more or less, it doesn't matter that much.)  Add an equal volume of sugar, then microwave for 45 seconds.  Stir until the sugar is dissolved, and set aside to cool (covered with plastic wrap).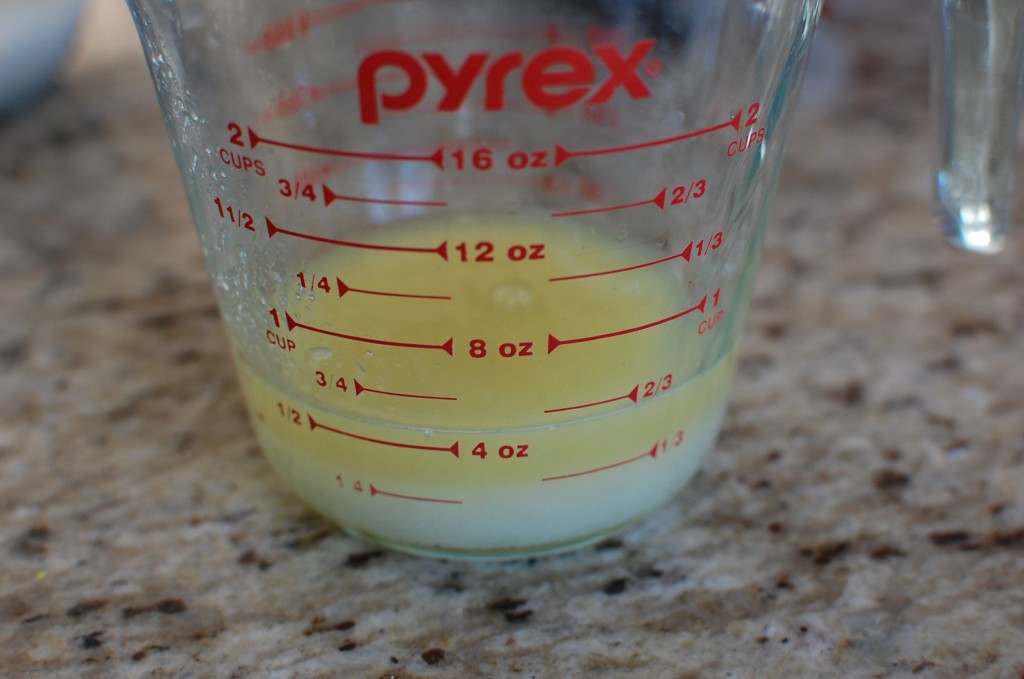 11.   (Optional:) Using a toothpick or skewer, poke holes in the loaf, about 1/2″ apart.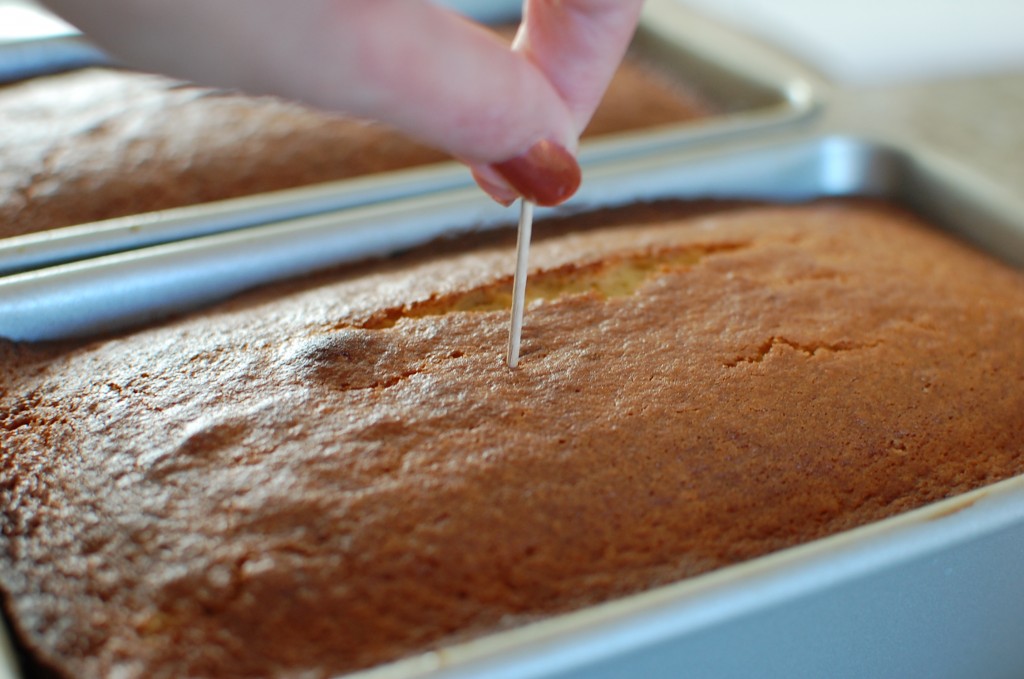 12.  Then, spread a few tablespoons of the soaking syrup over the surface, allowing it to soak in a little bit at a time.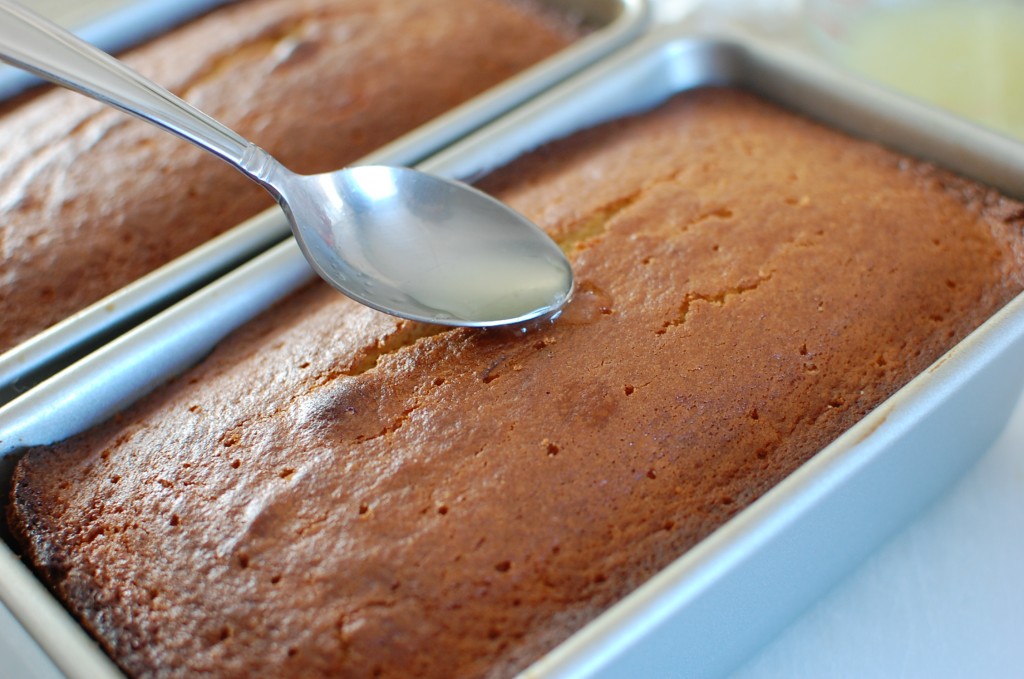 13.  Once the pound cakes are completely cool, remove from the pans, and top with the glaze.