On our recent trip to the Big Island of Hawaii, we had dinner at the Kamuela Provision Company at the Hilton Waikoloa Village Resort.  We tried the Ginger Steamed Monchong… OMG it was to die for!  So soft and tender… flavored with a tasty ginger-soy-hot peanut oil sauce.  I vowed that when I got home, I would try to recreate the flavors of this awesome dish… and I think this is pretty close!
You can steam almost any fish – cod, butterfish, sea bass, halibut… whatever you prefer.  Obviously, fresh fish is better… but all I had was frozen tilapia fillets (defrosted)… which turned out just fine.  Next time I make this, I'm going to look for fresh cod or butterfish, which will make it even better.  You can easily double this recipe to make a family sized amount.
The nice thing about this technique, is that you can vary the flavors – you can use ginger, lemongrass, garlic, sliced lemons, cilantro, scallions…. whatever your favorite flavors are.  I'm also thinking of making a Thai version using lemongrass, cilantro, and lime leaves as the aromatics – and substituting coconut milk (for the Memmi + water), and chili oil (for the sesame oil) to make the sauce.
Memmi noodle soup base is my favorite short-cut ingredient.  It's a Japanese pantry staple that I always have on hand – you can dilute it with water to make soup broth, dipping sauce… all kinds of things.  The dilution ratio is listed right on the bottle!   (It's made by Kikkoman, the only brand of soy sauce I will consider using.)  Normally, you can just buy it in the "Asian food" section of the regular supermarket.  You can also find it at Japanese, Chinese, or Korean supermarkets.  But if you don't have it (or can't find it), you can just substitute the 2 T. Memmi called for in this recipe with: 1 T. soy sauce + 1 T. water (or dashi broth) + 1 tsp. sugar.
Asian Style Steamed Fish:
2 white fish fillets (cod, halibut, whatever)
2″ piece ginger
2-3 scallions (green onions)
1/4 c. cilantro
1 T. soy sauce
Sesame-Ginger Sauce:
1 T. canola oil (or other mild oil)
1/2 tsp. sesame oil
1″ piece ginger
1 large scallion (green onion)
stems of 1/4 c. cilantro
2 T. Memmi noodle soup base
5 T. water
1.  Set a large wok over medium heat.  Add a small rack or upside down foil pie plate (with holes poked in the top).  Fill with 1 1/2 inches water.  (Or, if you prefer, just set up a large steamer.  I was too lazy to drag out my huge steamer for just two servings of fish for tonight's dinner, so I made a makeshift steamer with my wok and a few pie plates.)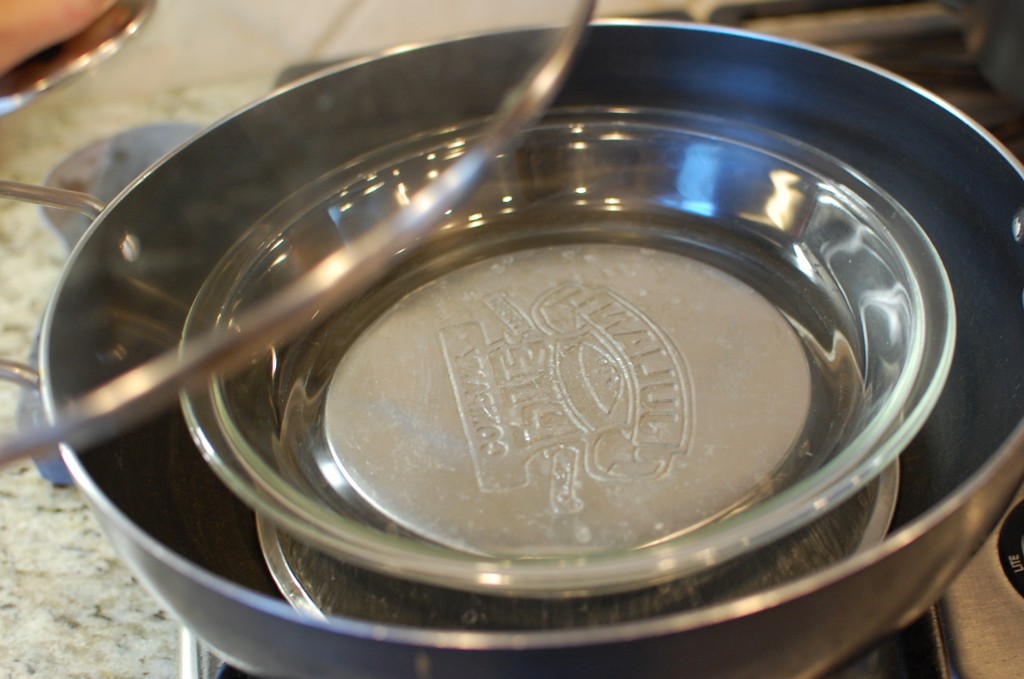 2.  Peel and slice the ginger into thin strips.  Roughly cut the green onions into 3″ chunks, then slice vertically in half.  Cut the cilantro in half (you can leave the cilantro intact if you prefer).  (You can prepare the ginger, scallion, and cilantro stems for the sauce at this point too – roughly chop and set aside.  Reserve the cilantro leaves from the cilantro used in the sauce for later use as a garnish/topping.)
3.  Scatter half the green onion, cilantro, and ginger over the bottom of a pyrex pie plate.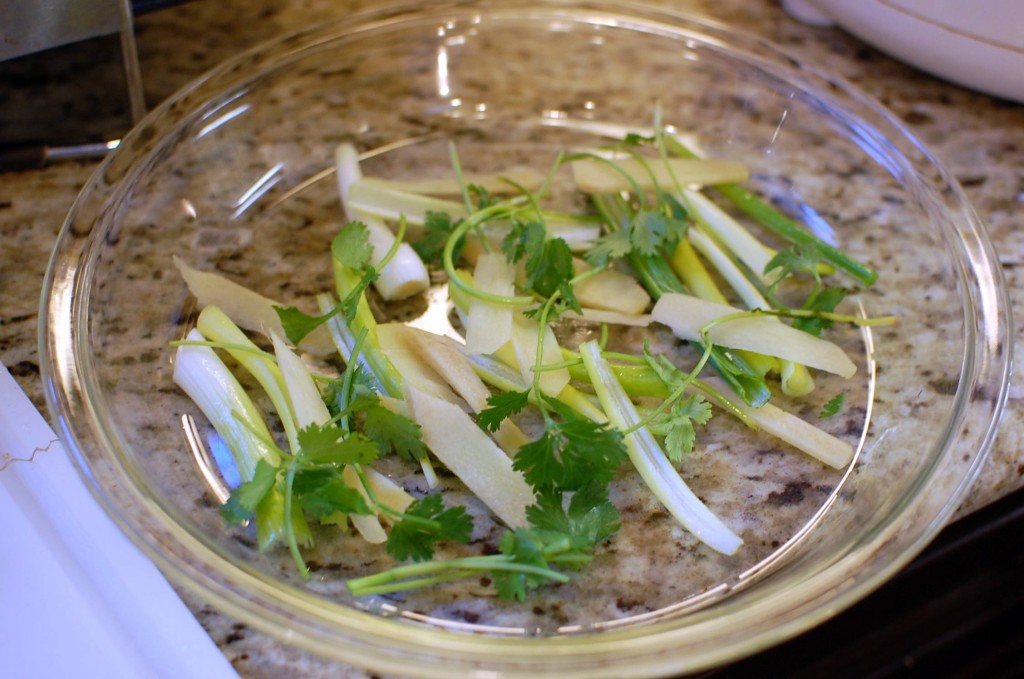 4.  Place the fish fillets on top, then drizzle with the soy sauce.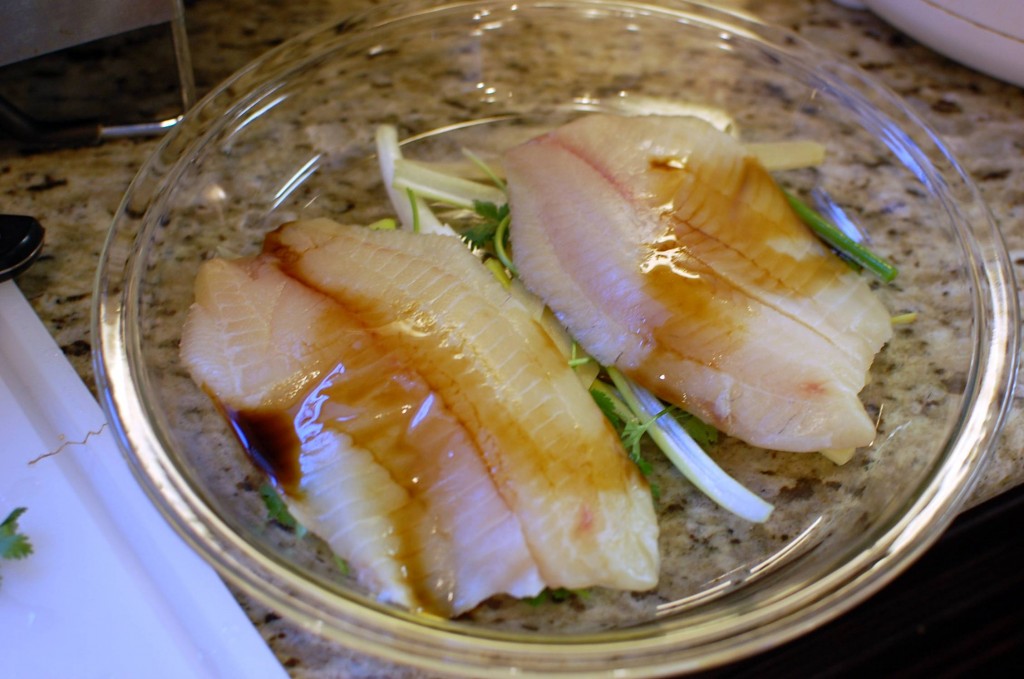 5.  Cover the fish fillets with the remaining green onion, cilantro, and ginger.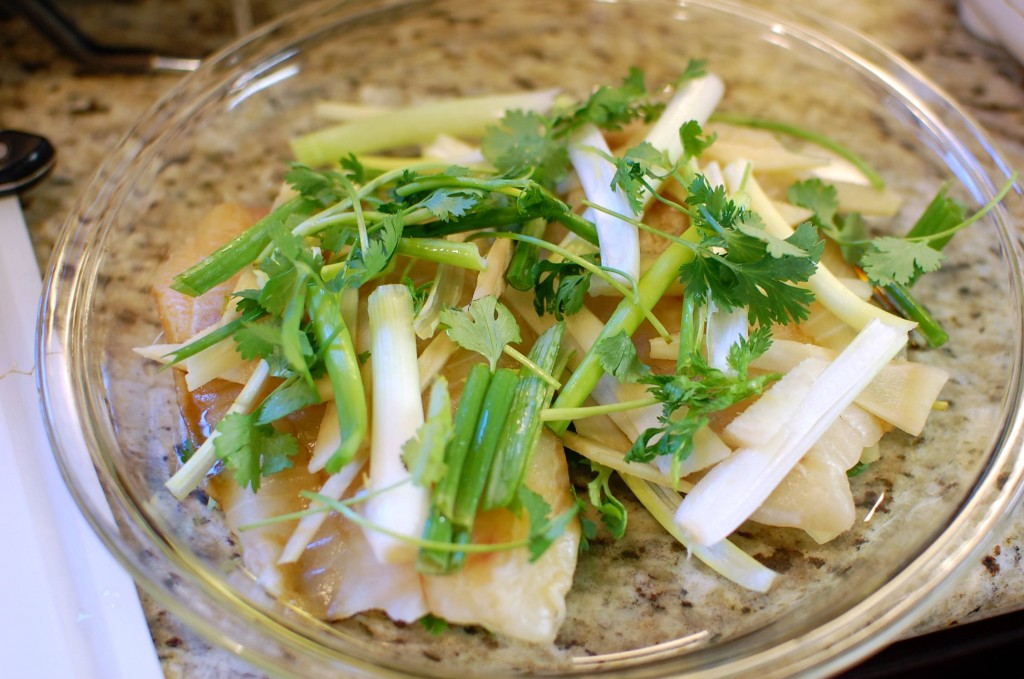 6.  Place the pie plate into your makeshift steamer.  Cover, and gently steam until just done… anywhere from 5-10 minutes.  Start checking around 5 minutes – you don't want to overcook the fish.  (I used thin Tilapia fillets here, so it only took 5 minutes for them to be done.)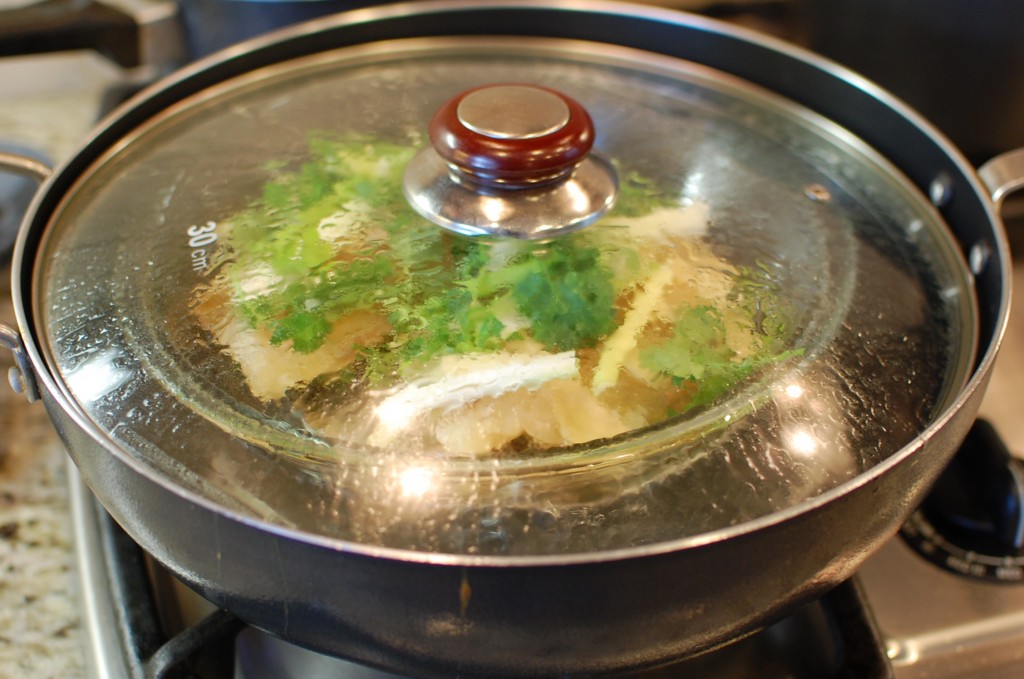 7.  Meanwhile, make the sauce.  Heat the canola oil and sesame oil over medium high in a small sauce pan.  Add the ginger, green onion, and cilantro stems.  Stir fry the aromatic ingredients for about 1 minute, then turn off the heat.  Allow the pan to cool a bit.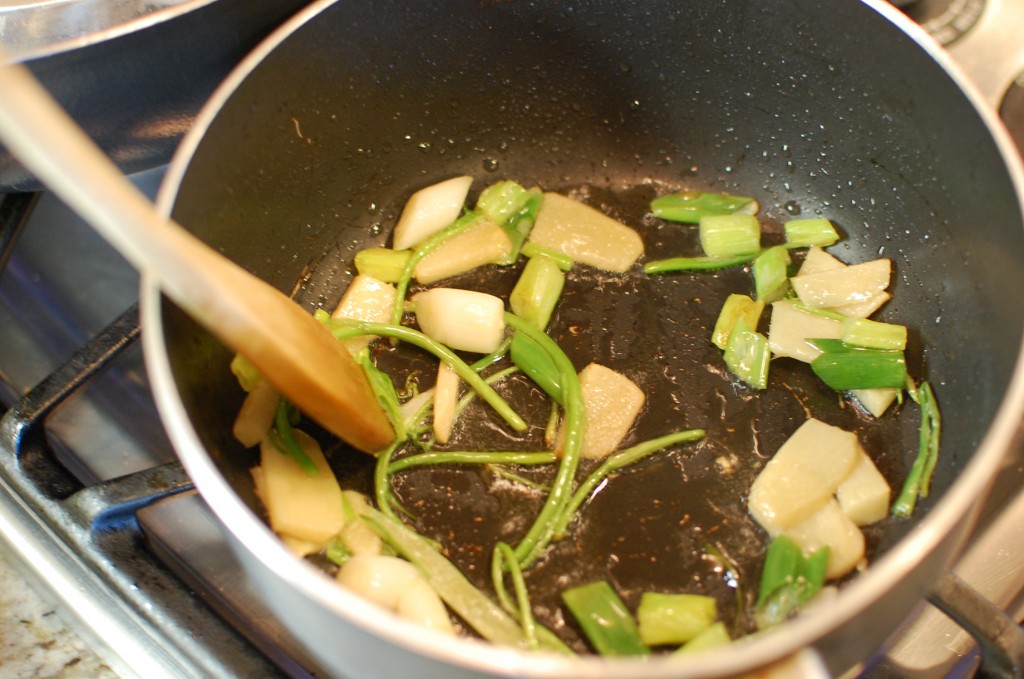 8.  Mix the Memmi noodle soup base with the water.  (If you don't have Memmi, you can substitute with 1 T. soy sauce + 1 T. water + 1 tsp. sugar.)  Carefully pour the mixture into the saucepan (be careful, because if you pour this into the sauce pan right away it will sizzle and cause steam to jump out – wait until the oil in the saucepan is cooled down a bit).  Return the sauce pan to the heat, and simmer for about 1 minute.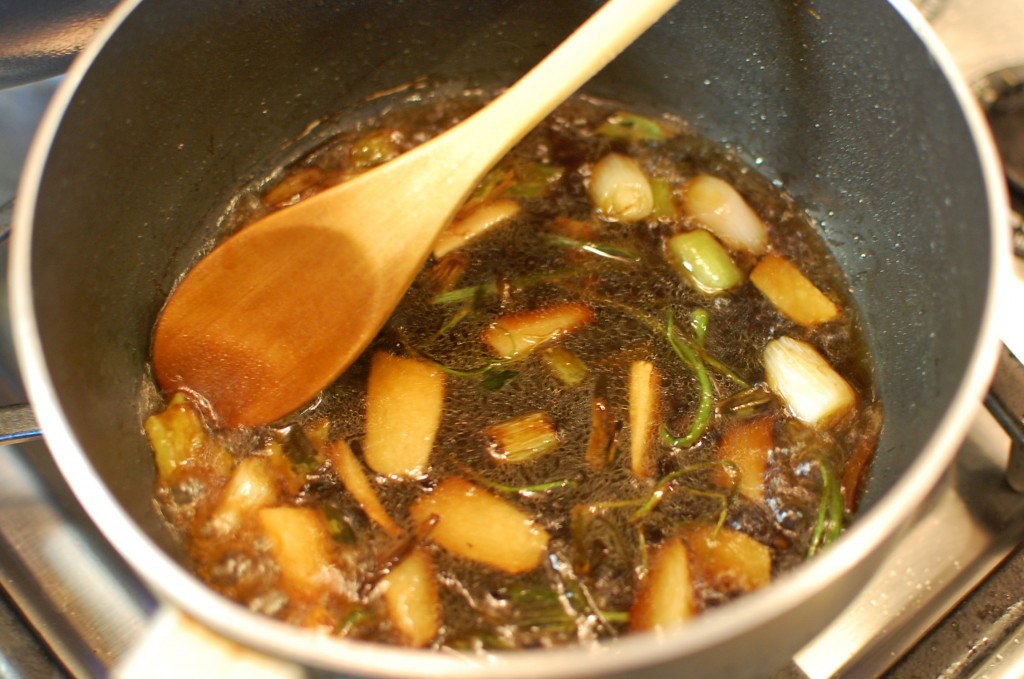 9.  To serve, gently scrape the aromatics from the fish.  Place the fish on your plate or serving platter and drizzle with the sauce (strain the aromatics out).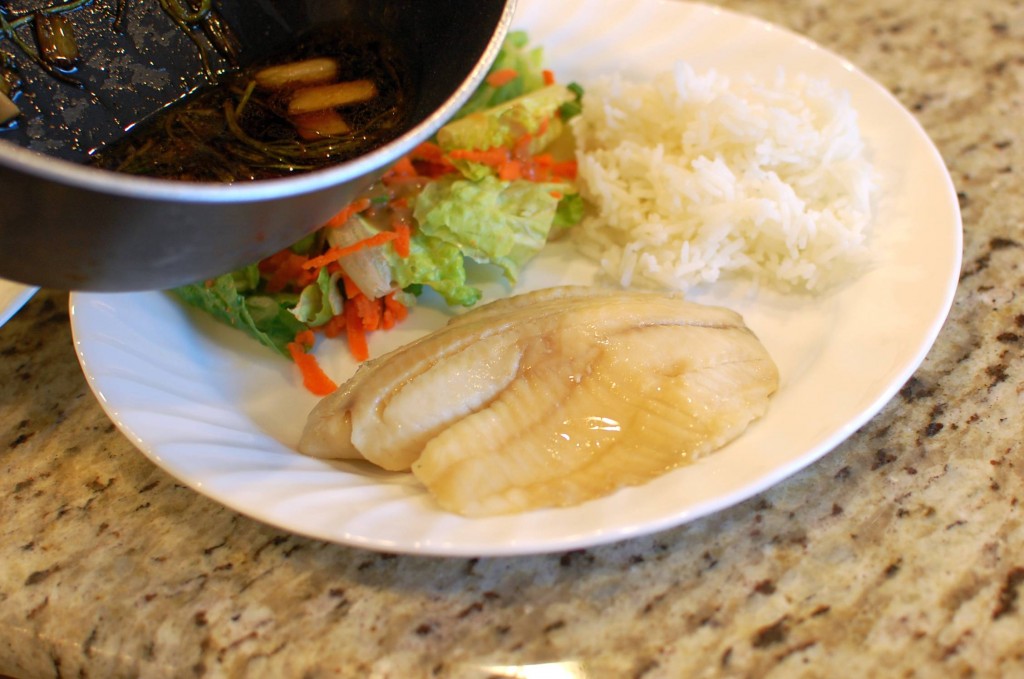 10.  Top with the reserved cilantro leaves, and serve with a side of rice.