Fresh cannolis are one of my favorite Italian (Sicilian) pastries… crisp flaky pastry on the outside, sweet creamy filling on the inside… yum!  Good cannoli are hard to find, though… not very many places around here sell them fresh, and nothing is worse than taking home a soggy cannoli!  My solution, of course, was to figure out how to make them myself at home, so that I can have fresh cannolis whenever I want!
To make cannolis, you will need some kind of food-safe rod to wrap the dough around before frying – this gives the cannoli shell its traditional tube shape.  You can use wooden dowels cut to size… but the easiest method is to buy Stainless Steel Cannoli Forms from a specialty store or online.  These metal cannoli forms can be fried (or even baked in an oven), are dishwasher safe, and can be used for a variety of pastries and treats.  You can make do with a set of 4, but I found it easier to roll a bunch of cannoli shells all at once… so I bought two sets (for a total of 8 cannoli forms).   At about $6 per set, it wasn't too expensive, so I just bought extra.
There are a variety of fillings that can be used for cannolis.  Generally most recipes will call for ricotta cheese.  I've seen some recipes also call for whipped cream, cream cheese, custard… I've even seen some delicious looking savory cannoli filling recipes.  For the traditional sweet dessert cannoli, I like to use a combination of (drained) ricotta and mascarpone cheese, sweetened with a little bit of sugar, flavored with vanilla.  You can flavor your cannoli filling with vanilla, cinnamon, or even grated citrus peel – whatever you like!
If you would like to make your ricotta cheese from scratch, see my Ricotta recipe.
Cannoli shells:
2 c. flour
1 tsp. cinnamon
2 T. shortening (or coconut oil)
1 T. sugar
1/2 tsp. salt
1/2 to 3/4 c. Marsala wine
1 egg white (to seal edges)
oil for frying
Cannoli filling:
16. oz. whole milk ricotta
8 oz. mascarpone cheese
1/2 c. powdered sugar
1 tsp. vanilla paste
powdered sugar for sprinkling
mini chocolate chips or chopped pistachio for garnish
Hardware needed:
3.75″ to 5″ diameter round cookie cutter (or use a rice bowl)
1.  First make the dough.  Put the flour, cinnamon, shortening, sugar, and salt into the work bowl of a food processor.  Pulse for several seconds until combined, and the texture of fine sand.  (I used coconut oil.  Yes, I know that's not traditional, but I figured… coconut oil… shortening… lard… what's the difference?  For the small amount being used here… just use whatever you have on hand.)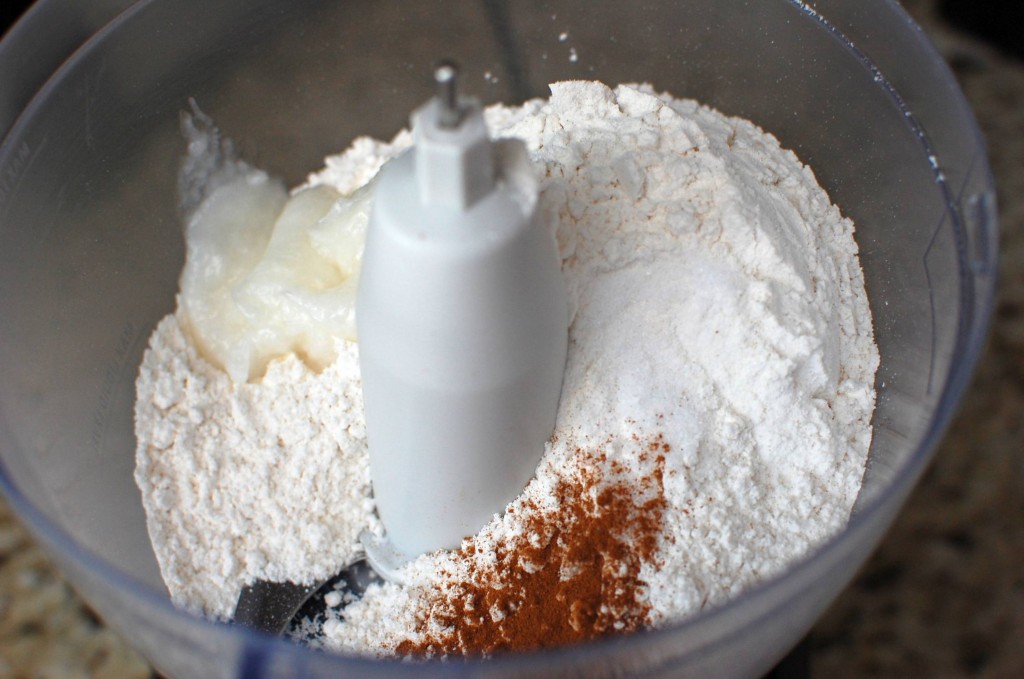 2.  While the food processor is running, pour 1/2 c. Marsala wine into the chute.  Check the texture of the dough.  If too dry, continue to add Marsala wine, 1 T. at a time.  (4 T. = 1/4 c.)  Do not add any more than 4 T. otherwise your dough will probably be too watery, especially if it is a humid day.  (This time, I only needed to add an extra 2 T. of Marsala wine, for a total of 1/2 c. + 2T. wine in the dough.)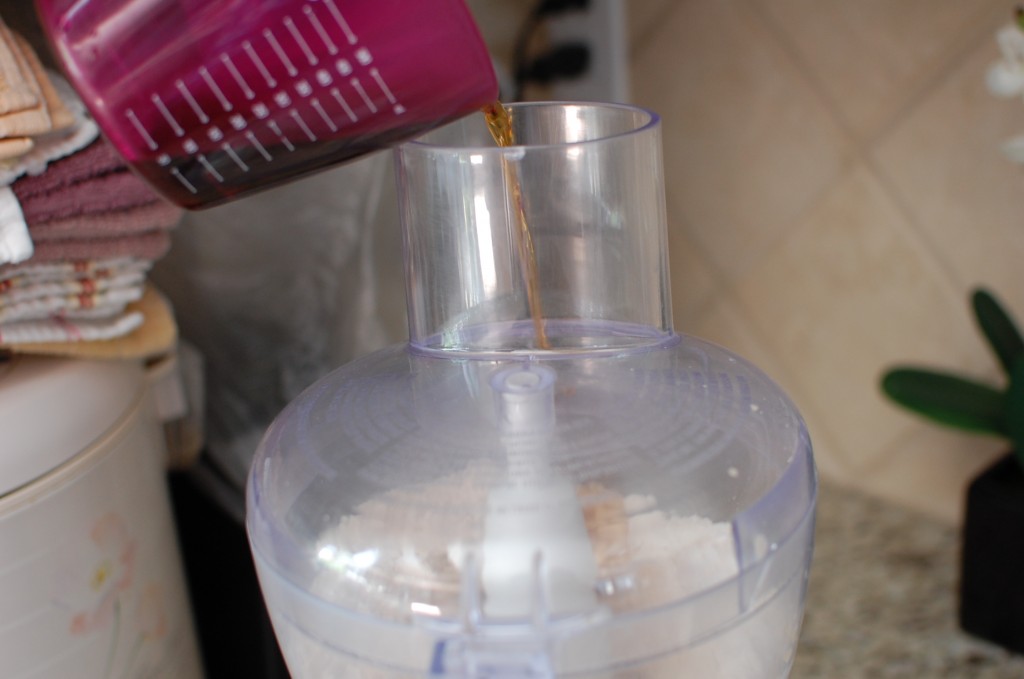 3.  You will know the dough is ready when it forms a ball and begins to spin around the work bowl.  Remove the dough to a bowl, cover with plastic wrap, and allow to rest for 1-2 hours at room temperature.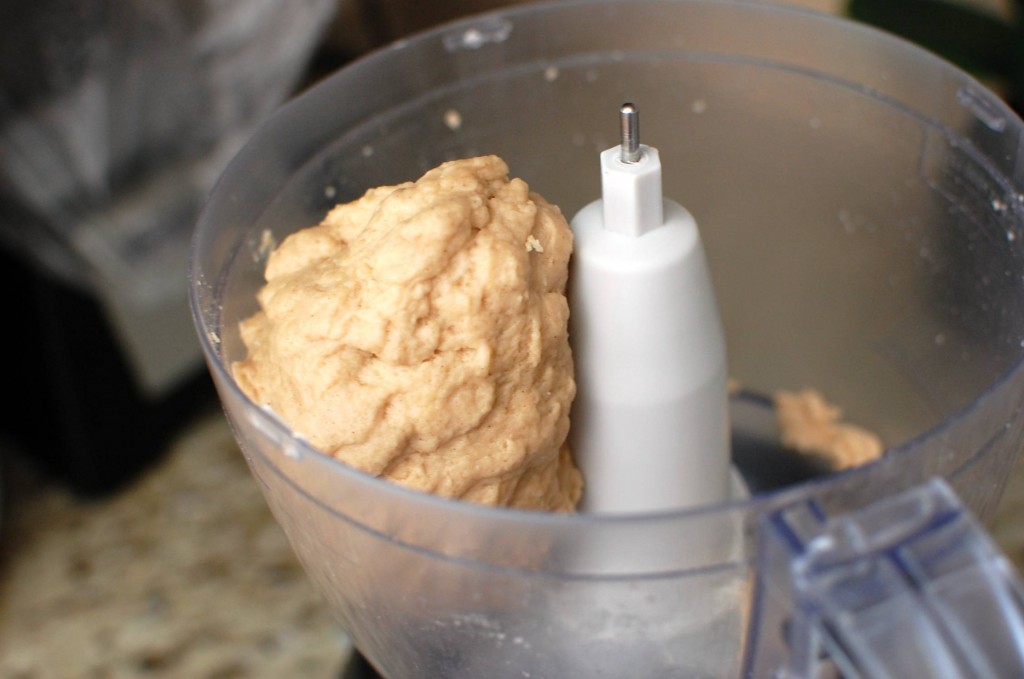 4.  Meanwhile, set the whole milk ricotta over a paper towel lined colander, cover with plastic wrap.  Allow the ricotta to drain in the refrigerator (over a bowl) for a few hours while the dough is resting.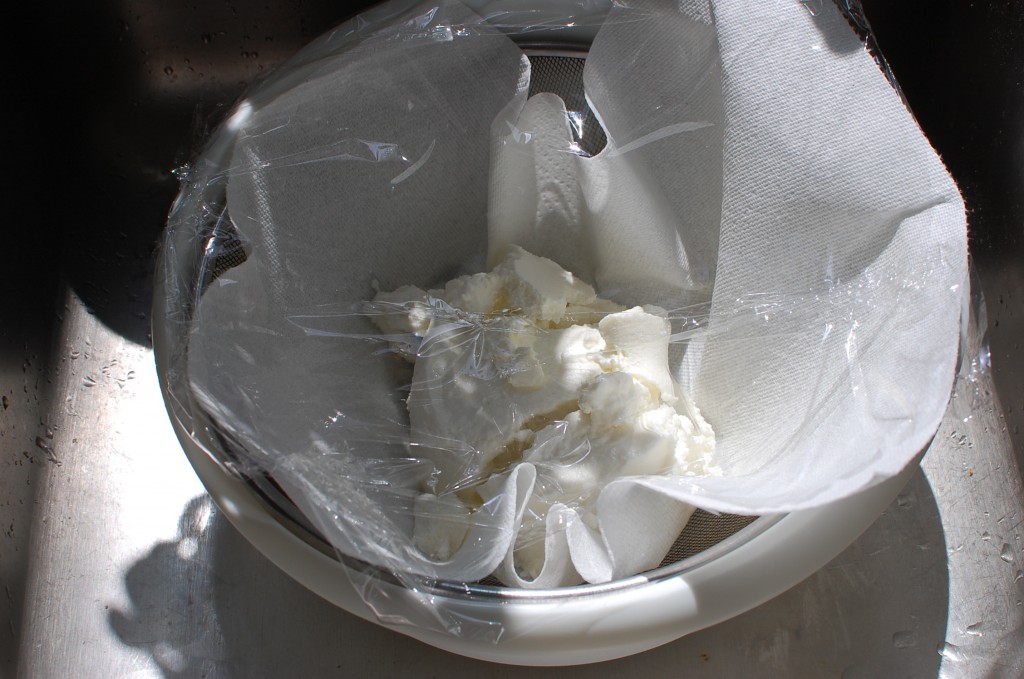 5.  After the dough has rested, turn it out onto a floured surface, and cut in half.  Set the other half of dough aside, and cover with plastic wrap.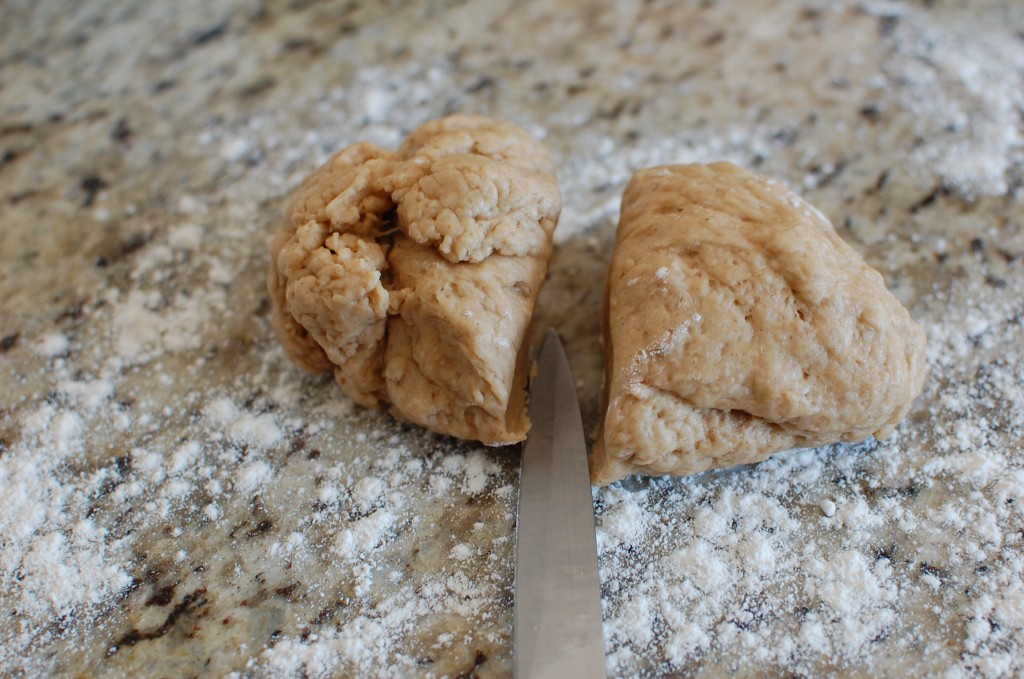 6.  Flouring (lightly) as you go, roll the dough out very thin.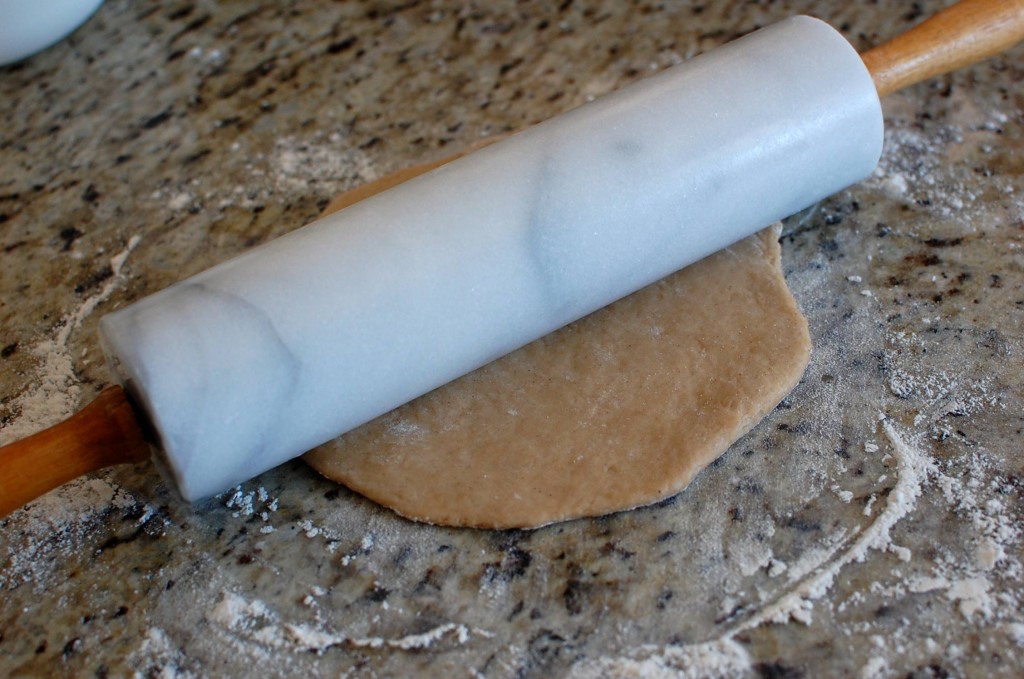 7.  Make sure to loosen and flip the dough over several times while rolling, and make sure when you are done, the dough is loose and not stuck to the counter.  (You will notices that as you roll the dough, it retracts somewhat.)  Cut out as many circles as possible.  How big?  Up to you.  I used a 3.75″ diameter cookie cutter to make mini cannolis.  If you want them larger, use a larger cookie cutter, or even a small bowl turned upside down.  As long as the diameter of the circle is shorter than the length of the cannoli forms, you should be fine with any size.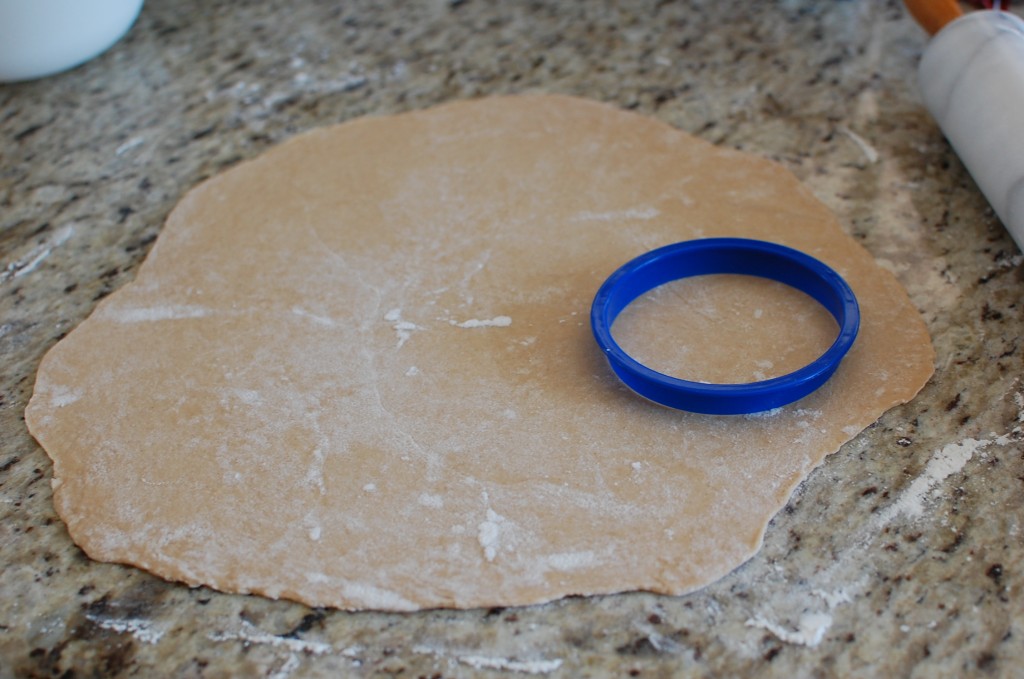 8.  Place the tube across the dough circle, and roll the dough to cover the cannoli form.  Use a small amount of egg white as "glue" to seal the edges together, and press gently to seal.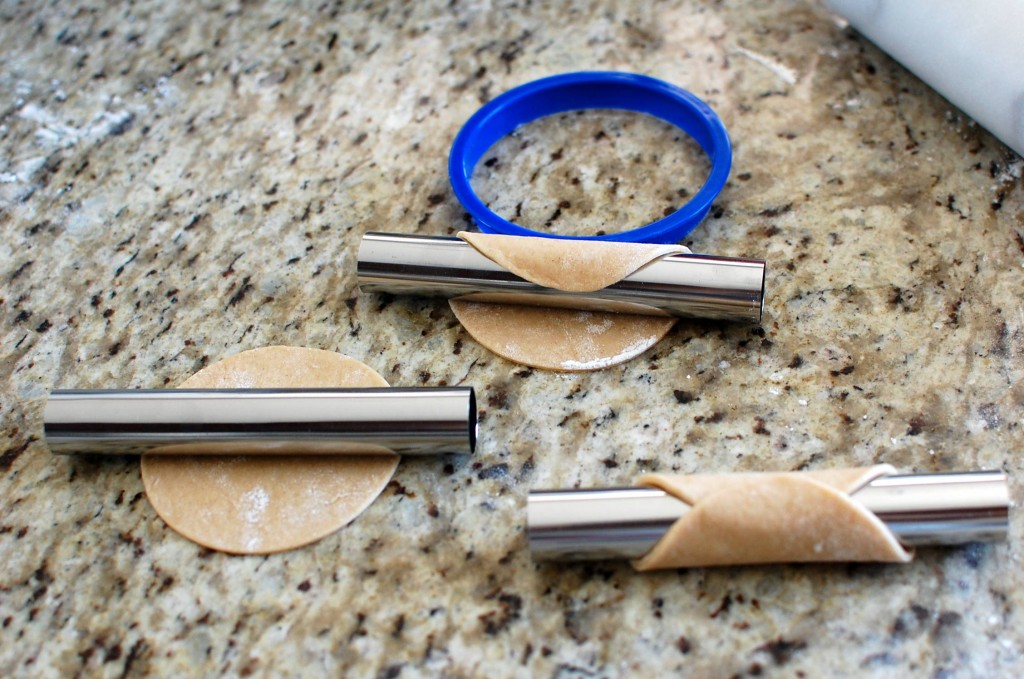 9.  Once you have covered all of your tubes, set about 1″ frying oil in a skillet to heat over medium.  (You can save and re-roll your scraps, repeating the process with the cooled tubes after you have finished with the first batch.)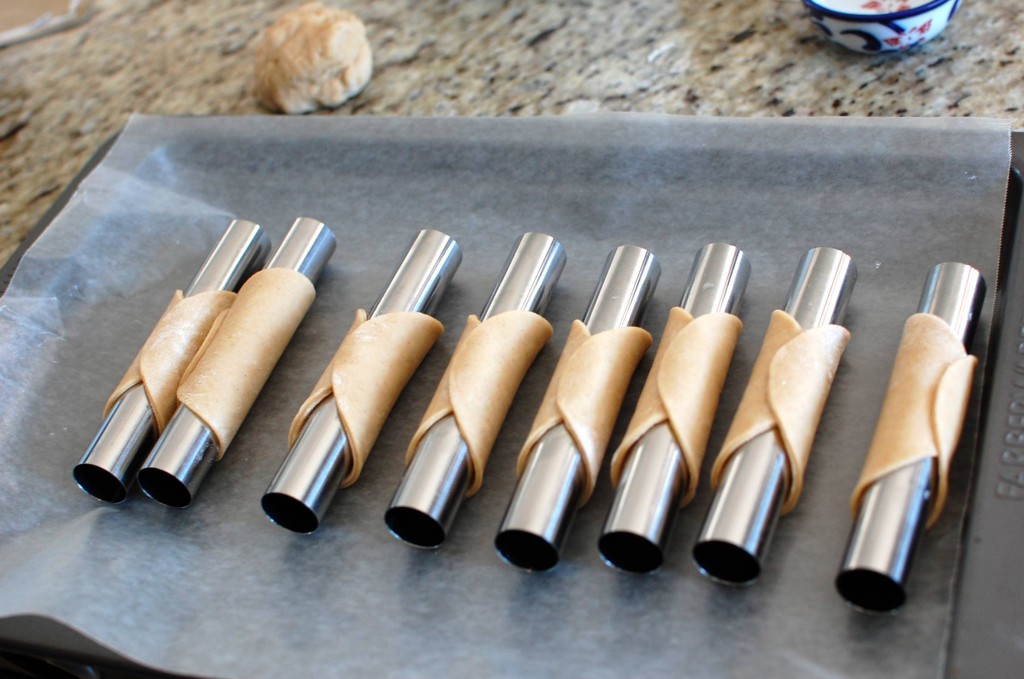 10.  Using tongs, drop one tube into the hot oil (seam side down) and hold it there for a few seconds.  Keep the tongs clamped to the sides of the cannoli form, and turn it slightly, to allow all sides to brown evenly.  You want to achieve a golden brown color.  (If you don't hold the cannoli down, it will rotate to the heaviest side, and stay there.  By holding onto it, you ensure that: 1. you can rotate it evenly so all sides cook, and 2. you keep the cannoli adhered to the tube – some of them will have a tendency to puff up and unseal, forming a flat pancake instead of a tube.)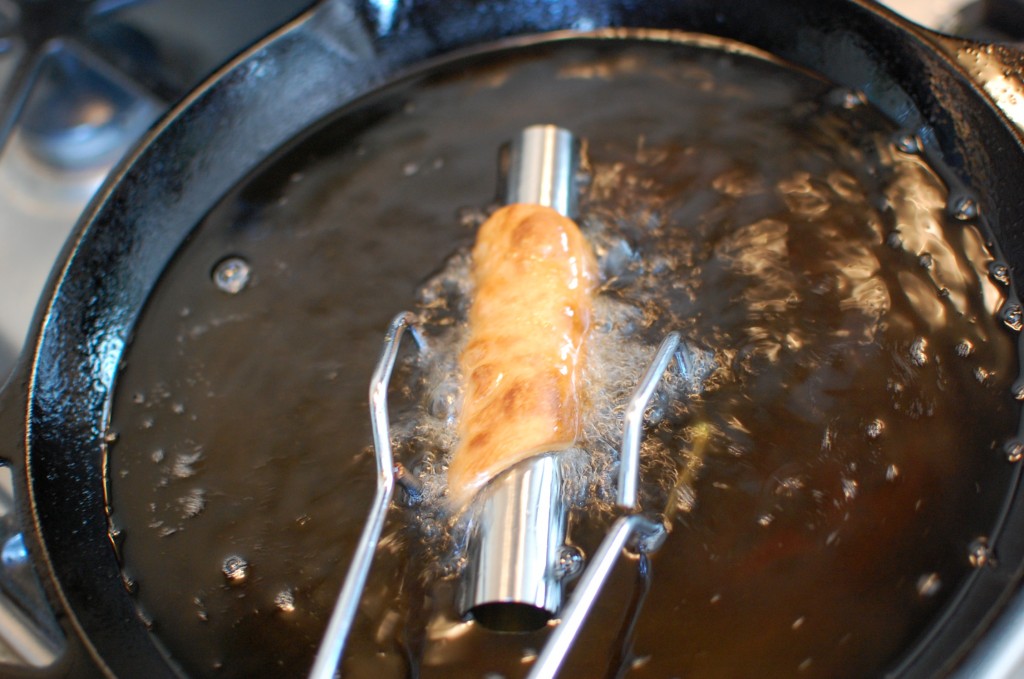 11.  When golden brown, remove to a rack to drain and cool.  Be careful, as the metal tubes will be hot.  When the tubes cool, slide them out of the cannoli forms, and reuse with the remaining dough.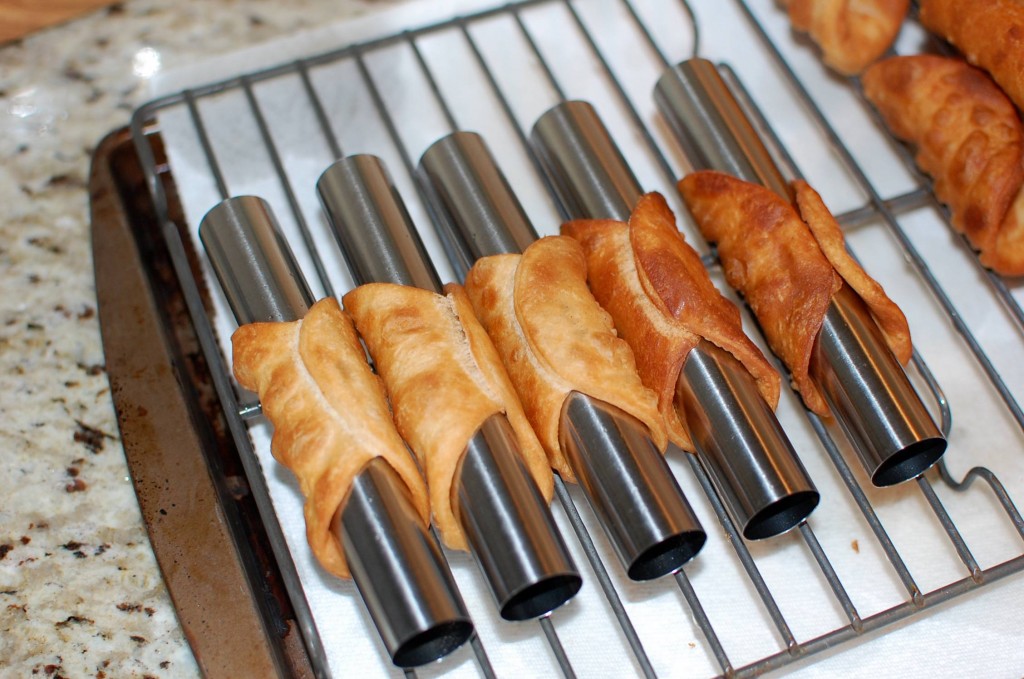 12.  Allow the cannoli tubes to cool thoroughly.
13.  Mix the drained ricotta, mascarpone, powdered sugar, and vanilla paste.  (If you don't have vanilla paste, you can use vanilla extract instead, or the scraped insides of a vanilla bean.)  Other flavoring ideas: lemon or orange zest, or cinnamon, or mini chocolate chips.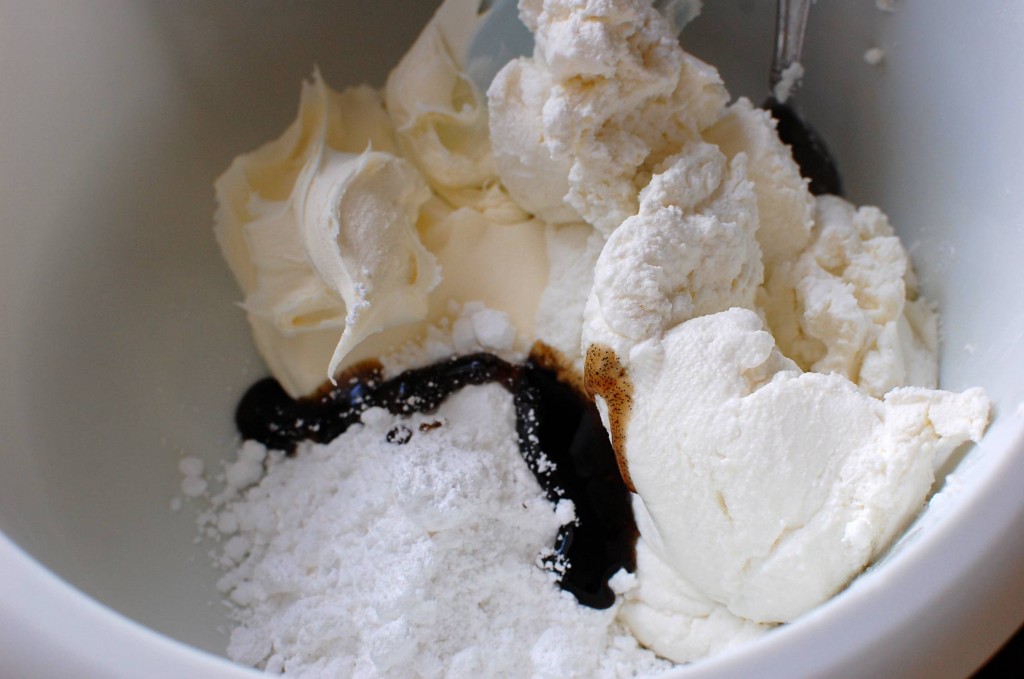 14.  Cut the corner off a gallon sized ziplock bag.  Stick a large mouth pastry tip into the corner.  I like to use a large pastry tip with a coupler – it makes the tip more stable.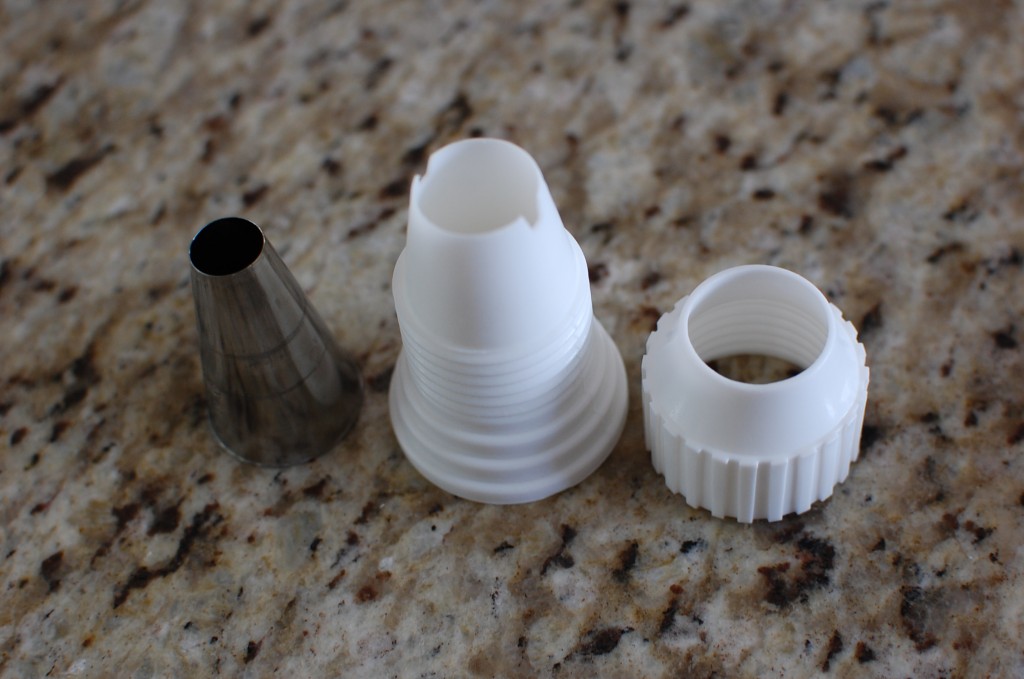 15.  Just before serving:   Starting at one end, pipe the filling into the cannoli shell.  Remove, then pipe the filling into the other end.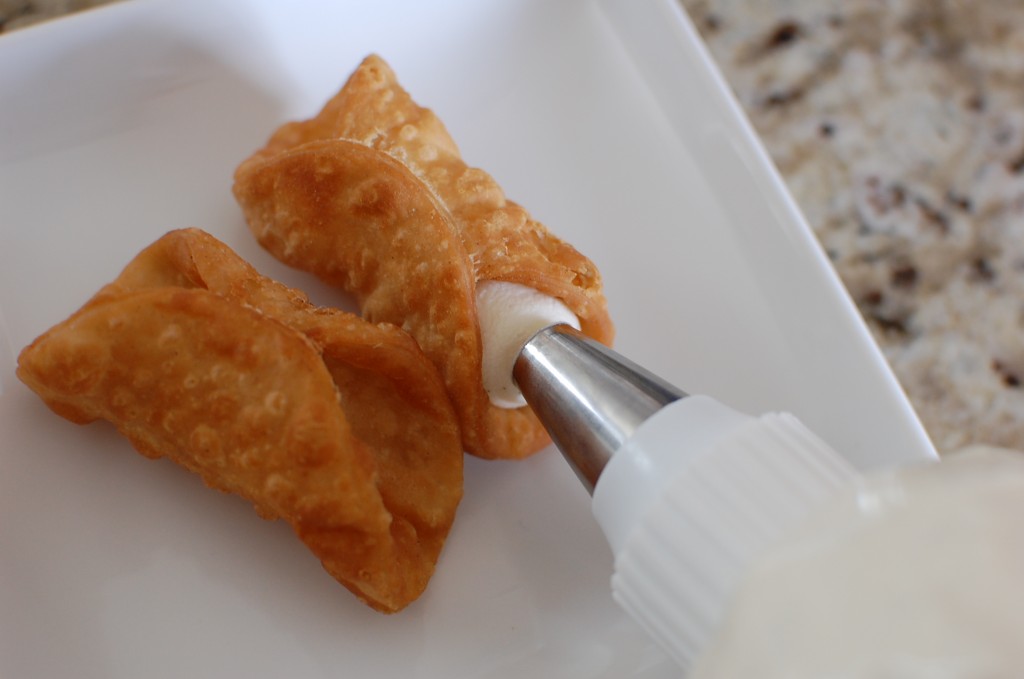 16.  Once you have piped the filling into both sides of the cannoli shell, you can decorate the cannoli with mini chocolate chips or chopped nuts.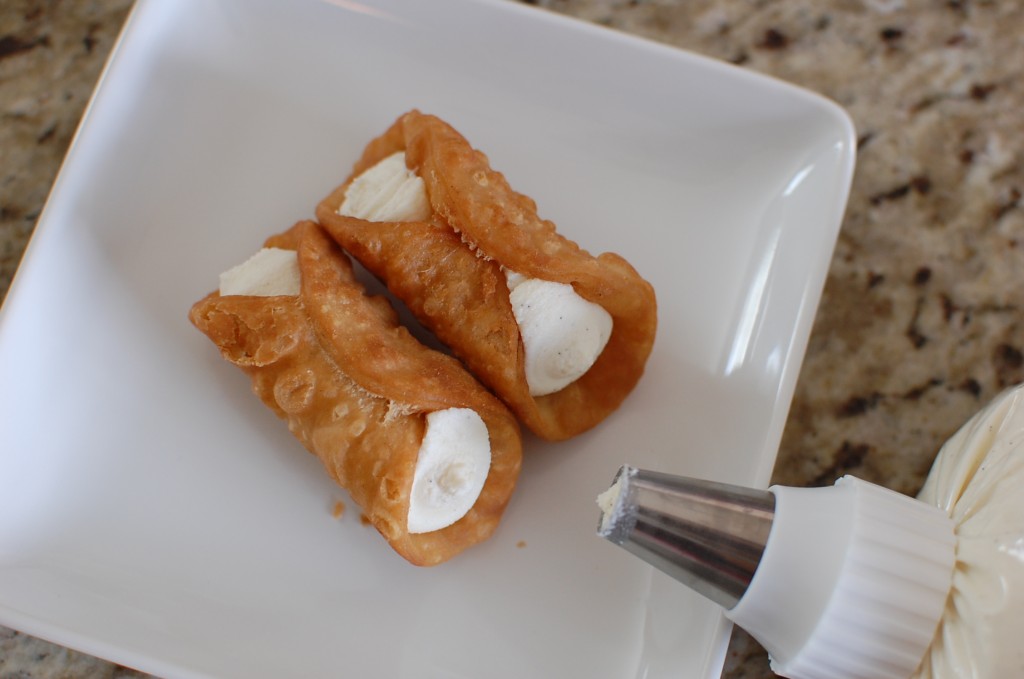 17.  Dip the filling ends of the cannoli into mini chocolate chips, sprinkles, or chopped nuts.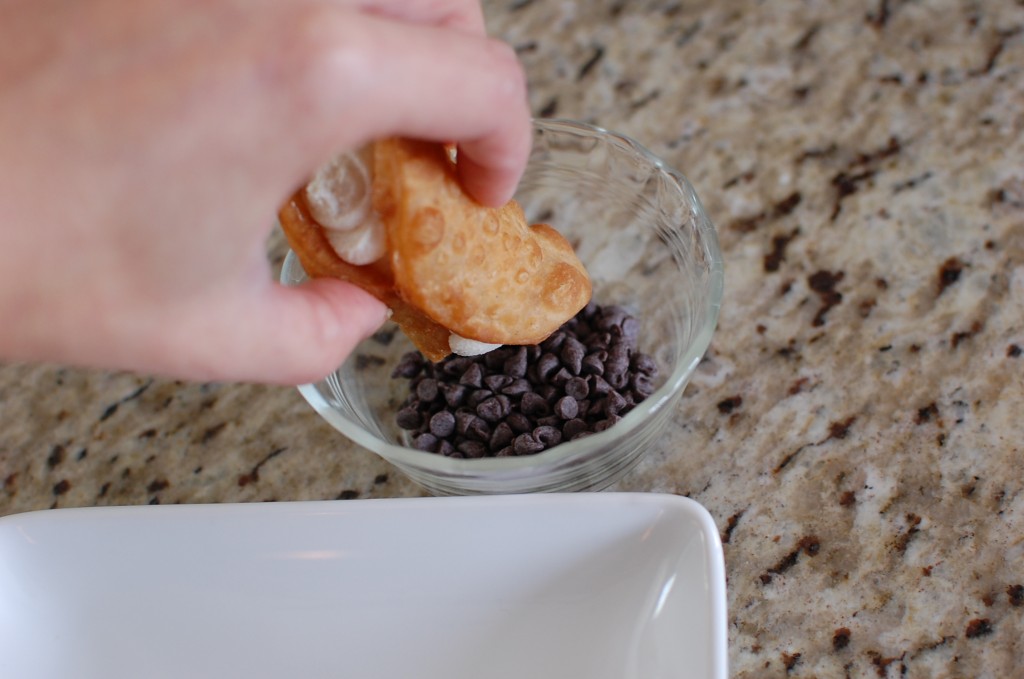 18.  Place the cannoli on a serving plate, and dust with powdered sugar.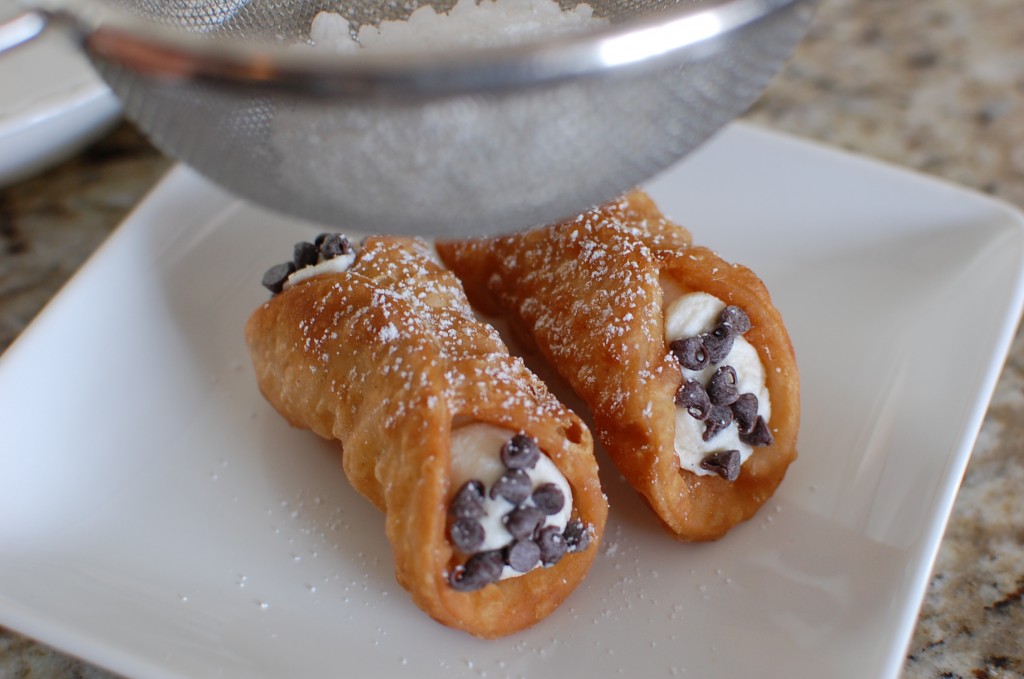 19.  Serve immediately and enjoy!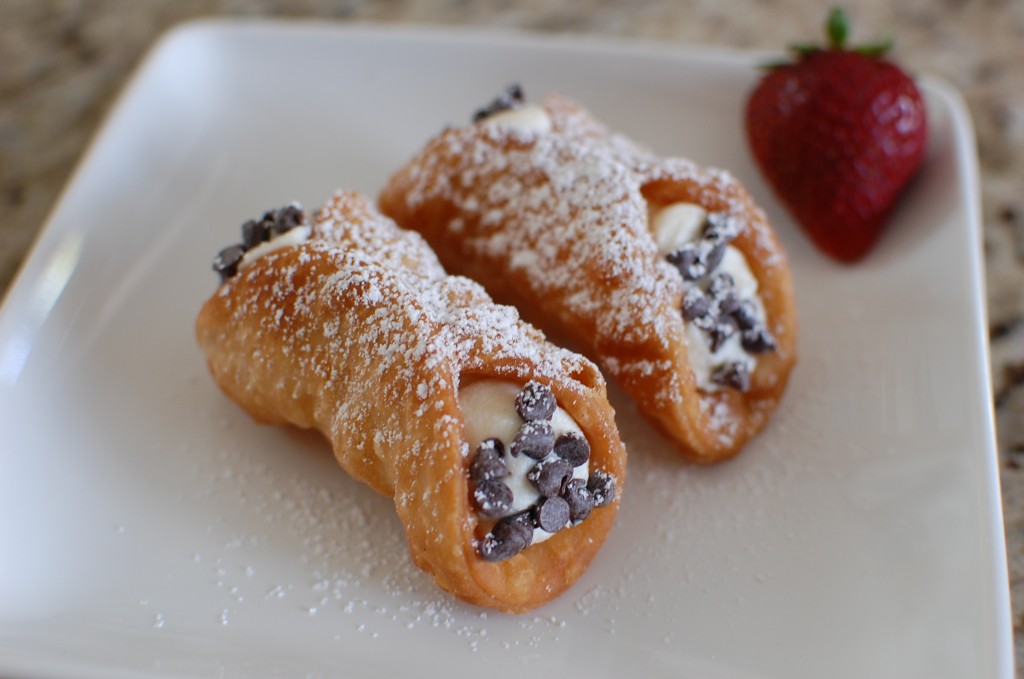 20.  Do not fill the cannoli until just before serving, otherwise your shells will become soggy and not crisp.  Store the cannoli shells in a paper towel lined tupperware container at room temperature.  The filling will store in the refrigerator for 2-3 days.