Every time I buy a pre-cooked rotisserie chicken from the market, I save the bones, scraps, and skins to make chicken stock.  (I dump it all into a pot, cover with water, and simmer for an hour or so.  Then I cool it, strain it, and store it in the refrigerator to make soup the next day.)  Often, this stock gets used to make wonton soup – but every now and then (especially when I have a lot of zucchini and basil to use up)… I'll make Minestrone instead.
My supermarket started carrying little basil plants – in the produce section, next to the tomatoes.  You stick the little pot into a small dish of water on your window sill, and the plant continues to produce basil leaves for a period of time.  At the first sign of flowering, pinch off the terminal end bud immediately – this will keep the basil from turning bitter (don't let it flower!).  Just pinch off the larger leaves as you need them, and keep the water dish full.  I've kept one of these little plants going for about 3 months until the quality of the leaves dropped off… but normally you can expect a month's worth of good quality basil.
Minestrone Soup:
1 large onion
4 carrots
2 T. olive oil
14 oz. tomato, approx 2 c. diced
4 cloves garlic, minced
8 c. chicken stock (2 qt.)
1 tsp. dried oregano
1 tsp. dried thyme
2 c. grated zucchini
4 large outer cabbage leaves, chopped
1 1/4 c. dry macaroni noodles (about 6 oz.)
1/4 c. parmesan cheese
salt, pepper to taste
1/2 c. chopped fresh basil
1 can cannellini beans, drained & rinsed (optional)
1.  Peel the carrots.  Chop the carrots and onions into small pieces.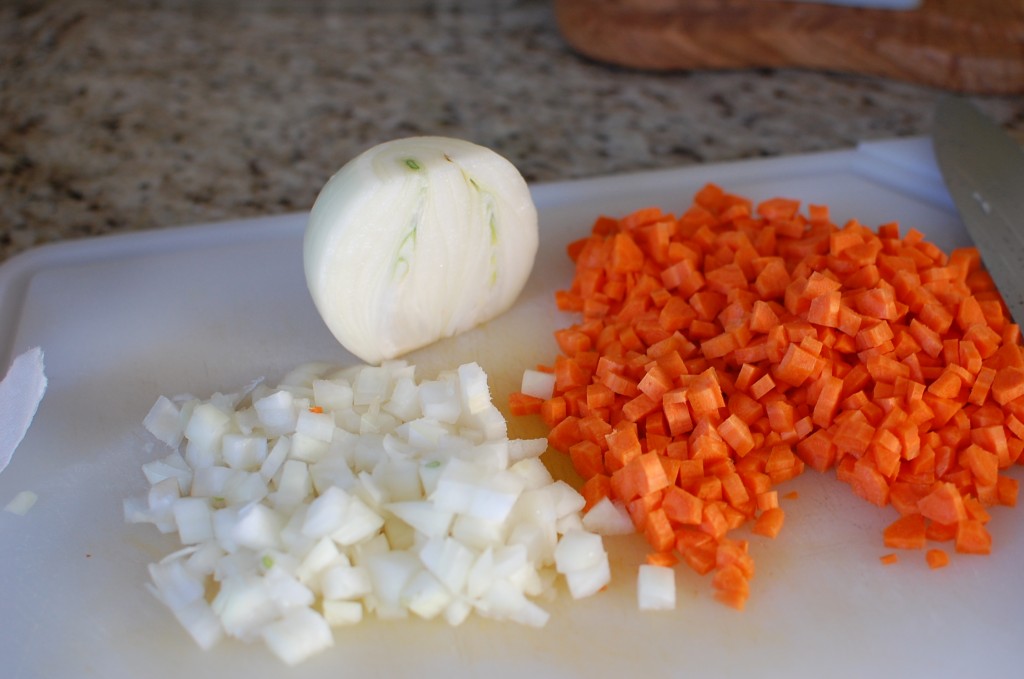 2.  Heat the olive oil and the bottom of a large stock pot over medium heat.  Add the carrots and onions, a little bit of salt (about 1 tsp. salt to start), and a few grinds of fresh pepper.  Saute the carrot and onion over medium heat until soft, about 10 minutes.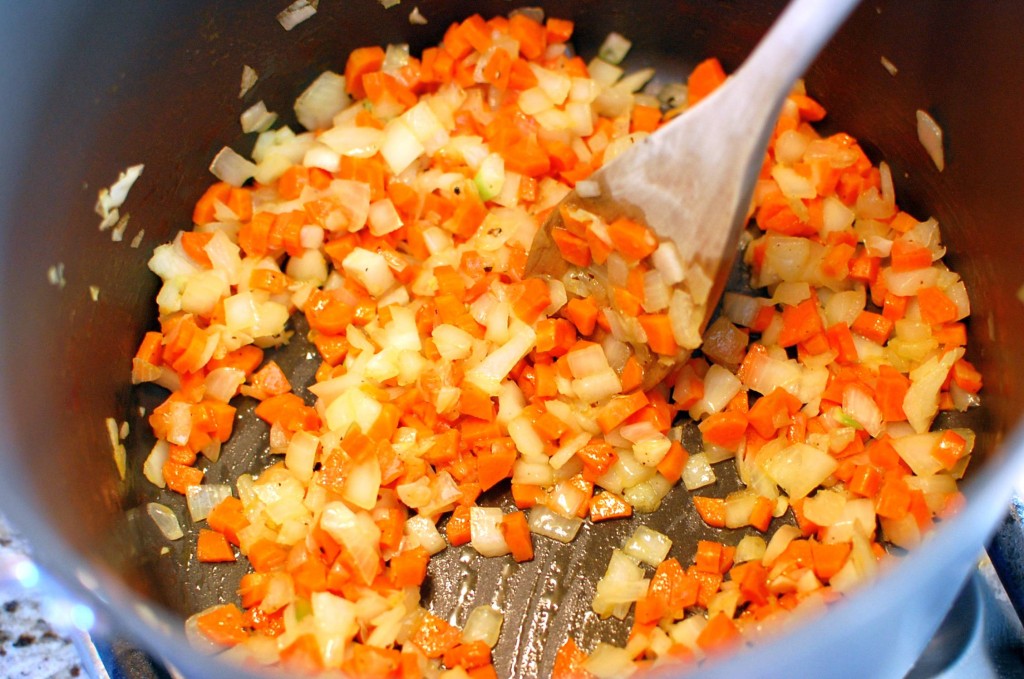 3.  Add the tomato and the garlic to the pot, stir to combine.  Add the dried oregano and thyme.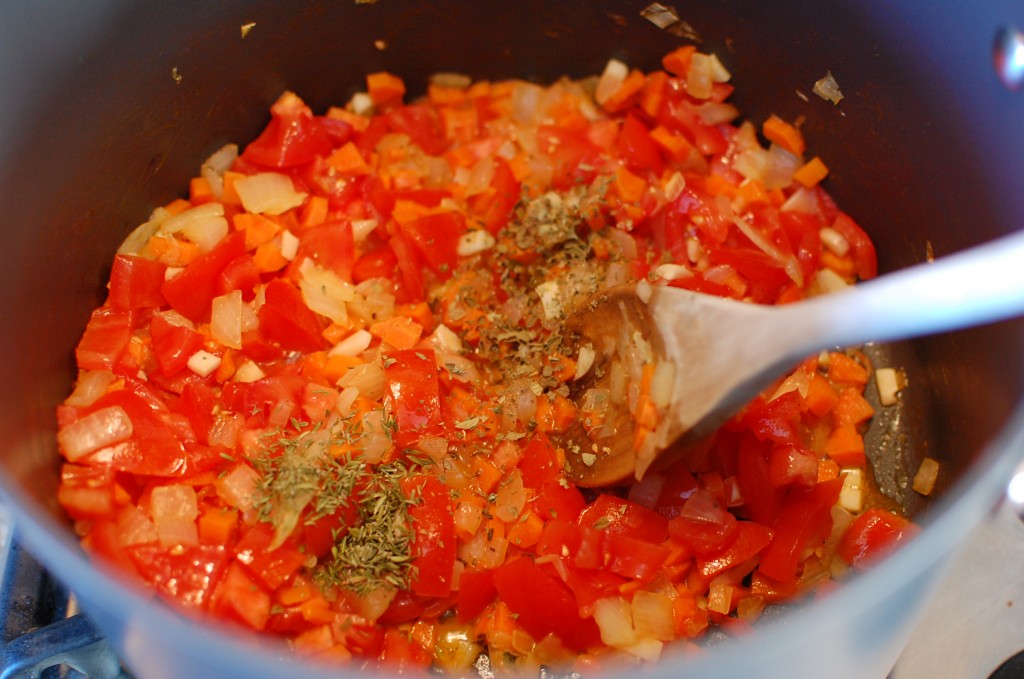 4.  Add the chicken stock and bring to a simmer, uncovered.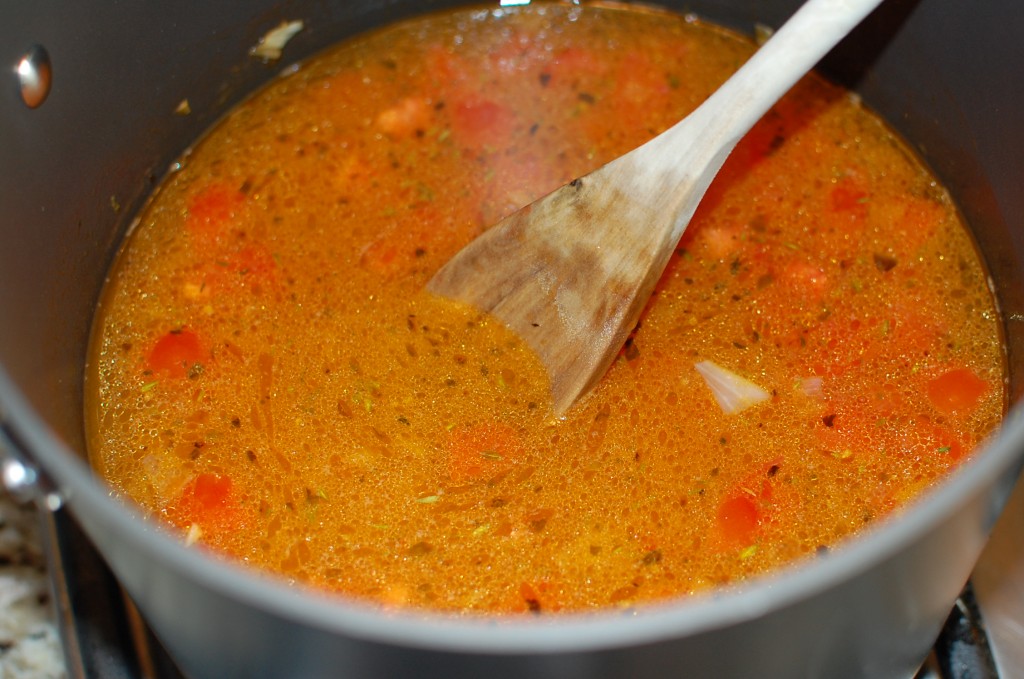 5.  Meanwhile, chop the cabbage leaves and grate the zucchini.  In this photo, you can see that there is quite a bit of cabbage – probably about 4 c. loosely packed.  (I used 4 large outer leaves of Napa Cabbage – because that's what I had in the refrigerator.  You can use Napa cabbage, regular cabbage, or even savoy cabbage.)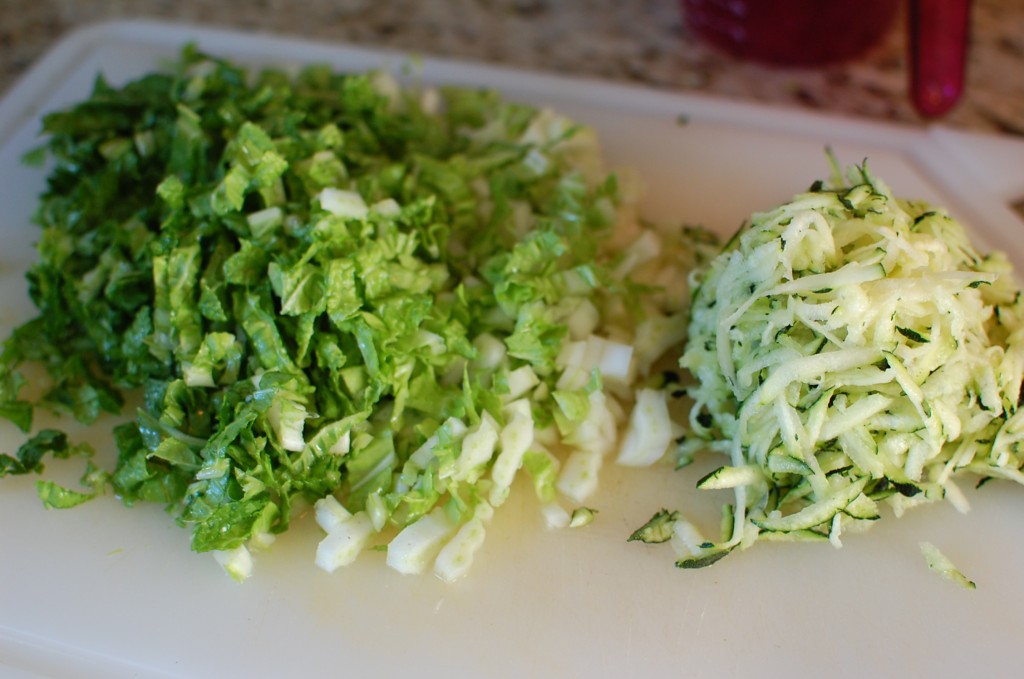 6.  Add the cabbage and zucchini to the pot, stir, and continue to simmer about 5 more minutes.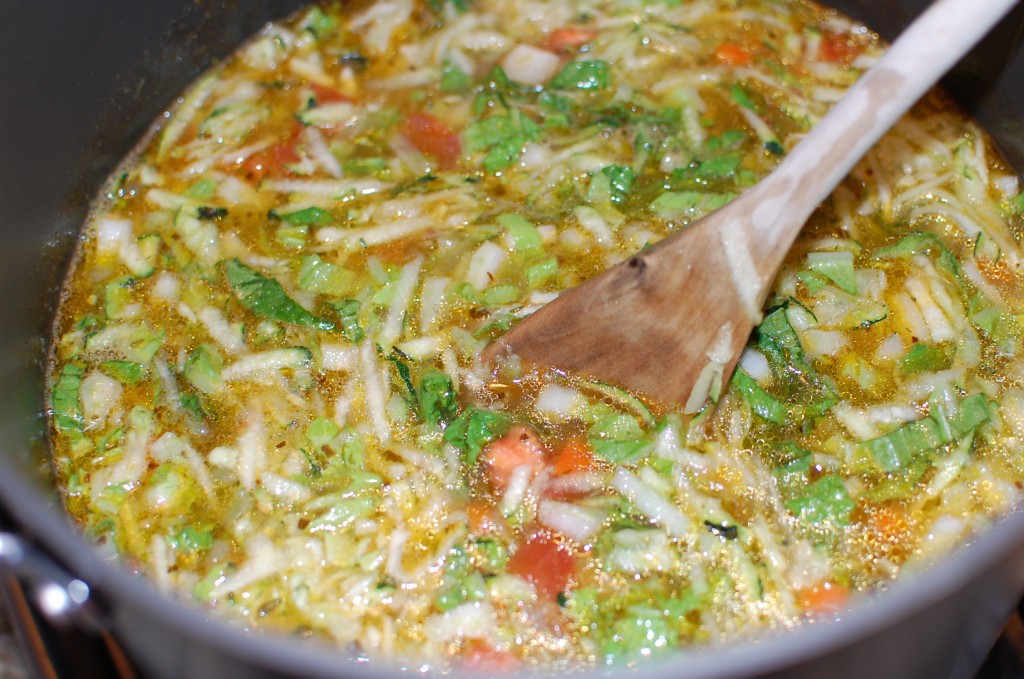 7.  Add the dry macaroni noodles, and simmer 10 minutes.  (If you want to add beans, go ahead and add the drained and rinsed cannellini beans at this time.  I leave them out, since SOMEONE here hates beans…)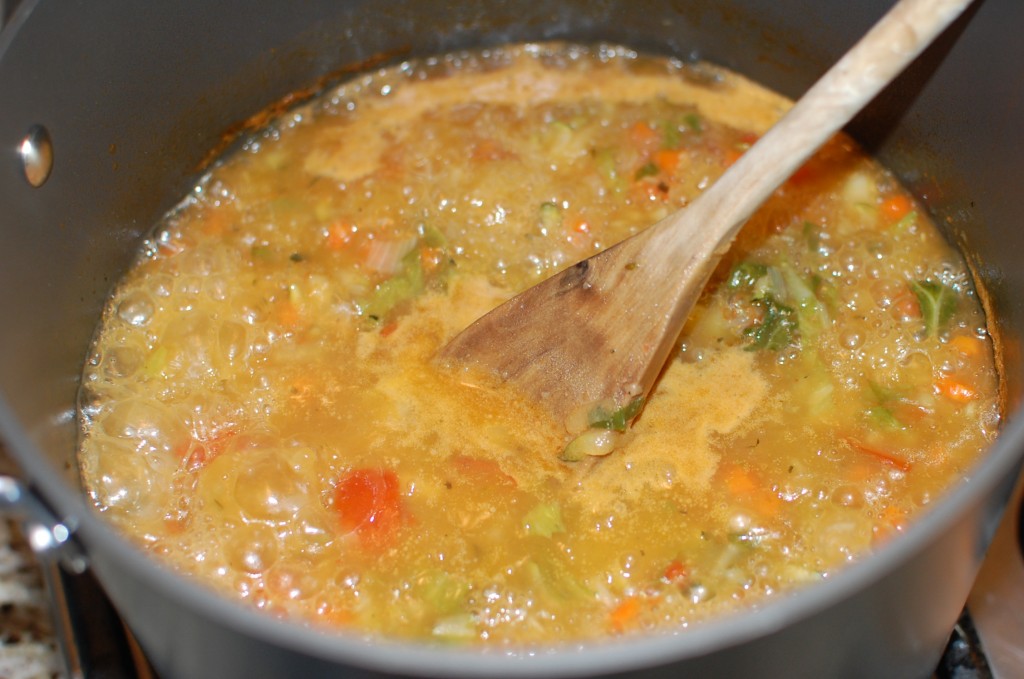 8.  Stir in the Parmesan cheese, then taste.  Add more salt and pepper if need.  Chop the basil into a chiffonade.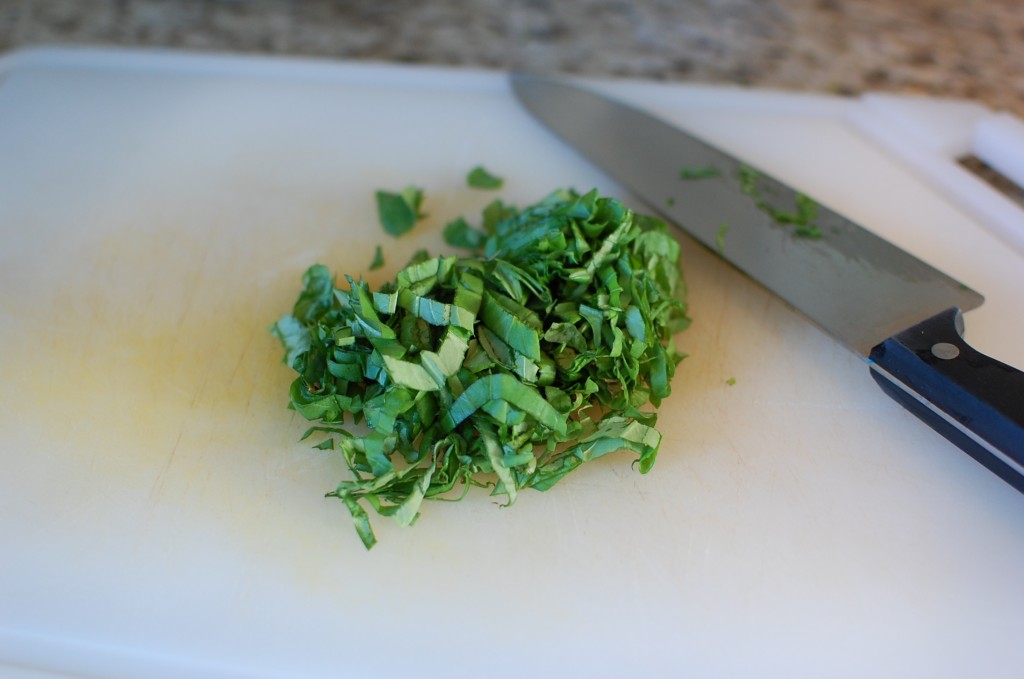 10.  Stir the basil into the soup, then turn of the heat.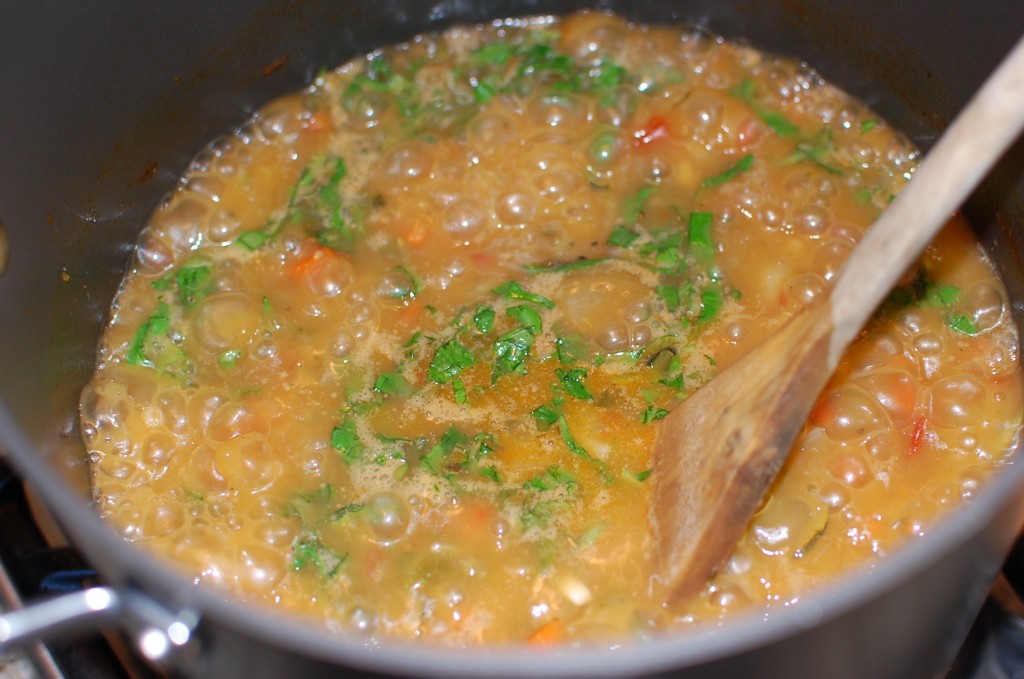 11.  Serve hot, enjoy!