With several holidays just around the corner… Halloween, Thanksgiving… and all the December holidays… many of us may need appetizer recipes that are easy to prep and serve.  Mini quiches are the answer!  You can make the tart shells for these mini quiches a few days ahead of time, then add whatever ingredients you have on hand and microwave to make wonderful appetizer bites in a split second!  Because you microwave the quiches, they are ready very quickly, and can be served hot and fresh.
I recommend using the Williams-Sonoma tartlet baking set to make your shells ahead of time… it's much easier!  For technique/instructions, see my post on how to make tartlet shells.  If you don't have a tartlet pan, you can make do with store-bought (or home made) piecrust, and use this technique with a flower shaped cookie cutter + mini muffin pan.  Or, to make things REALLY simple, you can buy premade tartlet shells – around the holidays, most supermarkets carry pre-made tartlet shells in gourmet/baking aisle.
For fillings, I like to use a combination of cheese + herbs + one strong flavored ingredient (such as olives, bacon, sun dried tomato, chopped ham… whatever).  Be creative!  Use your favorite flavors, or whatever you have on hand.  I've listed a few of my favorites below.  Simple is best, so don't over think it.
You can prep the ingredients several days in advance – the tartlet shells, the filling ingredients, and the egg custard.   Then throw together and microwave a few minutes before your guests arrive!
Basic Mini-Quiche:
1 recipe Tartlet shells (about 33 baked shells)
1 egg
1/2 c. half and half
1/4 tsp. salt
few grinds of black pepper
Quiche filling ideas:
chopped bacon + shredded cheddar
chopped basil + grated Parmesan cheese
chopped kalamata olives + grated mizithra cheese
minced sun dried tomato + shredded mozzarella
1.  First make your tartlet shells.  You will want to start out with fully baked (not raw) tartlet shells.  Many supermarkets these days also carry pre-baked tartlet shells that you can just buy if you don't want to bother making the shells.
2.  Mix your egg, half and half, salt, and pepper in a pyrex measuring cup.  Beat the egg a bit with a fork and make sure it is all combined well.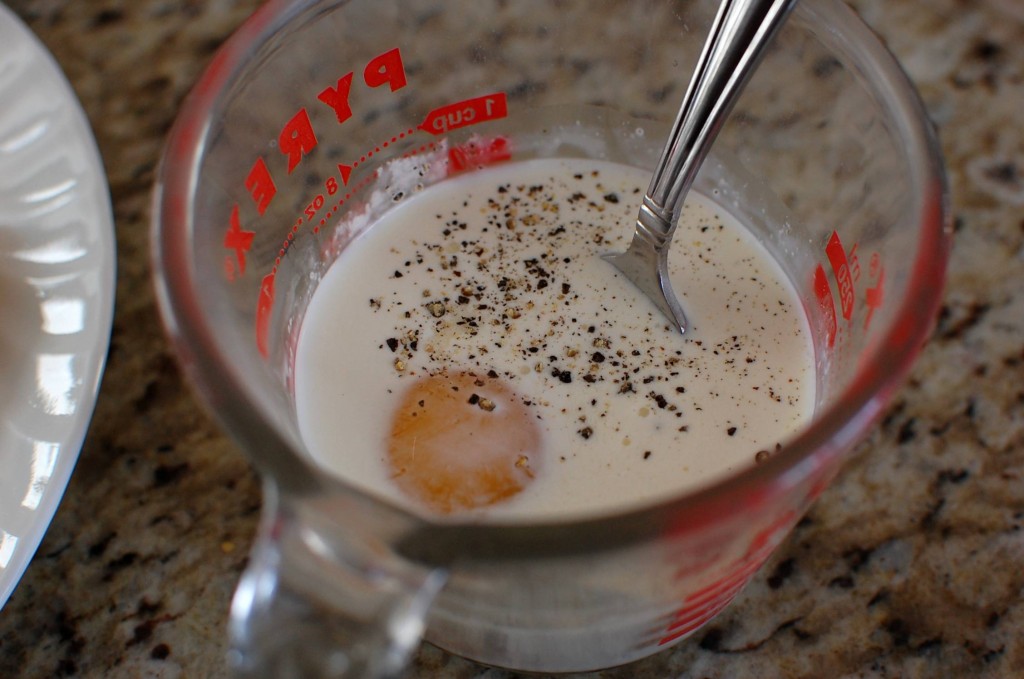 3.  Place your tartlet shells on a microwavable plate.  Prepare your filling ingredients and fill the tartlet wells.  Usually you will want some kind of herb or strong flavoring ingredient (like bacon, basil, olives, sun dried tomato…) and some type of shredded/grated cheese that complements that ingredient (cheddar, parmesan, mizithra, mozzarella…).  You won't need much… so resist the urge to overfill each tartlet – especially with overly salty ingredients like greek olives.  For example, with the bacon/cheddar combination, I used about 1/2 tsp. chopped cooked bacon + 1 tsp. shredded cheddar.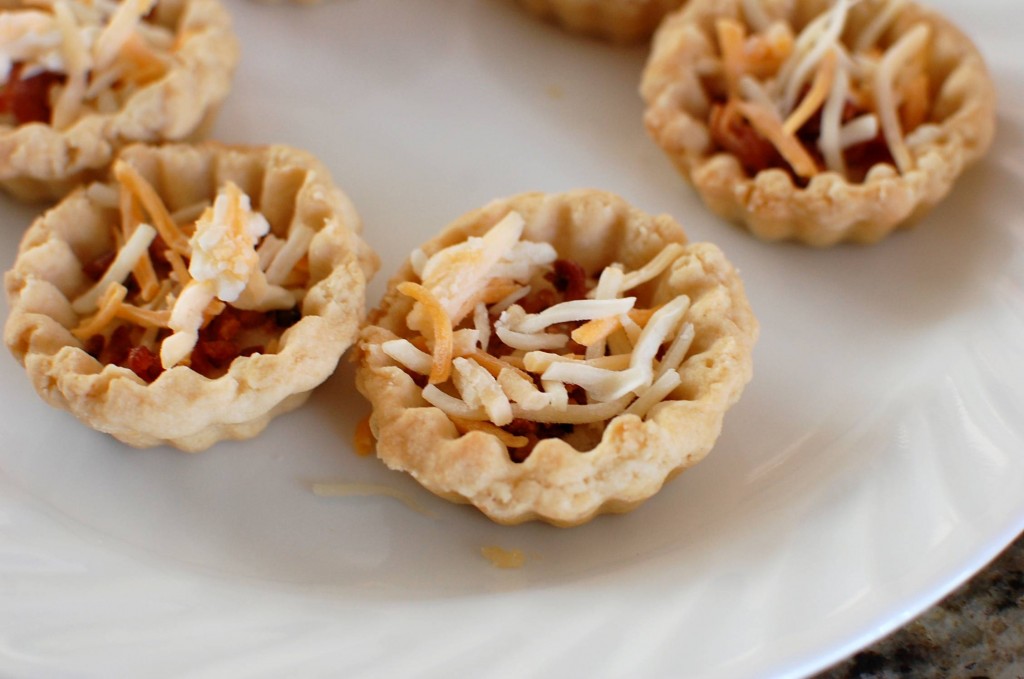 For the basil/Parmesan quiche, I used just a pinch of chopped fresh basil leaf, and 1/2 tsp. grated Parmesan.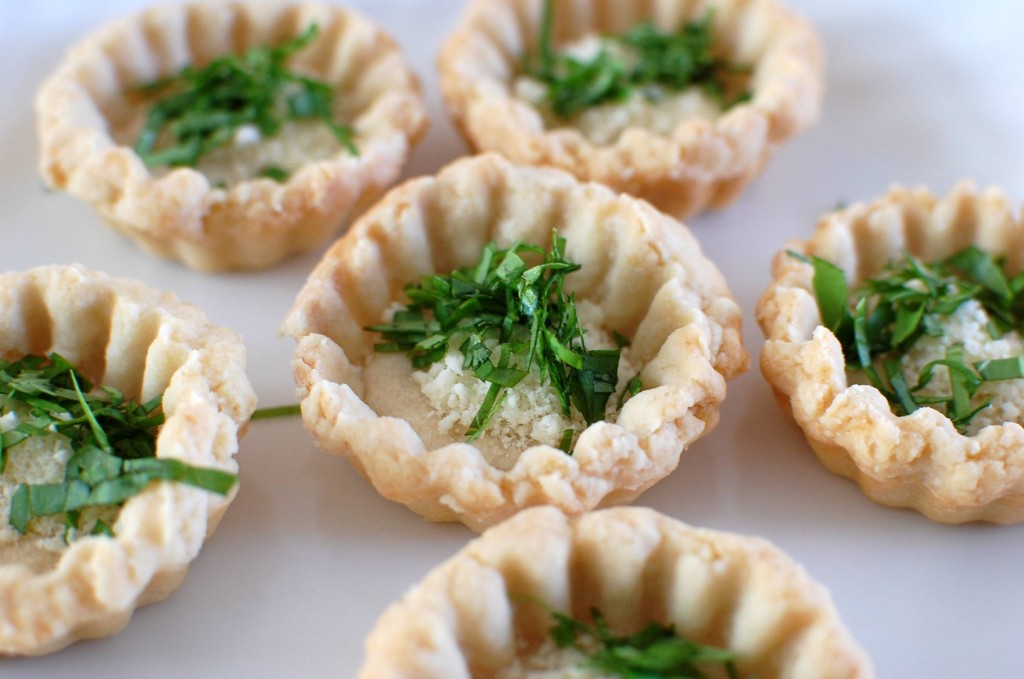 For the kalamata olive/mizithra quiche, I used about 1/4 tsp. chopped greek olive + 1/2 tsp. grated mizithra cheese.  (I forgot to take a picture of that one before adding the egg mixture… sorry!  But you can kind of see the olives in the next picture in step #4.)
4.  Fill the tartlet shells with about 2 tsp. of the beaten egg mixture (do not overfill, otherwise the egg will run over onto the plate while cooking).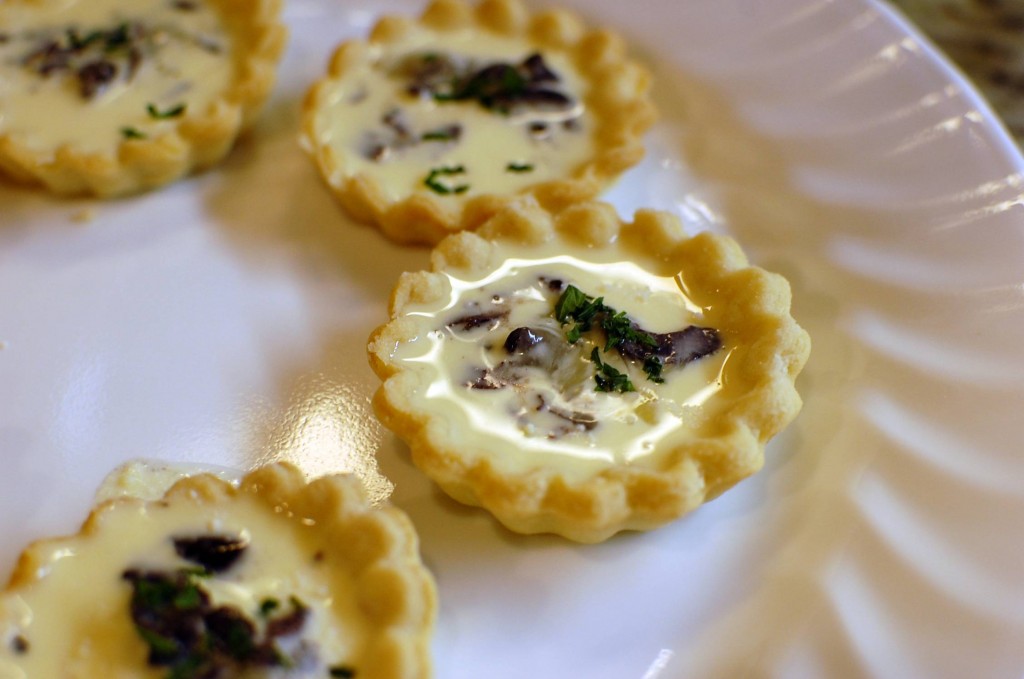 5.  Microwave your mini quiches for 90 seconds.  (If not cooked enough, you can microwave another 30 seconds if needed).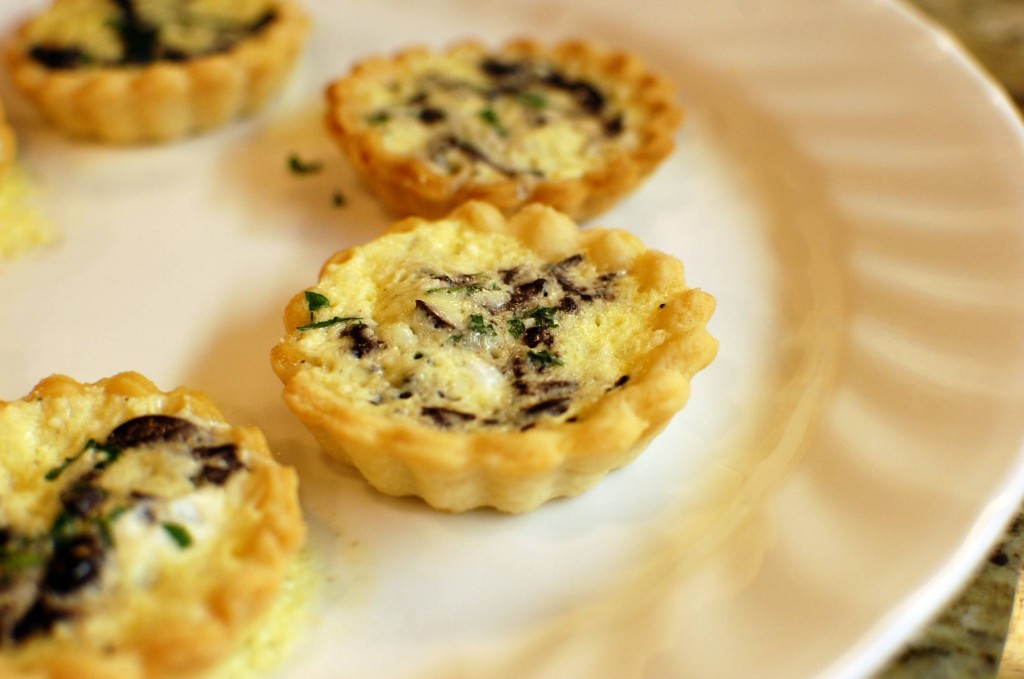 6.  Remove to a serving plate, and serve warm!  (You can easily prep these ahead of time and refrigerate… then just microwave right before you need to serve them.  Just don't microwave them on the serving plate, because of possible spill over.)