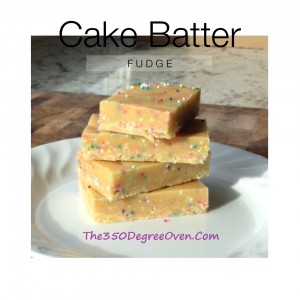 In my free time, I like to go through the "food & drink" section of Pinterest, and drool all over the delicious looking photos.  Making the rounds around Pinterest… I've seen several links for versions of "Cake Batter Fudge".  After seeing the pictures of Cake Batter Fudge over and over… I couldn't take it anymore, and had to have it!  How simple too – just 4 ingredients, plus rainbow sprinkles!  And, it's easy to make using just the microwave.  So why not try it?
I'm glad I did… because this "fudge" is so quick, so easy… and it makes an impressive looking treat to bring to a party, or give away to friends.  If you like "cake batter" flavored ice cream or frozen yogurt, then this recipe is for you!   Most of us probably already have the ingredients somewhere in the kitchen pantry… so go dig out that box of yellow cake mix, and mix up a batch right now!
The pan size doesn't have to be exact (since there is no baking required).  If you choose a smaller pan, then your fudge squares will be thicker in height.  If you choose a larger pan, then your fudge squares will be thinner.  I like to line the pan with Reynold's nonstick foil – it makes removing the fudge from the pan simple and easy (if you don't have nonstick foil, then use regular foil and grease it first).  You don't have to use foil to line the pan – but I find it easier to get the fudge out onto a cutting board with the foil liner method.
Cake Batter Fudge:
2 c. yellow cake mix
2 c. powdered sugar
1/2 c. unsalted butter
1/4 c. milk
1-2 T. rainbow sprinkles
1.  Prepare a 7″ X 11″ rectangle pan or 8-9″ square pan by lining it with nonstick foil.  If you are using regular foil, be sure to grease it with a little bit of butter or oil first.  (The purpose of the foil is to make the fudge easier to remove from the pan and cut into squares later.)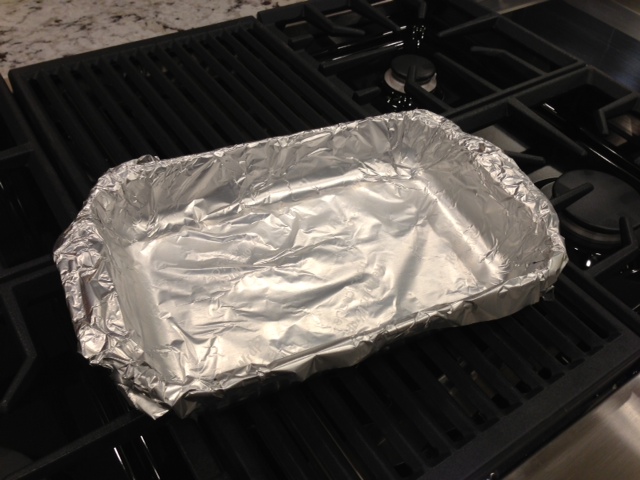 2.  Dump the cake mix and powdered sugar in a microwaveable bowl.  Add the milk and cut up pieces of butter.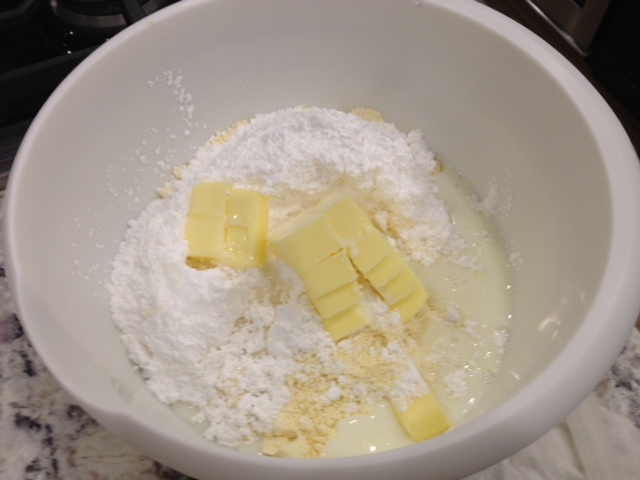 3.  Microwave the mixture for 2.5 – 3 minutes (until the butter is melted and hot).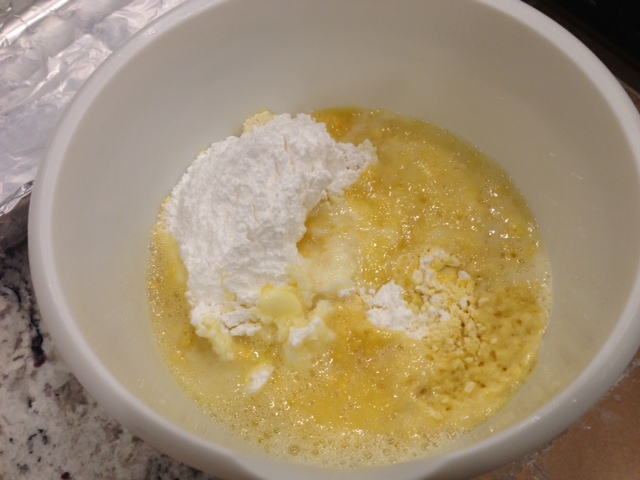 4.  Using a silicone or rubber spatula, stir the mixture.  Try to break up & mash down any lumps of powdered sugar or cake mix as you stir.  In the beginning, your mixture will resemble cake batter.
5.  Continue to stir the mixture, folding it on top of itself.   The mixture will start off fairly "loose", but as  you continue to mix (and as it cools) you will see it begin to stiffen up.  (If after several minutes, your mixture does not reach this consistency, then add 1 T. more cake batter + 1 T. more powdered sugar and continue to stir.)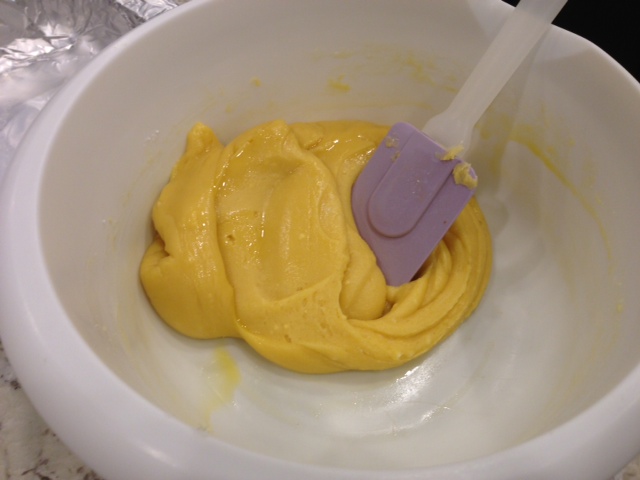 6.  When the mixture is the consistency of a soft play-dough, add your sprinkles and mix just to combine.  (Don't over mix because the food coloring in the sprinkles will start to run, and tint your dough.)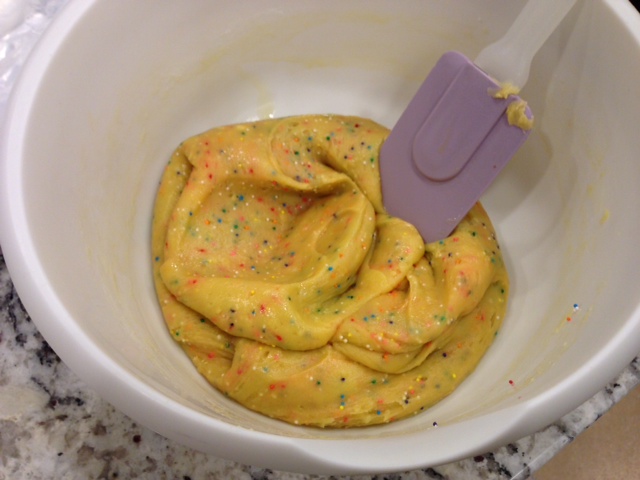 7.  Spread and "push" the mixture with the spatula into an even layer in the prepared pan.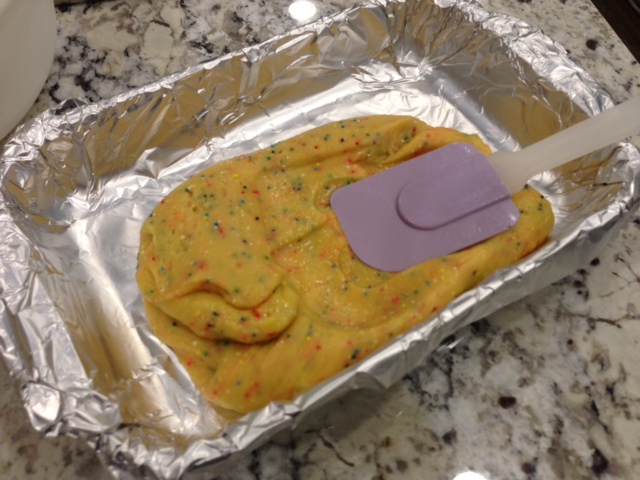 8.  Cover with plastic wrap, and refrigerate for 1-2 hours (overnight is ok too) to set.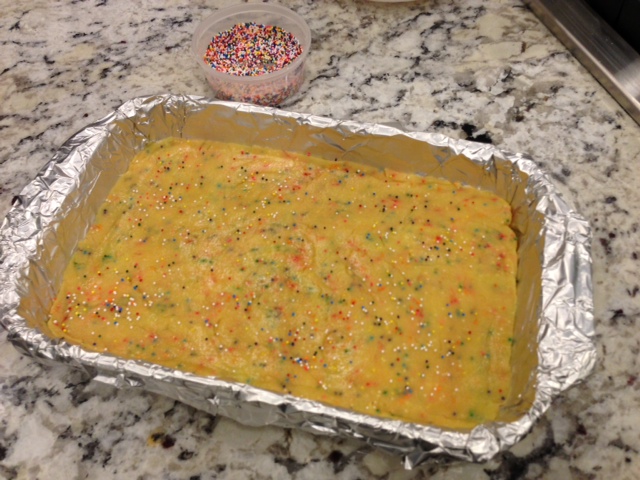 9.  Remove from the refrigerator.  Use the foil as a sling to pop the fudge out of the pan, and place on a cutting board.  Cut your fudge into squares.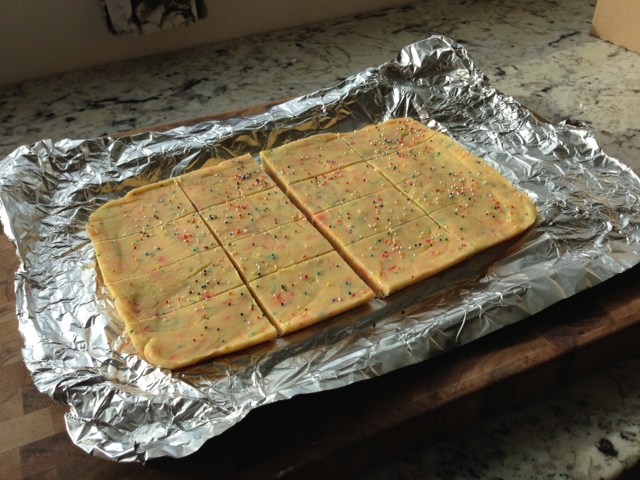 10.  Store refrigerated, in a closed container.  Enjoy!