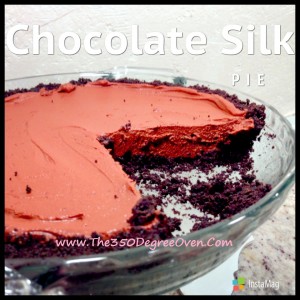 When making chocolate mousse (or chocolate silk) pie… a number of recipes call for raw egg white.  You can always use pasteurized egg white if you are worried about salmonella – but those recipes are typically more complicated to make.  Sometimes, I just don't have the time. This recipe is SUPER SIMPLE, and can be made in 15 minutes.  It's easy to make – just use a food processor and microwave, no baking required!
With the secret ingredient of soft/silken tofu… this recipe eliminates the need for raw eggs, and for any cooking or baking.  Just use your favorite chocolate chips (or any high quality chocolate that you like), and mix everything up in a food processor.  I promise, you will NOT taste the tofu – no one will even know tofu is an ingredient unless you tell them.
If you use dark chocolate and substitute butter flavored shortening (for the small amount of butter needed for the oreo crust), then this recipe becomes dairy free and vegan – perfect for those with lactose tolerance issues, or for those looking for a vegan dessert that isn't lacking in flavor or texture.
Valentine's Day is tomorrow!  Make this rich and decadent chocolate silk pie to serve – you will not be disappointed by the rich chocolaty flavor or the creamy & silky texture in this recipe!
Chocolate Silk Pie:
12 oz. semi-sweet chocolate chips (or any good quality chocolate, chopped)
14 to 16. oz block of silken/soft tofu
1/4 tsp. salt
2 tsp. vanilla extract
1 T. honey (or agave syrup, or corn syrup for vegans)
Oreo Cookie Crust:
18 whole oreo cookies
1/4 c. unsalted butter, melted (or butter flavored shortening for vegans)
1.  First make the cookie crust.  Pulverize the oreo cookies in the work bowl of a food processor until fine crumbs.  (I put the oreos in whole, but if you aren't sure how powerful your food processor is, you can roughly chop the oreos before you attempt to grind them up.)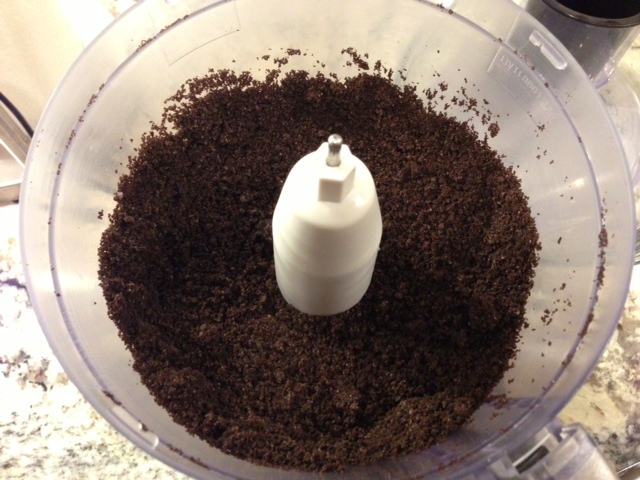 2.  Add the melted butter, and pulse until combined.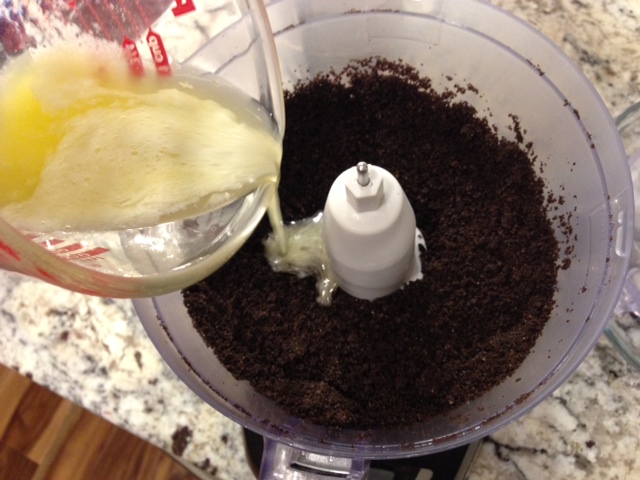 3.  Dump the oreo cookie mixture into a pie pan, and using clean fingers (or a silicone spatula), press the cookie crumbs against the sides and bottom of the pie plate to create the crust.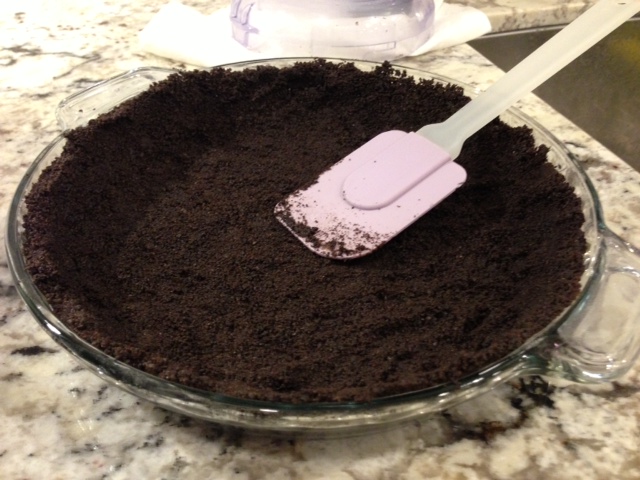 4.  Drain the water out of the tofu package.  Cut into cubes, and put into the food processor.  Add the salt, vanilla, and honey.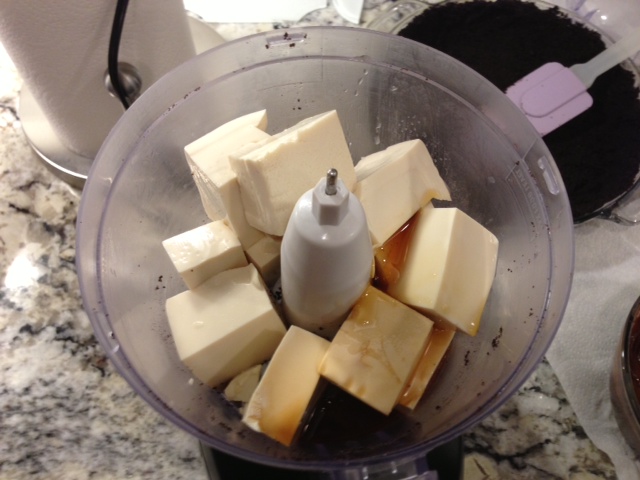 5.  Puree the tofu until it is smooth.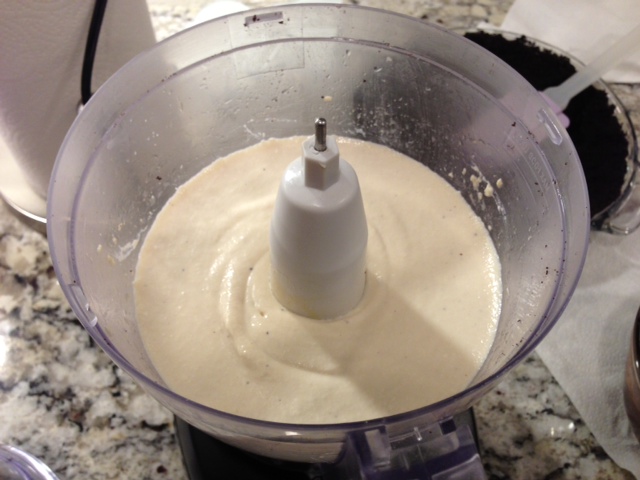 6.  Place the chocolate chips into a microwave safe bowl and microwave at 50% power for 1 minute.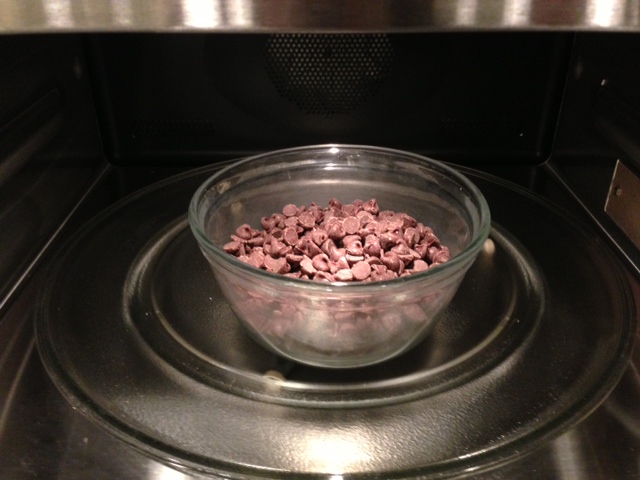 7.  Remove the bowl, stir, and microwave at 50% power for 1 more minute.  At this point, the chocolate should be starting to melt – but may need a bit longer in the microwave.  So proceed to microwave at 50% power in 30 second increments, stirring in between until the chocolate is fully melted when stirred.  (Keep in mind that you have to stir the chocolate in order to find out if it is fully melted or not.)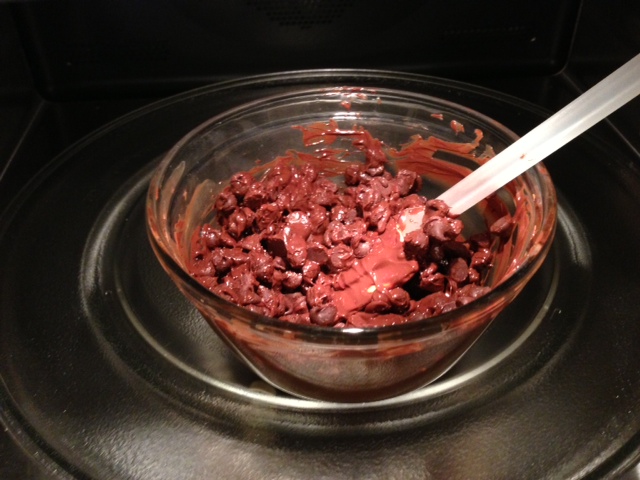 8.  Stir the chocolate to make sure all the chips are fully melted.
9.  Add the melted chocolate to the pureed tofu mixture in the food processor work bowl.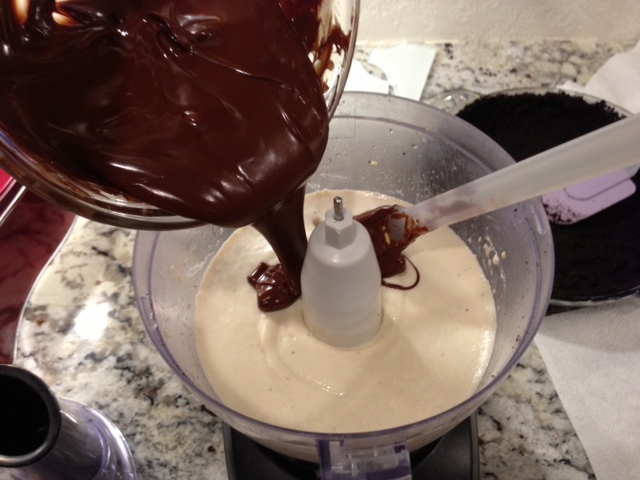 10.  Pulse to combine, scraping down the sides several times.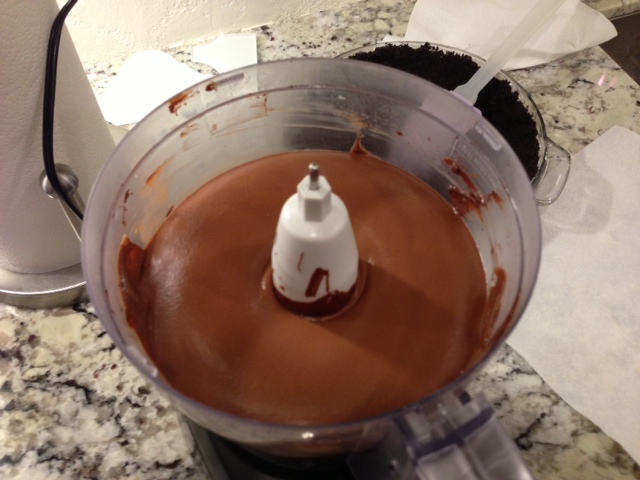 11.  Pour the chocolate mixture into the prepared oreo crust.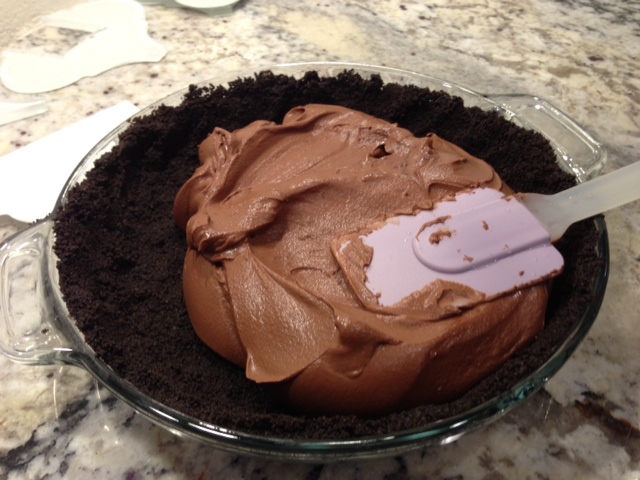 12.  Spread the mixture around with a spatula in an even layer.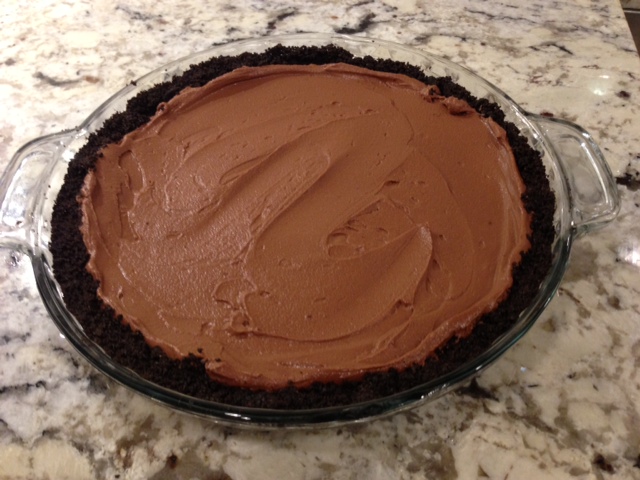 13.  Refrigerate the pie for at least 1 hour before serving.  Enjoy!