Last week, I was reading my latest issue of Food Network Magazine, and came across a wonderful idea for individual peach pies: use half of a peach to stuff a pastry lined cupcake pan!  This reminded me of the "Mini Apple Pie" recipe that I posted a few years ago… and I thought why not make a peach pie version of these cute little mini pies?
To make it simple, you can use refrigerated pie crust.  Pre-made pie crust works well if you are pressed for time, and if you re-roll your scraps you will have enough crust to make about 10 individual mini peach pies.  If you have the time to make your crust from scratch… the taste will be much more decadent and the texture more flaky!  Use my Pate Sucree Recipe (posted with my Mini Apple Pie recipe) if you would like to make your crust from scratch (will yield about 12 mini pies).
Today, I made my mini peach pies with canned peach halves (it's really quick and easy that way).  I used about 1 1/2 of the large cans of peach halves in heavy syrup.  (You will have some peaches (and syrup) leftover – a great use for the leftover ingredients would be to make a "Peach Dump Cake".)  If you prefer to make your filling from scratch – you can also use whole fresh peaches.   Use the technique in steps 2-4 of my Peach Dump Cake recipe to remove the skins and prepare whole fresh peaches halves.
The amount of sugar in this recipe is up to your taste.  The sweeter your peaches, the less sugar you need to use.  (You can use more sugar if you feel the fruit is not sweet enough.)  I used about 1 1/2 tsp brown sugar inside each pie + sugar for sprinkling over the top crust for each individual pie.  Enjoy!
Mini Peach Pies:
2 large (29 oz.) cans peach halves in heavy syrup
1 box of refrigerated pie crust (2 crusts)
brown sugar
5 T. unsalted butter
large crystal or turbinado sugar
1.  Preheat oven to 350 degrees.  Unroll the pie crusts, and cut out 10 large (approximately 4.5 to 5″" diameter) circles, and 10 smaller (3″ diameter) circles.  I used the top of a rice bowl for the large circles, and a round biscuit cutter for the small circles.  (You may need to alter the sizes slightly depending on the diameter of your cupcake pan – I know different brands vary slightly.  Cut one large and one small circle first and check before cutting out the rest.)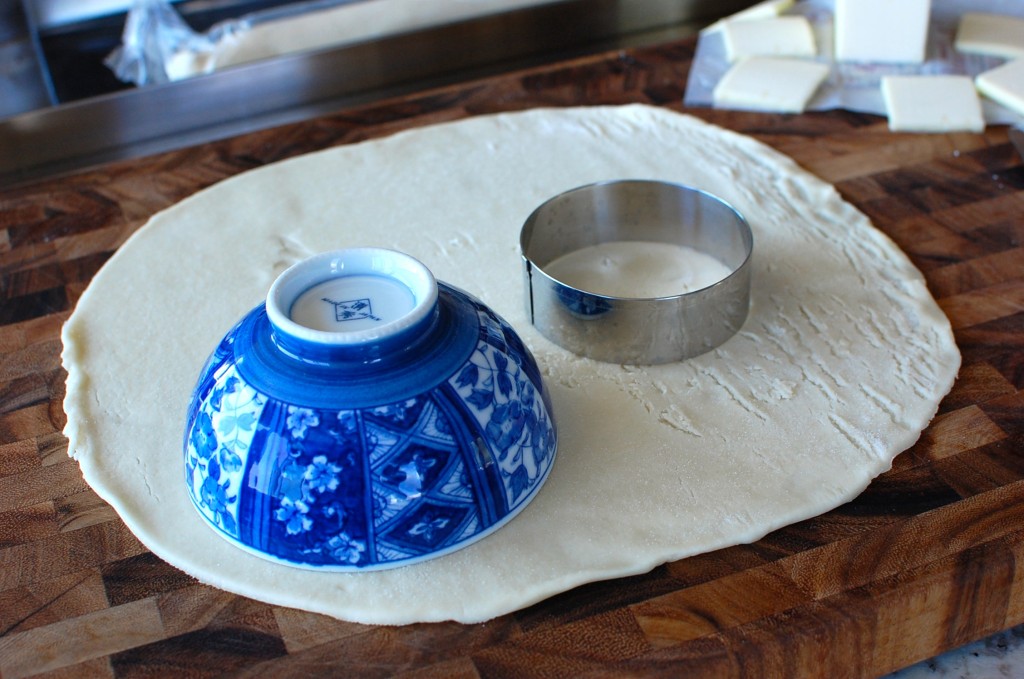 2.  Re-roll the scraps of dough to finish cutting out all of the circles.  (I would cut out the large circles first – you can probably get about 4 large circles +1 small circle from one pie crust before having to re-roll the scraps.)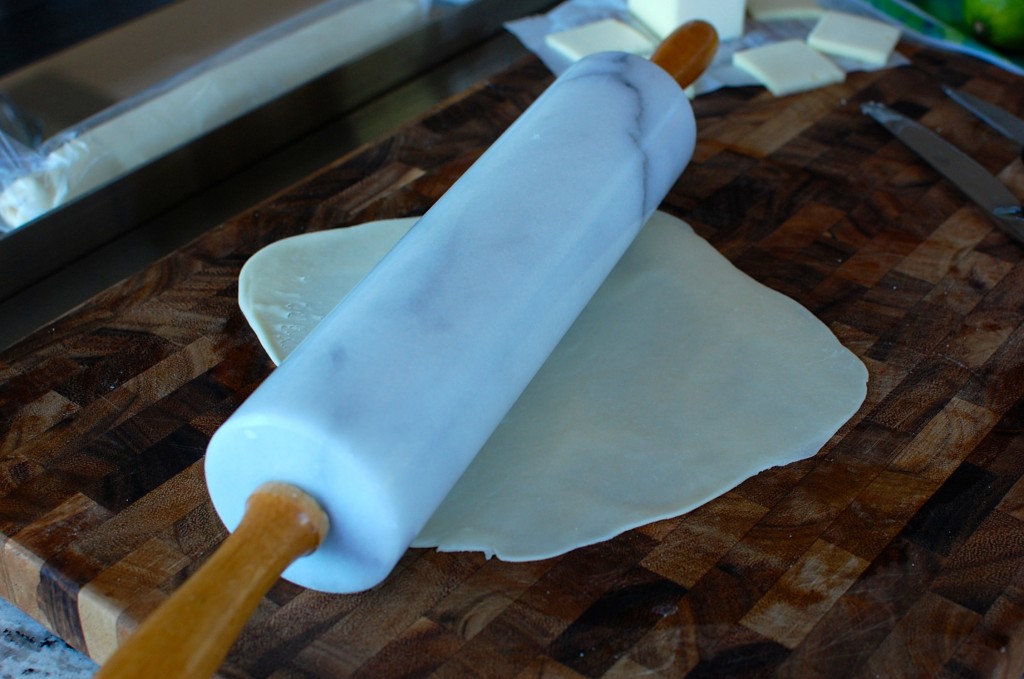 3.  Spray the inside of a cupcake pan with non-stick baking spray.  Line 10 of the depressions with the large circles of pie crust, leaving a small "ledge" or "lip" around the top edge.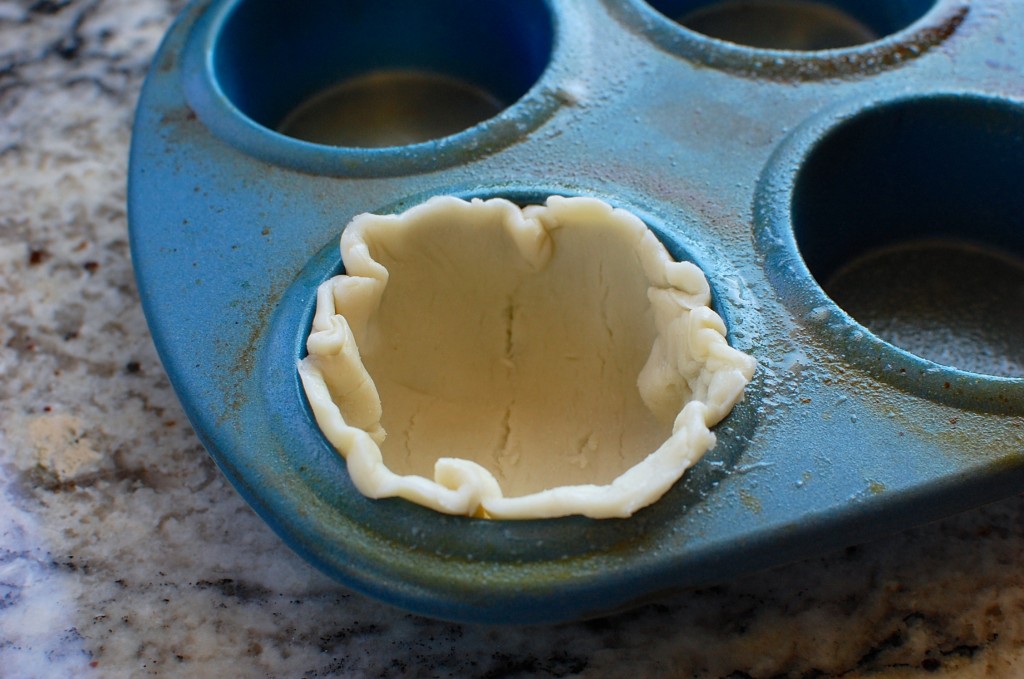 4.  Sprinkle about 1/2 tsp. brown sugar into each pastry depression, then add one drained peach half (flat side up) into each pastry depression.  (Reserve the syrup from the can.)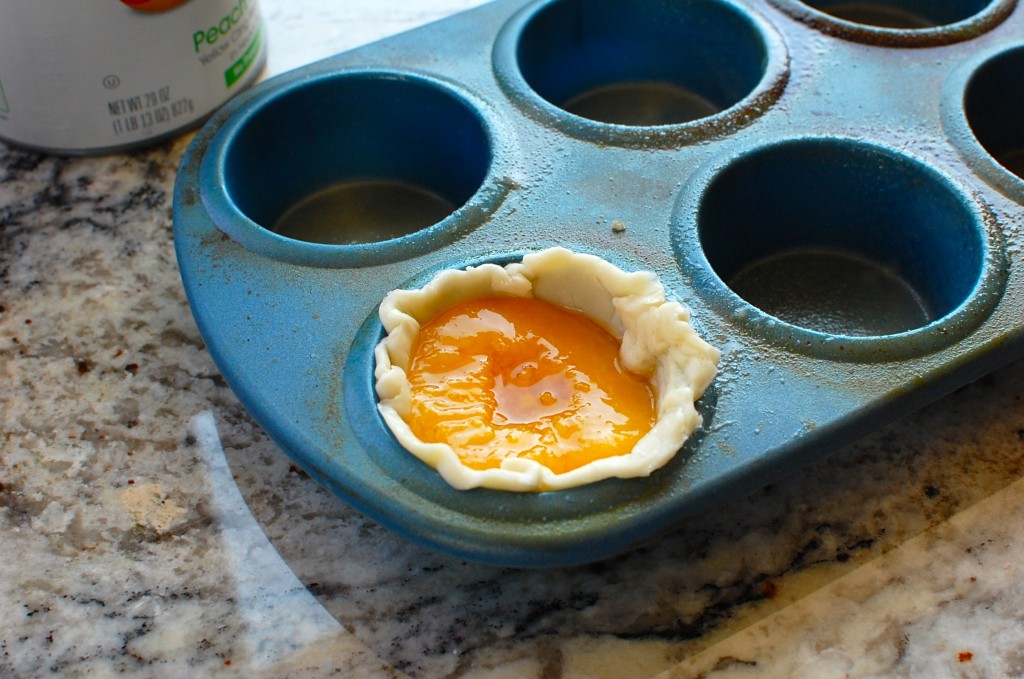 5.  Sprinkle the top of each peach with about 1 tsp. brown sugar, then top with 1/2 T. pat of butter.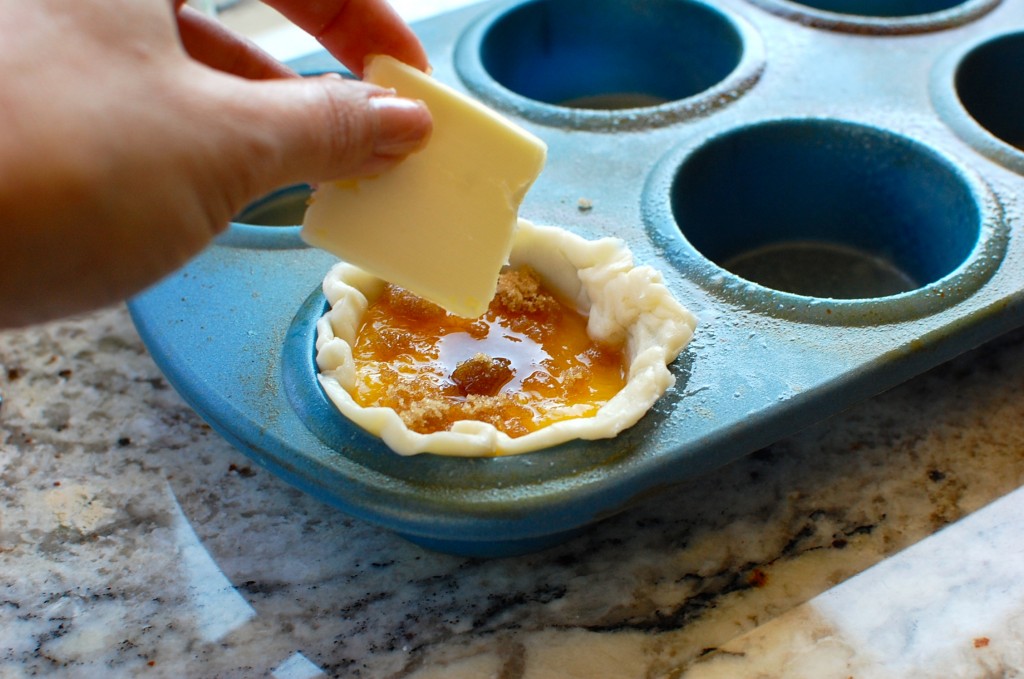 6.  Place the small circles of pastry on top of the peaches.
7.  Use a fork to crimp the edges of the top and bottom crust together.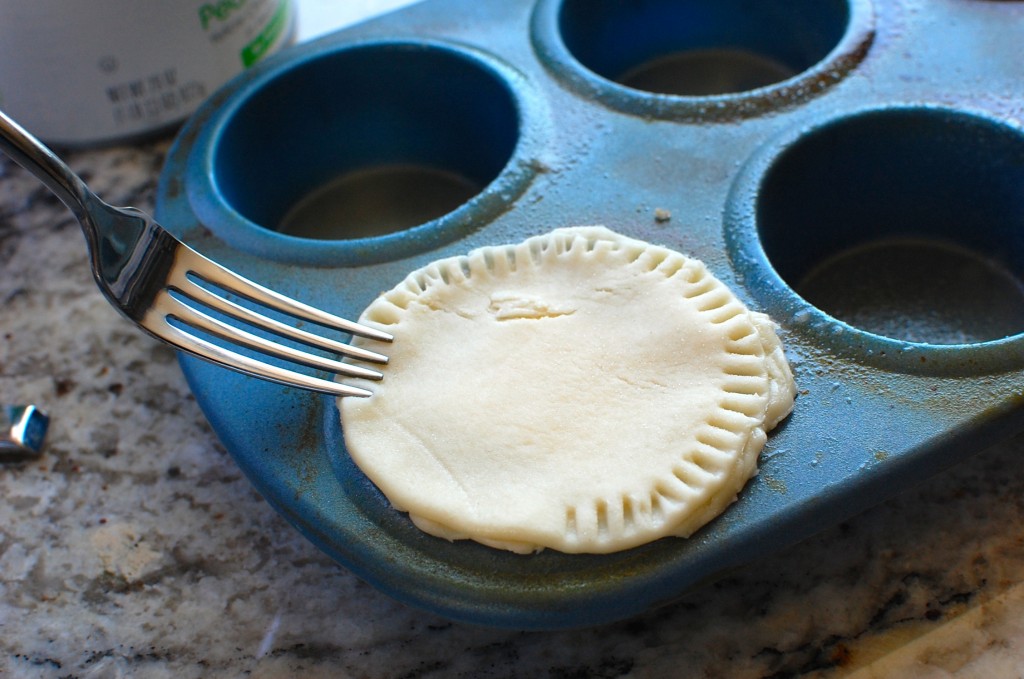 8.  Brush the tops of the pies with the reserved heavy syrup from the peach can.
9.  Sprinkle the moistened pastry tops with the large crystal decorating sugar, or with any large crystal sugar like turbinado sugar.  (You can substitute with regular granulated sugar if you don't have the large crystal kind on hand.)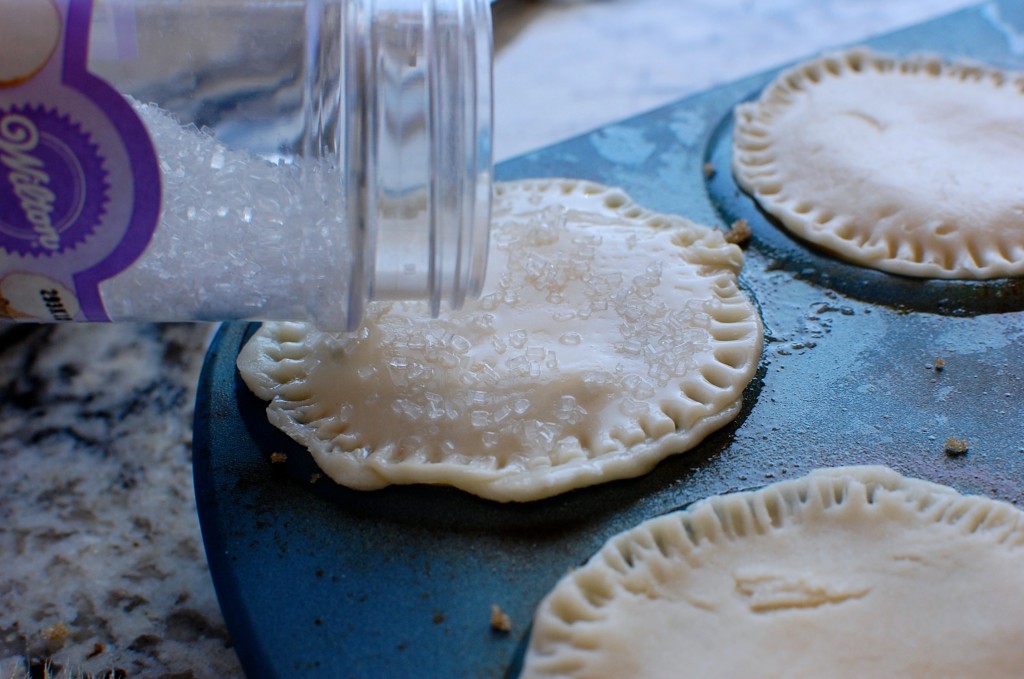 10. Using a sharp knife, cut a few slits into the top of the pies to vent.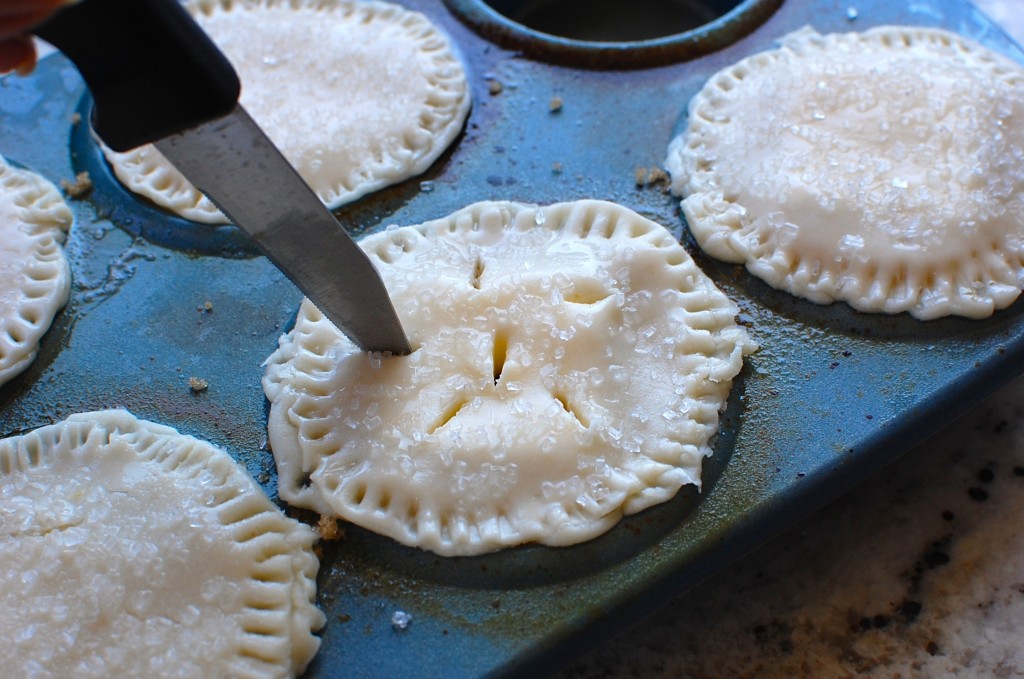 11.  Bake the pies for 25 – 35 minutes at 350 degrees.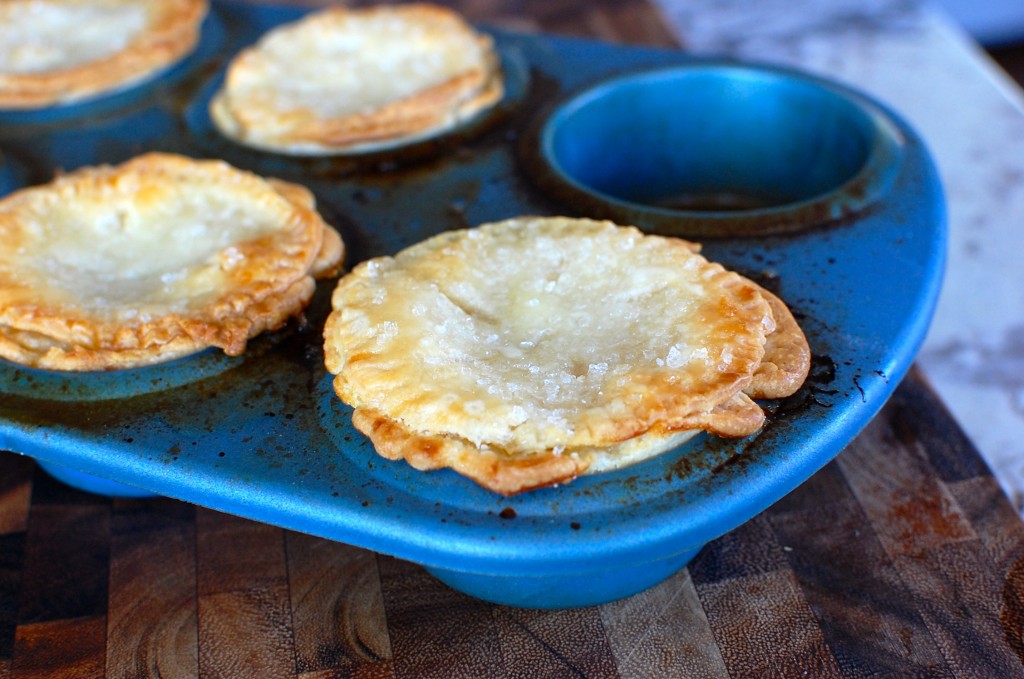 12.  Allow the pies to cool for 10 minutes, then carefully remove with a fork or slim spatula and set aside to cool.