Last week, I posted a recipe for how to make basic crepes at home using a simple batter of flour, eggs, butter, and milk.  One of my favorite dishes to make with a batch of crepes is homemade Manicotti.  Manicotti is an Italian dish, made by stuffing a savory ricotta cheese filling into either a tube of pasta or a crepe, then baking in sauce until bubbly and hot.  Now, I'm not sure which came first for the "shell" of the manicotti – the pasta tube, or the crepe… but crepes are easier!
When I first learned how to make manicotti, I was taking a 10th grade cooking class in my high school.  We stuffed uncooked pasta tubes with the filling, then let the pasta tubes "marinate" in a slightly thin pasta sauce overnight to soften, and finally baked the next day.  Waiting a day to bake… not great when you want to eat TODAY!  I also remember learning that you could also boil the tubes, then attempt to stuff the cooked pasta tubes with the filling and bake – but that sounded messy and a lot of work.   To me, that makes crepes the winning "shell" for manicotti – immediate gratification, plus they are much easier to stuff with filling!
Make a batch of crepes and roll your own manicotti (just top the crepes with a dollop of filling and roll them as you would a small burrito), then top with sauce/cheese and bake!  Voila, fresh homemade manicotti!  You could also make a double batch, and freeze an extra pan of manicotti to bake another day in the future (just make sure you thaw overnight before baking!).
I also like to make ricotta cheese from scratch – it's as simple as heating milk on the stove and allowing it to curdle (with lemon juice), then drain the whey for a  bit.  If you would like to make your ricotta at home, see my recipe for making ricotta cheese.
Basil & Ricotta Cheese Manicotti:
1 recipe (about 14) basic crepes
24 oz. can or jar spaghetti/pasta sauce
1 T. olive oil
2 c. diced tomato
1/2 tsp. salt
1/2 tsp. pepper
1/3 c. chopped fresh basil (reserve 2 T. for topping)
1 c. shredded mozzarella cheese (for topping)
1/4 c. parmesan cheese (for topping)
Cheese Filling:
About 20-22 oz Ricotta cheese (1 1/2 [15 oz] containers)
1/2 c. parmesan cheese
1 egg
1 tsp. salt
1 tsp. garlic powder
1/2 tsp. pepper
1/3 c. chopped fresh basil
1.  First, make the cheese filling.  Mix the ricotta cheese, parmesan cheese, egg, salt, garlic powder, pepper, and fresh basil.  You can use store bought ricotta cheese, or make your own fresh ricotta at home using my recipe and technique.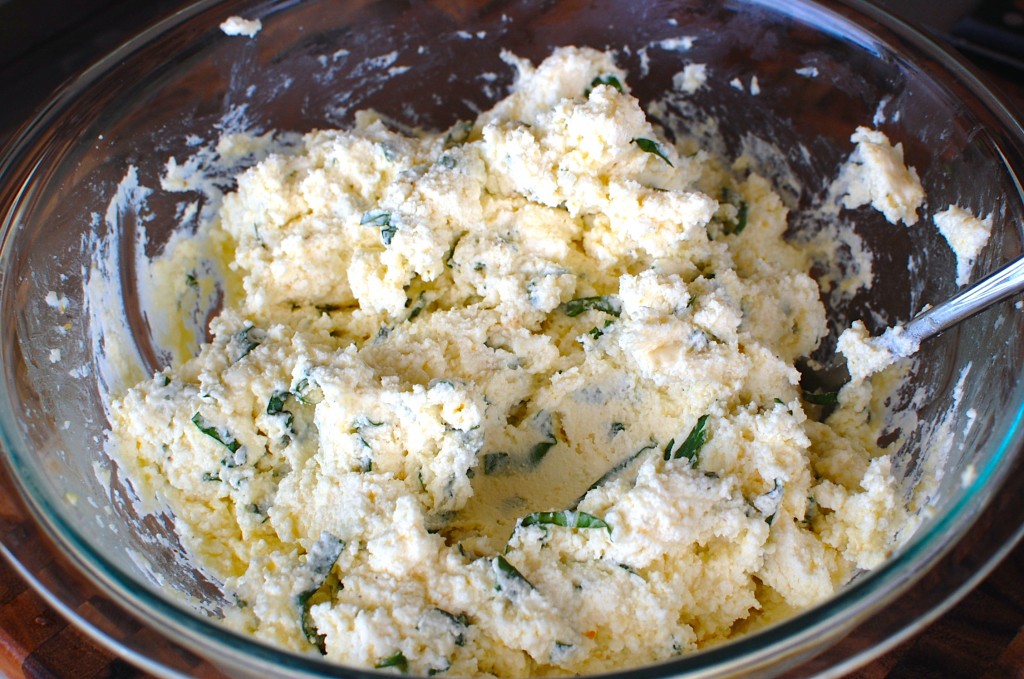 2.  Open the jar of pasta sauce.  Spread about half of the sauce into the bottom of a 9″ X 13″ baking dish.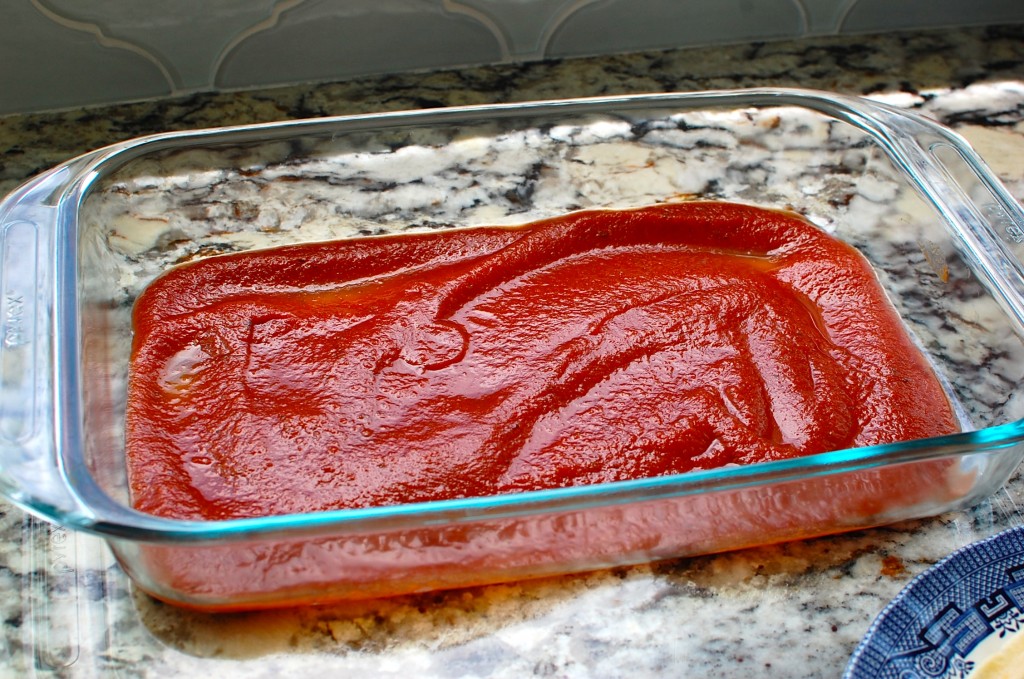 3.  With one recipe of basic crepes, you should have about 14 individual crepes.  Place one crepe on a work surface.  Spoon about 1/4 c. of cheese filling into the center of the crepe.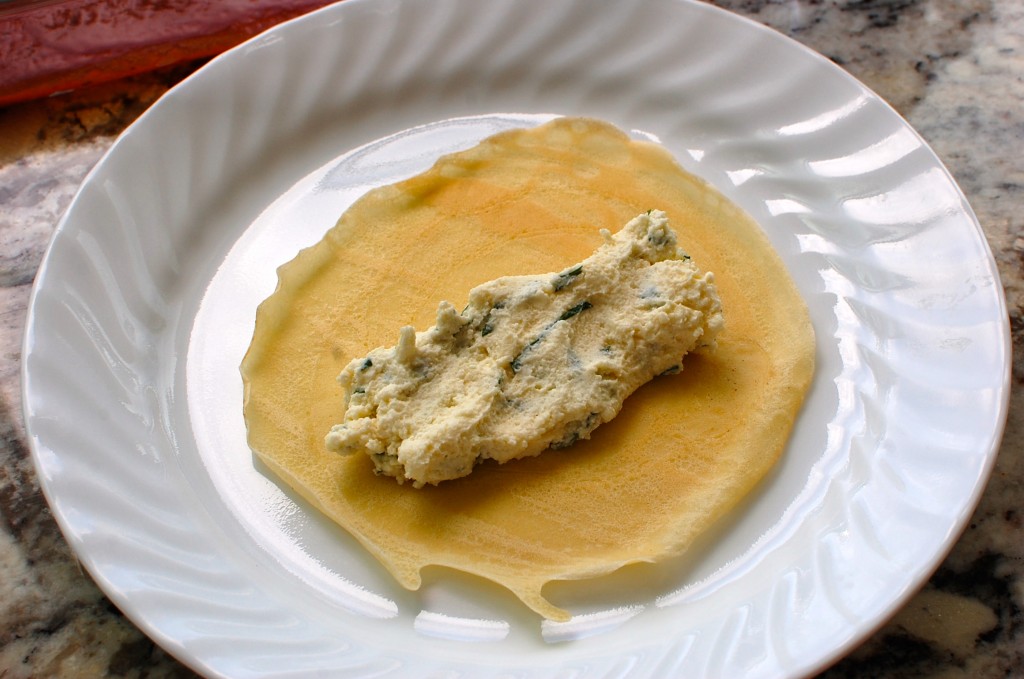 4.  Fold up the sides of the crepe over the filling, then roll burrito style to enclose.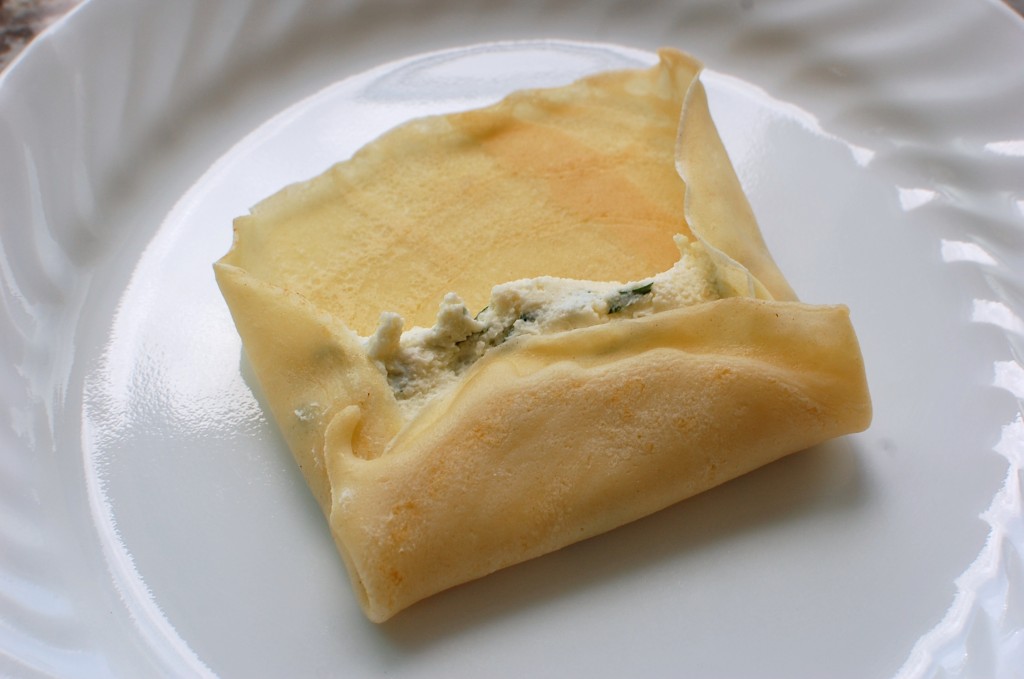 5.  Place the manicotti into the baking pan.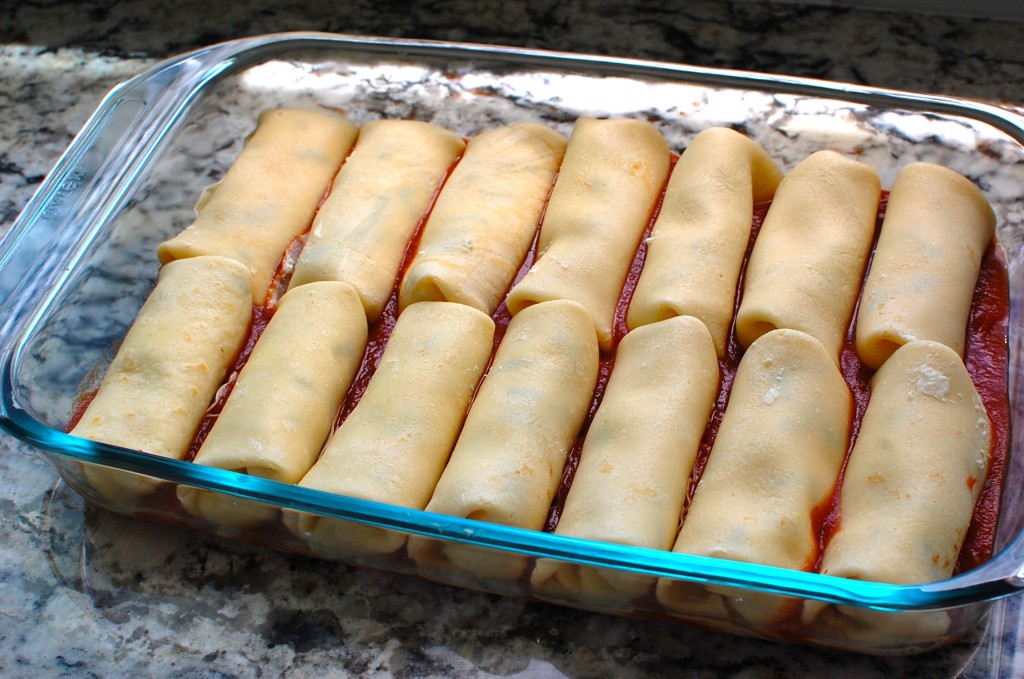 6.  Heat the oil in a large skillet.  Add the chopped garlic cloves and saute 1-2 minutes.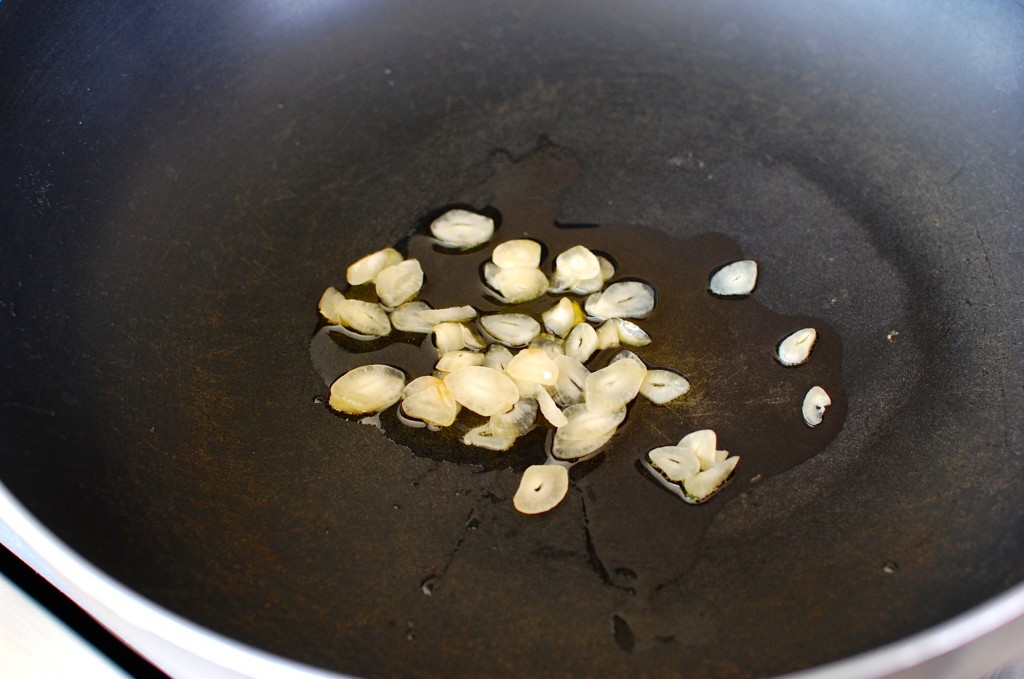 7.  Add the chopped tomatoes and saute with about 1/2 tsp. salt for 5 minutes until softened.  Then add the basil (reserve a few tablespoons of the chopped basil).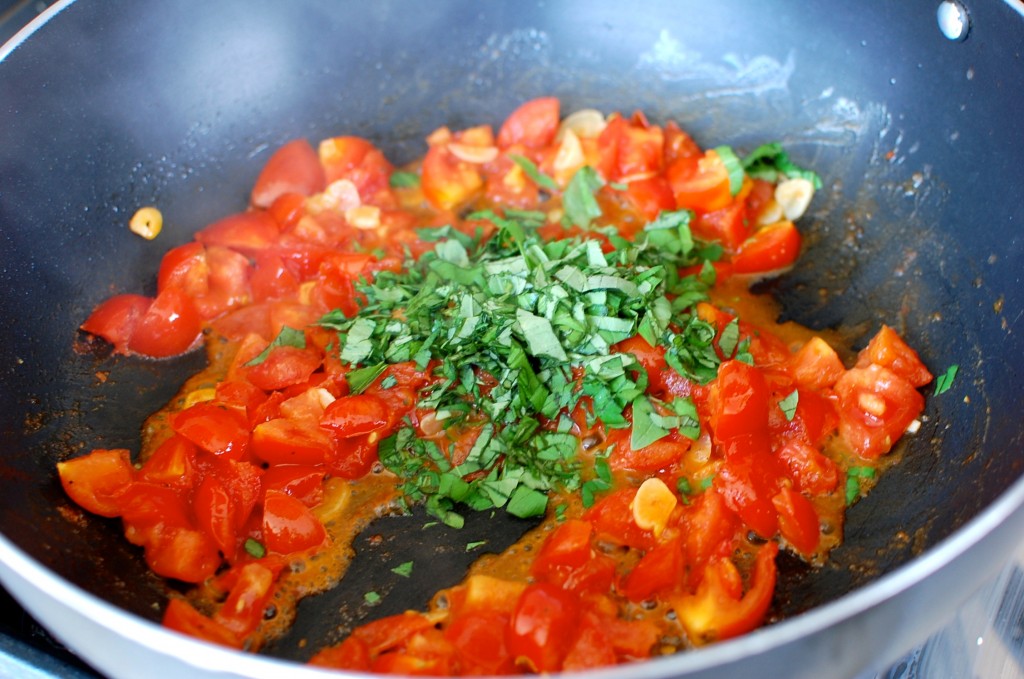 8.  Turn off the heat, and stir in the remaining 1/2 jar of pasta sauce.  Taste.  Add a pinch of sugar if needed to counteract any acidity.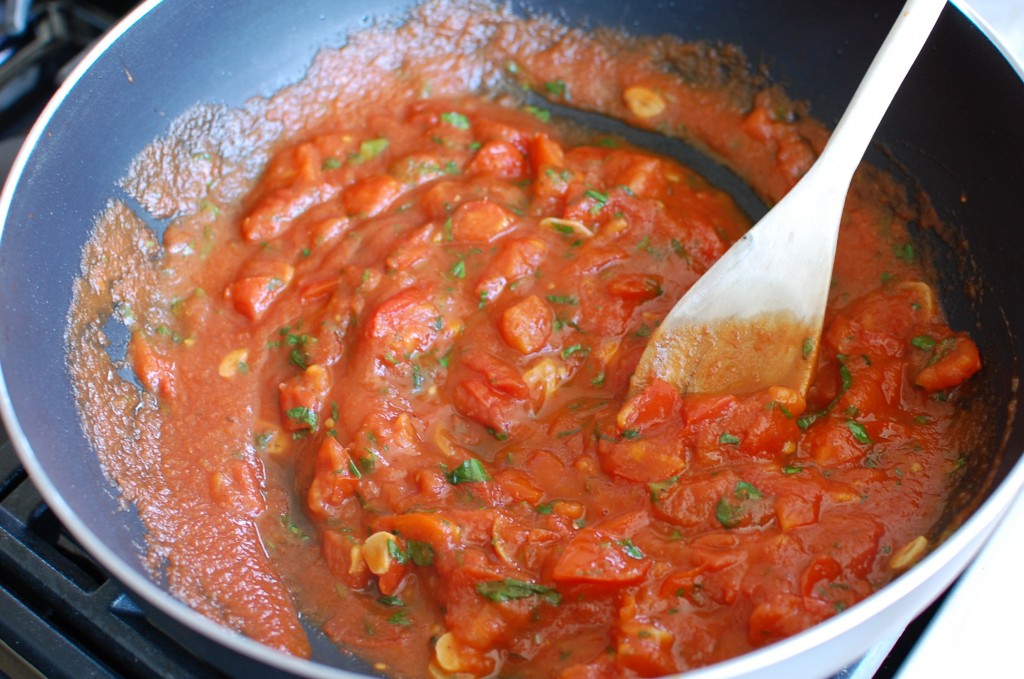 9.  Top the manicotti with the tomato mixture.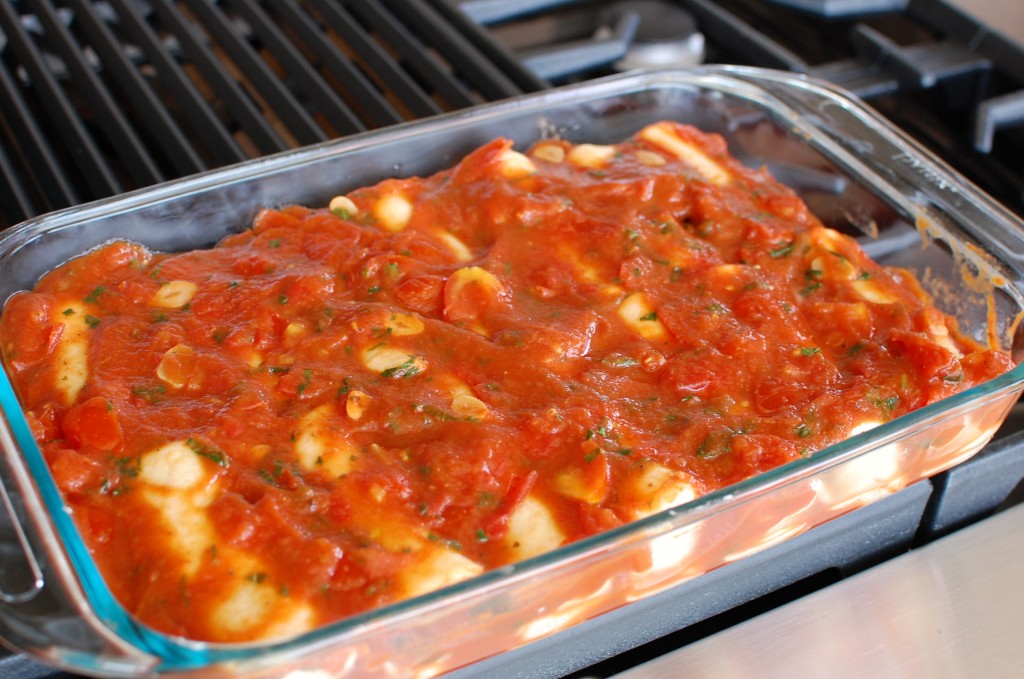 10.  Spread the shredded mozzarella and parmesan cheese over the top. Sprinkle with the reserved fresh chopped basil.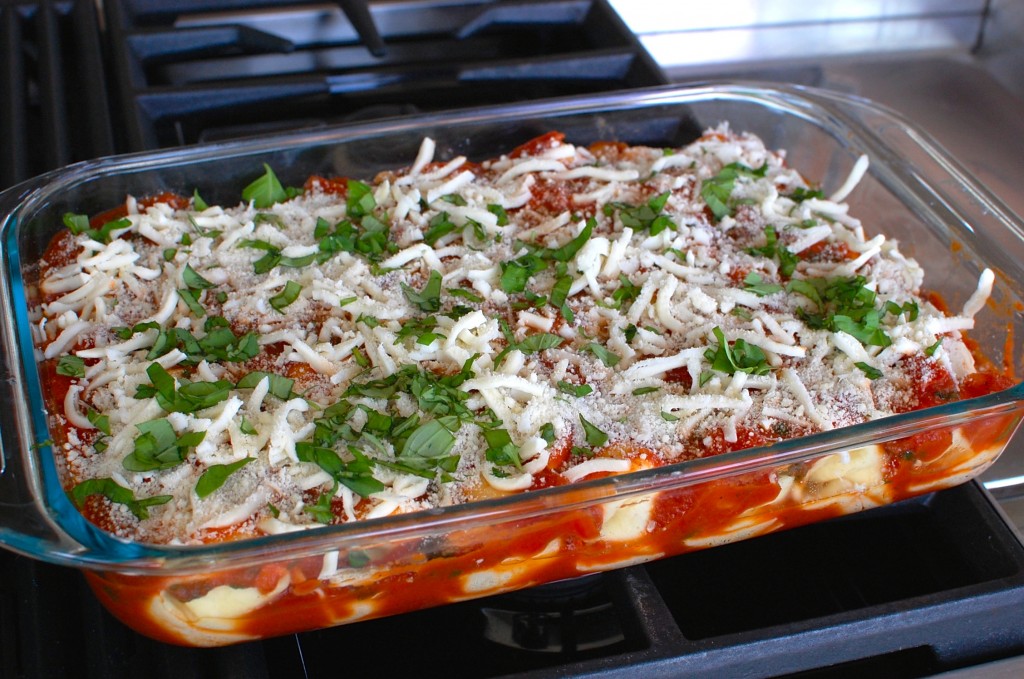 11.  Cover with foil, and bake at 350 degrees for 30-40 minutes.  You can remove the foil for the last 10 minutes of cooking to allow the cheese on top to brown if desired.  Serves 4-6.