A few months ago, I finally got a hand-hammered carbon steel wok to replace my old nonstick wok!!!  (The problem with a teflon coated (nonstick) wok is that it cannot be heated to high temperatures… and you end up sauteeing your food in the wok, rather than the quick high heat cooking that is required in most Asian recipes.)  A carbon steel wok is light, thin, and disperse heat very easily – the wok responds very quickly to changes in your stove temperature, so you can adjust your cooking time/temp with ease.
If you decide to get this type of wok, you need to season your wok before using.  Although it requires a bit more maintenance than your average cookware, I highly recommend choosing a carbon steel wok – stir fried dishes will turn out much better!  (I got mine from Williams-Sonoma… not too bad at $29.  You can also find a carbon steel wok online, or at a Chinese supermarket or restaurant supply store.)
Tonight, I decided to use the jalapenos piling up on my counter to make my version of "Drunken Noodles".    The jalapenos that I harvested from my garden have turned from green to red… and I have so many I don't know what to do with them.  But the red color of the jalapenos sort of reminded me of the red chilies used in Asian cuisine… so I thought, instead of making more tacos… let me make a spicy Asian noodle dish instead?  The traditional recipe for this noodle dish calls for "thai bird's eye" chilies – but hey – if you have an abundance of jalapenos, use those instead.  It won't be that much different in the end.
In Thai cuisine, the type of basil used is a bit different too.  Thai basil has a straighter leaf – with a dark green color, and purple stems.  If you can find Thai basil – by all means, use it.  But I have an Italian sweet basil plant sitting on my window sill… with so many leaves and in desperate need of pruning… so tonight, I used Italian basil instead.  (The nice thing about this recipe is that it is so adaptable – use whatever chilies you can find, use whatever basil you can find.)
Feel free to customize this recipe to your liking.  You can add different meat or veggies to your liking – and add more or less spice depending on how much heat you want.  To make this dish on the spicier side, leave the membranes and seeds of the chilies intact (You can also double the Sriracha sauce to 2 tsp).  To tone down the heat, remove the membranes and seeds of the chilies and discard – the bulk of the heat is in the seeds and membranes.
Drunken Noodle Sauce:
1/4 c. Xiao Xing rice cooking wine (you can substitute with dry sherry, sake, or chicken browth if you can't find xiaoxing or "shaoxing" rice wine)
3 T. soy sauce
1 T. oyster sauce
1 1/2 T. fish sauce
1 tsp. Sriracha hot chili sauce
1 T. + 1 tsp. sugar
2 garlic cloves, minced
1 small jalapeno or red chili, minced
5-6 basil leaves, minced
Drunken Noodles:
2 T. canola or peanut oil
1 tsp. salt
1/2 tsp. pepper
3-4 c. cooked rice noodles
1 c. thinly sliced meat (chicken or beef)
3 cloves garlic, sliced
2 jalapenos or red chilis, sliced
1 onion
2 large tomatoes
1 c. loosely packed basil leaves
1.  Combine all the noodle sauce ingredients in a measuring cup and set aside.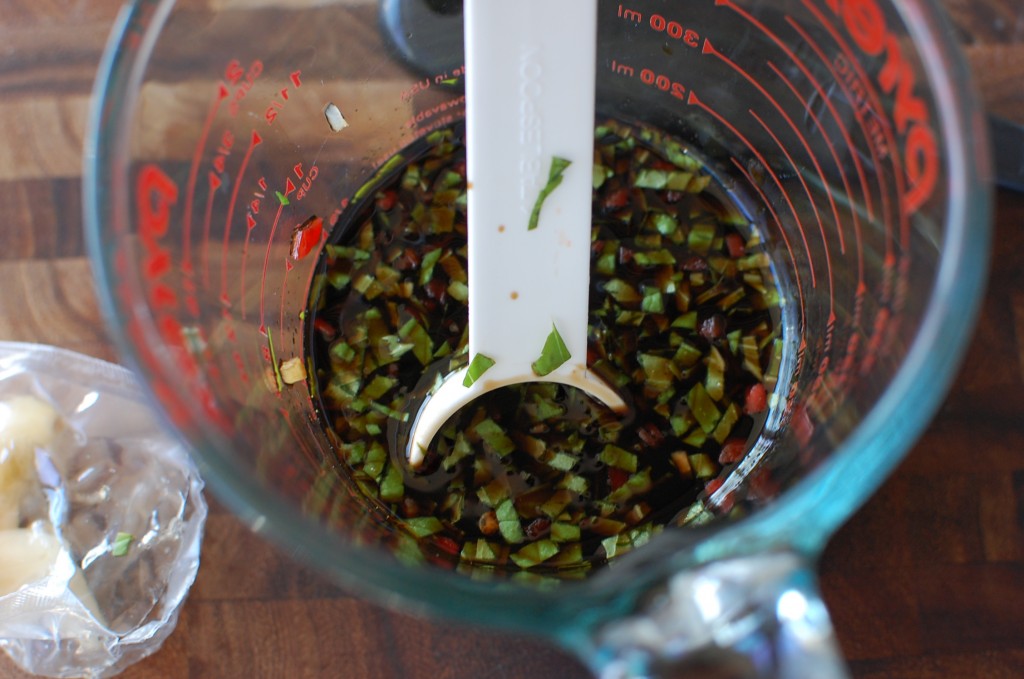 2.  Cook the rice noodles and set aside.  (Usually I drop dried rice noodles in boiling water, cook for 3 minutes, then turn off the heat and let sit in the hot water for 3 minutes – then drain and rinse with cold water to stop the cooking process.)  Traditionally, you are supposed to use the wide, flat rice noodles to make this dish.  But I didn't have that in the cupboard, so I went with thin "rice stick" type noodles.  It doesn't really matter – use whatever kind of rice noodles you have, just make sure not to overcook them in the initial "softening" step because they will cook again in the stir fry liquid.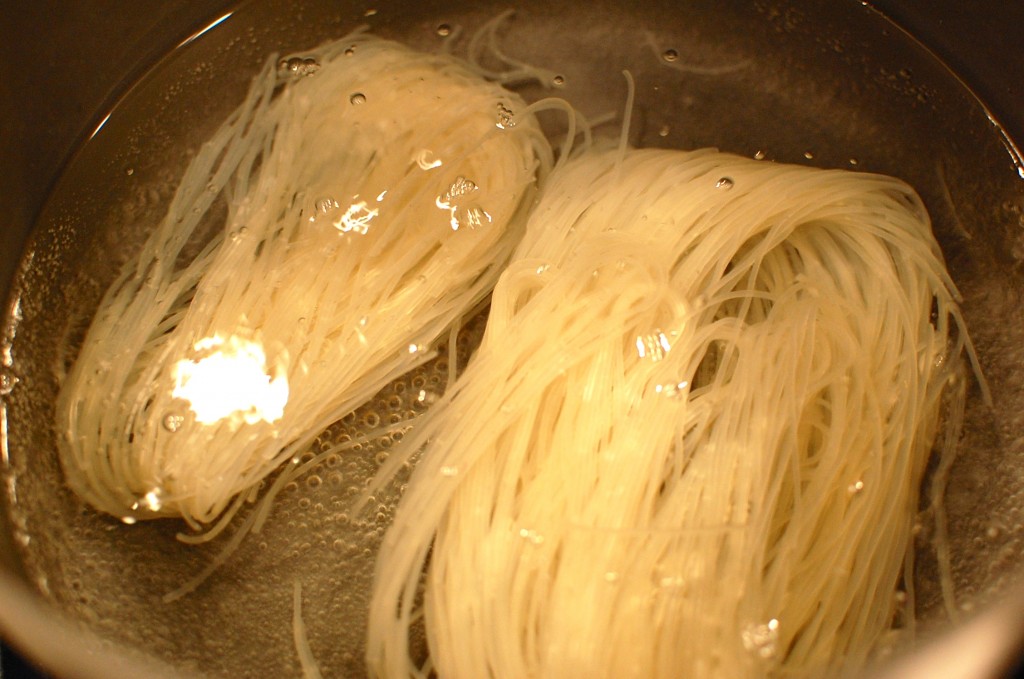 3.  If you want your noodles to be spicy, slice the jalapenos whole, leaving the seeds and membranes intact.  If you prefer a milder flavor – scrape the seeds and membranes out of the jalapenos first, then slice.  (The red chili in the photo below are actually jalapenos from my garden… once ripe, they turn from green to red and have a milder flavor.)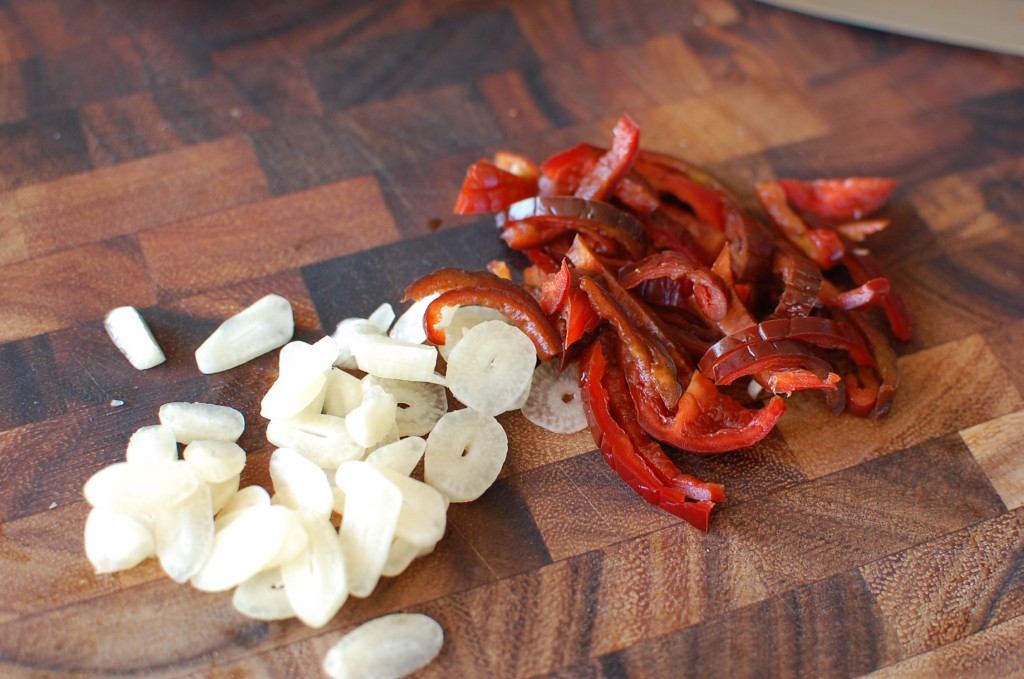 4.  Slice the onion thin – I used a Maui onion for flavor – but you can use a white, yellow, or red onion, whatever you prefer. This recipe is fairly adaptable.  Slice the garlic cloves and the tomato also.  Wash and dry the basil leaves, set aside.  (If you can find Asian/Thai basil – use that instead for a more authentic flavor (it has a straighter leaves that are dark green with purple stems. I have an Italian sweet basil plant that is overflowing with leaves right now… so I'm using that kind of basil in the photo below.)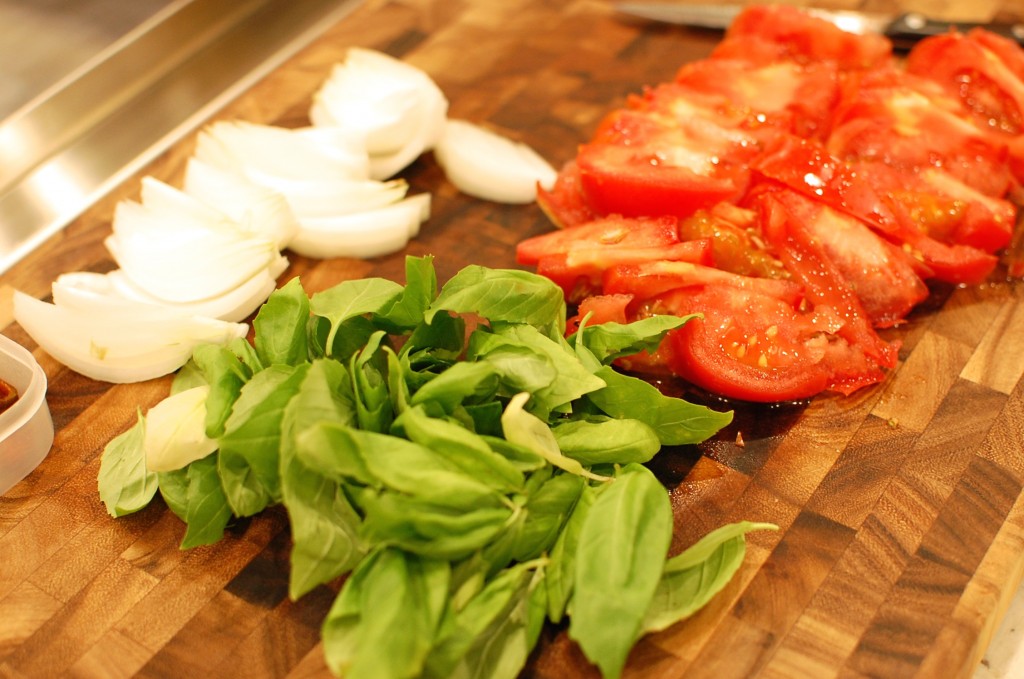 5.  Heat the oil in a large wok over high heat.  Add the sliced onions, garlic, and jalapenos.  Add about 1/2 tsp. of salt and a sprinkle (1/4 tsp.) of black pepper, and cook for about 1 minute.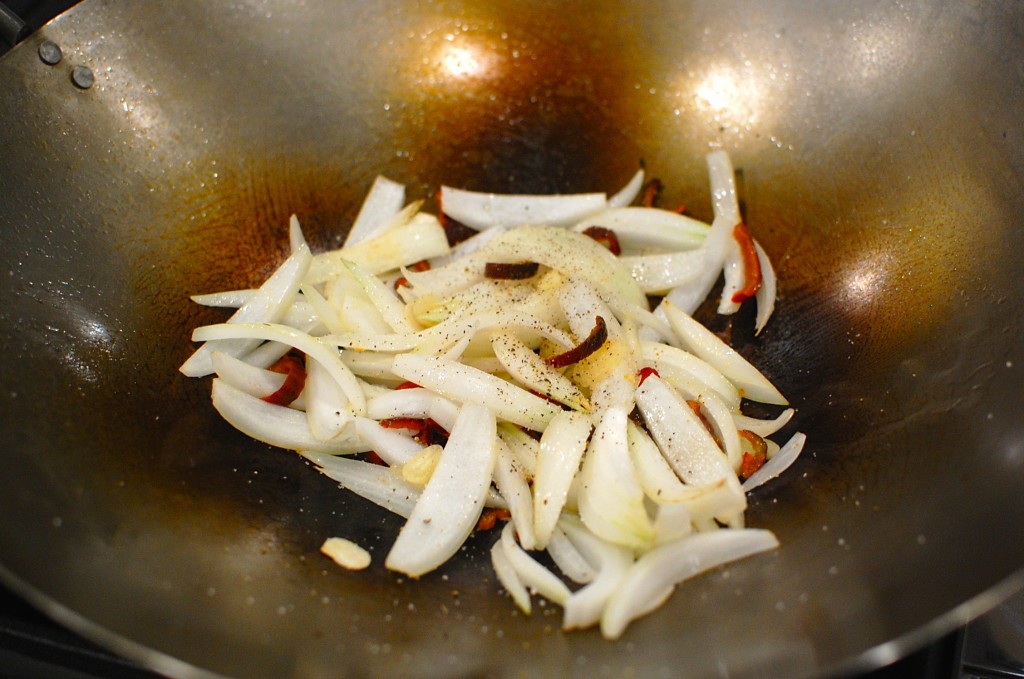 6.  Add the chicken (or beef), sprinkle with the remaining 1/2 tsp. of salt and 1/4 tsp. pepper, and cook until the meat starts to brown.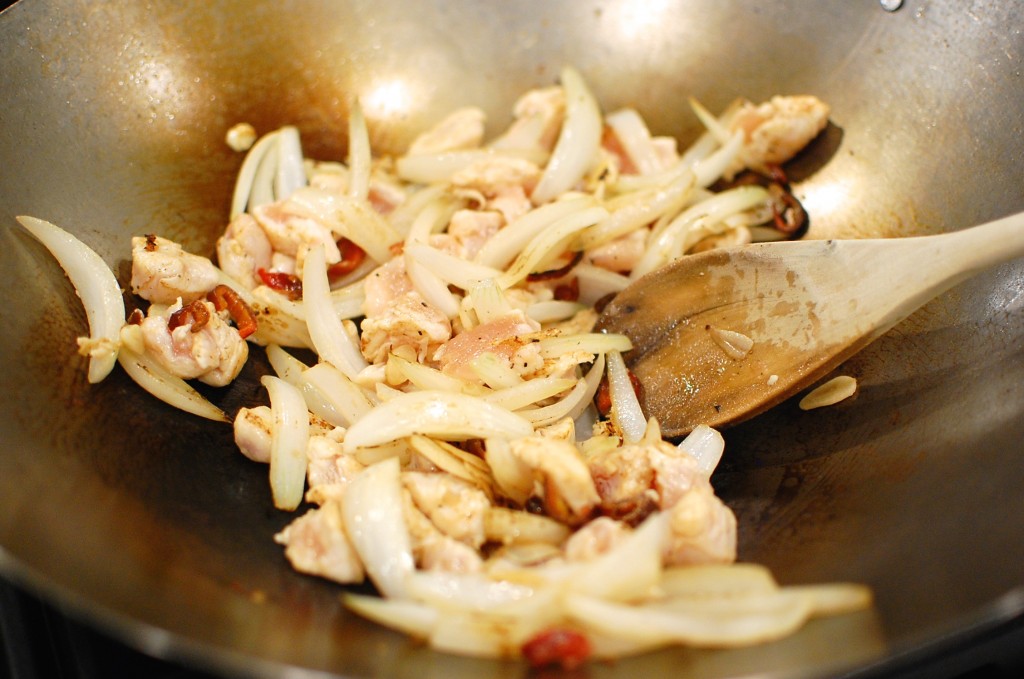 7.  Add the sliced tomatoes, cook another minute until the tomatoes soften and release their juices.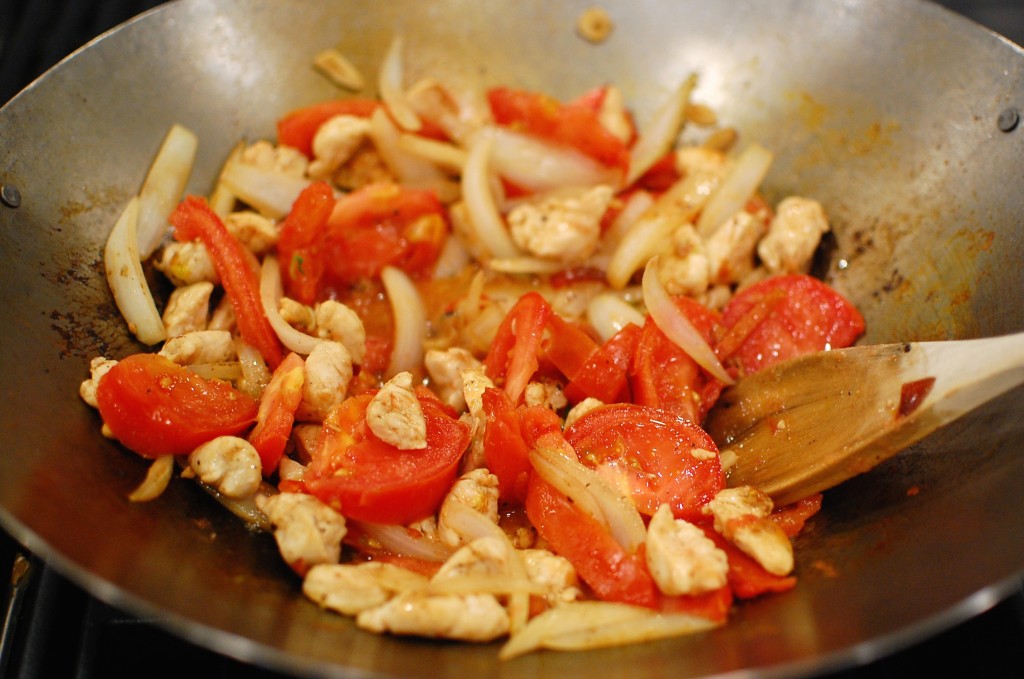 8.  Add the noodles, pour the sauce over the noodles.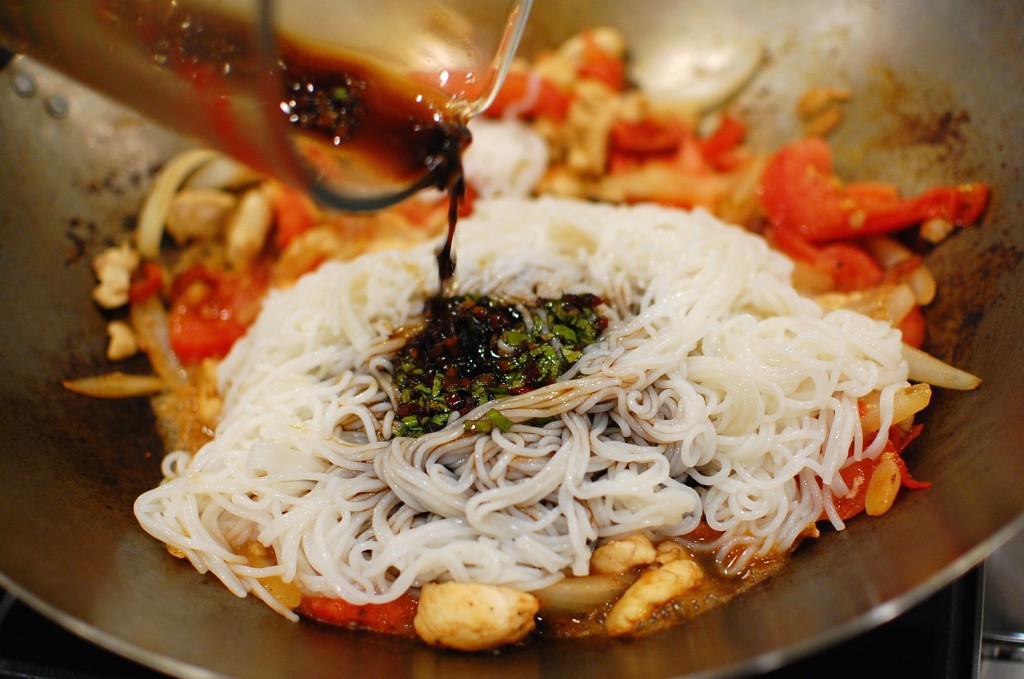 9.  Stir fry the noodles over high heat until they absorb the sauce.  Mix in the whole basil leaves.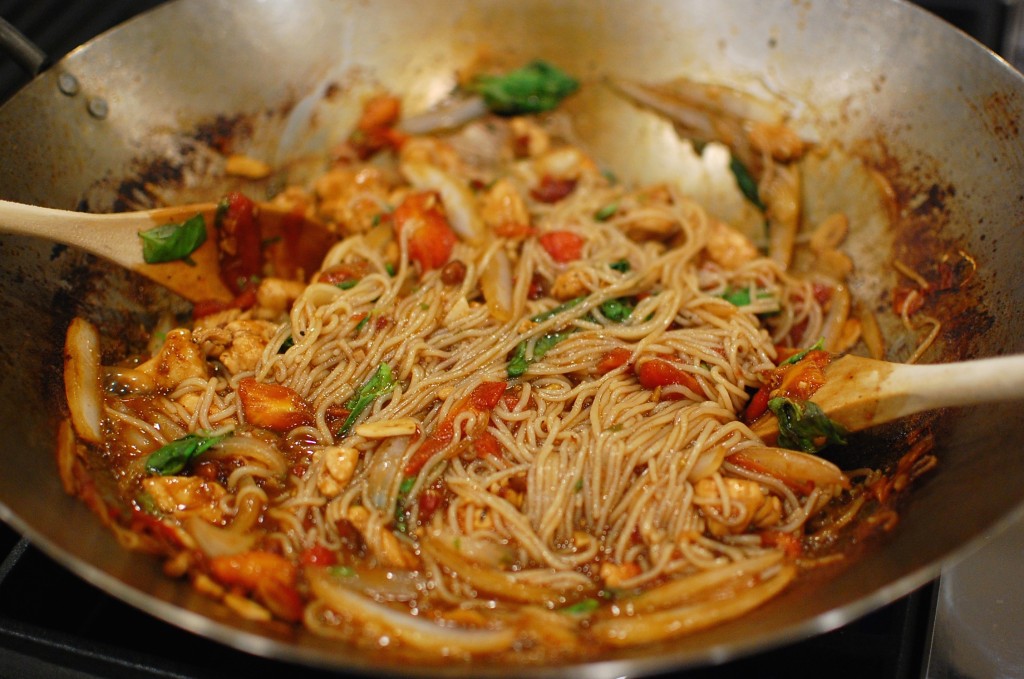 10.  Serve immediately.