Last time I went to Costco, I found a new item – frozen (cooked) Langostino tails.  What are "langostinos"?  Here in the U.S., "langostinos" refer to the Squat lobster (which is not what we think of as a real "lobster" – it's actually a species related to hermit crabs).  Do not confuse "langostino" with "langoustes" (which are spiny lobsters), "langoustines" (Norway lobster), or "langosta" the Spanish name for lobster.  Confused yet?  Yeah, I know… it's hard to keep it all straight, but just think of langostinos as little shrimp-like crustaceans that taste like lobster.
What did I do with my newly purchased frozen langostinos?  Well… I was inspired by two recent meals: "Shrimp and Grits" (a regional specialty from the American South of shrimp sauteed in spices, served over a hominy/corn porridge) and "Shrimp Scampi" (an Italian dish of shrimp sauteed in butter, garlic, and wine – served over pasta or rice).  I decided to create an amalgam of these two dishes – making a "Langostino scampi" served over polenta.
Polenta is a cornmeal porridge that originates from the Italy/France/Switzerland area of Central Europe – it makes an really good starchy base for a variety of dishes (just like mashed potatoes).  There are many traditional ways to make polenta – but I prefer to use the microwave because it is so simple – all you need is cornmeal, chicken broth, Parmesan, and a little bit of butter… and it's done in less than 5 minutes, making  it an very quick side dish!  While polenta and grits are very similar – the difference is that grits are typically made with hominy ("dent corn" treated with alkali to remove the hull in a process called nixtamalization), while polenta is typically made with medium or coarse ground yellow cornmeal of "flint corn".  The other main difference – "polenta" is of European origin, while "grits" are of New World origin.  Other than that, many will say they are essentially the same, as both polenta and grits are a type of "cornmeal porridge".
*If you can't find langostinos, just use shrimp instead.*
For this recipe, I used frozen cooked langostinos (thawed), but it would probably be easier to avoid overcooking the seafood if you use raw langostinos or shrimp instead.  In step 4 below, I have provided instructions for making this dish with both cooked and raw langostino/shrimp.  Makes 2 servings:
Langostino (or Shrimp) Scampi:
10-12 oz. langostino (or shrimp)
3 T. unsalted butter
1/2 tsp. salt
2 cloves garlic, minced or crushed
2 T. chopped parsley
1/4 tsp. cayenne pepper
1/4 c. white wine
Microwave Polenta:
1/2 c. yellow cornmeal
14.5 oz. can (1 3/4 c.) chicken broth
2 T. grated Parmessan
1 T. unsalted butter
1.  Stir all the polenta ingredients into a 2 c. pyrex measuring cup until combined (It's ok if the butter isn't mixed in).  Microwave for 2 minutes.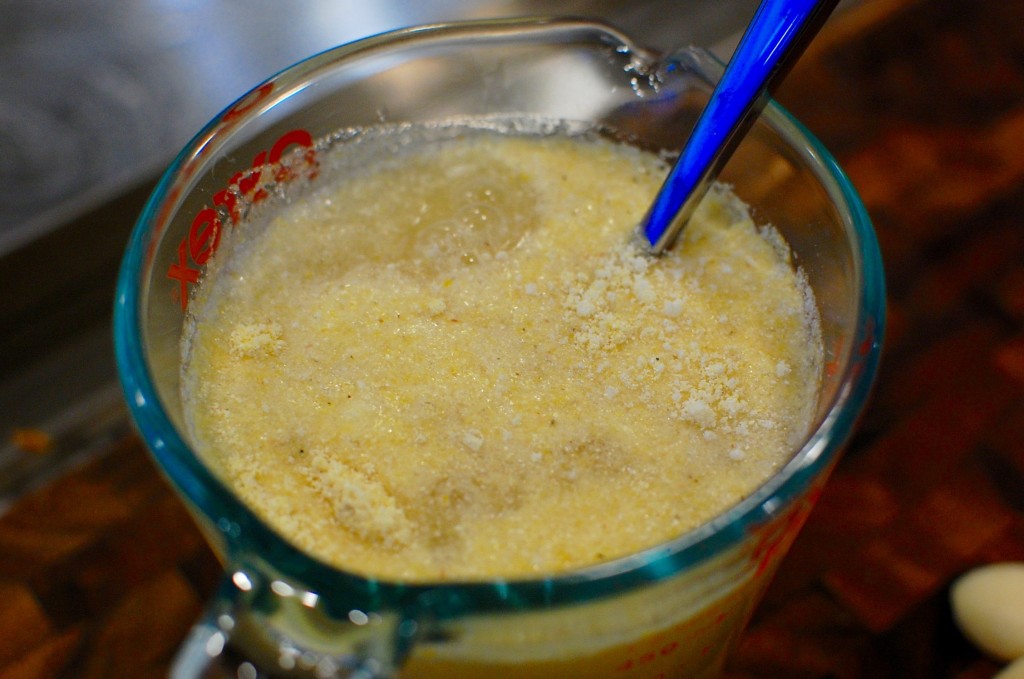 2.  Stir the polenta, breaking up any lumps, then microwave another 2 minutes.  Stir again, and set aside.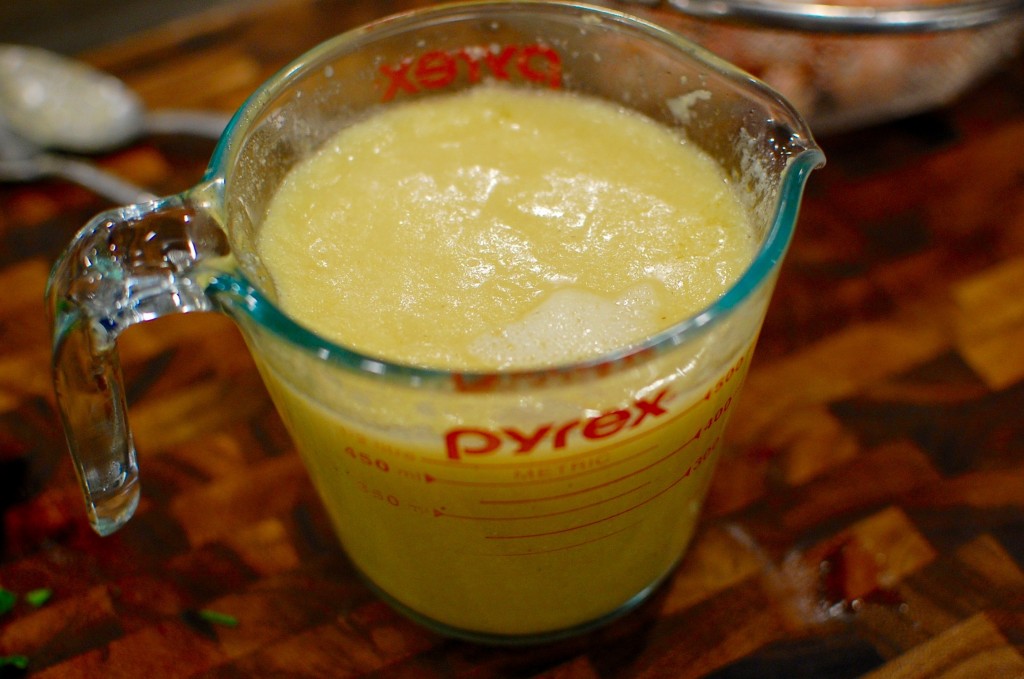 3.  Melt the butter into a frying pan over medium heat.  Add the garlic and salt, saute for a minute so that the garlic flavor infuses the butter.
4.  Add the raw langostino (or substitute with shrimp), parsley, and cayenne pepper.  Saute for 1-2 minutes until cooked and opaque.  (If you are doing this with frozen cooked langostino (thawed), as I did here, then this step will only be 30 seconds – you don't want your seafood overcooked.)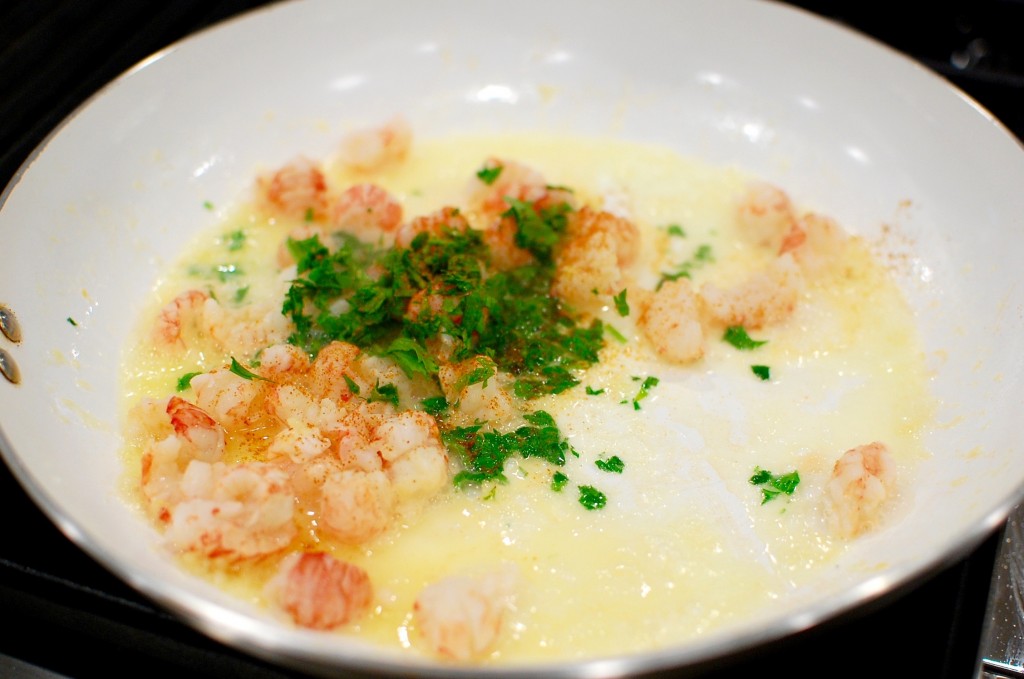 5.  Add the white wine. Heat for 30 seconds until bubbly.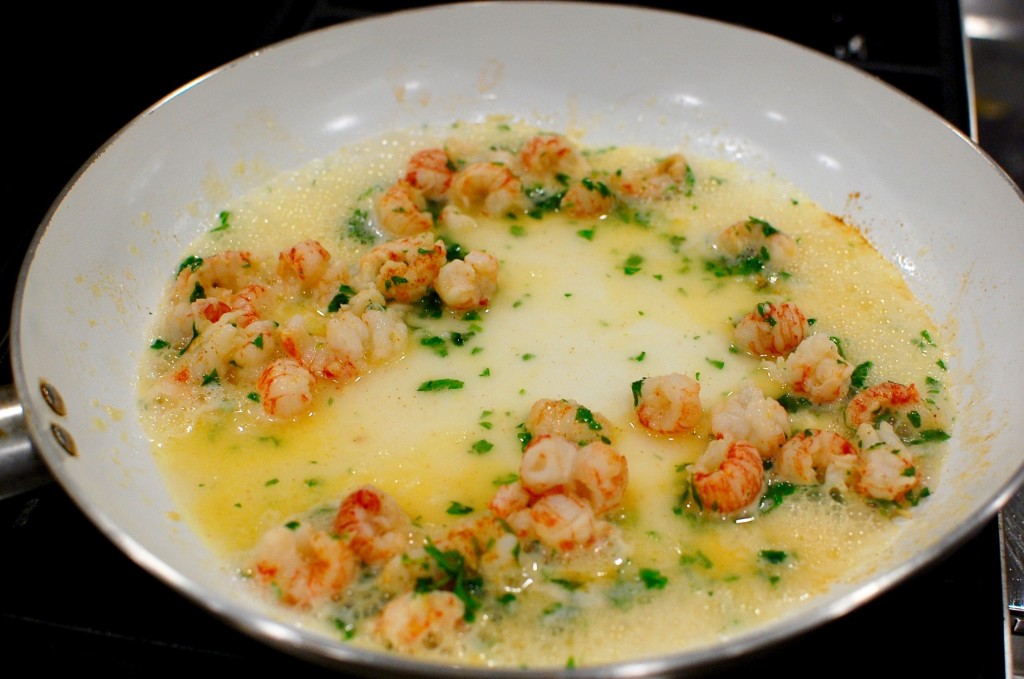 6.  Pour the scampi over the cooked polenta and serve immediately.