Cioppino is a tomato-based seafood stew which is traditionally made from the catch of the day (typically a combination of Dungeness crab, clam, mussels, shrimp, scallops, squid, and fish).  While many people think of this dish as being Italian, it actually hails from San Francisco, California!  During the late 1800′s, San Francisco fisherman would cook up the stew while out at sea with chopped up leftovers from the day's catch, then eat it with a side of toasted sourdough bread.  In those days, boats did not have any refrigeration, so the fisherman were limited in supplies to tinned foods (like tomatoes), wine, bread…. and whatever seafood they caught that day. Eventually, Cioppino became a local specialty which was served in all the North Beach Italian restaurants of San Francisco.
While Cioppino is indeed an American creation, it does have roots in Italy.  Most of those fisherman who settled in San Francisco were originally from Genoa.  In that region of Italy, the classic fish stew "Ciuppin" is similar to what we think of as Cioppino – but the recipe differs in that it is made with Mediterranean seafood and much less tomato.  (In the Ligurian dialect spoken in Genoa, the word "ciuppin" means "to chop" or "chopped" – which explains the process of cooking Cioppino from chopped up leftovers of the day's catch of fish, shellfish, and other seafood.)
Similar to Cioppino is the seafood stew "Bouillabaisse" which originates from the ports of Marseilles, in the Provence region of France.  To be considered true Bouillabaisse, the recipe must contain the local scorpionfish ("rascasse"), and differs from Cioppino with the additional flavors of fennel, dried orange peel, and saffron.
Anyway you go, all of these seafood stews are amazing in flavor – if you have the chance to try them, you will see!  Think of these stews more like "comfort food" or home cuisine… they are uncomplicated, adaptable, and humble.  These days, you will often find Cioppino (or Bouillabaisse) at fine dining restaurants, marketed like "upscale cuisine" – but truly, this was a working man's stew!
Feel free to play with the recipe using any combination of seafood that you have on hand.  For the version that I made today, I used a combination of mussels, shrimp, scallops, and white fish (cod).  If you have fish or seafood stock, use that instead of the chicken broth (simmer shrimp shells,  fish bones, etc. in water for 45 minutes to make seafood stock) – otherwise, chicken broth is fine.
The recipe below will yield 2 meal sized servings, or 4 appetizer sized servings.  If you need a larger amount, you can either double the recipe… or  you can "stretch" the single recipe by adding an additional can of broth + more seafood (but the stew will be a little bit thinner if you do this).
Cioppino (2-4 servings):
1/4 c. unsalted butter
2 T. olive oil
1 large onion, diced
5-6 cloves garlic
1-2 tsp. salt
1/2 tsp. black pepper
1 bunch fresh parsley, chopped (discard stems)
1/2 tsp. dried oregano
1/2 tsp. dried thyme
1 tsp. dried basil (or 2 T. chopped fresh basil)
2 medium bay leaves (or 1 large bay leaf)
2 – 2 1/2 c. crushed tomatoes
1 1/2 c. white wine
1 (14 oz.) can chicken broth (or 1 3/4 c. fish stock)
3/4 lb. mussels/clams
1/2 lb. mixed seafood (scallops, white fish, shrimp, etc.)
1. Melt the butter with the olive oil in a large stock pot over medium heat.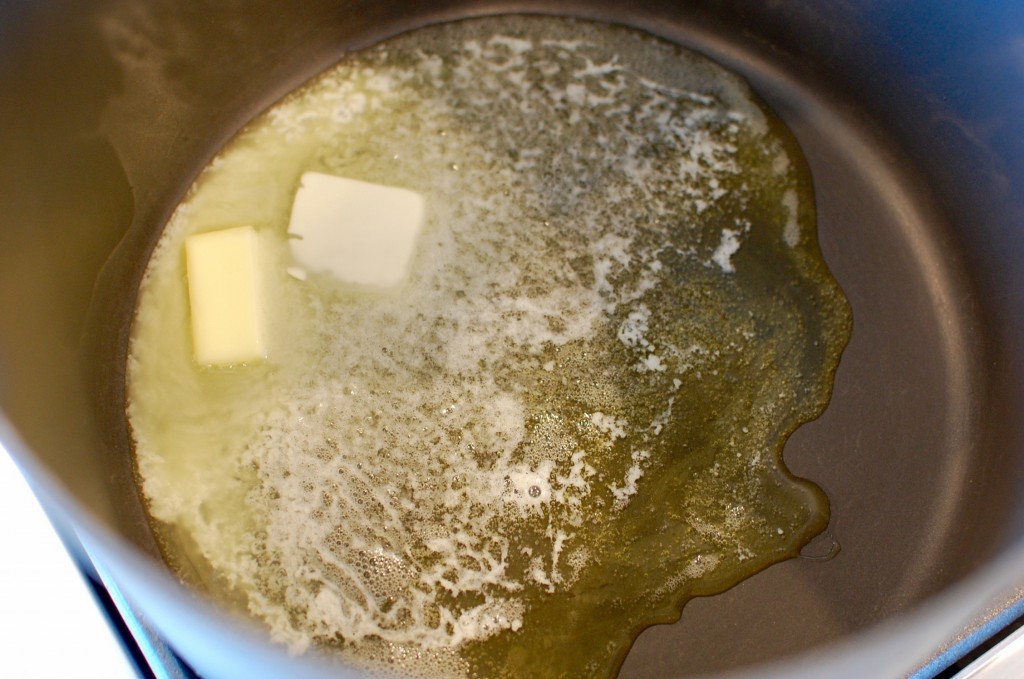 2.  Add the diced onion, garlic, and 1 tsp. salt.  (Some of my garlic cloves were very large so I cut them in quarters).  Saute until soft, about 5 minutes.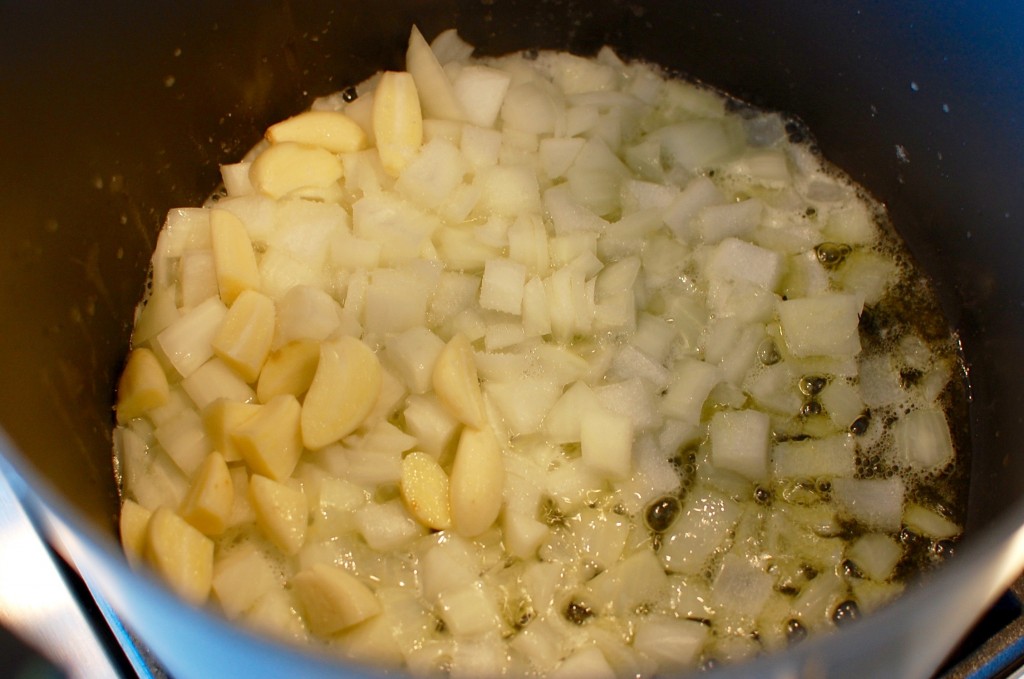 3.  Add half the chopped parsley, plus the oregano, thyme, and basil.  Stir and cook 1 minute more.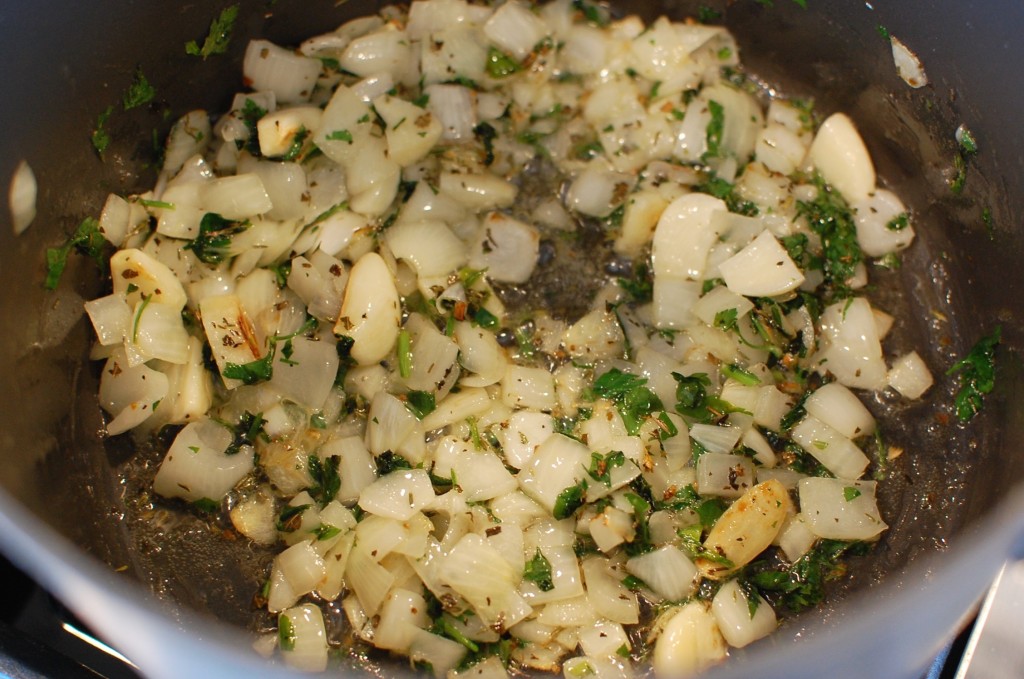 4.  Add the wine, tomatoes, chicken broth, and bay leaves.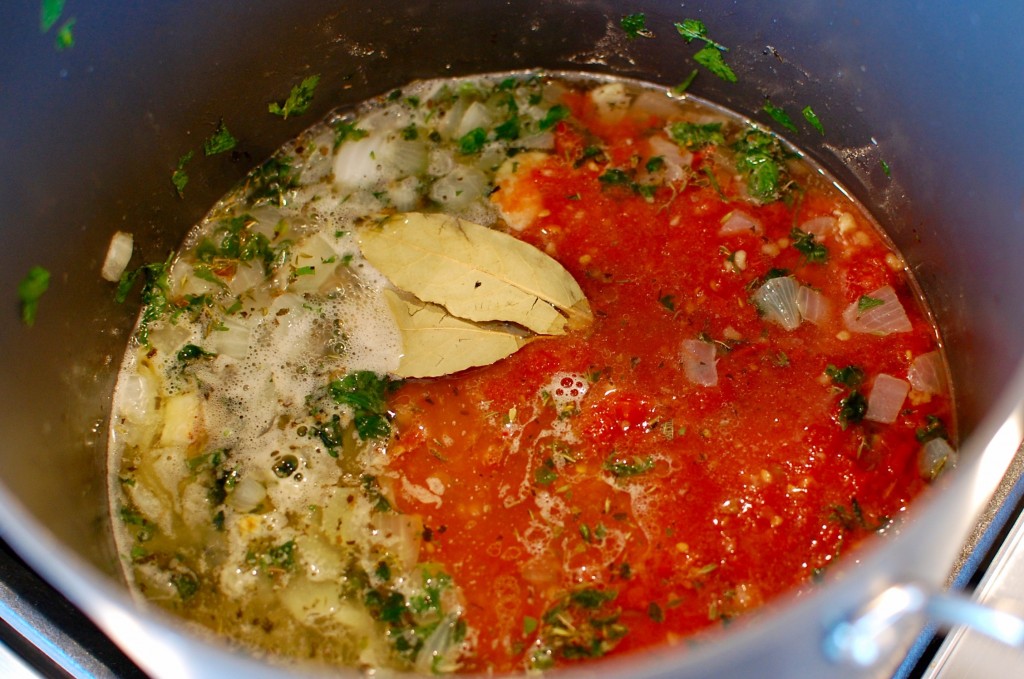 5.  Simmer the mixture (covered) for 20-30 minutes until the flavors have developed and melded.  Taste and add more salt and pepper to taste if needed.  If your tomatoes are on the acidic side, you can add 1/2 tsp. sugar if needed.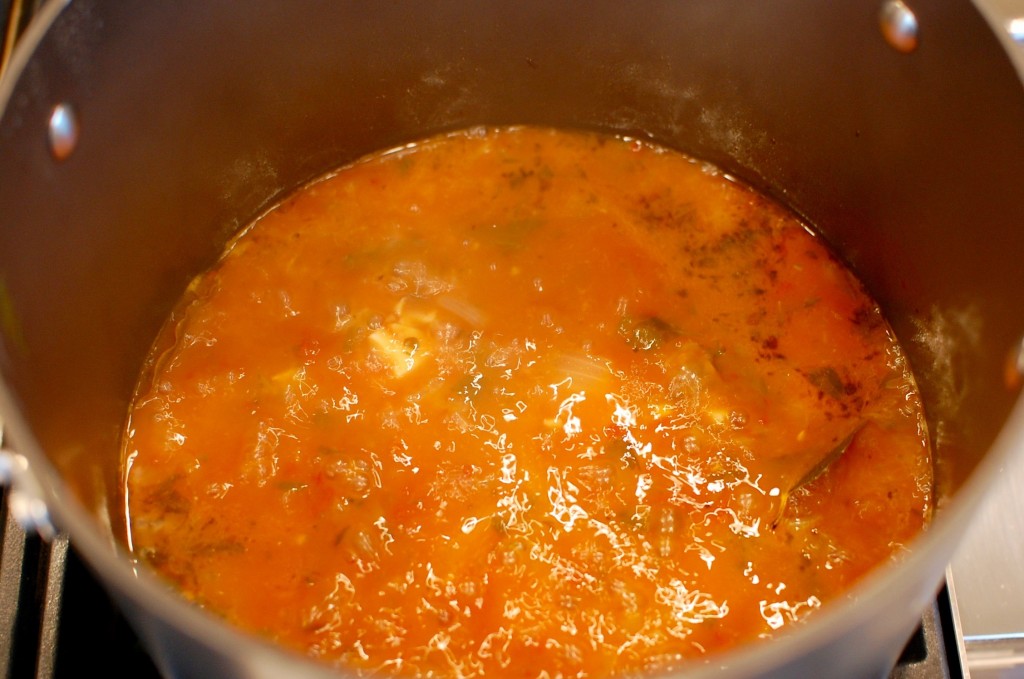 6.  Add the mussels/clams, cover, and cook 5 minutes.  Discard any mussels or clams that have not opened.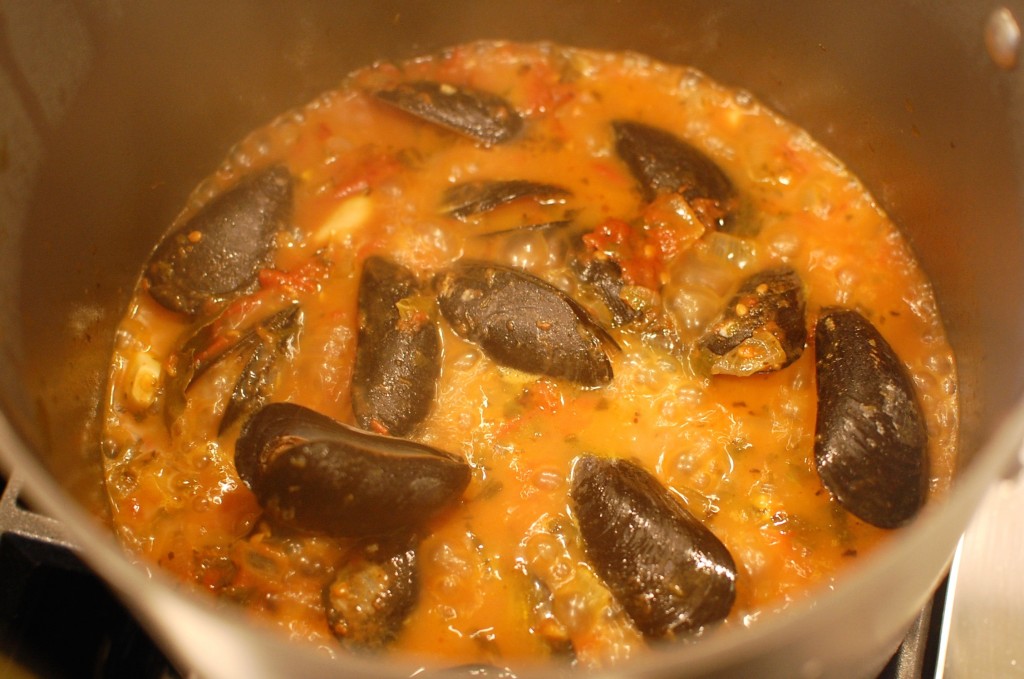 7.  Add the remaining seafood, cook 3-5 more minutes until opaque.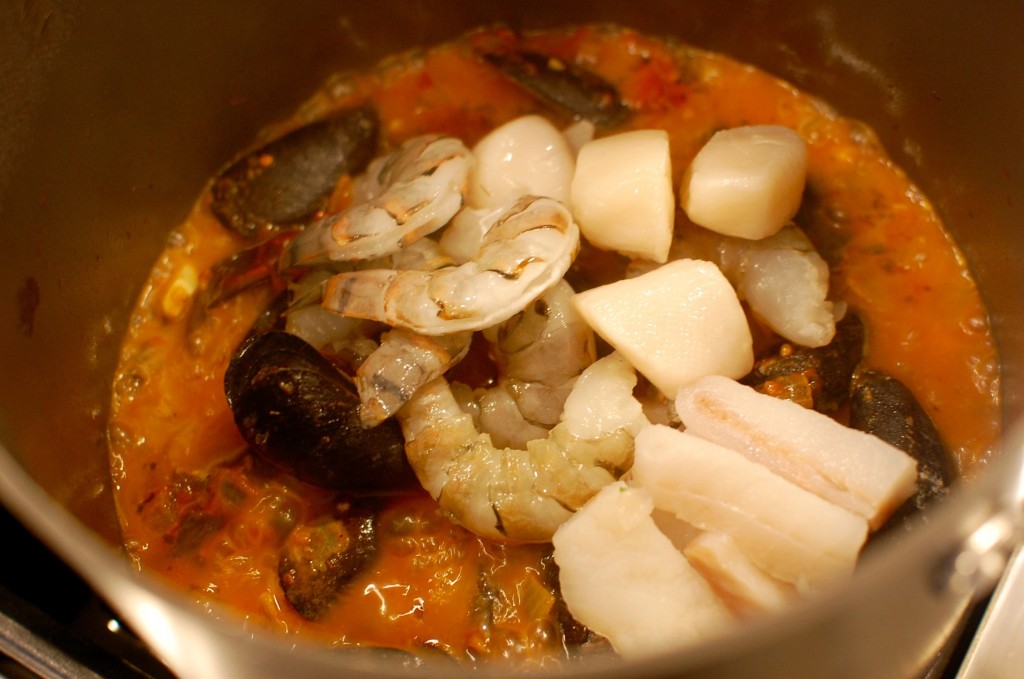 8.  Turn off the heat and stir in the reserved chopped parsley.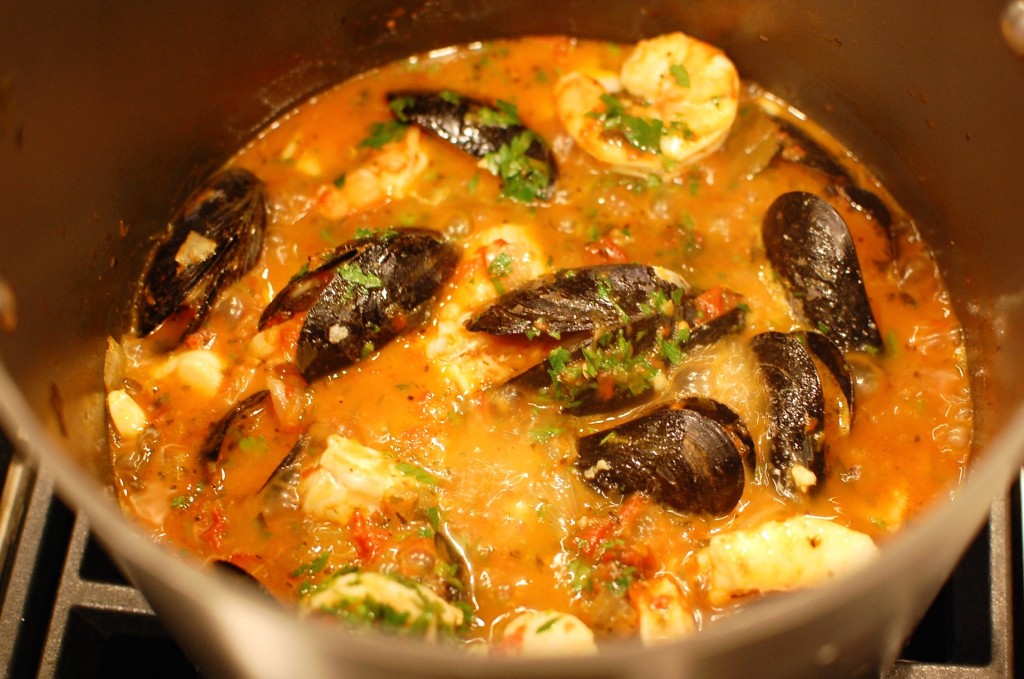 9.  Serve with a side of garlic bread.  (This recipe makes 2 meal sized servings, or 4 appetizer sized servings.  You can double the recipe if you need a greater amount… or you can "stretch" the recipe by making it with the proportions of ingredients listed above and then add an additional can of broth + more seafood (taste and add more seasonings if needed).)