Here's a hearty fall soup recipe to warm you up… Potato Leek Soup!  It's quite simple to make because there are only 2 main ingredients: potatoes and leeks (plus stuff you probably already have in the pantry).  From start to finish, this soup is usually done in less than 30 minutes, so it makes a good weeknight dinner.  One recipe makes about 4 meal sized servings, or about 6 appetizer servings.
You can use fresh thyme or dried thyme… I used fresh because I have some, but dried works just as well.  As far as the addition of cream goes – that's up to you.  Some people like to make the soup more rich and creamy with the addition of cream – or you can leave it out.
If you don't have a hand/immersion blender to puree the soup – you can use a regular blender in batches – just be careful not to burn yourself.  Only fill the blender jar halfway, and make sure you crack a corner (to prevent the vacuum that causes hot explosions) and also cover the lid with a kitchen towel just in case.  You can blend this soup very smooth, or leave it chunky.  (I like to blend the soup about halfway – so it is someone smooth with some visible chunks of potato.)  Enjoy!
Potato Leek Soup (4-6 servings):
3 T. unsalted butter
4 large leeks (about 1.5 lbs)
1.5 lbs white potatoes (about 5 medium sized potatoes)
1 tsp. salt
1/2 tsp. white pepper
1 bay leaf
2-3 sprigs thyme
4 c. chicken broth
3 T. heavy cream (optional)
1 T. fresh parsley, chopped (optional)
1.  Discard the green parts of the leek, you will be using only the white and yellow parts.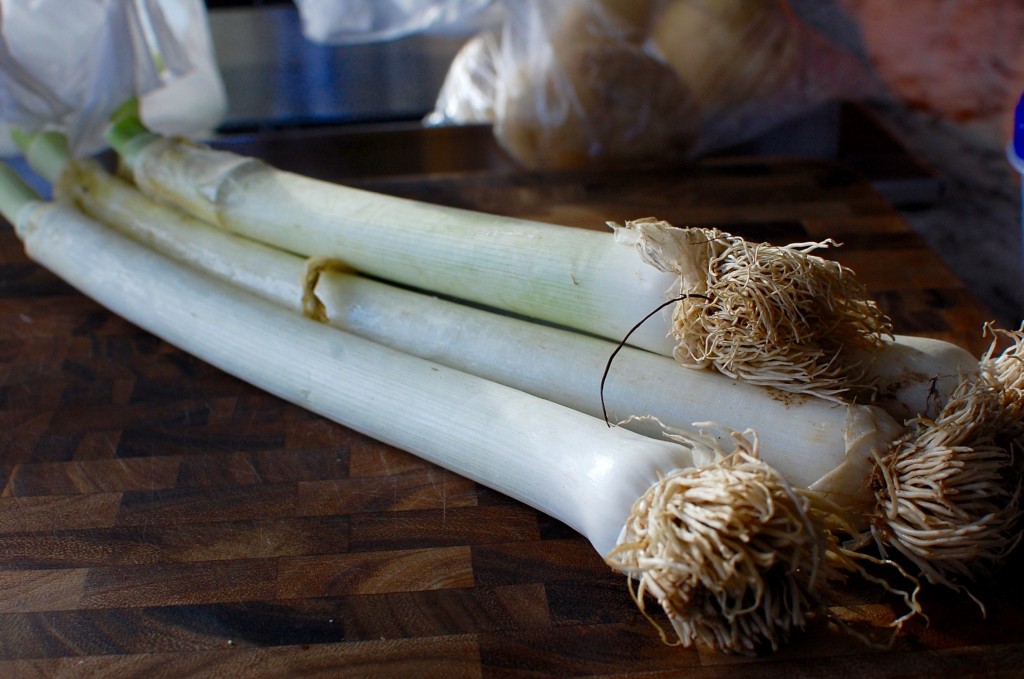 2.  Chop off the root end of the leek, then cut the leek in half vertically.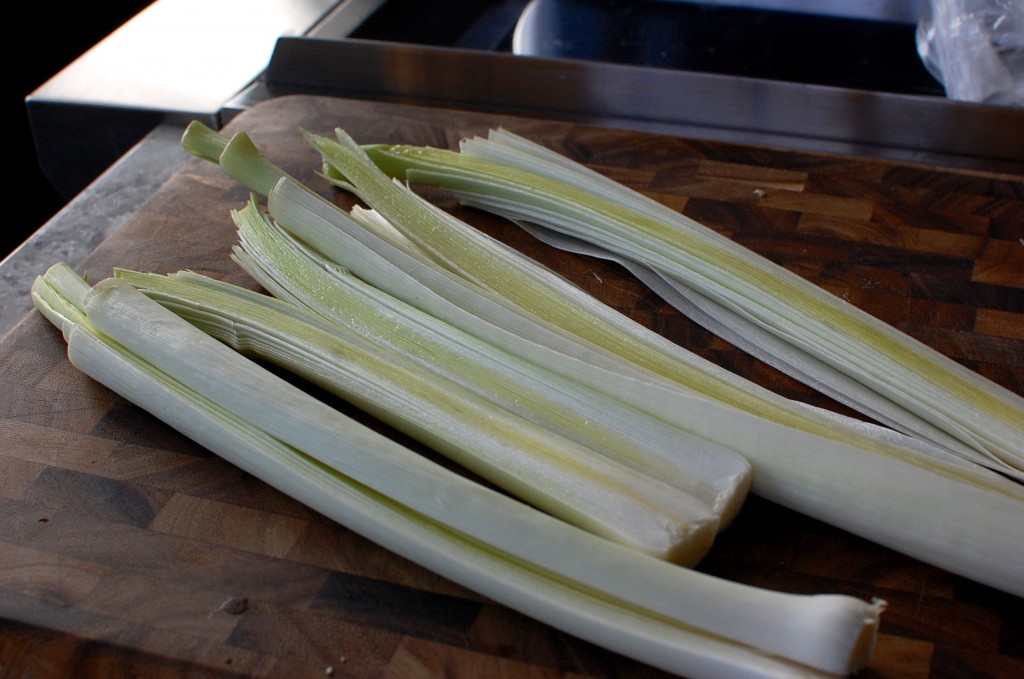 3.  Rinse the leeks under running water, fanning the leaves out to remove any trapped dirt in between.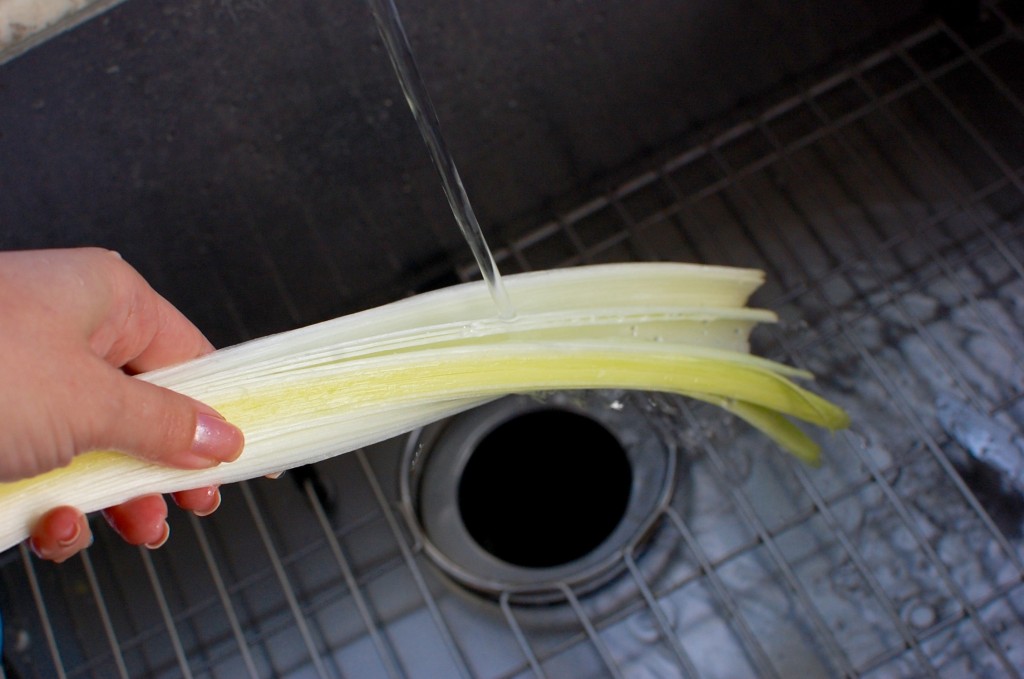 4.  Cut the leeks crosswise into 1/4 inch slices.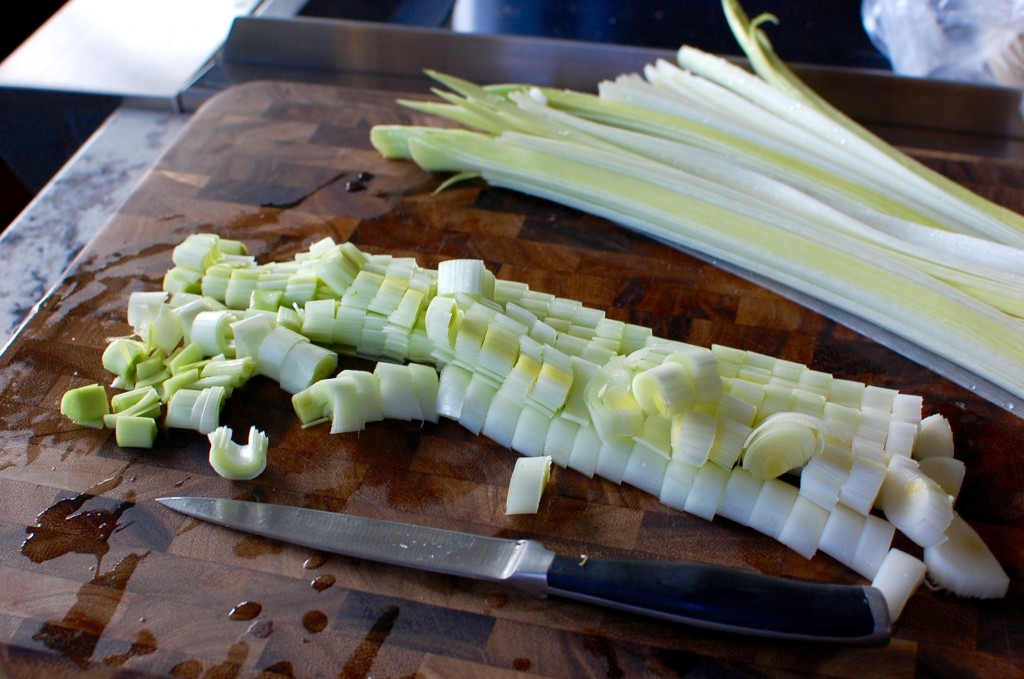 5.  Melt the butter in the bottom of a stockpot.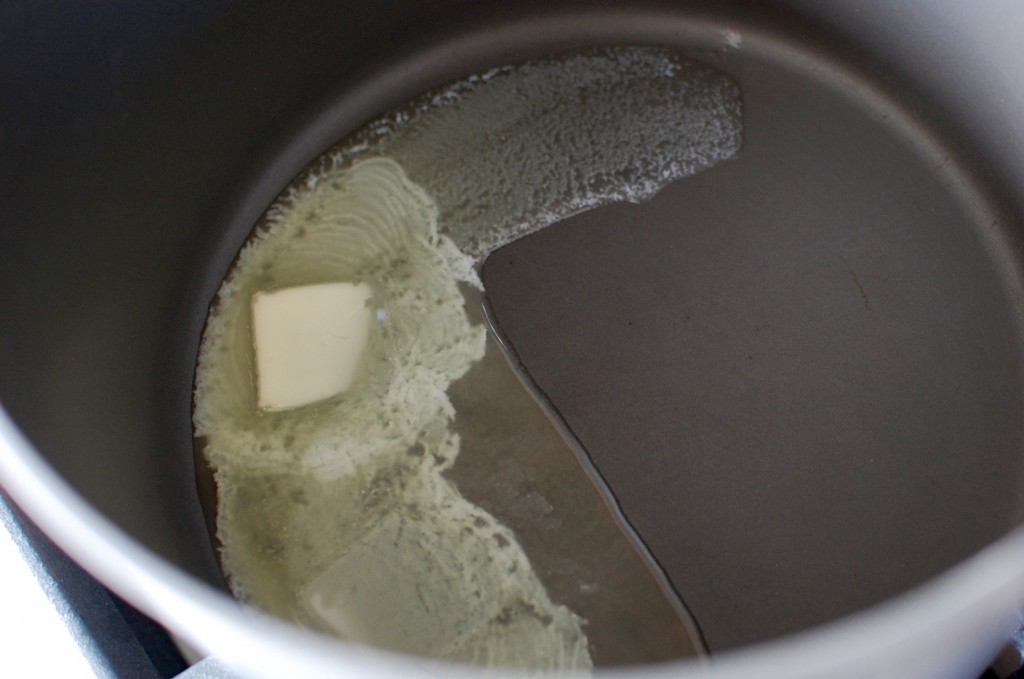 6.  Add the leeks and salt, cook over medium low for about 10 minutes until soft.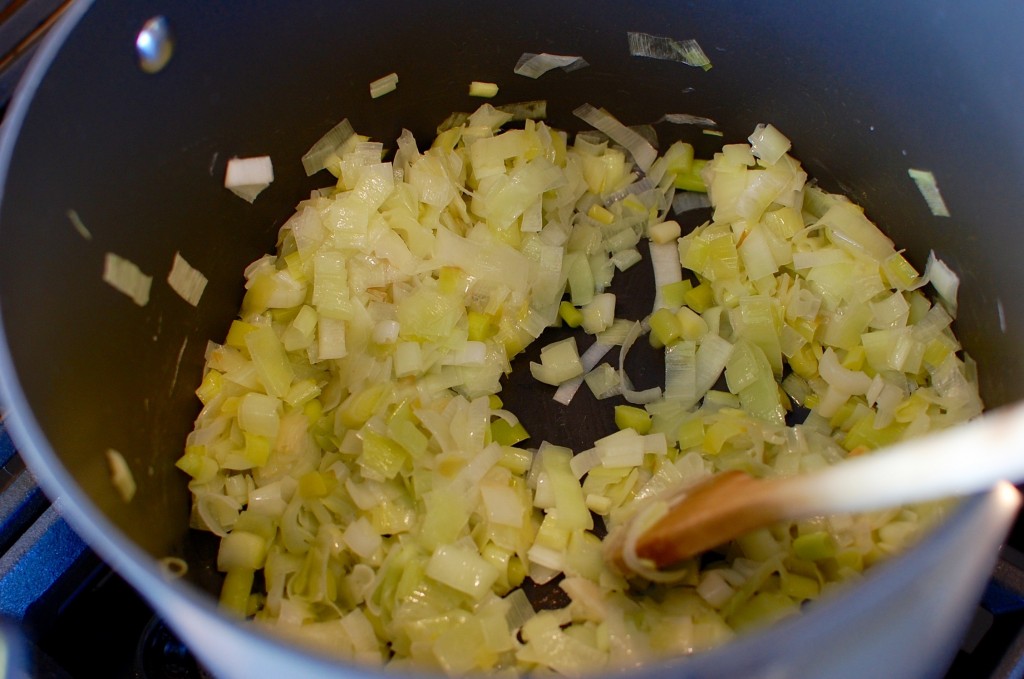 7.  Meanwhile peel the potatoes and chop into rough chunks.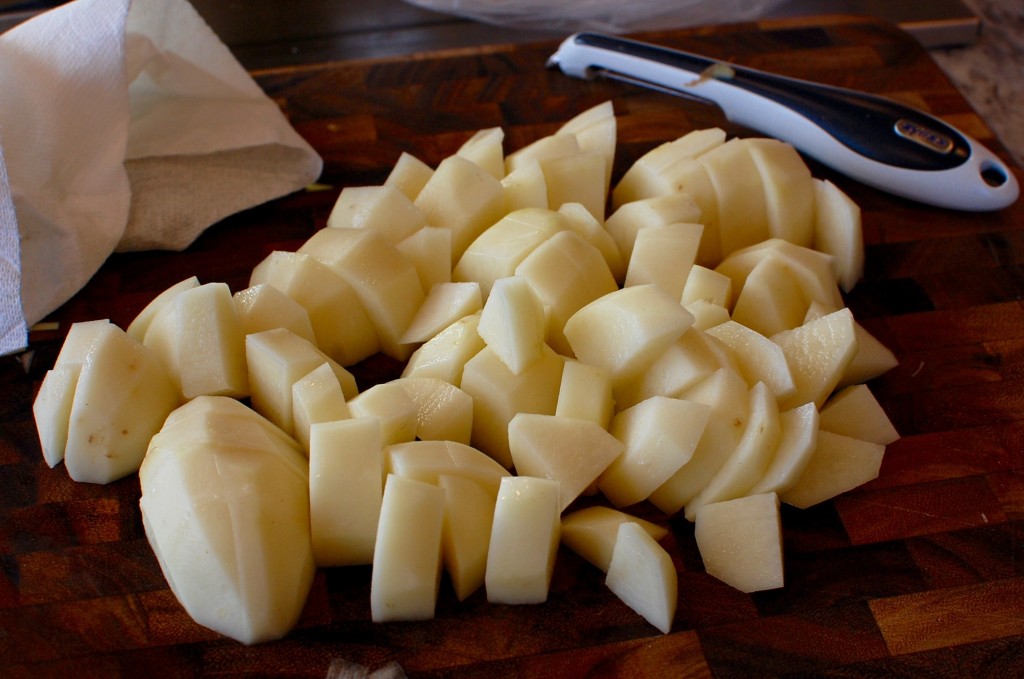 8.  Once the leeks have softened, add the potatoes and the chicken broth to the pot.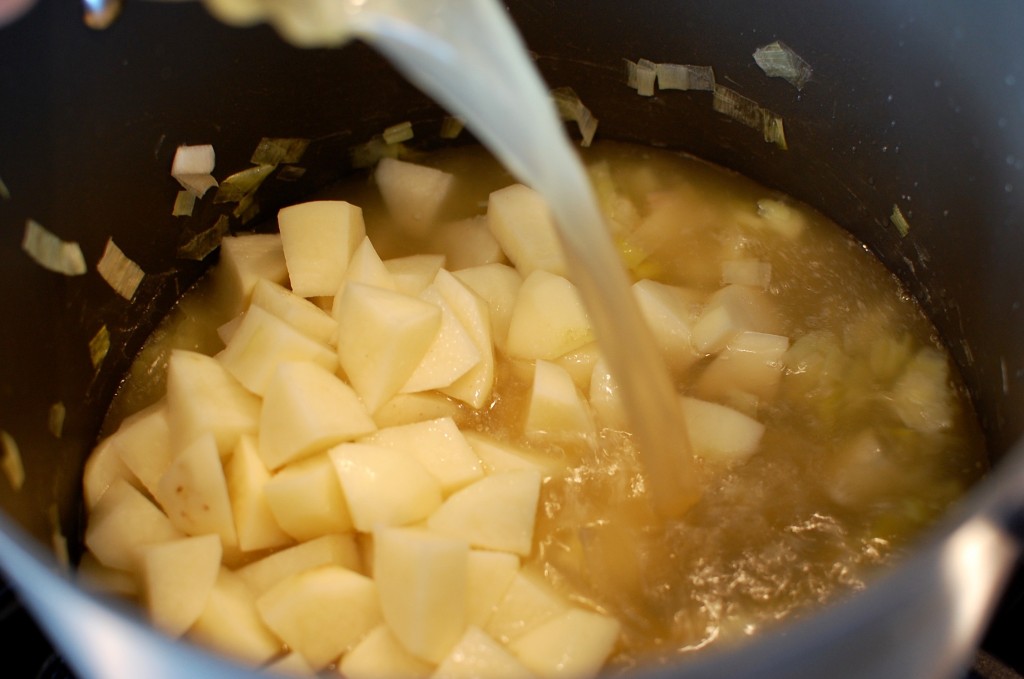 9.  Turn up the heat to medium, and add the white pepper, thyme leaves, and bay leaf.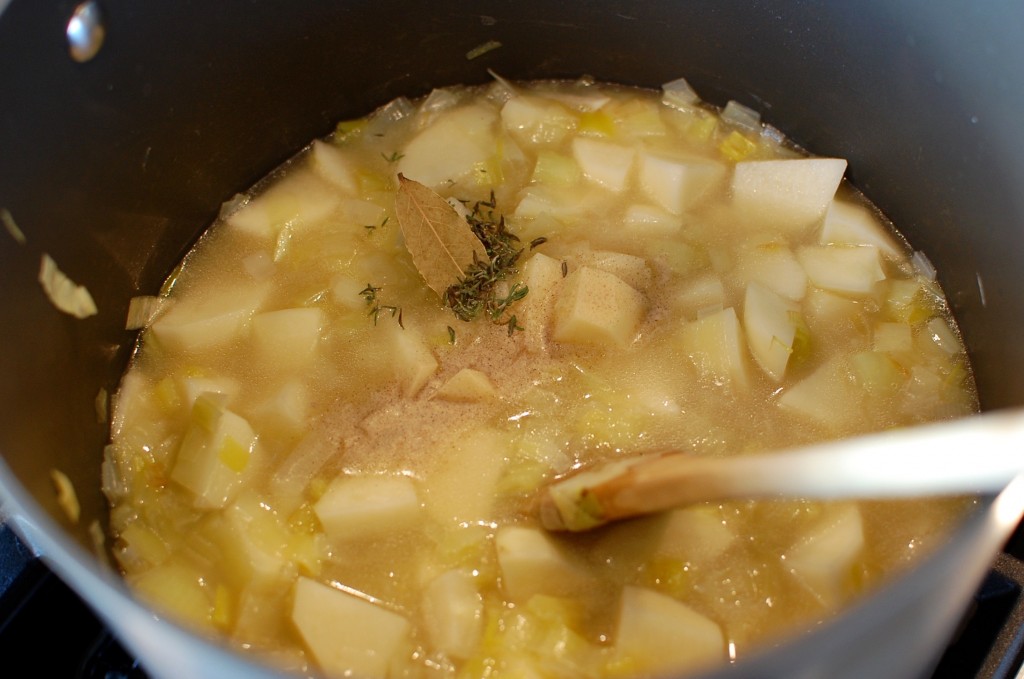 10.  Simmer 15- 20 minutes until the potatoes are soft.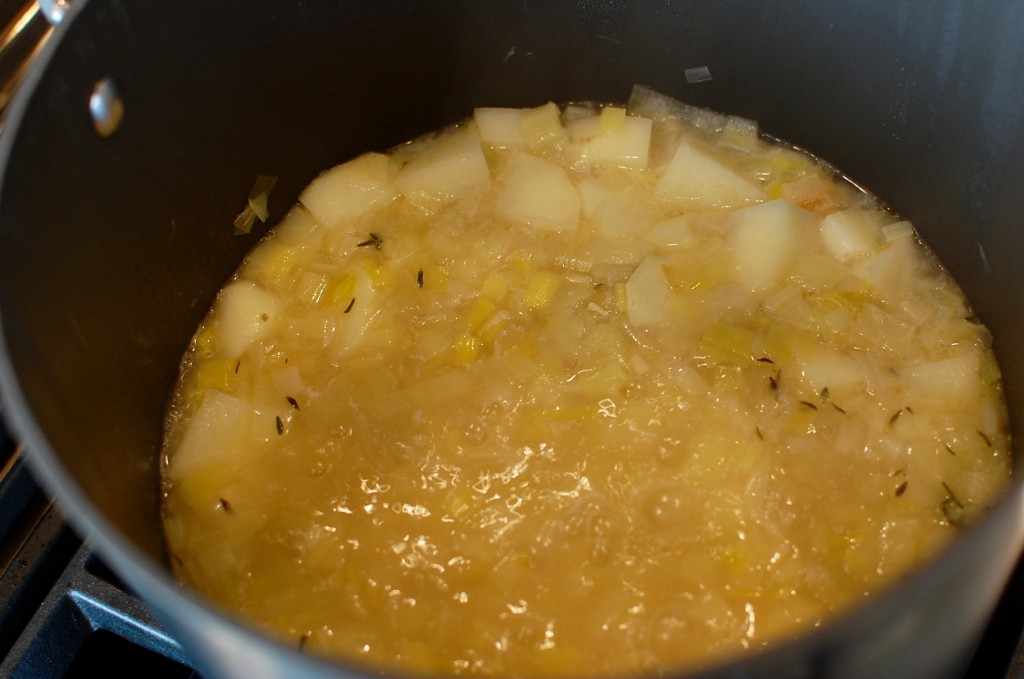 11.  Remove the bay leaf and any hard sprigs of thyme.  Use an immersion blender to smooth out the soup to your liking (I like to do this about halfway – I like to have some chunks in the soup).  If you don't have an immersion blender, you can do this in small batches with a regular blender – just don't overfill the blender, and make sure a corner of the lid is vented (cover with a towel) to prevent a hot explosion of soup.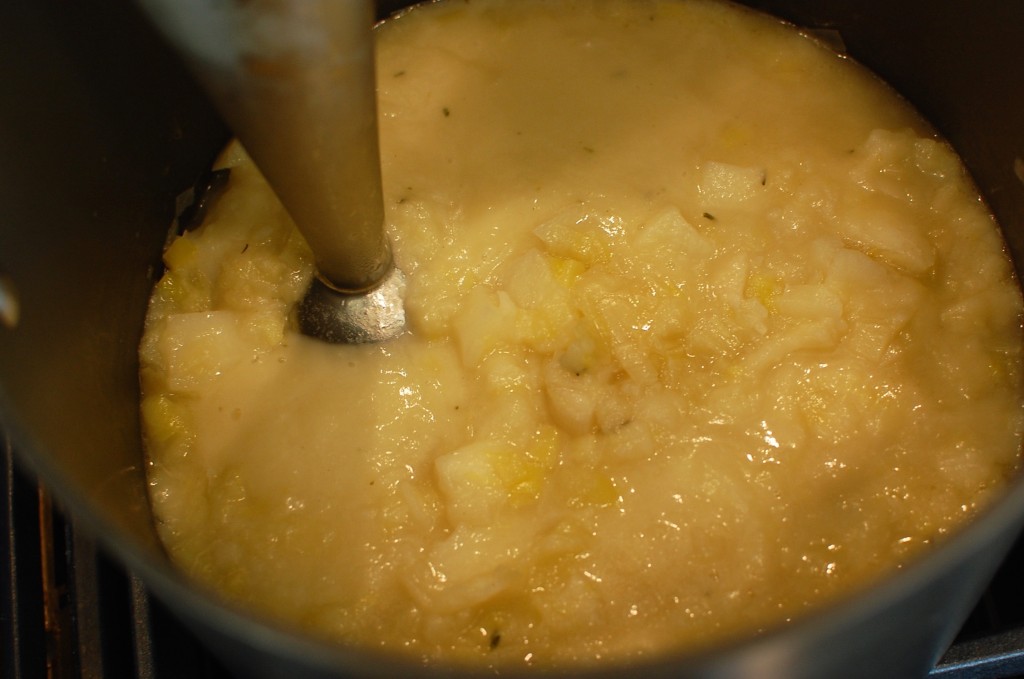 12.  Add the cream (optional) and cook about 5 more minutes until hot, taste and correct the seasonings if needed.  Stir in the fresh chopped parsley.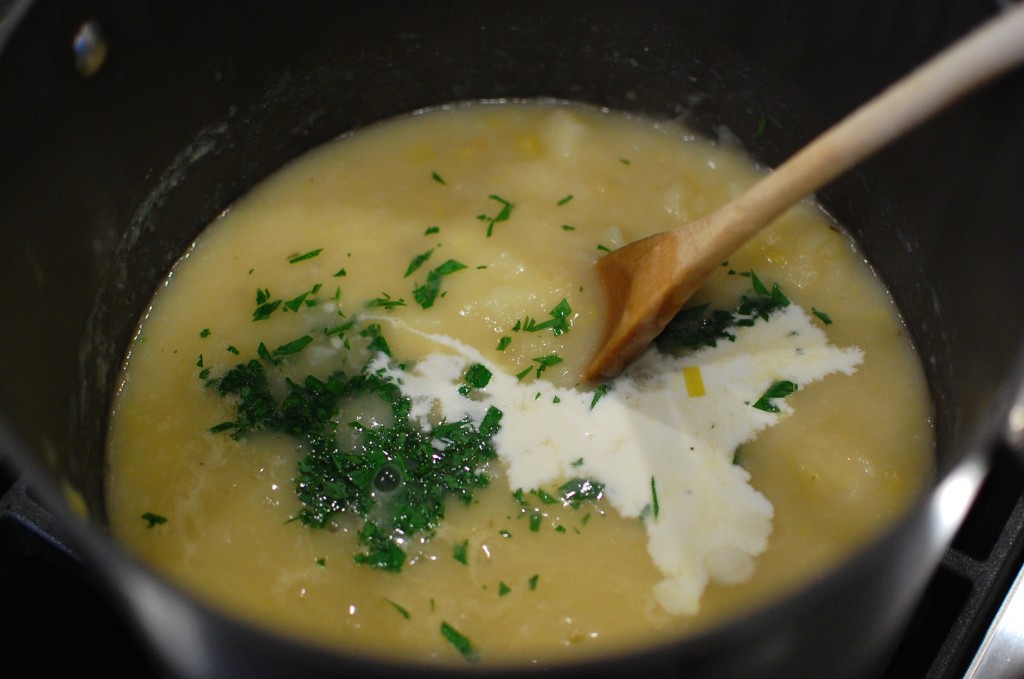 13.  Serve with a side of toasted bread.  (You can garnish with a little bit of leftover fresh chopped parsley or cooked crumbled bacon if desired.)