At our favorite local Mexican restaurant, they have a wonderful margarita on the menu called the "Millionaire Margarita".  How is this different from a regular margarita?  Well, most "basic margaritas" will have some combination of tequila, orange flavored liqueur (like triple sec/Cointreau), lime juice or sour mix, and sometimes a sweetener.  The "Millionaire Margarita", on the other hand, usually contains top shelf tequila and Grand Marnier (an orange flavored Cognac).  The addition of fresh squeezed citrus makes this version of the margarita my most favorite!
I like my margaritas sweet, so I like to add 1 oz. simple syrup or agave nectar per serving.  If you aren't sure how sweet you want your margarita – cut the syrup in half first, then taste – you can always add more sweetener if needed.  Agave nectar will give a deeper color to your final margarita (and a deeper flavor), simple syrup will create a lighter colored margarita with a lighter flavor.  Most of the time I use simple syrup – but this time I was feeling lazy so I went with the agave nectar instead.  Either will work just fine!
*To make simple syrup, microwave an equal portion of sugar and water until dissolved (1/2 c. water + 1/2 c. sugar).  Cool and store in the refrigerator.*
Millionaire Margarita (serves 2):
4 oz. white tequila (1/2 c. Silver Patron)
2 oz. Grand Marnier (1/4 c.)
4 oz. fresh lime juice (1/2 c.)
2 oz. fresh orange juice (1/4 c.)
2 oz. simple syrup or agave nectar (1/4 c.)
Garnish:
lime wheels/wedges
coarse salt
1.  Prepare two margarita glasses:  Run the cut side of a lime around the rim of the glass, then dip the glass into coarse salt.  (Margarita salt, coarse kosher salt, or coarse sea salt all work well.)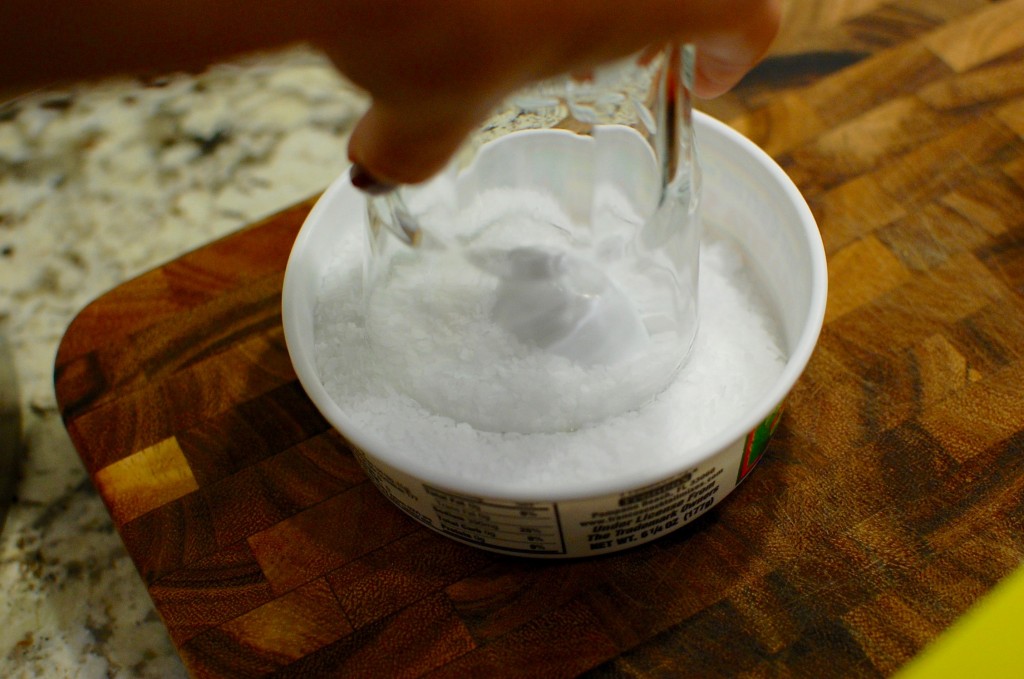 2.  Juice the limes and oranges to make fresh lime and orange juice.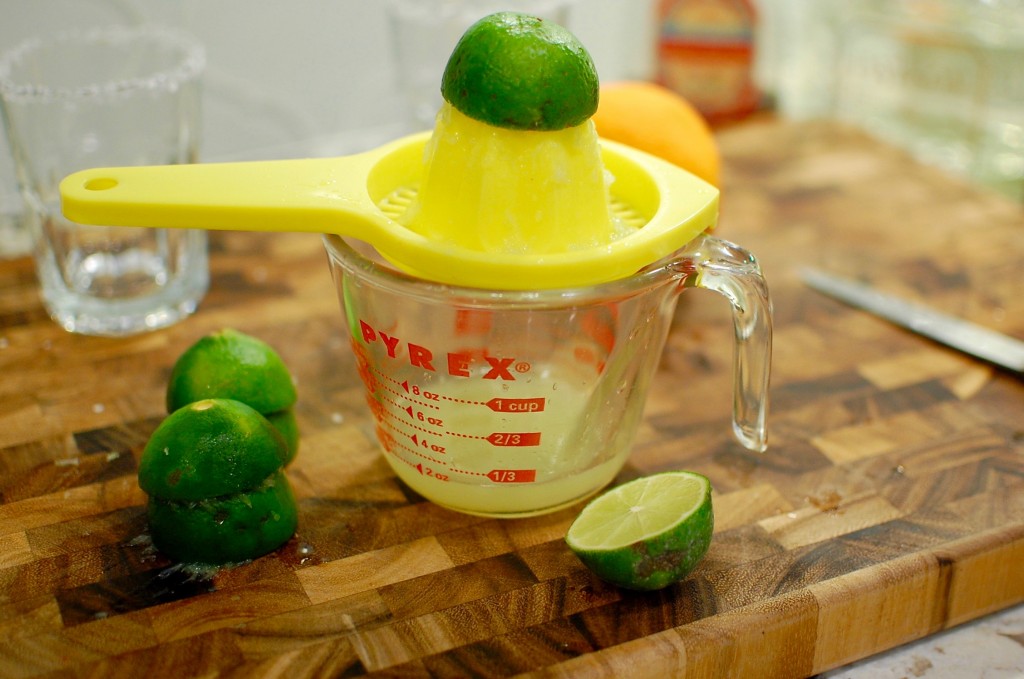 3.  Add all ingredients to a shaker with some crushed ice.  Shake vigorously until the outside of the shaker is cold and frosted over.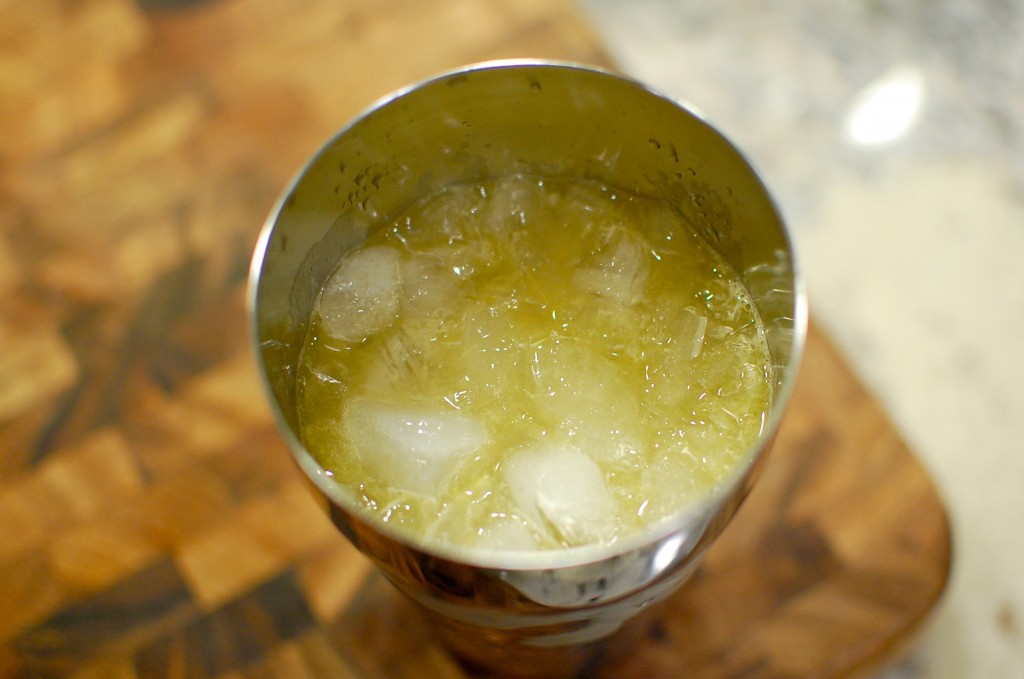 4.  Pour the mixture over ice cubes into the prepared glass.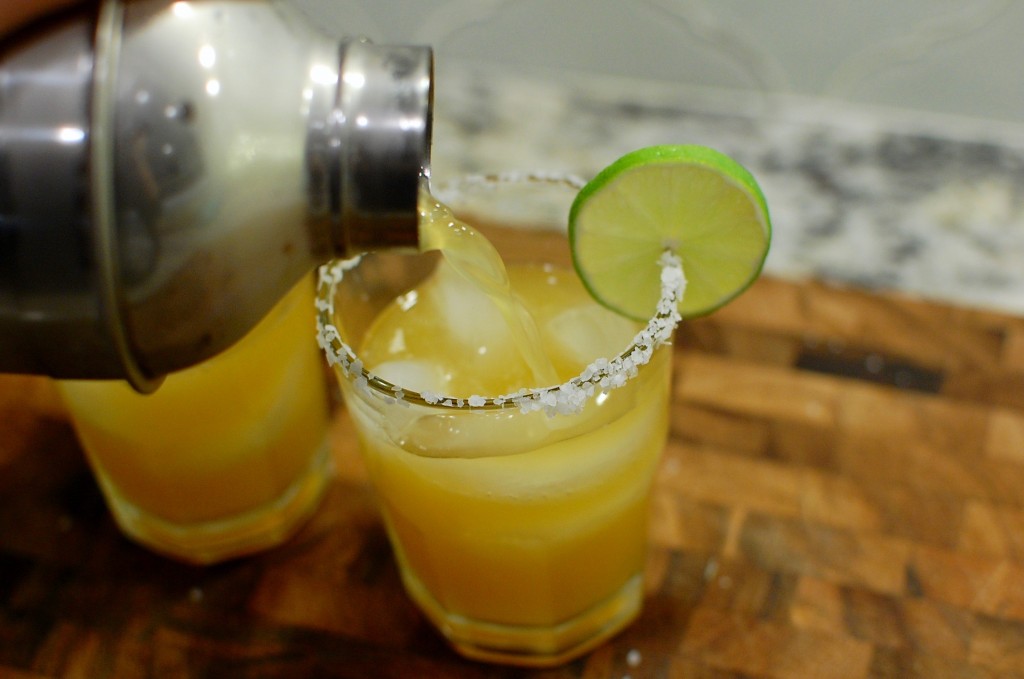 5.  Enjoy!