Several months ago, I bought 3 sets of the large Wilton donut pan!  This pan is awesome!  Each pan will make 6 regular sized cake donuts – and with three pans, I can make the entire bowlful of batter (from 1 box of cake mix) at the same time!  Because I use doctored cake mix for the donuts, it's an easy recipe to throw together at the last minute with standard pantry ingredients.  I also have the Norpro mini donut pan which I also like to use sometimes… using 3 of these would also work if you are looking for more "appetizer-sized" donuts.
When I make these donuts, I usually split the basic glaze recipe into 4 bowls, then use different extracts/flavors to make different types of glaze.  Choose different toppings to press into the glaze before it sets, and you will have a really nice variety of donuts to serve!
If you are making these donuts for a crowd, you can make several batches using different flavors of cake mix so that you have an even larger variety of donuts.  Today, I used yellow cake mix (chocolate cake mix also works well).  I like to add a little bit of butter flavored extract to add a richer taste to the donuts (since we aren't frying them) – but you can omit this ingredient if you don't have it – it's not essential, just a nice touch if you do have it.
Pictured in the photo above, you can see the types donuts I made with one batch of this recipe:
Chocolate glaze + chocolate sprinkles
Vanilla glaze + rainbow sprinkles
Maple glaze + finely chopped bacon (**this one turned out to be my favorite)
Strawberry glaze + wilton pearlized sprinkles
Powdered sugar
Because these donuts are baked (not fried), they won't have the same exact texture you get from a donut shop cake-style donut – baking them makes it a little bit healthier, but with the glaze and toppings…. it's still a decadent treat!  Consider this recipe to make something that's like a cross between a typical cake-style donut and a cupcake.  Enjoy!
Baked cake style donuts (Yield: 18 donuts):
1 box cake mix (I used yellow today)
1 egg
1/4 c. oil
1 c. milk
1/2 tsp. butter flavored extract (optional)
Basic Donut glaze:
2 T. melted butter
4 T. milk
3 c. powdered sugar
Glaze flavor suggestions:
1/2 tsp. maple extract
1/2 tsp. strawberry extract
1/2 tsp. clear vanilla extract
1 T. unsweetened cocoa powder
Topping suggestions:
chocolate sprinkles, rainbow sprinkles, powdered sugar, chopped cooked bacon, etc.
1.  Preheat the oven to 425 degrees.  Prepare your donut pans by spraying with Pam for baking nonstick spray.  (I used 3 pans simultaneously for faster baking of all the batter.)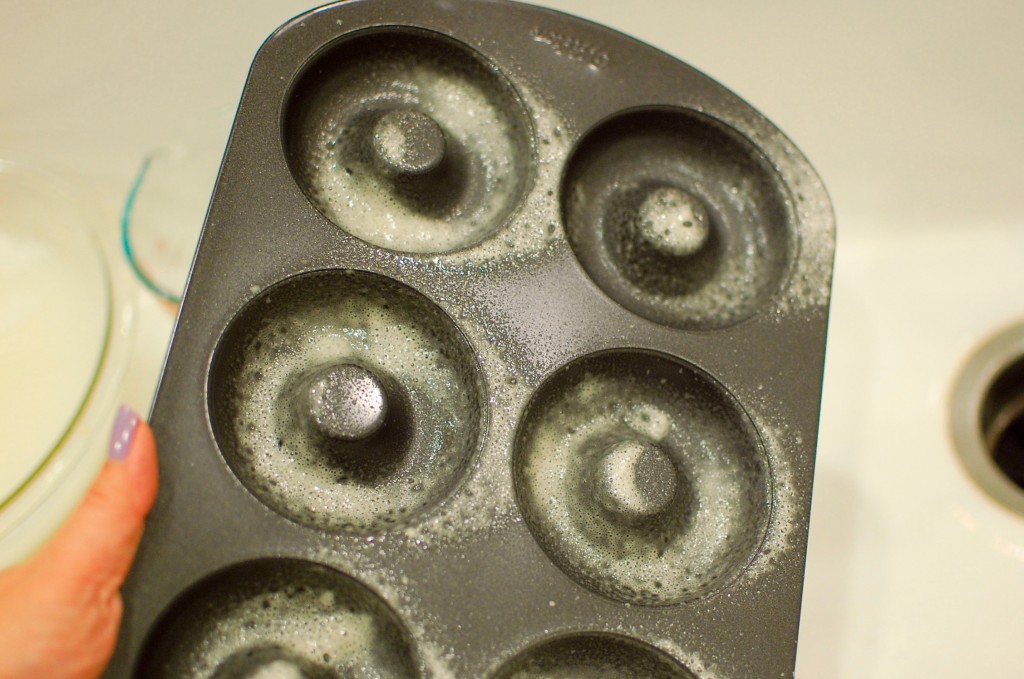 2.  Mix the egg, oil, milk, and butter flavored extract (optional) in a large bowl.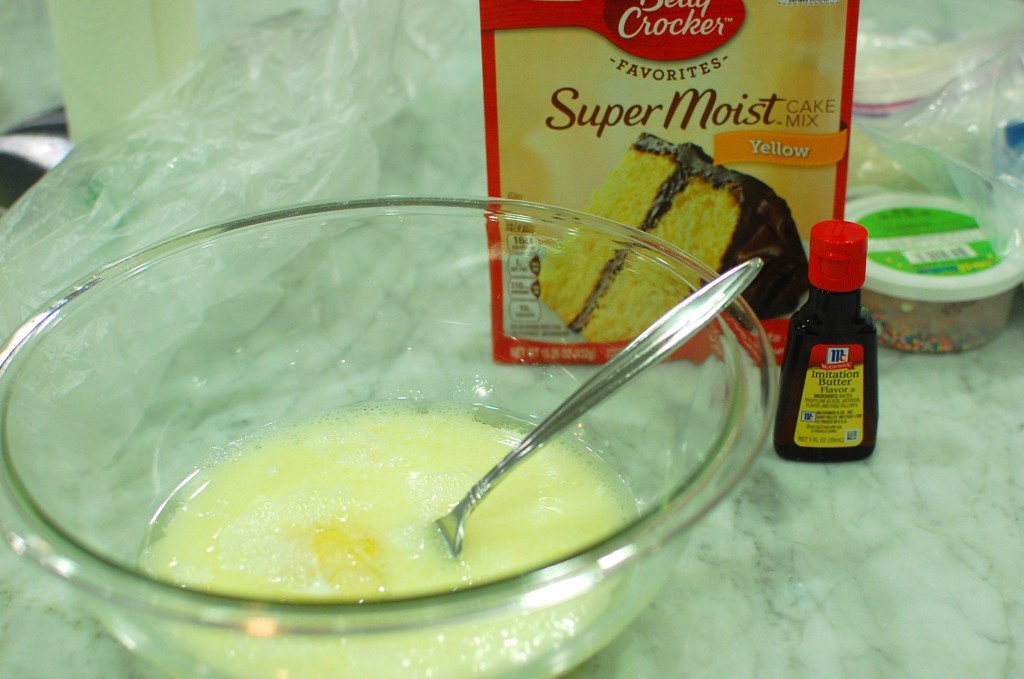 3.  Add the yellow cake mix, mix until thoroughly combined.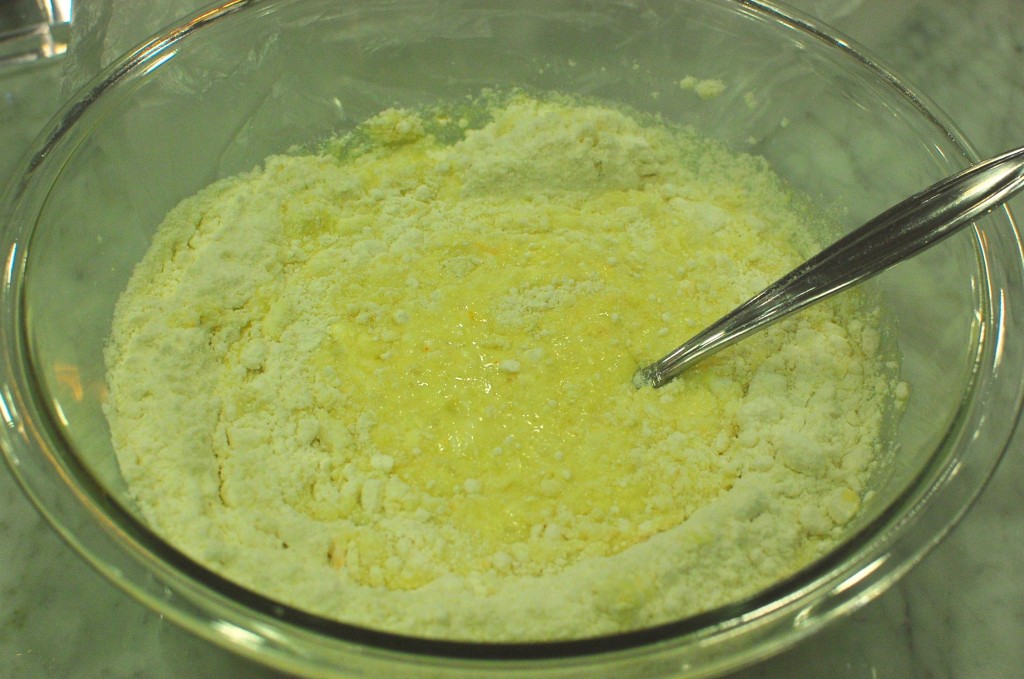 4.  Transfer the mixture into a large gallon sized ziploc bag.  Cut off one of the corners.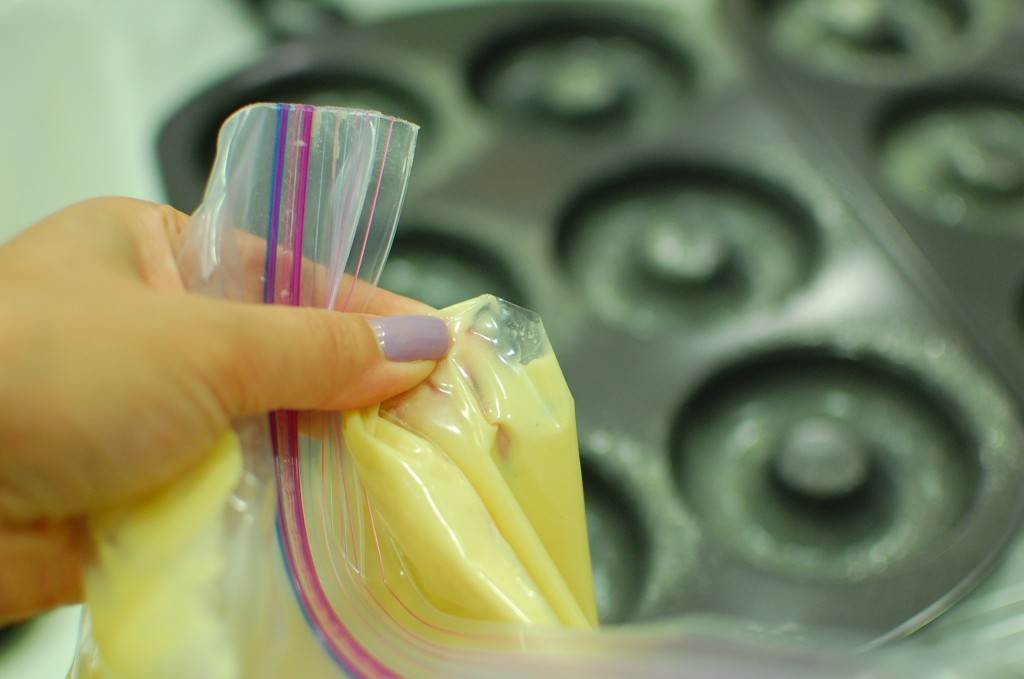 5.  Pipe the batter into the donut shaped depressions, filling about 2/3 full.  (Do NOT overfill!!!!)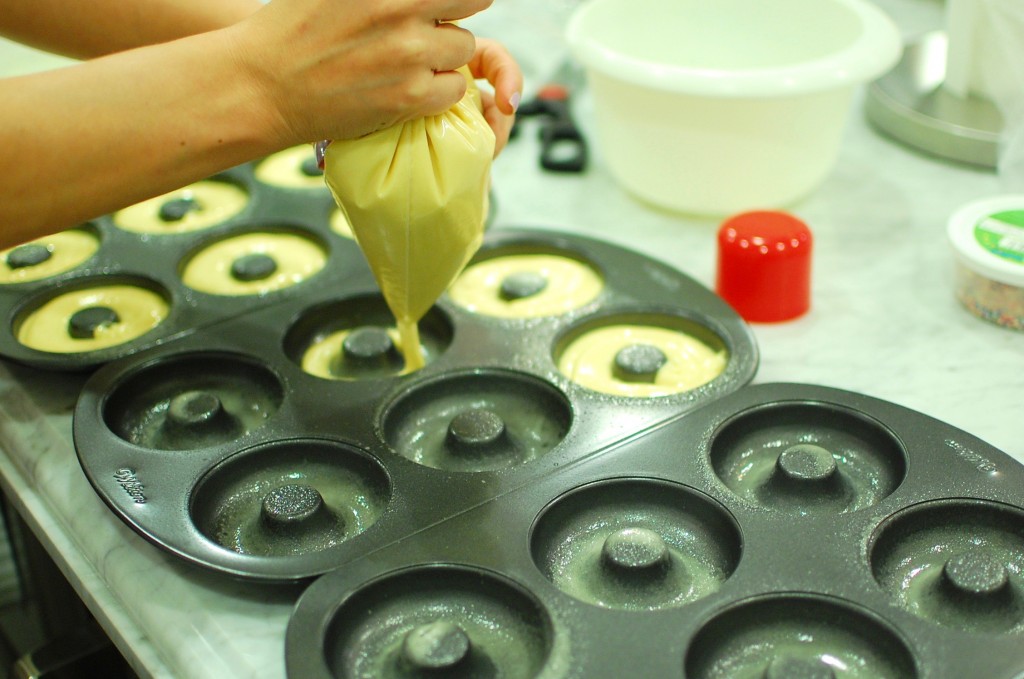 6.  Bake for 7-9 minutes, until the cake springs back lightly when touched.  Set aside to cool in the pans about 5 minutes before removing.  (If the hole of the donut baked closed, use the tip of a butter knife to remove the excess center.)
7.  Make the glaze.  Mix the melted butter, milk, and powdered sugar in a bowl until smooth.  Divide into several bowls.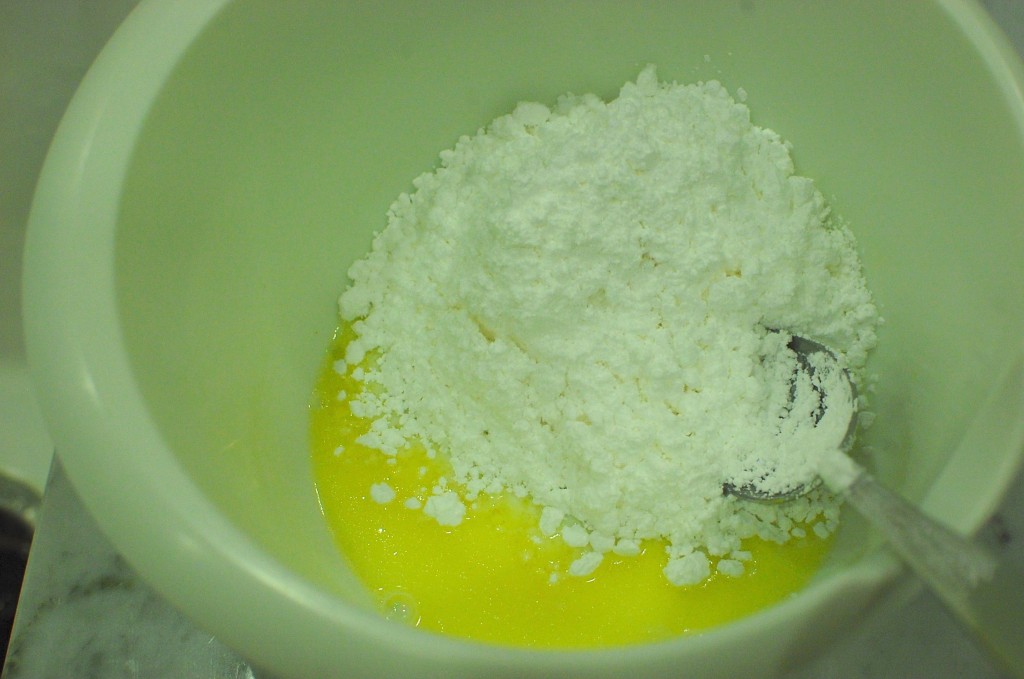 8.  Flavor the glaze with different extracts/etc.  Here I made 4 different glazes:  1) Chocolate: 1/4 of the glaze + 1 T. cocoa powder + 1 tsp. milk to smooth out.  2) Maple:  1/4 of the glaze + 1/2 tsp. maple extract.  3) Strawberry: 1/4 of the glaze + 1/2 tsp. strawberry extract. 4) Vanilla glaze: 1/4 of the glaze + 1/2 tsp. clear vanilla extract.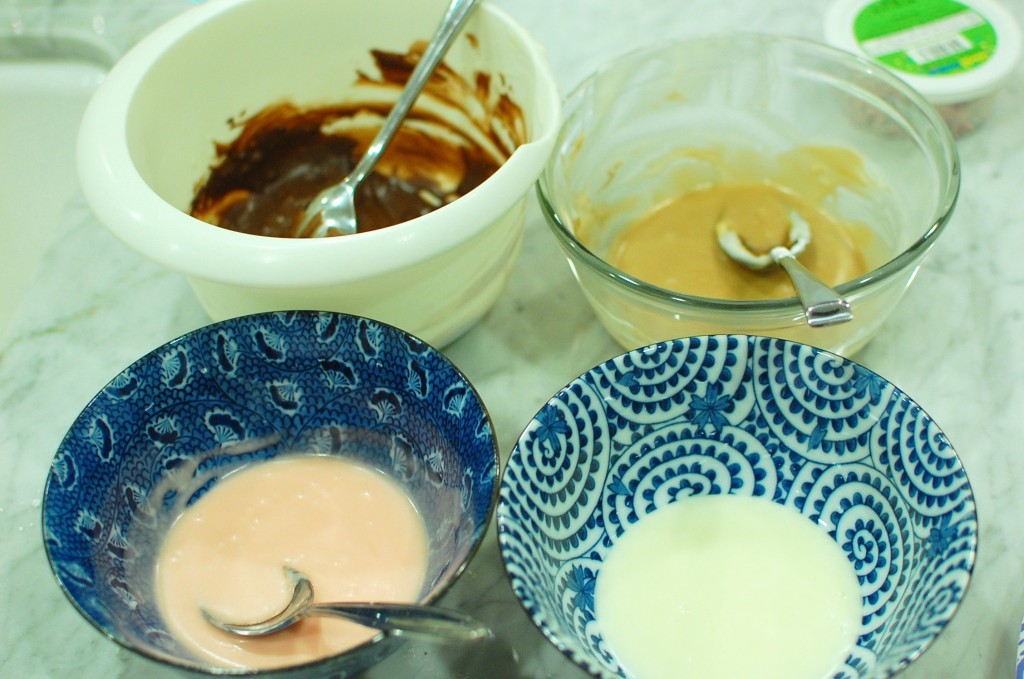 9.  Dip the top of a donut into the glaze, then immediately top with sprinkles or the topping of your choice, set aside to allow the glaze to set.  Here I dipped the donut into the chocolate glaze, then followed immediately with chocolate sprinkles.  If your glaze becomes too hard to dip, microwave for 10 seconds then stir to loosen it up (you can also add a tsp. of milk if too thick).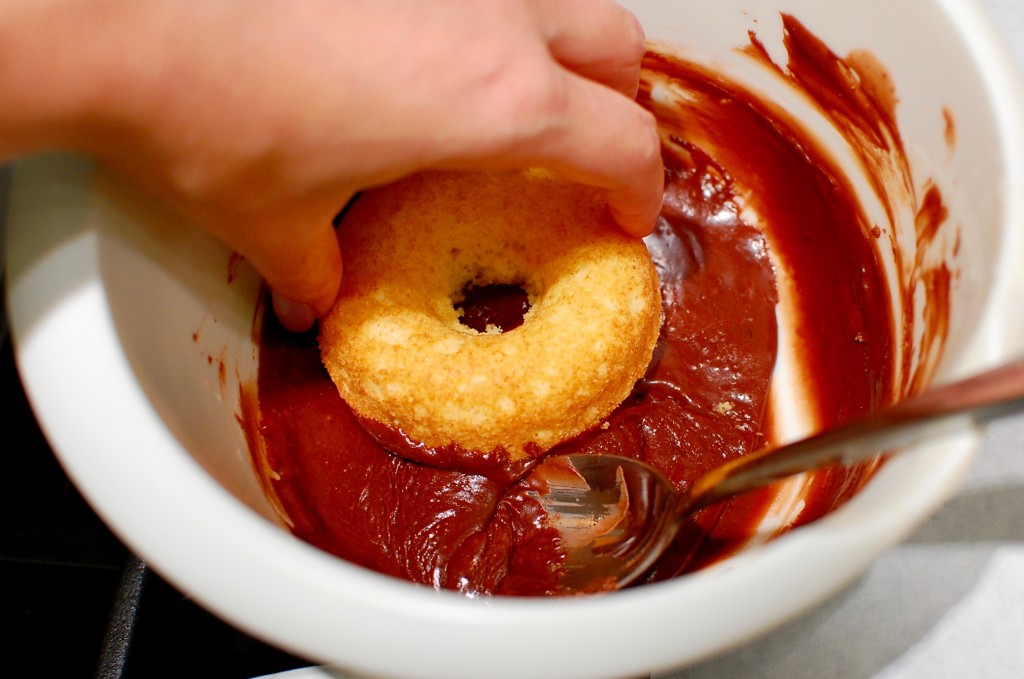 10.  Continue dipping and topping all of your donuts.  Other flavors I made here: Maple glaze + chopped bacon, Vanilla glaze + rainbow sprinkles, Strawberry glaze + pearlized sprinkles, and powdered sugar.  (The maple + bacon donuts were my favorite!!!)  Enjoy and serve immediately!
If you are making these ahead of time, cover loosely with plastic wrap and store at room temperature and serve the next day.