Ok.  I know this isn't cooking or food… but instead a little DIY craft project for a change!  Sometimes you need a little "change" from the ordinary… so I decided to make a dinosaur Christmas theme.  I made a bunch of dinosaur ornaments for the Xmas tree, and a dinosaur wreath for the door… out of inexpensive plastic dinosaur toys.  (This also doesn't have to be done just for Christmas… larger plastic toys can make a nice shelf decoration or funky piece of art!)
You can purchase small plastic toys online, from the dollar store, or the toy section of your local target or walmart type store.  This technique should work with any type of plastic toy… you could use zoo animals, cars… whatever!  Medium/large toys work well for Christmas ornaments, the small/mini ones are great for wreaths.
Just be careful because the hot glue gun puts out molten lava like glue… it's hot and it will really HURT if you get some on your fingers!  Also, make sure you do this in a well ventilated area (outside is best), because the plastic and the spray paint will give off some potentially hazardous vapors.
Dinosaur Christmas Ornaments:
Dinosaur Christmas Wreath:
wreath form or metal coat hanger
hot glue + hot glue gun
plain fresh/fake evergreen wreath
ribbons/bows
wire/small zip ties
1.  Insert the screw eye pins into the back of the plastic dinosaurs. (You can find these hooks at a hardware or craft store – I found it easier just to buy online.) At first, I tried to poke a hole into the plastic with a thumbtack, then try to "screw" the hook into the hole.  After taking forever on the first one – and hurting my fingers in the process – I tried a different approach: I lit a tea light candle, then holding the "eye" portion of the screw with small pliers, I held the pin portion into the flame of the candle to heat it up.  After about 10 seconds, the screw was hot enough that I could just quickly push it into the plastic dinosaur (it melts the plastic to allow the screw in, then hardens almost immediately around the screw).  Be careful to do this in a well ventilated area, because there were some funky fumes coming off the melted plastic!  (These were about $13/dozen for 4″ to 7″ dinosaur plastic toys.)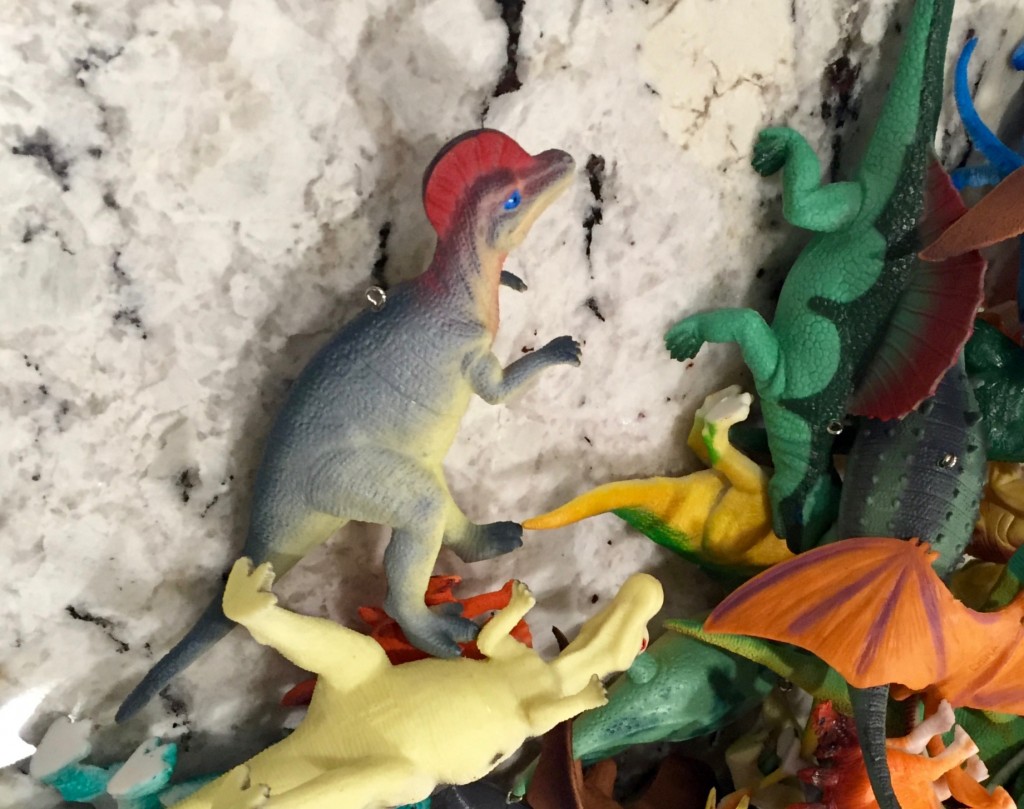 I also inserted hooks into the back of  plastic dinosaur fossil toys (These were about $12/dozen for about 5.5 inch toys):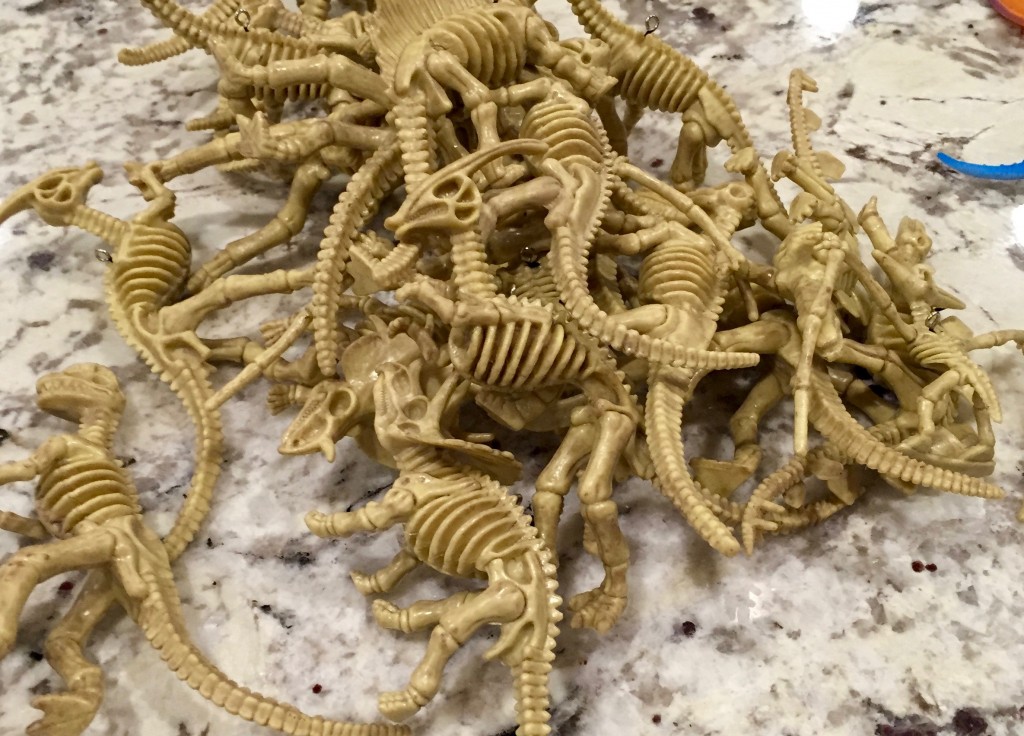 2.  Once you have inserted the hooks, take your toys outside and set on top of some newspaper or parchment.  (I did this outside on a non-windy day).  Spread the dinosaurs out individually (so that they are not overlapping), then spray with your first coat of spray paint.  Once dry, flip your dinosaurs and coat the other side.  When dry, check to make sure you got all the nooks and crannies, and touch up any unpainted spots if needed.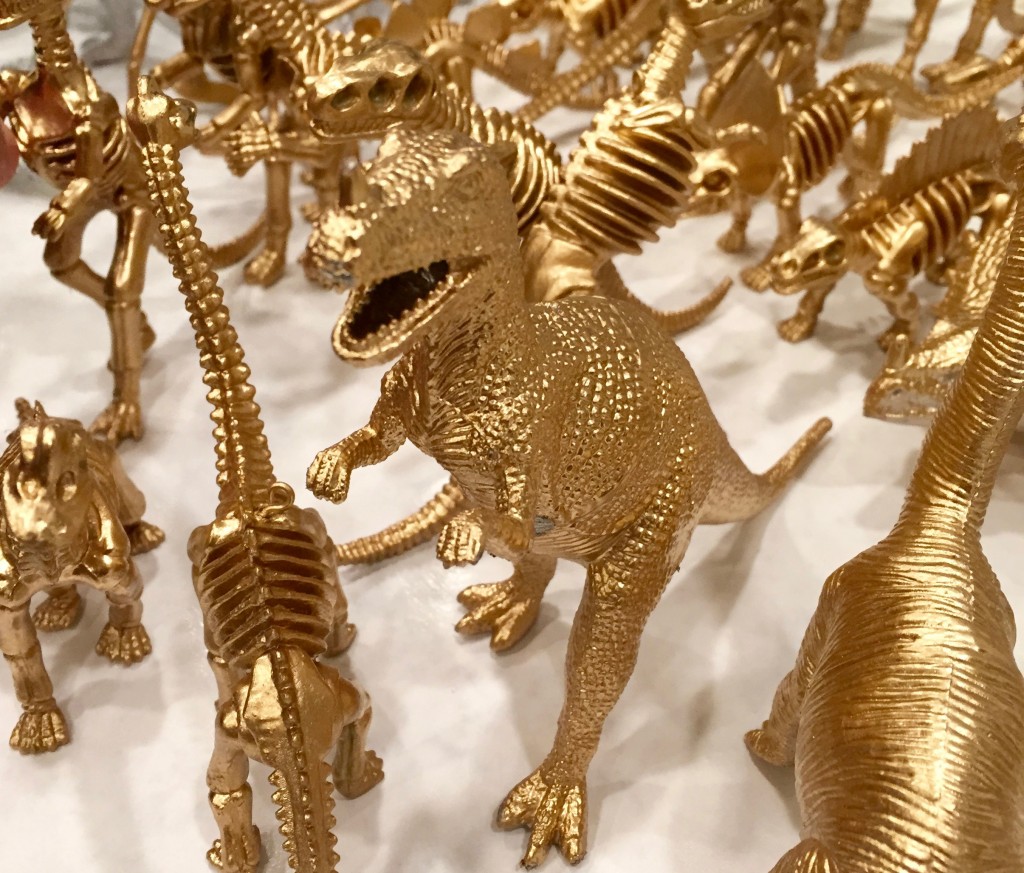 I used both gold and silver spray paint.  If you aren't using Krylon Metallic Spray Paint, make sure you go with a brand of spray paint that can be used on plastic.  I purchased the Krylon from a craft store (Michael's), but you can also buy this type of spray paint online, or from a hardware store.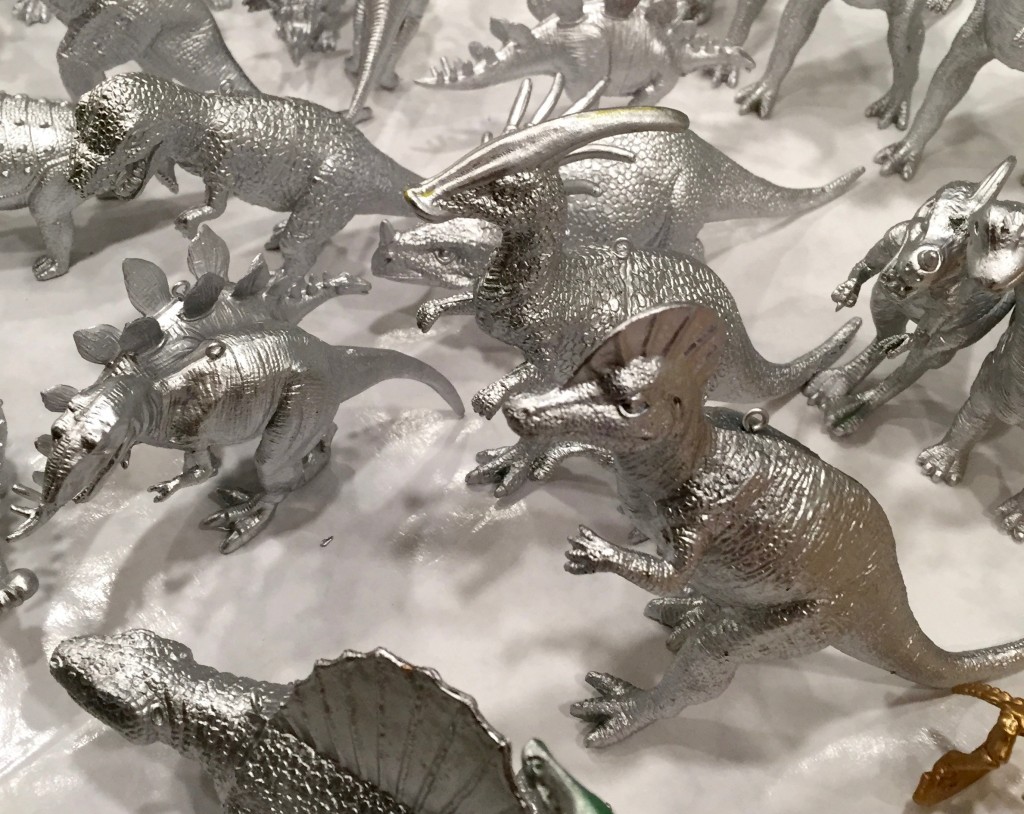 3. Now you are ready to hang your ornaments!  Here's what my dinosaur Christmas tree looked like in the daytime: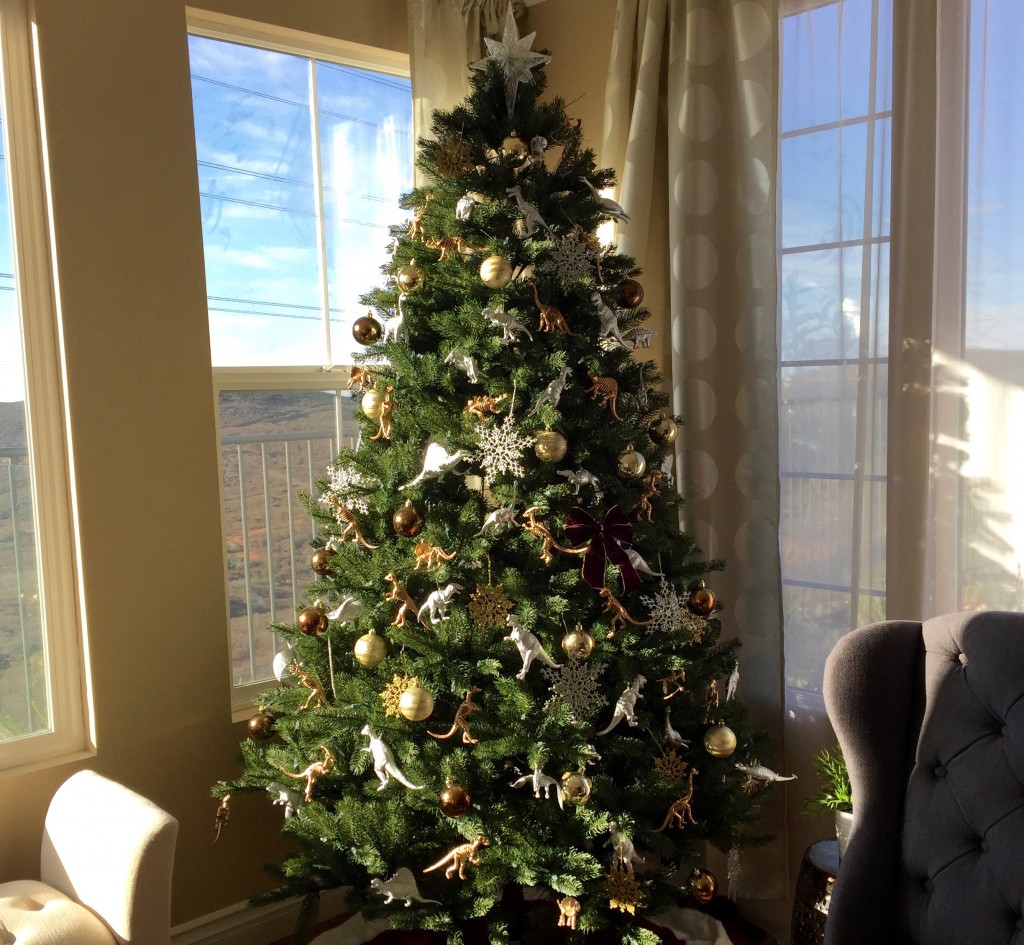 And at night with the lights on: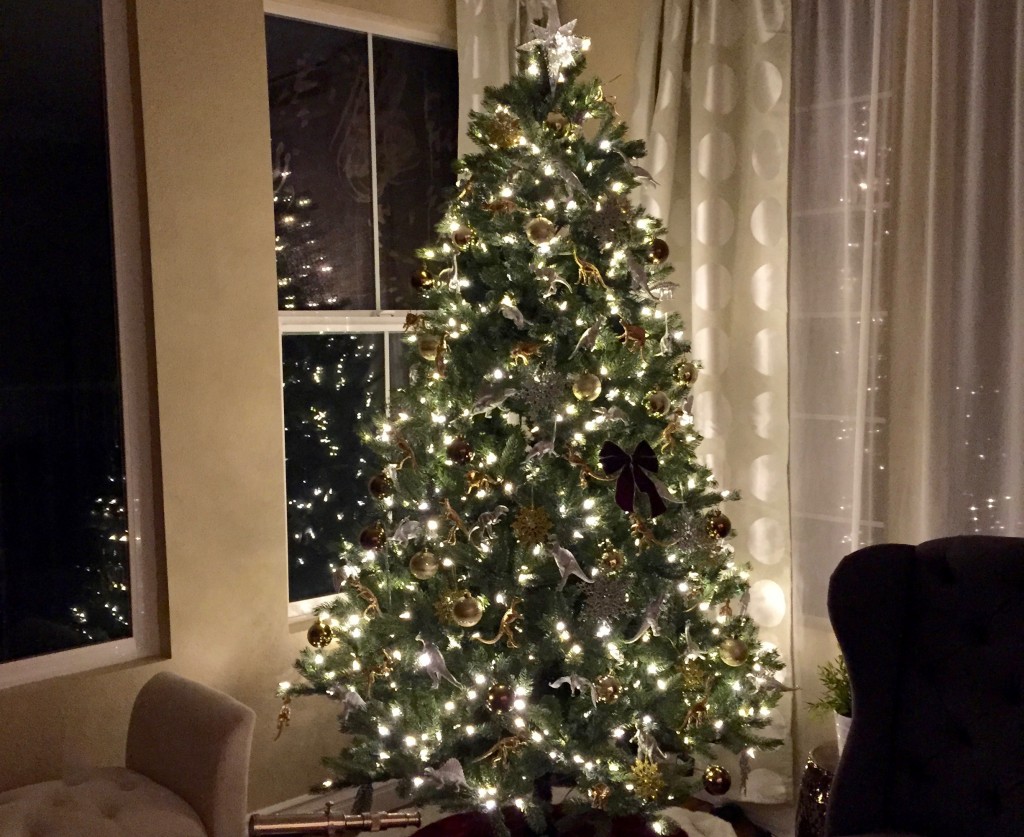 4.  Dinosaur Wreath:  Purchase small/mini plastic dinosaur toys.  (These were about $13 for a bag of 96 pieces, approximately 2″ in length – about the same size and quality of little green army men.)  Lay a wreath form on top of some newspaper or parchment.  (If you don't have a wreath form, you can do what I did and just unravel and bend a metal coat hanger into a ring shape.)  How big should your wreath form be?  Whatever size you choose, just make sure it is slightly smaller than your Evergreen wreath (see the size difference in step 5 below).
Using your hot glue gun, attach the small plastic dinosaurs around the diameter of the wreath form.  (Allow the glue to cool and harden as you go, so that the layers don't fall apart.)  Eventually you will want to start overlapping the dinosaur layers so that the entire wreath has structure and stays together.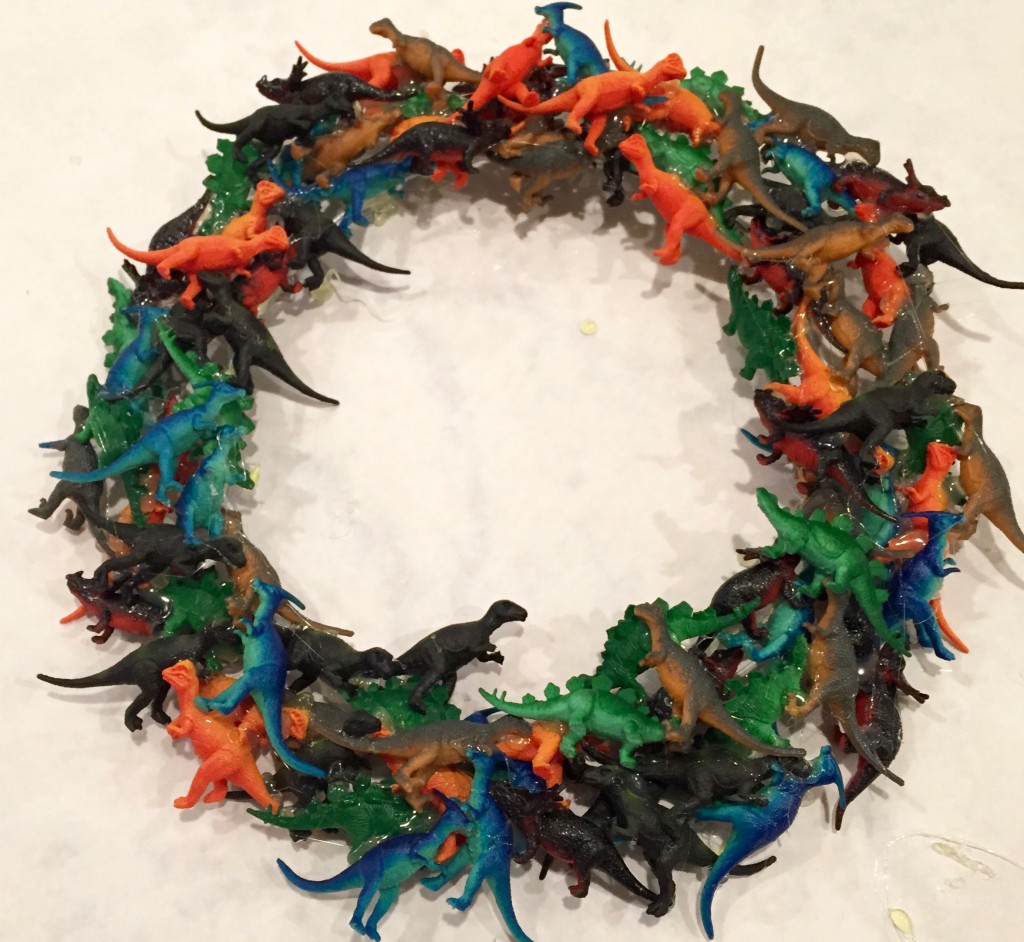 5.  As in Step 2 above, take your cooled and hardened wreath outside and spray paint from various angles in the metallic color you prefer (I liked gold) using the Krylon spray paint.  Once the paint is dry, use wire or small zip ties to secure the plastic wreath on top of a plain evergreen wreath.  Decorate with a nice bow or ribbons, then hang!
6.  Enjoy your dinosaur themed Christmas decor!