Limoncello is an Italian Lemon Liqueur, made from grain alcohol infused with lemon peels, served (chilled) after dinner in tiny cordial glasses.  Traditional Limoncello is produced in Southern Italy along the Amalfi Coast, from Sorrento Lemons (Limone di Sorrento).  Here in Southern California, access to Sorrento Lemons is quite limited – but one of the leading California cultivars, the Eureka Lemon, is a good substitute.  The Eureka Lemon originated from a seed taken from an Italian Lemon, so if you can't get Sorrento Lemons, try Eurekas!
Besides the lemon, the other key ingredient in Limoncello is the alcohol.  The higher concentrations of grain alcohol tend to be preferred (like 95%, or 190 proof) – but that is also limited here in California where the highest proof legally available is 151.  Everclear (75% alcohol content) was nearly impossible for me to find, as was 100 proof (50% alcohol) vodka.  Therefore, I settled for the regular 80 proof vodka (40% alcohol) from the supermarket to make my Limoncello.  Since this recipe utilizes 80 proof vodka, the resulting limoncello will end up around 20% alcohol, or 40 proof.  (If you can find 100 proof vodka, your limoncello will be 25% alcohol, or 50 proof.)
Some Limoncello recipes that I found online call for 4 days of steeping time.  But after reading many of the comments and suggestions from fellow Limoncello makers, a 40 – 80 day process is recommended (if you have the patience for it).  My limoncello aged for 75 days – apparently, I was about 5 days short on patience!
Serve your Limoncello as is, chilled, in little cordial glasses.  Other ideas?  Make Limoncello Bellini by adding a splash of it to a glass of champagne or prosecco.  Spike your lemonade, shake a Limoncello martini, or mix with sparkling water and serve over ice.  Drizzle some Limoncello over vanilla ice cream or over a slice of cake – the possibilities are endless!  Enjoy!
Limoncello: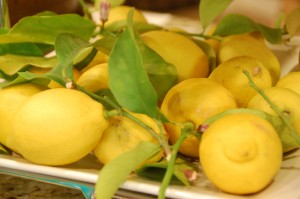 1.75 mL bottle vodka
15 organic lemons
4 c. sugar
4 c. water
1.  Wash and dry the lemons.  Zest the lemons, avoiding the bitter white pith.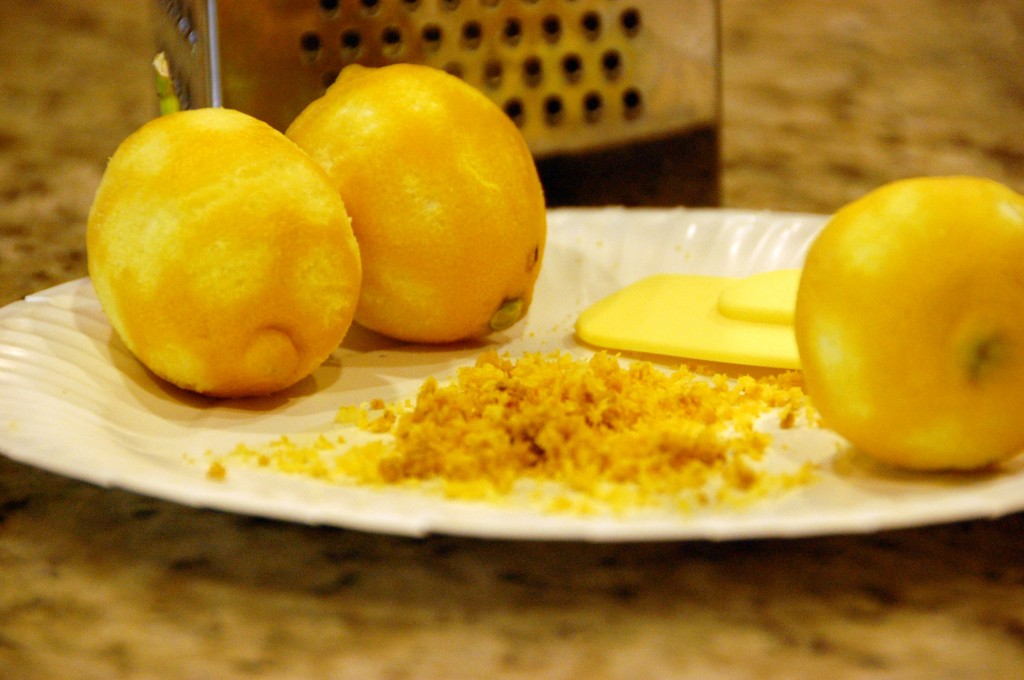 2.  In a large 1 gallon glass container, mix the vodka with the lemon zest.  Allow the jar to rest in a cool dark location (like inside a cabinet), for a month or longer.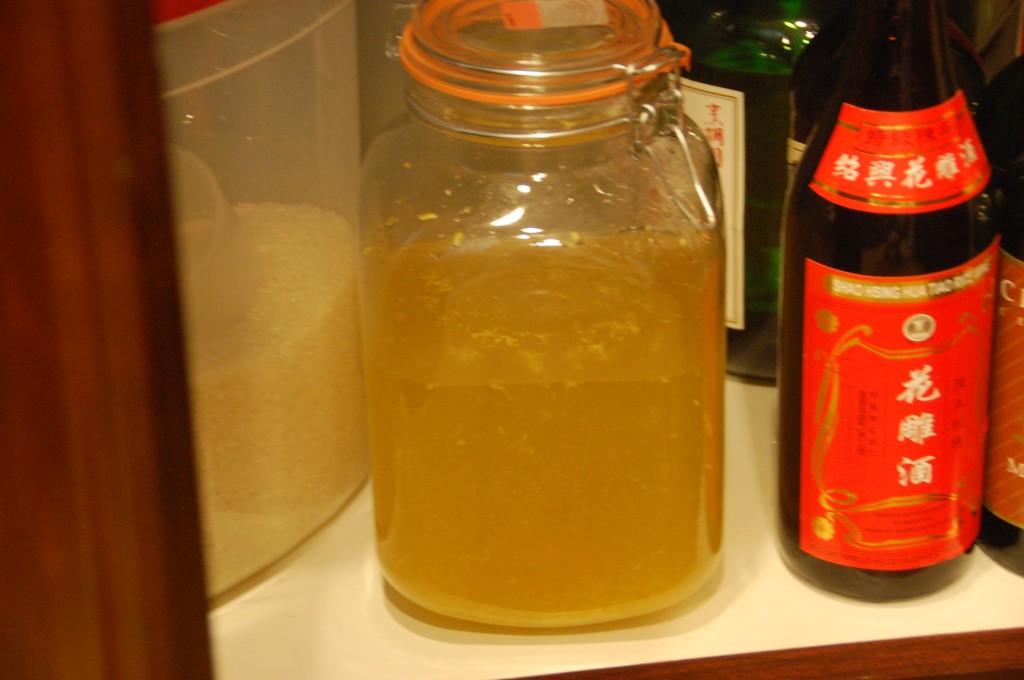 3.  After 30-40 days, mix the sugar and water in a large pot and simmer until the sugar is dissolved.  Cool completely.  (I added a little extra lemon zest to the cooling sugar syrup just to punch up the flavor a little bit.)  If you want cloudy Limoncello, add the syrup to the alcohol while it is still warm.  I wanted my Limoncello to be clear, so I waited until the syrup was room temperature.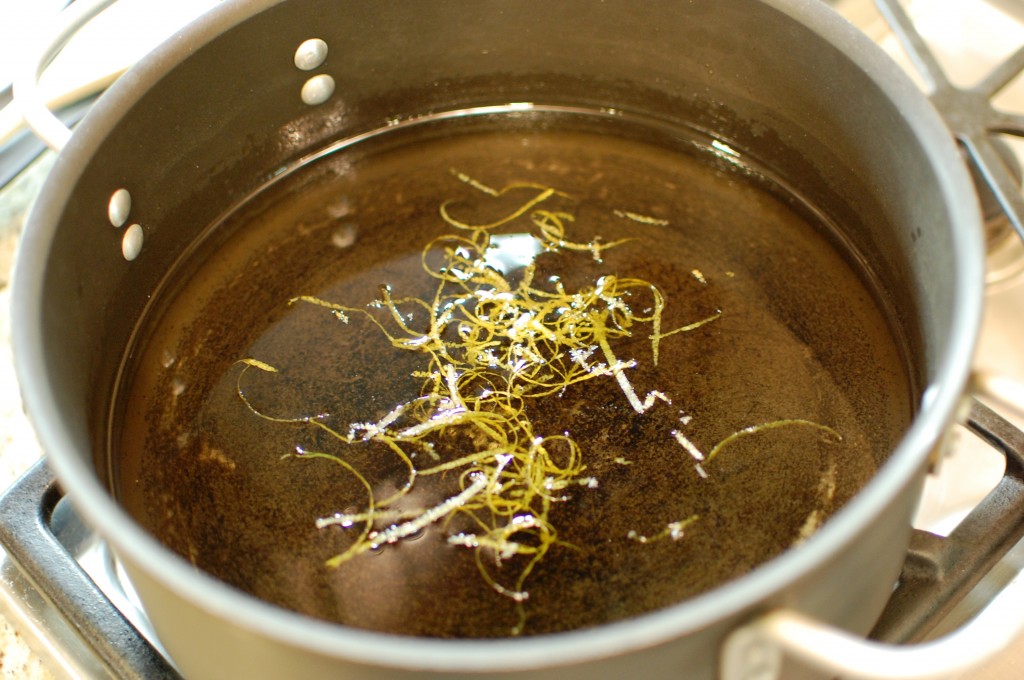 4.  Add the cool sugar syrup to the vodka mixture, seal, and shake gently to mix.  Allow the jar to rest for a second time for another month or longer.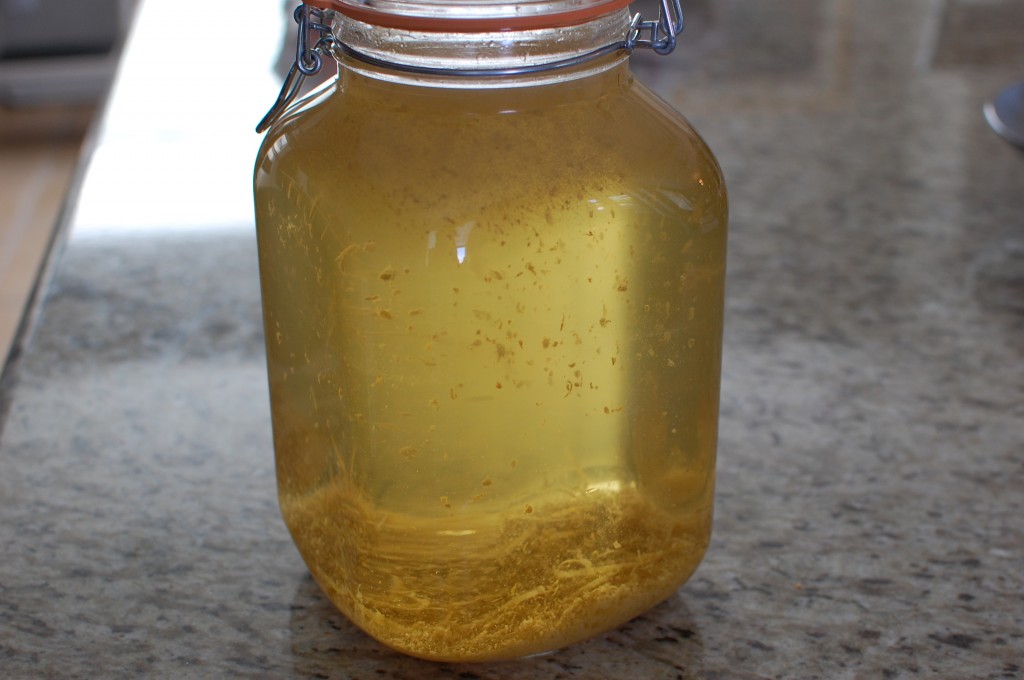 5.  When enough time has passed, your limoncello is ready to be strained.  Pour the 1st pass of limoncello through a metal sieve to catch all the large pieces of lemon zest.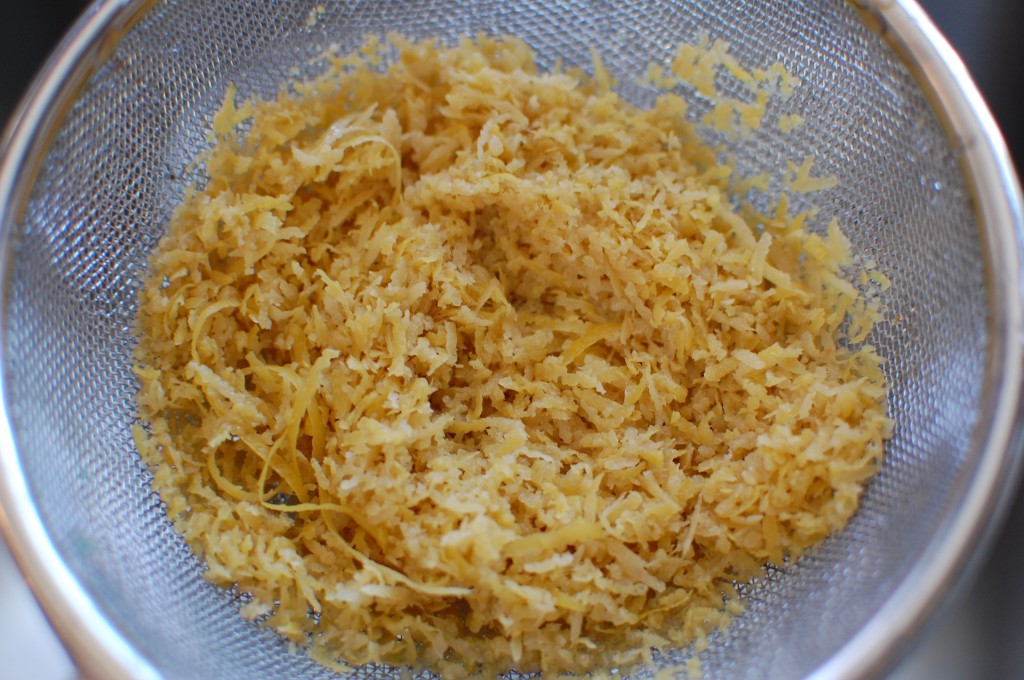 6.  Strain a second time, this time, lining the clean metal sieve with a paper coffee filter, or 1 ply paper towel.  Do not squeeze the zest or the paper towel!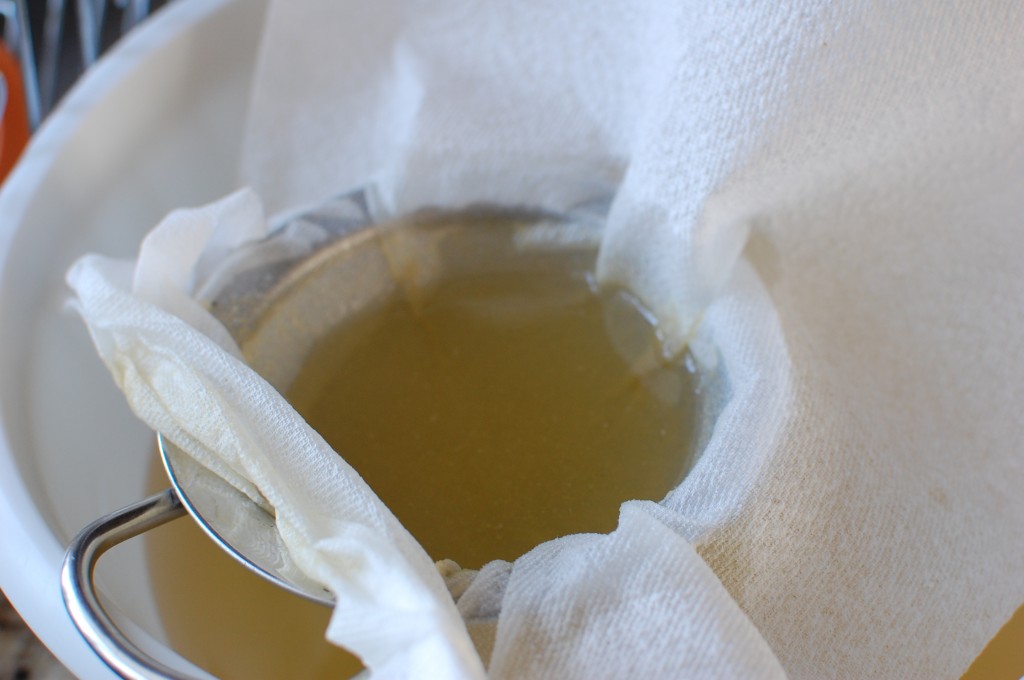 7.  Strain a third time through the metal sieve with a new paper filter.  Your limoncello is ready to be bottled and enjoyed!  Store in the refrigerator or freezer (optional) and serve cold.  I filled 3 large glass bottles from Cost Plus World Market to give away to friends – the remainder I stored in the original vodka bottle.  You can decorate your bottles with some pretty ribbon – I also added some silk lemon leaves from the craft store.