I've been looking for a recipe to replicate the famous sweet and soft King's Hawaiian Rolls.  I think I finally found it!  The addition of pineapple juice and sugar add a wonderful sweetness and impart a tenderness to the finished rolls.
You can eat them warm, straight out of the pan.  Or, try my favorite: "Hawaiian Sliders" (mini sandwiches with grilled spam topped with coleslaw).
Hawaiian Bread Rolls:
3 c. bread flour
1/2 c. tangzhong
4 T. unsalted butter
3/4 c. pineapple juice
1 egg, beaten
6 T. sugar
1/2 tsp. salt
1/2 tsp. vanilla extract
2 tsp. yeast
1.  Combine the butter, pineapple juice, egg, sugar, salt, vanilla extract, and tangzhong into the bottom of the bread machine pan.  To make the
Tangzhong
(a water roux made from heating 1/3 c. bread flour with 1 c. water), see my post on
Japanese Milk bread.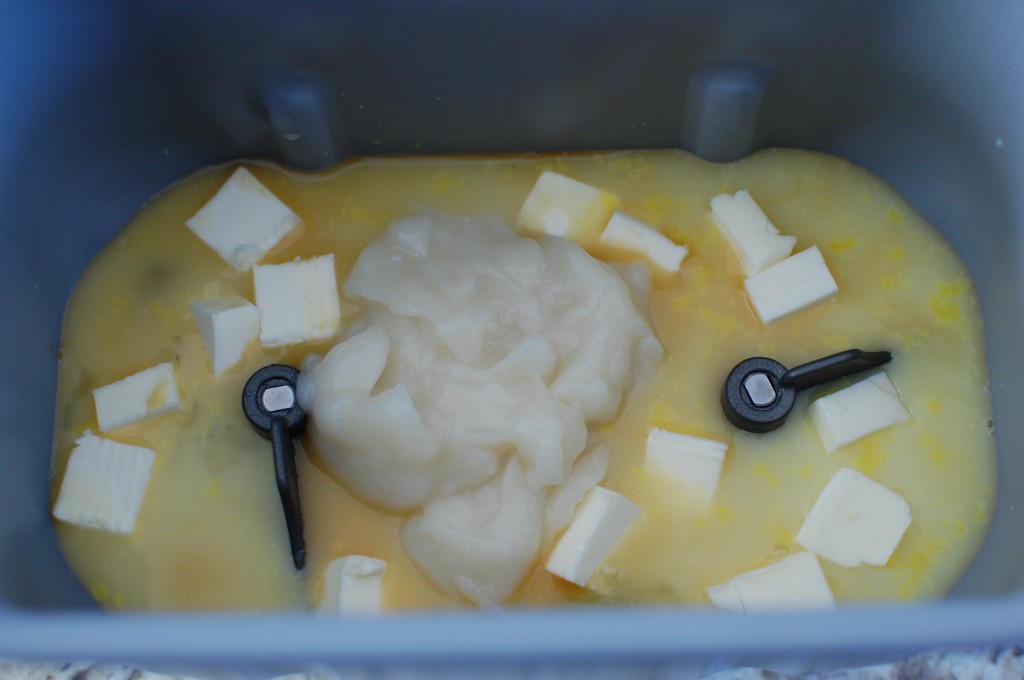 2.  On top of the wet ingredients, dump the flour.  Form a well in the flour, and add the yeast to the well.  (Do not allow the yeast to come in contact with any of the wet ingredients yet).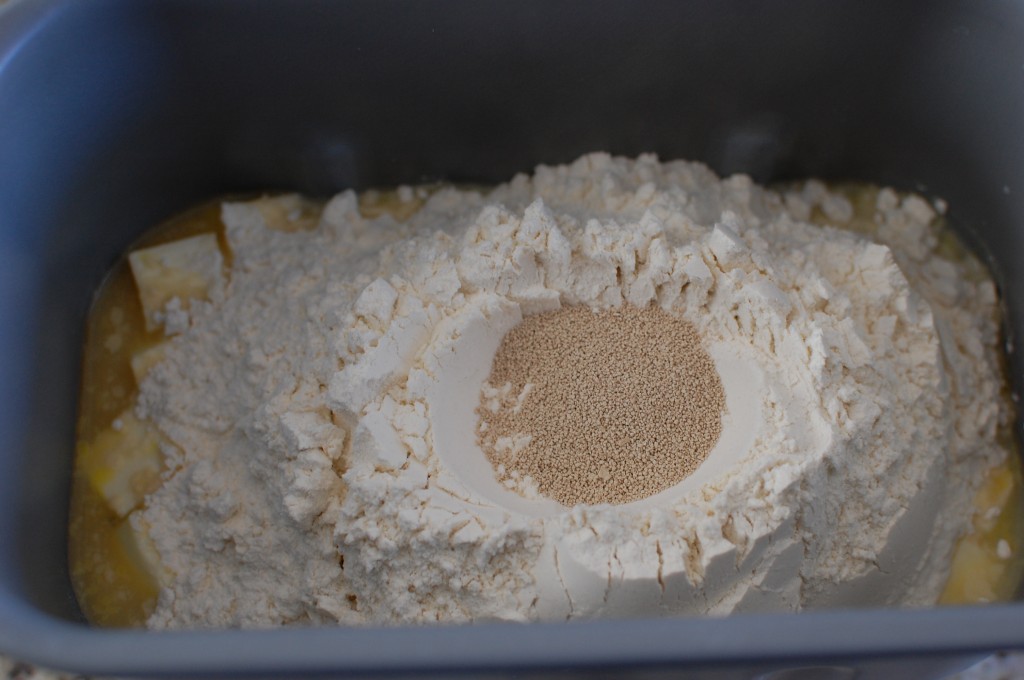 3.  Place the pan into the bread machine, and turn on the "make dough" cycle.  (You can knead and combine by hand or with a dough hook attachment on a stand mixer – but you will need to knead for at least 15-20 minutes, then cover and rise for an hour until doubled in bulk.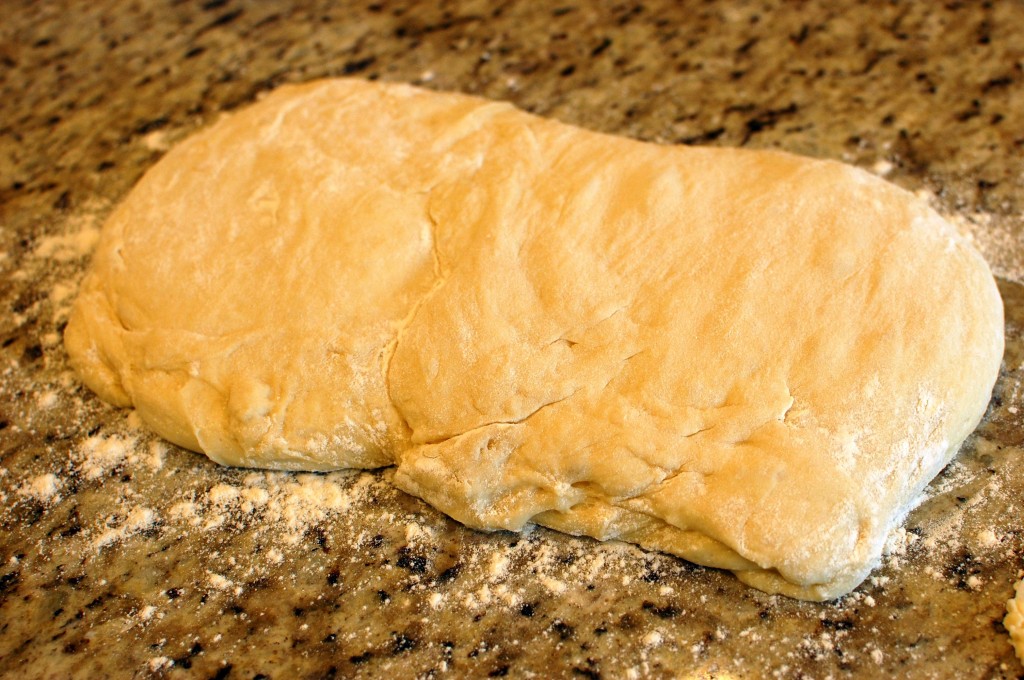 4.  When the dough is ready, turn out onto a lightly floured counter, and cut the dough into 16 even pieces.  (The dough will be sticky, so use a light touch, and flour if needed.)
5.  Shape the pieces into little balls, coating with flour to prevent sticking, and lay in a grid pattern in a 9″ X 9″ square pan.  Cover loosely with plastic wrap and allow to rise another 45 minutes.  (The dough will be VERY sticky – so make sure you coat your hands and counter top with flour – try to handle the dough as little as possible.  It doesn't matter if the little balls are perfectly round and smooth.)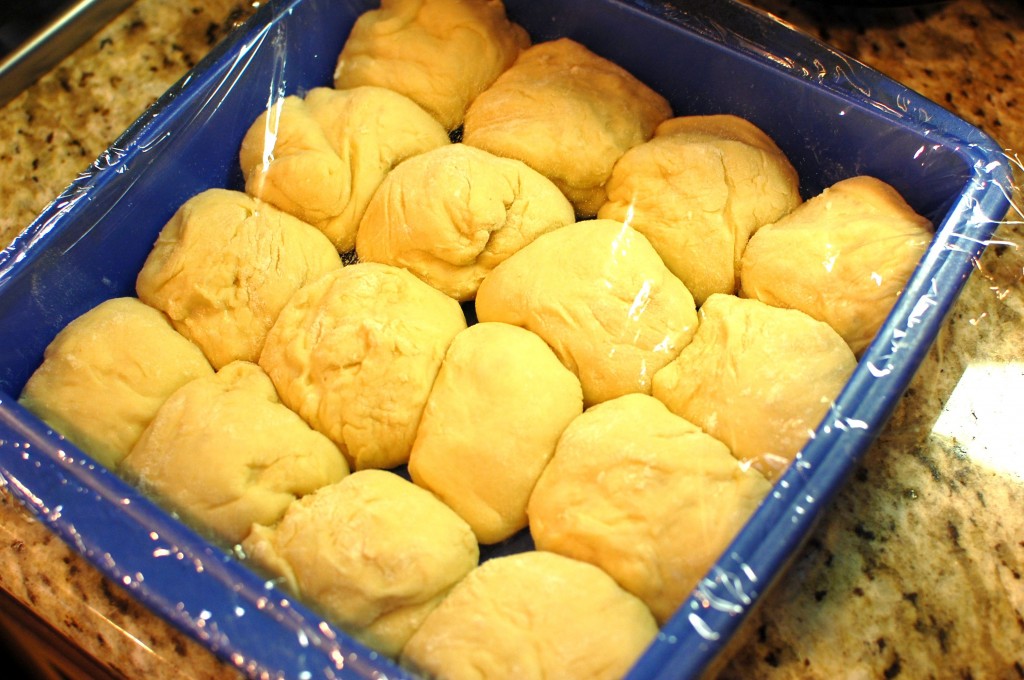 6.  Heat the oven to 335 degrees, and bake the Hawaiian rolls for 25 minutes.  Serve warm.  These are also great the next day split in half make Hawaiian sliders with a little bit of grilled spam topped with coleslaw.