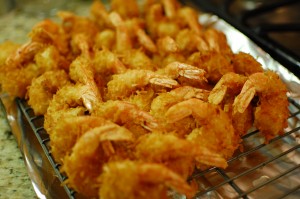 Over Thanksgiving, we decided to skip the turkey… and took a cruise down to the Caribbean instead.  Our second port-of-call was Phillipsburg, on the Dutch side of St. Martin.  We took a tour over to the French side of the island, and stopped for lunch in the seaside town of Marigot.  Now, after eating cruise ship food for several days (which is basically glorified American cafeteria food) I was dying to try some local cuisine.
As we walked through the flea market area, we saw a big covered patio area, with dozens of little tiny restaurants – all handing out their menus, trying to entice tourists to sit down for lunch.  We got about halfway through the patio area, and this woman handed me her menu and with a big smile, invited us to sit down and try her food.  So, we sat down at a plastic table at "Sandy's Waterfront Bar & Restaurant" and read over the menu.  I decided to try the coconut shrimp, David tried the garlic shrimp.
The coconut shrimp was soooooo good!!!!  Probably the best food I had on the entire trip.  It was served with a side of fried sweet plantains, and "rice & peas".  It came at a hefty price… once converted from Euros into US dollars, it was $20 per plate…. but it was well worth it!   
Once we got home, I decided I was going to give this amazing shrimp a try… and I came up with my own version of Sandy's Coconut Shrimp.  Feel free to use fresh shrimp if you have it – otherwise, I use frozen shrimp.  The first time I experimented with making coconut shrimp, I used 31-40 count shrimp… and it was good (similar to what Sandy served), but I felt like it would be better with bigger shrimp.  Last week, 16-20 count frozen shrimp was on sale at the market – $15 for 2 lbs – that size worked out really nicely with this recipe.  You will get about 4-6 servings from one batch of this shrimp.  If you have any leftovers, they heat up nicely for a few minutes on a wire rack in a 350 degree oven (if you microwave the leftovers, they will be soggy instead of crisp.)
Coconut Shrimp: 
2 lb. (16-20 count) frozen raw shrimp
1/2 c. flour (for coating)
~3-4 c. flaked coconut
canola oil for deep frying
Batter:
1/2 c. flour
1 egg
2/3 c. beer (or soda water)
1 1/2 tsp. baking powder
1 tsp. salt
1 T. sugar
1/2 tsp. Five-spice powder (optional)
Dipping sauce:
3/4 c. apricot or peach jam
1 tsp. horseradish
1 tsp. dried yellow or prepared dijon mustard
1 tsp. sriracha sauce
1/2 tsp. chili pepper flakes
1-2 T. warm water (to thin)
1.  Defrost the frozen shrimp by running under cool water.  Peel and de-vein, leaving the tails on.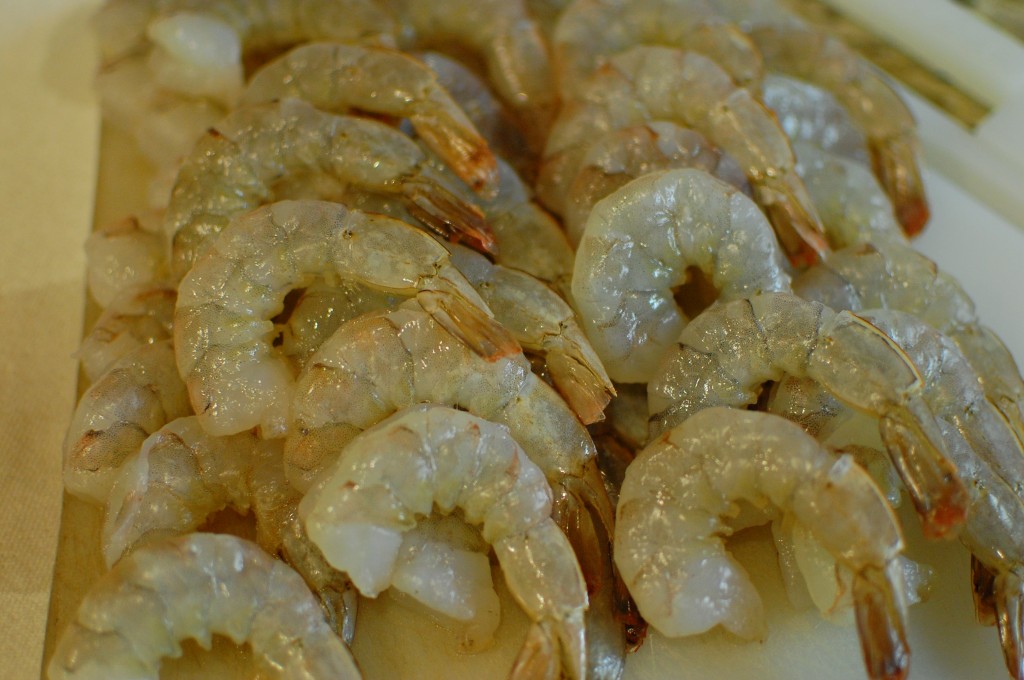 2.  Dredge the shrimp in the flour to coat (this will make the batter stick to the shrimp).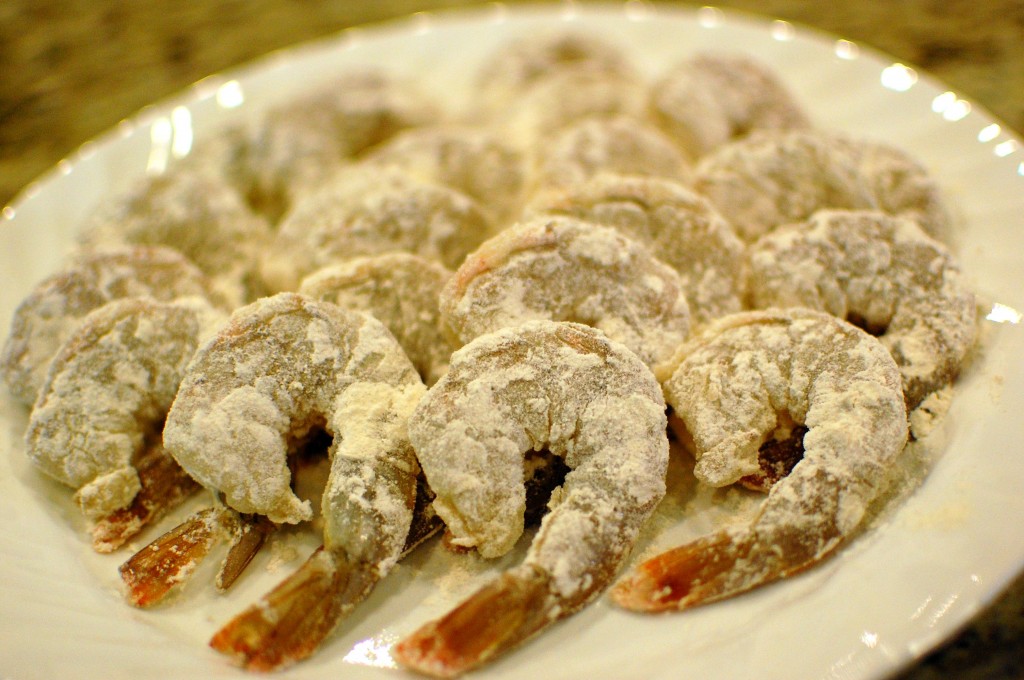 3.  Mix all batter ingredients in a bowl.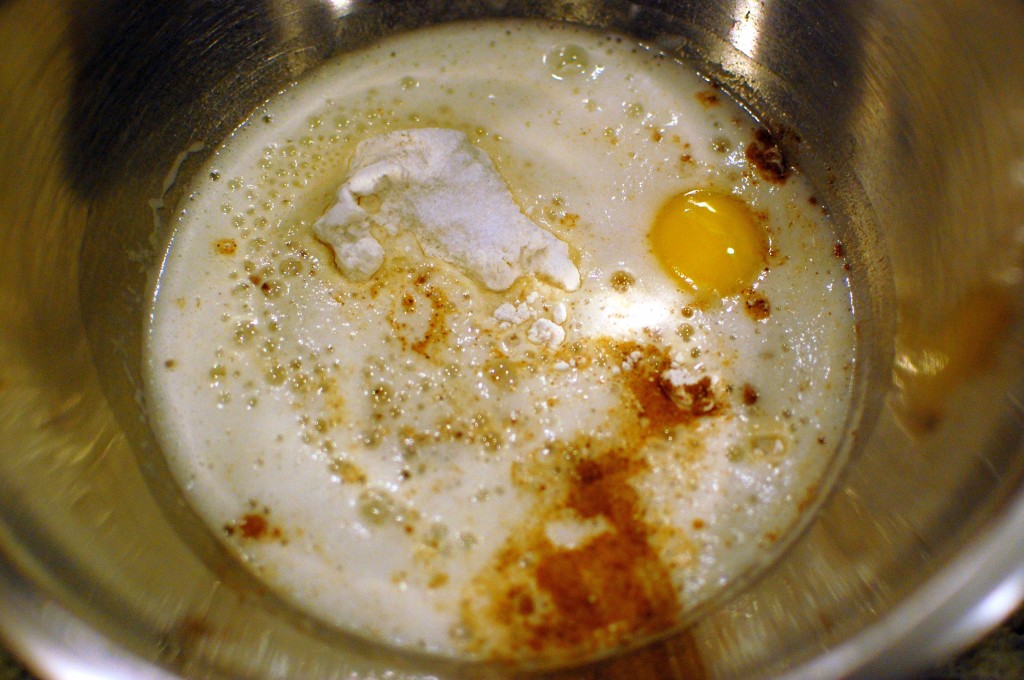 4.  Dip the shrimp into the batter (holding onto the tail), shake off, then roll in the coconut flakes.  Set aside on a tray.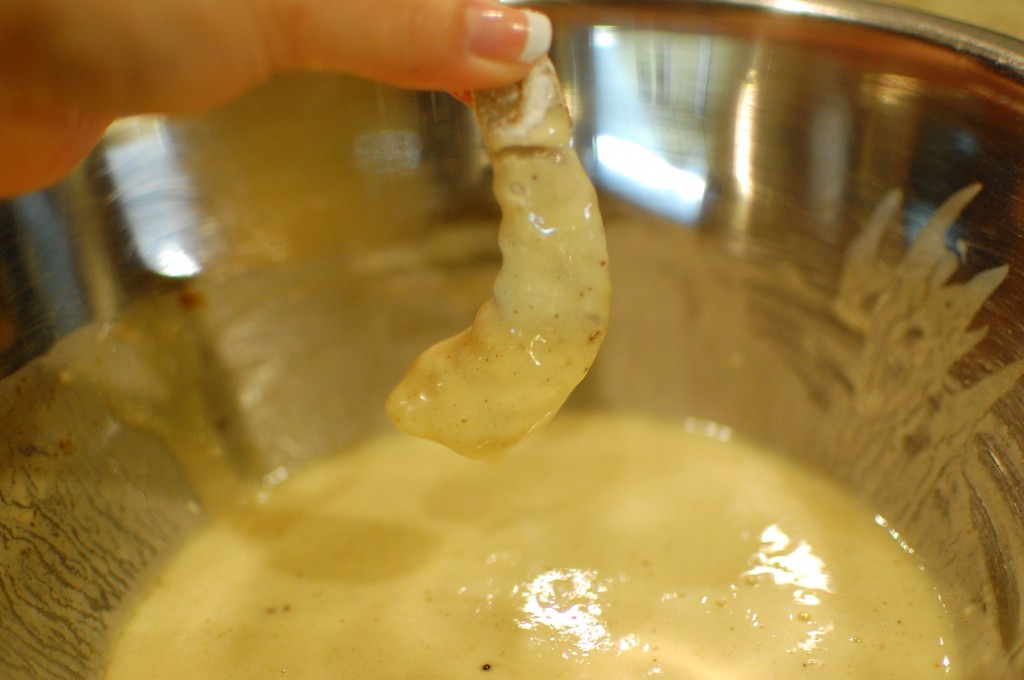 5.  Refrigerate the shrimp for 30 min – 1 hour.  (This step helps the coating stick to the shrimp.)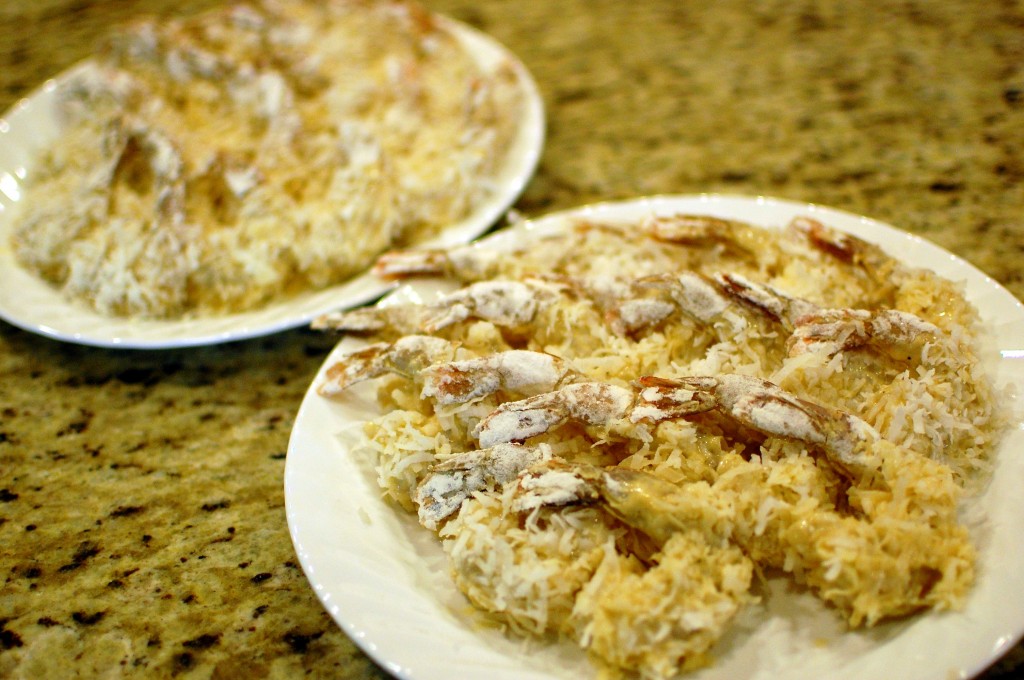 6.  Set a small pot or cast iron skillet over the stove, add about 1″ canola oil, and heat the oil somewhere between medium and medium-high heat.  After a few minutes, the oil should be ready (check by putting a small piece of coconut into the oil, and if it sizzles, it's ready.)  Fry the shrimp until golden brown (flipping once), about 4-5 shrimp at a time if using 16-20 count shrimp.  (If using 31-40 count shrimp, you can probably fry 6-7 at a time, and they will be done quicker.)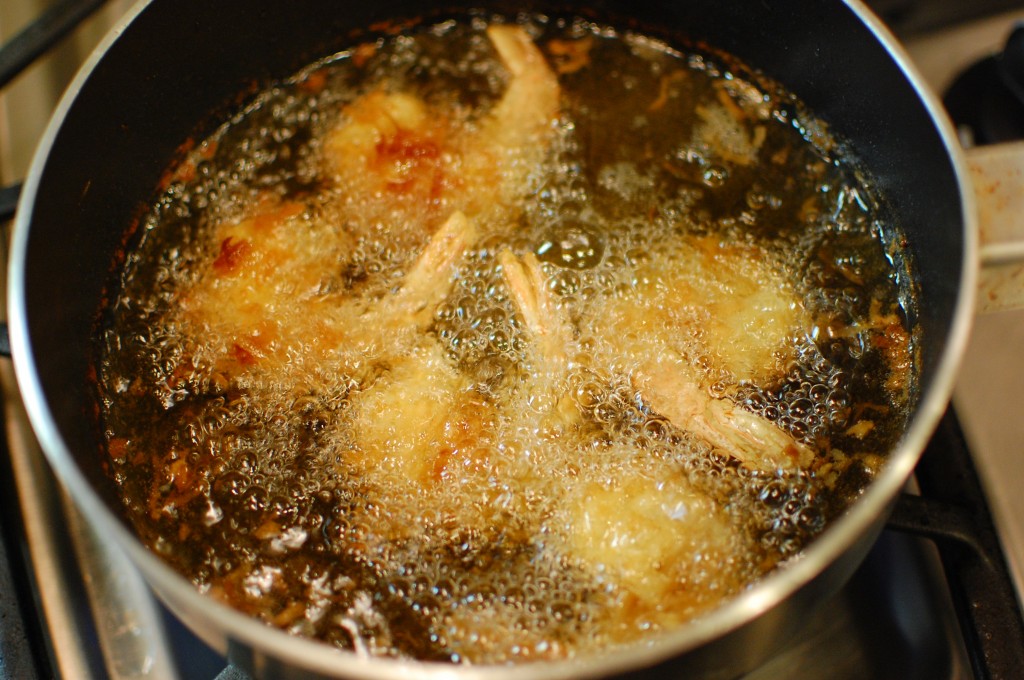 7.   Skim the oil with a mesh strainer to remove solids between batches – I use a flat Japanese oil skimmer/strainer.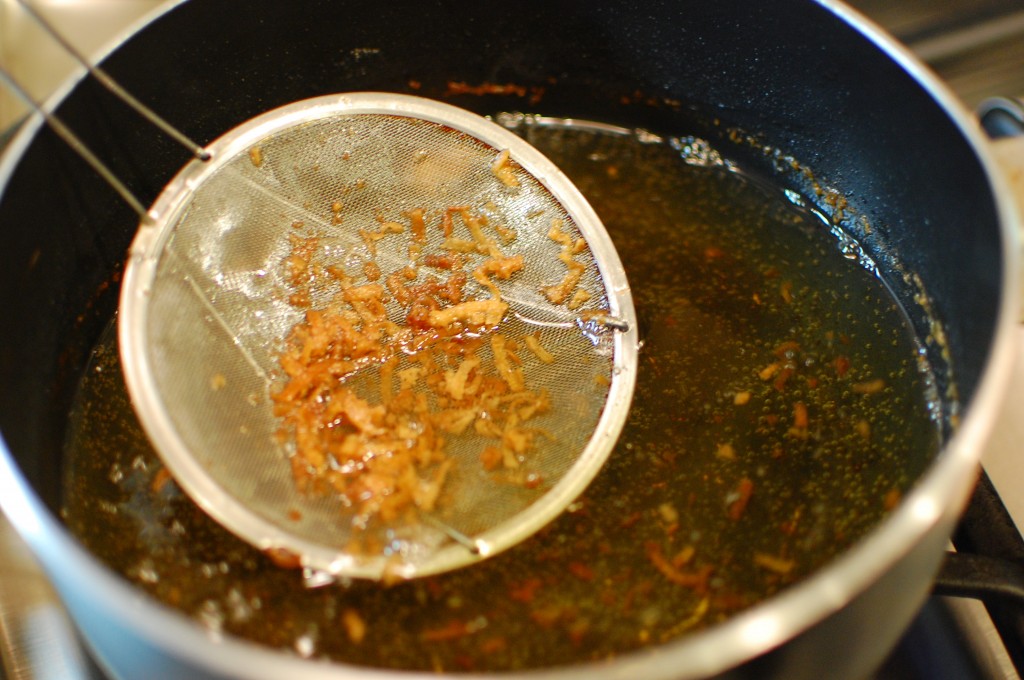 8.  Drain over a rack, and keep warm in a 200 degree oven.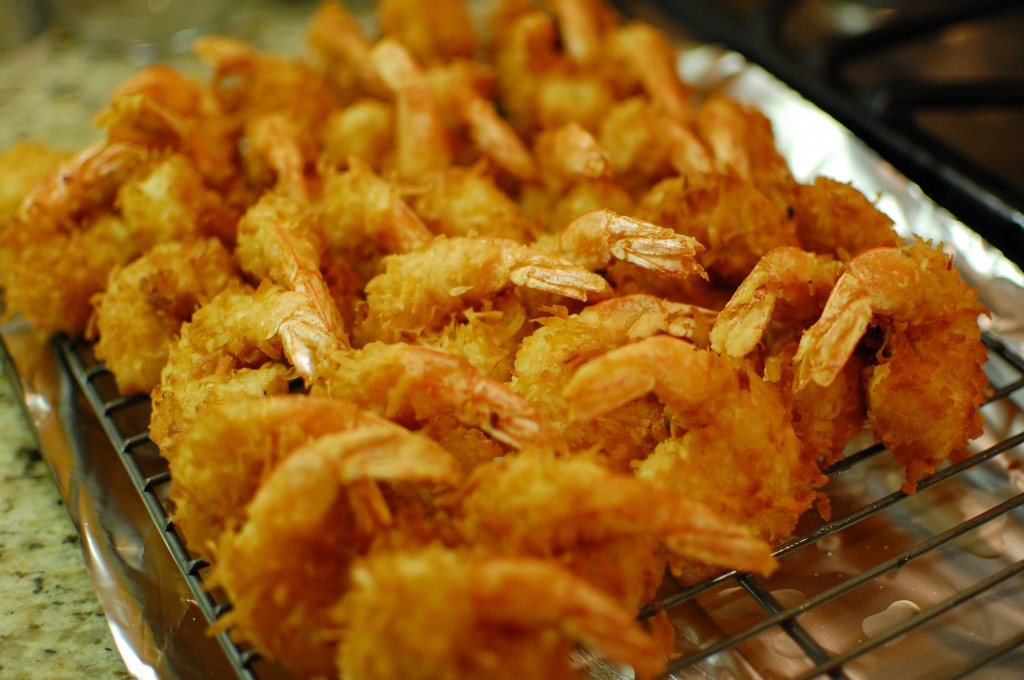 9.  To make the dipping sauce, mix the jam, horseradish, mustard, sriracha, and chili pepper flakes.  Thin with warm water to your desired consistency.