Six years ago, when we first moved to North County San Diego, there was a Krispy Kreme Doughnut shop less than a mile from our house. It was awesome! When the "Hot Doughnuts Now" sign was flashing, we would go through the drive through and pick up a box (or two). And weekend mornings… we would stop in for their $1.99 special of two donuts and a cup of coffee (my husband's favorite – sweet, and cheap). Not too long afterwards, that location shut down unexpectedly (I don't know why – they were always busy, always crowded). I still remember the look on my husband's face when we pulled up in the parking lot and realized it was out of business…
In order to get our Krispy Kreme fix these days, we have to wait until we are going up to Orange County and stop at the Krispy Kreme in Mission Viejo on our way home – which is not that often. So basically, we never get to eat donuts anymore.
A few days ago my husband was reminiscing (or whining – whatever you want to call it) about how much he misses the Krispy Kreme we used to have in our town. Since I had perfected my soft bread-like recipes – including Japanese Milk Bread, An Pan (Red Bean Buns), Cream Pan (Custard Buns), Pineapple Buns/Melon Pan, and Coconut Milk Bread… I figured, donuts should be pretty easy since the dough is similar.
I did make a mistake though. The first time I made these donuts, I used bread flour – which works great in actual "bread" – but is not so good for donuts. They ended up a little bit too chewy – good, but not perfect. Last night I made these again – this time using lower protein all purpose flour (less protein means less gluten development – which gives a softer, less chewy texture to the dough). After my husband ate the 4th donut (silently, with no comments) – I knew this recipe was a winner! Now we can have donuts whenever we want!
(This recipe has been featured by the Huffington Post's Kitchen Daily section as "13 Donut Recipes worth lusting over". Thanks so much to the Life & Style editors who selected my recipe as one of the 13!)
Dough:
2 1/2 c. all purpose flour
4 T. sugar
3 T. unsalted butter
1/2 tsp. salt
1/2 c. milk
1 egg
2 tsp. yeast
1/2 c. tangzhong
Tangzhong:
1/3 c. all purpose flour
1 c. water
Glaze:
2 c. powdered sugar
1/2 tsp. salt
1 tsp. vanilla
2 T. water
1. Make the tangzhong and the dough. For detailed instructions, see my post on Japanese Milk Bread (this is the same dough recipe – just with all purpose flour instead of bread flour). Basically, the tangzhong is a water roux made from cooking the flour and water over medium heat until thick and swirl lines appear – then you let it cool. Then, dump all of the dough ingredients into a bread machine, and set it to the "basic dough" function. (You can make this dough by hand or in a stand mixer with a dough hook – knead about 15 minutes until the dough can be stretched to form a windowpane. Cover and allow to rise 45 minutes, then punch down and allow to rise another 30-45 minutes.)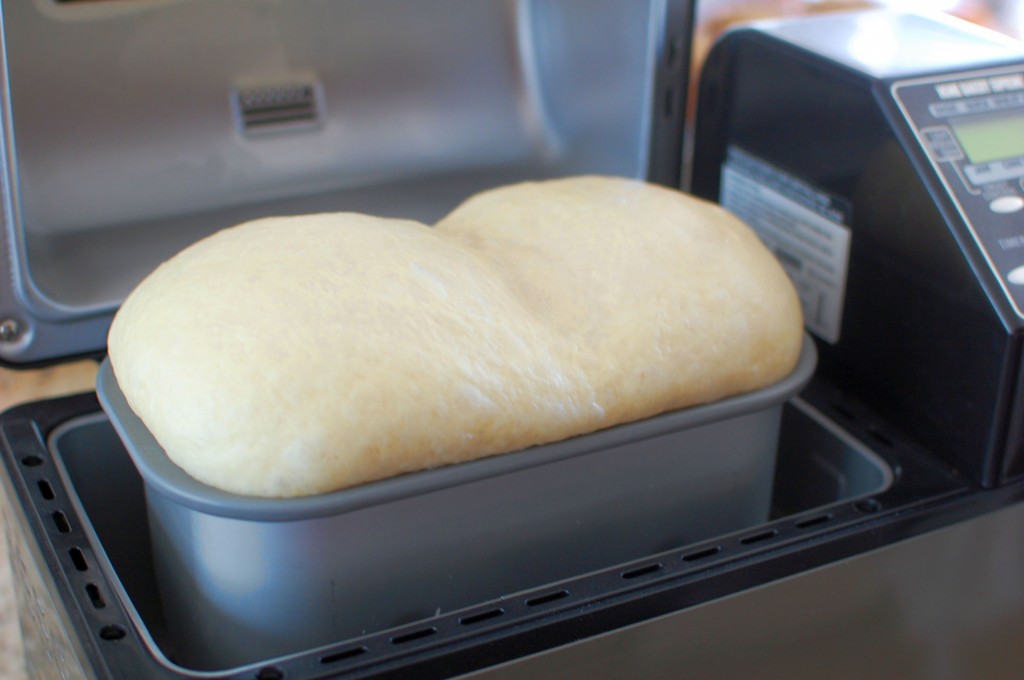 2. When the dough is done, roll it out into a rectangle on a floured surface – somewhere between 1/4 inch and 1/2 inch thick.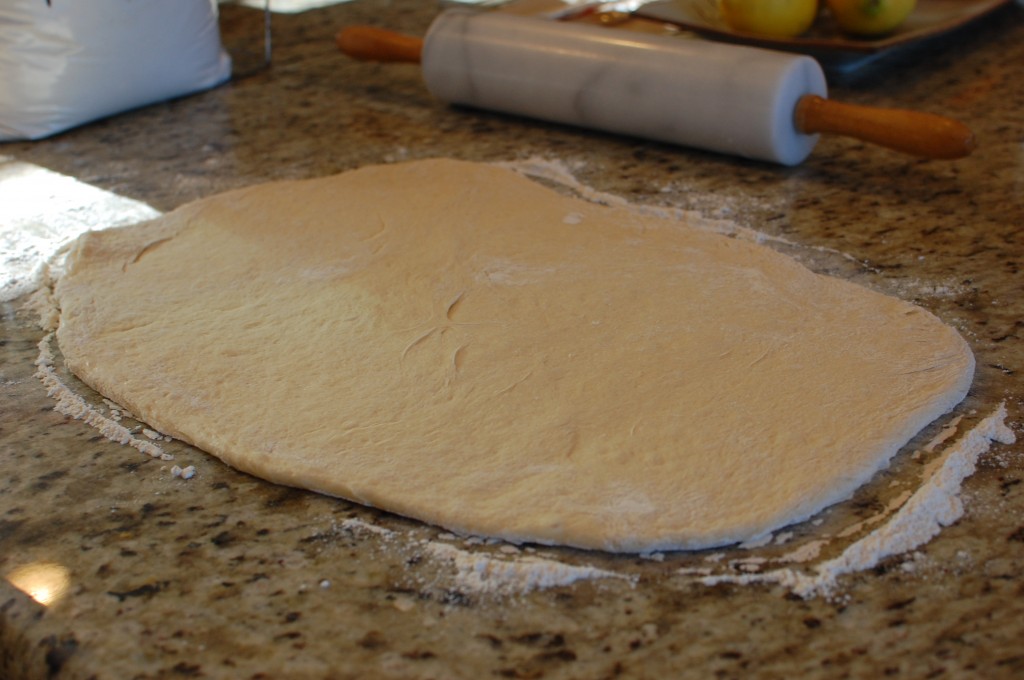 3. Use a large 3″ round biscuit or cookie cutter to cut large circles, then use a smaller 1″ cutter to cut the middle. I got about 14 donuts from my dough. (With the remaining dough scraps you can knead them together and use to make dinner rolls or a small loaf of milk bread. Or, you CAN re-roll the scraps and cut out more donuts if you like – but I wouldn't re-roll the scraps more than once, otherwise the dough will get too tough. If you re-roll the scraps for donuts, you might need more glaze – consider doubling the glaze recipe so that you have enough.)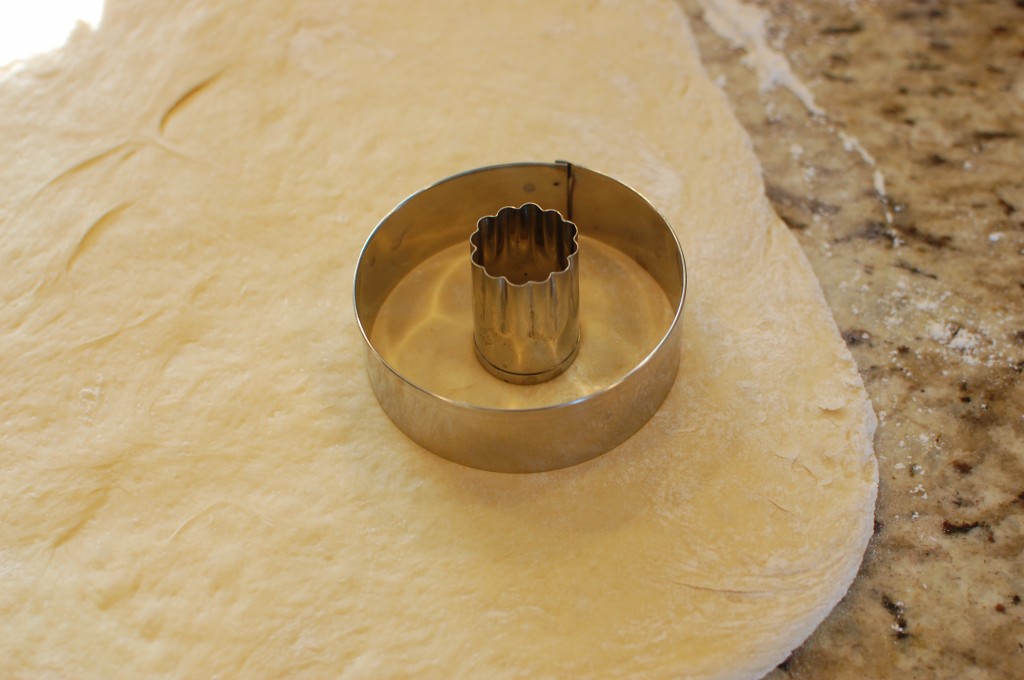 4. Use a flat spatula to move the cut out donuts to a floured baking sheet. Cover loosely with plastic wrap (don't let the donuts touch each other!), then set in a warm place to rise for about 1 hour, loosely covered with plastic wrap. (I put them in a cold oven, close the door, and turn on the oven light – the heat from the light is usually enough to make a nice environment for the rising donut dough.)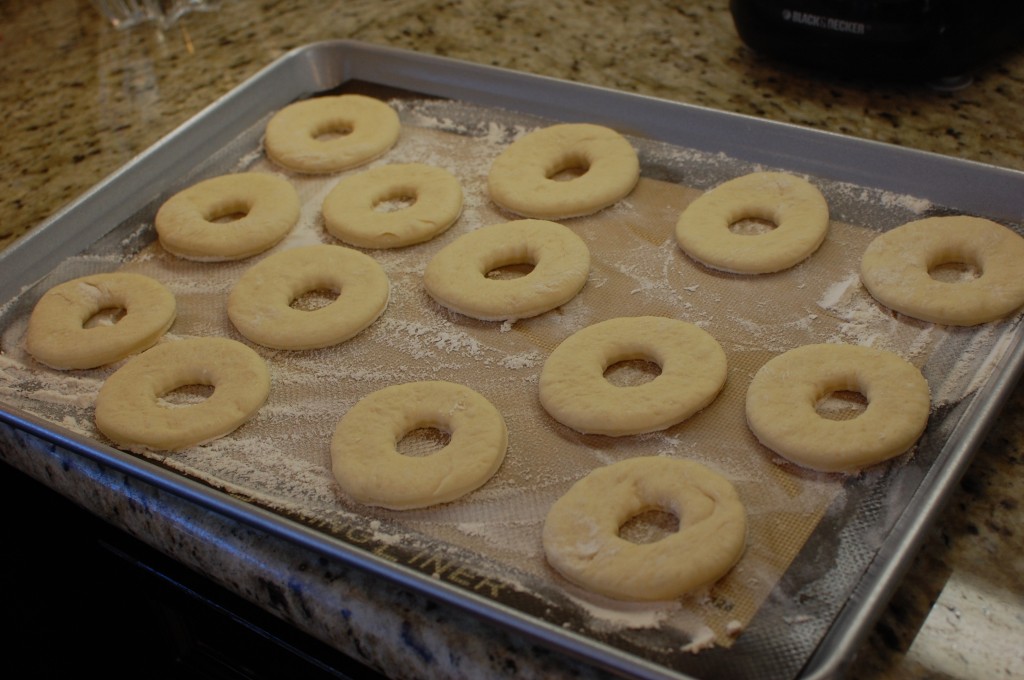 5. Make the glaze by whisking all the ingredients together.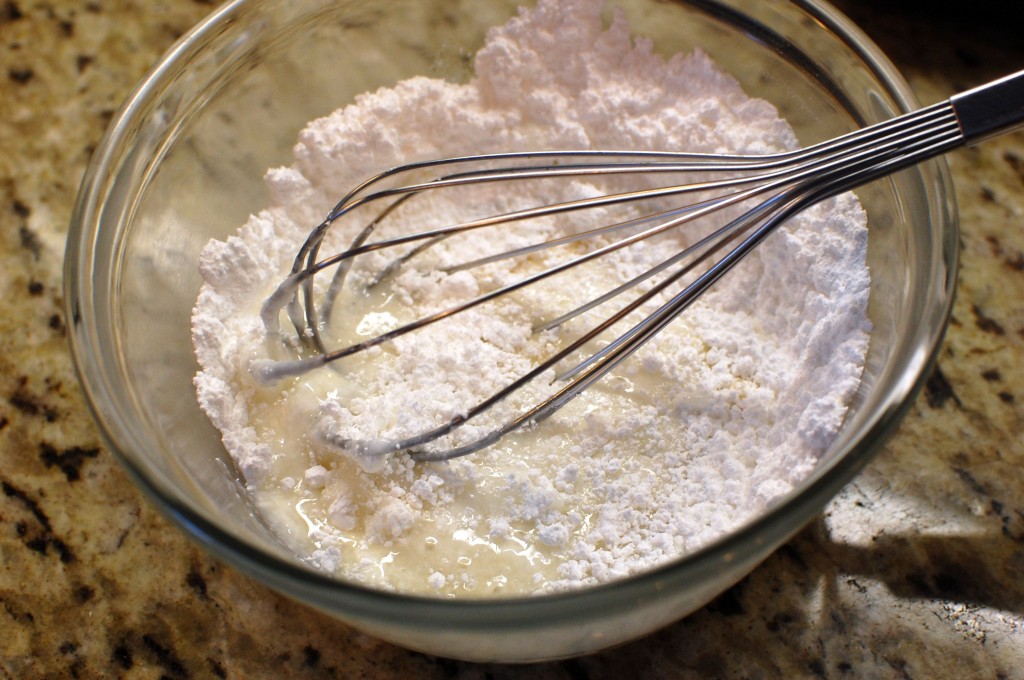 6. Heat about 1-2″ of oil in a large pot or pan. (I used canola oil, and decided to fry the donuts in a wok.) Heat the oil up to about 375 degrees F (190 degrees Celsius) – this is the proper temperature for deep frying.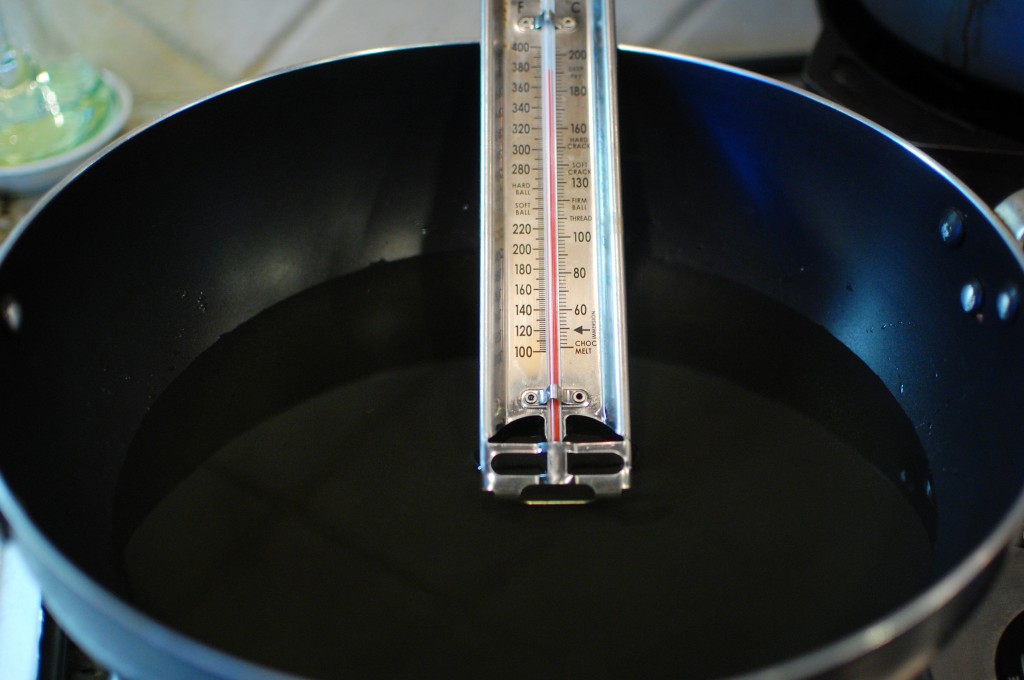 7. Carefully lower a few donuts into the hot oil, and fry for 30-45 seconds.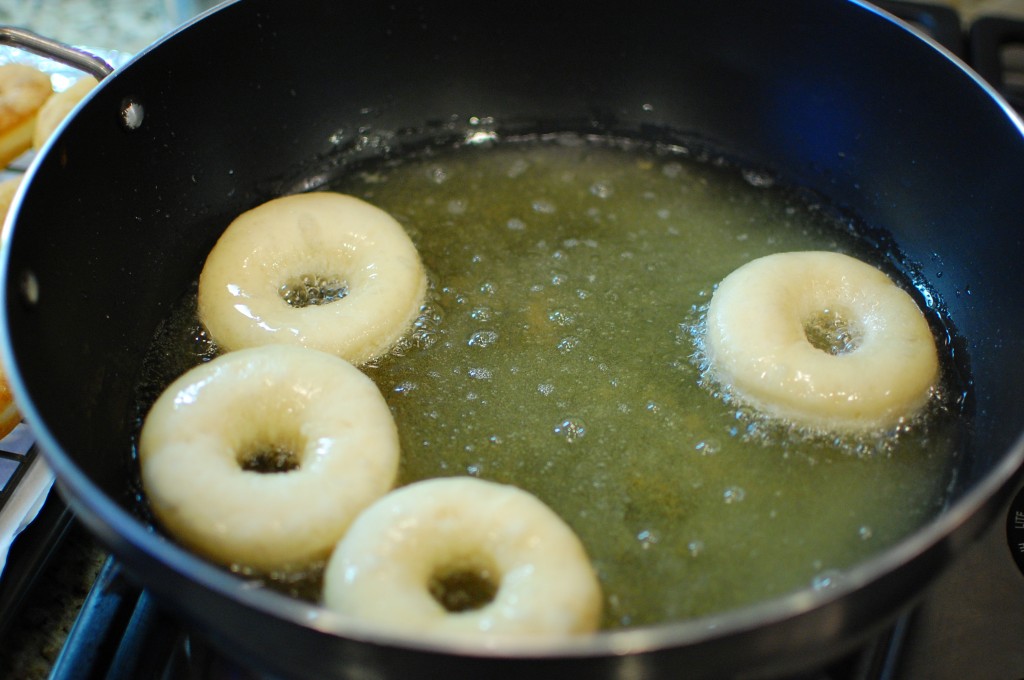 8. Insert a chopstick into the hole, then flip over. Fry for another 30-45 seconds, then remove to a rack to cool.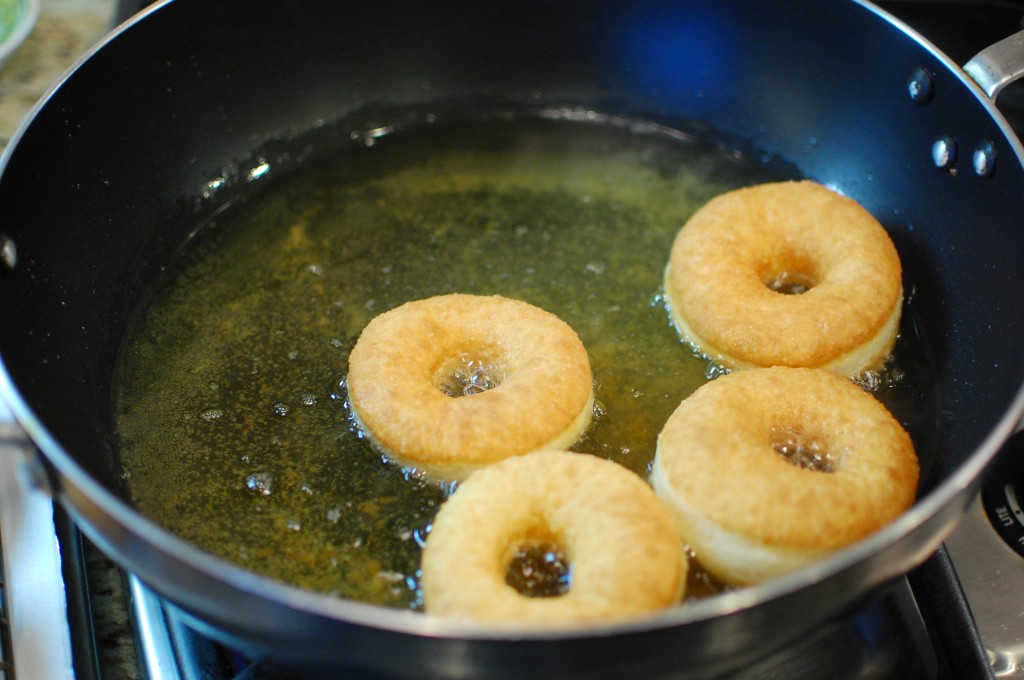 9. When done – and cool enough to handle without burning your fingers, dunk each donut halfway into the glaze to coat.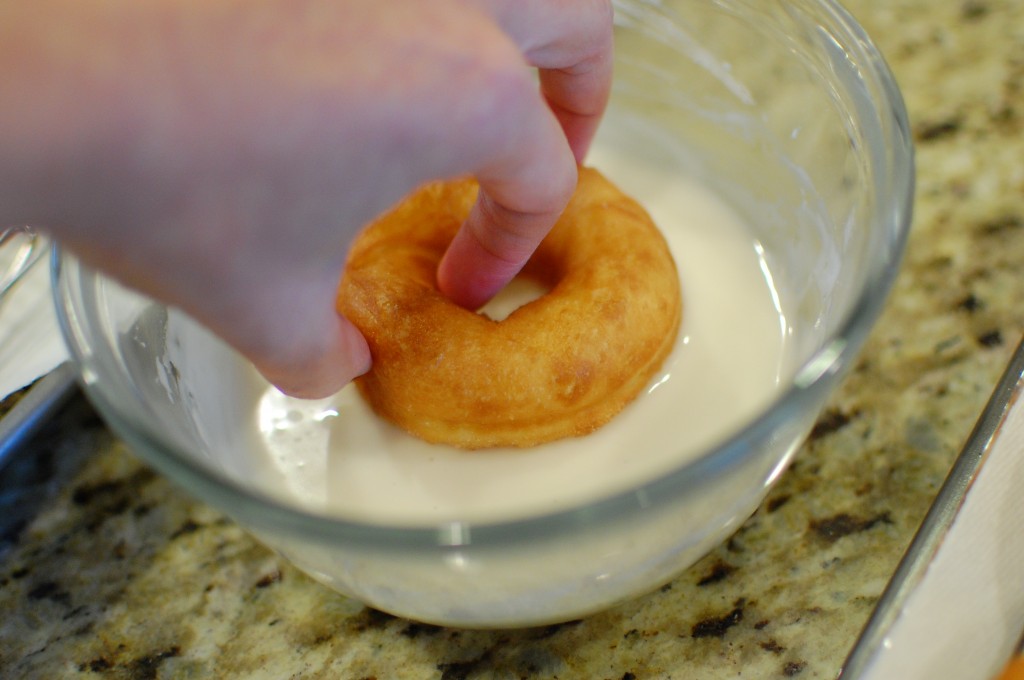 10. Flip over, then set on a clean rack – allow the glaze to set for about 5 minutes before serving. It's best to make these right before you want to eat them so that they are fresh.