The other night, I was in the mood for KFC… but too lazy to go get it.  Plus KFC is expensive these days!  It's almost $30 for an 8 piece meal with sides and biscuits!  Crazy expensive!  Earlier in the day, I had purchased a rotisserie chicken from the grocery store… and figured I would try to doctor it up to see if I could make something somewhat "KFC" tasting.
While this chicken casserole bake is not exactly KFC, it tasted pretty similar, and satisfied my KFC craving pretty well, for about 1/2 the price!  I think this recipe is going to go in rotation for my "go to" comfort meals!
I used a whole rotisserie chicken, with skin removed and de-boned.  But you can use any chicken meat you want – you will want about 1 pound of cooked, shredded chicken meat.  If you do use a rotisserie chicken, save the bones and skins to make chicken stock (once the stock is cool, I pour it into a gallon Ziploc bag and store in the freezer until I feel like making soup).  Morton's season all salt is pretty similar to Lawry's seasoned salt – use whichever one you have in the pantry.
KFC chicken casserole bake:
1 whole cooked rotisserie chicken
1 can cream of chicken soup
1 c. sour cream or lite sour cream
1 envelope brown gravy mix
1 sleeve Ritz crackers (about 33 crackers), crushed
1/4 c. unsalted butter
2 tsp. Morton's season-all salt (seasoned salt)
1/2 tsp. black pepper
1.  Shred the chicken meat, removing bones and skin.  You should have a little over 1 pound of cooked meat. (You can use the skin and bones to make soup stock later.)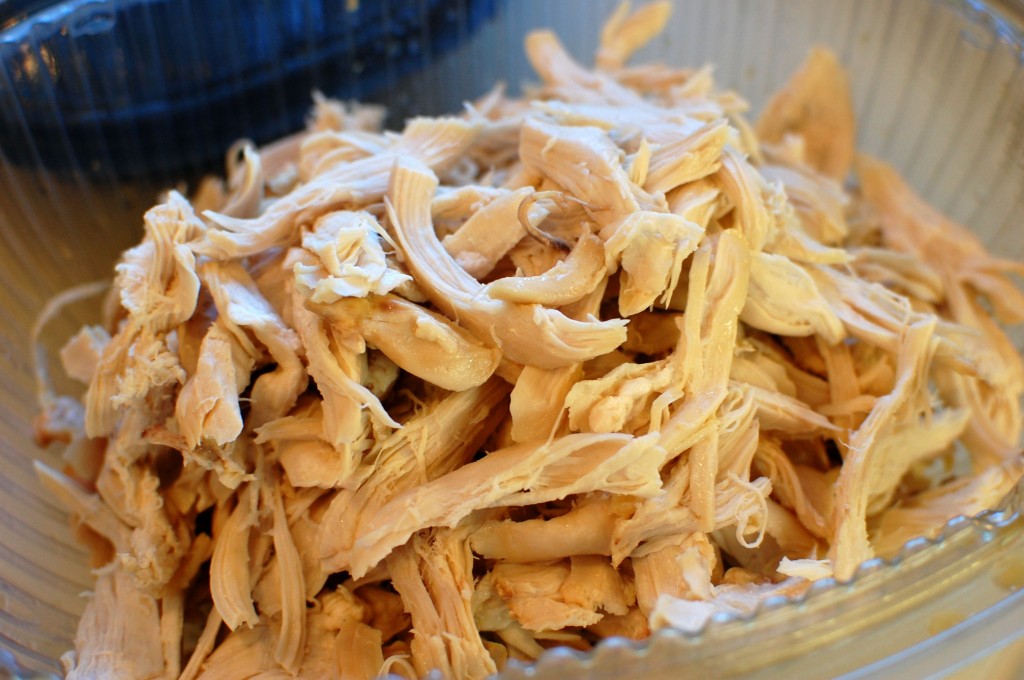 2.  Mix the chicken meat, cream of chicken soup, sour cream, 1/2 envelope of brown gravy mix, 1 tsp. seasoned salt, and black pepper in a bowl.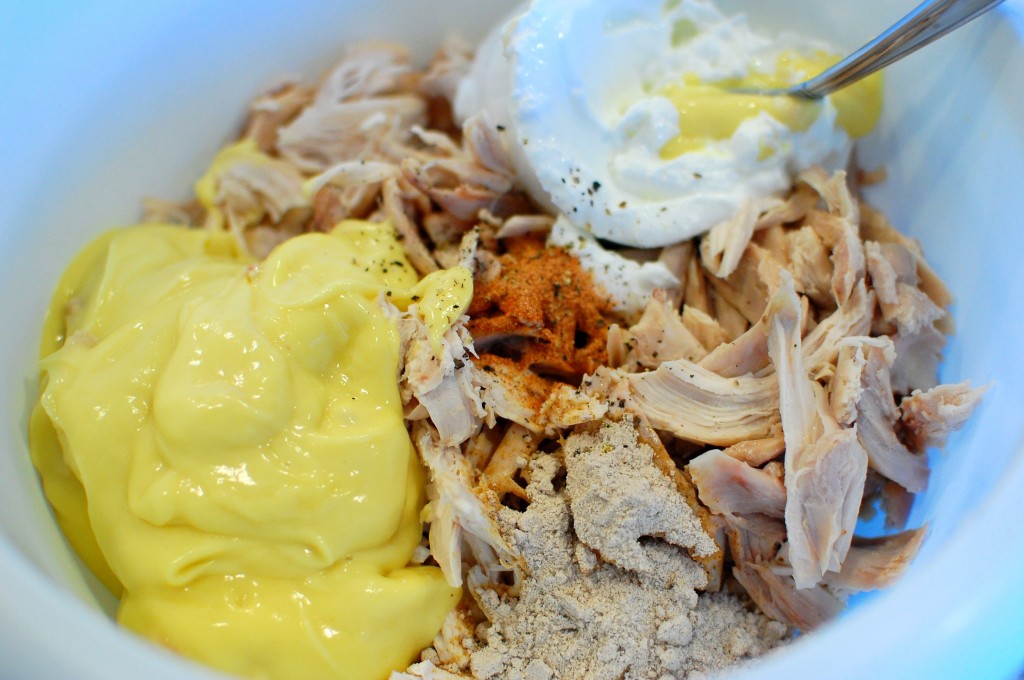 3.  Spread the chicken mixture into a 9″ X 13″ baking pan.  (I lined mine with non-stick foil for easy clean up.)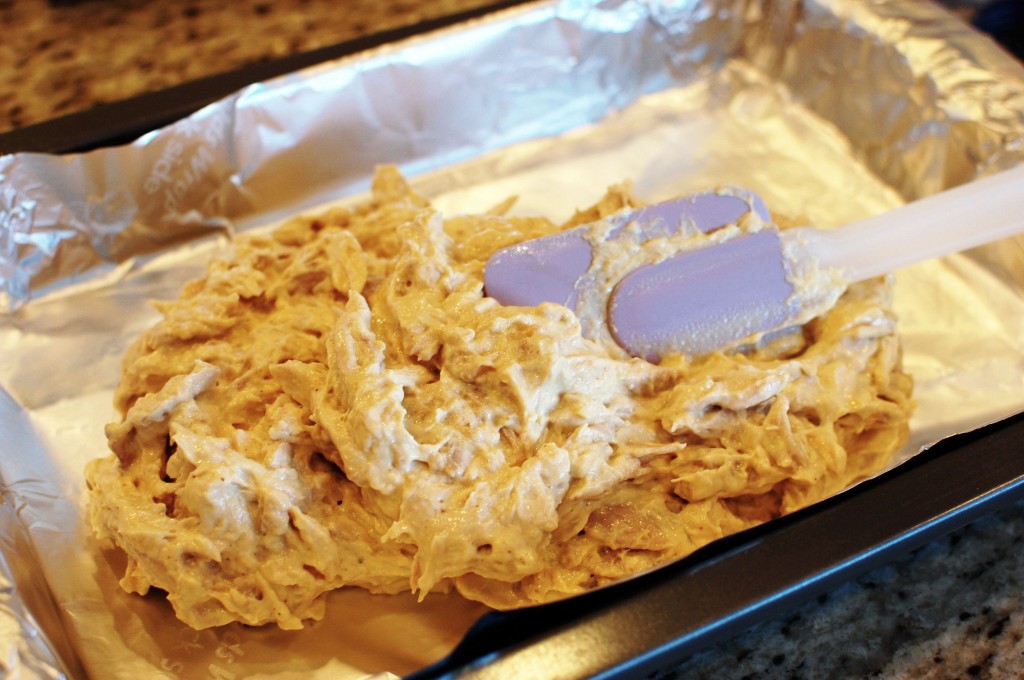 4.  In the microwave, melt the butter in the bowl (about 30-45 seconds).  Mix in the crushed Ritz crackers, 1 tsp. seasoned salt, and leftover 1/2 package of brown gravy mix.  ( If you are not using unsalted butter, you might want to leave the seasoned salt out – taste the mixture first before adding the salt in!)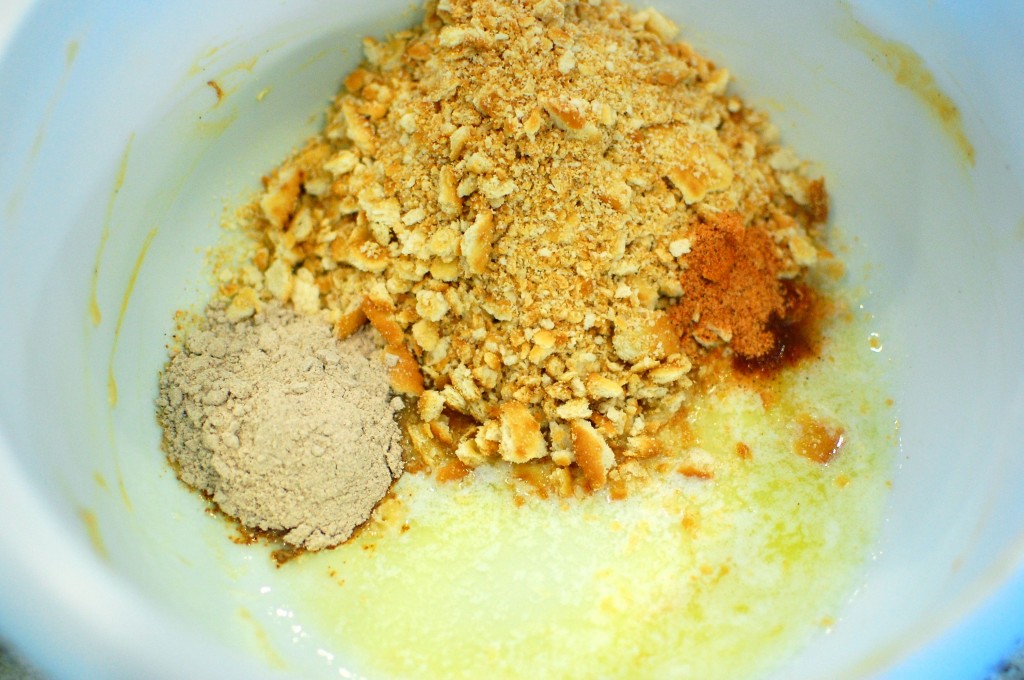 5.  Spread the seasoned cracker crumbs over the chicken mixture.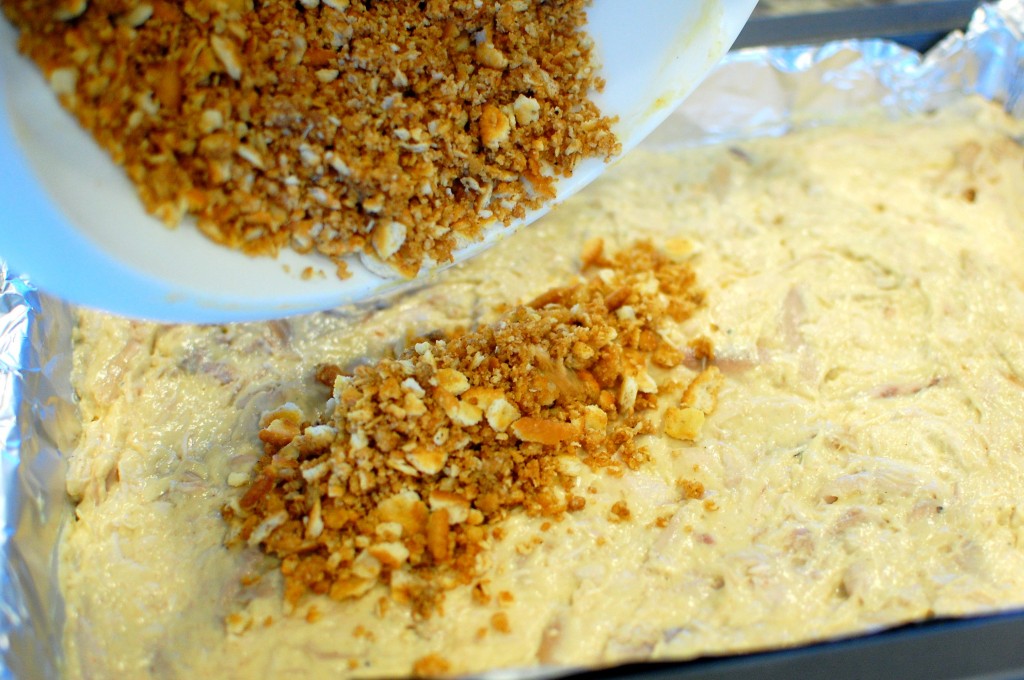 6.  Bake at 350 degrees for 30 minutes.  Makes 6 servings.  Serve with mashed potatoes and corn!