A few weeks ago, someone left an unopened 20 oz. bottle of Coca Cola at our house.  I left it in the refrigerator… but my husband doesn't drink soda, and I prefer diet Coke over regular.  What was I going to do with this bottle of Coke taking up space in my refrigerator?  My problem was solved when I came across a recipe for "Coca Cola Cake" while reading online.  Apparently, this cake is famous in the Southern United States – and was created by a woman in Atlanta, Georgia many years ago.
I followed the recipe on the Coca Cola website, but made a few minor changes in procedure compared to the official heritage recipe.  I crossed my fingers, and hoped the cake would be ok…
OMG!  This cake is to die for!  The frosting is fudge-like and amazing, the cake is flavorful and moist… I think this might be my new favorite cake, as it combines my two favorite flavors;  chocolate and Coke!   Although the cake contains mini-marshmallows (which I don't like)… the marshmallow pieces melt and combine with the cake batter to make it extraordinary… so you won't accidentally bite into a chunk of marshmallow!  Have a slice of this cake warm, or cold, with a tall glass of milk or cup of black coffee.  Yum!
Coca Cola Cake:

2 c. flour
2 c. sugar
1 tsp. baking soda
1/2 tsp. salt
1/2 c. unsalted butter
1/2 c. canola oil
3 T. unsweetened cocoa powder
1 c. Coke
1 1/2 c. mini marshmallows
1/2 c. buttermilk (or 1/2 c. milk + 1 tsp. vinegar)
2 eggs
1 tsp. vanilla extract
Coke Frosting:
1/2 c. unsalted butter
1/2 tsp. salt
3 T. unsweetened cocoa powder
6 T. Coke
4 c. powdered sugar
1 tsp. vanilla
1 c. chopped pecans
1.  Preheat oven to 350 degrees, and prepare a 9″ X 13″ pan by lining with foil and spraying with non stick spray (for easy removal and clean-up).  Sift the sugar, flour, baking soda, and salt in a large bowl.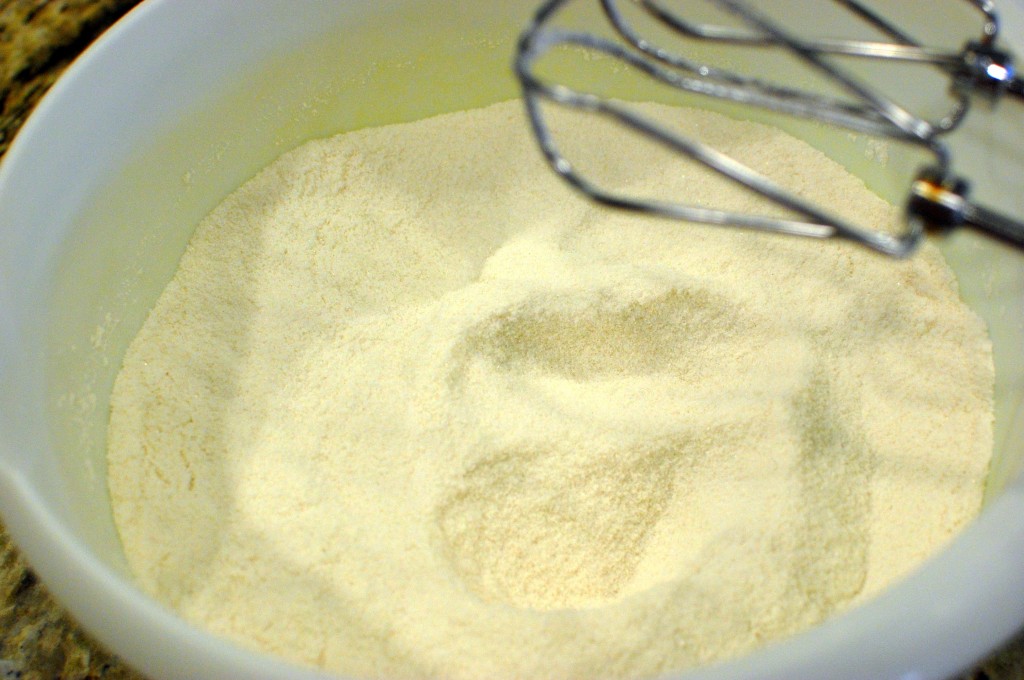 2.  In a medium saucepan, heat the butter, oil, cocoa powder, and coke to a boil.  Add the marshmallows and remove from heat.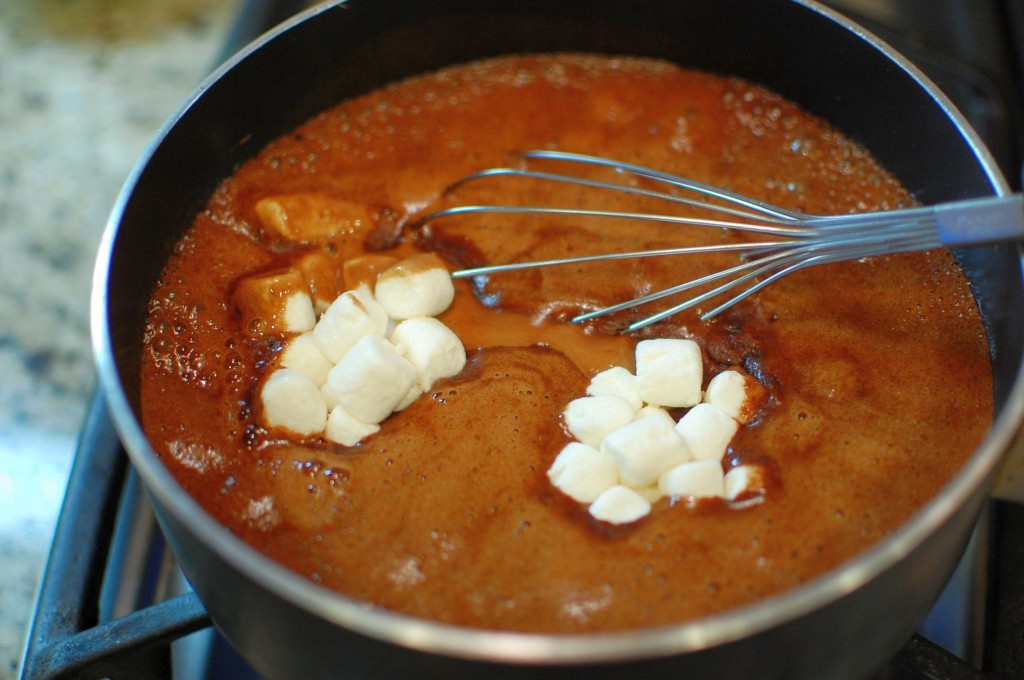 3.  Pour the hot coke mixture into the dry ingredients, and blend with an electric mixer until combined and all the marshmallows are melted.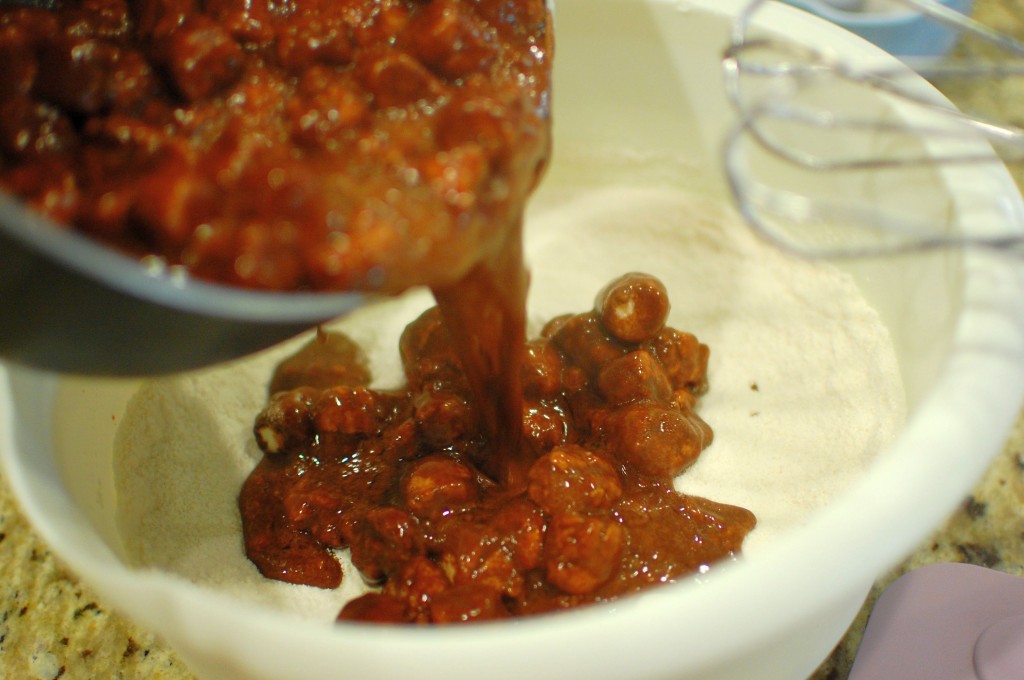 4.  Add the buttermilk, eggs, and vanilla.  Blend until you have a smooth batter.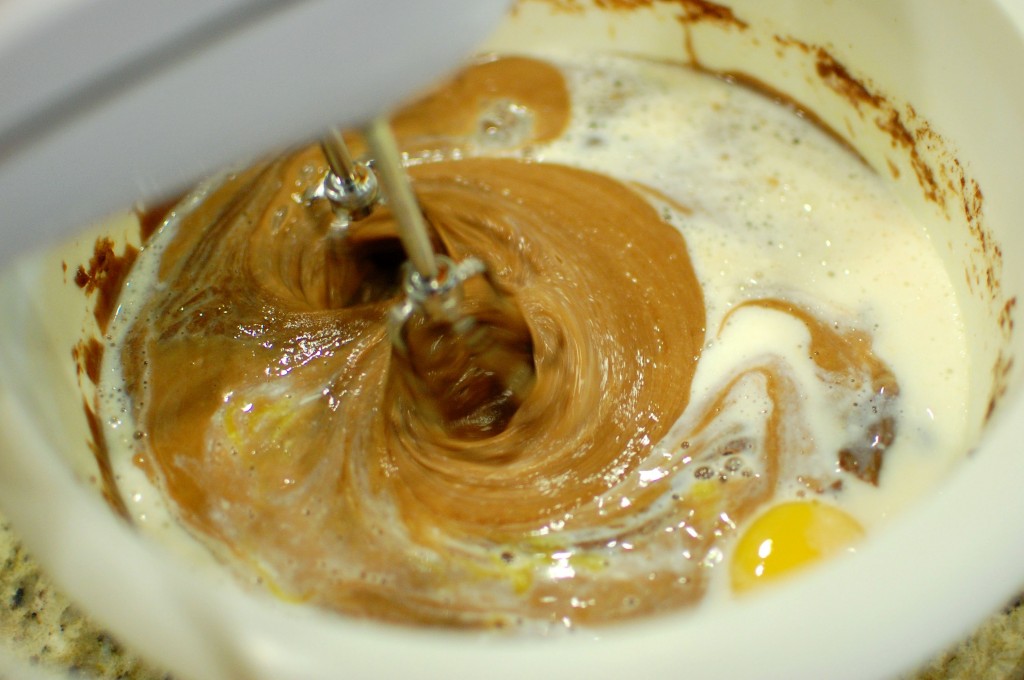 5.  Pour the batter into the prepared pan, and bake for 35 – 40 minutes until done (cake springs back when touched lightly).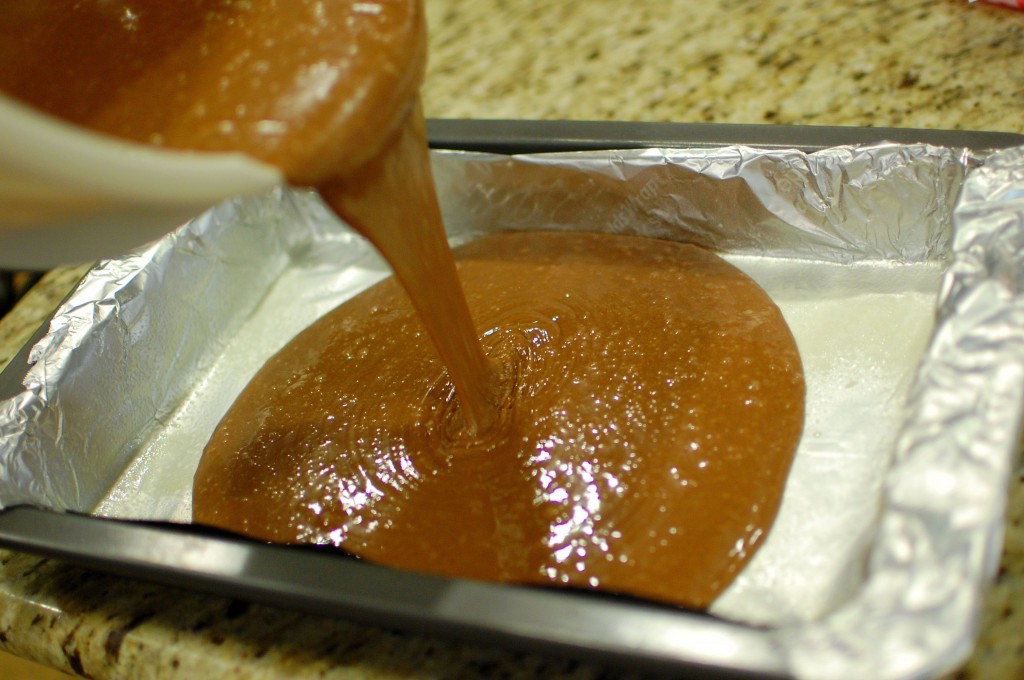 6.  In the last few minutes of the cake baking, make the frosting.  Heat the butter, salt, cocoa powder, and coke in the saucepan.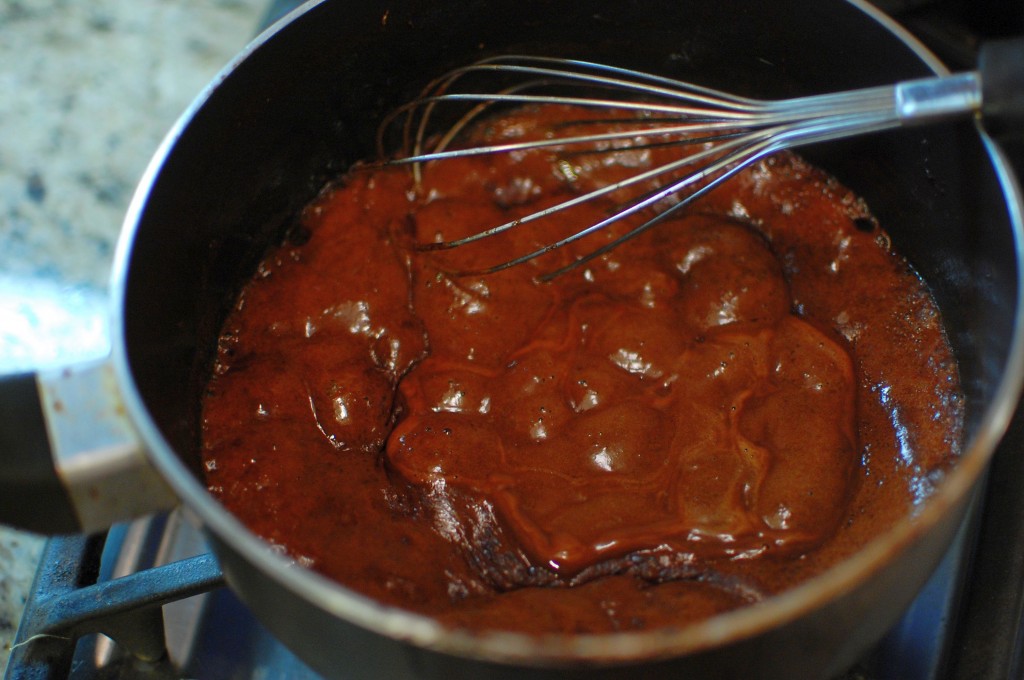 7.  When boiling, pour over the powdered sugar, and mix.  Add in the vanilla and chopped pecans.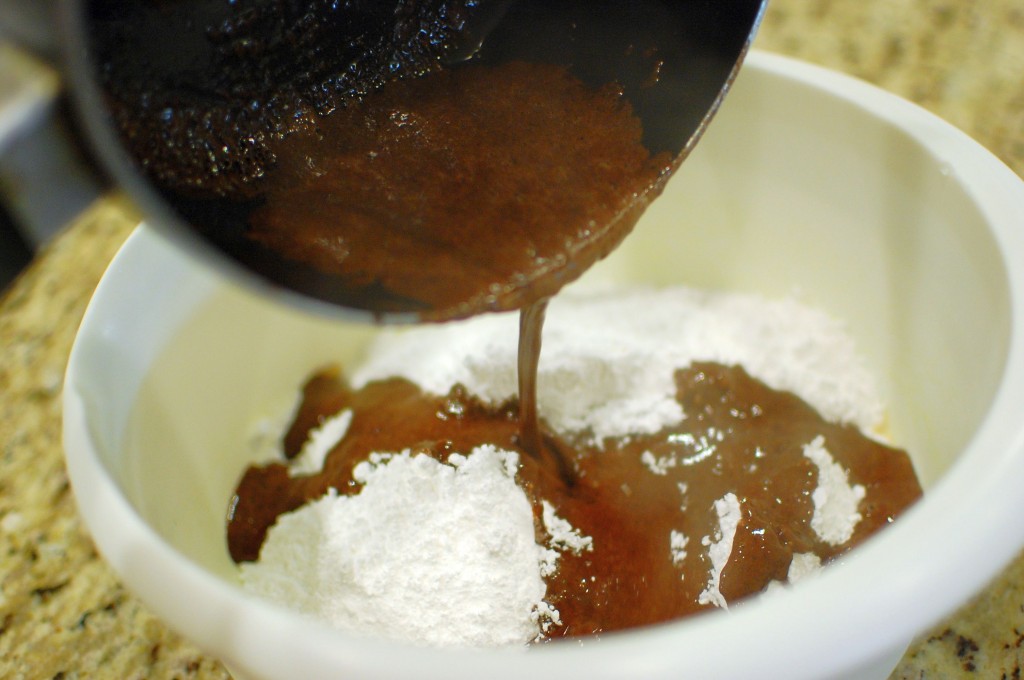 8.  Pour the hot coke frosting over the warm cake, spread over the surface, and allow to cool.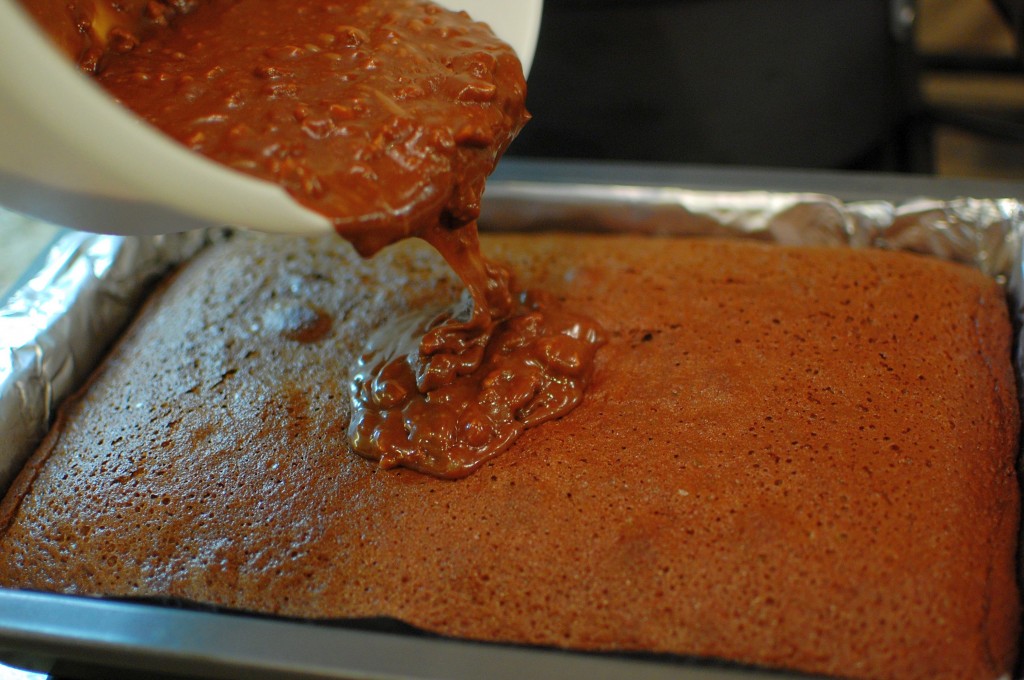 9.  When cool, cut into squares and serve!