My brother-in-law is in town this week – his production company is promoting their "Awkward Animal" line of stuffed animals at Comic-con.  These stuffed animals are SO freaking cute!!!!  They have a panda, rhino, turtle, bunny, octopus, frog, elephant, and penguin.  My favorite one, though, it the Awkward Panda.  He's just so silly and adorable!  He can't stand on his feet – but he can balance on his head, or on his side… and his tongue is hanging out like he's trying really really hard!
So last night, after a late dinner, Ted was showing us his new business cards – with Awkward Panda's face as the design on the entire front of the card.  It got me thinking… what else can we make with the Awkward Panda?  In the back of my head for the last few weeks, I was considering making Rolled Cookies with Royal Icing to put on my blog.  The problem with that, is that sometimes the designs you can make with rolled cookies can be so boring, and you are limited by the cookie cutters that you have.  Hearts, flowers… while they are certainly fun to make, and lovely – again, it's the same old flower shape every year!  So this year, Awkward Panda came to the rescue!!!
You actually don't need cookie cutters to make rolled cookies!  Use my technique below to make rolled cookie cut-outs in any shape you desire – obviously the more simple, the easier to make.  You don't want to attempt anything that has too many nooks and crevices.  Sketch your design, cut out the outline on cardboard – then using the cardboard as a template cut around the template with a paring knife (see below).  Voila!  Instant (disposable) "cookie cutters"!  (Obviously, if you already have cookie cutters in the shape you want to use… then use those.  But no need to limit yourself anymore!)
For the royal icing, I like to use Meringue Powder.  It's safer than using raw egg, and can be stored in the pantry.  You can also use pasteurized egg whites (they sell it in a carton in the refrigerated section of your supermarket) – but will need to decrease the water in the icing recipe.  The nice thing about royal icing is that it dries hard – so once set, your designs will not smudge.  If you want light tinted colors, you can use regular liquid food coloring.  However, any bold or bright colors (like red or black) require the use of paste food coloring – which is much more vibrant and pigmented.
This cookie dough will hold up well and your shapes will not get distorted by "spreading" when baking – but you MUST refrigerate the cut out shapes for at least 10 minutes before popping in the oven.  Also, I like to bake the cookies in the center of the oven, one sheet at a time.  What cookie shapes will you make?  Tell me in the comment section! 
Cookie Dough:
1/2 c. unsalted butter
1/2 c. sugar
1 tsp. salt
1 tsp. vanilla extract
2 tsp. baking powder
2 eggs
2 1/2 c. flour
Royal Icing:
1.  In the work bowl of a food processor, cream the butter and sugar.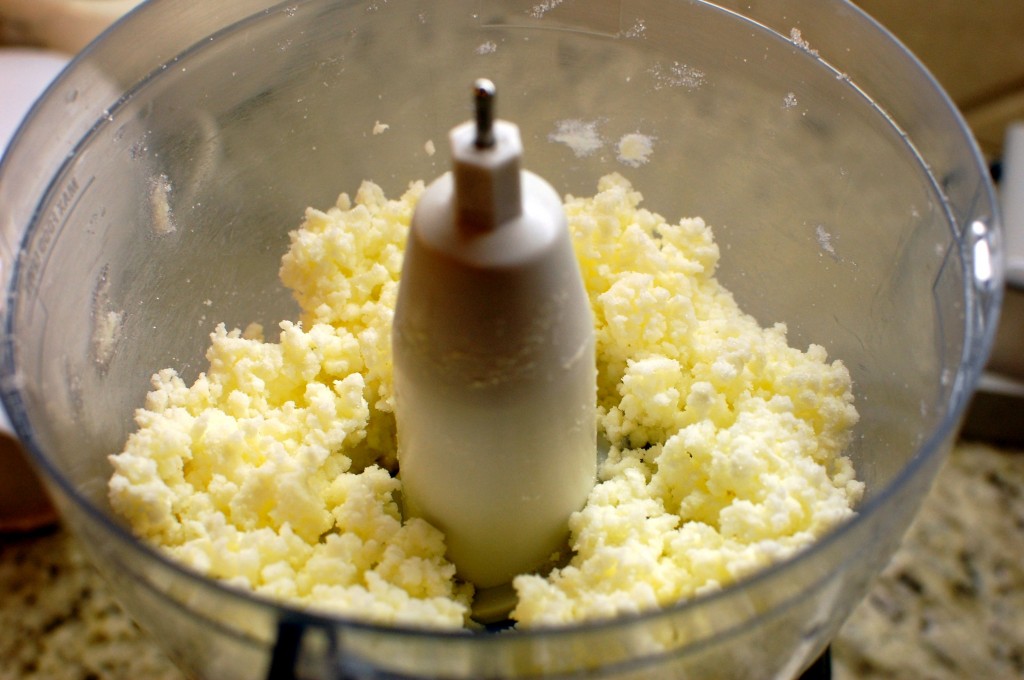 2.  Add the eggs, salt, vanilla extract, and baking powder.  Pulse until smooth.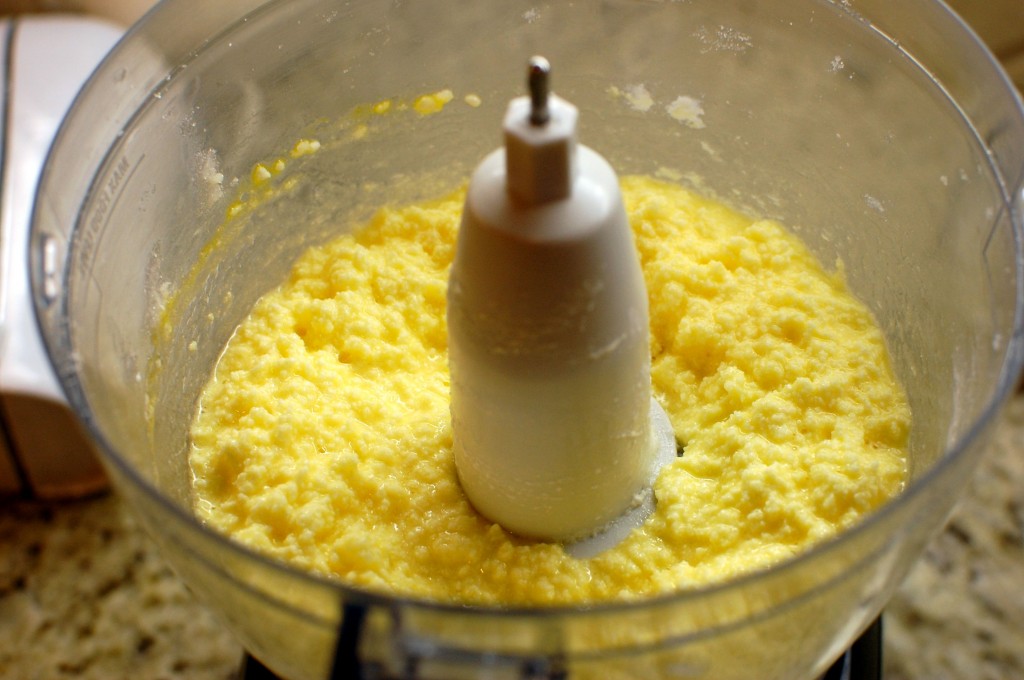 3.  Add the flour, and process until you have a smooth dough.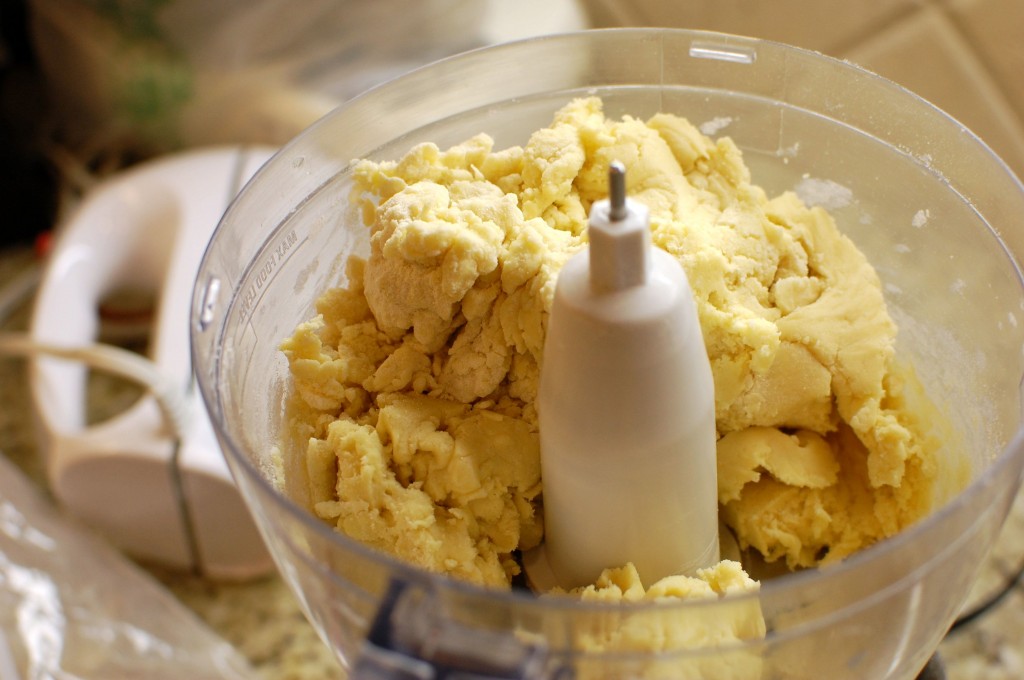 4.  Chill the dough for 1 hour in the refrigerator.  (Sorry, no picture of the dough chillin' in the fridge!)
5.  While chilling, make your cardboard shapes (to trace with a paring knife).  I sketched an Awkward Panda on a piece of paper, then cut that drawing out and traced it onto some cardboard.  Then I cut the cardboard shapes out.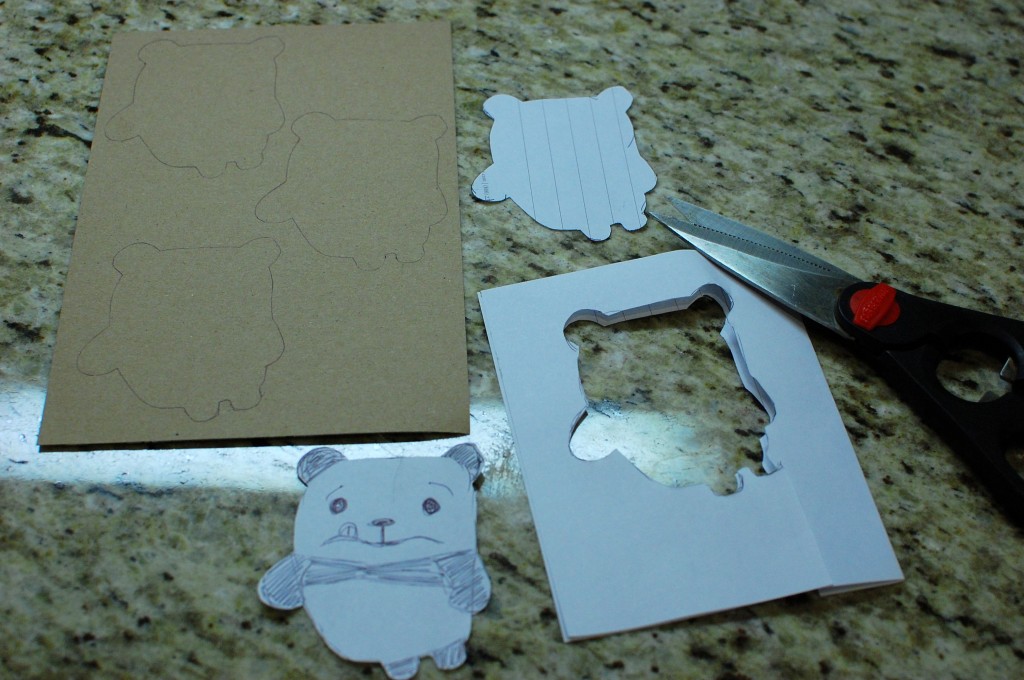 6.  When the dough is chilled, roll out to 1/4″ thickness, using a little bit of flour to prevent sticking.  (Make sure the surface underneath the dough is floured so the cut out shapes do not stick.)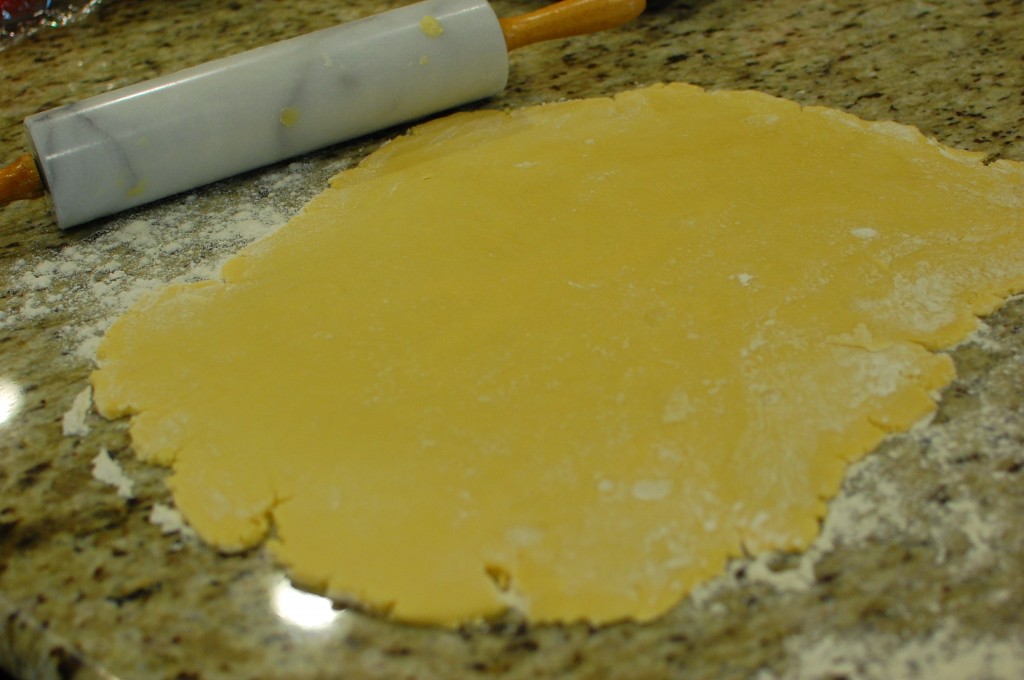 7.  Place the cardboard shapes on top of the dough, and use a paring knife to carefully cut around the edges.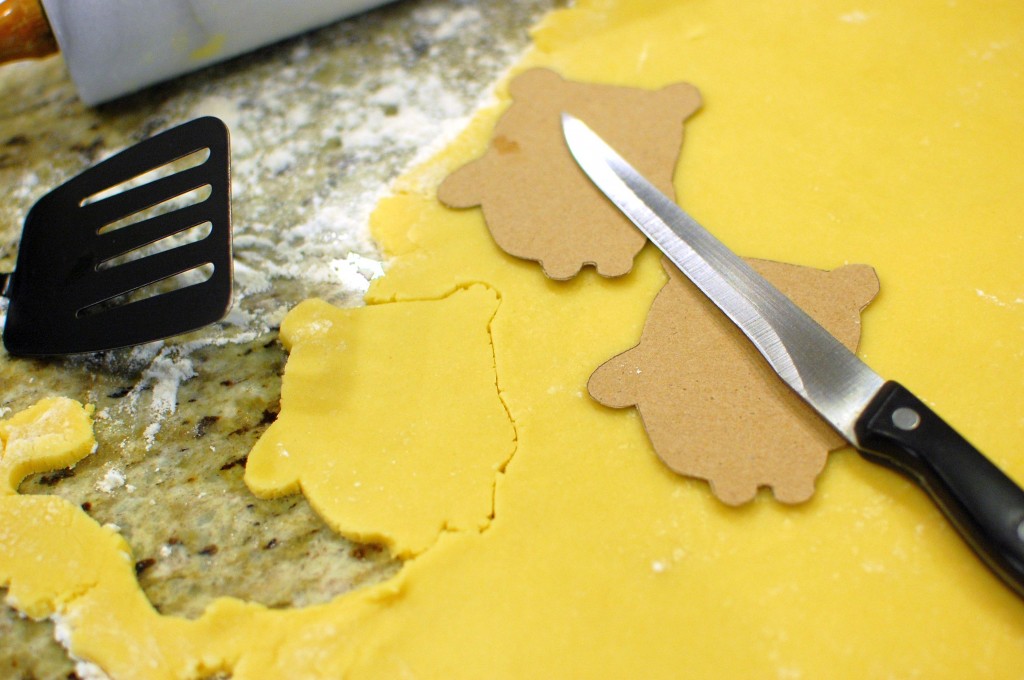 8.  Use a thin flat spatula to carefully transfer the shapes onto a silicone mat lined baking sheet.  (You can re-roll the scraps and cut out more cookies – I got about 30 cookies with one batch of dough).  Chill the cookie sheets in the refrigerator for 10 minutes.  Don't skip this step!  Chilling the unbaked cookies prevents the dough from spreading and becoming distorted when baking.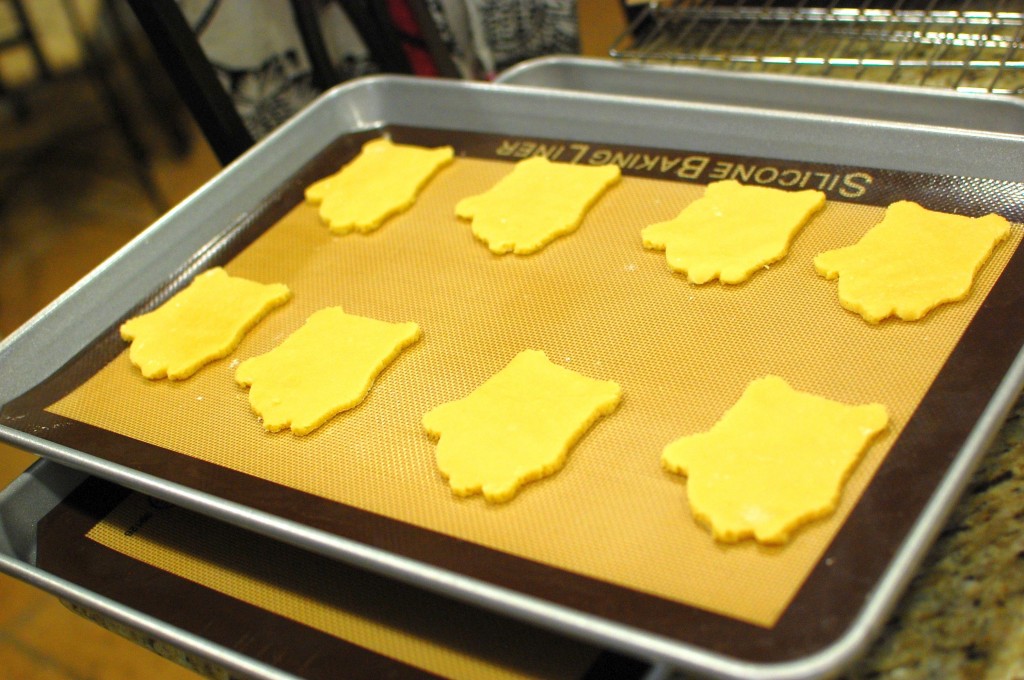 9.  Preheat oven to 375 degrees.  Bake the cookies, one sheet at a time, for 7-10 minutes until just golden on the edges.  Transfer to a wire rack to cool.  In my oven, these were done after 8.5 minutes.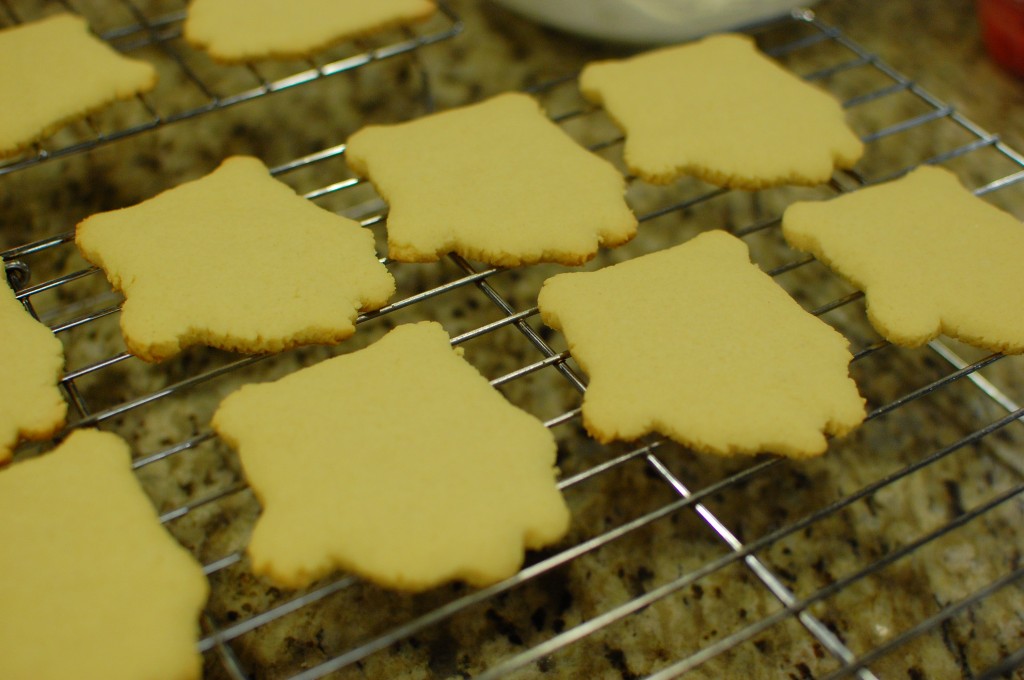 10.  While the baked cookies are cooling, mix the powdered sugar, water, and meringue powder to make the Royal Icing. (You may need to add more or less water depending on the humidity and weather in your area -start with less, then add more water if needed.) If you want other colors, put the proportion you think you will need into a separate bowl and tint with paste colors.  I used black and red paste colors… it took at least 1 tsp. of black paste coloring to tint a small amount of royal frosting black.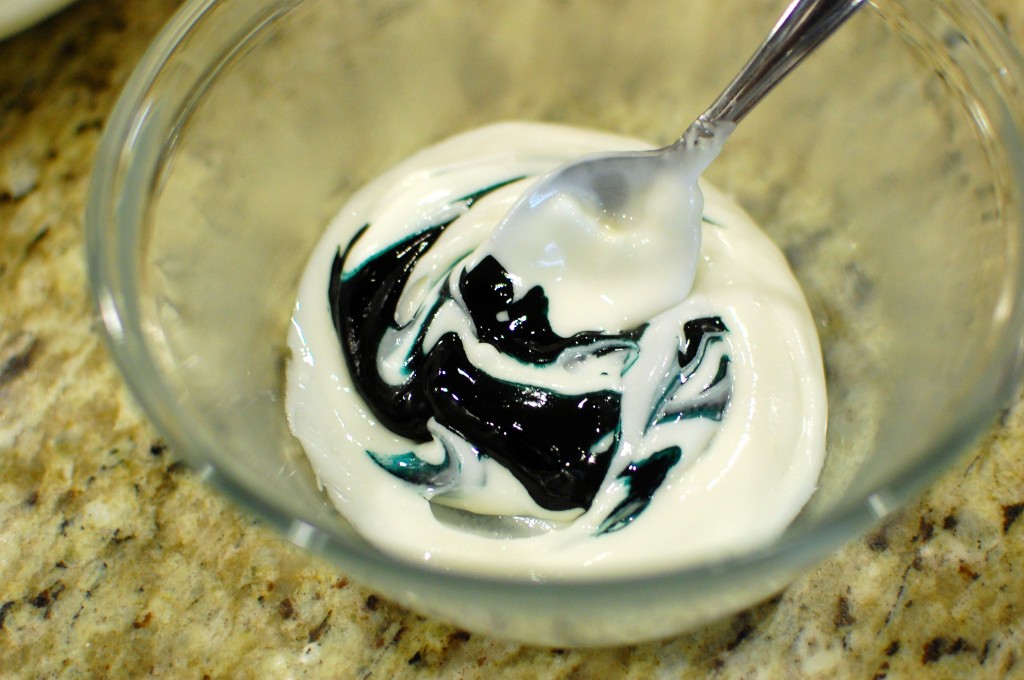 11.  Thin the white royal icing slightly with a teaspoon or so of water.  (You want a consistency thin enough that you can dip the cookies, but not too thin that all the icing will slide off.)  Dip the front of the cookie in the royal icing, then allow the excess to drip off before placing on a wire rack to set and dry.
12.  Once all the cookies are dry (about 1 hour), put the tinted icing into sturdy plastic ziplock bags (the thicker kind for freezer use – not the thin sandwich bags) with a small writing tip inserted into the corner.  (If you don't have a writing tip, just snip off a tiny piece of the bag corner.)  Pipe the design you desire onto the cookies.
13.  Now you are done!  Enjoy your Awkward Panda inspired Cookies!