When we were visiting Taiwan, I found myself incredibly car-sick.  I'm not sure what it was… I think a combination of jet lag, being really hungry, and being stuck in a car that was swerving side to side constantly while stopping and going abruptly (*cough* Uncle's driving *cough*).  Well, after being stuck in the car for 4 hours, on winding roads, partially in rush hour traffic… we finally arrived at the Raohe Street Night Market in Taipei.  I stumbled out of the car, barely able to walk… my nauseated stomach churning… and we began to walk through the market.  Boom!  The smell of stinky tofu hit me, and I thought I was going to pass out.  Motion sickness + strong smells = NOT a good combination!
We left the night market to find an air conditioned place to sit down so I could recover.  After walking a few blocks, my father-in-law motioned us inside an empty Dim Sum restaurant.  My husband tells me (in English) that we are going to order some food and tea so that I can sit there in the air-conditioning, and let my stomach calm down.  Empty restaurant, so food must not be that good, right?  WRONG!  The food started to come… Shrimp Har Gow, Pork Siu Mai, Fried taro balls… and some type of steamed custard bun that I had never had before.  My husband ate all of them, and ordered more!  Finally I was starting to feel better, and the second round of custard buns came out to the table, hot and fresh.  I bit into one… and OMG.  Probably the most delicious custard I have ever tasted in my life… sweet with a hint of saltiness (similar to the amazing salty-sweet combination of salted caramel) and the custard oozing like lava out of the steamed bao.  Words can not express how that bun made my horrible day 100% better!
So of course, figuring out how to make these buns became my latest mission!  But first, I needed salted duck eggs – I didn't have any!  So I did the next best thing, and began the process of making my own salted eggs, with chicken eggs… but it would be another 30-40 days before those would be ready.  (Try my Homemade Salted Egg Recipe!)  Luckily, my friend was headed up to Orange County to go grocery shopping, and she picked up some salted duck eggs for me.  (Now normally, I don't like salted eggs.  My husband LOVES salted egg yolk in moon cakes… but I don't.  But trust me – this custard is different – even a salted egg hater like me can't get enough!)
Since my first few attempts, I have made these buns several times – perfecting the recipe as I go – and I didn't find much of a difference in the custard between my store-bought salted duck eggs and my homemade salted chicken eggs.  One of the most important tricks is to freeze the egg custard portions solid before wrapping in dough and steaming.  I cannot emphasize this enough.  If you do not use frozen custard, the custard will cook to a gummy thick custard consistency (instead of being molten lava like custard), and it will explode out of the bao – you will have a mess.  (Unfortunately, I know this from experience.  Lol.)
You can buy instant nonfat dry milk powder in the baking aisle of your regular supermarket.  It doesn't need to be nonfat – but that's what I had, so that's what I used.  Custard powder is a little bit harder to come by in the USA.  You can buy Birds Custard Powder online… I actually found Clabber Girl Custard Powder at the 99 cent only store (go figure… I guess it's unpopular?).  If you have an international or British Market near you, they usually have custard powder.  It comes in a can, about the same size of a baking powder can.  (But if all else fails, I think instant vanilla pudding powder might work out as a substitute.)
Update 10/24/12:    I forgot to explain the flour in this recipe!  Normally steamed buns (baos) are made with a special flour in Asia called "Hong Kong Flour".  It's a highly bleached flour, with a slightly lower protein (gluten) content than regular all purpose flour.  Bleached flour is what produces that nice bright white color of baos, and the lower protein content gives the bao that soft fluffy texture with just enough structure to hold it up after steaming.  Most of the all purpose flour here in the United States is unbleached and higher in protein, so you will need to combine all purpose flour with (lower protein) cake flour to create the right protein level in the dough.  Also, cake flour is bleached, so it will also help to whiten your buns… but since there is still some all purpose flour, your buns may still have a slightly beige tint to them.  If you have access to White Lily flour in your area (Southern or Midwestern USA), definitely use that instead!  If not, then use my combination of all purpose flour and cake flour.  (And of course, if you can find Hong Kong flour… then use that!)
Salted Egg Custard Filling:
1/2 c. + 2 T. sugar
6 T. custard powder
1/2 c. instant nonfat dry milk powder
1/4 c. coconut milk
1 T. cornstarch
1/2 c. unsalted butter
Bao Dough:
1 1/2 c. all purpose flour
2 1/4 c. cake flour
3/4 tsp. salt
3 tsp. active dry yeast
3/4 tsp. baking powder
3 T. sugar
2 T. canola oil
1 c. water
1.  A day ahead of time, make the custard filling.  If you have raw salted eggs, boil them for 10 minutes until fully cooked.  Peel, and discard the shells and egg white so that you have only the cooked salted egg yolks.  Mash the cooled cooked egg yolks.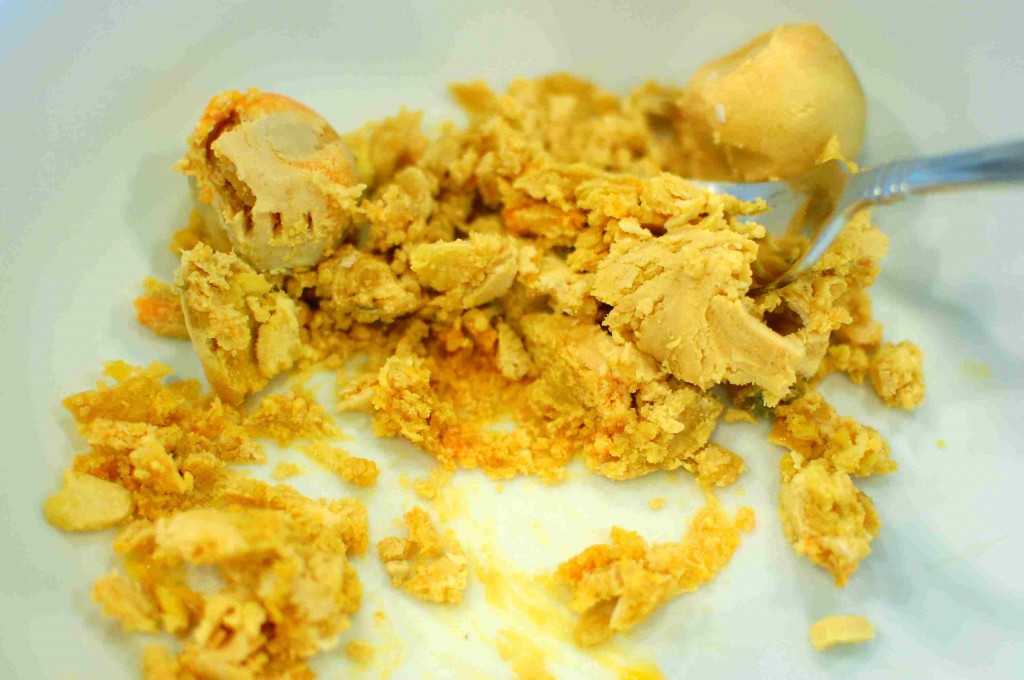 2.  In the work bowl of a food processor, pulse the egg yolk with the remaining custard filling ingredients until smooth.  (If your butter melts, you might find the custard filling to be somewhat runny at this point – don't worry!  It will firm up when chilled.)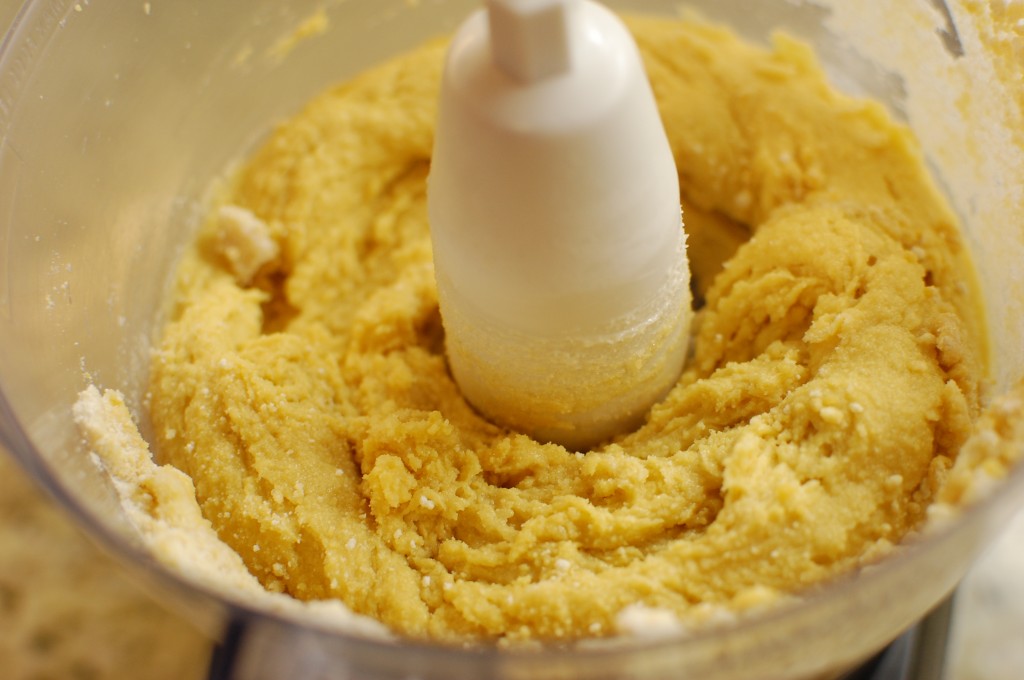 3.  Refrigerate the custard filling until cold and firm (several hours).  When firm, use a cookie scoop to scoop out and divide the custard into 18 portions.  Place the custard balls onto a plate, and cover with plastic wrap.  Put in the freezer overnight until frozen solid.  (I lined my plate with Reynold's non-stick foil, for easy removal.)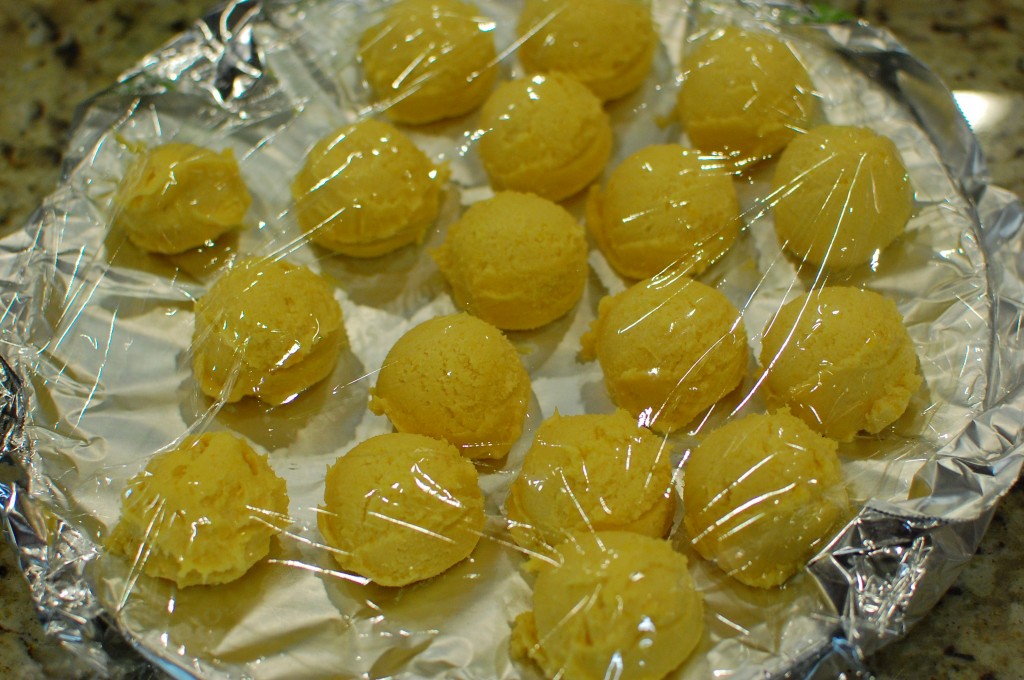 4.  Place the sugar, salt, oil, and water in the bottom of the bread machine pan.  Top with the all purpose flour and cake flour and baking powder.  Make a little depression into the flour, and add the yeast.  Turn the machine on to the "basic dough" setting.  (Or, you can knead the ingredients together, then let rise 1 hour and punch down, and rise again for 30 minutes.)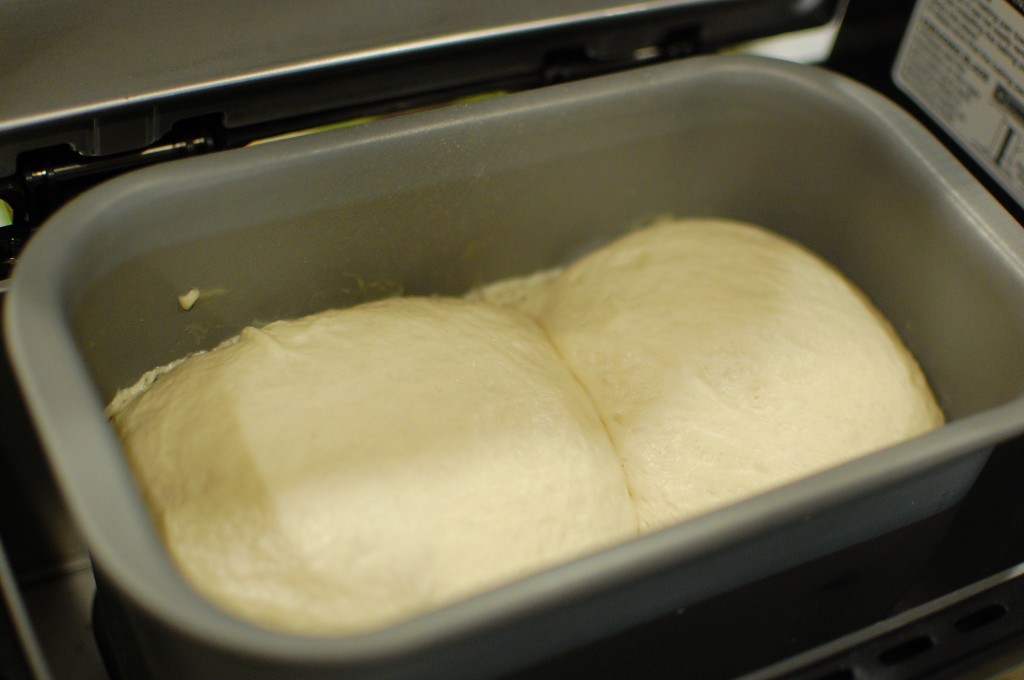 5.  When the dough is ready, divide into 3 portions.   Set water to boil in a steamer.  Take one portion of dough and divide into 6 pieces.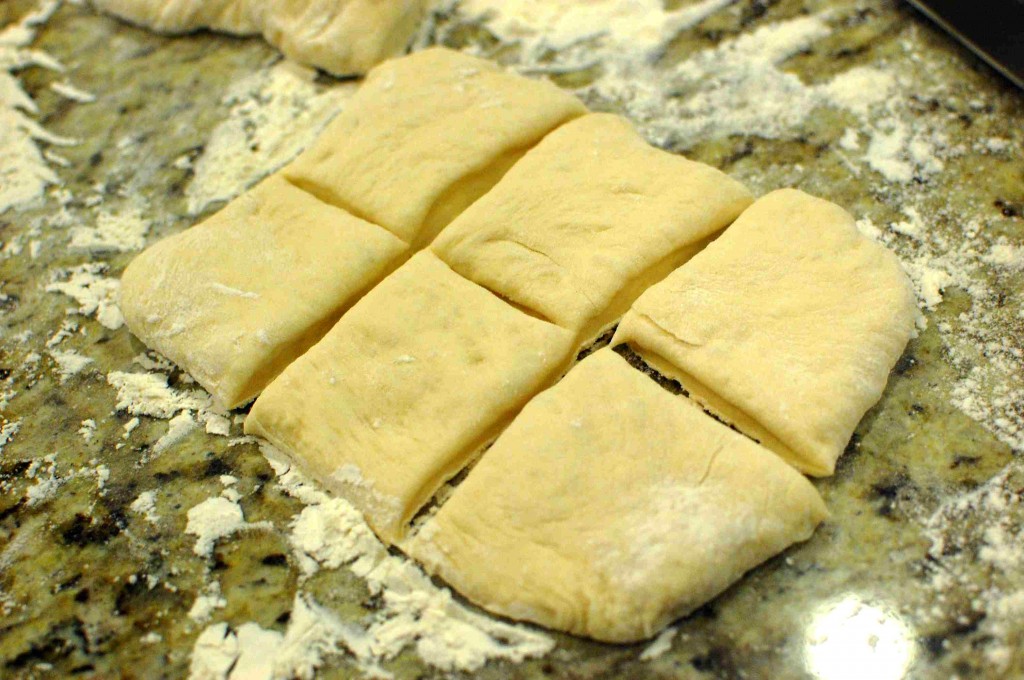 6.  Flatten the dough pieces with your hands, and place a frozen custard filling ball in the center.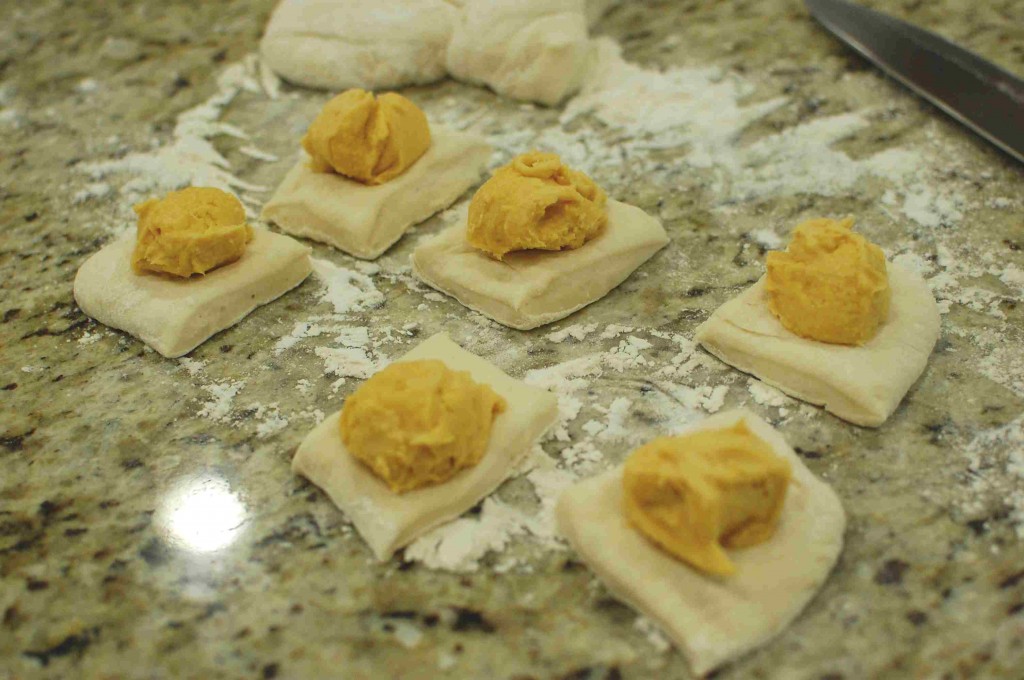 7.  Pinch up the sides of the dough to completely enclose the filling.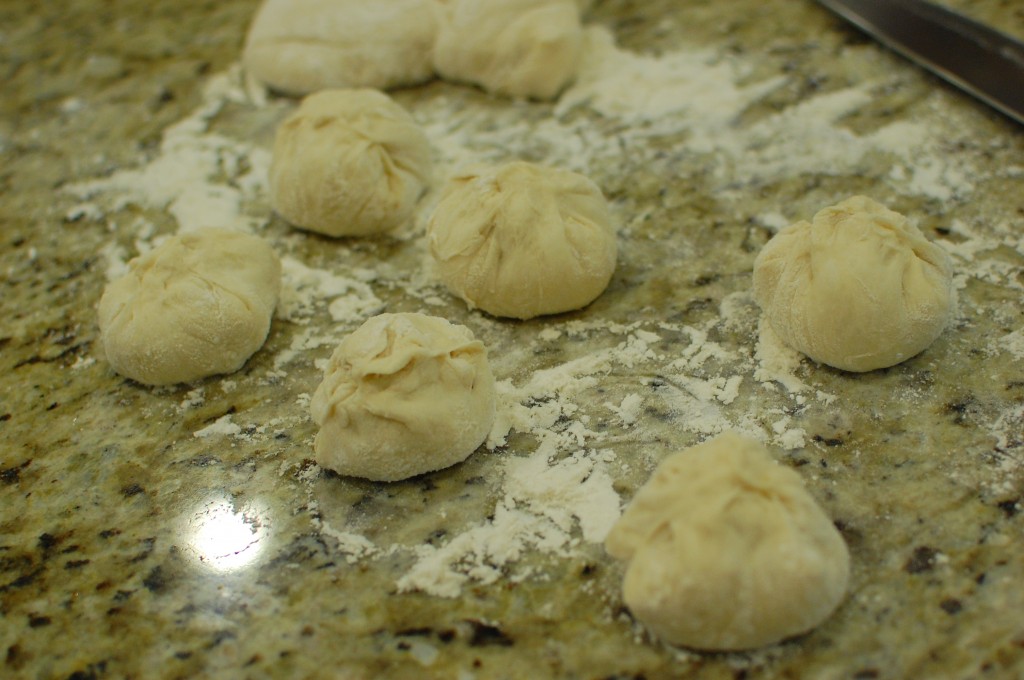 8.  Spray paper cupcake liner bottoms with a little bit of non-stick spray.  Place one prepared bao in each liner, seam sides down.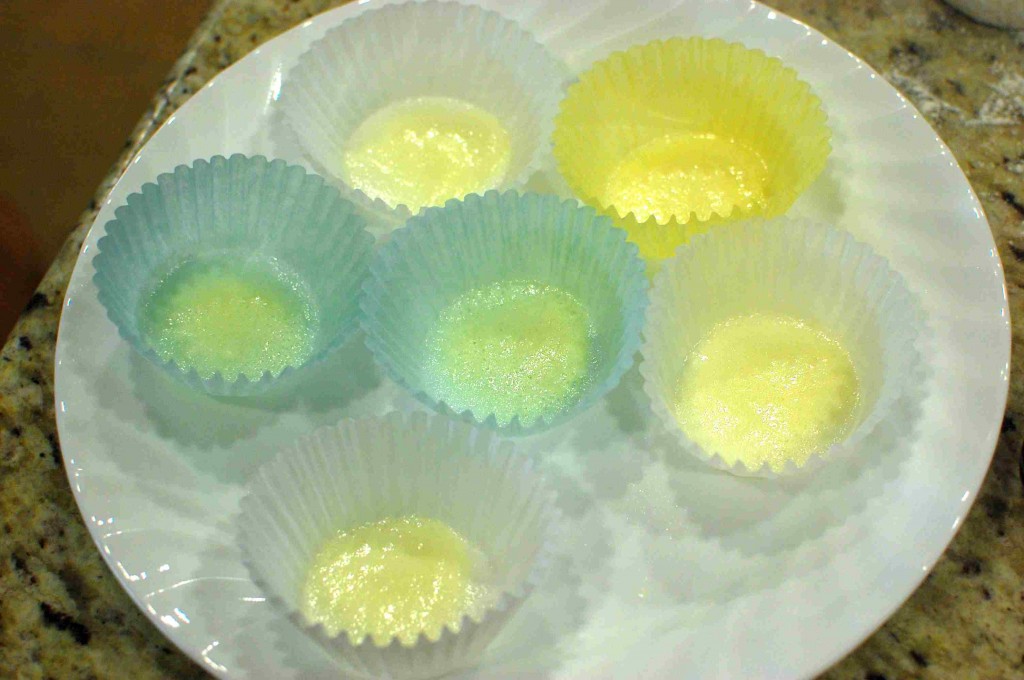 9.  Steam the 6 baos for about 8- 10 minutes until done.  (Do not overcook, otherwise the custard filling will explode out of the bao and you will get a stiffer custard filling instead of the lava type custard filling.)  Serve immediately.  Repeat with the remaining dough and filling.  (If you don't want to make all the baos at once, you can leave the frozen custard balls in the freezer for a few days, and the bao dough will also keep in the refrigerator for up to 3 days – covered with plastic wrap.)