Where did the Girl Scouts go????  A few weeks ago, some Girl Scouts with a little table set up outside the supermarket suckered* me into buying boxes of Samoa Cookies, also know as "Caramel deLites".  (And by "suckered", I mean they set up their table to be visible from the exit… I saw the boxes of cookies… and went rushing up to buy some Samoas before anyone else could steal them away from me!)
Everyone has their favorite Girl Scout cookie.  For me, it's the Samoa: "vanilla cookies coated in caramel, sprinkled with toasted coconut and laced with chocolate stripes".  I actually got into a debate with someone about these cookies who insisted the name was changed a few years back to "Caramel deLites", and the "Samoa" was no more.  But then… how do I happen to have a (nearly empty) box, clearly labelled "Samoas" in my possession?  Apparently, the Girl Scout Organization uses two different commercial bakeries to produce their cookies: Little Brownie Bakers (owned by Keebler) and ABC Bakers.  Both bakeries use the same recipes, but use different names for the (same) cookies.  So that explains the discrepancy!  Whether you call them Samoas or Caramel deLites… when the Girl Scouts can't be found anymore once you've become addicted during cookie season… what do you do??????  Make them yourself, of course!
Now, I've tried to make these cookies several times at home, and each time was a disaster!  There are a lot of recipes online that make it look so easy – and it always makes me feel really stupid that I follow the posted instructions carefully… and I end up with a crumbly mess… or something really ugly that took FOREVER to make… that doesn't even remotely taste like a Samoa!  The worst was when I used store-bought caramel candies… and after melting, the caramel turned out really hard.  This other time, I used regular toasted coconut, and by the time I mixed it up with the caramel, it was nearly impossible to spread over the shortbread  - and it didn't stick at all – you had to hold the cookie together like a sandwich to eat it.
So of course, being one to keep making a recipe over and over with small variations until I GET IT RIGHT… I finally figured it out.  You want a Samoa recipe that isn't that difficult to make, yet tastes like a real Samoa?  Here it is!  Forget cutting out and baking ring shaped cookies – make them as bars because it is a million times easier that way, and cuts out a bunch of steps (that are significantly more work).  Also, you CAN use caramel candies to make this – you just need to thin it out a bit with some half and half.  The other trick I discovered – you must chop the shredded coconut finely into smaller pieces… it completely changes the spread-ability of the caramel topping, and makes it more similar to the topping on the real Samoa cookie.
UPDATE 1/25/2014:  This recipe has been featured by AllFreeCopyCatRecipes.com in a new eBook "9 Types of CopyCat Girl Scout Cookies" available for free download.  :)
Shortbread base:
3/4 c. unsalted butter
1/2 c. sugar
1/2 tsp. salt
2 c. flour
Topping ingredients:
approx. 7.3 oz. (about 23 count) caramel candy squares
3 T. half and half
1 c. shredded coconut
about 5 – 6 oz. chocolate melts (Use Wilton Chocolate Candy Melts, or Dolci Frutta from the produce section of the market)
1.  Preheat the oven to 350 degrees and line a 9″ X 13″ baking pan with non-stick foil (or greased foil).  In the workbowl of a food processor, combine all the shortbread base ingredients and pulse until the ingredients come together as fine crumbs.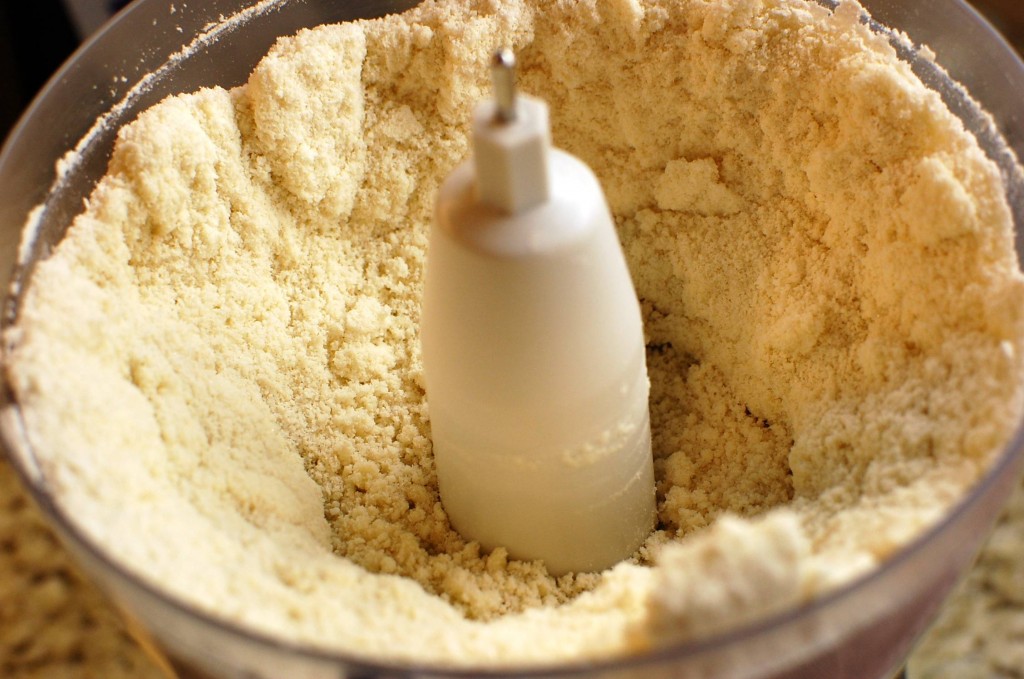 2.  Gently press the crumbs into the bottom of the 9″ X 13″ foil lined baking pan.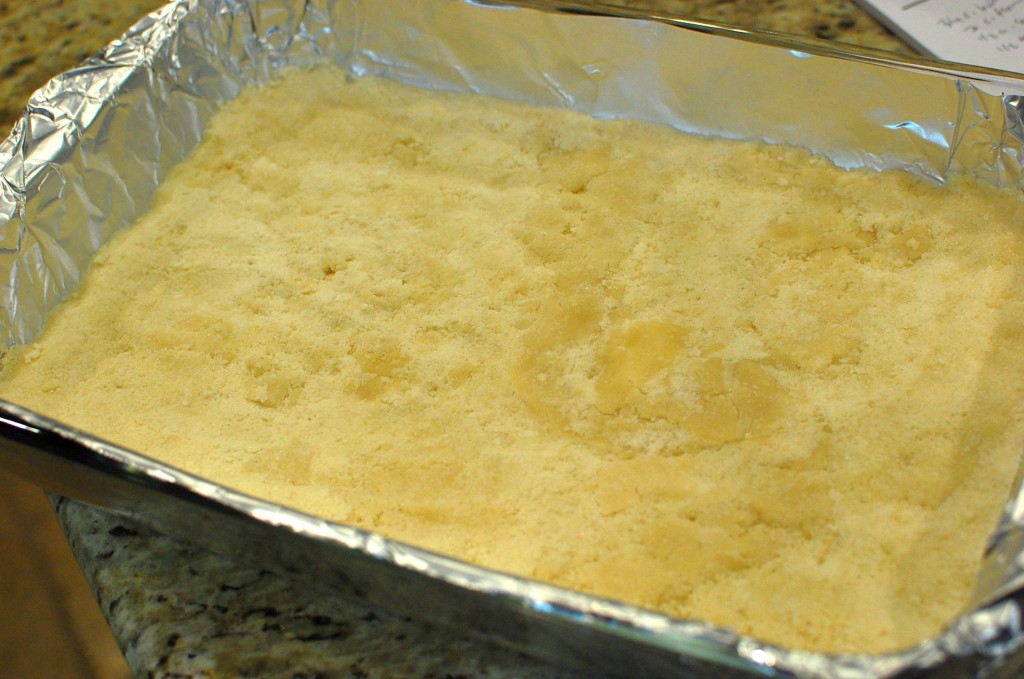 3.  Bake for 20-25 minutes at 350 degrees.  (About 23 minutes in my oven.)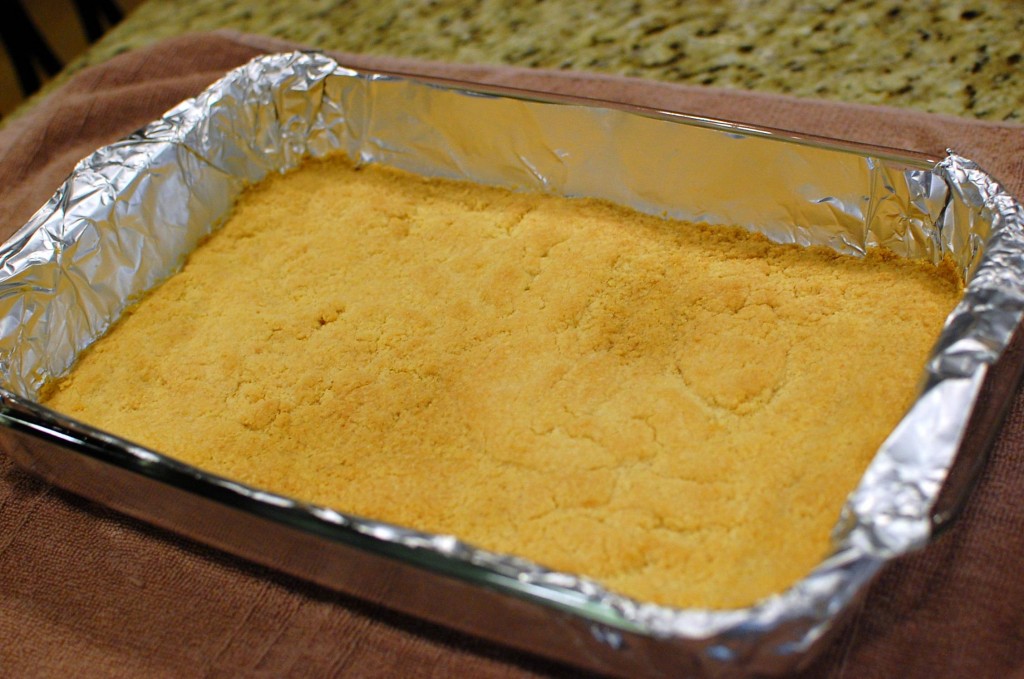 4.  While the shortbread base is baking, put the coconut into the food processor and pulse until broken up into smaller pieces.  (Trust me, you definitely want to break the shredded coconut down a bit – it will make the caramel mixture easier to spread in the end, and will give you a closer copycat cookie to the real thing!   If you don't have a food processor, you can chop the coconut by hand.)  I know the coconut in this picture below doesn't look very finely chopped, but some of the coconut shreds were pretty long to start with… here, the coconut pieces are much smaller.  It took me about 10-15 seconds to process the coconut to the size I wanted.
5.  Toast the coconut in a non-stick pan over medium heat.  Stir constantly to avoid burning, and when mostly toasted (but not yet burnt), transfer quickly to a plate to cool.  (This can burn quickly, so don't walk away from the stove!  Keep it moving!)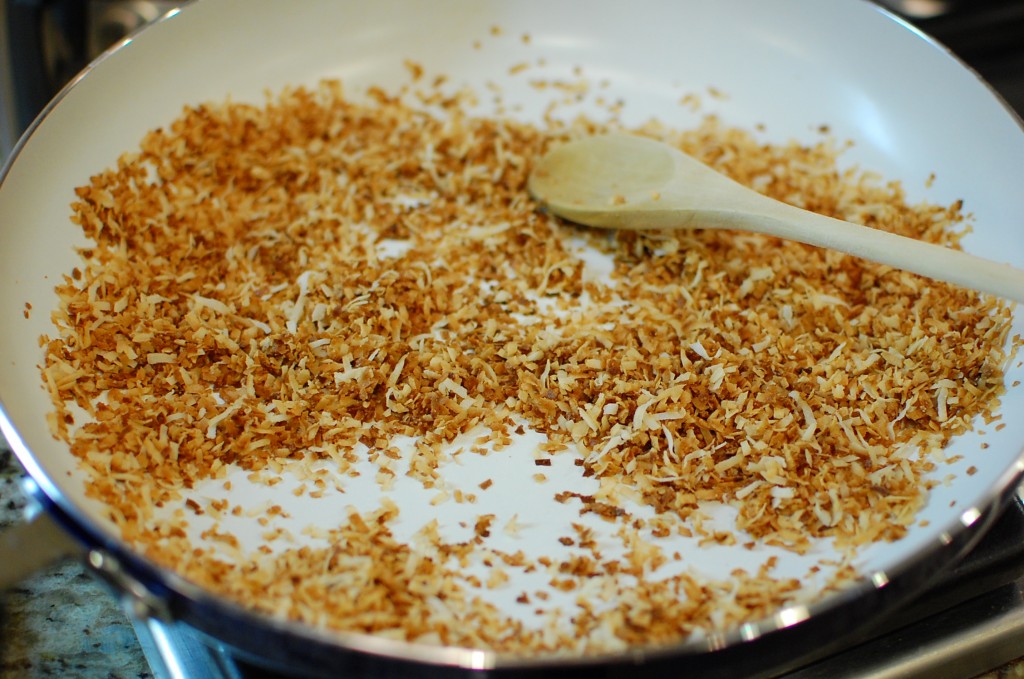 5.  When the shortbread comes out of the oven, microwave the caramel candies and half and half in a large pint sized pyrex measuring cup.   Microwave for 2 minutes at 50% power, stir, then continue microwaving 30 seconds at a time (stirring in between) until melted.  (It took me about 3 minutes total at 50% power.)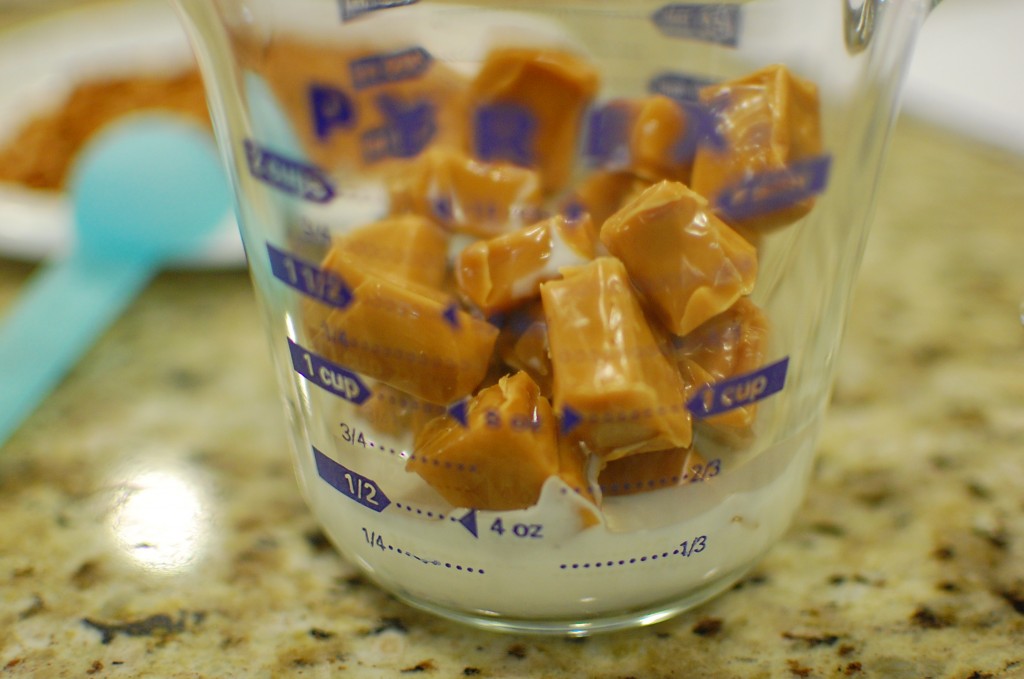 6.  Pour the hot melted caramel over the toasted coconut in a small bowl.  Stir and combine.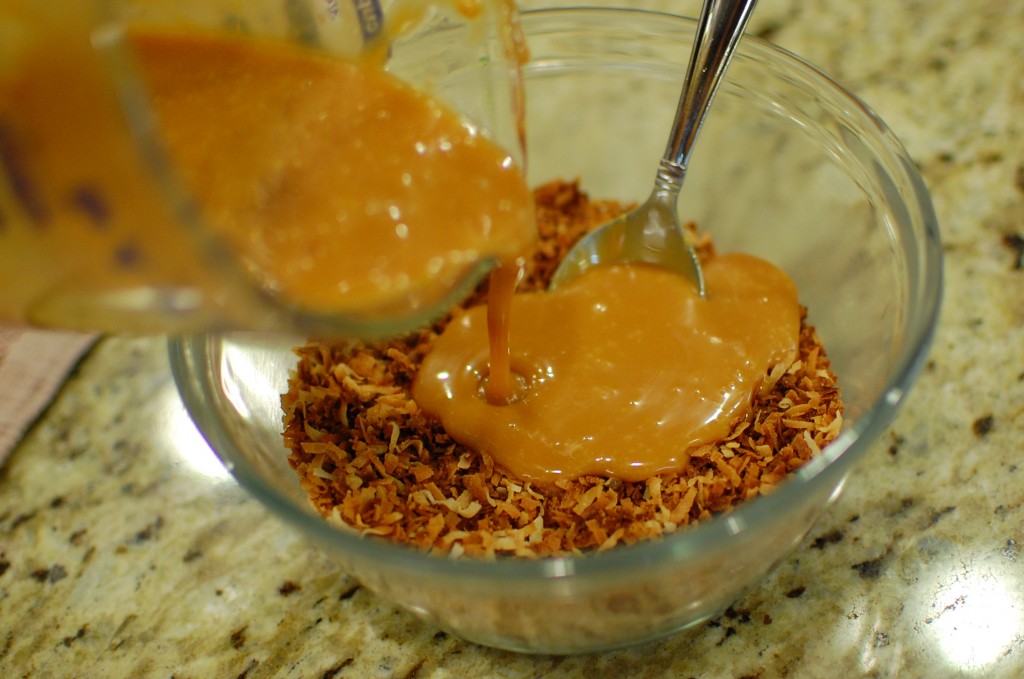 7.  Pour the hot coconut-caramel mixture over the HOT shortbread base, and use an oiled spatula to spread a thin layer over the top.  (Work slowly, a small section at a time, using small light strokes with gentle pressure.  If you try to pull the caramel mixture too far and with too much pressure, it will just roll up and scrape across the surface, not coating the shortbread.  This is probably the hardest step – but working methodically, it only took me 3 minutes to get the entire surface coated evenly.)
8.  Use the foil as a sling to remove the coated shortbread from the pan, and set on top of a large cutting board.  After allowing the caramel to set a bit (for about 10 minutes or so… it should still be somewhat warm, but not hot), use a large oiled knife to cut the shortbread into 24 squares.  (These squares are much easier to cut while the shortbread and caramel is still warm – if you wait until it is completely cool… it will still work…. but it will be harder to cut cleanly.)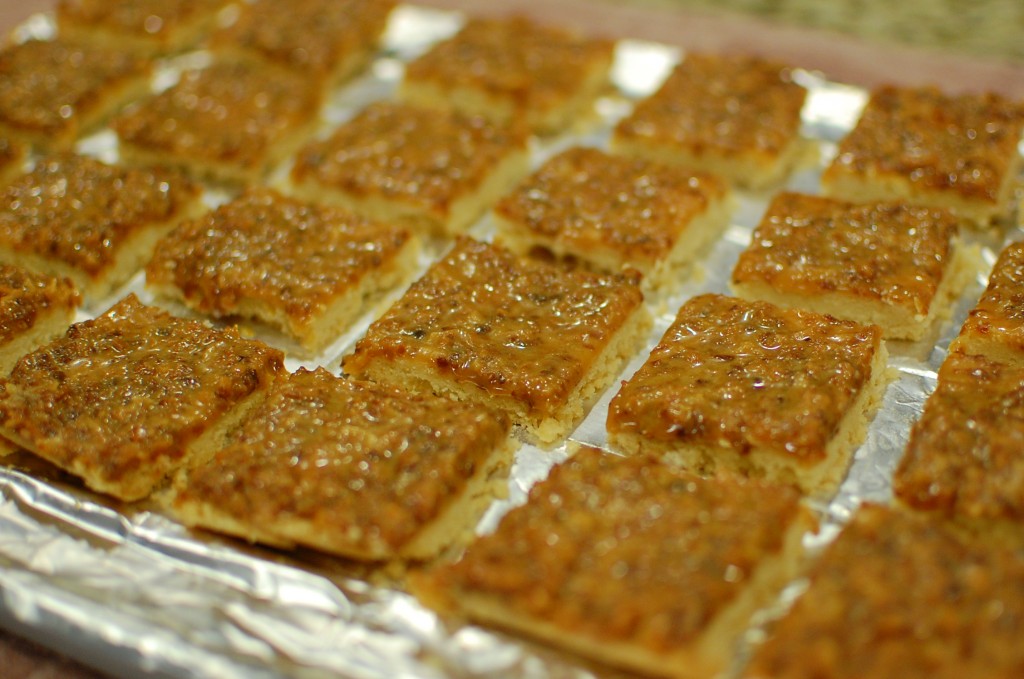 9.  Microwave the chocolate candy melts at 50% power, for 30 seconds at a time, stirring in between, until completely melted.  It took me about 3 minutes total at 50% power.  (I didn't actually use the whole entire package of candy melts – you will probably have leftover, so melt only about 5 to 6 oz. of the candy melts, save the rest unmelted in a plastic bag for next time.)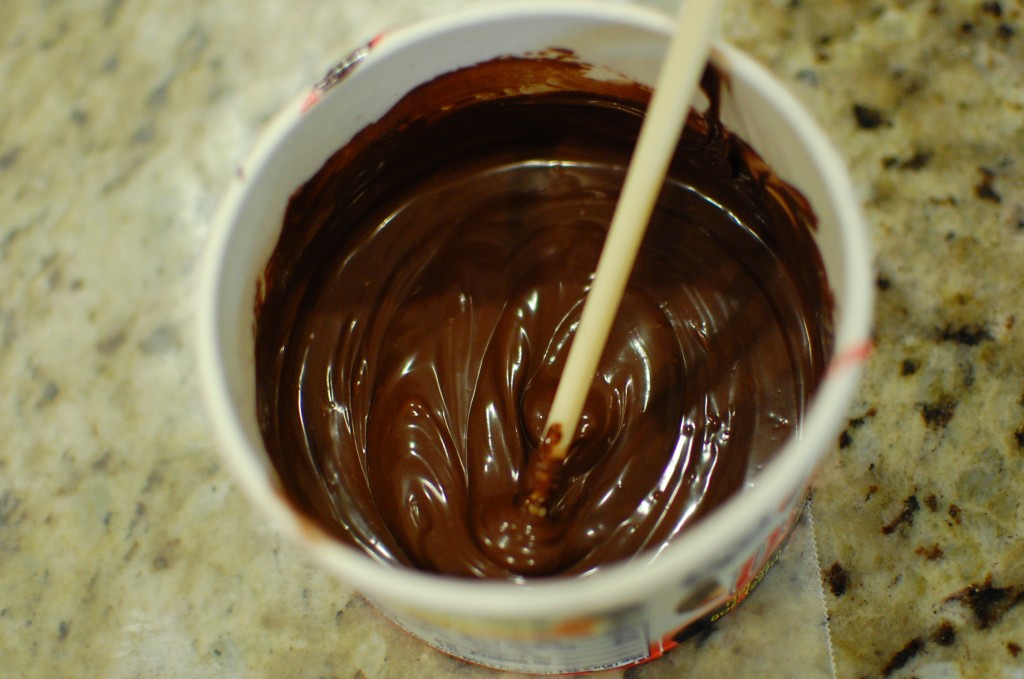 10.  Holding the cookie squares carefully by the edges (they can still be slightly warm at this point), turn them upside down, and use a teaspoon to spread a thin layer of melted chocolate across the bottom.  Set down on a large sheet of waxed paper to cool and harden.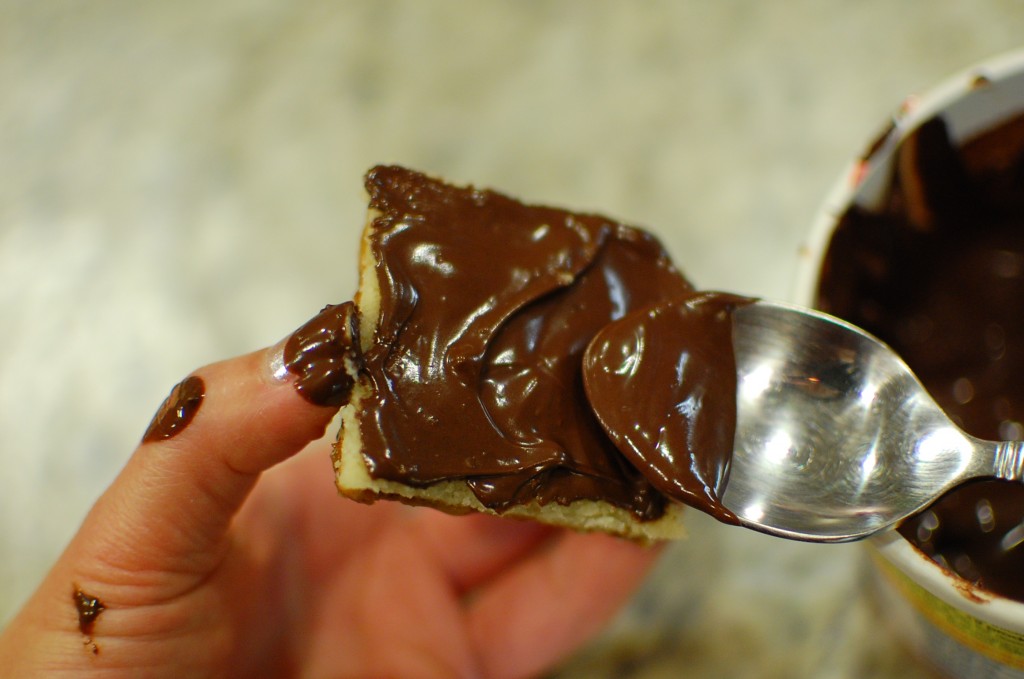 11.  Put the remaining melted chocolate into a ziploc bag, and microwave 15 – 30 seconds to heat a bit more (so that it is a bit more liquid-like, and not so thick).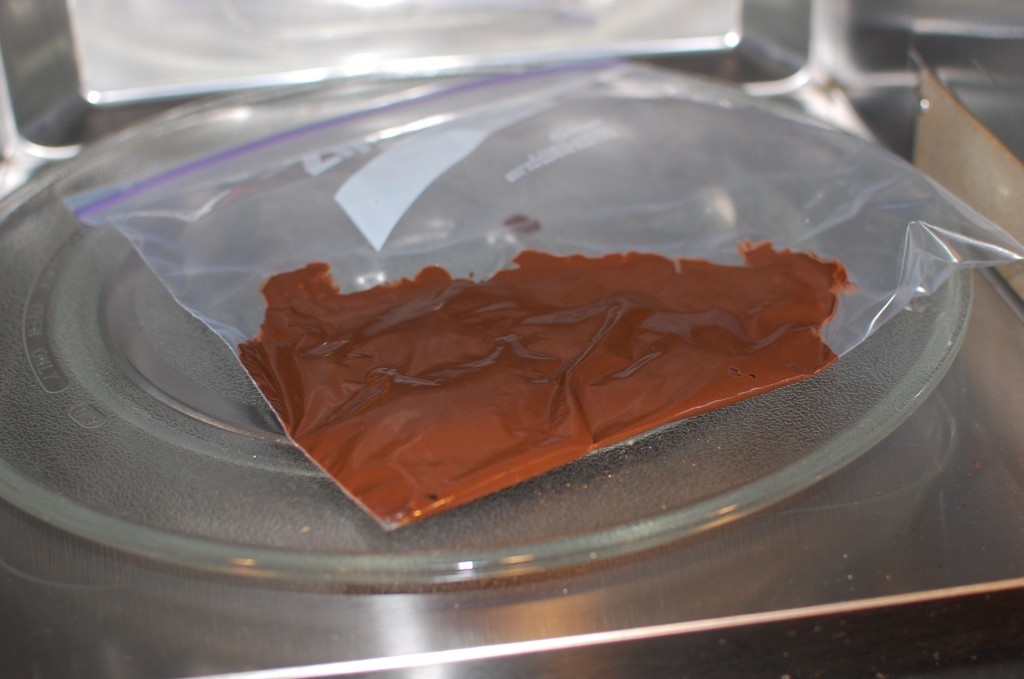 12.  Snip off a small piece from the corner of the bag, and drizzle the leftover melted chocolate back and forth over the individual cookie squares.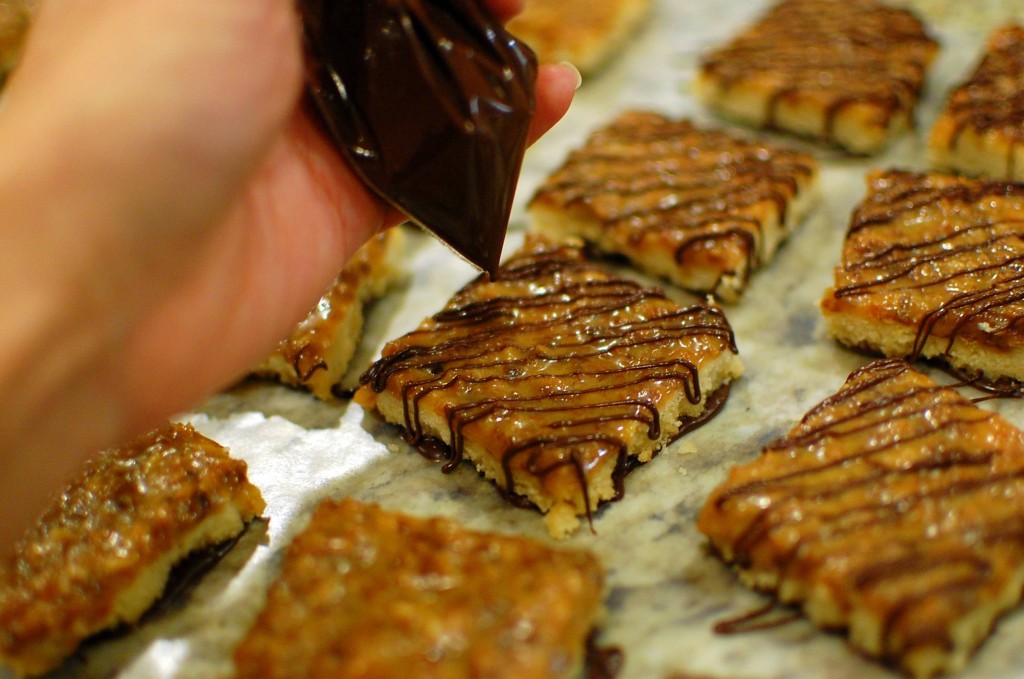 13.  Allow the bars to cool and set.  Store in a plastic container at room temperature.