Picture it:  6:30pm on a Thursday night, and I had a bunch of Anaheim chilies that I needed to use before they went bad, a package of wonton skins, and a pound of ground pork.  Originally, I was thinking of making a Mexican inspired meat loaf… but standing there at the kitchen counter, it just didn't sound very good.  Plus I had the wonton skins.  Hmm.  Instead, I decided to try something new, and mix up the flavors a bit! Fried wontons (or gyoza – whatever you want to call them) have always been one of my favorite family recipes – but I usually flavor them with Asian seasonings (ginger, garlic, green onion, Japanese pepper, etc.).  How would it turn out with Mexican flavors instead?  I figured as long as I kept it simple, the wontons should turn out pretty tasty – and they did!  OMG!  So good, especially with a side of fresh guacamole!
This is the ultimate fusion recipe: fried Chinese/Japanese pork wontons mixed up with the Mexican flavors of green chilies and spices – AND – is very adaptable.  For example, you don't have to use pork.  If you don't like pork, or don't have it in the freezer, you can substitute with ground beef, ground turkey, or ground chicken instead.  (Pretty much any ground meat will work.)  Also, you can use canned green chilies if you can't find them fresh – but fresh is better if you can get it.  If you want a spicier flavor, substitute the (mild) Anaheim chilies with spicier chilies (like jalapenos or serranos).
Green Chili Pepper Wontons:
1 package round wonton skins
1 lb. ground pork
4 Anaheim (mild) chili peppers
3-4 cloves garlic, minced
1 pkg. taco seasoning
1/4 c. loosely packed cilantro leaves, chopped
salt & pepper to taste
oil for frying
1.  Roast the Anaheim chili peppers over a flame until the skins are blackened.  You can also do this on a grill, or in the oven using the broiler.  (Be careful not to burn yourself or light the chilies on fire!  Use tongs to handle the chilies, and keep a fire extinguisher handy.  If you are afraid, then definitely do this in the oven under the broiler instead – it takes a little bit longer, but is safer that way.)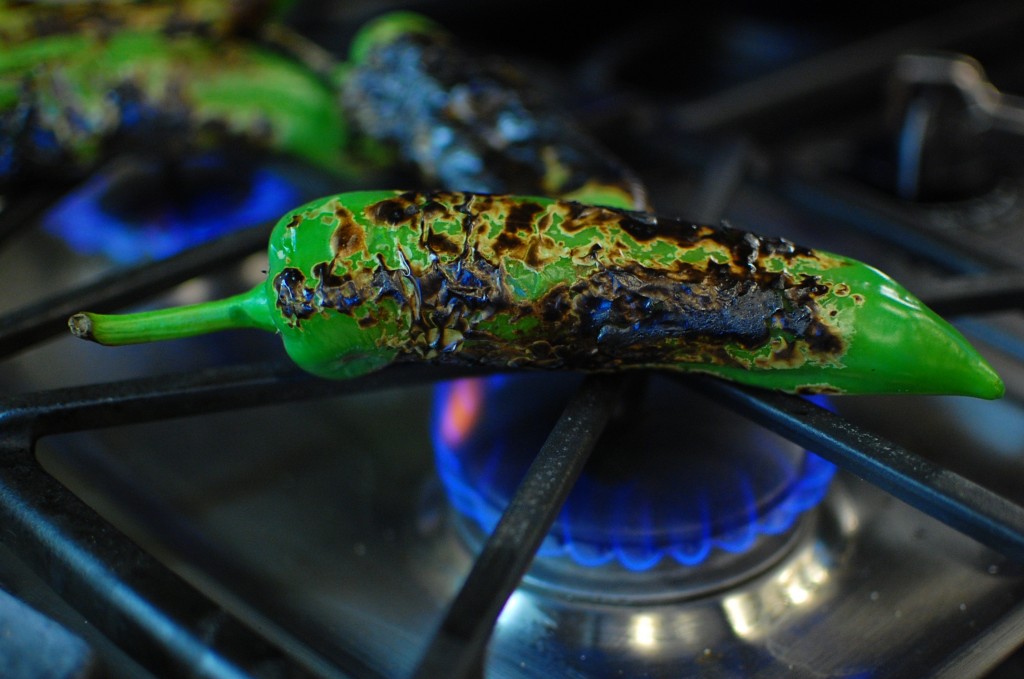 2.  Place the chilies in a plastic bag, seal, and allow them to steam in the residual heat for 2 minutes.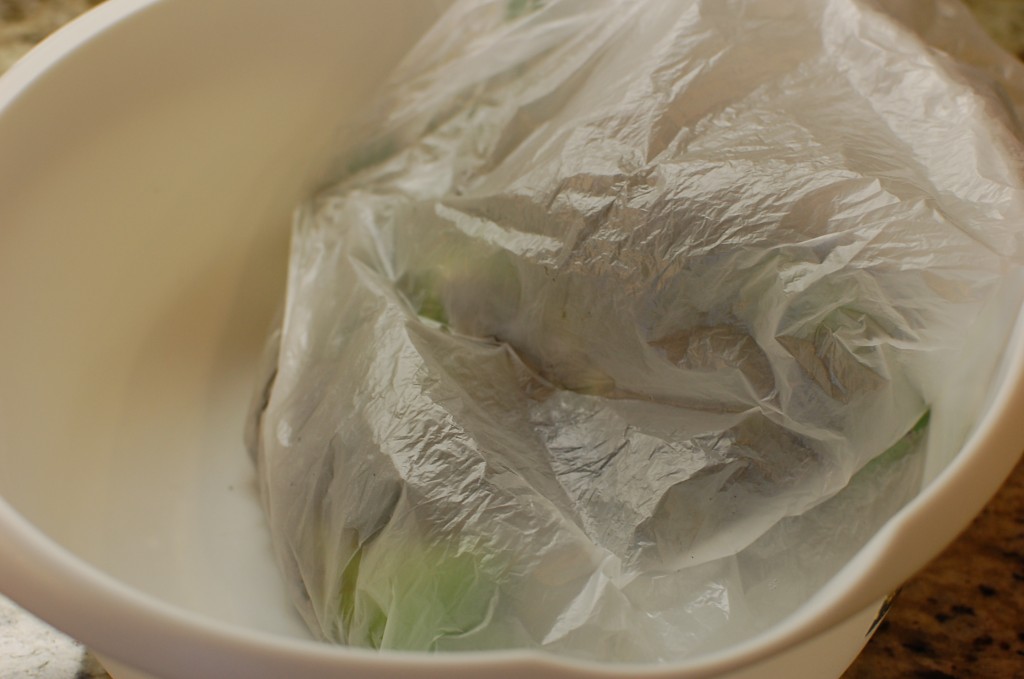 3.  Remove the chilies from the bag, and rub with a dry paper towel to remove the skin.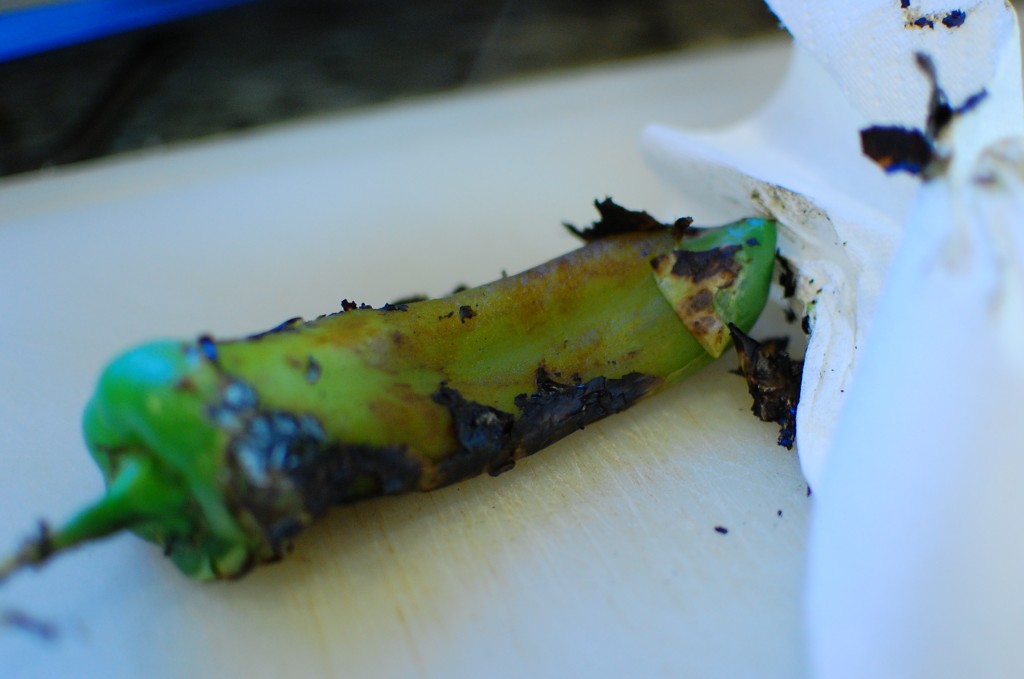 4.  Slit the chilies open, discard the seeds, membrane, and stem.   Cut the chilies into long thin strips, then chop into small pieces.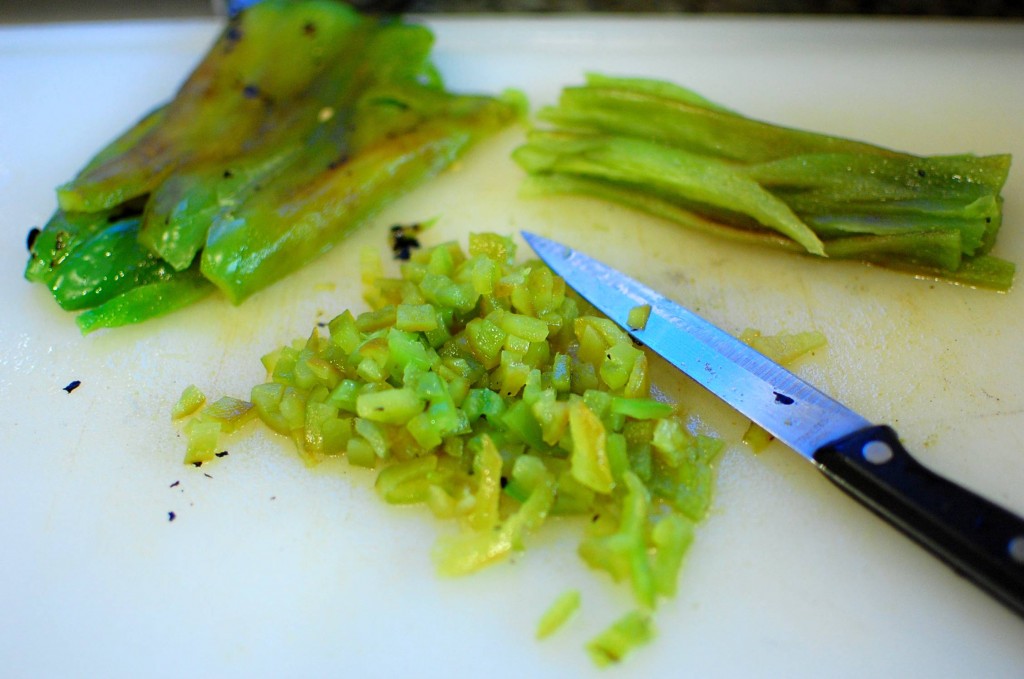 6.  Mix the ground pork, chopped chilies, minced garlic, taco seasoning, and cilantro leaves.  Microwave a small teaspoon of filling for 20-30 seconds, and taste.  Add salt and pepper if needed.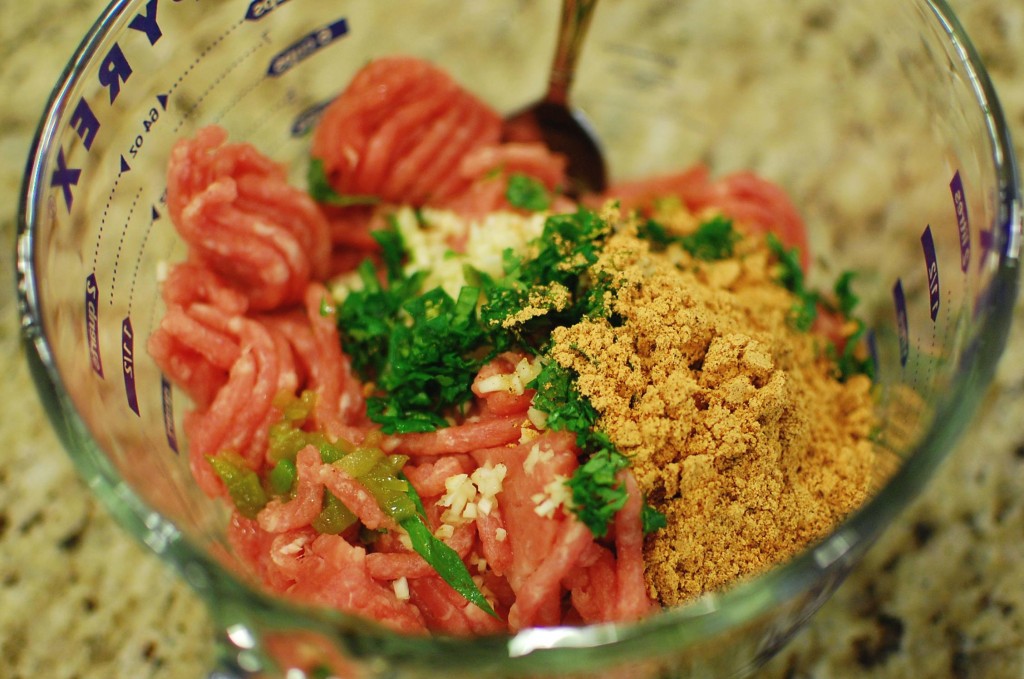 7.  Place about 2 tsp. filling into the center of the wonton skin.  Moisten the edges with a little bit of water.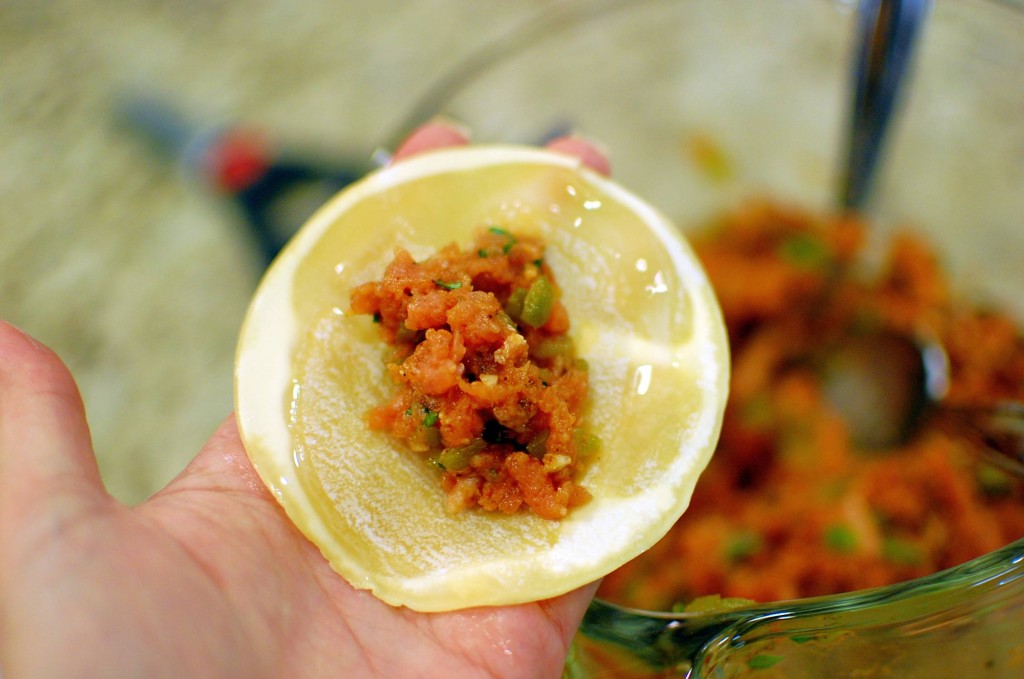 8.  Fold over, and press to seal.  If you want to be fancy, you can flute the edges slightly (but you don't have to).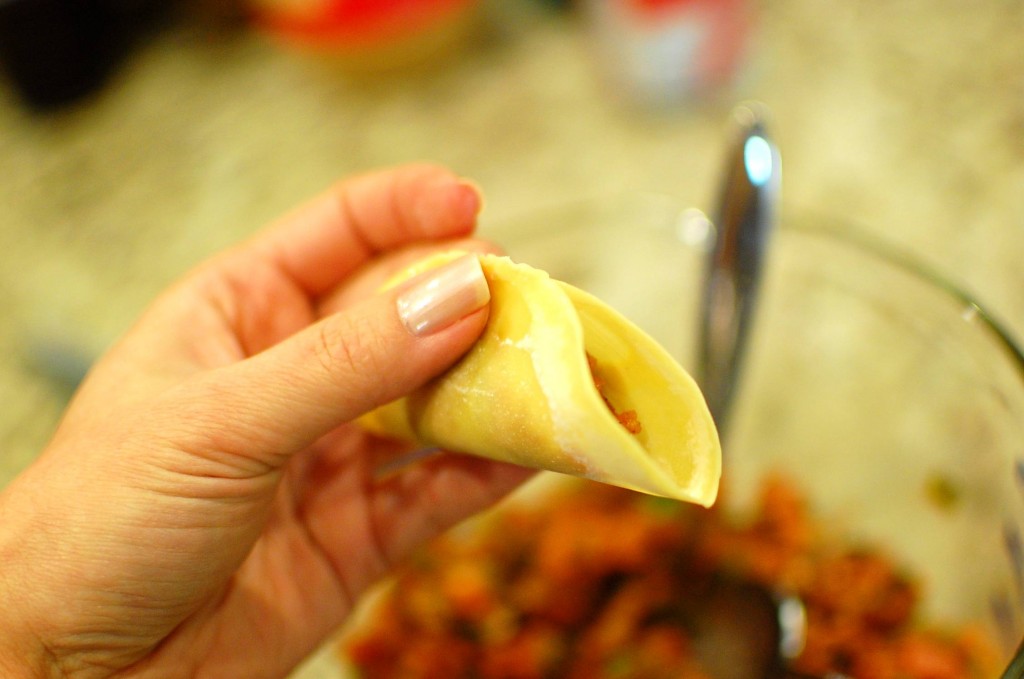 9.  Use up all the filling, setting your completed wontons on a foil lined tray.  (You might have some leftover wonton skins.  You can seal the leftover wonton skins in a plastic bag and store in the refrigerator for a few days.  Or, cut the leftover skins in half or into strips to make wonton chips to eat with dip or to make a crunchy topping for Chinese chicken salad.)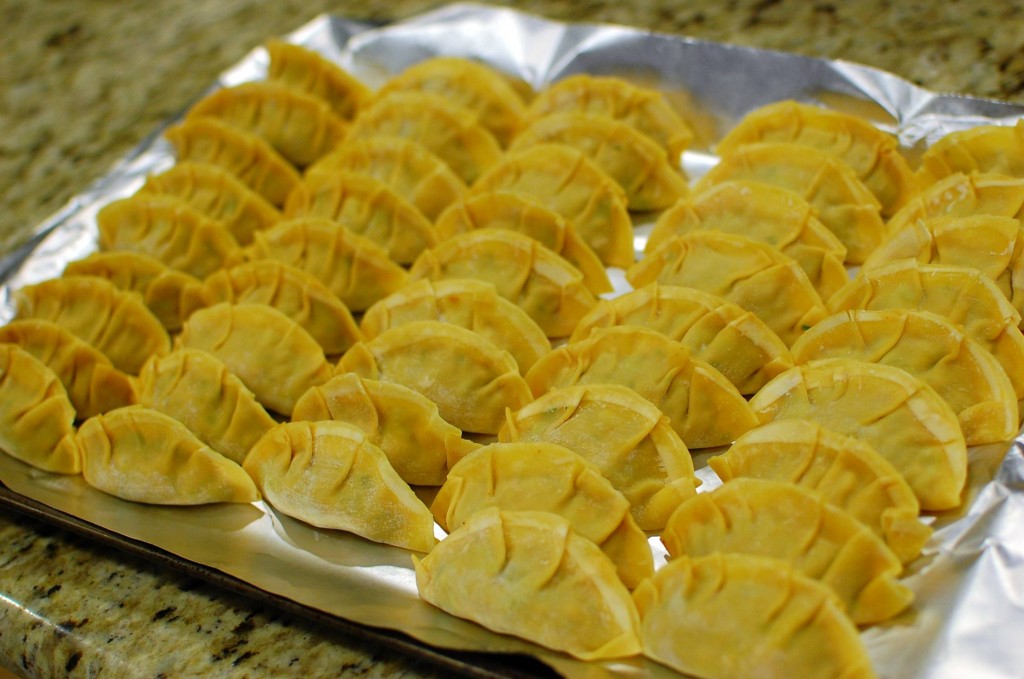 10.  Heat about 1.5″ oil in a saucepan or skillet over medium.  Fry the wontons until golden brown (check to make sure the meat is fully cooked by cutting one in half), about 4-5 wontons at a time.  (I do my frying in a cast iron skillet.  But if you are worried about hot oil jumping or popping at you, do this in a taller pot instead – it's a little safer that way, and less likely to burn.)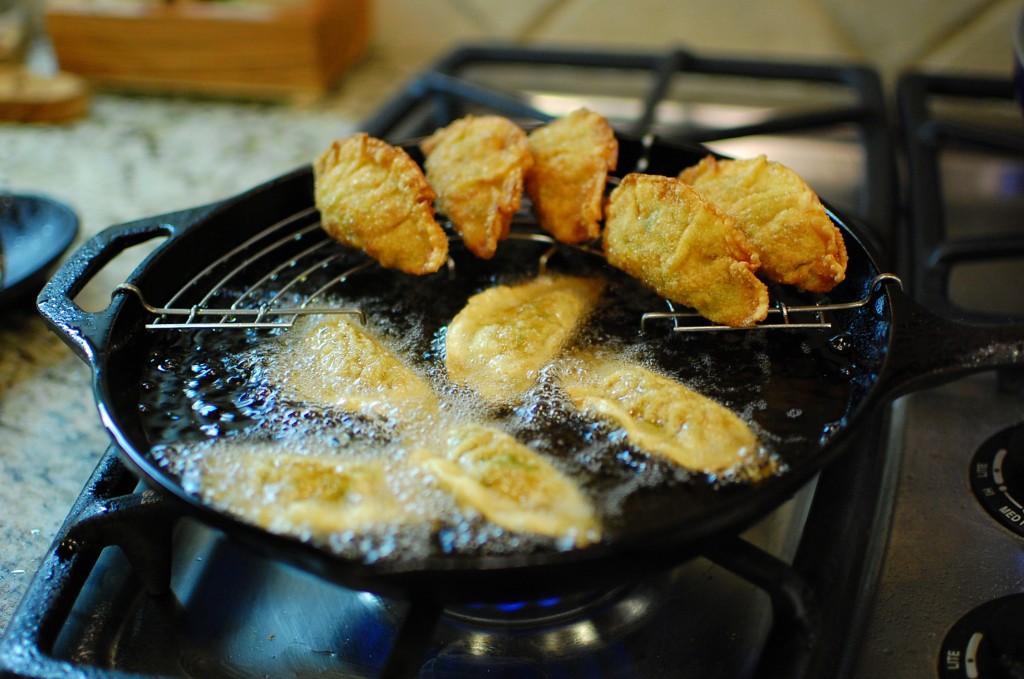 11.  Drain on paper towels.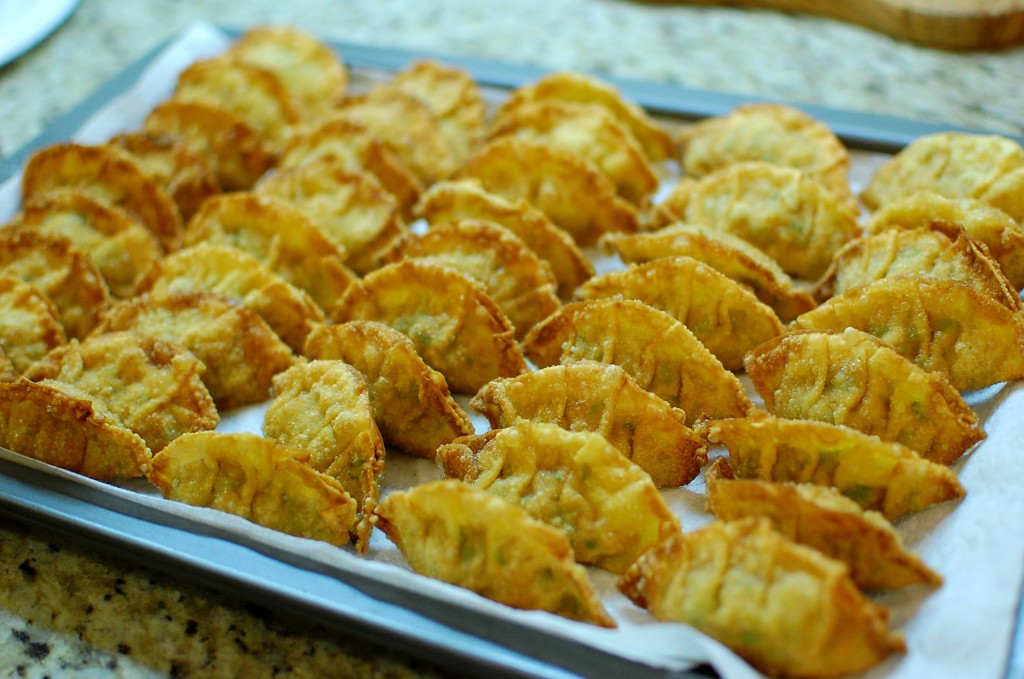 12.  Serve with a side of guacamole.  (To reheat the next day, set the wontons on a rack in a toaster oven or oven, until heated and the outsides are crispy again.)