I was browsing the meat department at the supermarket the other day, and came across a package of thin cut sirloin steaks marked "buy one get one free".  Well ok then!  Each package contained about 4 thin-cut steaks, so that worked out to about $1.25 a steak!  Score.
For REAL steaks (for the grill), I prefer really thick cut meat – either tenderloin or ribeye.  But these thin cut steaks are great for quick pan-frying, to make country fried steak, a.k.a. "chicken fried steak".  It's easy to make, fast to prepare, and is a great choice for a tasty weeknight dinner.
To make the steaks more tender, I liked to use a Meat Tenderizer (It kind of looks like a large hammer or mallet, with spikes on the edges.  I swear it's not a Medieval torture device, although it resembles one!)  This also makes the steaks flatter, so that they cook more evenly (and faster).  There are so many different styles of meat tenderizers – I prefer the heavy metal ones that have multiple sides – a large tooth side, small tooth side, and flat side.  I forget where I got mine, but I think it was either Big Lots or the 99 cent only store.  (If you don't have a meat tenderizer, you can pound the meat flatter with a heavy sauce pan or rolling pin.)
Nothing goes to waste in this recipe – the flour you use to dredge the meat initially will be used up to make your gravy afterwards – so don't throw the flour out!  Also, the pan juices, butter, and brown bits leftover after frying the steaks will end up flavoring the gravy – so don't clean the pan too quickly!
If you don't care for country gravy, or you want a variation to make for a different night:   use white wine (1/2 c.) + chicken broth (1 1/2 c.) instead of milk (to de-glaze the pan), add a small spoonful of capers, and serve with lemon wedges for an easy Italian Steak Milanesa with Piccata Sauce.
Country Fried Steak:
4 thin-cut sirloin steaks
1/2 c. flour
2 T. unsalted butter
1 T. olive oil
salt, pepper, garlic powder
Country Gravy:
2 c. milk
leftover flour
salt, pepper to taste
1.  Using a metal Meat Tenderizer (using the small teeth side), pound/flatten each steak on both sides until thinned.  (It helps if you place the cutting board on top of a towel to absorb the pressure).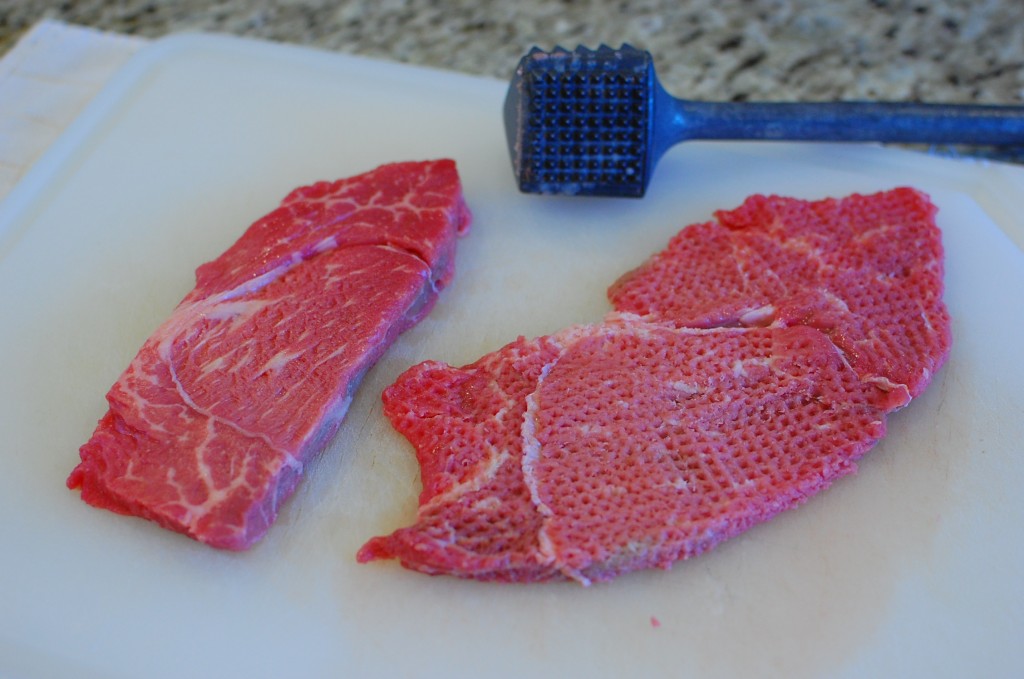 2.  Season both sides of the steaks with the salt, pepper, and garlic powder.  Rub the seasonings into the meat with your fingers.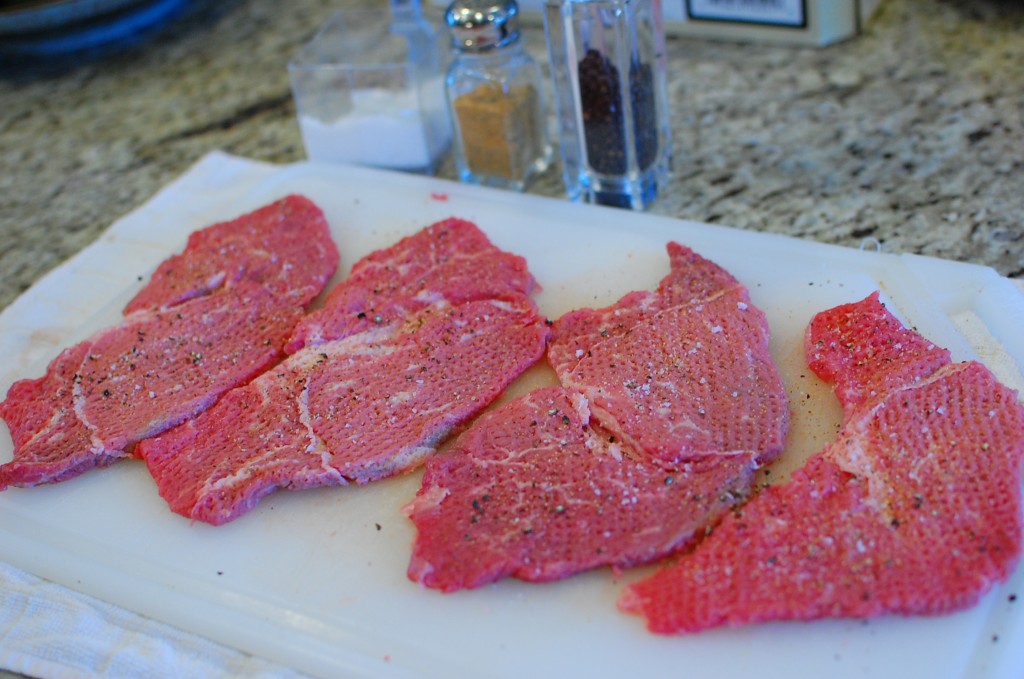 3.  Dredge each steak into the flour, patting to make sure all sides are covered.  Reserve the flour for the country gravy.
4.  Melt the butter with the olive oil in a large Cast Iron Skillet over medium high heat.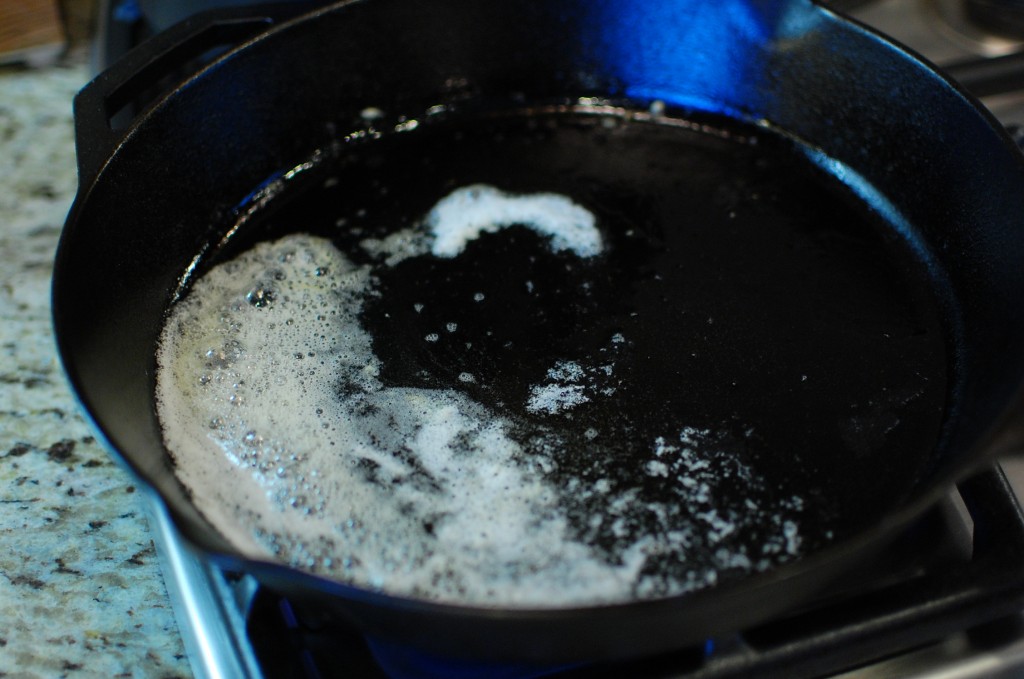 5.  Pan fry the steaks, about 1 minute on each side.  You may have to do this in two batches – remove the cooked steaks to a plate and cover with foil.  (Do not clean out the pan – the melted butter and leftover fond will form a base for your milk gravy a.k.a. "country gravy"!)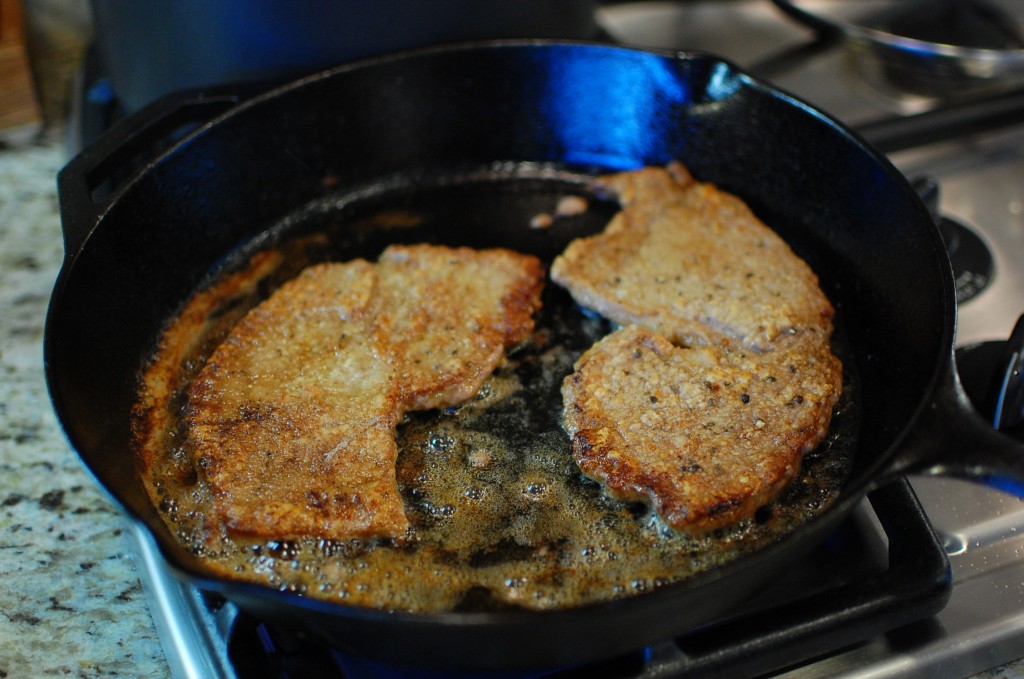 6.  Stir the remaining flour (leftover from the dredge) into the cold milk, and make sure the flour is completely dissolved without lumps.  Pour into the skillet, and heat on medium, stirring constantly with a whisk, until you have a thick gravy.  Taste and season with salt and pepper if needed.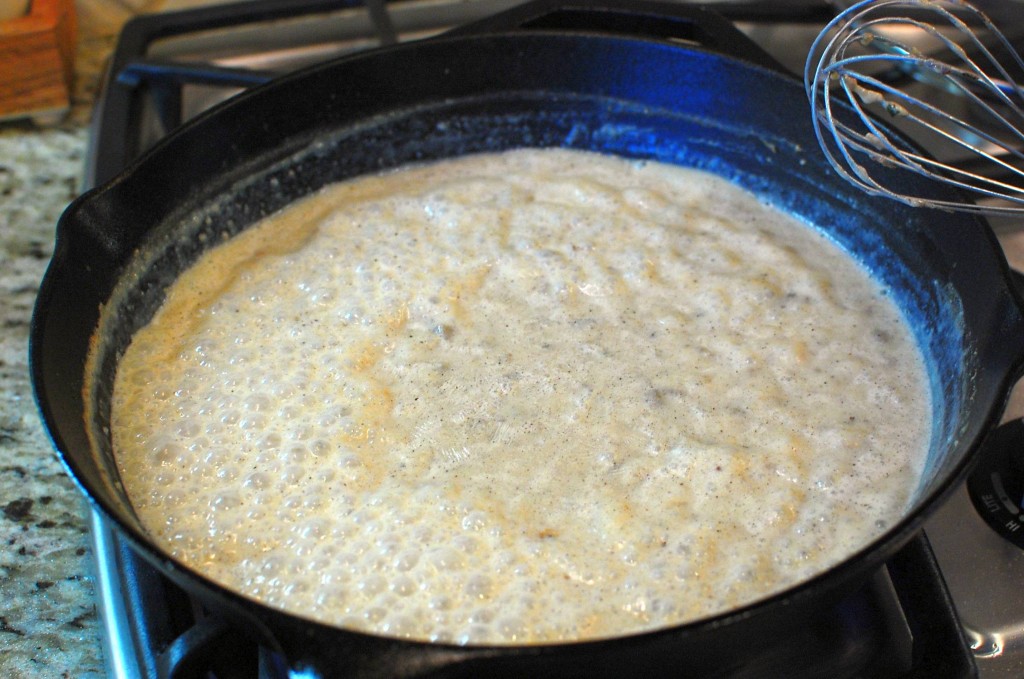 7.  Pour the gravy over the steaks to serve.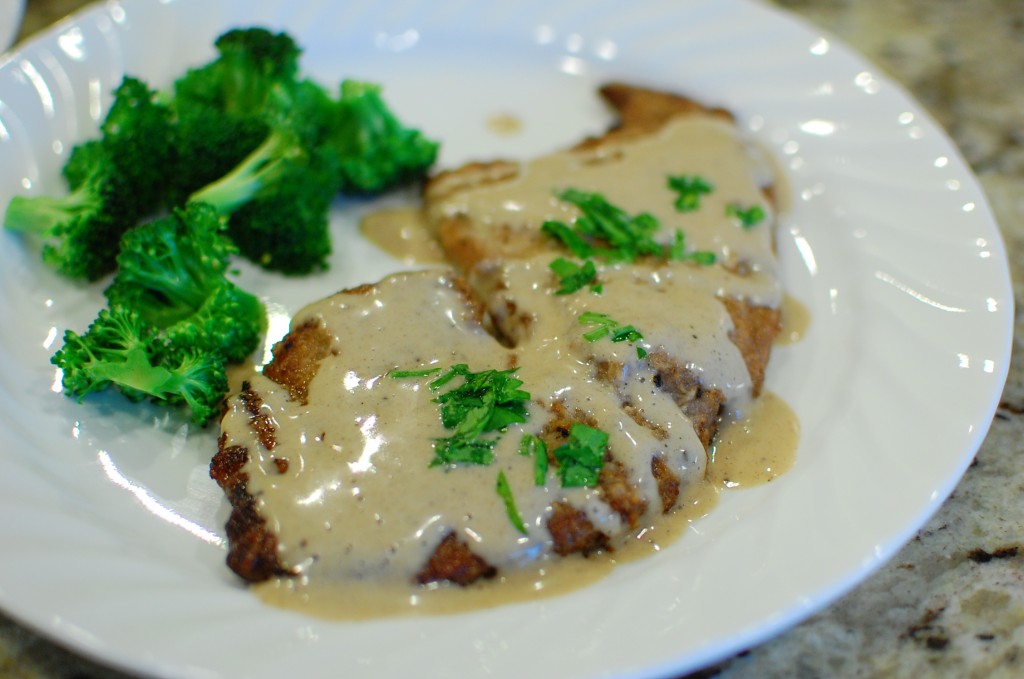 8.  For an Italian variation (steak Milanesa), after cooking the steaks, serve with lemon wedges instead of gravy and a side of pasta.  (Yes I know those are lime wedges pictured below… but I had limes and not lemons, ok?  Haha.)  You can also make an Italian style Piccata sauce using the same technique as the milk gravy – just substitute 1/2 c. white wine + 1 1/2 c. chicken broth for the milk, and add a small spoonful of capers, and serve with lemon wedges on the side.