Several years ago, I learned how to butcher a whole beef tenderloin (a.k.a. "pismo") from watching my favorite Food Network star, Alton Brown.  His show "Good Eats" was my FAVORITE!  (I recorded so many episodes that I ran out of space on the DVR).   Anyway, one night, I watched the episode of Good Eats titled, "Tender is the Loin"… and I was amazed at how easy it looked to trim and cut your own filet mignon!  So the next day, I sent my husband to Costco, and asked him to pick up a "pismo" for me.
What is a pismo?  First of all, it is actually "PSMO" (not "pismo"), which stands for "peeled, side muscle on".  So, it's a whole beef tenderloin with the side muscles still attached, and mostly peeled.  Once you remove the side muscles, fat, and connective tissue… you are left with the tenderloin.  The tenderloin is a muscle (Psoas major) that runs down the length of the backbone and sits below the ribs of a cow.  This muscle does very little work, and as a result – it is one of the most tender (and expensive) cuts of beef (like filet mignon or chateaubriand).  (You can usually buy a pismo for $60 – $90, depending on the size… and I normally get anywhere from 10-14 filet mignon steaks… plus extra meat that can be used for other purposes.)
Thanks to Alton Brown, I've been cutting and trimming my own filet mignon for years now…. which works out to be MUCH less expensive overall than buying the steaks by themselves!  I also have Alton Brown to thank for my favorite method to cook filet mignon – his "steak au poivre" recipe (I'll post my version of that recipe very soon – it's a hit at every dinner party!)
Needed:
1 whole PSMO (beef tenderloin, "peeled, side muscle on")
large cutting board
small paring knife
large chef knife
plastic ruler
1.  Buy a "pismo" from a large warehouse store, such as Costco.  I got this pismo at Costco a few days ago for $10.99/lb, about $76.05 total for a roughly 7 lb. tenderloin.  As long as you keep the vacuum sealed package in a cold refrigerator, your Pismo should be good for a week or so – so don't butcher it until the day before you need your steaks – it will stay much fresher sealed up like this.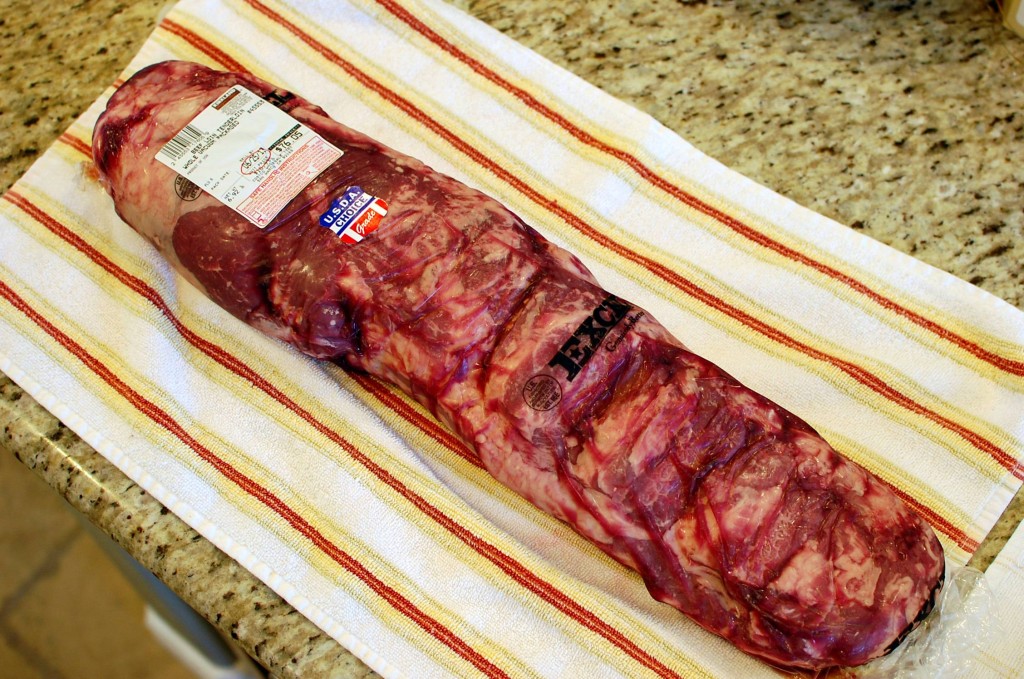 2.  Open the plastic package over the sink, letting the pink juices drain out.  (This is not blood – it's protein tinted water.)  Pat the pismo dry with paper towels, and place on a large cutting board.  To keep your cutting board stable, place it on top of a kitchen towel.
If you take a look at the picture below, you might be able to visualize the three different muscles (although they are greatly obscured by fat and connective tissue): the large tenderloin that you will end up cutting into filet mignon along the top of the Pismo in the photo (the Psoas major), the "chain" or thin side muscle running along the bottom of the Pismo in the photo (the Psoas minor), and the "wing" obscured under the upper left part of the Pismo (the Iliacus muscle).  You can also look at the photo in #4 to see how the muscles look when separated.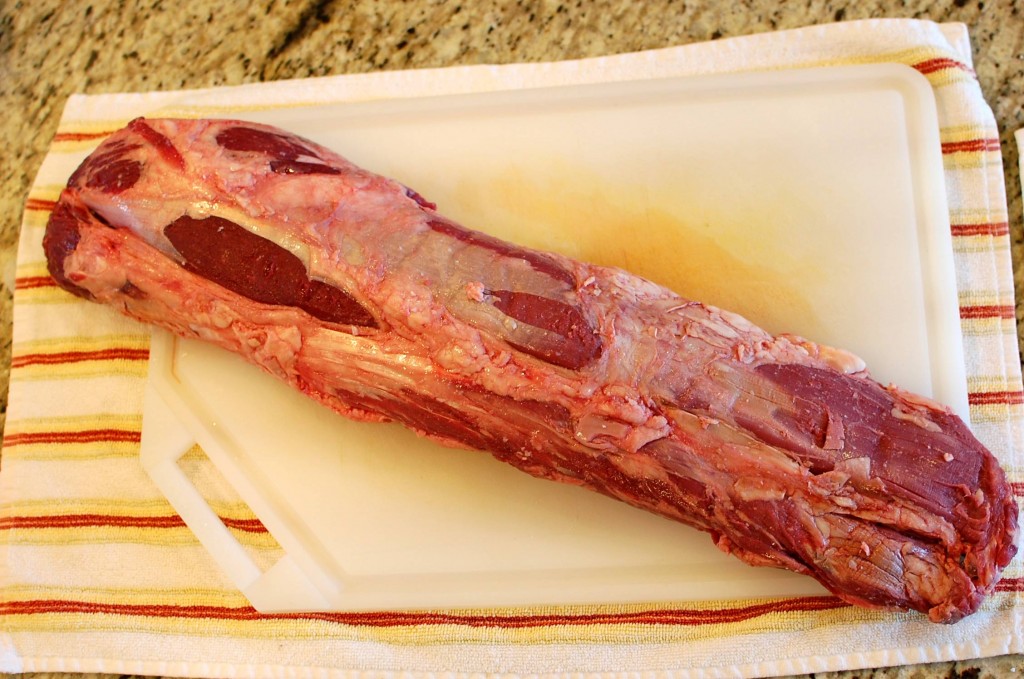 3.  Using your fingers remove any large pieces of fat or connective tissue obscuring the muscle below.  Once you have located the different muscle insertions, use a sharp paring knife to carefully separate (or dissect) the "chain" (Psoas Minor) away from the tenderloin (Psoas Major).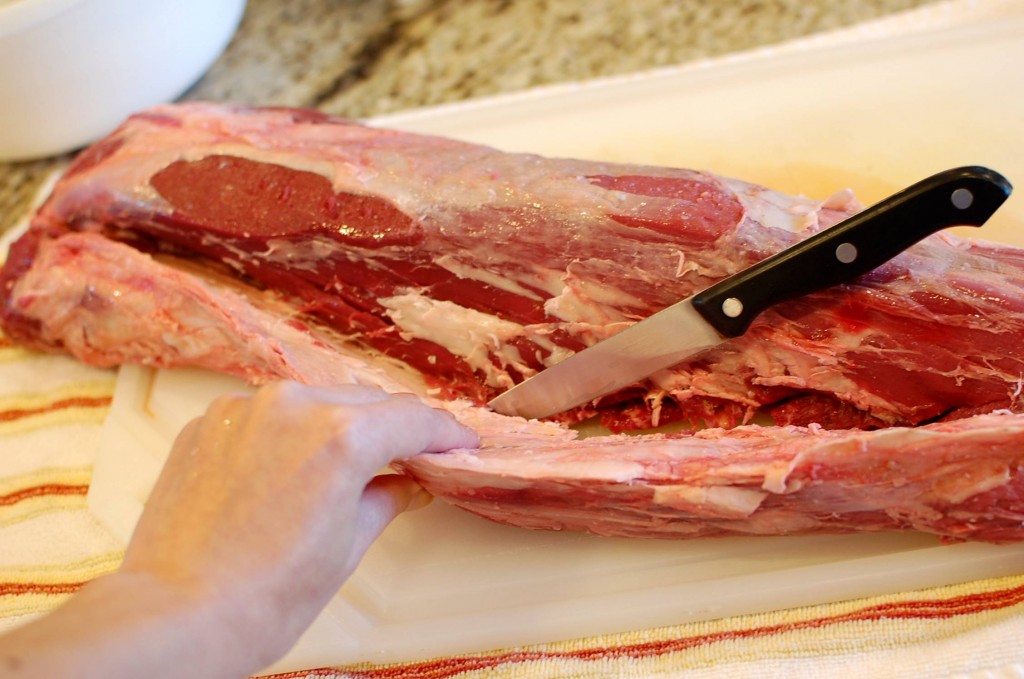 4.  Once you have separated most of the "chain" from the tenderloin, find the "wing" (Iliacus muscle).  Use the knife to carefully separate the "wing" from the main portion of the tenderloin.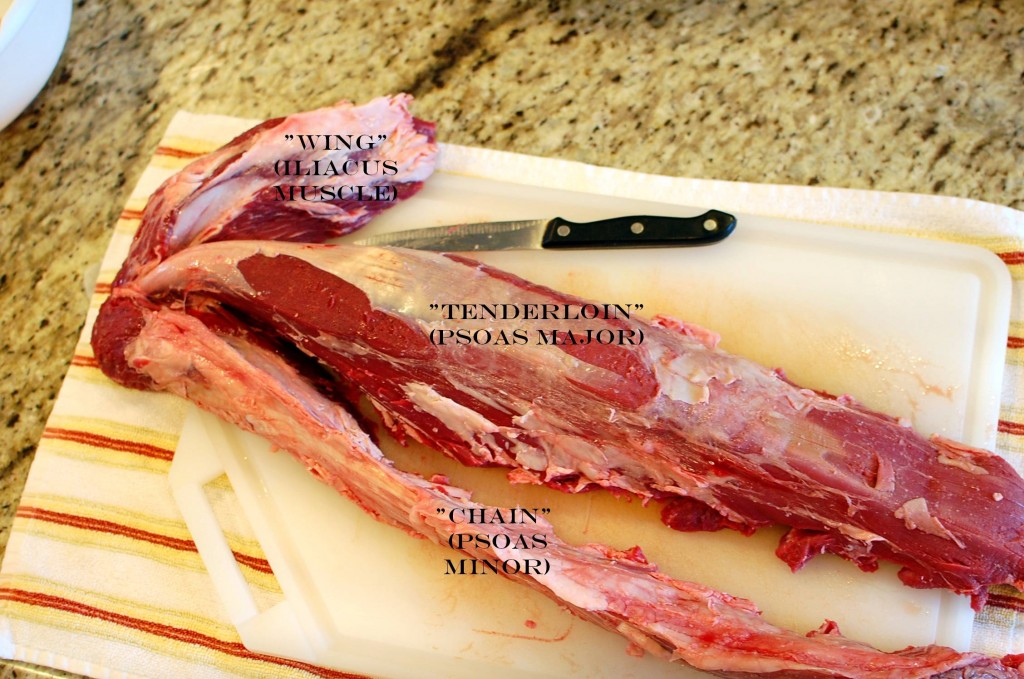 5.  Cut the chain and wing off of the tenderloin and set those parts aside.  Now you will be working on the main part of the tenderloin.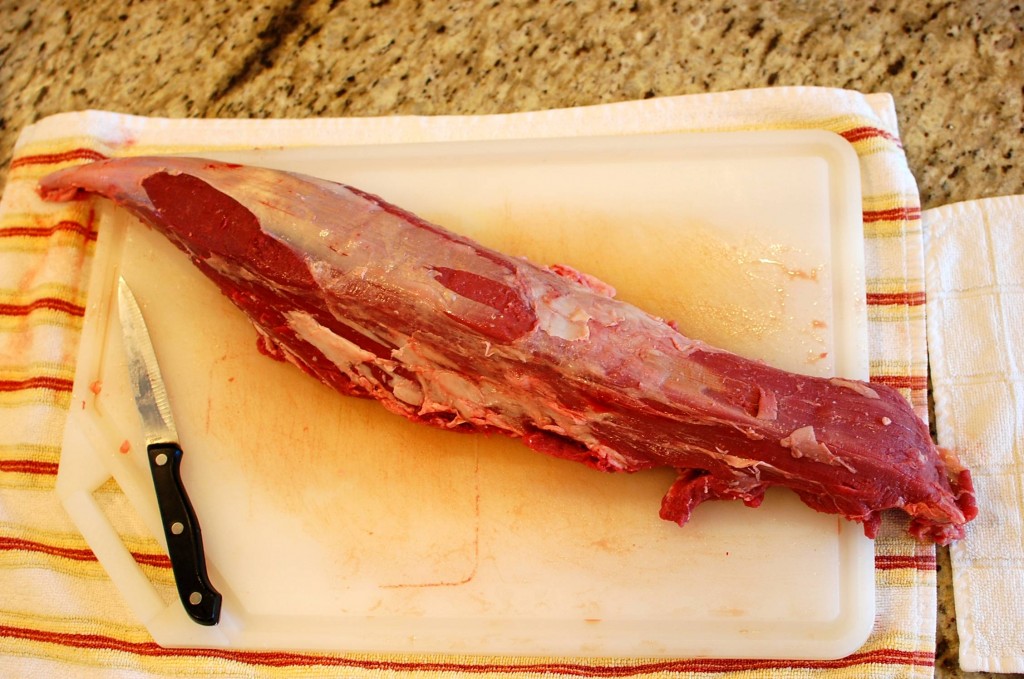 6.  If you look closely, you will see that some of the tenderloin is covered with a "silver skin".  This is a tough connective tissue that you definitely don't want on your steaks!  To remove it, slide the tip of your knife under the silver skin – perpendicular to the direction the fibers are running.  Pulling the knife upwards, slowly slice down the tenderloin (angling the knife away from the meat), pulling a small strip of silver skin up and off the tenderloin.  Continue all the way around the tenderloin to remove all the excess fat and silver skin.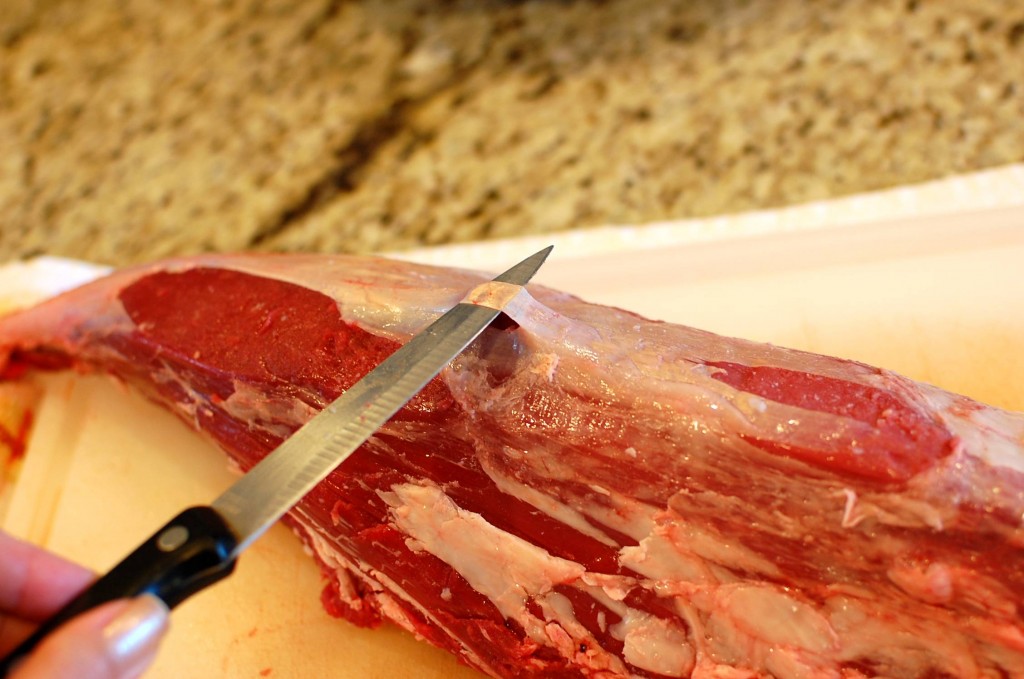 7.  Once you have removed the silver skin and extra fat, your tenderloin should look like this.
8.  Now you will slice your tenderloin into steaks.  I suggest cutting your filet mignon steaks 1 1/2 inches thick.  To start, cut a small part of the pointy end (or "tip") off.  Set the tip aside.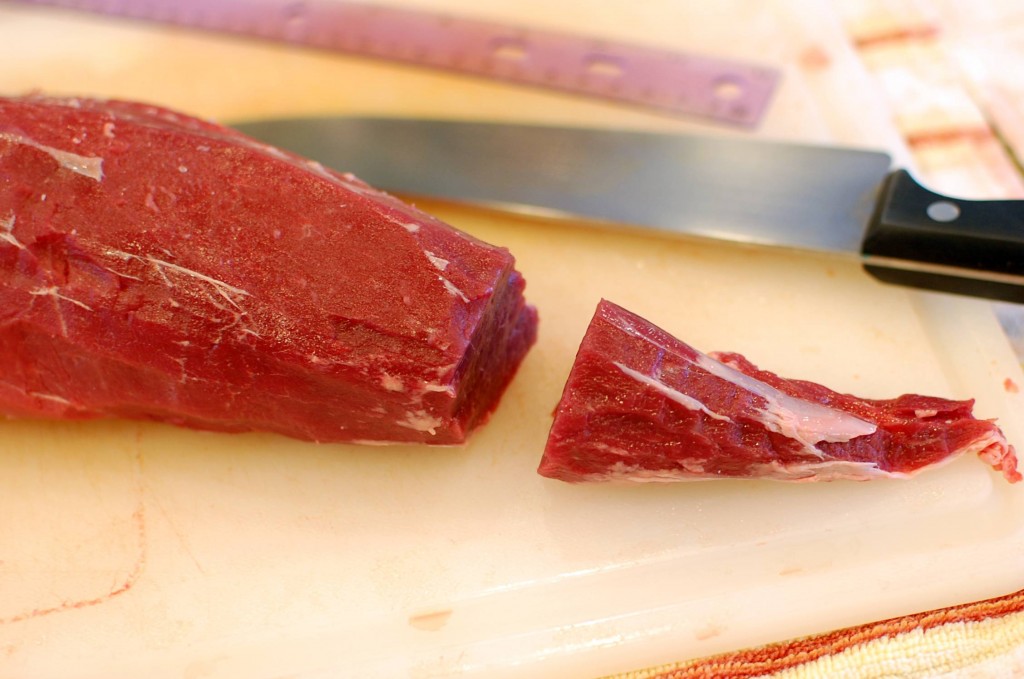 9.  Now, if you start cutting your filet mignon at this point, your first steak will be REALLY small.  If you want a really small steak… then go ahead and cut your first 1 1/2 inch thick piece.  If you are like me, and prefer to have most of your steaks even in size (which is important if you are serving guests – you probably want everyone to have similar sized pieces)… then hold a ruler up to your tenderloin, and make a cut 3 inches from the end.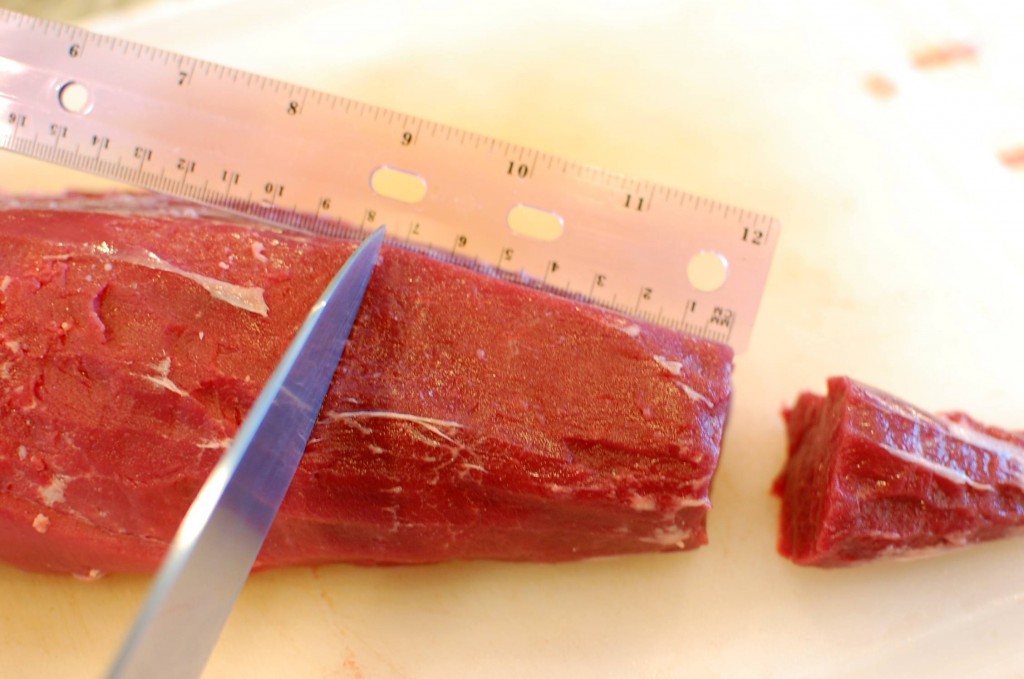 10.  Now, you are going to butterfly this piece.  Position your knife in the middle, and cut 90% through the meat.  Make sure you leave the bottom intact – don't cut all the way through!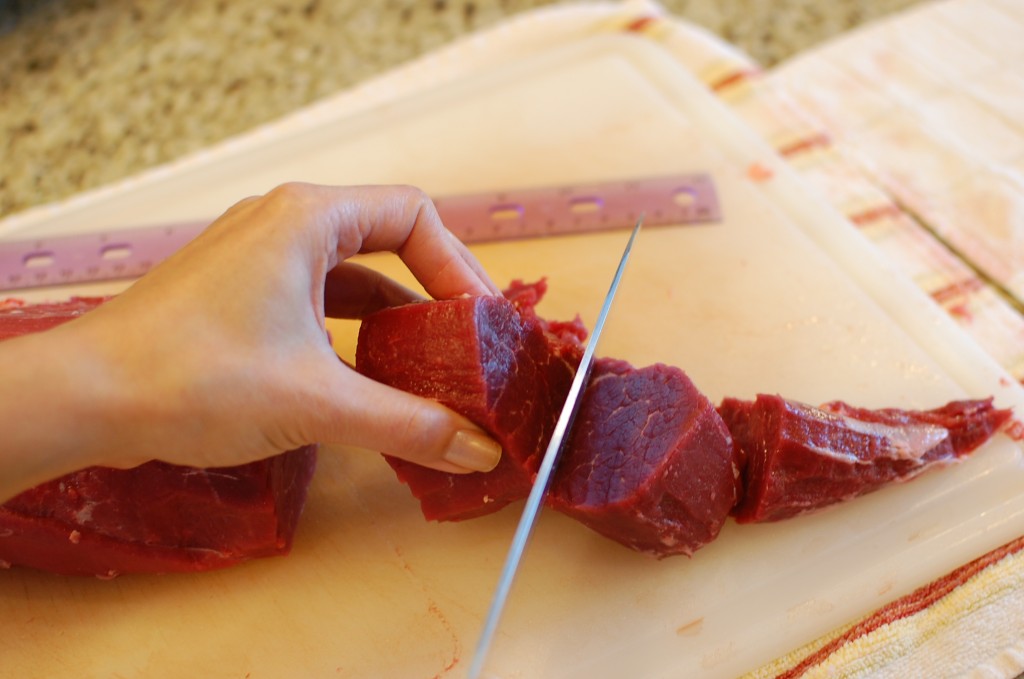 11.  Now flip the piece open like a book.  You have now made a large "butterflied" steak with the narrow part of the tenderloin.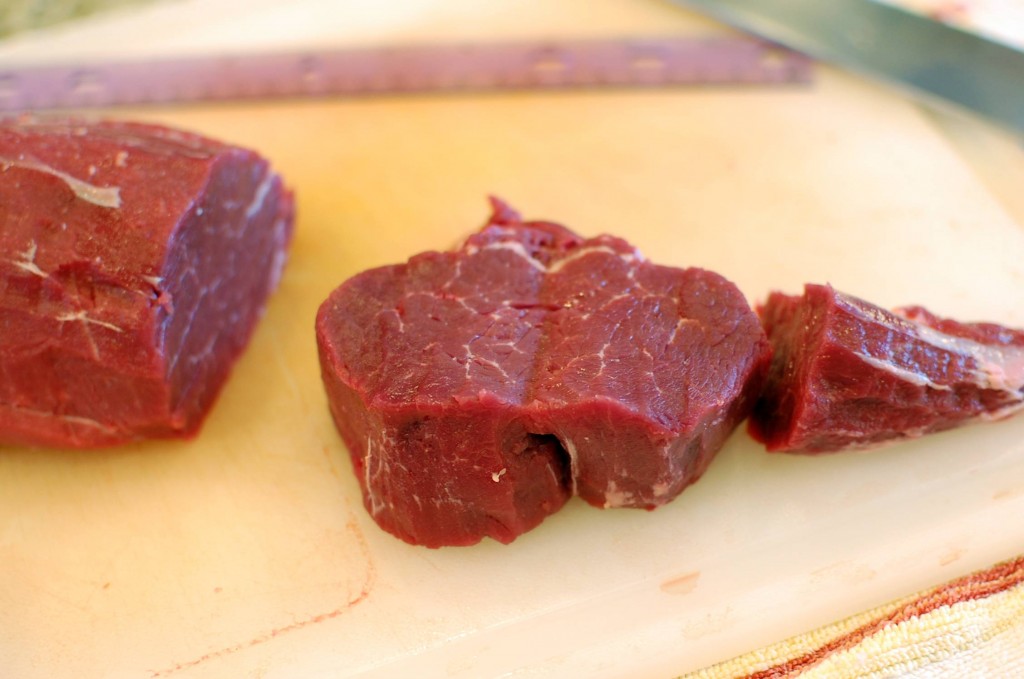 12.  Now your tenderloin should be large enough to cut 1 1/2 inch steaks.  Use your large chef's knife to work down the tenderloin, cutting as many 1 1/2 inch thick filet mignon steaks as possible.  When you get close to the end, you may want to finish with another butterflied steak.  You can see in the photo below, I was able to get about 8 nice sized filet mignon steaks from the tenderloin.  You may be able to get more (or less) depending on the size of your tenderloin.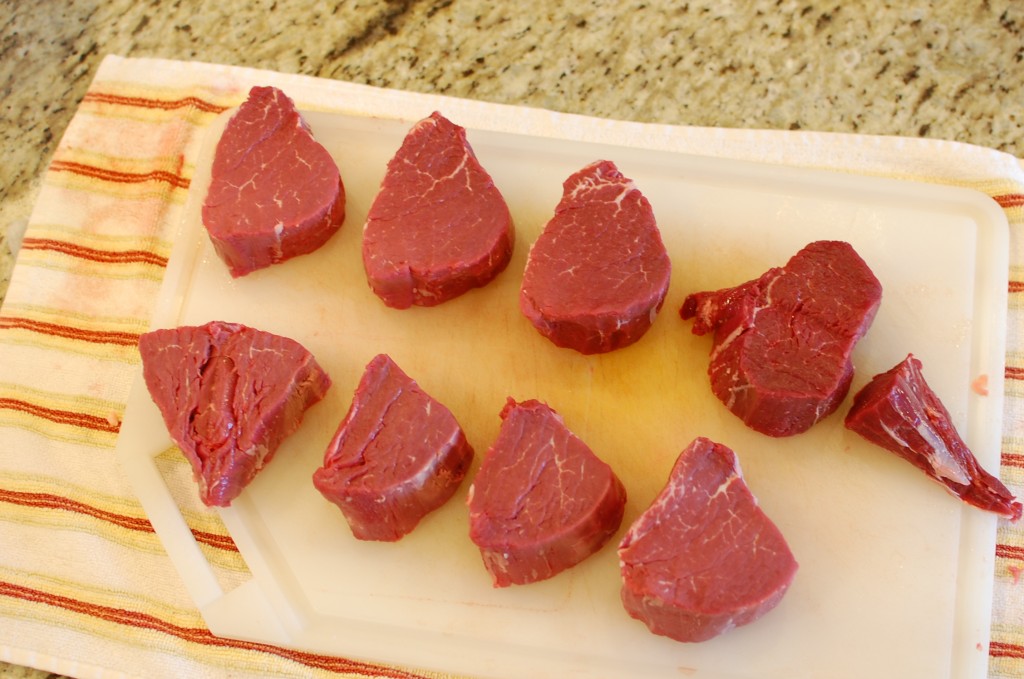 13.  But wait!  You can still cut more steaks!  Take the "wing" (Iliacus) that you have set aside, peel the silver skin and fat off of it, and cut that into more steaks.  With this one (on the bottom of the photo), I was able to get two more butterflied steaks.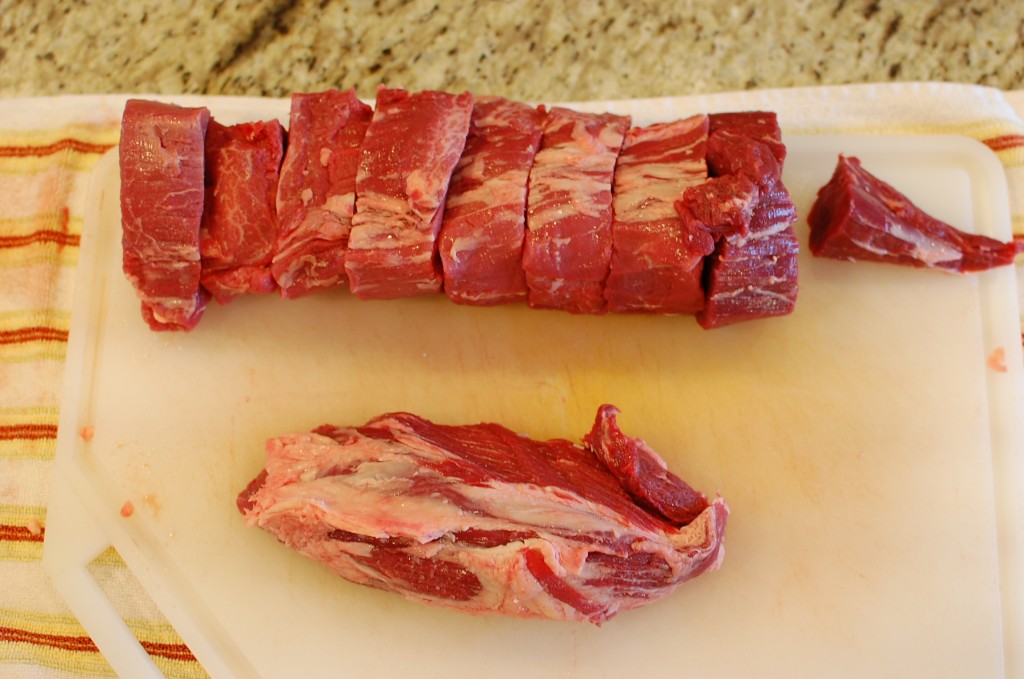 14.  So from my ~7 lb. Pismo, I was able to get 10 filet mignon steaks!  If you don't count any of the other meat left over… then it works out to about $7.60 per steak.  Not that bad when you remember that most people end up paying $30-$40 per plate for filet mignon at a restaurant!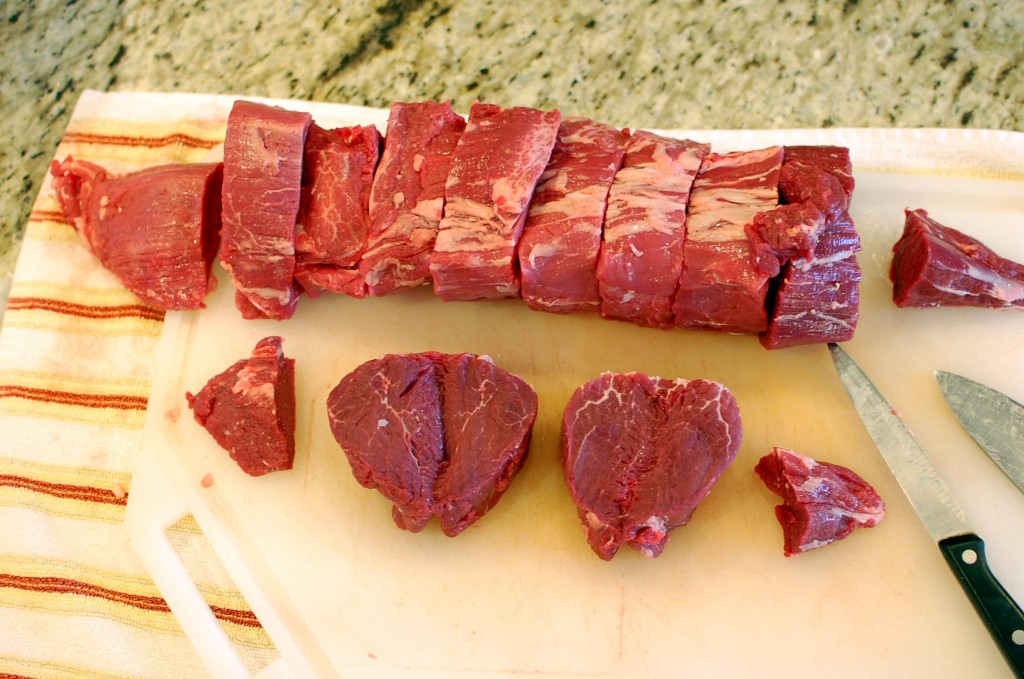 15.  As you can see in the photo above, you still have the end pieces from the tenderloin, and the end pieces from the wing.  You also still have the chain (Psoas minor).  It's a bit of work, since the chain is covered in quite a bit more connective tissue and fat… but if once you remove it, this is what the chain looks like completely peeled (see below photo).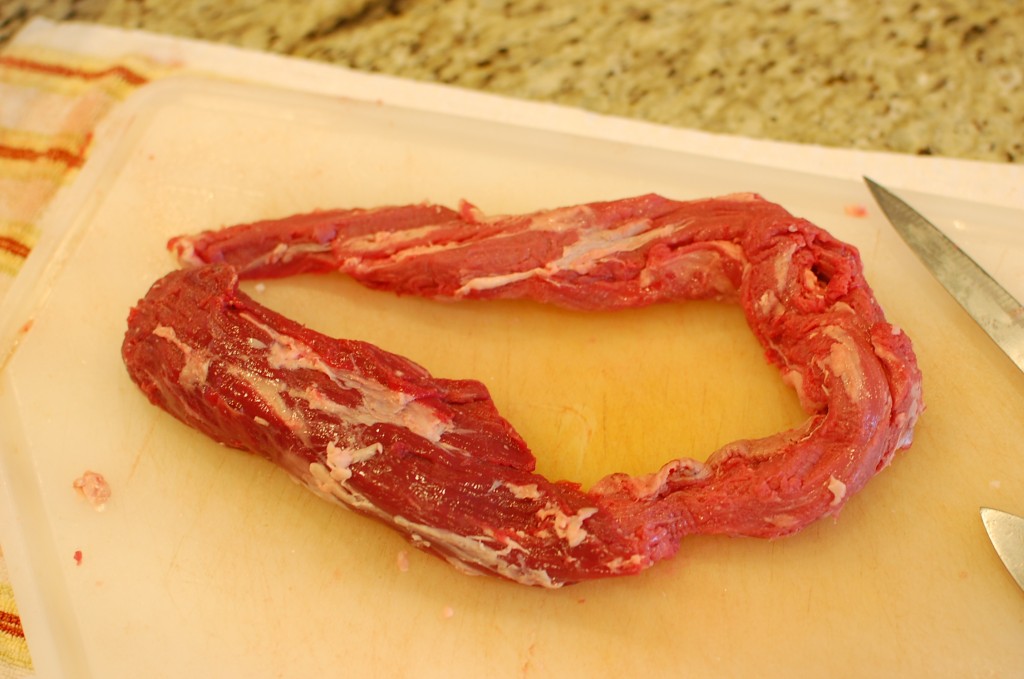 16.  The leftover tenderloin is very good quality beef – and makes wonderful meat for stir fried dishes, philly cheesesteak sandwiches… whatever you want to use it for.  So I cut the meat into a few large pieces (in an amount I know I would use in the future to make dinner), and wrap tightly in plastic wrap.  Then I put those wrapped pieces into a gallon sized ziplock bag, squeeze out the air, and freeze until needed.  Just to see how much usable meat I had leftover, I weighed it:  about 1.7 lb. worth of beef tenderloin!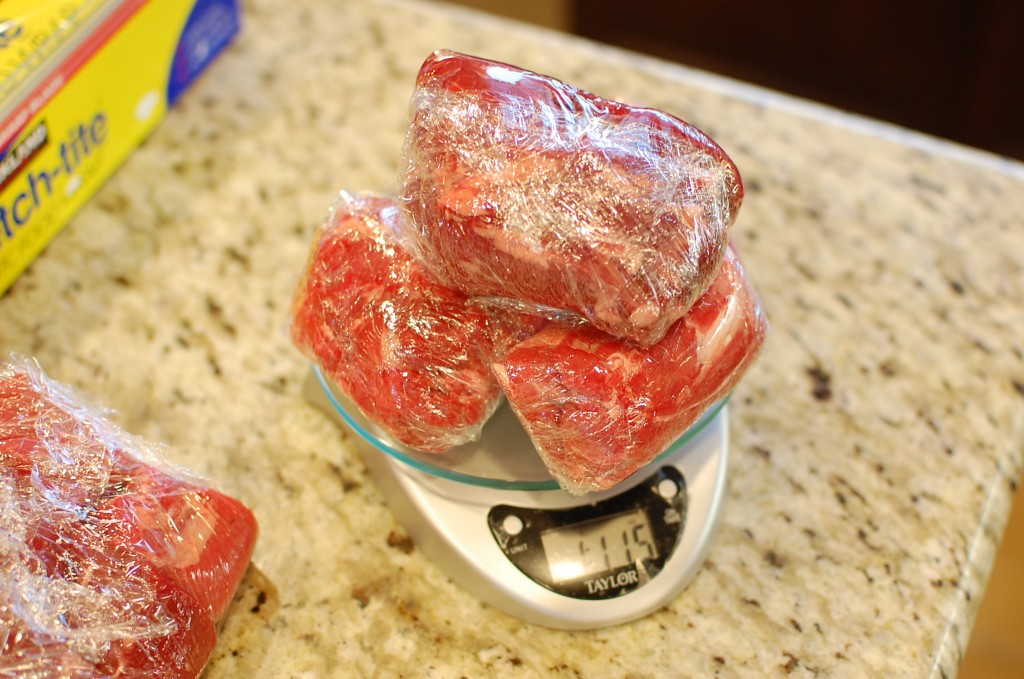 So there you have it!  It's so easy to butcher a whole beef tenderloin into filet mignon steaks!  If you have any questions, feel free to ask in the comment section below.  And as promised, here is the link to my favorite way to prepare filet mignon steaks!  Hope you like it as much as I do!  :)