A couple days ago, I posted a tutorial on how to butcher a whole beef tenderloin (PiSMO) into filet mignon steaks.  I usually do this about 3 times a year… mainly when we have company over for dinner, and typically for Christmas Eve dinner.  My most favorite method for preparing filet mignon is based on Alton Brown's recipe for Steak au Poivre.  For the most part, I follow his technique exactly, but I substitute a few ingredients in the sauce.  (His sauce calls for heavy cream and cognac… I don't have cognac laying around… so I normally use whiskey instead.  Also, I will use half and half instead of heavy cream sometimes… it depends on what is in the fridge!)
You can make this in any skillet or frying pan, but I really recommend using a cast iron skillet.  Although this is often considered an "old school" type of cooking pan, I LOVE cast iron for cooking meats.  The pan gets nice and hot, heats evenly – and you always get a perfect sear.  I got my Lodge 12-Inch Cast Iron Skillet at Walmart for about $25.  It comes pre-seasoned, so you don't have to worry about seasoning the surface… you just maintain the pan by scrubbing it out with hot water, and occasionally rubbing it down with some cooking oil.  The 12 inch skillet is perfect for making anywhere from 4-6 filet mignon steaks.  I also have a Lodge 10-inch Cast Iron Skillet that I use to make smaller portions (like 2-3 steaks) – and this size is also great for making baking amazing cornbread with crispy golden edges.
Steak au Poivre:
4 filet mignon steaks, 1.5 inches thick
1 T. unsalted butter
1/2 T. olive oil
salt
2 T. whole peppercorns
1 c. half and half or heavy cream
1/3 c. whiskey (or cognac)
1.  Season both sides of your filet mignon with the salt.  (I normally like to use either pink Himalayan salt or sea salt.)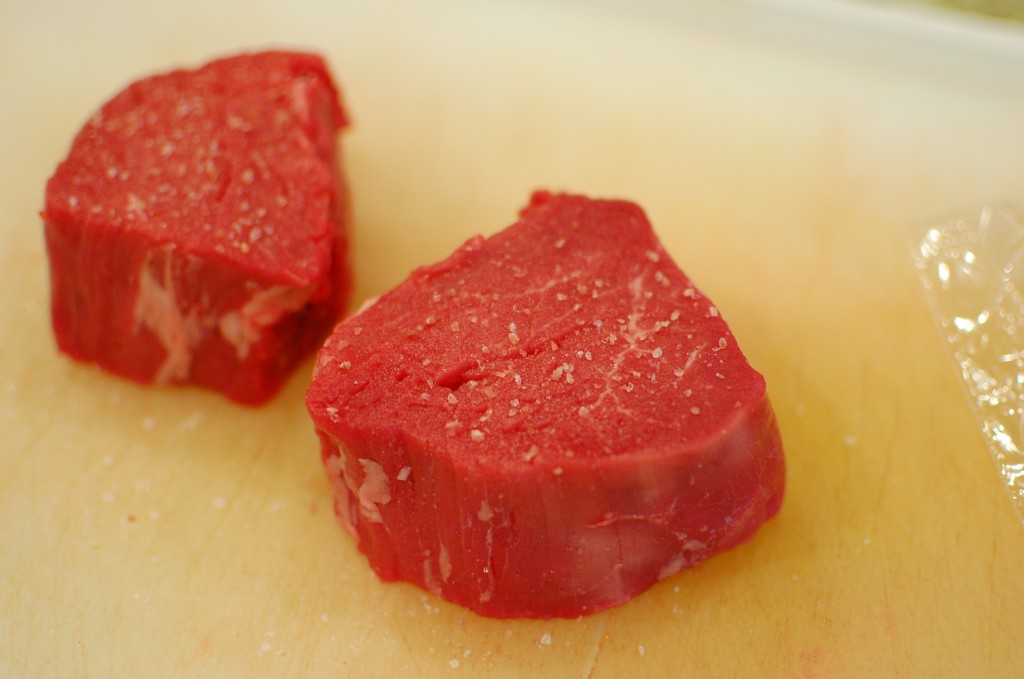 2.  Place the peppercorns into a sandwich bag, and pound with a mallet or rolling pin to crush.  (Normally, I prefer to use black tellicherry peppercorns for this recipe… but I found a bag of mixed peppercorns at Home Goods a few weeks ago that I wanted to try out, so that's what you are seeing here.)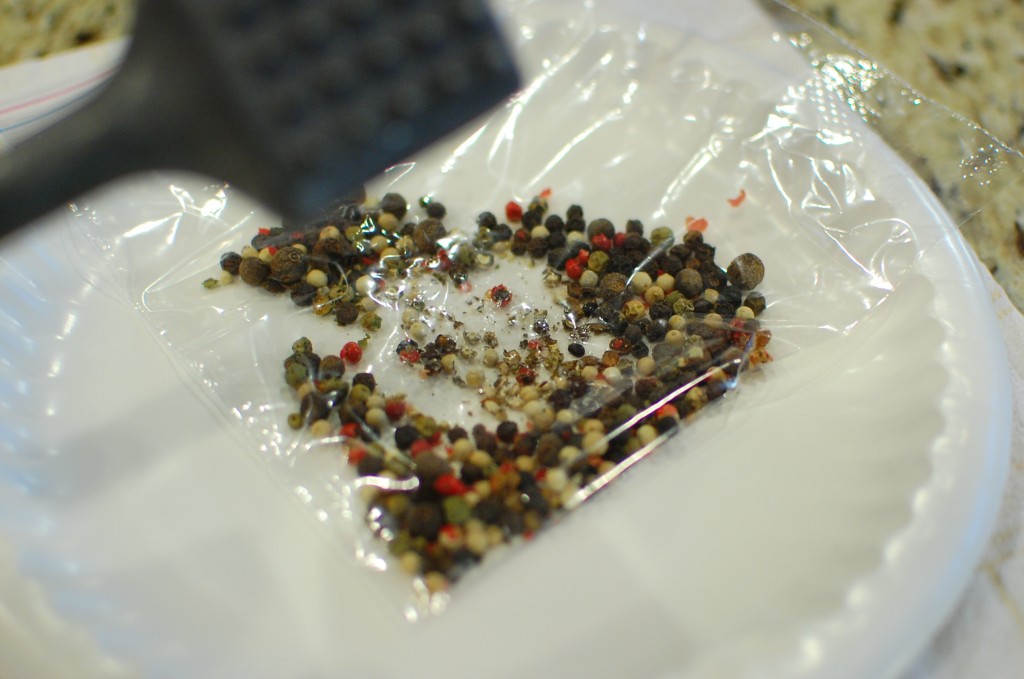 3.  Dip both sides of the steak into the crushed peppercorns to coat.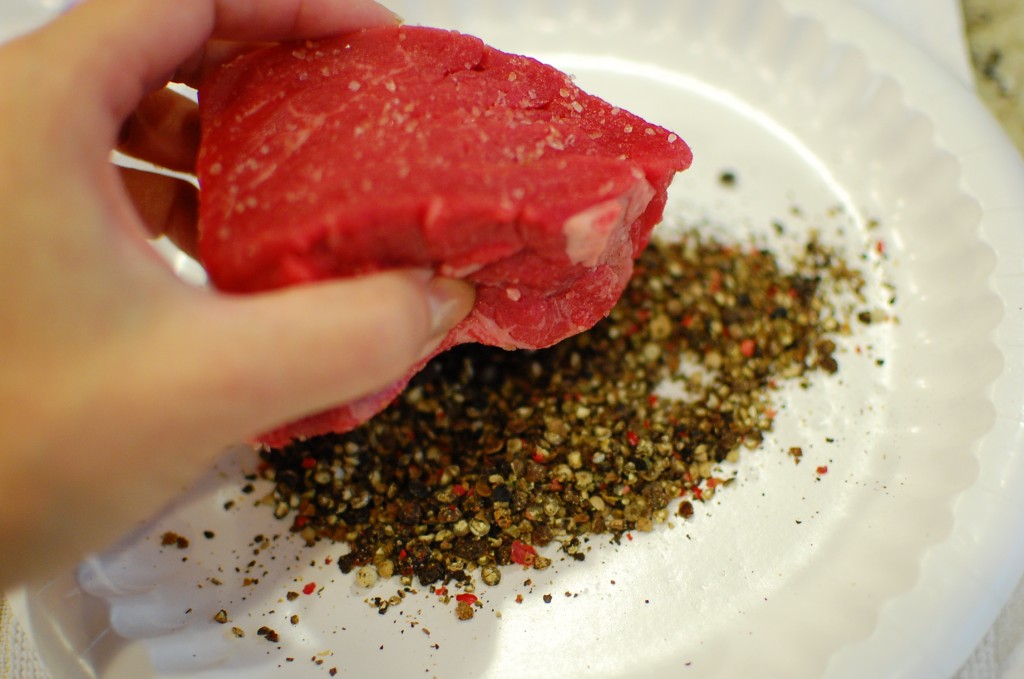 4.  Heat the butter and olive oil in a large cast iron skillet over medium heat.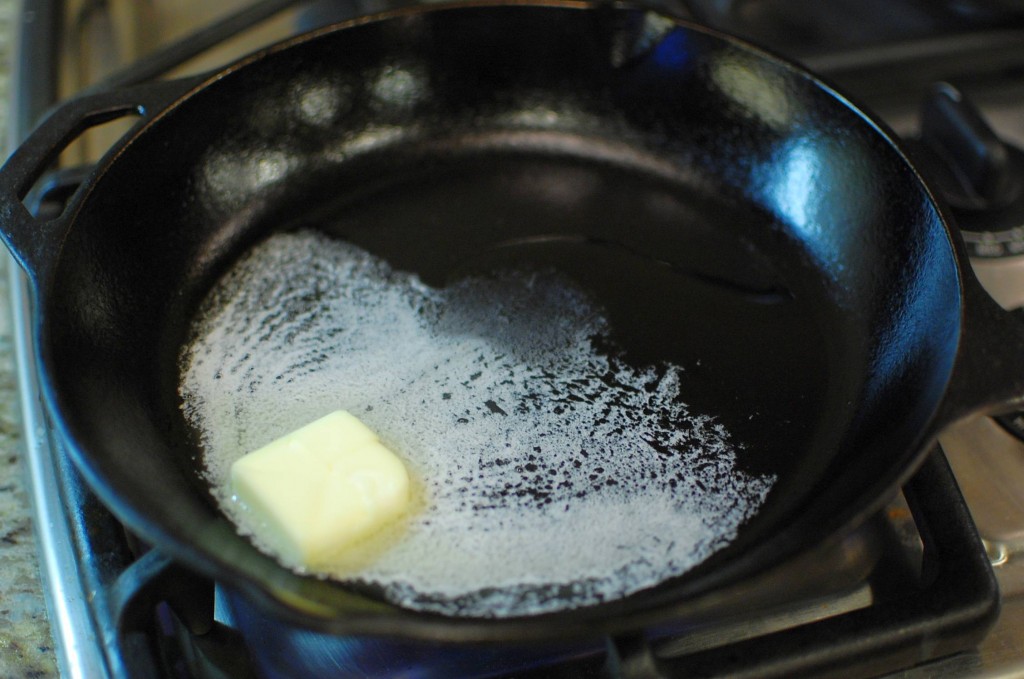 5.  Place the steaks in the pan, and leave them to cook (undisturbed) for 4 minutes (for medium rare).  (Normally I use a large 12″ cast iron skillet when I cook 4+ steaks… but for dinner tonight, it was just the two of us… so I used my smaller 10″ cast iron skillet.)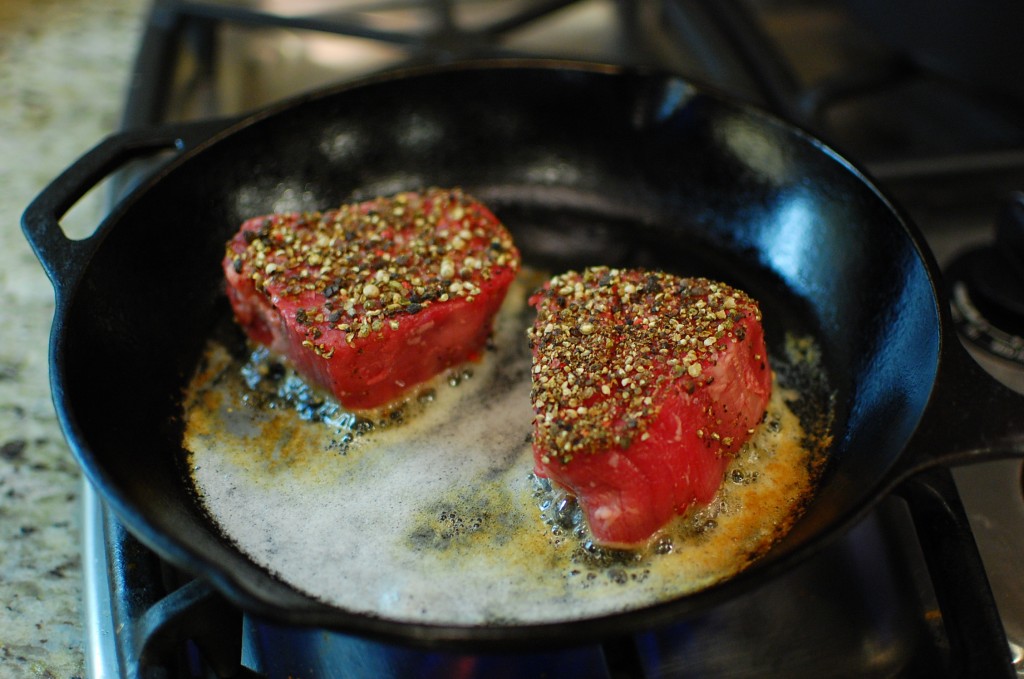 6.  Flip the steaks over, and cook another 4 minutes (undisturbed).  (Four minutes per side should give you a perfect medium rare after resting.  Add an extra minute or two per side if you like them to be more well done.)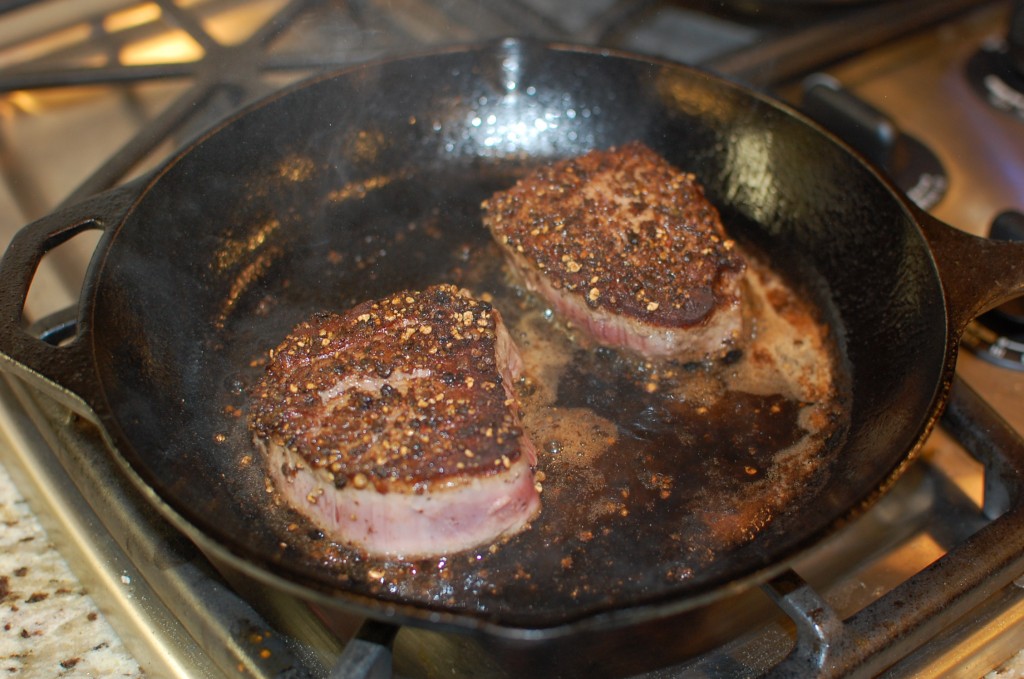 7.  Remove the steaks to a plate, and cover with foil.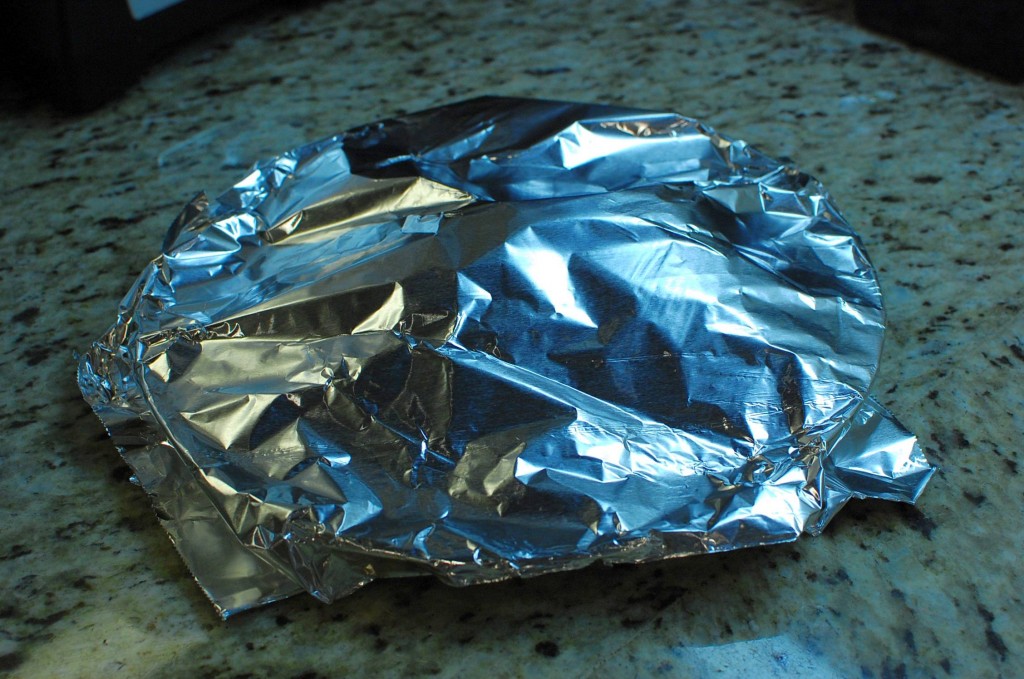 8.  Meanwhile, turn OFF the heat.  Pour the half and half or cream into the pan carefully, as it will sizzle and steam.  Once the sizzling has subsided, add the whiskey or cognac.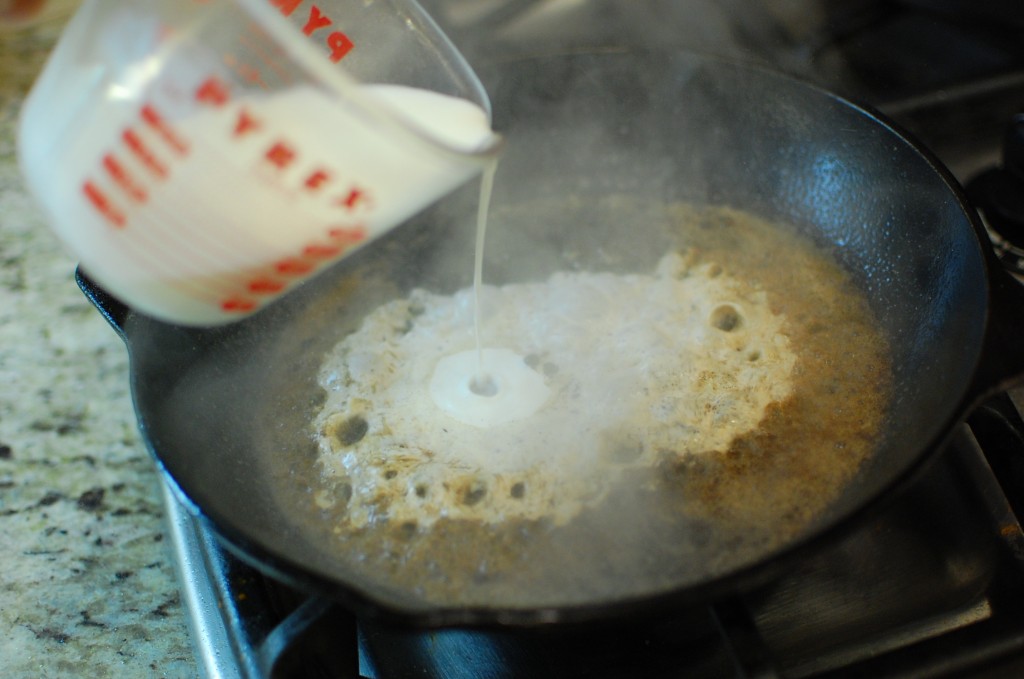 9.  Turn the heat back on to medium, and stir the sauce while cooking until thickened.  (Cook at least 2-3 minutes to make sure that most of the alcohol has cooked off.)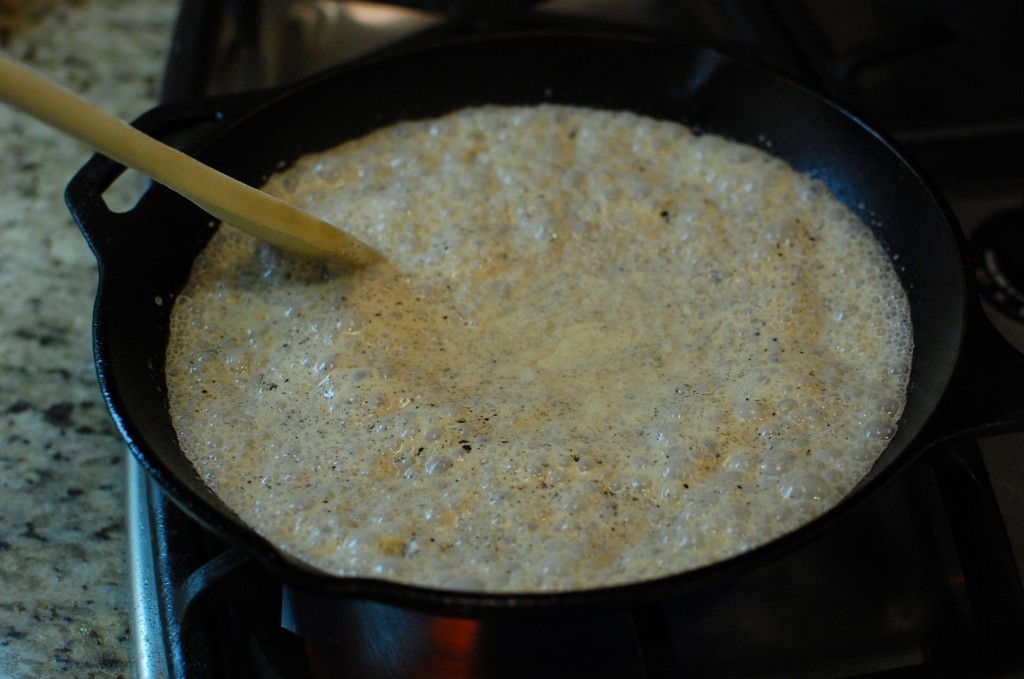 10.  Add the steaks back to the pan, and turn to coat.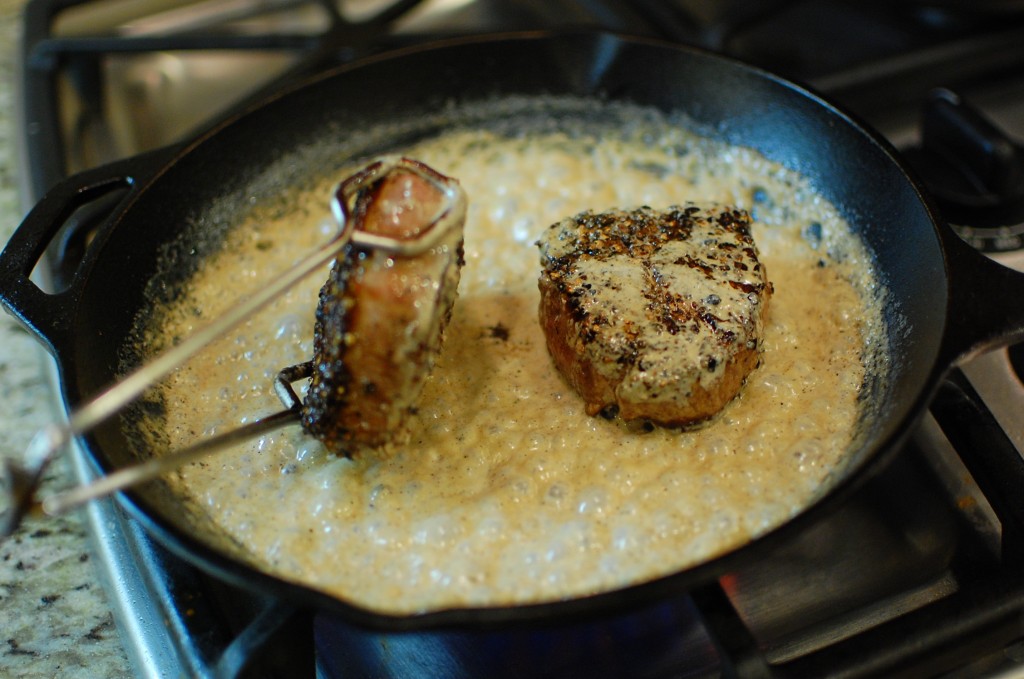 11.  Drizzle some of the whiskey cream sauce over the top of each filet, and serve immediately.