When I was 16 years old, my family took a trip to Walt Disney World in Florida.  This was a first for us… most of our family vacations revolved around Lake Arrowhead in the San Bernardino Mountains (about a 2 hour drive from our house in L.A.) – pretty much the farthest we had ever gone for a family trip.  But we got lucky one day… my mother won an all expense paid trip to Walt Disney World from KIIS FM (102.7) by answering the phone, "I love KIIS FM!!!" or something like that… so off we went!  That trip was so much fun!  All our food was 100% comped, we had admission to all of the parks, and coupons/vouchers for all kinds of activities.
The most memorable incident from that trip involved me, my brother, a canoe, a wrong turn, and an alligator.  (But for now, I will leave that story alone.)  The second most memorable incident from that trip involved being dive-bombed by some brazen seagulls in the "Japan" area of Epcot Center.  Walking through Epcot's "Japan"… there was a street vendor selling fresh hot Taiyaki with red bean filling.  (Taiyaki are kind of a cross between a pancake and a waffle – the batter is cooked in a fish shaped mold – typically filled with sweetened red bean paste.)  OMG I wanted one so badly.  So… my mother bought me one.  I took one bite… then all of a sudden… there was a rush of air, flutter of wings, and my hand was empty!  A seagull STOLE the Taiyaki right out of my hand!!!!  Feeling sorry for me, my mother bought me another one.  One more bite… and ANOTHER GREEDY SEAGULL stole my second Taiyaki!!!!   This time, I held on, and the seagull managed to only steal half of my Taiyaki.  What lesson did I learn from that?  1.  Seagulls are jerks.  And 2. Taiyaki are delicious when hot and fresh – apparently nobody can resist them.
To make your own Taiyaki at home, the only special thing you need is a Taiyaki mold/pan.  I got my non-stick Taiyaki Pan online for about $40.  You can probably find the Taiyaki Pan cheaper in Asia, or you might find one at a Japanese houseware store… or possibly ebay.  They do sell electric Taiyaki machines… but I think the double-sided molded pan (for stove use) is best – it's easier to use, and easier to clean.  If you can't find a molded Taiyaki pan, don't despair… you can make Dorayaki instead:  Instead of making molded filled pancakes, just use the batter to make 1.5″ to 2″ round pancakes in a regular skillet – then sandwich the filling in between two pancakes.  Or make a larger 4″ pancake, place the filling over one half, then fold over to make a half moon shape.
Taiyaki batter:
2 c. flour
2 tsp. baking powder
1/2 tsp. salt
2 T. sugar
1 1/3 c. milk
1/4 c. oil
1 egg
Custard Filling:
3/4 c. + 2 T. milk
2 T. unsalted butter
2 egg yolks
1/4 c. sugar
2 1/2 T. flour
1 T. cornstarch
1/4 tsp. salt
1 tsp. vanilla extract
Alternate Fillings:
sweetened red bean paste
nutella
jam
mashed sweet potato
cheese
cream cheese + sugar
chocolate chips + peanut butter
1.  If you are making the custard filling, do this at least 1 hour before making your Taiyaki.  Microwave the milk and butter in a pyrex cup for about 90 seconds.  (You want to scald the milk and melt the butter.)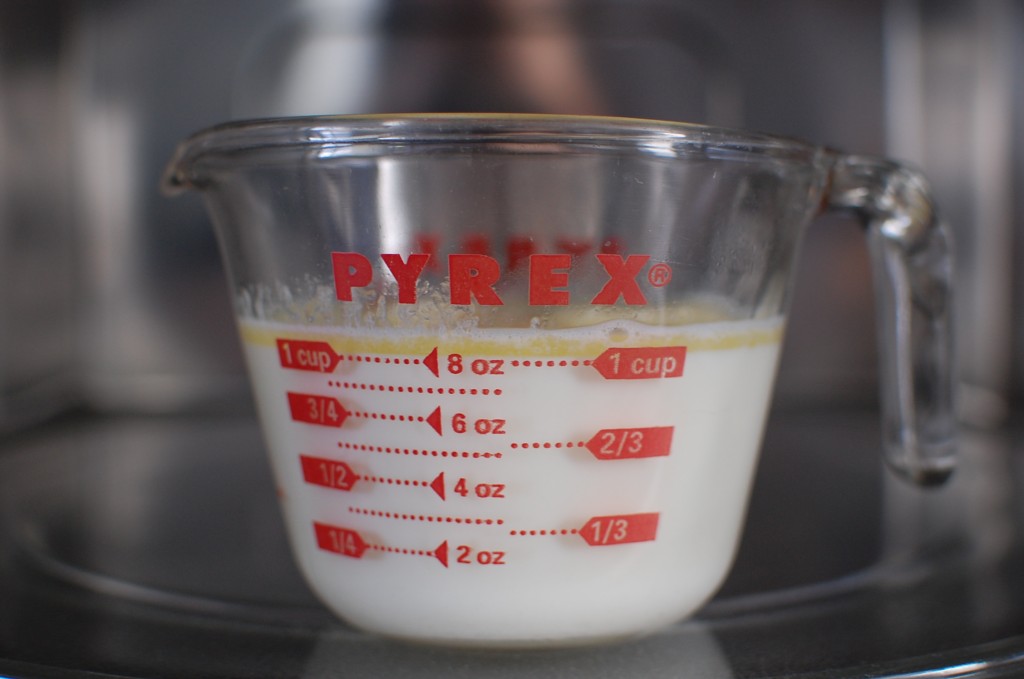 2.  Mix the egg yolk, sugar, flour, cornstarch, and salt into a paste.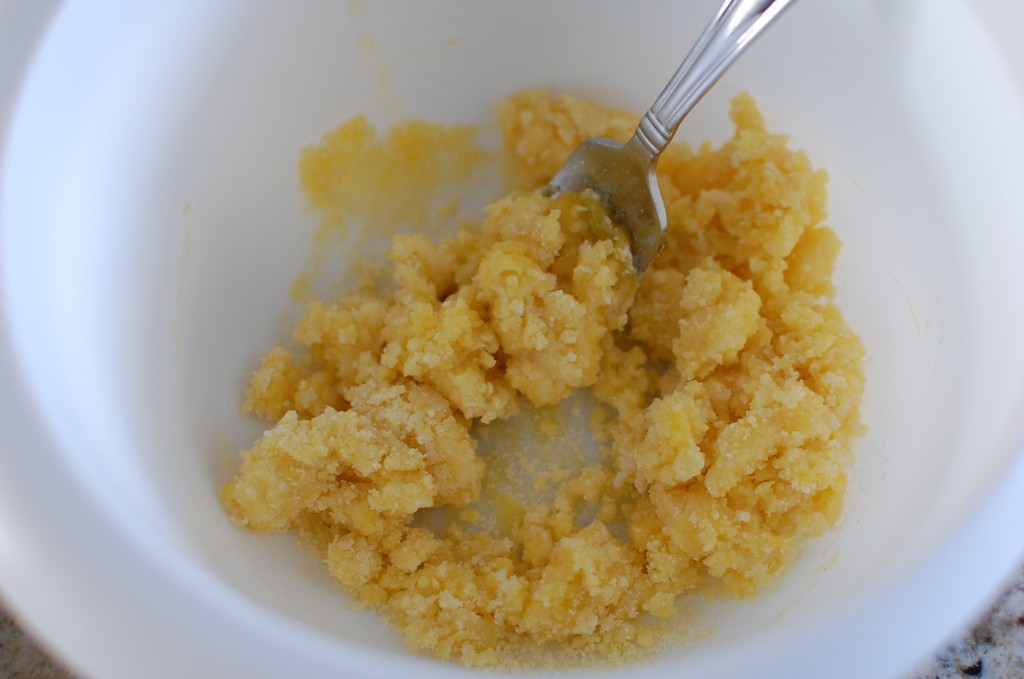 3.  Add a small amount of the hot milk mixture to the paste, stirring to loosen it  up.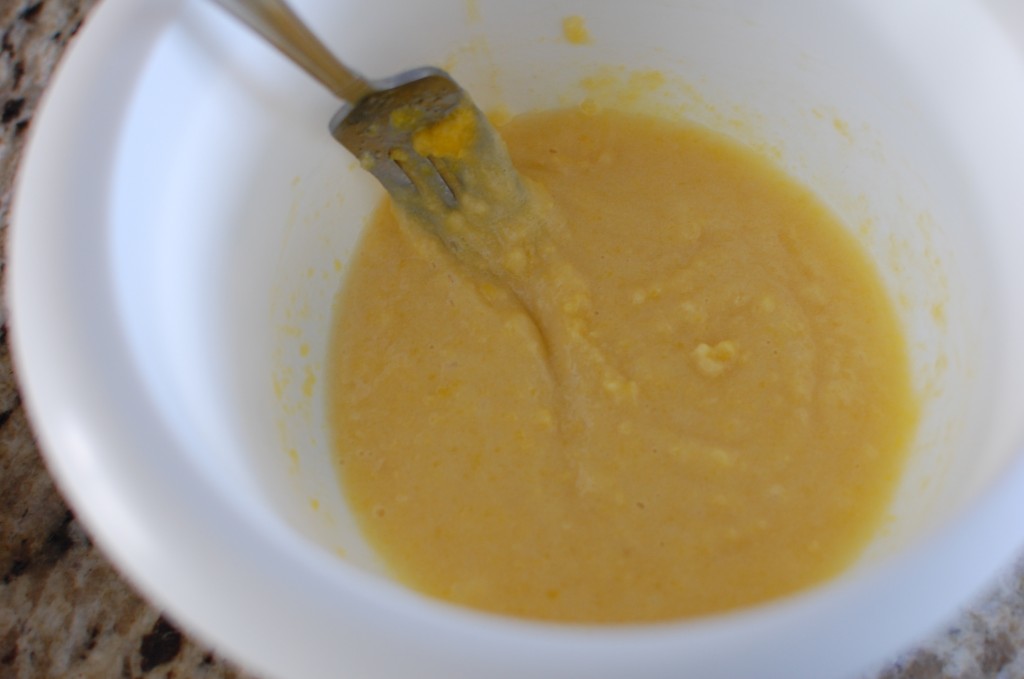 4.  Continue adding the hot milk mixture (a little bit at a time) to the paste mixture, stirring as you go until you have a smooth liquid.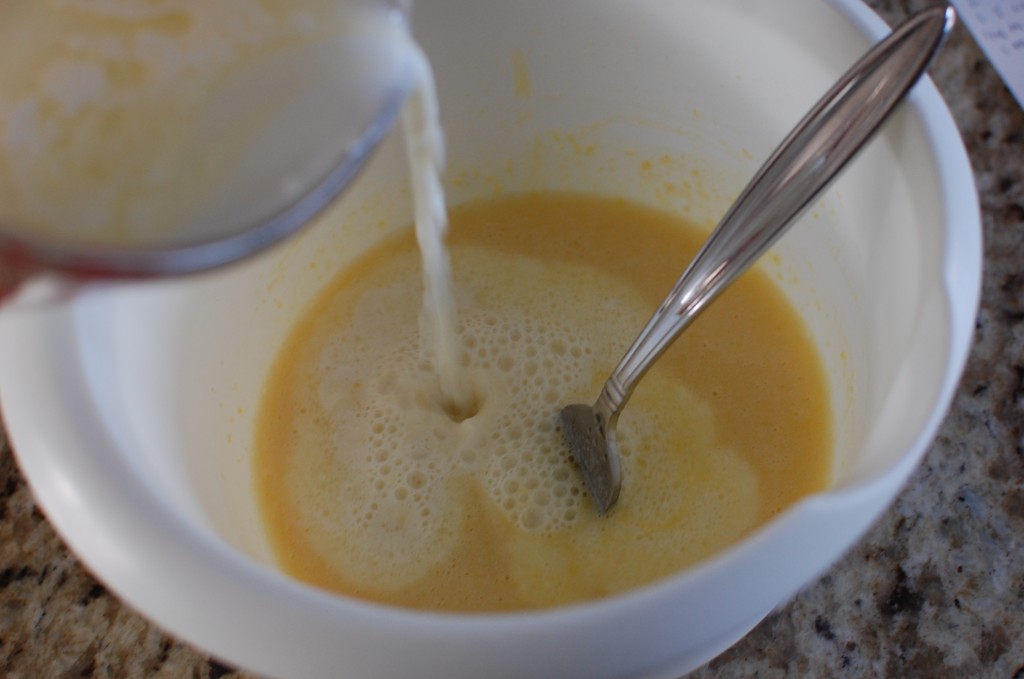 5.  Put the mixture into a small sauce pan and add the vanilla.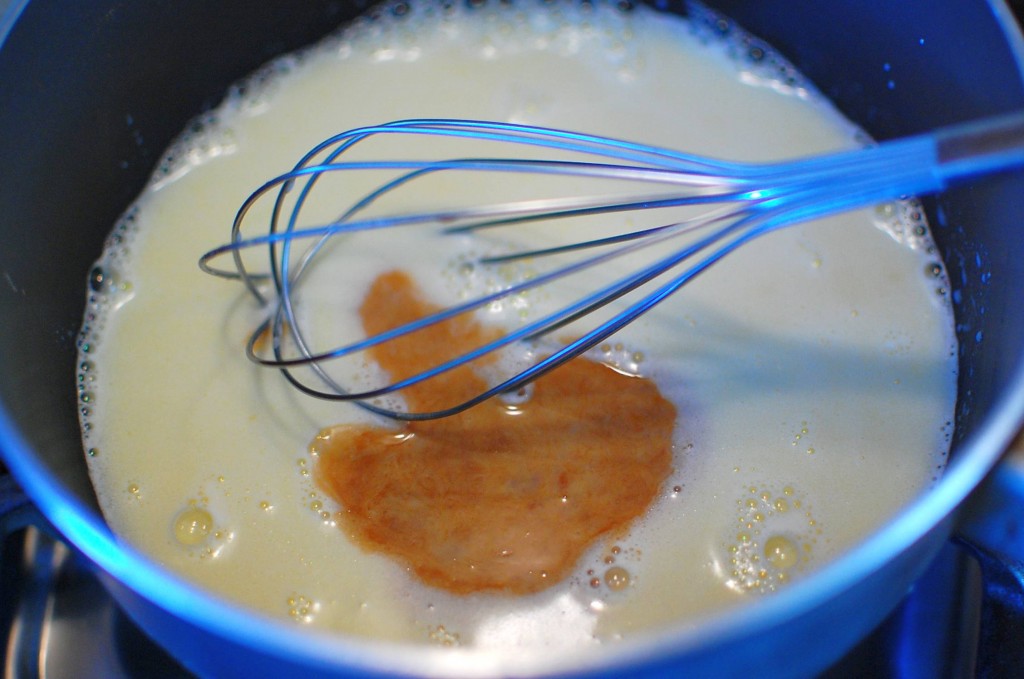 6.  Cook over medium low heat, whisking constantly, until the mixture thickens.  When swirl lines appear, remove from the heat and continue to whisk another 30 seconds.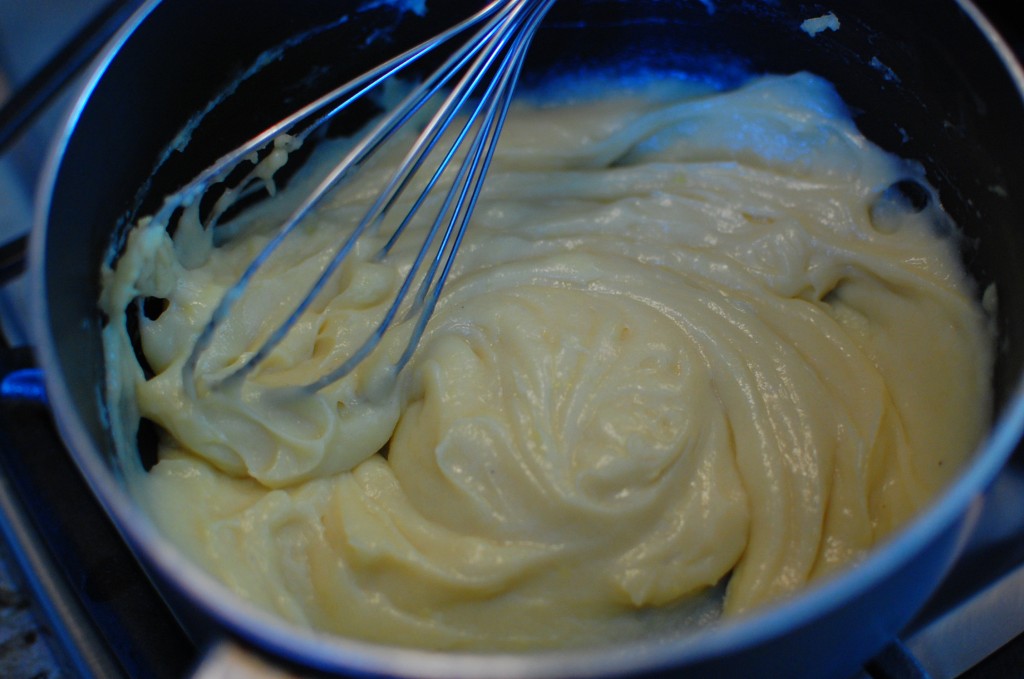 7.  Remove the cooked custard to a small bowl, cover with plastic wrap, and refrigerate until ready to use.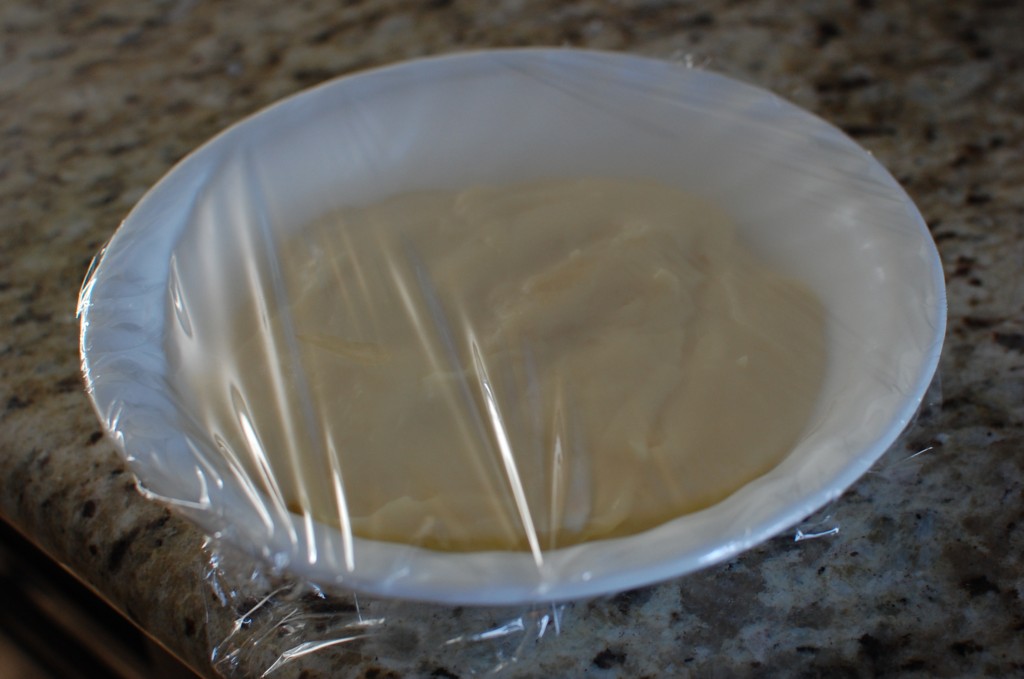 8.  To make the Taiyaki batter, mix the flour, baking powder, salt, and sugar in a bowl (preferably one with a spout, so that the batter will be easier to pour later).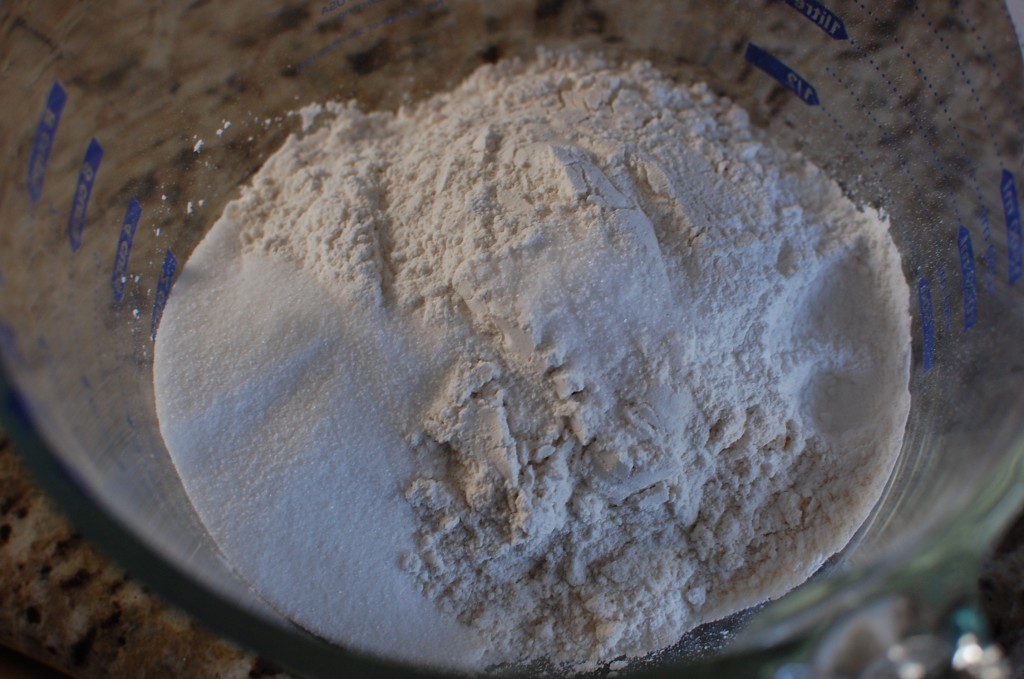 9.  Add the milk, oil, and egg, and mix until combined.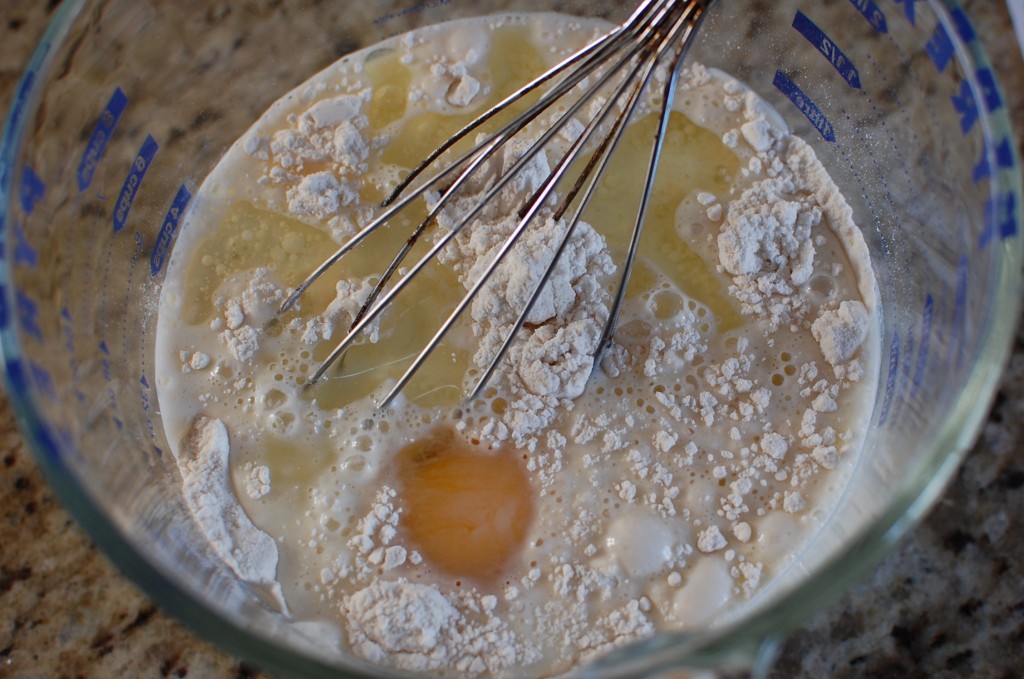 10.  Preheat your Taiyaki mold over medium-low heat, and brush both surfaces (the top and bottom of the mold) with a little bit of cooking oil.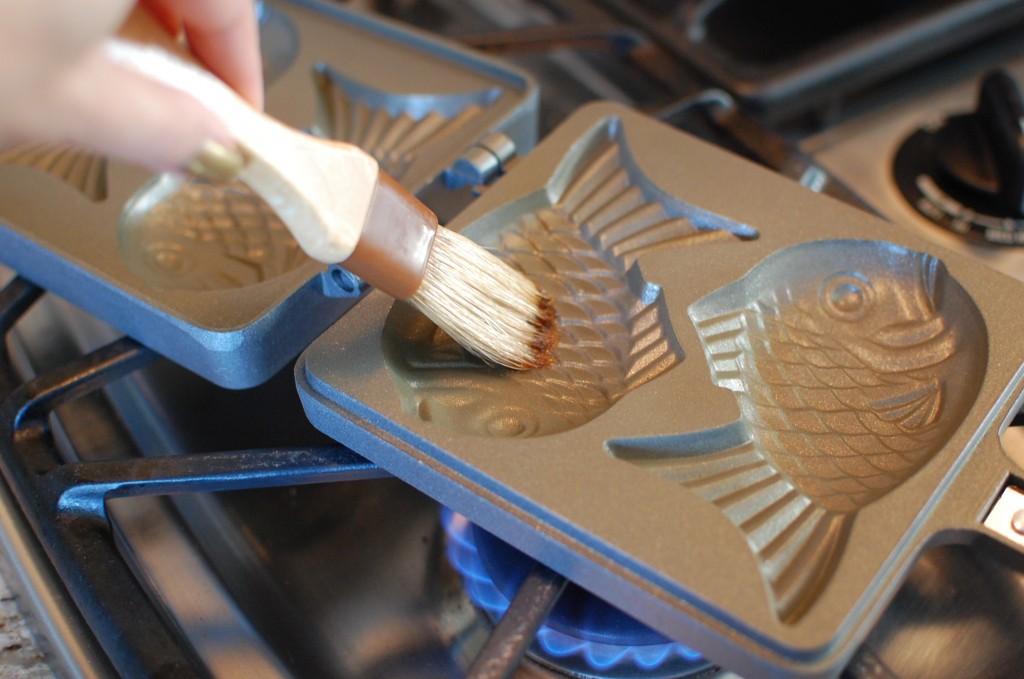 11.  Place the bottom of the mold over the burner set to medium-low.  Fill the bottom mold about 2/3 full with the batter.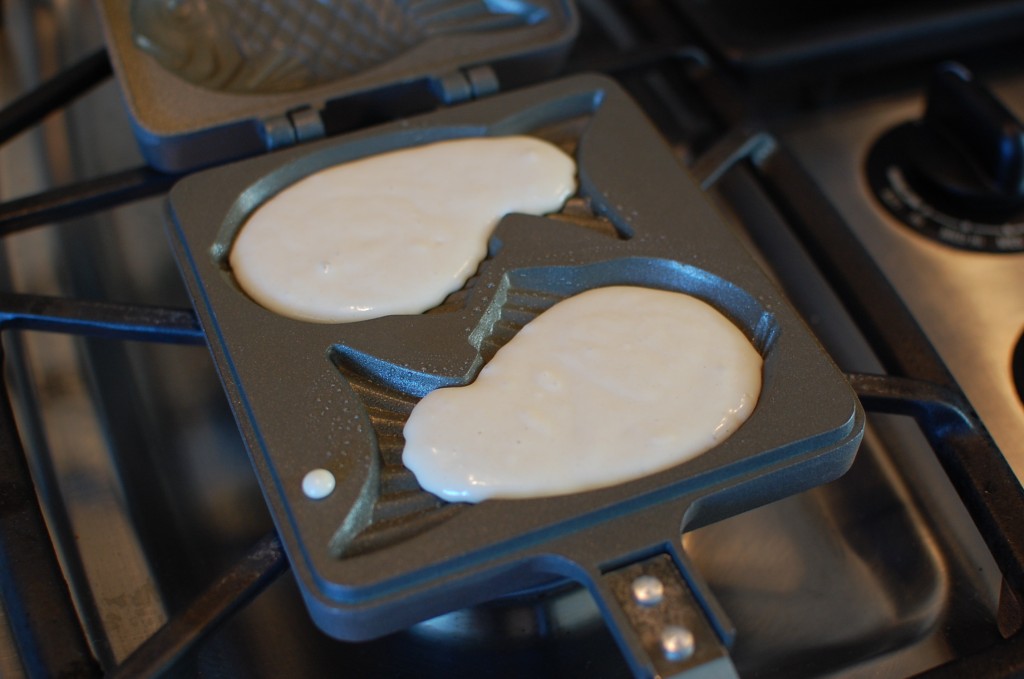 12.  Add a small scoop of your filling.  (In the picture below, I'm using sweetened red bean paste because it shows up better in the pictures.)  You can use pretty much any filling you like:  custard, sweetened red bean paste, sweetened mashed sweet potato or taro, jam, nutella, chocolate chips + peanut butter… anything you want.  Just don't overfill – use only about 1 T. of filling.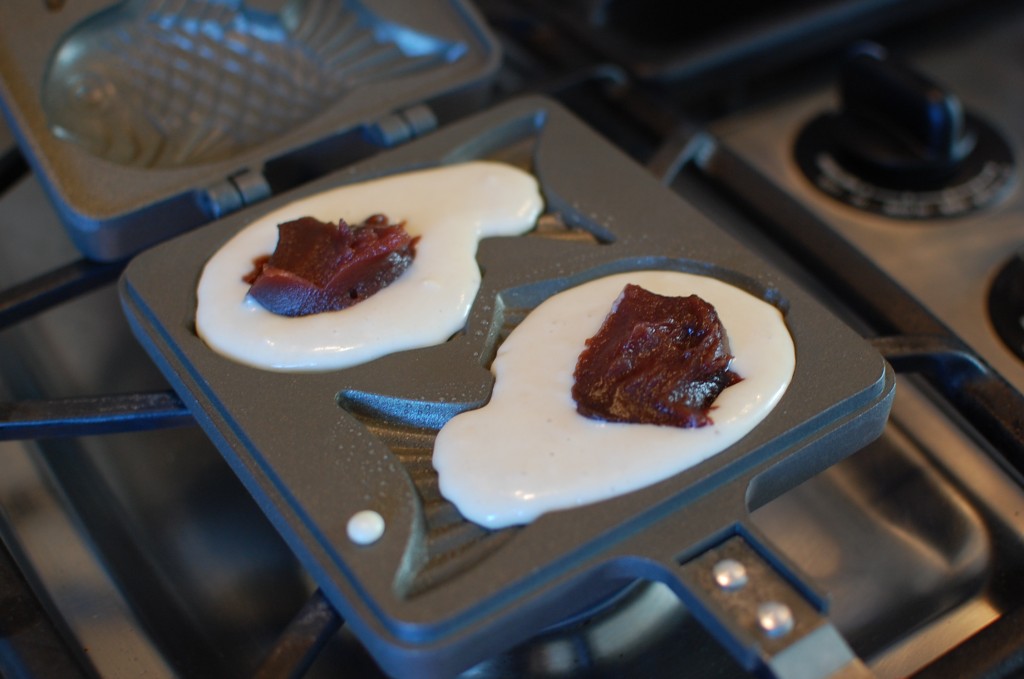 13.  Cover the filling with a little bit more batter.  (You can use the back of a spoon to smooth the batter to completely cover the filling.)  Close the lid down (squeezing the handle tightly), and flip over so that the top mold is now being heated by the stove.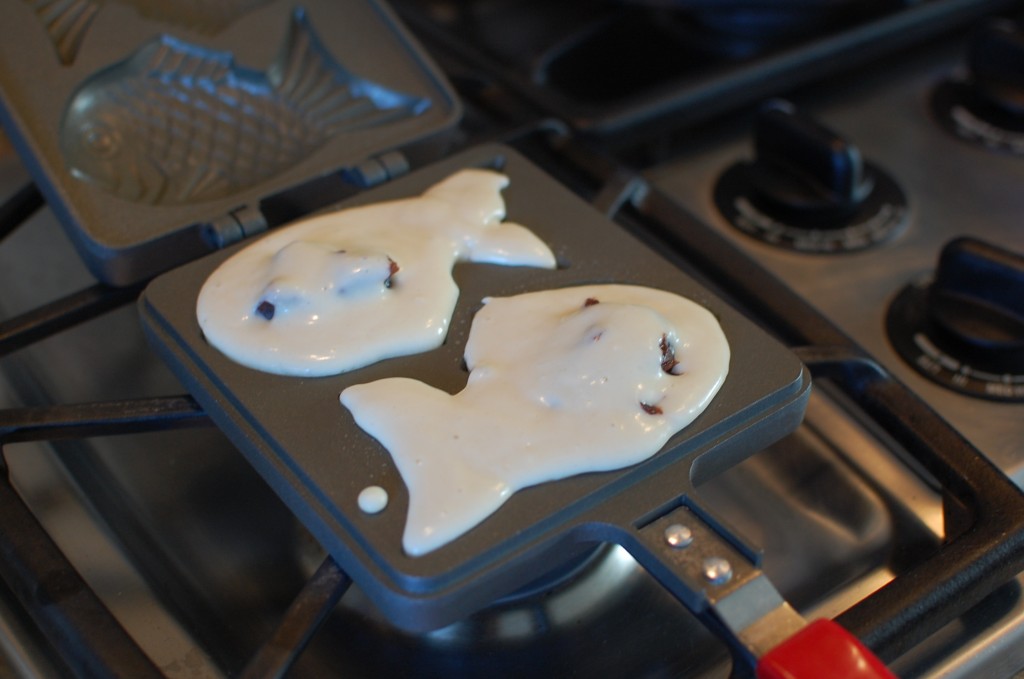 14.  Continue to cook over medium-low, flipping every 30 seconds.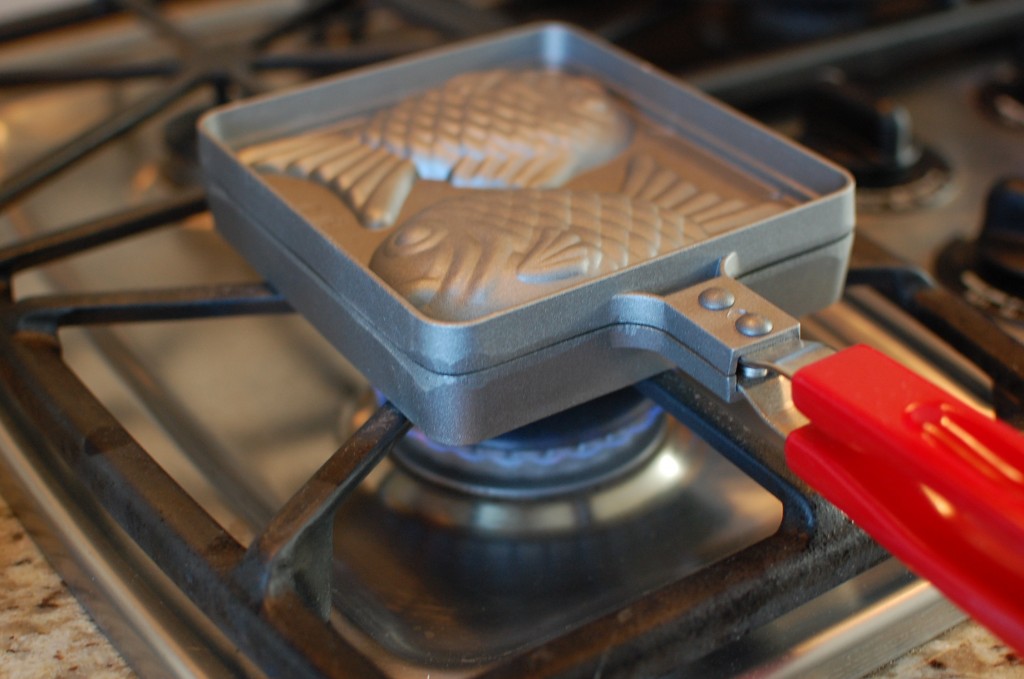 15. After about a minute or two, lift up the lid slightly and check to see the color of the Taiyaki.  If too pale, continue cooking until golden brown.  (If you overfill the mold, batter will flow out, making it more likely that the mold will stick together, or that the Taiyaki will stick to one side of the mold.  If that happens, use a plastic fork or bamboo skewer to gently pry away some of the cooked batter.  Try not to overfill next time – it will make it easier to remove.)  In this photo you can see the Taiyaki is still undercooked.  I lifted the mold up a little higher than normal in order to take the picture – in reality, you will only want to lift up the lid an inch or so – just to quickly check the color.  You will want the Taiyaki to be golden brown.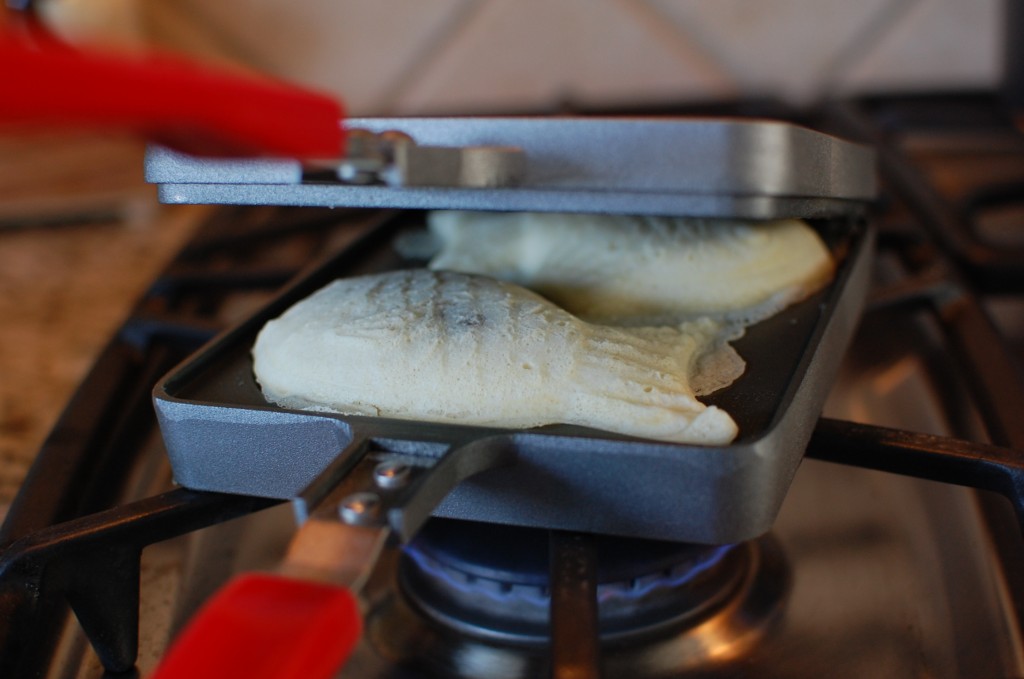 16.  Remove the Taiyaki to a plate.   Use kitchen shears to cut the excess cooked batter off the Taiyaki to "clean up" the edges.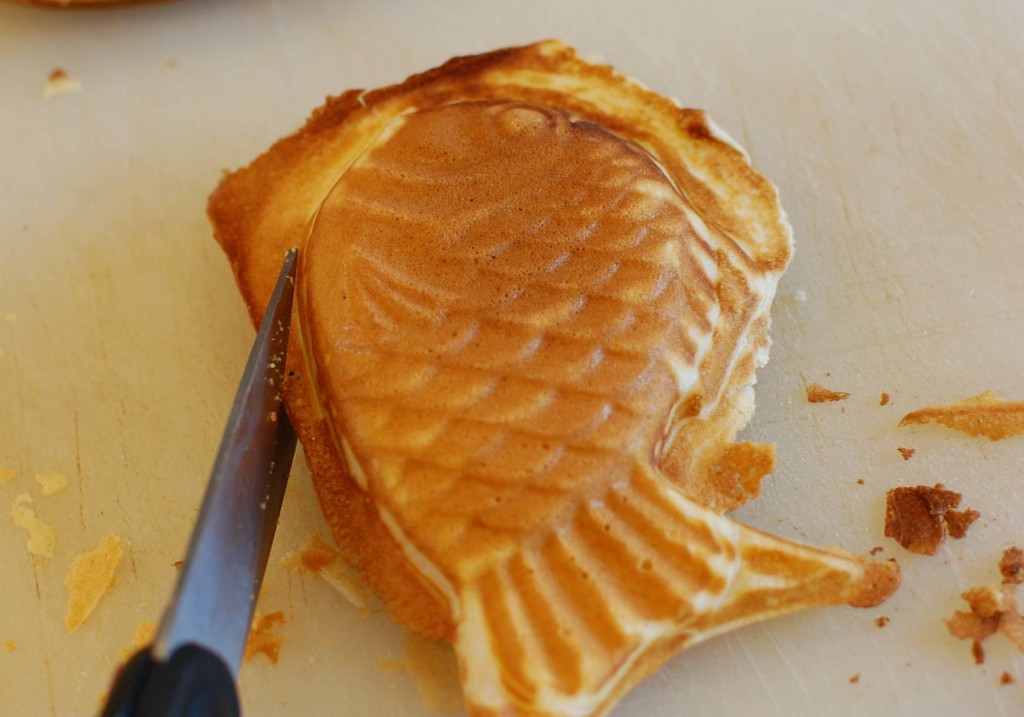 17.  Serve hot.  (One batch of batter will make about 12 Taiyaki.)