Have you noticed a lot of ice cream labels these days?  Many of them no longer say 'Ice Cream'… they actually say 'Frozen Dairy Dessert'!!!  What happened to 'Ice Cream' and why are we all eating 'Frozen Dairy Dessert' instead?  I suspect it has something to do with the "healthy eating" movement.  People have become wary of high fat foods, and a product has to have to have at least 10% milk fat to legally be considered 'Ice Cream'.  'Frozen Dairy Dessert', however, has no legal definition… so manufacturers can lower the fat content to appease their consumers who want lower fat versions… and there you go.  (That's my hypothesis, at least.)  I'm a big fan of full fat treats (in moderation, of course)… and to me, there is nothing better than fresh made ice cream with all natural ingredients – milk, sugar, cream, fruit…. sorry, even though "natural", it seems kind of weird to have algae products (like carrageenan) in my "Ice Cream".
I recently bought a Cuisinart Ice Cream Maker from Williams-Sonoma online.  It was about $60 (they were having a sale on electric appliances with free shipping), and came with an EXTRA freezer bowl (so you can make two different flavors back to back without refreezing the bowl), PLUS and it came with a $20 gift card rebate.  So overall, I got a really good deal (If I do say so myself!) – about $40 for an Cuisinart Ice Cream maker with an extra freezer bowl!   Yay!
My ice cream machine came with a little book of recipes, and since I had just bought fresh strawberries at the market (they were on sale for $1.99 for a 16 oz. box)… time to make Fresh Strawberry Ice Cream!  I changed the recipe a little bit… the original instructions called for less strawberries, but I added the full 16 oz. because I wanted the ice cream to be bursting with strawberry flavor, and also have nice little chunks of strawberry visible.
I actually used 1% milk instead of whole milk, and it turned out fine.  (I figured the heavy cream has so much fat in it, that the little fat I'm losing in the milk won't matter much.)  You probably could substitute the heavy cream for light cream or half and half, and while it might not be as creamy – it would probably still be pretty good.
Feel free to substitute your favorite soft fruits in this recipe for the strawberries: raspberries, blackberries, peaches, apricots… whatever you want!  You could also add more sugar if you want the ice cream to be sweeter (since certain fruits, like raspberries, are often less sweet and more tart).  Just remember to taste the mixture before refrigerating to test, and add more sugar accordingly.  (Remember that once frozen, the mixture will taste slightly less sweet.)
Fresh Strawberry Ice Cream:
16 oz. package strawberries
2/3 c. sugar
1 1/2 c. heavy cream
3/4 c. whole milk (I used 1% milk and it was fine)
1/4 tsp. salt
1/2 T. vanilla extract
Hardware Required:
Ice cream machine
2 qt. pitcher
1.  First, make sure you put the freezer bowl for the ice cream machine into the freezer (at least 24 hours in advance).  Then, wash and hull your strawberries.  (The picture below shows 32 oz. strawberries… I only used 16oz – about half of the berries.)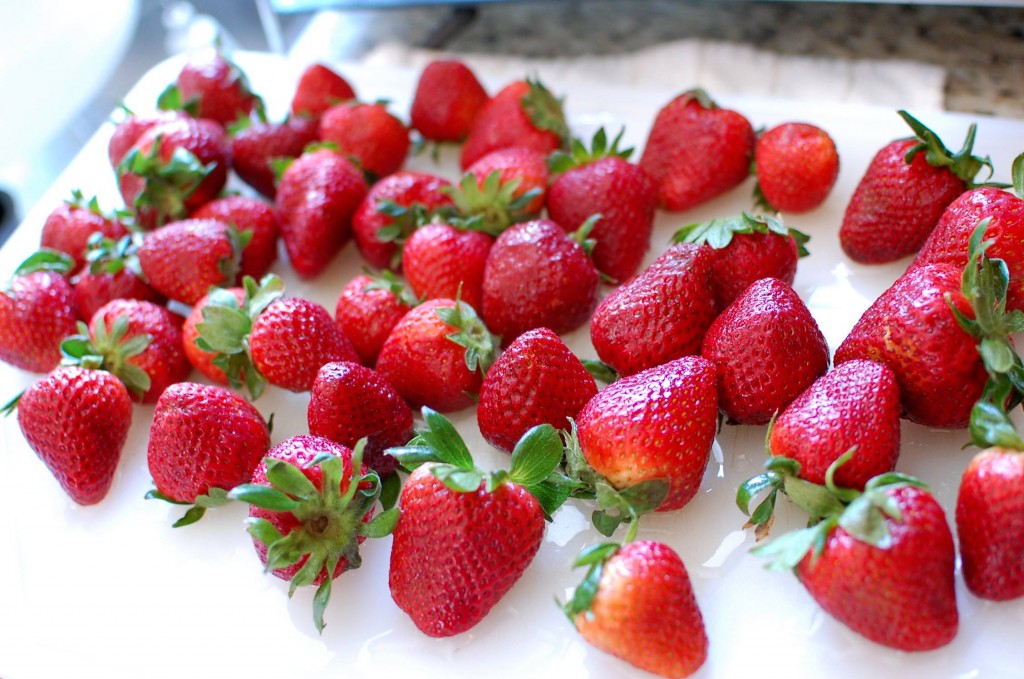 2.  Pat the strawberries with a paper towel to dry, then put into the work bowl of a food processor.  Pulse quickly, about 3 times – then STOP!  You don't want to puree the strawberries – just chop them.  How finely chopped?  It's up to you – depending on how big you want the strawberry chunks in your ice cream.  (If you are using more tender fruit, like raspberries, you may want to chop them by hand instead.)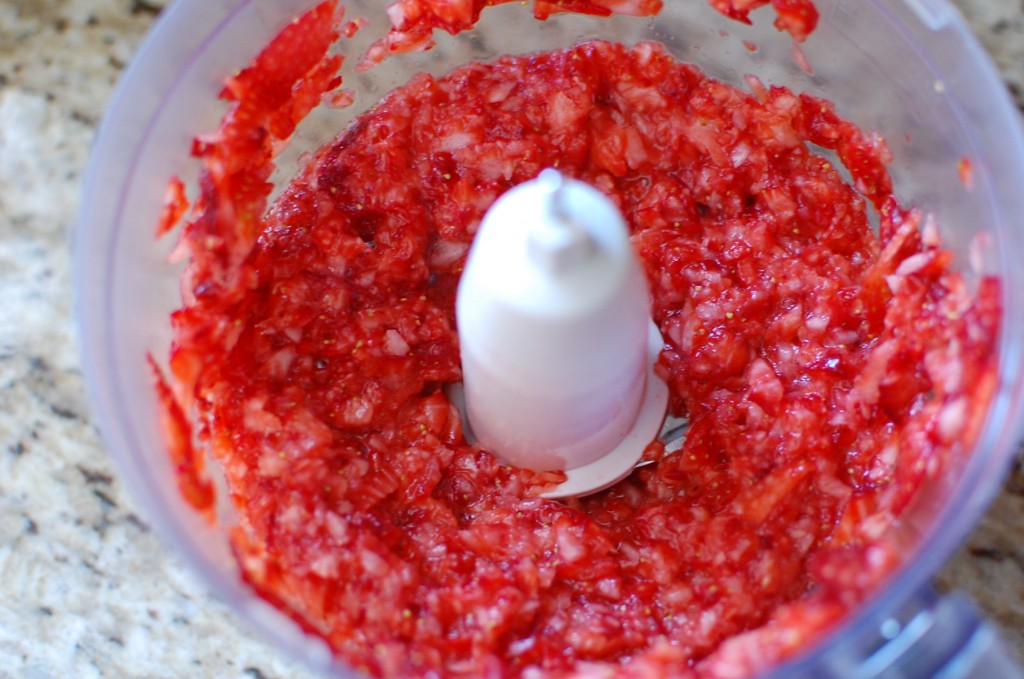 3.  Put the sugar, heavy cream, milk, salt, and vanilla extract into the pitcher.  Stir to combine.  (You can do this in a bowl if you like, but I find it easier to find space in the refrigerator for a pitcher.  It also makes it easier to pour into the ice cream machine the next day when coming from the pitcher spout vs. unwieldy and cumbersome bowl.)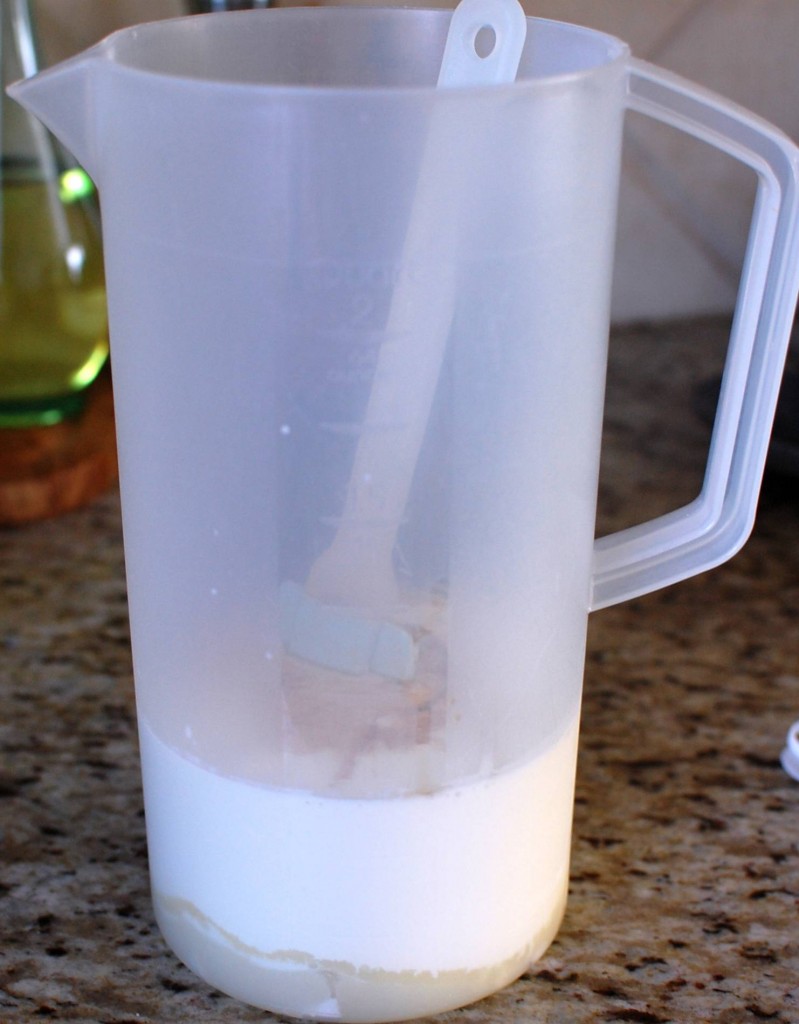 4.  Add the chopped strawberries and all the juices from the food processor.  Mix.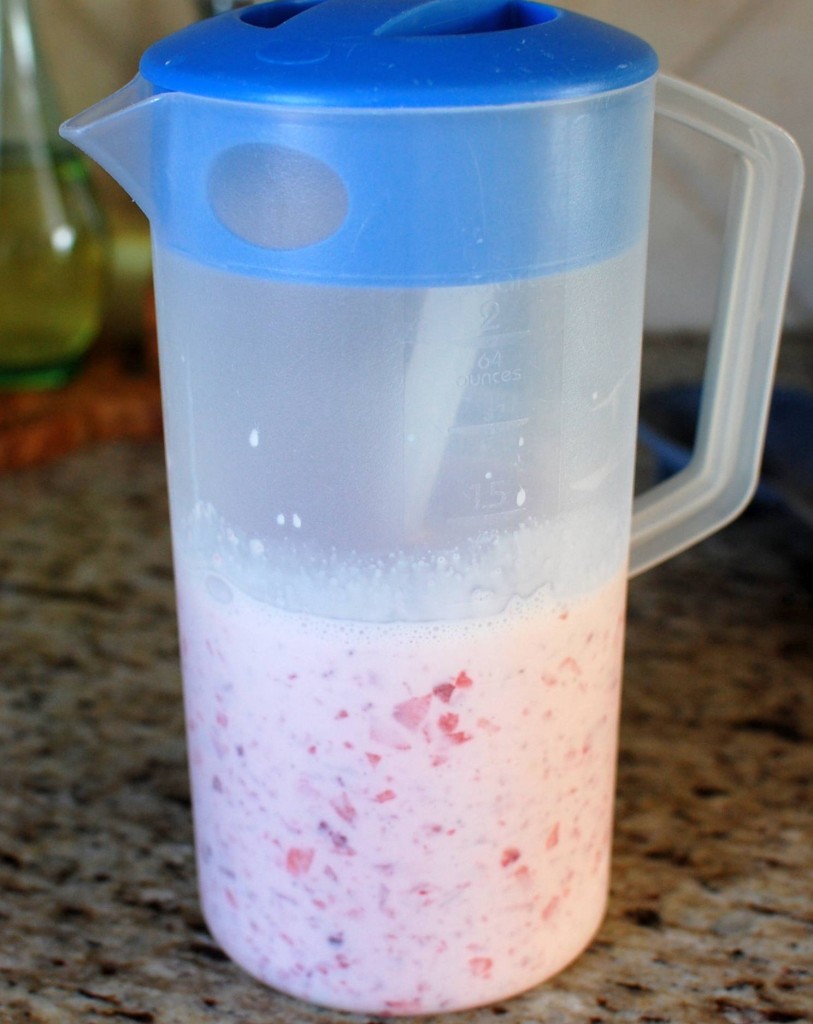 5.  Place your strawberry-cream mixture into the refrigerator, and allow to chill overnight.  (Chilling your ice cream mixture ahead of time helps to generate finer ice crystals.  If you don't chill your mixture first, it will take a little bit longer to freeze, and the texture of the ice cream won't be as good.)  The next day, make your ice cream:  Turn the machine on first, then pour the cold strawberry-cream mixture into your ice cream machine and fill/freeze using your machine's instructions.  (If you don't turn the machine on first, you might find the cream on the sides and bottom freezes immediately, making it difficult to fit the churning paddle inside the bowl – so make sure the churning paddle is in place, and the machine is moving BEFORE you pour the ingredients in!)  I used my new Cuisinart Ice Cream Maker, so it took about 15 minutes total to reach the "soft serve" texture stage.  If it is a really hot day – or depending on your machine – it could take up to 20 minutes.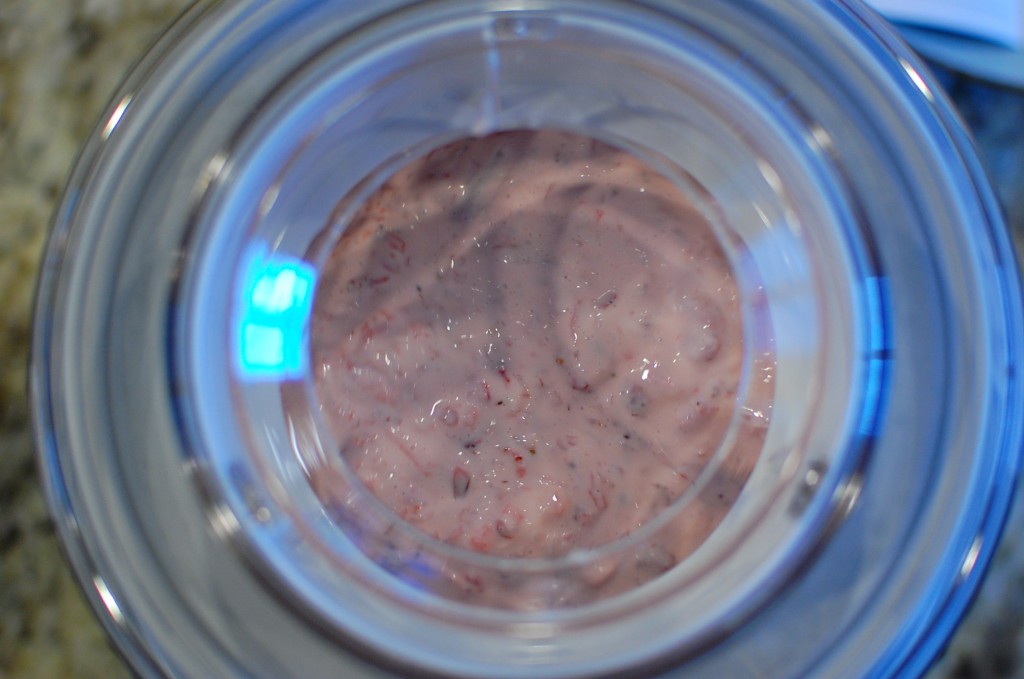 6.  When done, your ice cream will resemble soft serve, not the "hard ice cream" you get from a carton at the store.  If you want a more traditional ice cream scoop, scoop the ice cream into a plastic container with lid.  Freeze for another 2-4 hours for firmer texture.