After Thanksgiving, many people wonder what they can make with all the leftover turkey!  After the meal is over, I usually simmer the leftover roasted turkey carcass (bones, skin, & wings) to make a hearty turkey stock to use another day.  That stock, combined with any leftover meat, will make a wonderful meal of "Turkey and Dumplings" – and it won't taste like a repeat of Thanksgiving!  You can, of course, also use this recipe to make "Chicken and Dumplings" – any leftover poultry will do.
Now, there are two different versions of "Chicken and Dumplings".  One version uses a flat noodle like dumpling – the other, a fluffy biscuit like dumpling.  This version is the latter.  You drop spoonfuls of the biscuit dough into the simmering liquid, cover, then cook for 10 minutes until light and fluffy.
I typically use celery, carrots, and peas – but you can pretty much use any leftover veggies that you have.  Enjoy!
Chicken and Dumplings:
3 T. unsalted butter
2-3 carrots
2-3 ribs celery
1/2 onion (optional)
1 tsp. salt
1/2 tsp. black pepper
3-4 c. cooked chicken or turkey
2 quarts (8 cups) chicken or turkey stock
1/2 c. half and half
1/2 c. flour
1/2 c. water
1 c. frozen peas
3 T. chopped parsley
Dumplings:
1 c. flour
2 tsp. baking powder
1/8 baking soda
1/2 tsp. salt
2 T. butter
1/2 c. buttermilk (or milk + 1/2 tsp. lemon juice)
1.  Chop the carrots, celery, parsley, and onion.  (The onion is optional – you can omit the onion if you like. I decided not to put the onion in this time.)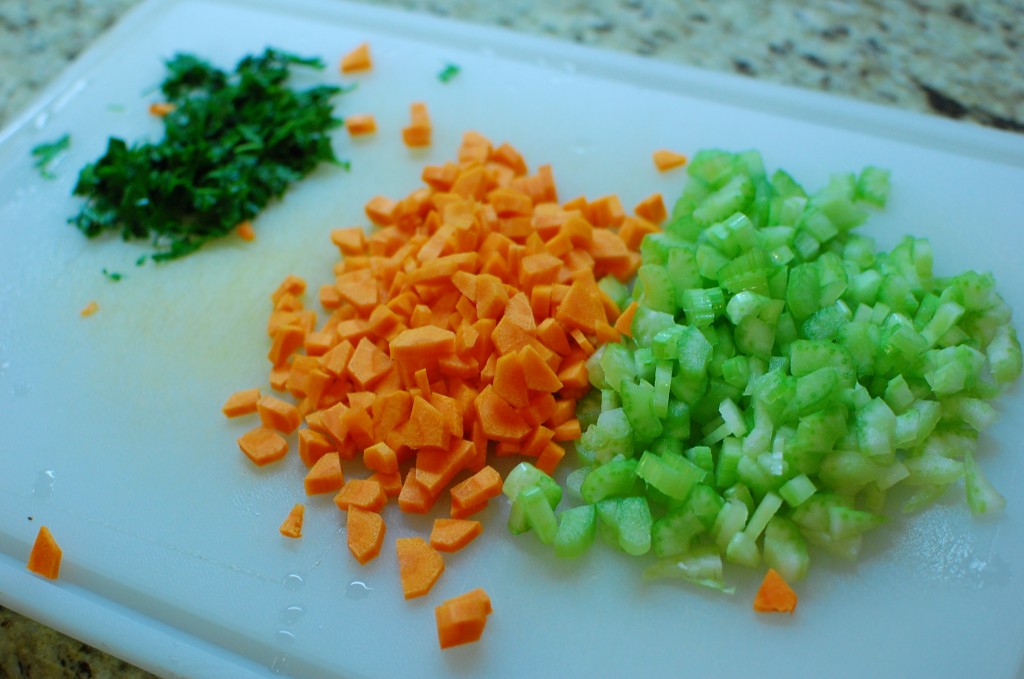 2.  Meanwhile, melt the butter in a large pot.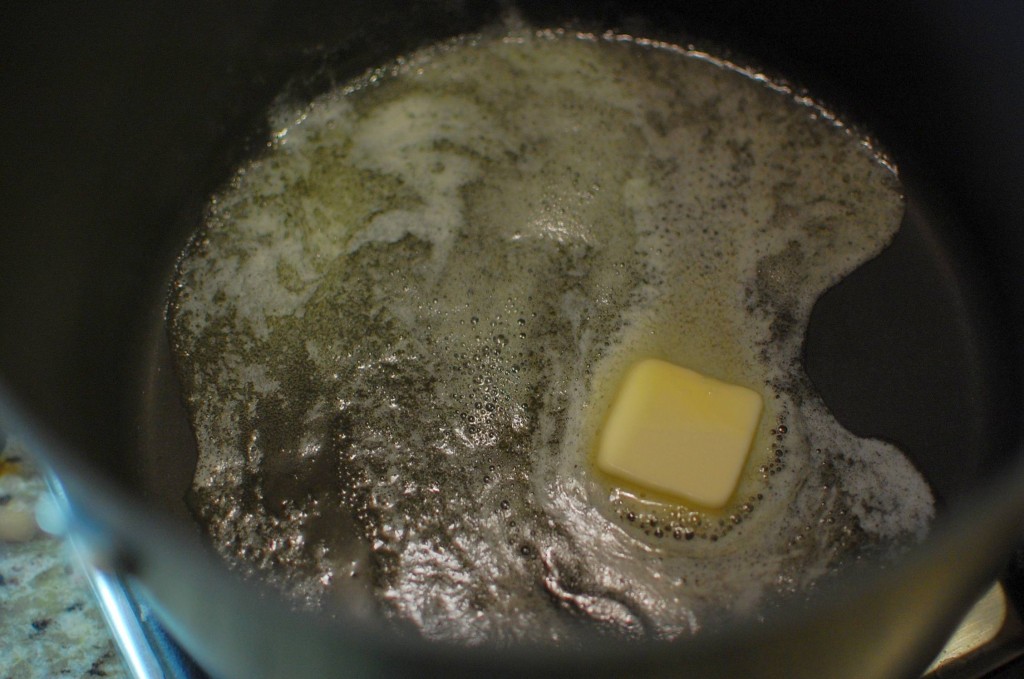 3.  Add the chopped vegetables to the melted butter and sweat with the salt and pepper for about 5 minutes until translucent.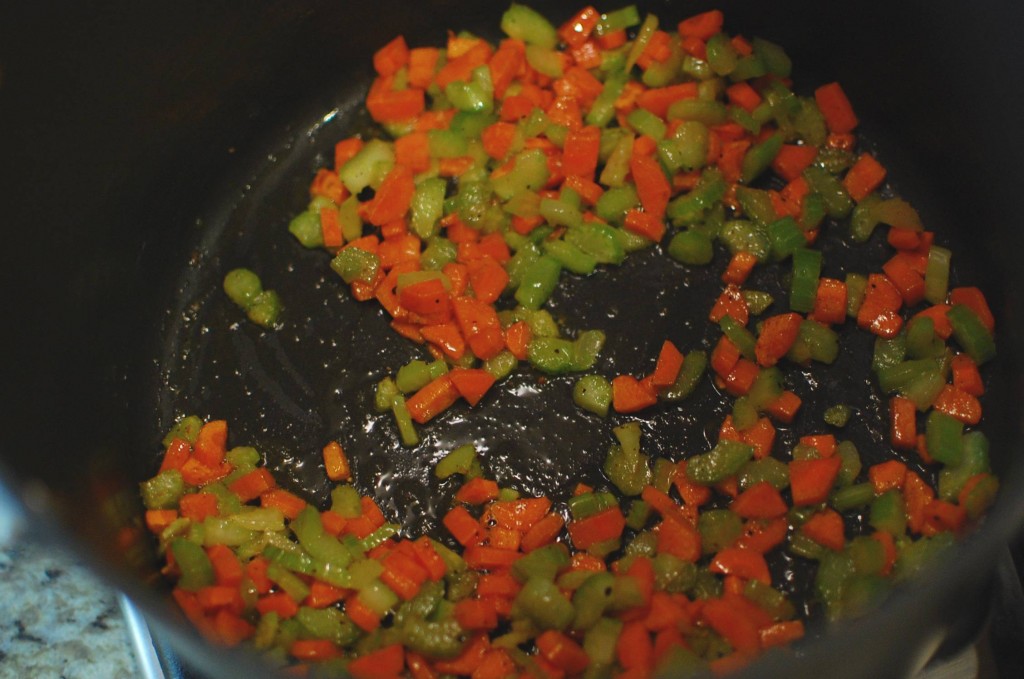 4.  Add the chicken or turkey and mix.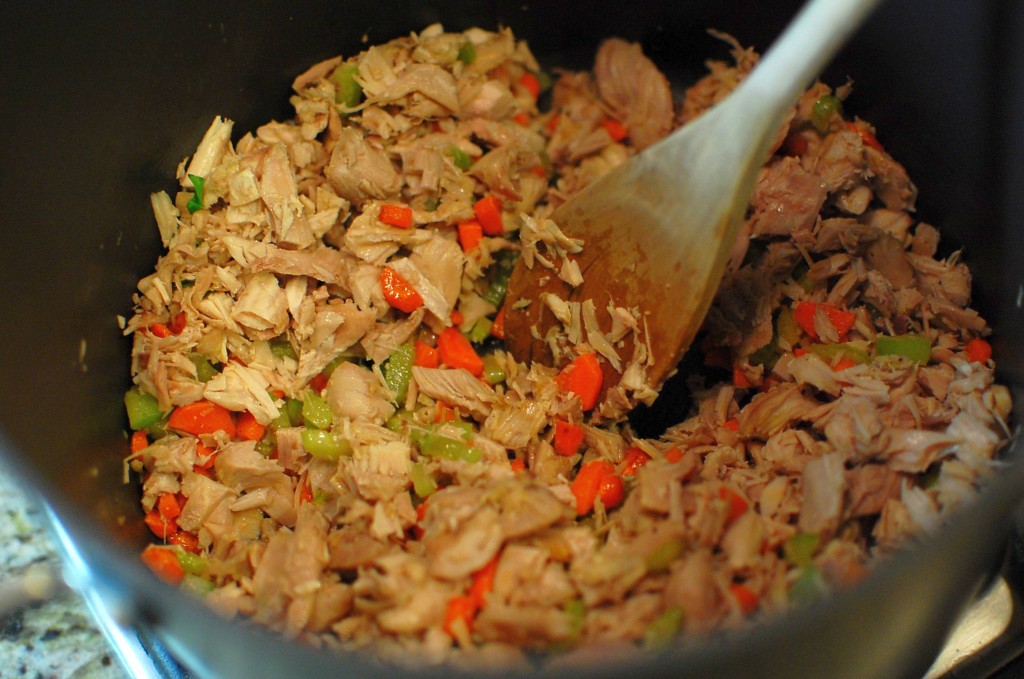 5.  Add the chicken or turkey stock and bring to a simmer over medium heat.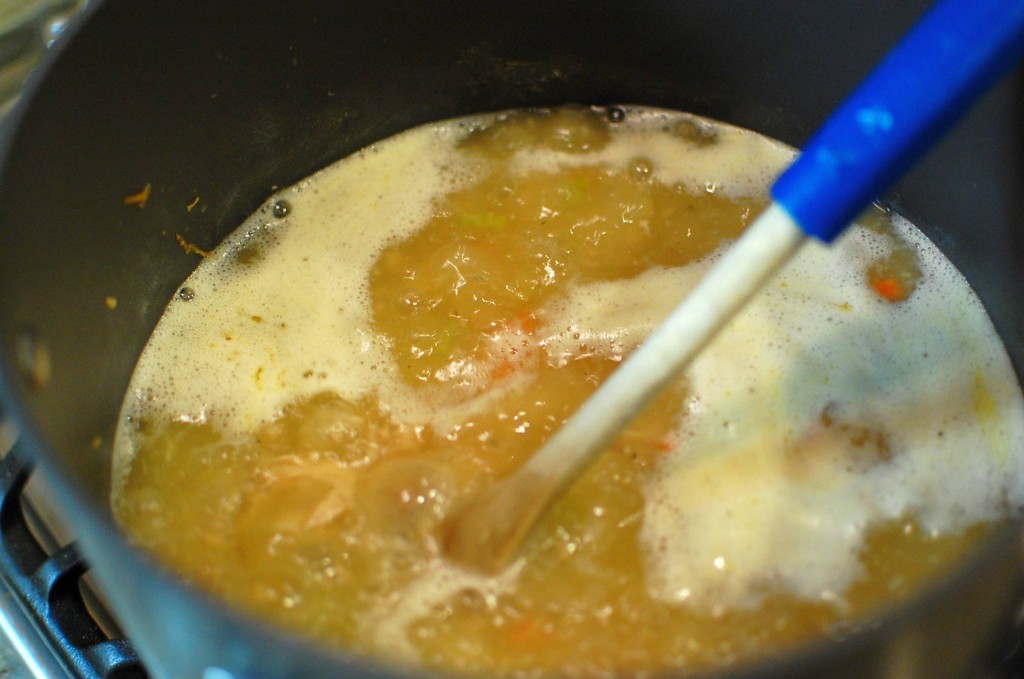 6.  Mix the flour and water together to make a slurry.  (Make sure you mix with the back of a spoon, smoothing out any lumps.)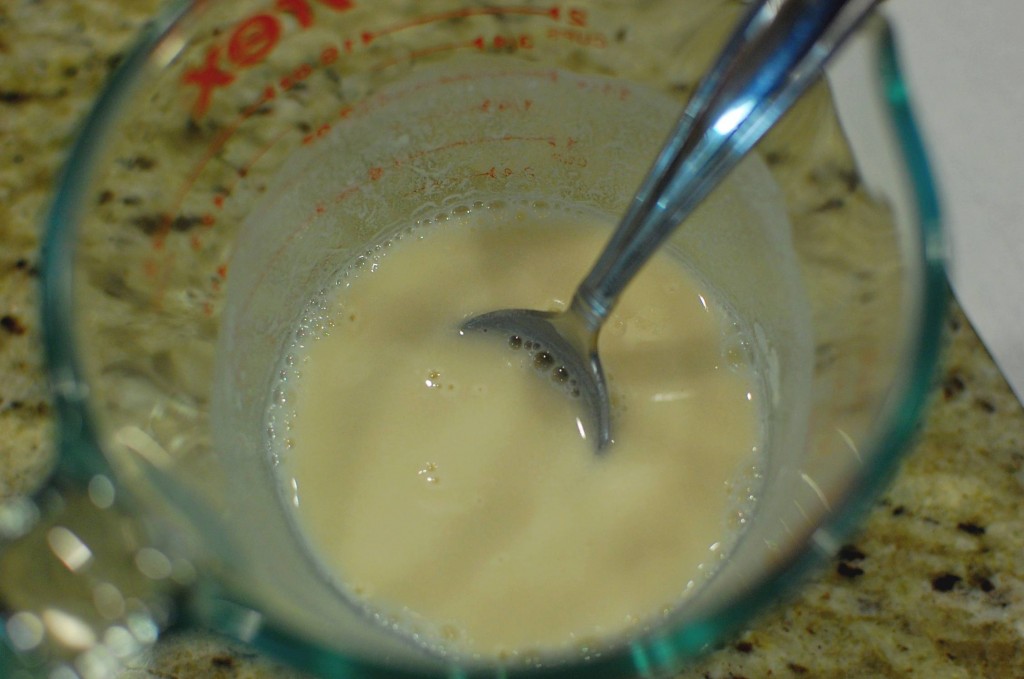 7.  Add the slurry to the pot, and stir.  Simmer for 5 minutes or so until thickened.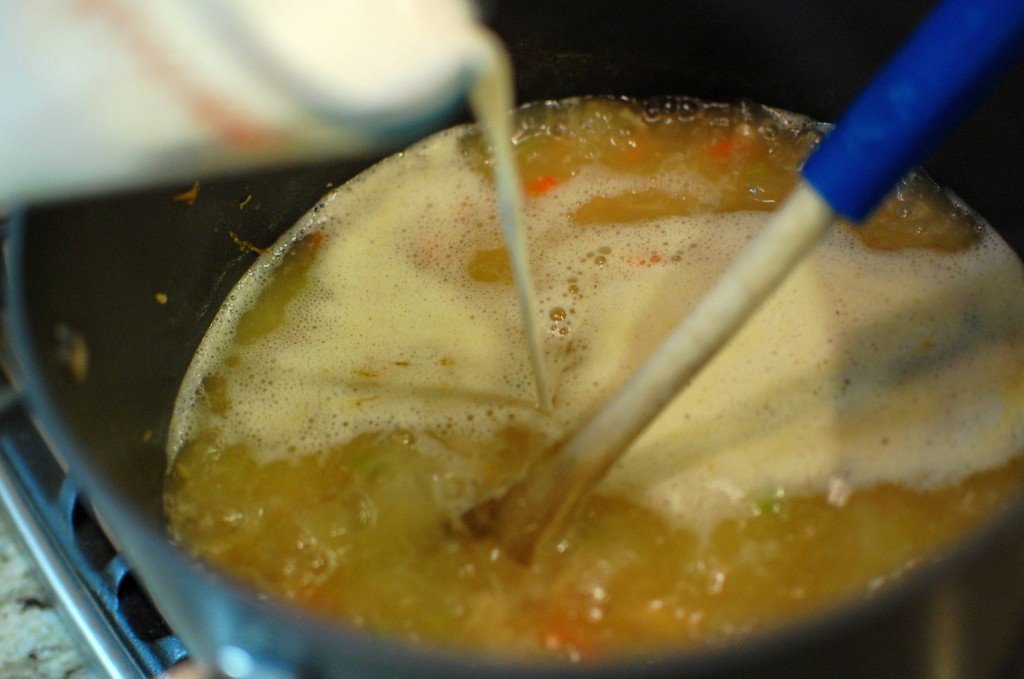 8.  Meanwhile, make the dumplings.  Sift the flour, baking powder, baking soda, and salt.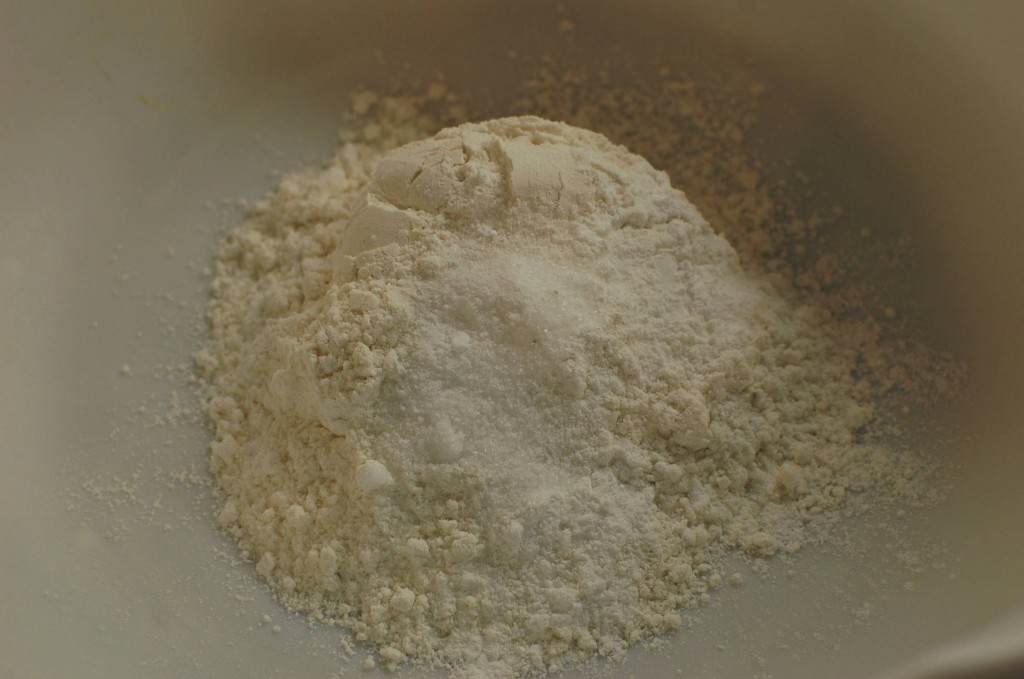 9.  Add butter to the flour mixture, and cut in with a pastry blender or fork.
19.  Add the buttermilk (or use regular milk mixed with 1/2 tsp. lemon juice or vinegar), and mix lightly until just combined.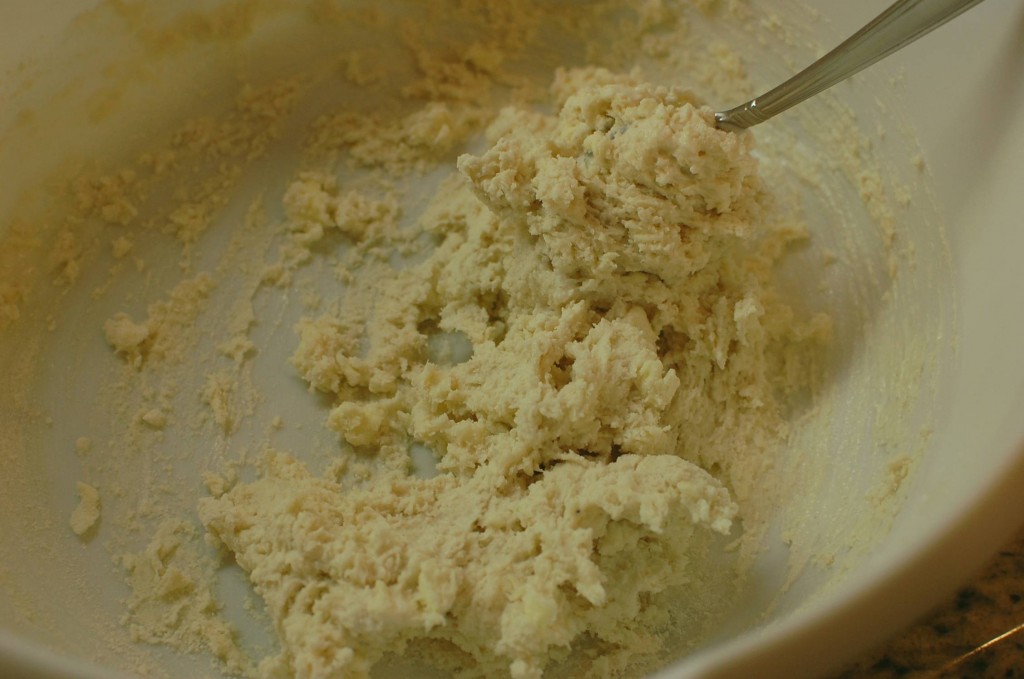 11.  Add the peas, chopped parsley, and half and half to the pot.  Taste, and add salt and pepper if needed.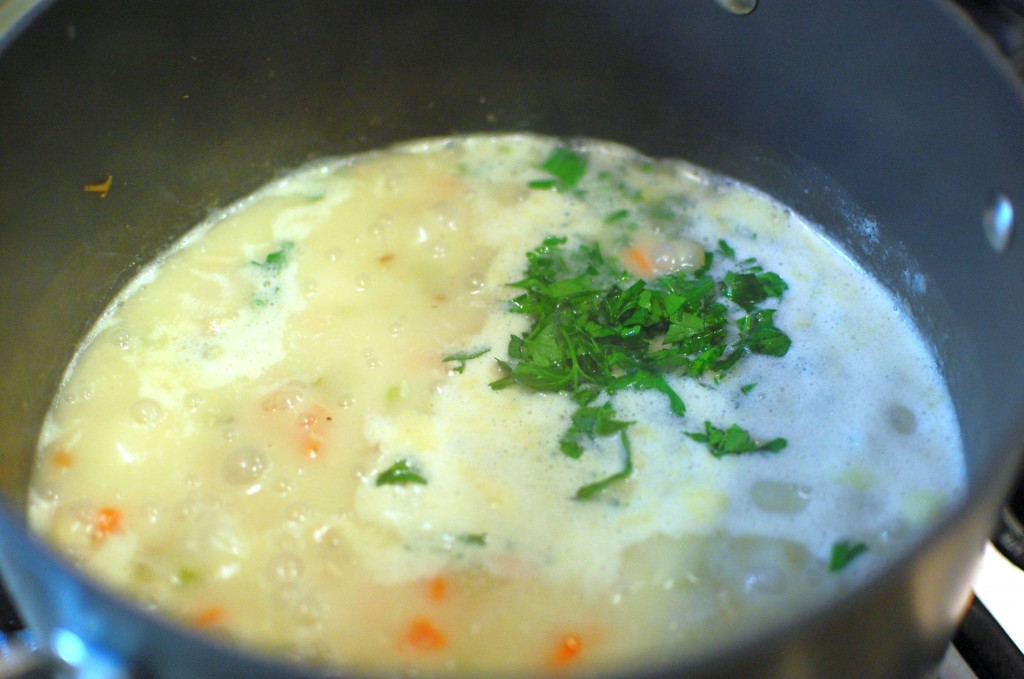 12.  With a large spoon, scoop the dumpling dough and drop into the simmering soup.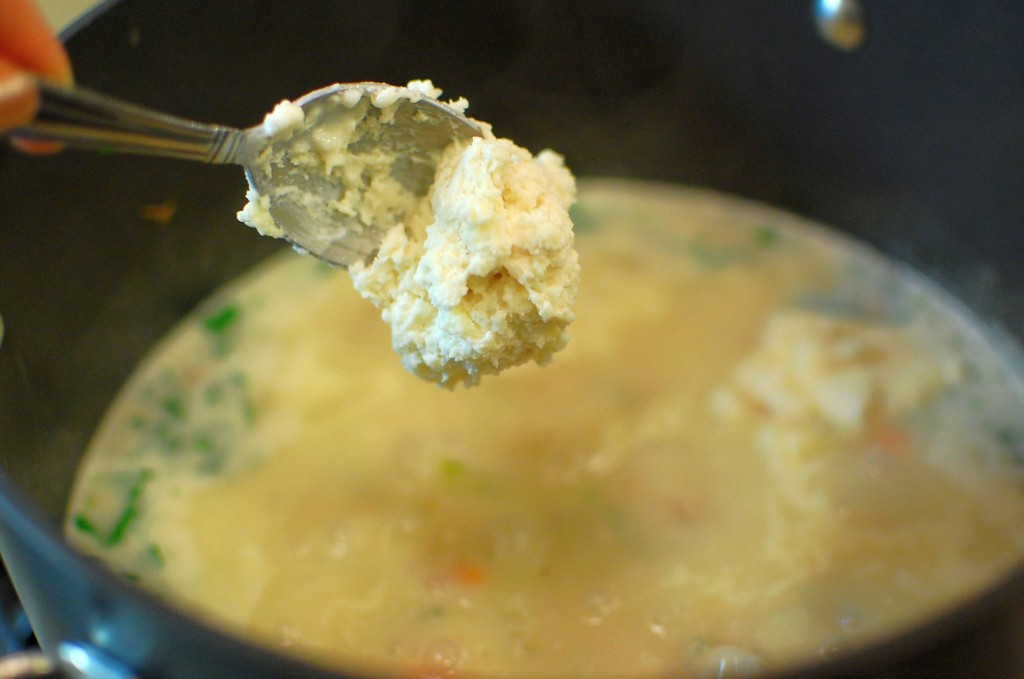 13.  Cover the pot with a lid, reduce the heat to low and simmer for 10 minutes.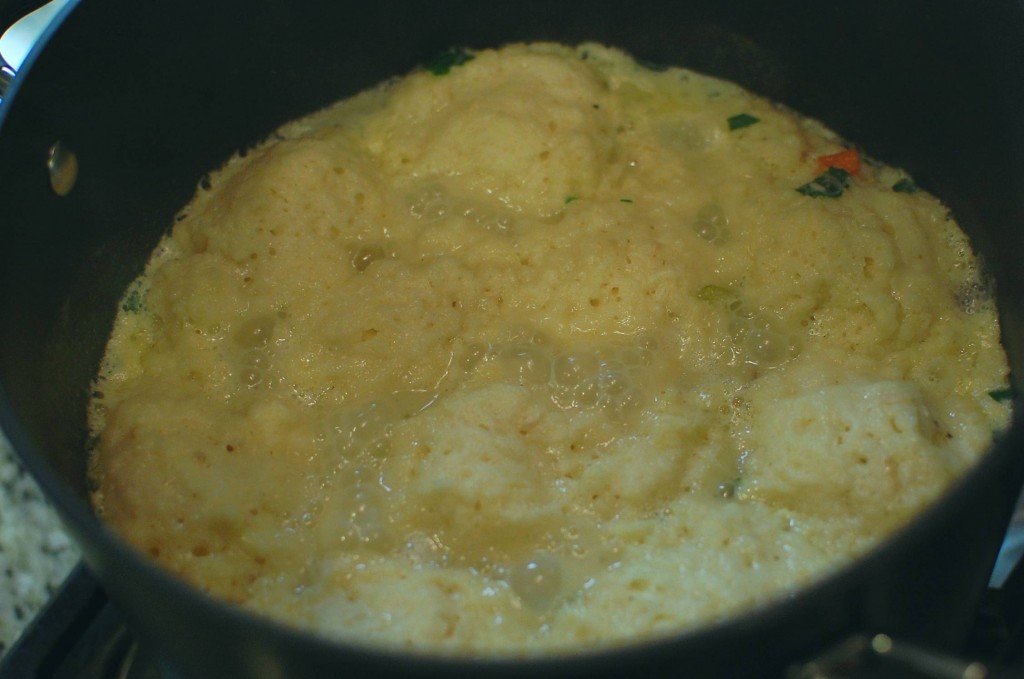 14.  Serve immediately.  Makes about 4 servings.