One of my husband's favorite Taiwanese dishes, is "Tsao Mi Fun" (stir fried rice noodles).  Everyone has their favorite version of this noodle dish (using slightly different ingredients and additions) – and his favorite happens to be the version that his sister makes.  Over Christmas, my sister-in-law decided to make Tsao Mi Fun and agreed to let me take pictures and share the recipe!  Her version is very, very good – even better than what you can get at a restaurant (in my opinion, at least!)  :)
Some of the ingredients to make this can be found in the "Asian food aisle" of the regular supermaket – I usually can find dried rice stick (Maifun) and dried shitake mushrooms.  A little bit harder to find might be the dried shrimp and the black vinegar – these you can usually find in a Chinese market, or online.  If you cannot find dried shrimp, you can always substitute with 1/2 c. baby cocktail shrimp (use 1/2 c. chicken broth to replace the leftover soaking water).  For the black vinegar (this is a mildly sweet, somewhat syrupy vinegar) – balsamic vinegar would probably make a good substitution.  Fried red onion is also usually found in the Asian market… if you can't find it, French's fried onion (the kind in a can that you use to make Green Bean Casserole) would probably work out ok.
Tsao Mi Fun:
1/2 package dried rice stick (usually labelled "Maifun")
6-8 oz. meat (chicken, pork, beef), sliced thin
1 T. cornstarch
5-7 large dried shiitake mushrooms
1/4 c. dried shrimp
1/2 medium head cabbage, shredded
2-3 carrots, peeled and sliced
1/2 onion, chopped
2 T. fried red onion (or French's Fried Onions)
2 T. soy sauce
1 T. black vinegar
1-2 T. canola oil
salt, pepper to taste
water for soaking
1.  First prepare your ingredients.  Slice the raw meat, and toss with the cornstarch and about 1/2 T. soy sauce.  Then, pre-cook the meat in a large wok with 1 T. of the oil.  (Season lightly with salt/pepper to taste.)  Set aside.  (In the photo below, you can see that my sister-in-law used chicken meat cut into small bite sized pieces.)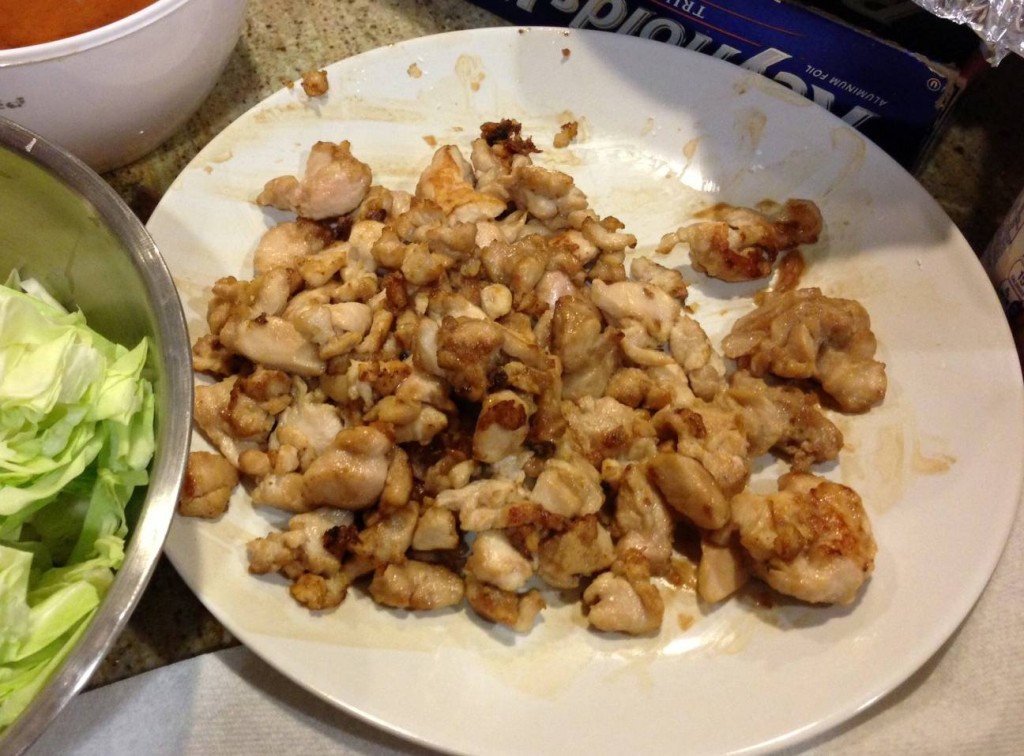 2.  To prepare the noodles, heat some water in a large pot to a boil.  Add the dried rice stick, cover, and turn off the heat.  Allow the noodles to soak and soften for 10 minutes, then drain, rinse with cold water, and set aside.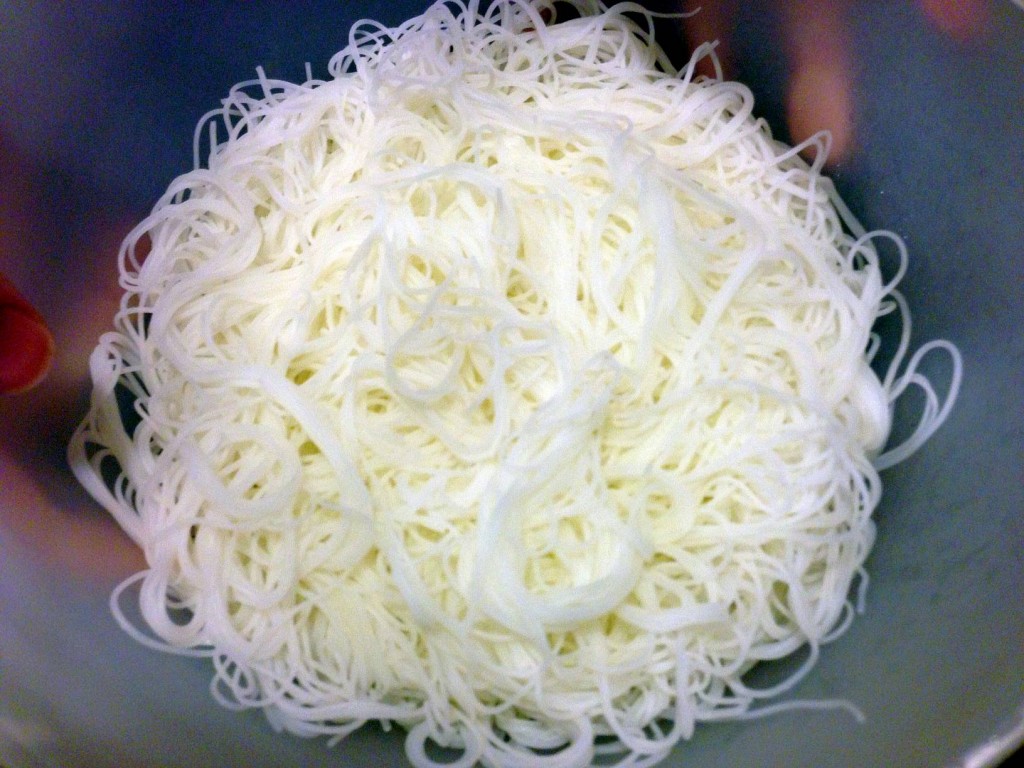 3.  Soak the dried shrimp in about 1 c. water for about 30 minutes.  Remove the shrimp, set aside, and reserve the soaking water for later to flavor the noodles.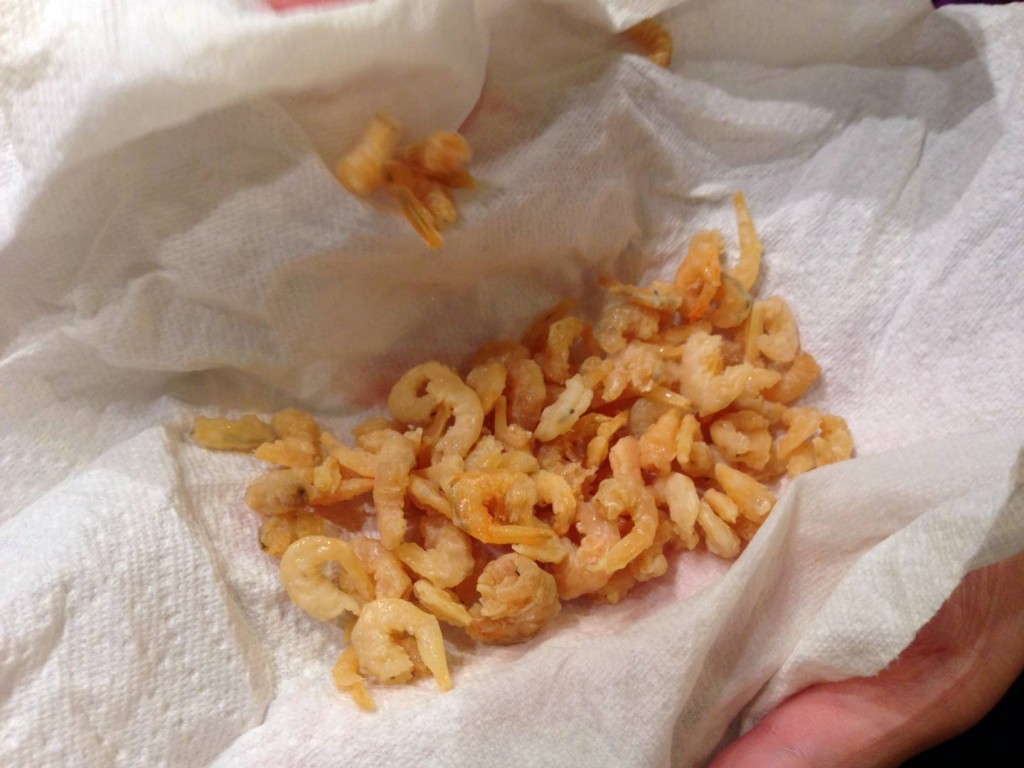 4.  Soak the dried shitake mushrooms in about 1 c. water for about 30 minutes.  Remove and slice, and reserve the soaking water for later to flavor the noodles.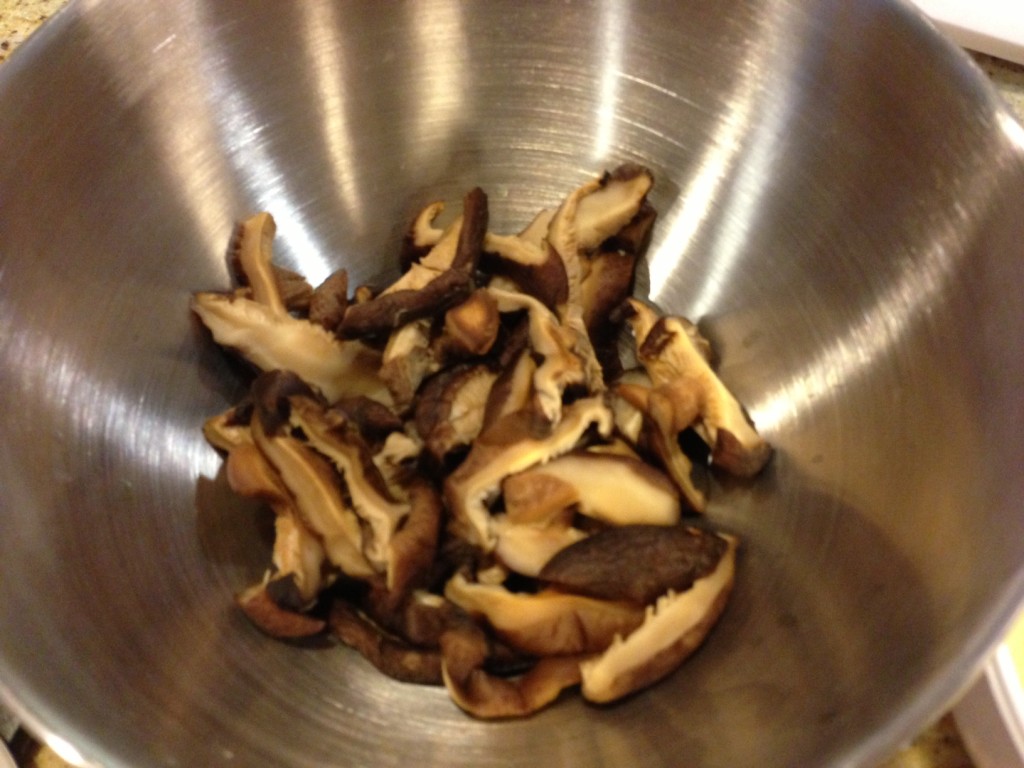 5.  Slice the carrots into matchstick sized pieces, chop the onion, and shred the cabbage.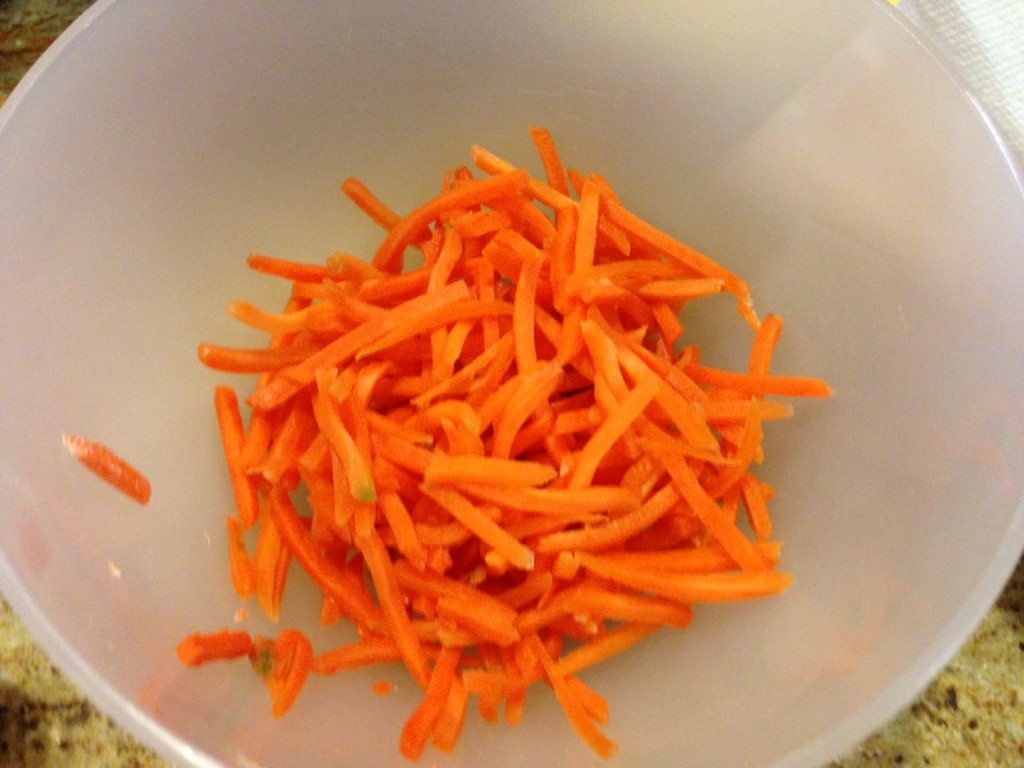 6.  Once your ingredients are prepped, heat the wok again with the remaining oil.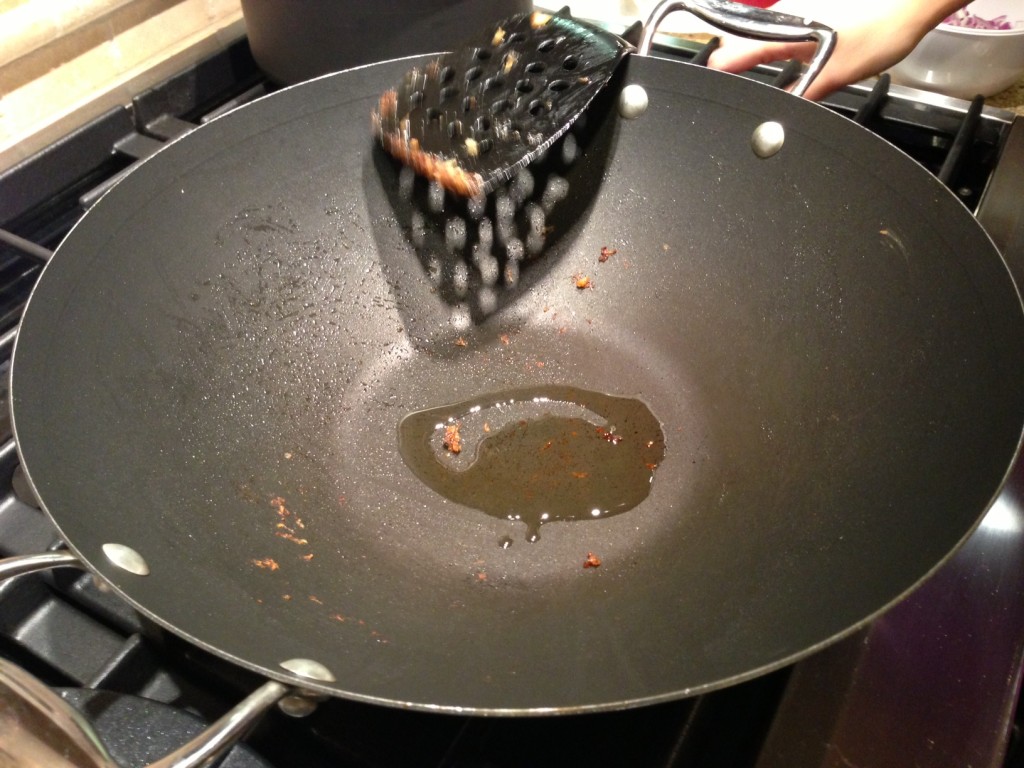 7.  Add the fried red onion, and stir fry for about 30-60 seconds over high heat.  You can buy fried red onion at Chinese supermarkets – if you can't find it, "French's Fried Onion" (the kind you add to Thanksgiving Green bean casserole) would be a good substitute.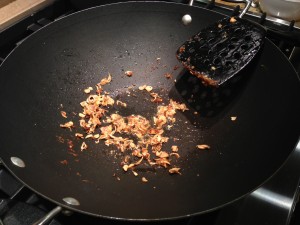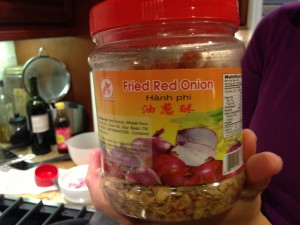 8.  Add the mushrooms, chopped onions, and carrots and continue to stir fry for 1-2 minutes.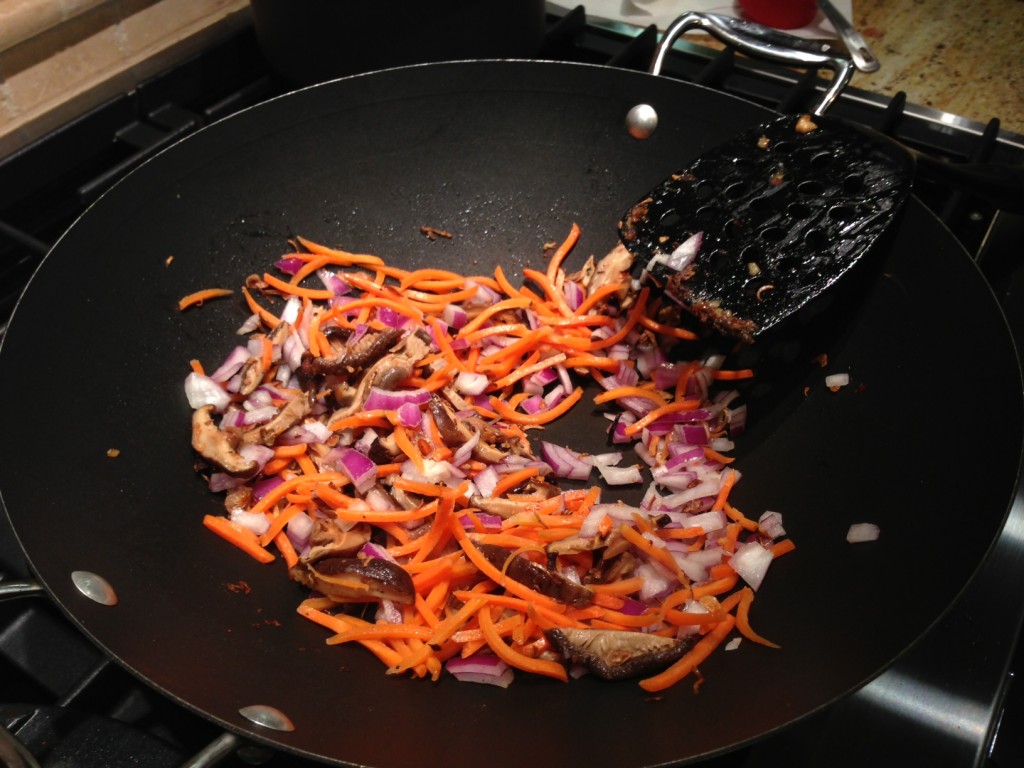 9.  Add the shrimp, mix together.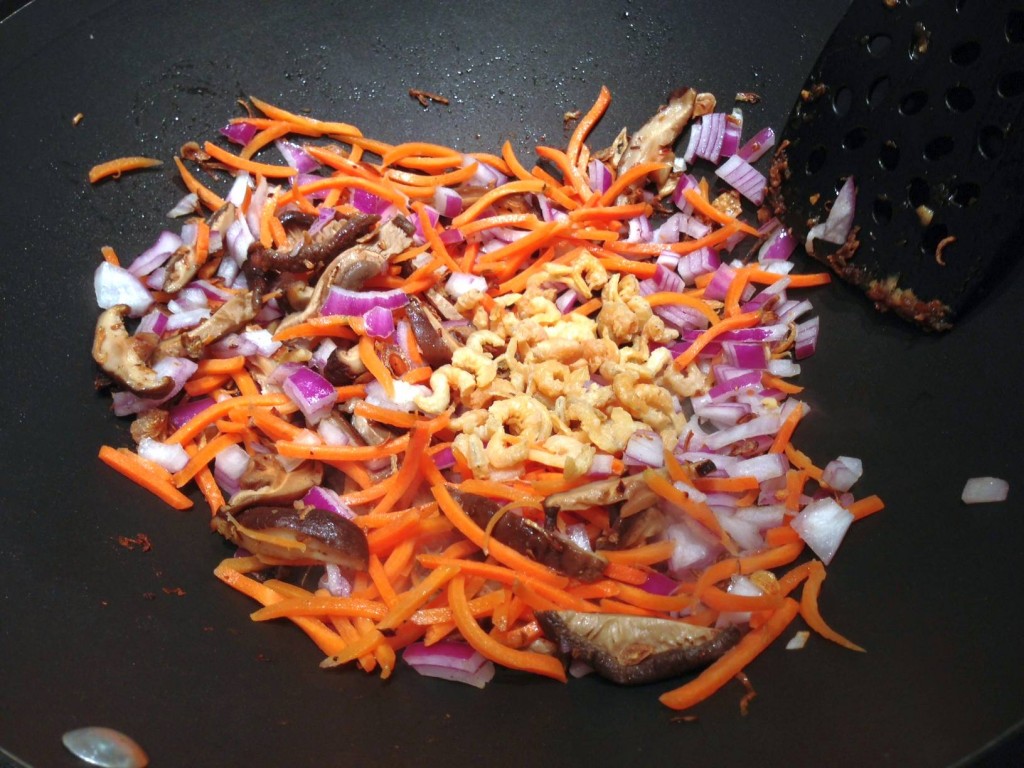 10.  Add the cabbage, mix, then cover.  Allow the cabbage to steam and reduce for a few minutes.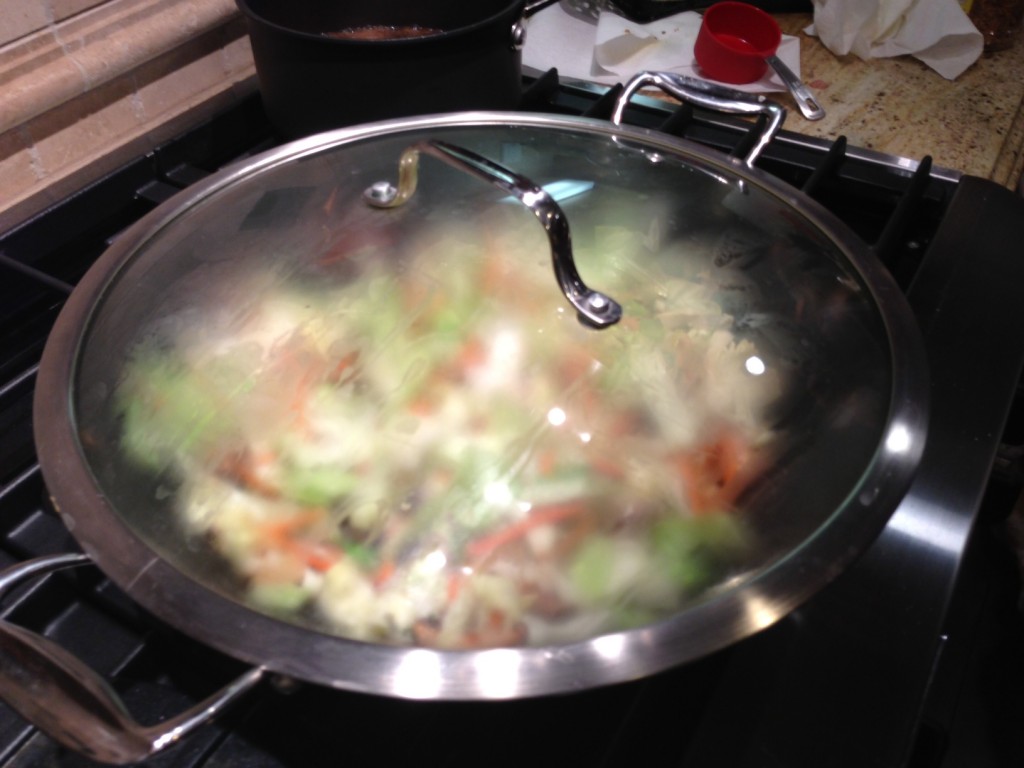 11.  Remove the lid once the cabbage has wilted.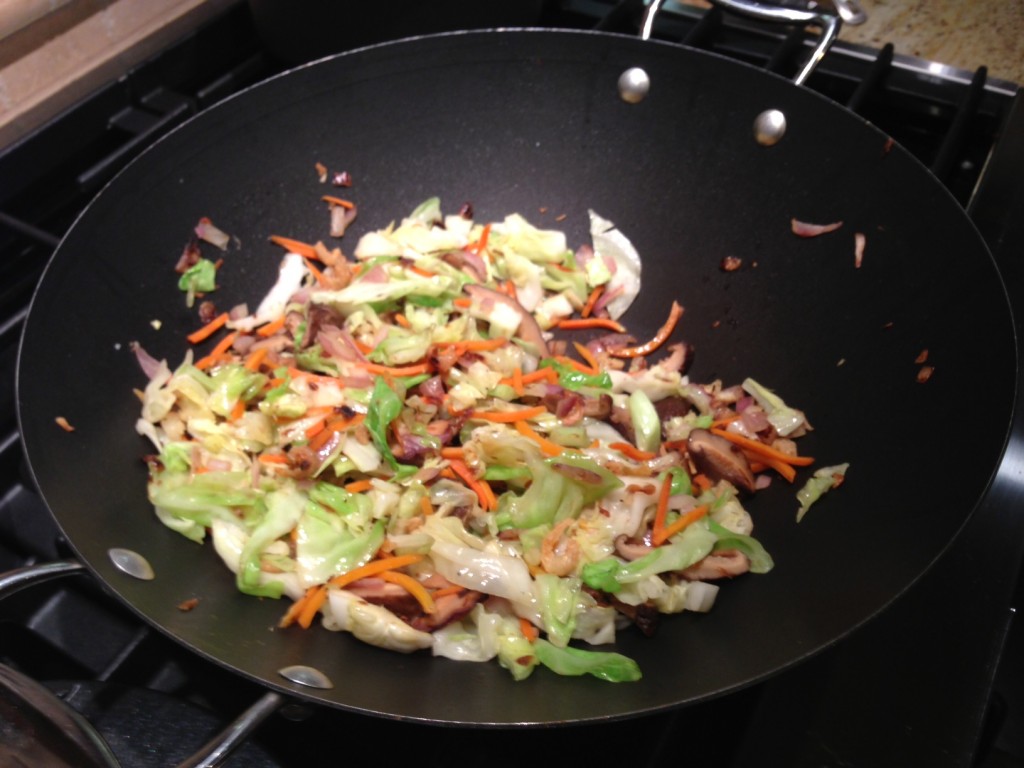 12.  Now take the reserved soaking liquid from the dried shrimp and shitake mushroom, and add it to the wok.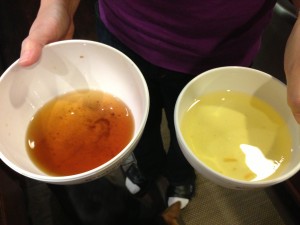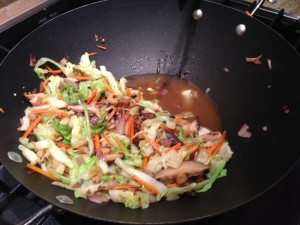 13.  Next add the pre-softened rice noodles, and mix together.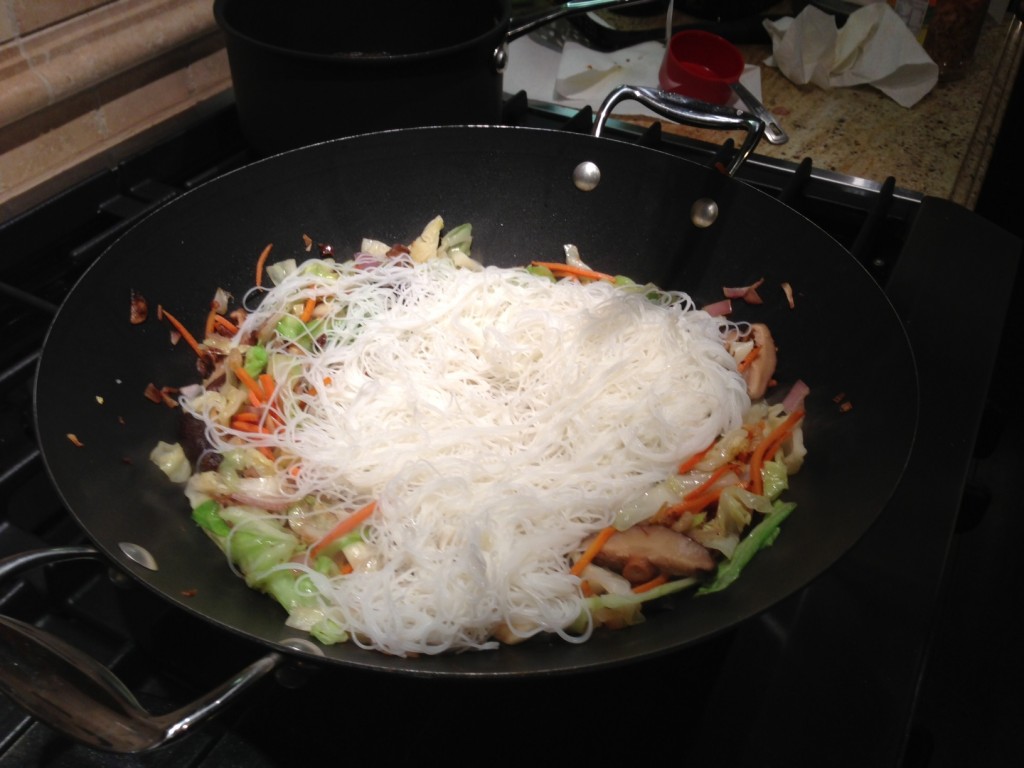 14.  Add the remaining soy sauce, and continue to cook, tossing the ingredients as you go, until all the liquid is absorbed.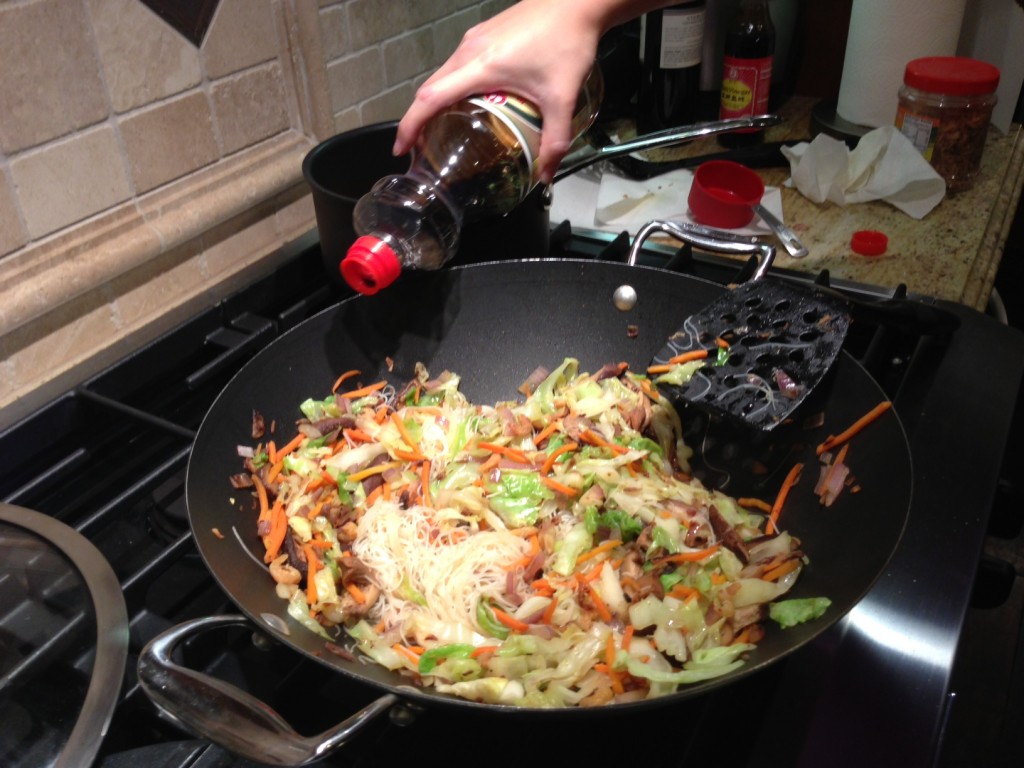 15.  Add the cooked meat, toss, and taste.  Add salt and pepper to taste.  (You can also add more soy sauce if needed.)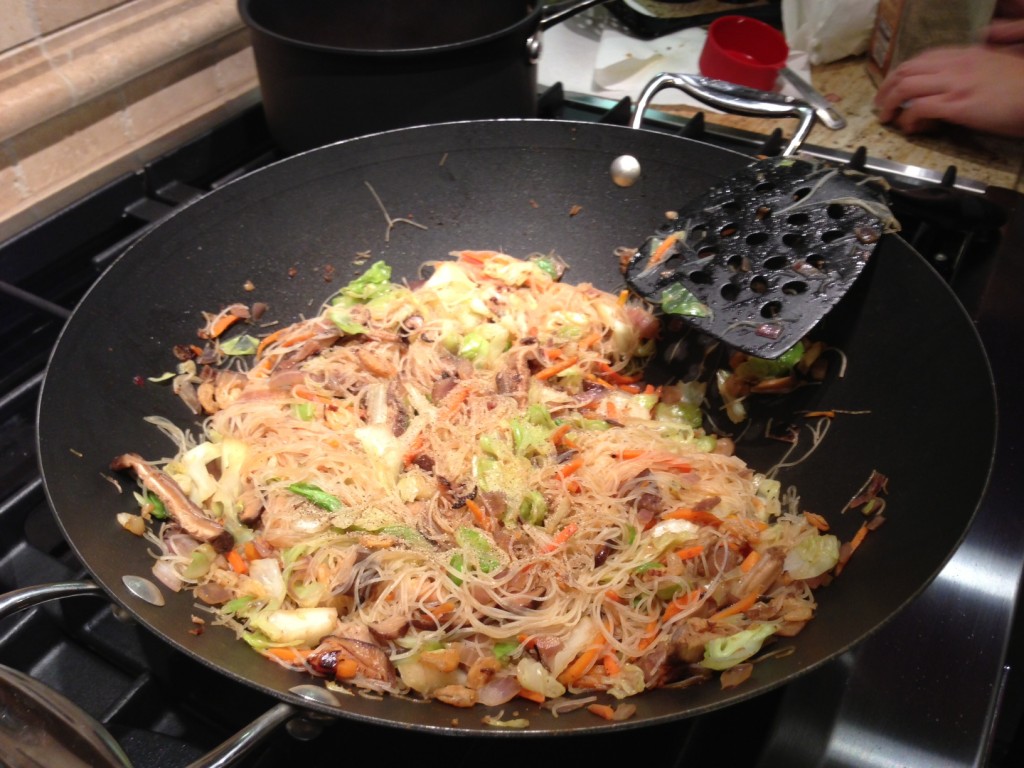 16.  Finish the dish by topping with the black vinegar and mix together.  (If you can't find black vinegar, a good substitute would be regular Balsamic Vinegar).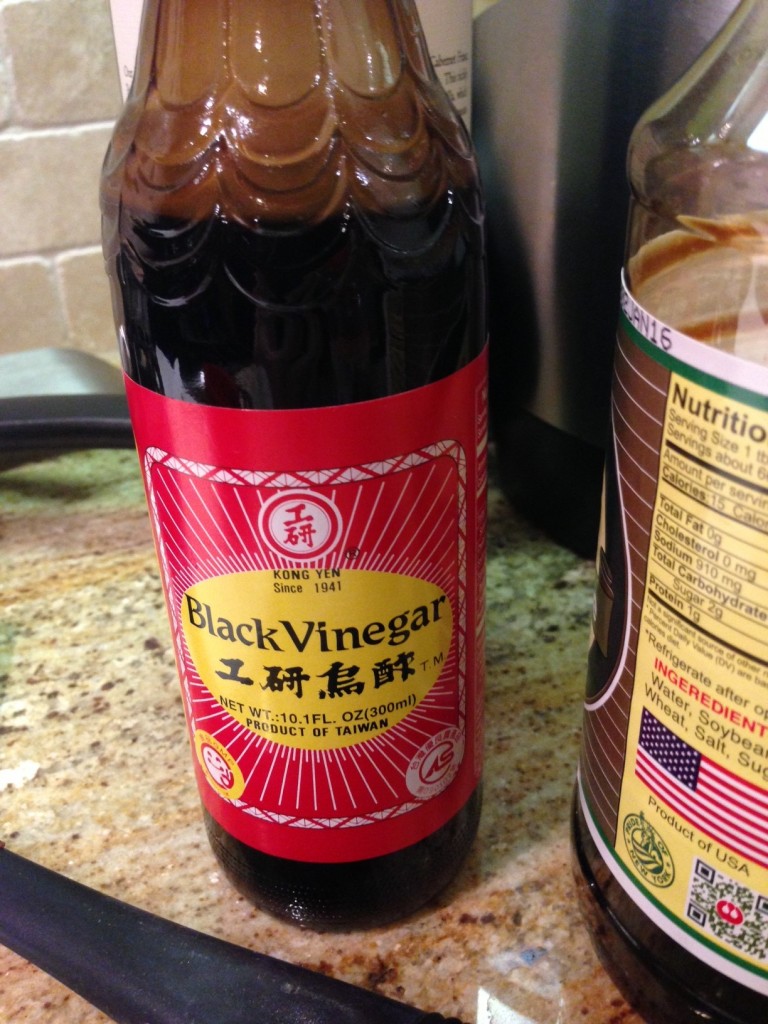 17.  Serve immediately.