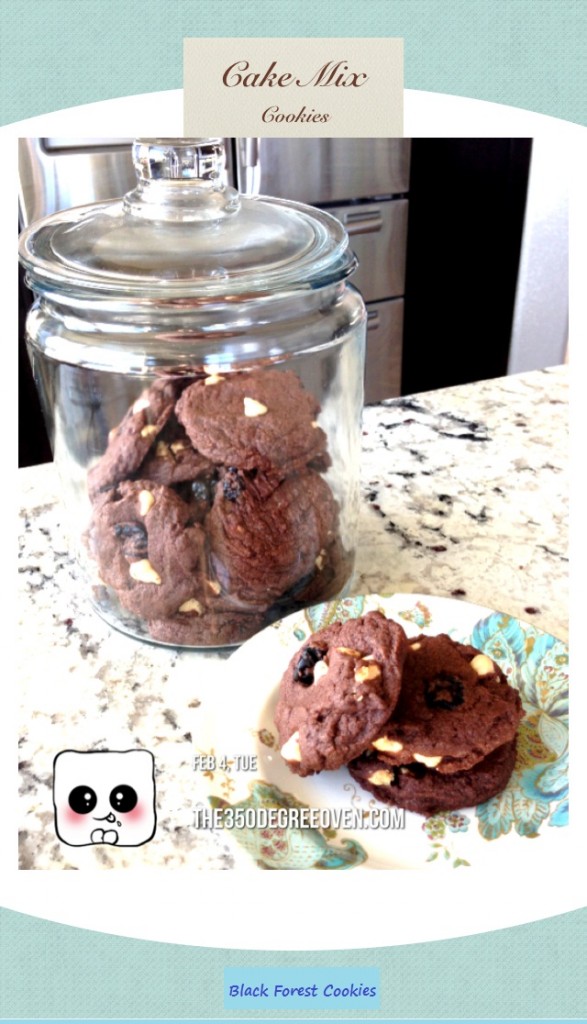 Every once in awhile, we all need that EASY and QUICK go-to recipe for a dessert!  While nothing can beat the taste of homemade cookies (made from scratch with real butter)… sometimes boxed mixes can be a real time-saver when we need something fast and homemade-tasting!  Convert that box of cake mix from your pantry into fresh baked cookies, using whatever mix-ins you have on hand… and you'll have a fresh-baked platter of cookies ASAP!
I have nothing against cake mix.  It's useful, and can be a base for a variety of different desserts in a pinch.  I typically have several boxes in the pantry for those panicked moments when I need a dessert – and I need it fast.  However, try not to pay full price for boxed cake mix – you can end up spending up to $4.00/box if you go out and buy a box at full retail price!  I usually wait until cake mix goes on sale at the market (sometimes Target has good sales too)… and when the price drops to $1.00 or $1.25/box… that's when I'll stock up on basic flavors like yellow cake, devil's food cake, and white cake mix.  The supermarket cashier always looks at me funny and asks, "Are you having a party???" when they see the 10 boxes of cake mix on the conveyor belt.  "No," I explain, "Cake mix is on sale, so I'm stocking up…"  Yeah, I'm THAT lady!  Lol.
This time around, I decided to make a "Black Forest Cake" inspired cookie using white chocolate chips and dried cherries.  I think they turned out pretty good… but I know not everyone likes bits of dried fruit in their cookies!  You can easily customize this recipe to any flavor cake mix, and almost any mix-ins you want.  Just follow the same basic directions described below, substituting your preferred ingredients instead.  Here are some other flavor combinations that I've tried in the past – but be creative, and use whatever mix-ins that you like:
Panera Chocolate Duet Cookie copycat

: dark chocolate cake mix + chocolate chips + white chocolate chips + chopped walnuts

White Chocolate Macadamia Nut

:  white cake mix + white chocolate chips + chopped macadamia nuts

Birthday Cake Cookies

: yellow cake mix + white chocolate chips + rainbow sprinkles
Reese's Chocolate Peanut Butter Cookies:  chocolate cake mix + Reese's pieces candies (or Reese's peanut butter chips)
M&M Cookies:  yellow cake mix (or chocolate cake mix) + regular M&M candies
Peppermint Bark Cookies:  white cake mix + crushed peppermint candies (or candy canes) + white chocolate chips
Red Velvet Cake Cookies:  red velvet cake mix + white chocolate chips
Cookies & Cream:  white cake mix + chopped/rough crushed oreo cookies + white chocolate chips
Snickerdoodle:  white (or yellow) cake mix + sprinkle with cinnamon sugar before baking
Chocolate Chip:  Yellow (or chocolate cake) mix + chocolate chips
Strawberry Chip:  Strawberry cake mix + chocolate chips (or white chocolate chips)
Cake Mix Cookies (basic recipe):  
1 box cake mix (16.5 oz. sized box)*
1/2 c. oil
2 eggs
1-2 c. mix-ins (chocolate chips, nuts, candies, dried fruit, etc.)
(*If you are using the older style cake mixes that are 18.25 oz, then increase the oil to 2/3 c.)
Black Forest Cookies:
16.5 oz. box Devil's Food Cake Mix
1/2 c. oil
2 eggs
1 c. white chocolate chips
5 oz. package dried cherries (about 1 c.)
1/2 c. water
1.  Preheat oven to 350 degrees.  Put the dried cherries into a microwave safe pyrex measuring cup, and add 1/2 c. water.  Microwave for 90 seconds, then allow the dried cherries to soak in the hot liquid for 10 minutes to plump up.  Drain the liquid and allow the plumped cherries to cool.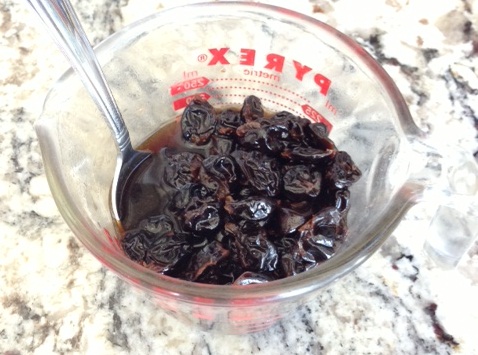 2.  Mix the cake mix, oil, and eggs in a large mixing bowl.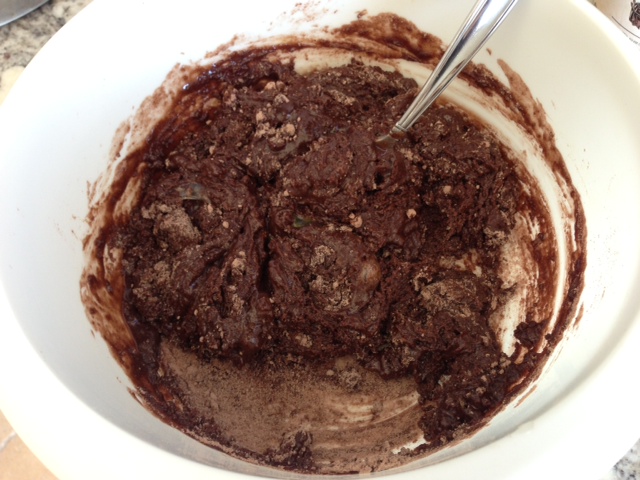 3.  Add the chocolate chips and soaked cherries, mix in well.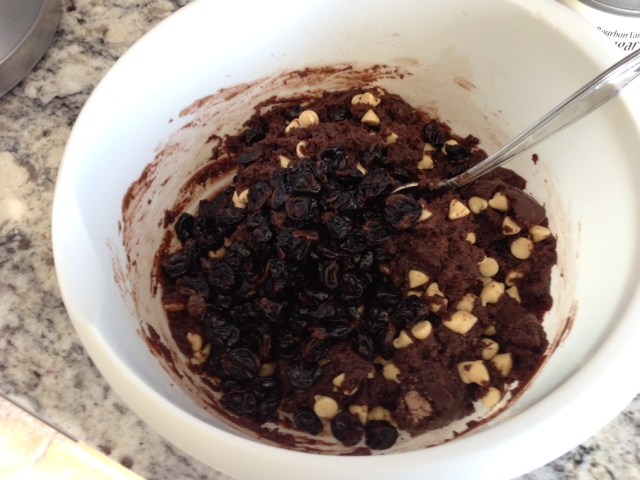 4.  Scoop the dough onto a silicone lined cookie sheet using a cookie scoop for even portioning.  (I was able to get about 28 cookies total.)  Flatten the cookies with your hand or a flat spatula.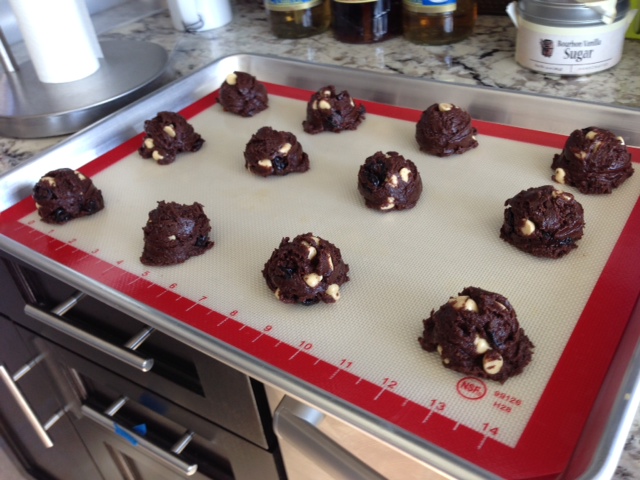 5.  Bake at 350 degrees for 8-12 minutes.  (Start checking around 8 minutes, then add more minutes if needed.)  The cookies should be slightly soft (they will harden as they cool) – but not overly soft.  Allow the cookies to sit on the cookie sheet a few minutes to cool slightly and set, then remove to a wire rack to cool completely.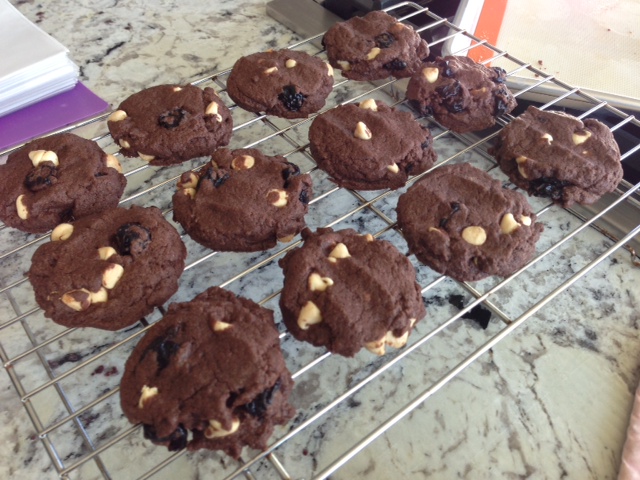 6.  Enjoy your cookies!  Once completely cool, store in a sealed plastic or glass container.