Back when I was in school, I have great memories of visiting BCD Tofu House late at night after a long evening of studying.  They were open very late, so it was worth the drive to get a decent meal at that hour of night.  If you haven't had a chance to try soondubu… it's a spicy Korean tofu soup/stew – served with many different varieties of meat/seafood, kimchi, and various vegetables and mushrooms.  It's also pretty easy to make at home!
I like to eat soondubu on the plainer side – made very simply with beef, beef stock, and mushrooms – with a little bit of garlic and onion.  Beef or chicken stock is not authentic though – technically, Soondubu should be made with a broth of kombu (kelp) + dried fish (anchovies).  A good substitute would be Japanese Dashi powder – mix with water to make a broth (Dashi is a Japanese broth made from kombu (kelp) + dried bonito fish).  Because the hot pepper paste is pretty over powering – and because I buy cans of beef and chicken stock in bulk from Costco – I usually just use that instead.
The recipe is very adaptable, though, and you can pretty much use any meat or seafood that you like, and even different types of vegetables.  The spiciness is also easy to customize to your liking – just go easy on the Korean hot pepper paste initially because a little bit goes a long way.  I usually start with about a teaspoon of Gochujang (hot pepper paste), then allow the stew to simmer a few minutes until it is fully dissolved – then taste again and add more if needed.  (If you can't find Korean hot pepper paste, and don't want to order it online… then I would maybe substitute with 1/2 tsp to 1 tsp. of red pepper flakes – it won't be the same, but it will be close-ish.  Use gochujang if you can get it – it has more flavor in it than just "hot", and will add a depth of flavor to your stew.)
Typically, this stew is served in pre-heated earthenware bowls called "Dolsot".  Because the bowls are pre-heated in the oven, they keep the stew nice and hot while you are eating – just be careful not to burn yourself!  Most of the prices I found online were rather expensive – I got mine at a Korean supermarket for about $10/bowl.  If you decide to buy these earthenware bowls, make sure you also purchase the little plastic trivet that goes underneath it – they have little handles that you can carry the bowls with, and provide a heat barrier between the bowl and your tabletop.
Soondubu Jjigae:
1 T. canola oil
1/2 onion or 4 stalks green onion (chopped)
4 cloves garlic, thinly sliced
6 oz. beef tenderloin (or rib eye), thinly sliced
8 oz. mushroom, sliced
1 T. soy sauce
4-5 c. dashi stock or chicken/beef broth
1-4 tsp. Korean hot pepper paste (Gochujang)
10 – 14 oz. block soft or silken tofu, cubed
1-2 eggs
salt, pepper to taste
1.  If you have them, place your Korean stone bowls in the oven, and turn the heat on to 300 degrees.  (Start with a cold oven – always avoid abrupt temperature changes with earthenware bowls and pots, lest they crack.)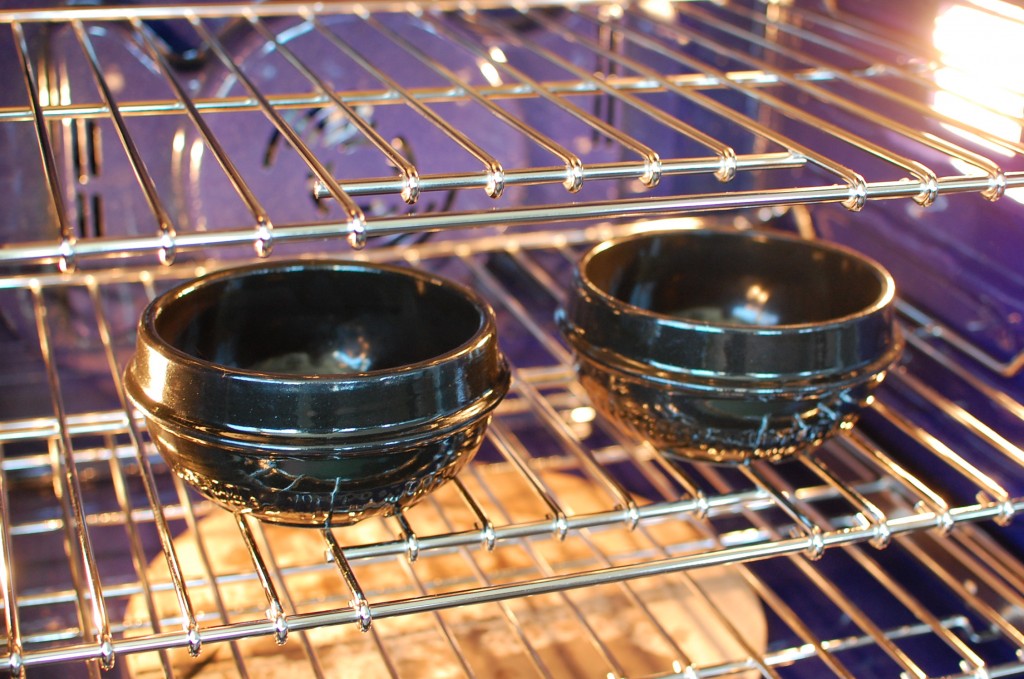 2.  In a soup pot, heat the canola oil on medium.  Add the white parts of the green onion (reserve the green parts for garnish later), or add all of the chopped 1/2 onion.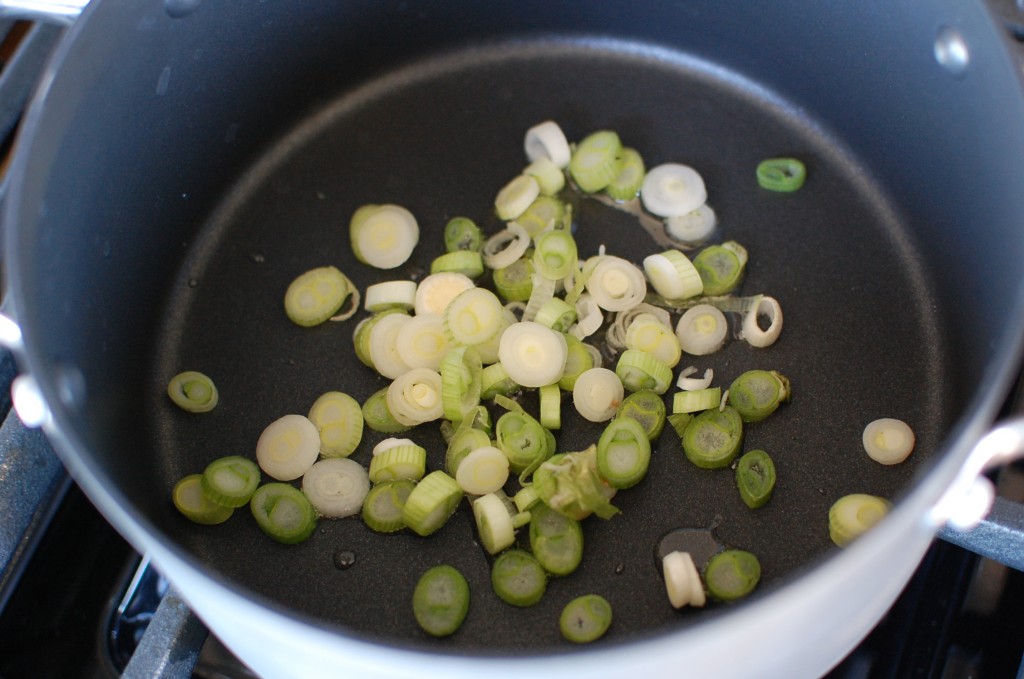 3.  Add the thinly sliced meat, season with salt & pepper, and continue to cook until brown.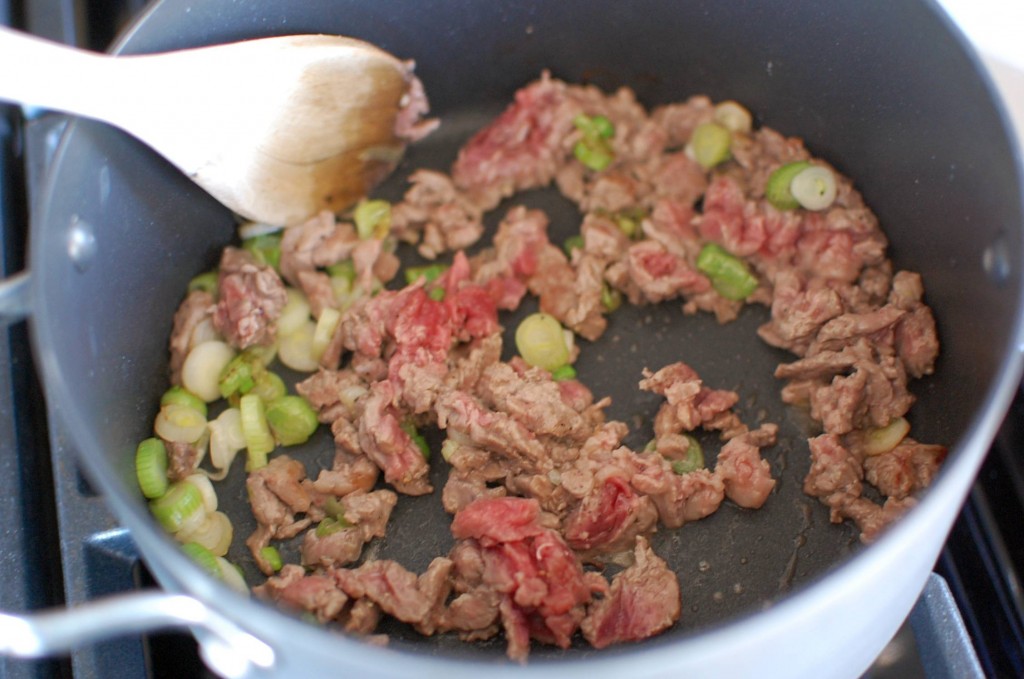 4.  Add the mushrooms & garlic, season again with a little bit of salt & pepper, and saute for 1-2 minutes until slightly wilted.
5.  Add the broth and the soy sauce, bring to a simmer.  Authentic soondubu uses a broth made of anchovies + kombu (kelp) – but you can substitute with powdered dashi mixed with water, or even beef or chicken broth.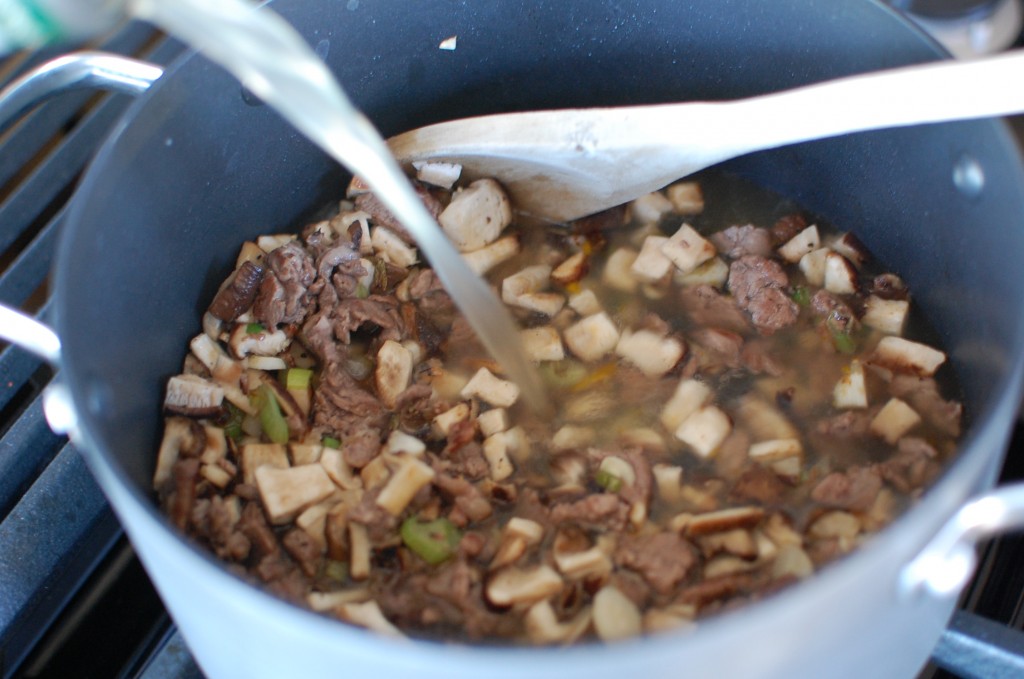 6.  Add 1 tsp. of the Korean hot pepper paste (gochujang).   Simmer for 1-2 minutes (make sure the pepper paste is dissolved), and taste.  You can add more hot pepper paste if you would like it spicier, or just leave it alone for mild.  Just remember – it's always easier to add more, but if you make it too spicy, it's much harder to dilute the spice.  So be conservative in the beginning, unless you know you can handle the spice.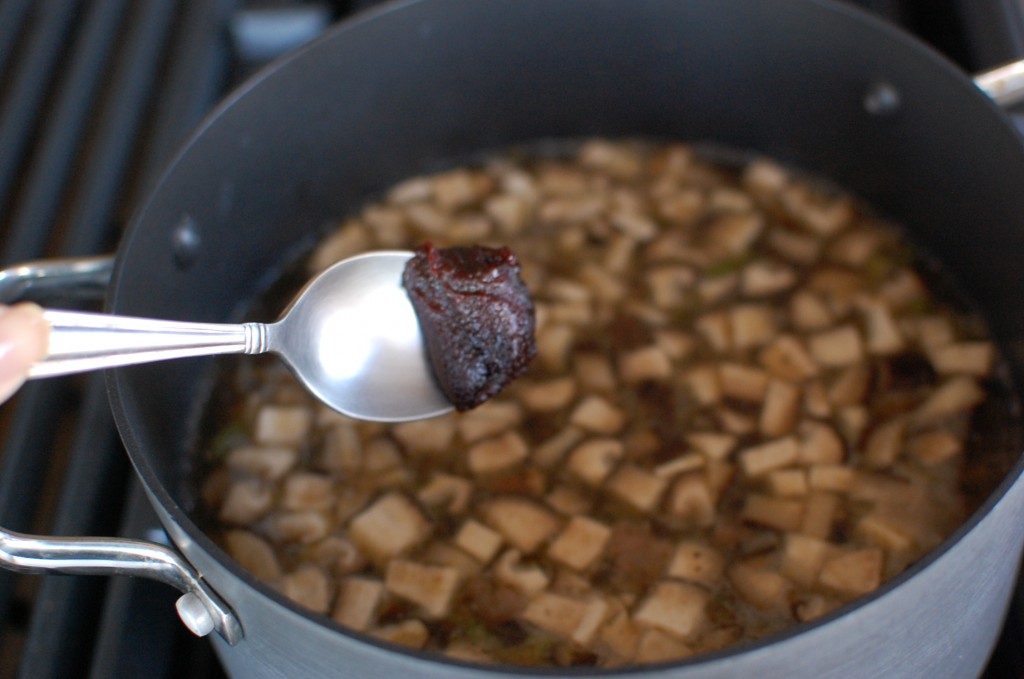 7.  Add the cubed tofu, and simmer on low (covered) for 5-10 minutes – just enough time to allow the tofu to absorb some of the flavor.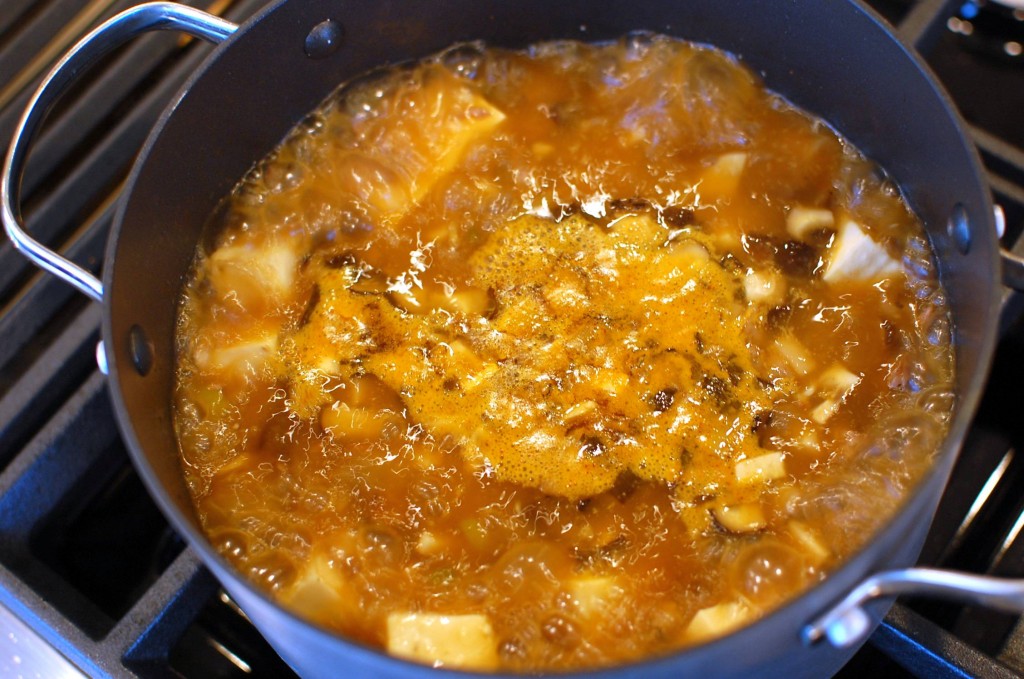 8.  Turn off the heat, and crack in 1-2 raw eggs, stir slightly.  (If you eat this at a restaurant, they will give you a small basket with raw eggs – and allow you to add the eggs directly into your hot stew bowl.  However, I find it to be a bit messy cracking raw eggs into soup at the dinner table – so I prefer to crack the eggs into the soup/stew immediately before serving.  You can do it either way you like.)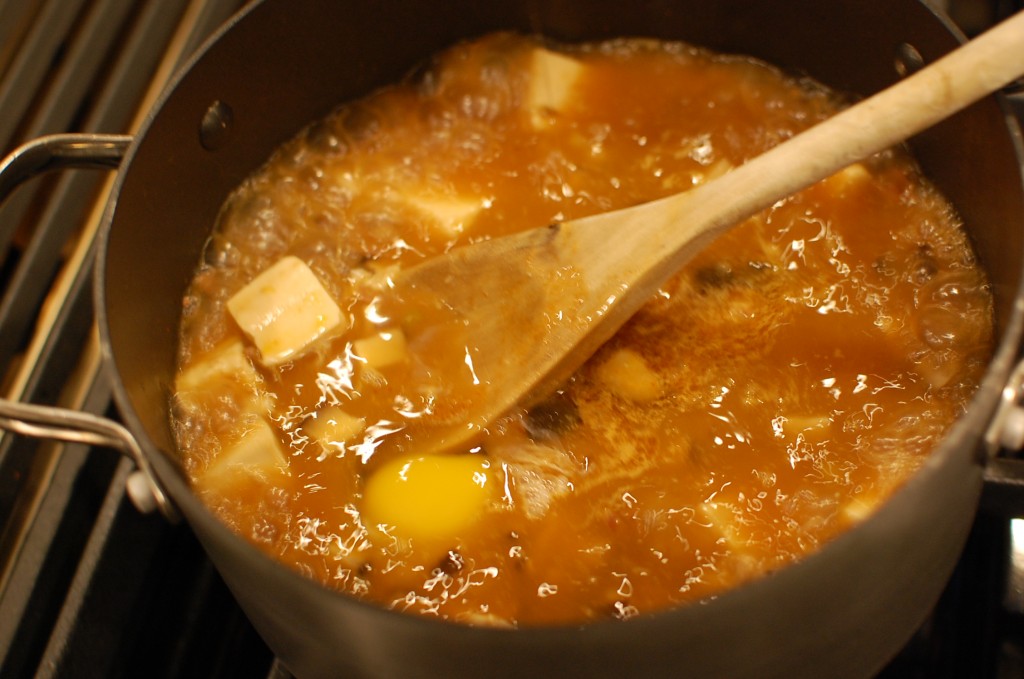 9.  Ladle your soondubu into your hot bowls (be careful when handling!), garnish with the green parts of the green onion, and serve with a side of steamed rice.  You can also garnish your soondubu with kimchi if you like.