Chicken Adobo is a wonderful dish indigenous to the Philippines.  It has a complex flavor that comes from a mixture of soy sauce, garlic, spices, and vinegar!  Originally, the vinegar was added to the dish (along with all the salt from the soy sauce) to help preserve the meat… something that was necessary in a warm climate before the days of refrigeration.
For the most traditional version of this dish, use (Datu Puti brand) Cane Vinegar.  Cane vinegar ("sukang maasim") is made from fermented sugarcane juice.  You can find it in most Vietnamese or Filipino supermarkets, or online.  If you can't find this type of vinegar, consider using rice vinegar or apple cider vinegar.
There are many ways to make Chicken Adobo – some people fry & brown the meat first, then braise it in the sauce… some people simmer the meat in the sauce first, then remove and fry it afterwards to make it crispy… some people bake it in the oven… some people just stew it all in one pot.  I just keep it simple and make it in one pot.  One of the best things about my version, is that because you cook (and marinate) the meat all in one pot – there is less mess to clean up!  Also, my version is fairly quick to make, so your dinner will be done and ready to serve in less than an hour!  Because there is no added oil or fat – this recipe is relatively healthy (I usually go with boneless skinless chicken thighs  - without the bone, the meat cooks much faster.)
Chicken Adobo:
2 lb. boneless skinless chicken thighs
1/3 c. soy sauce
1/3 c. cane vinegar
3 garlic cloves, sliced
3 small bay leaves
1 tsp. peppercorns
1 tsp. brown sugar
sliced green onions or scallions for garnish (optional)
1.  Place the chicken in a dutch oven or large pot.  Mix the remaining ingredients together to make a marinade.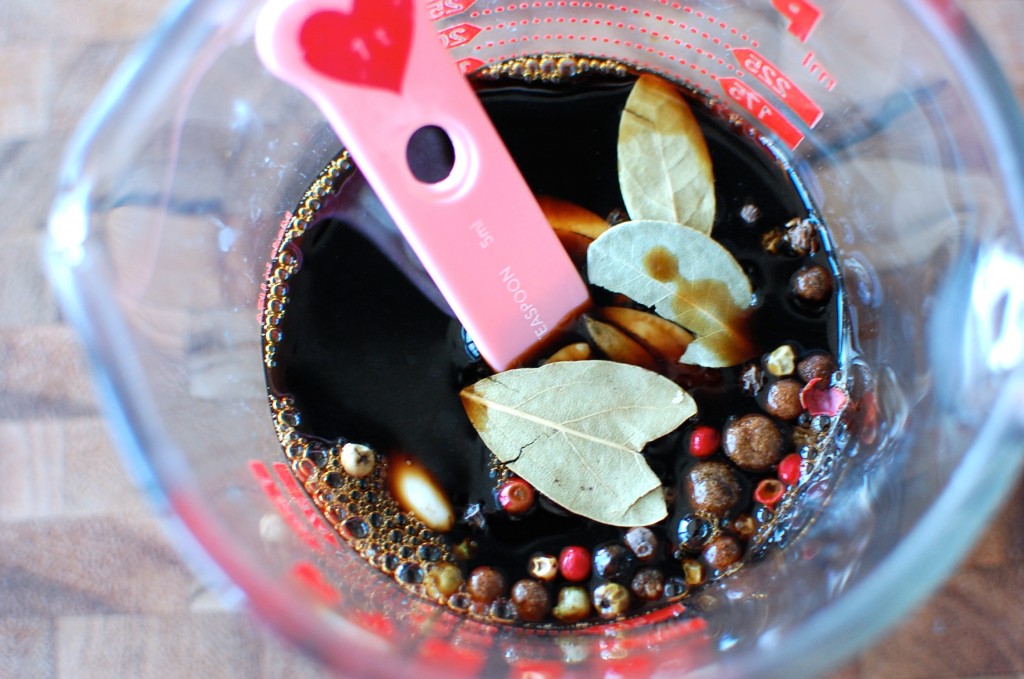 2.  Pour the marinade over the raw chicken, and mix to coat.  Allow the mixture to marinate for 20 minutes to 1 hour.  (Traditionally, you are supposed to marinate the chicken for up to 3 hours… but if you are hungry and trying to get dinner on the table in less than an hour, go with 20 minutes.)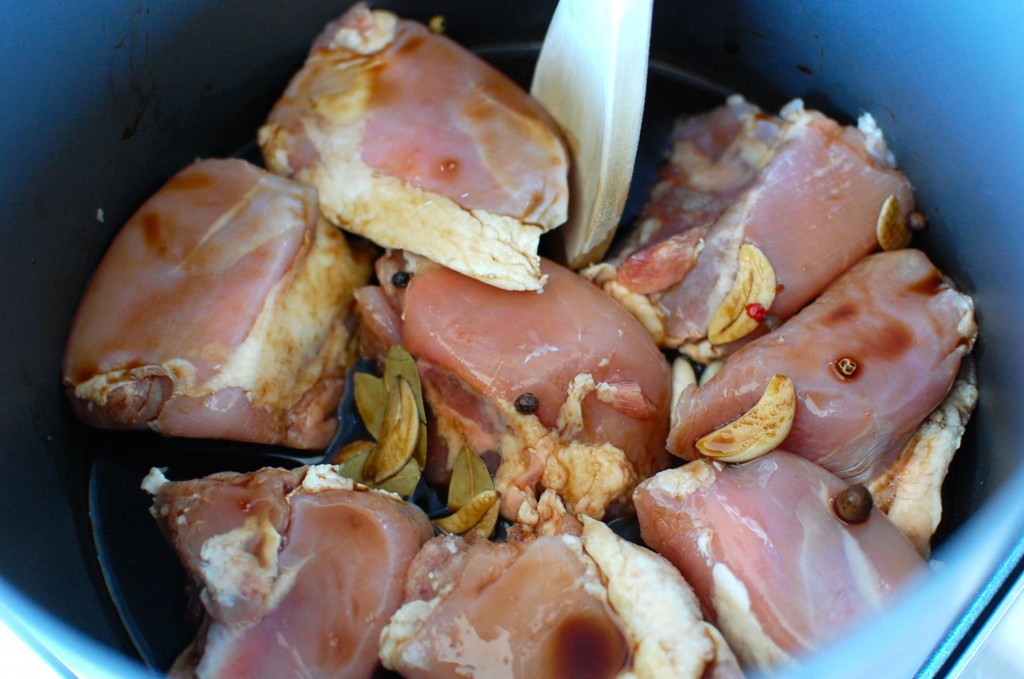 3.  Turn on the heat, and bring the mixture to a boil.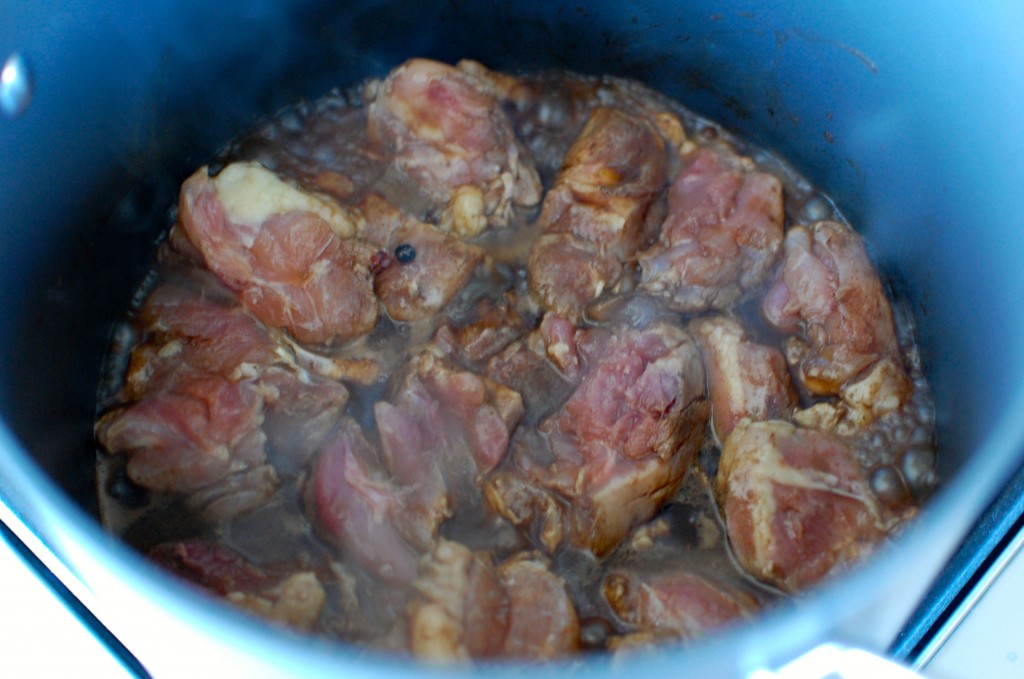 4.  Cover the pot with a lid, reduce the temperature to low, and allow the boneless chicken thighs to simmer (covered) for 20 minutes.  Turn the chicken pieces a few times during this time.  (If you are using chicken thighs with the bone, then increase the cooking time to 30 minutes.)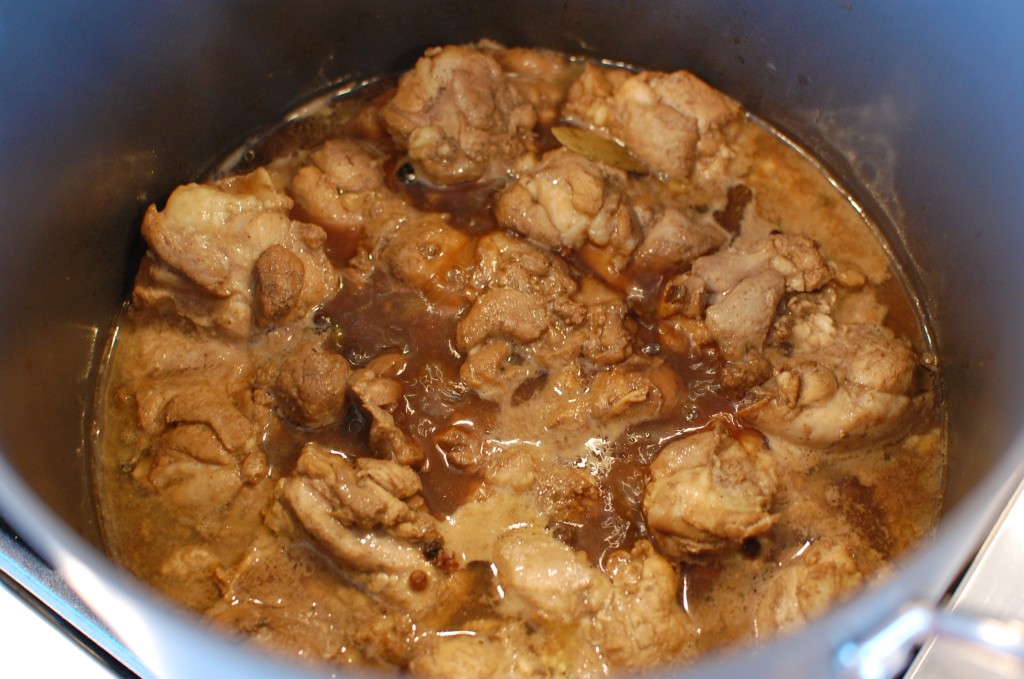 5.  Uncover, and cook another 20 minutes over medium (turning the chicken pieces a few times), allowing the liquid to reduce.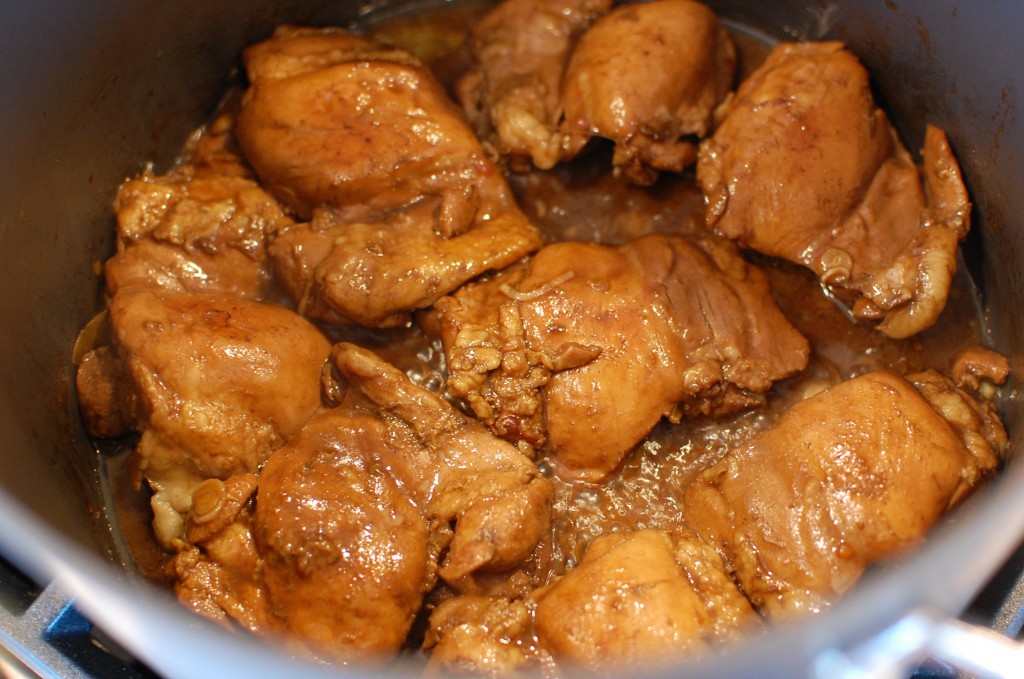 6.  Place the chicken in a serving bowl, then pour the thickened sauce over the chicken.  Garnish with chopped scallions if desired.  Serve with steamed white jasmine rice.