Bolognese is a meat based pasta sauce that originates from Bologna, Italy.  In Italy, this sauce is often served with large flat noodles like tagliatelle, pappardelle, or fettuccine… or with tube shapes like rigatoni or penne.  Here in the U.S., "Bolognese" brings to mind a tomato sauce with crumbled ground beef, sometimes with mushrooms, served over spaghetti noodles.  The Italian version isn't usually as "tomatoey" as we think of it here in America.  I think there is something good about both types of "Bolognese Sauce"…. my recipe is more in the style of an Italian Ragu alla Bolognese - with enough tomato flavor to make this dish not seem completely foreign to the American palate.
There are several ways to make Bolognese Sauce… but generally, this type of sauce starts with a soffritto of aromatic vegetables which is then cooked with a combination of minced meat, tomato or tomato paste, and some type of liquid – and then simmered for a several hours to create a thick and flavorful sauce.  For the "liquid" – some recipes call for the addition of milk or dairy (to "soften" the meat and add a creaminess to the sauce), while some versions (like mine) call for the addition of wine (for flavor).
Serve it over your favorite pasta…. never mind what type of pasta you are "supposed" to use… use what you want, it's your dinner!  :)
Bolognese Sauce (serves 4-6):
1 lb. ground beef, pork, or sweet Italian sausage
3 large (or 5 medium) carrots
1 large onion
3 T. olive oil or beef fat
6 oz. can tomato paste
1 lb. tomatoes
1/2 c. loosely packed parsley leaves
1 c. loosely packed basil leaves
1 T. garlic paste
1-2 tsp. sugar (if needed)
salt, pepper to taste
1/2 tsp. red pepper flakes (optional)
1 1/2 c. red wine
1.  In a large wok or pot over medium heat, cook the ground beef/pork or sausage, breaking up into small bits with the end of a spatula while cooking.  You want your meat to be a fine mince – not have large chunks.  Use a few paper towels to absorb any extra grease if needed.  I have made this sauce both with ground meat or sweet Italian sausage (removed from the casing).  The taste is good either way – but will make a slightly different flavored bolognese sauce, depending on which you use.
2.  Use a food processor to quickly grate the carrots and the onion.  If you don't have a food processor, you can grate the carrots by hand, and chop the onions finely.  (I had purple carrots on hand, so I used those instead of regular orange carrots this time.  You can use regular carrots, or the specialty "rainbow carrots" popping up in farmer's markets these days.)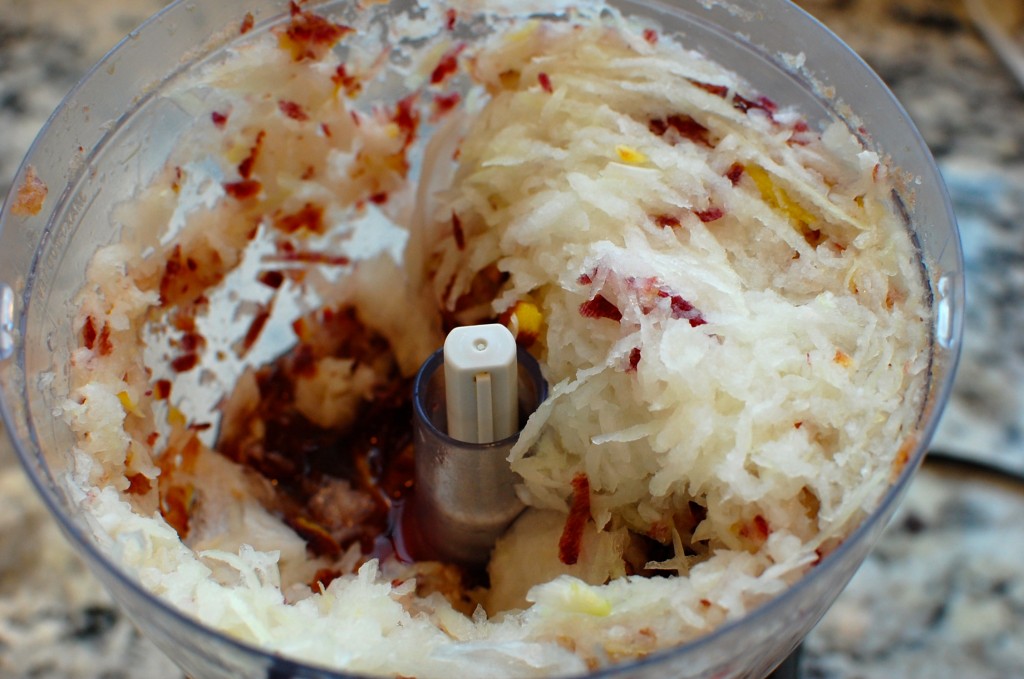 3.  Make a well in the center of your meat, add the beef fat or olive oil and allow it to heat.  (I had leftover beef fat from a prime rib roast that I made – I always save the flavorful fat and drippings to use in other recipes.  If you have beef fat, you can save it for a recipe like this in the freezer.  If you don't have any beef fat on hand, just use olive oil.)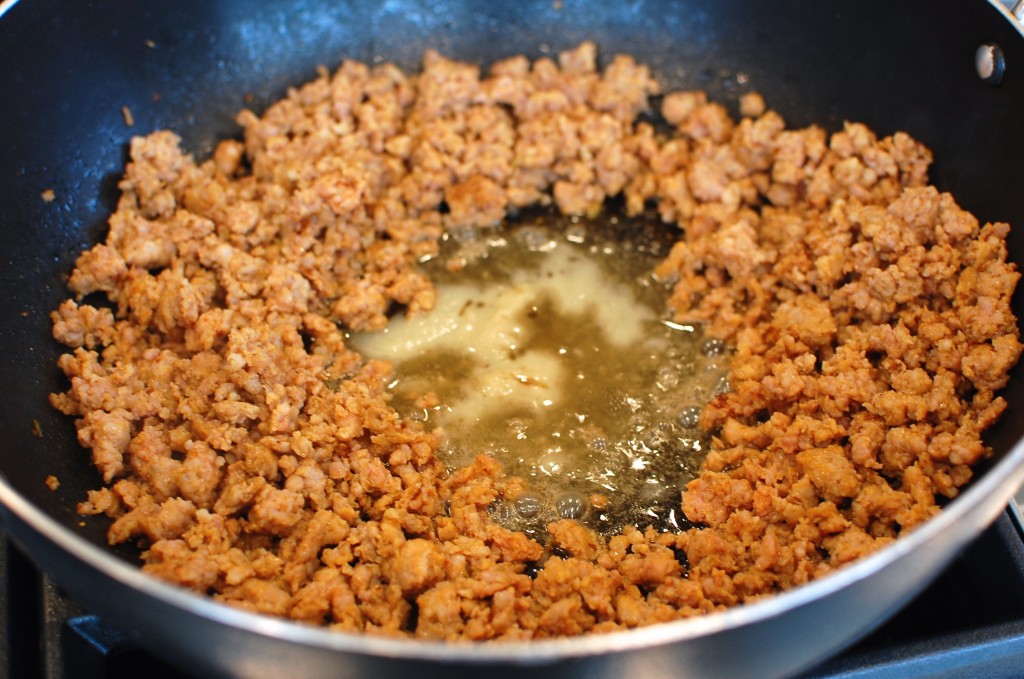 4.  Add the grated carrots and onions, and continue to cook until soft.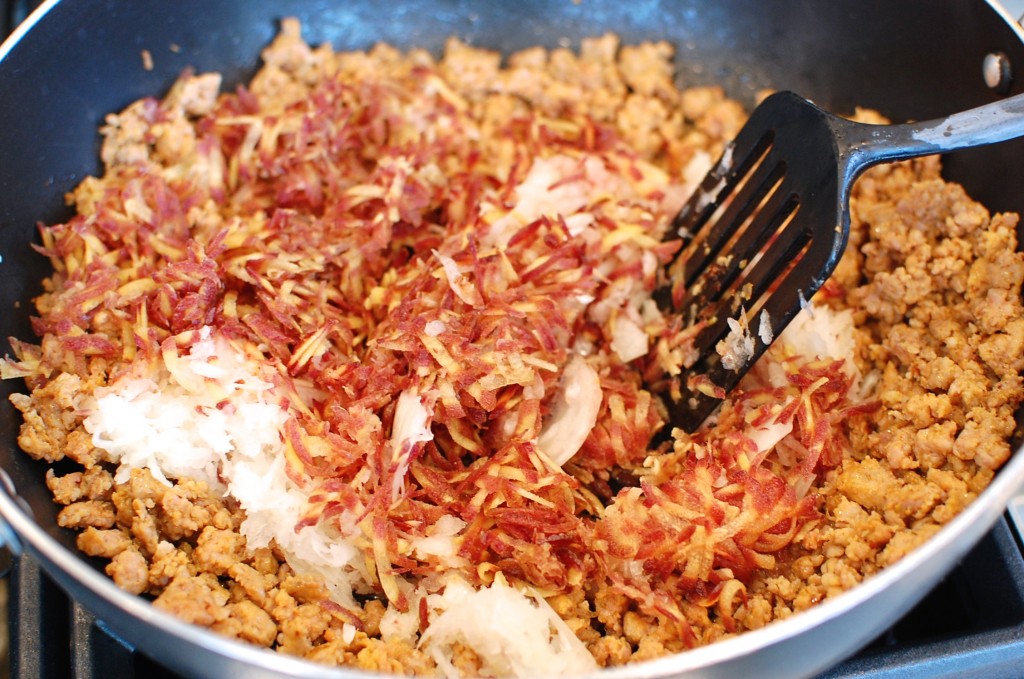 5.  Add the tomato paste, mix into the meat mixture.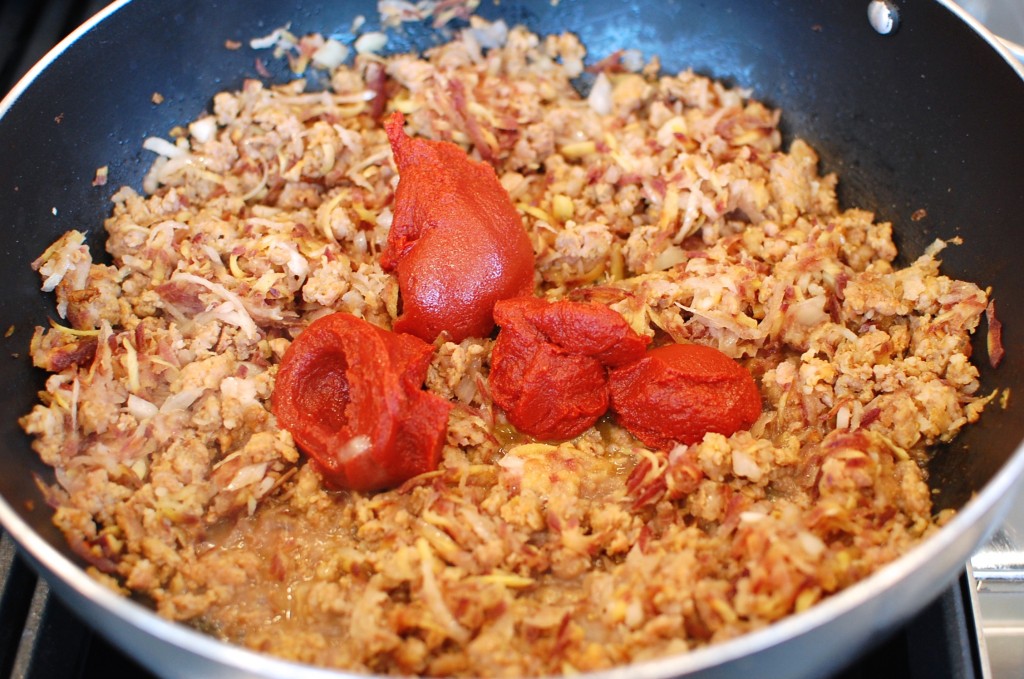 6.  Chop the parsley and basil leaves finely, set aside for later.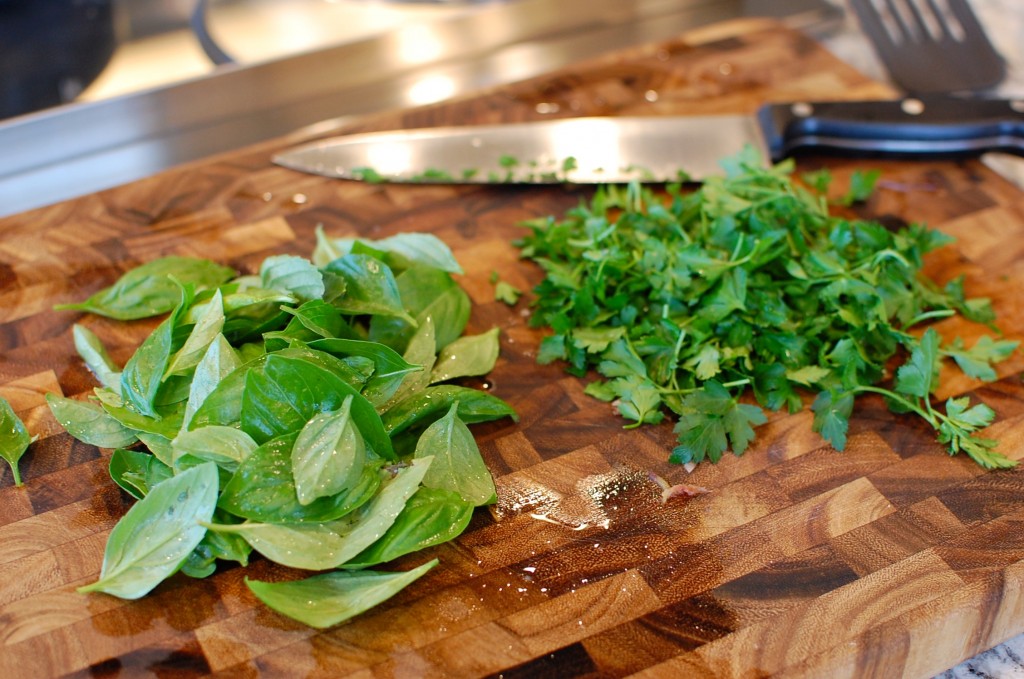 7.  Finely dice your tomatoes.  I always use fresh tomatoes – skin, seeds and all.   You could substitute with diced canned tomatoes if you don't have fresh on hand… but I like the taste of fresh tomatoes better.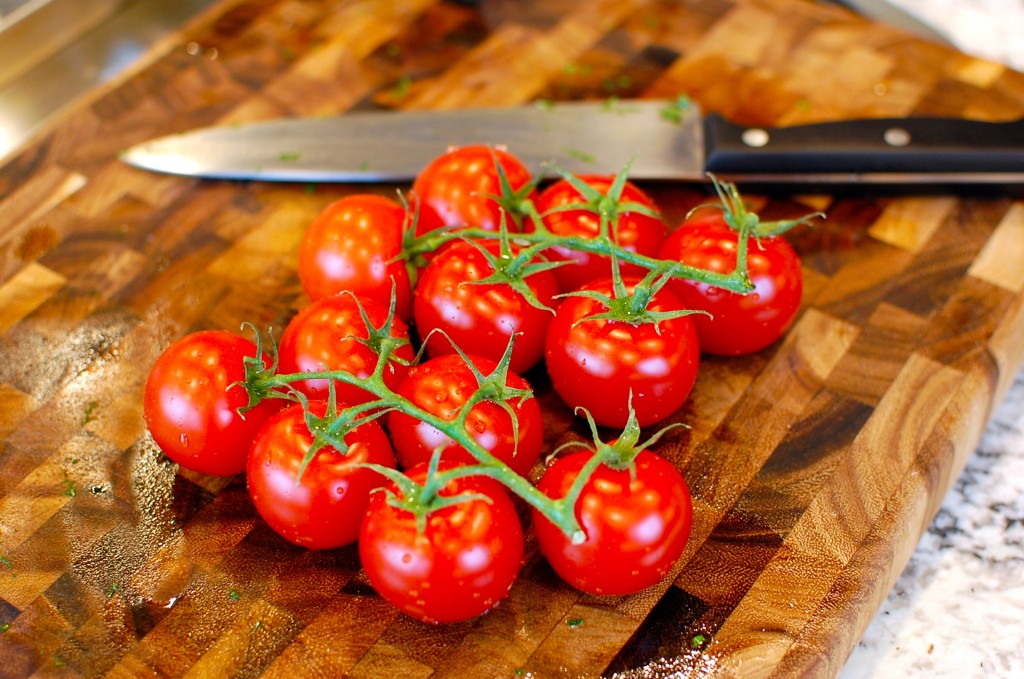 8.  Add the tomatoes and stir into the meat mixture.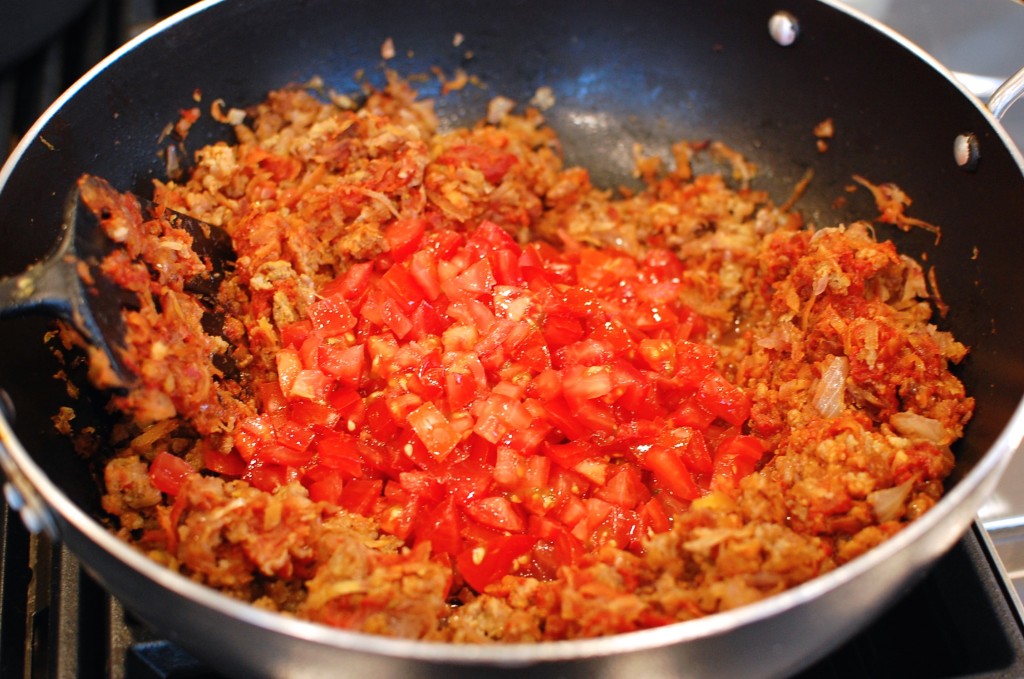 9.  Add half the chopped basil, and the garlic paste.  (My supermarket sells garlic paste in toothpaste like tubes, in the produce section near the herbs.  If you can't find garlic paste, substitute with finely minced garlic instead.)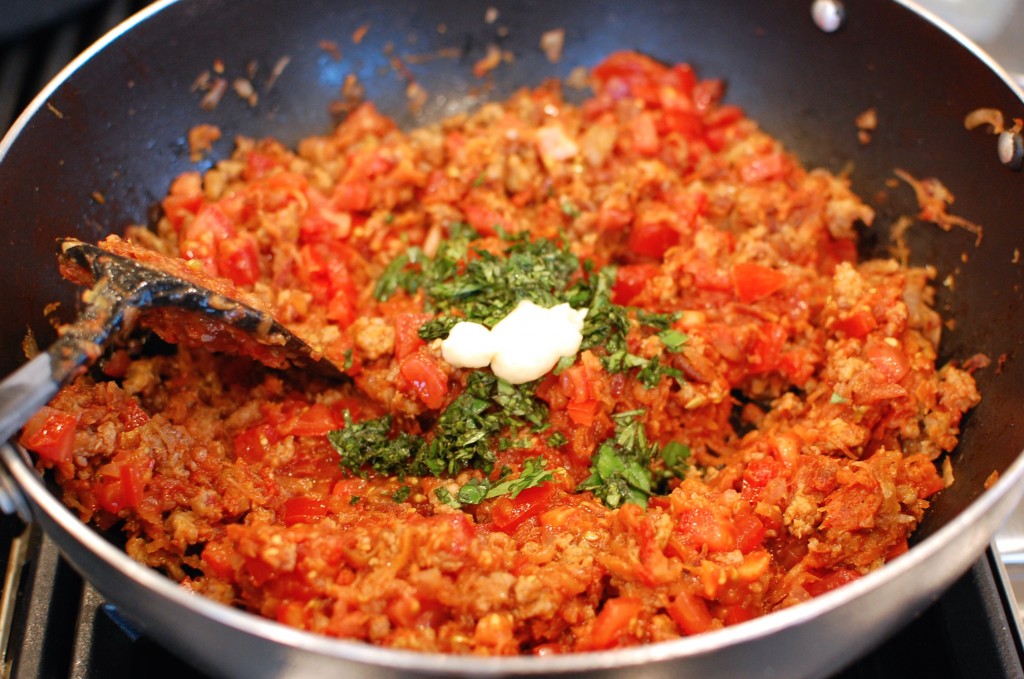 10.  Add the red wine, stir into the meat mixture.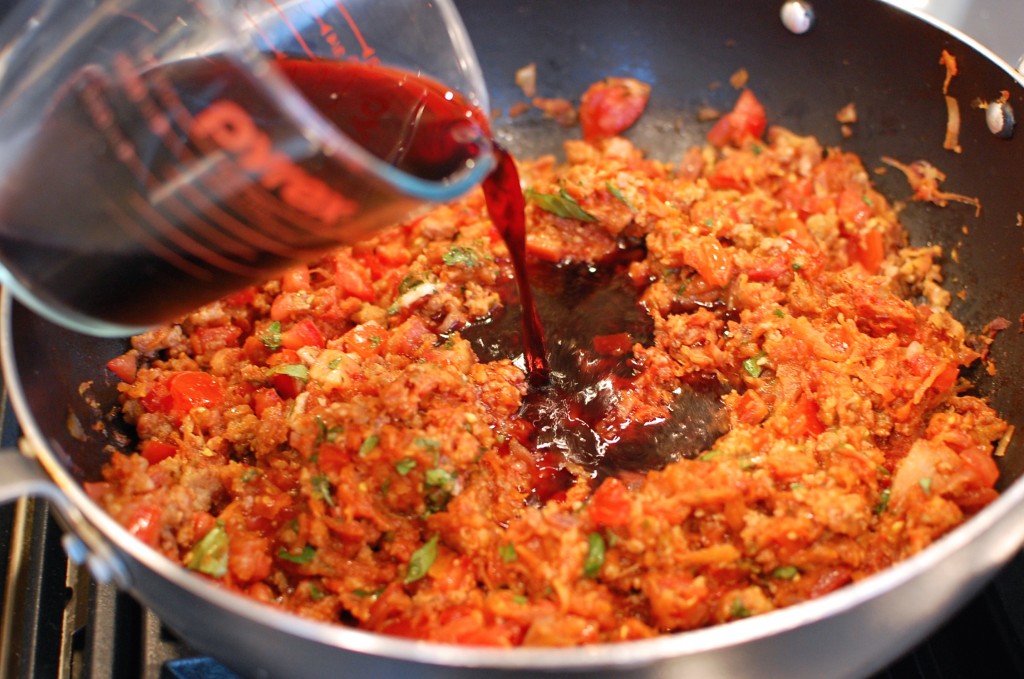 11.  Allow your sauce to cook for 1-2 hours, covered, on low to medium low (you want a gentle simmer).  Taste a few times during the cooking process and add the red pepper flakes and the salt & pepper to taste.  If your sauce is tasting a bit acidic, you can add 1 – 2 tsp. sugar to mellow it out a bit.  (If your sauce becomes too thick, you can loosen it up with a little bit of water or beef broth if needed.)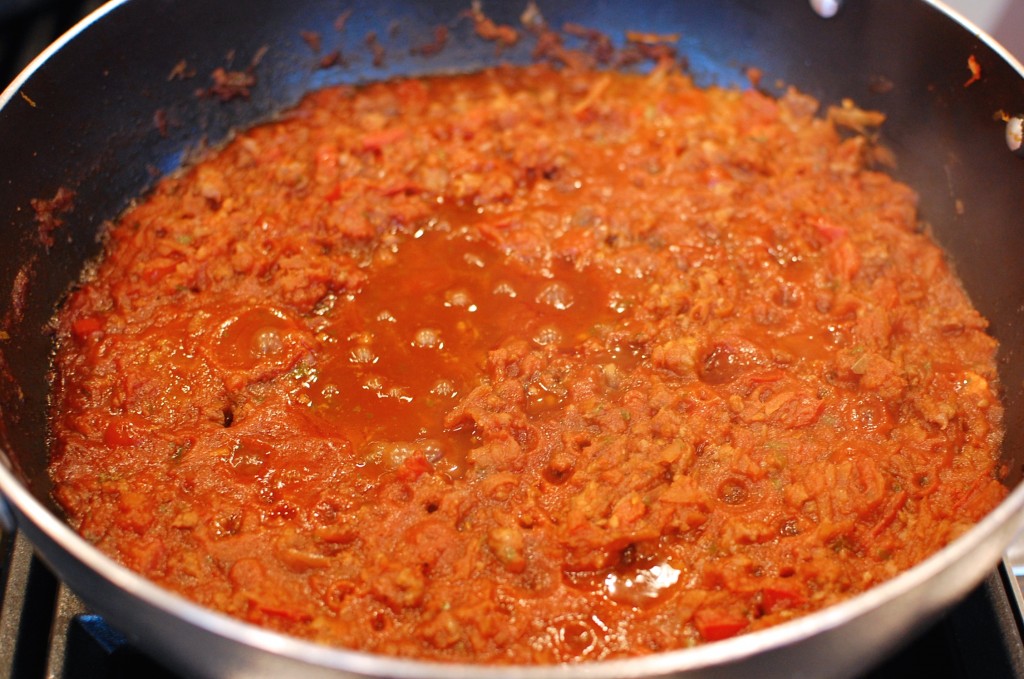 12.  When close to serving, stir in the remainder of the chopped basil, and the chopped parsley.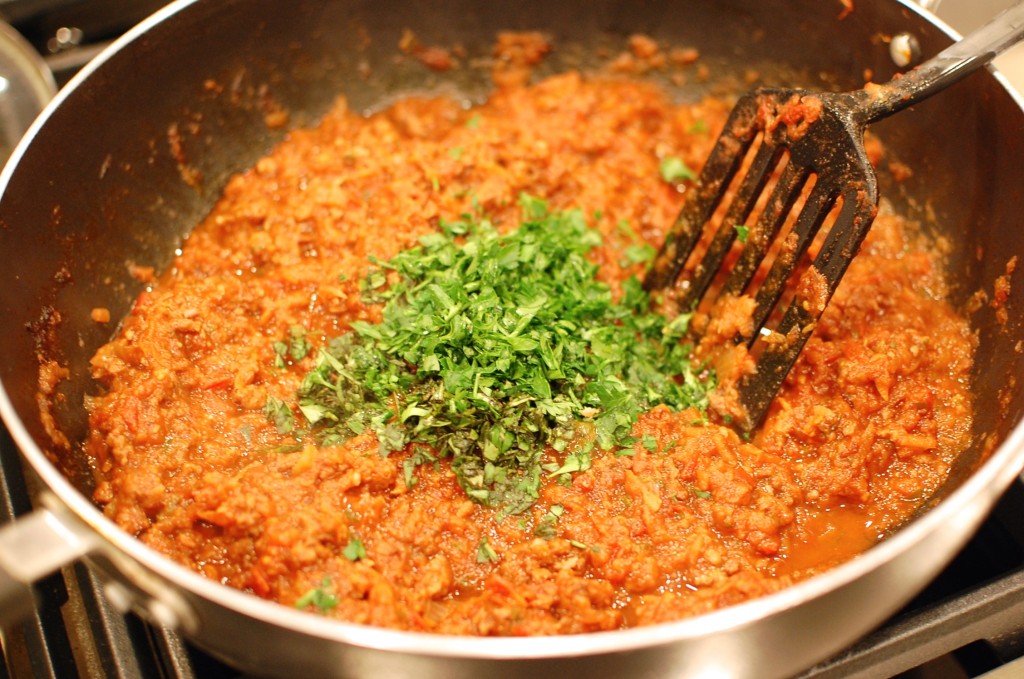 13.  Serve hot over your favorite pasta noodles!