The other day, Sprout's Market had a special on mushrooms – a giant bag of baby bella mushrooms for less than $4.  I had a craving for Beef Stroganoff, and decided that this was the perfect opportunity to make it for dinner.
When I was a kid, my mom used to make Beef Stroganoff with hard, chewy beef (not sure what cut, but it was tough!) and a pre-mixed seasoning packet.  I never really liked Beef Stroganoff because my mom's recipe wasn't the best representation of the dish… until I had it again at a restaurant, prepared with tender beef and fresh ingredients.  What a difference!
When I make filet mignon steaks, I usually butcher a whole beef tenderloin (it's much cheaper and more affordable to make that way).  In the process of cutting the whole tenderloin into steaks there are a lot of small side pieces of meat that you end up with, which you can freeze and save for use in other recipes. (I like to use that leftover tenderloin pieces for quick stir-fries, and dishes like Beef Stroganoff, where you want a more tender cut of meat that isn't too tough or chewy.)  If you don't have access to low cost beef tenderloin, choose a tender cut of meat sliced against the grain.
This is a pretty quick dish to make – you don't need a long cooking process.  Basically, you'll be done in the time it takes to cook up some egg noodles or steam some rice.  The more common preparation of Beef Stroganoff calls for serving over a bed of egg noodles, but the Japanese side of me prefers it served over steamed rice.  Choose your favorite carbohydrate – even mashed potatoes work well!
Beef Stroganoff:
1 T. canola oil
1/2 onion or 1 large shallot
1.5 lb mushrooms
3/4 lb. beef tenderloin, sliced
1/2 tsp. salt
1/2 tsp. black pepper
1/2 c. whiskey or cognac (or beef stock)
1 c. beef broth
1 tsp. dijon mustard
1 tsp. garlic paste (or 2 cloves garlic minced)
1/2 – 1 tsp. paprika
1/3. c. water + 2 T. flour
1 c. sour cream
2 T. parsley, chopped
1.  In a large wok or skillet, heat the canola oil over medium, an add a sliced shallot (or substitute with 1/2 an onion).
2.  Cut the mushroom into slices, or quarters (depending on your preference), and add to the pan.  Cook the mushrooms over medium high heat for about 3-5 minutes until softened and browned.  Set the mushrooms aside.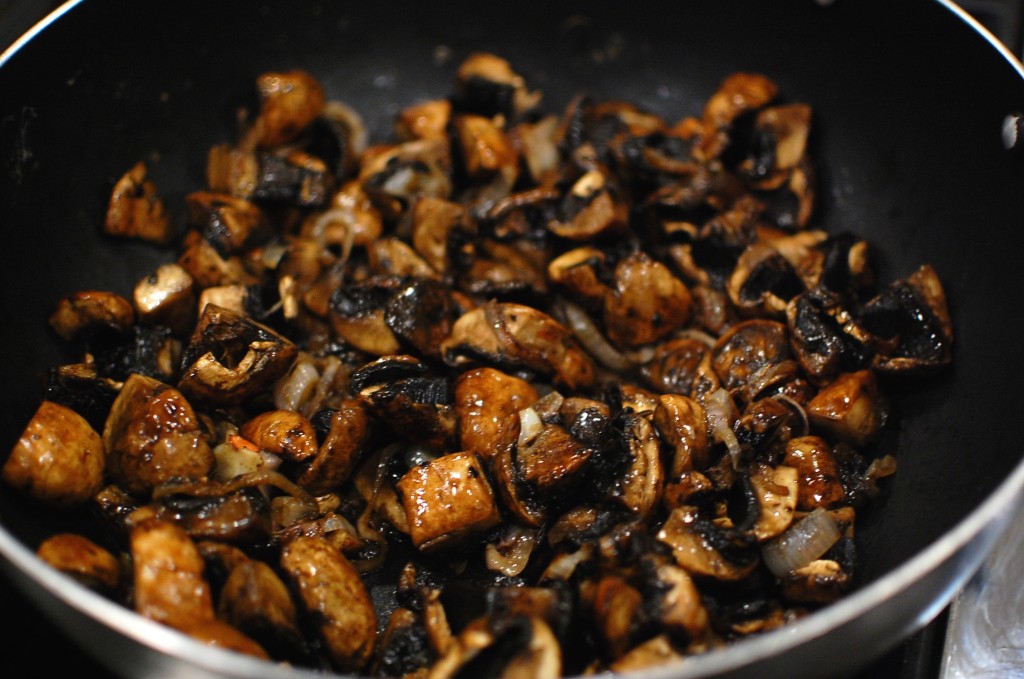 3.  Add the sliced beef tenderloin to the hot pan, and sprinkle with the salt and black pepper.  Cook until browned.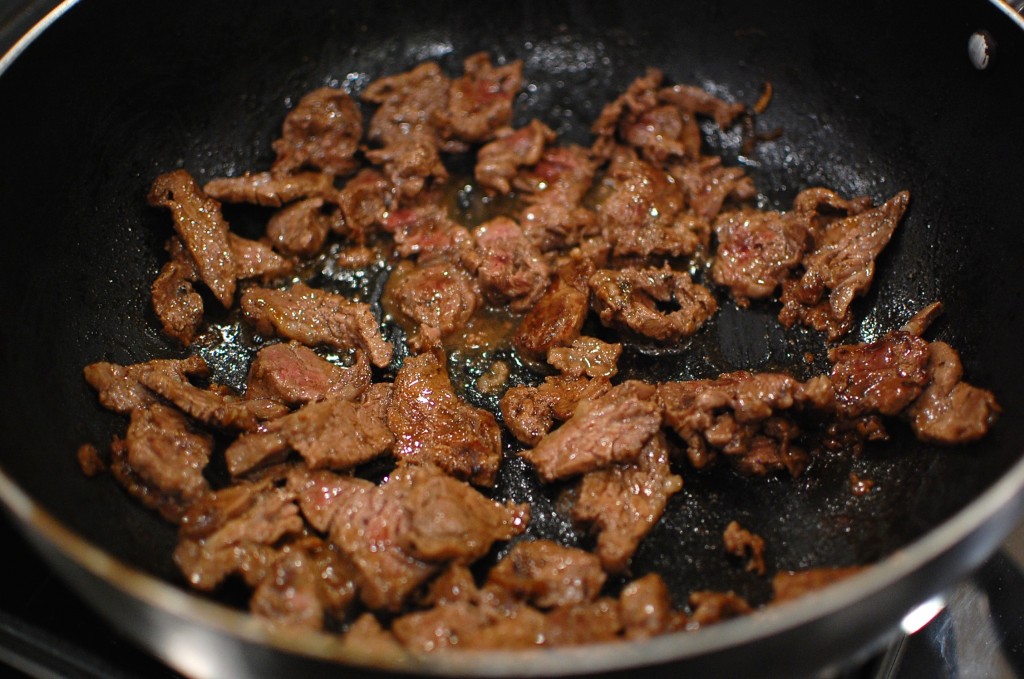 4.  Turn off the heat.  Add the whiskey or cognac.  Turn the heat back on, and bring to a simmer.  (If you don't want to use Cognac or Whiskey, then you can substitute with beef stock or beef broth.)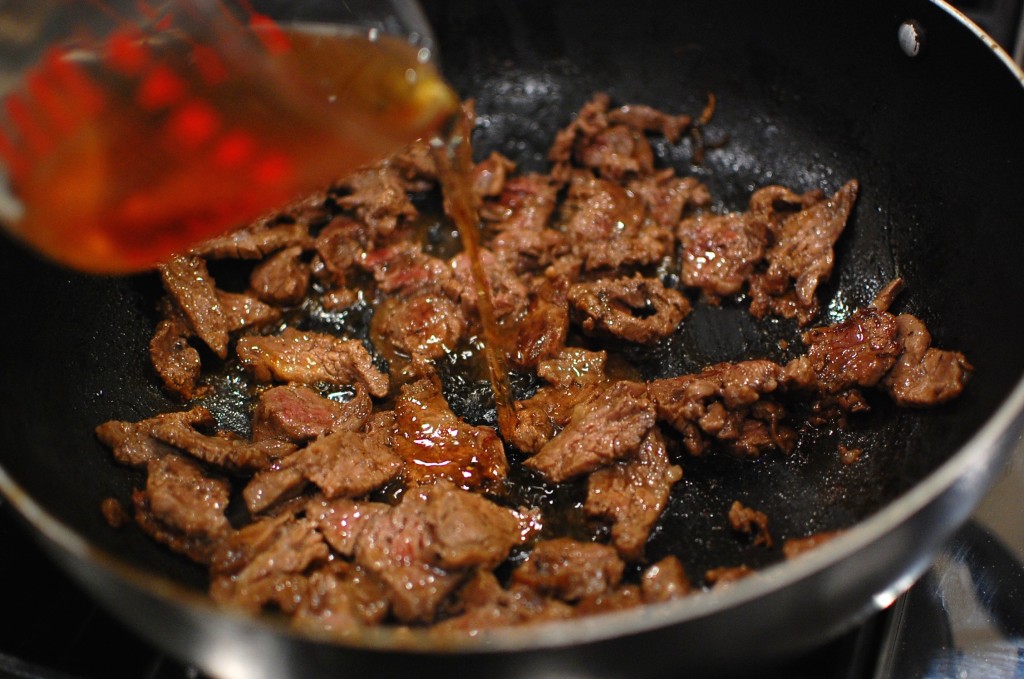 5.  Add the garlic paste (substitute with 2 cloves of garlic, minced, if you don't have paste) and the dijon mustard.  Mix together.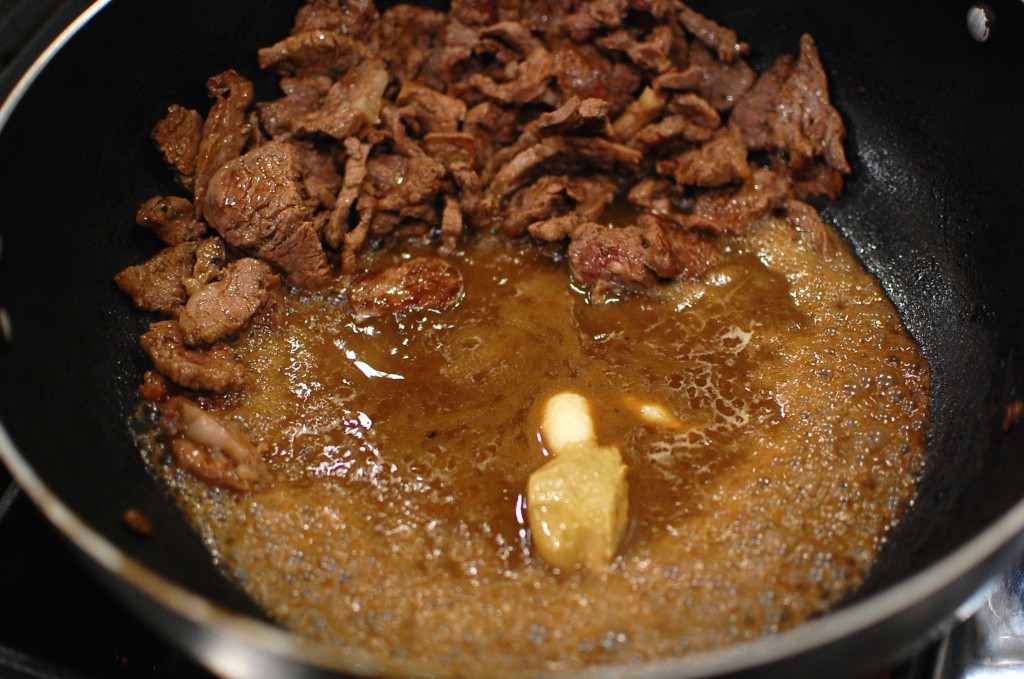 6.  Add the cooked mushrooms back to the pan, add the beef broth, and bring to a simmer.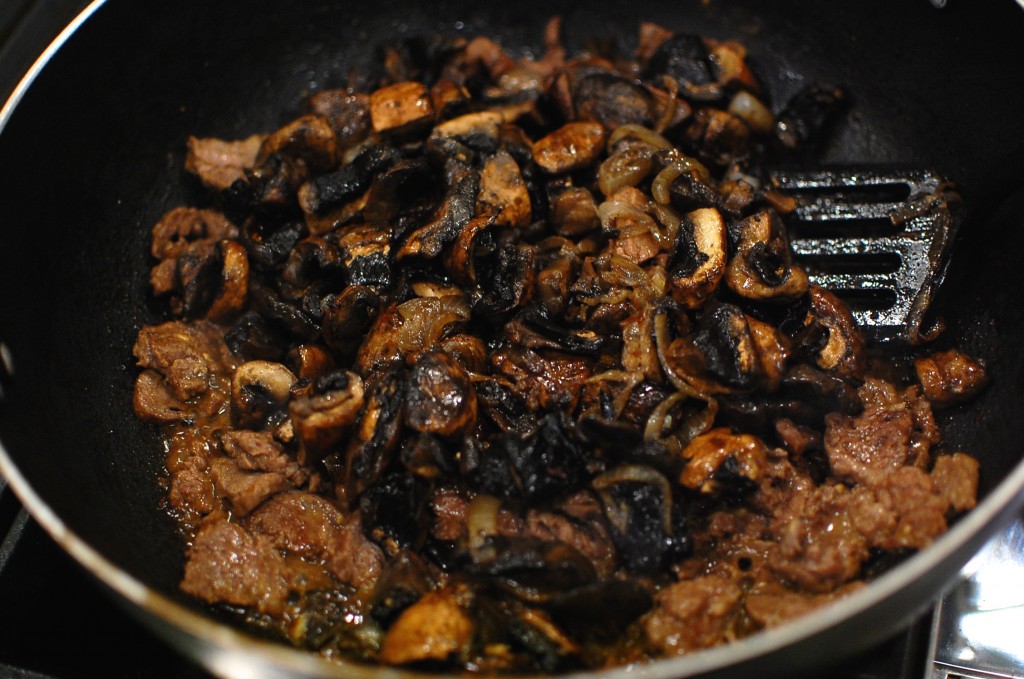 7. Mix the flour and water together to form a slurry.  Add the slurry to the pan, and mix together – this will help thicken the liquid into a thicker sauce.  (You can mix and add more slurry if you want your sauce to be thicker.)
8.  Reduce the heat to low, stir in the sour cream and paprika.  Cook another 1-2 minutes until heated, but do not boil.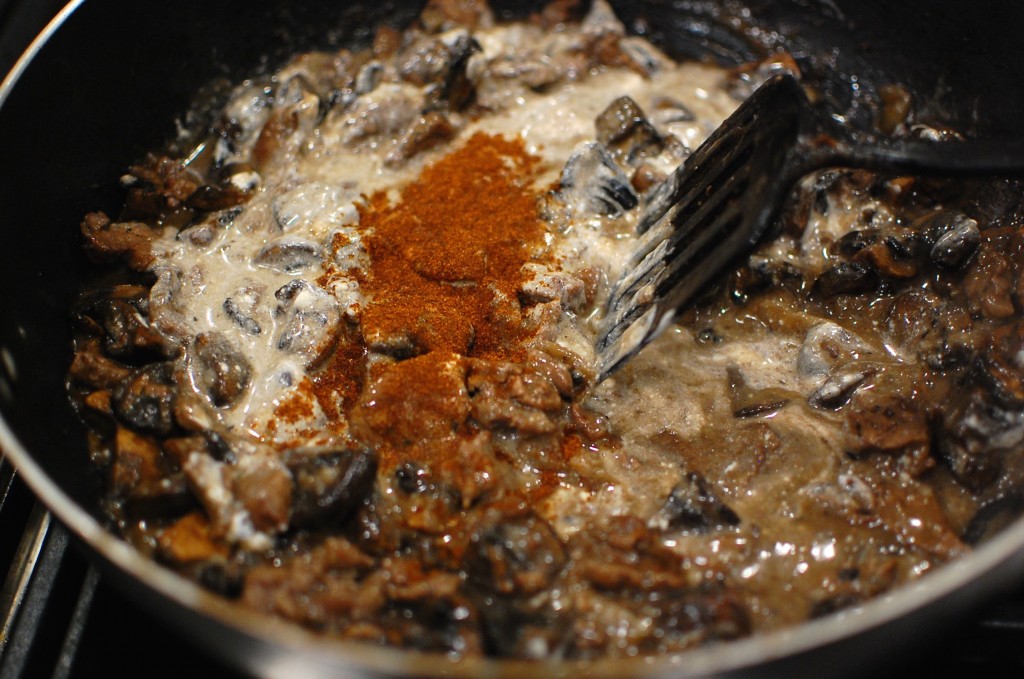 9.  Turn off the heat, and mix in some chopped parsley.  Serve over egg noodles, mashed potatoes, or my favorite: steamed rice.