This week I had some leftover pumpkin puree in the refrigerator that I needed to use up before it went bad… so I decided to make a Japanese style pumpkin cinnamon swirl bread.  This is not a cake-like sweet loaf like pumpkin bread…. instead, it's a yeasty bread that you can slice to make toast or french toast.  It is wonderful in the morning – lightly toasted, slathered with butter!
The dough is the same texture-wise as a Japanese "shokupan".  If you go to the Japanese (or Chinese) Bakery, they have all different kinds of variations of Shokupan (a soft and fluffy Japanese sandwich bread, often made as squared loaves) – red bean, sesame seed, raisin, etc.  My all time favorite is the plain one – "Japanese Milk Bread" which also makes a great cinnamon roll or dinner rolls!
I say this every time – but I LOVE my Zojirushi Bread Machine so much!!!  It has a "basic dough setting" where you just dump the ingredients in, turn it on, and 1 hour 50 minutes later you have a perfectly made dough that is ready to use.  It makes the kneading and rising process so incredibly easy – so much so that I use it to make bread dough, yeast leavened pastry dough, even bao or bun dough all the time!
Pumpkin Cinnamon Swirl Yeast Bread:
3/4 c. pumpkin puree
2 1/2 c. bread flour
1 egg
1/4 c. milk
1/2 c. tang zhong (recipe below)
3 T. unsalted butter, cut into chunks
1/2 tsp. salt
3 T. sugar
1 T. maple syrup
2 tsp. active dry yeast
Tang Zhong:
1/6 c. bread flour (fill a 1/3 c. half way)
1/2 c. water
Cinnamon filling:
1/3 c. dark brown sugar
2 T. ground cinnamon
1/4 c. softened salted butter
1.  Make the tang zhong.  Put the bread flour and water in a small saucepan over medium heat.  Whisk until smooth (no lumps), and cook/stir until swirl marks appear.  Turn off the heat and let the tang zhong cool.  You should have about 1/2 c. tang zhong and will use all of it in the recipe.  (I will often make a double batch if I am planning to make more dough within 2 days – extra tang zhong can be stored in the refrigerator.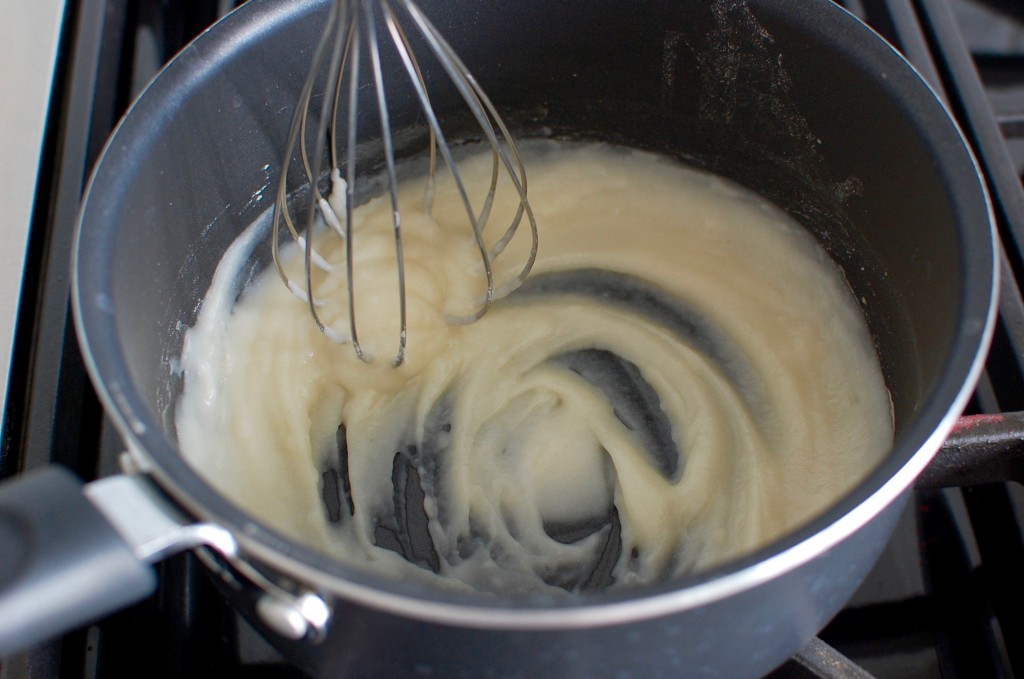 2.  Add the pumpkin puree, egg, milk, cooled tang zhong, UNSALTED butter, salt, sugar, and maple syrup to the bottom of your bread machine pan.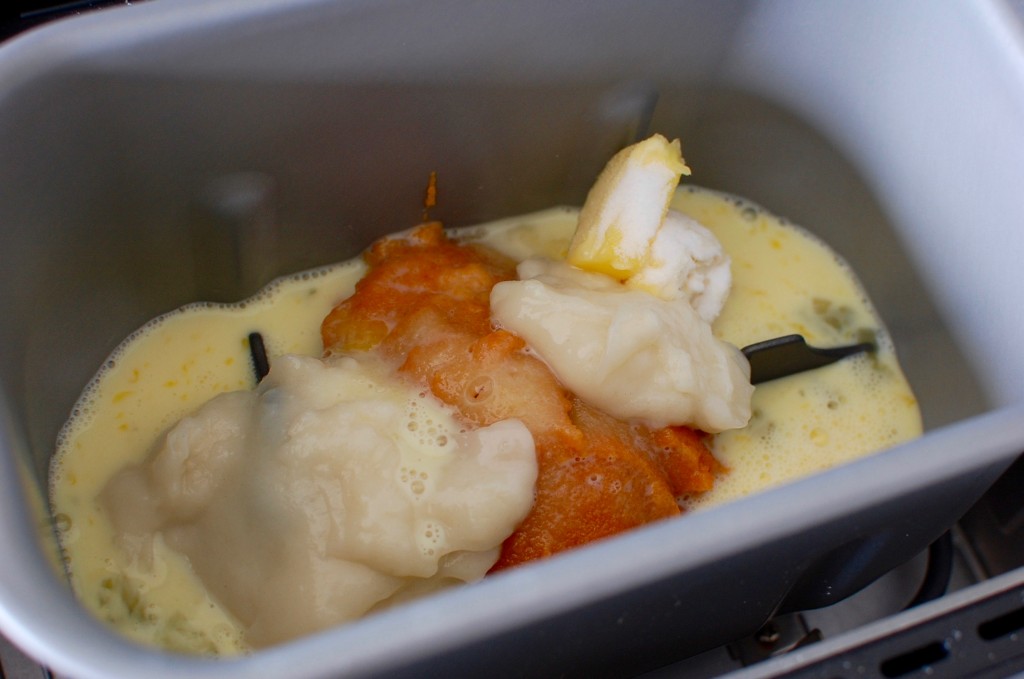 3.  Add the bread flour, then create a small depression in the top.  Add the yeast into that small depression.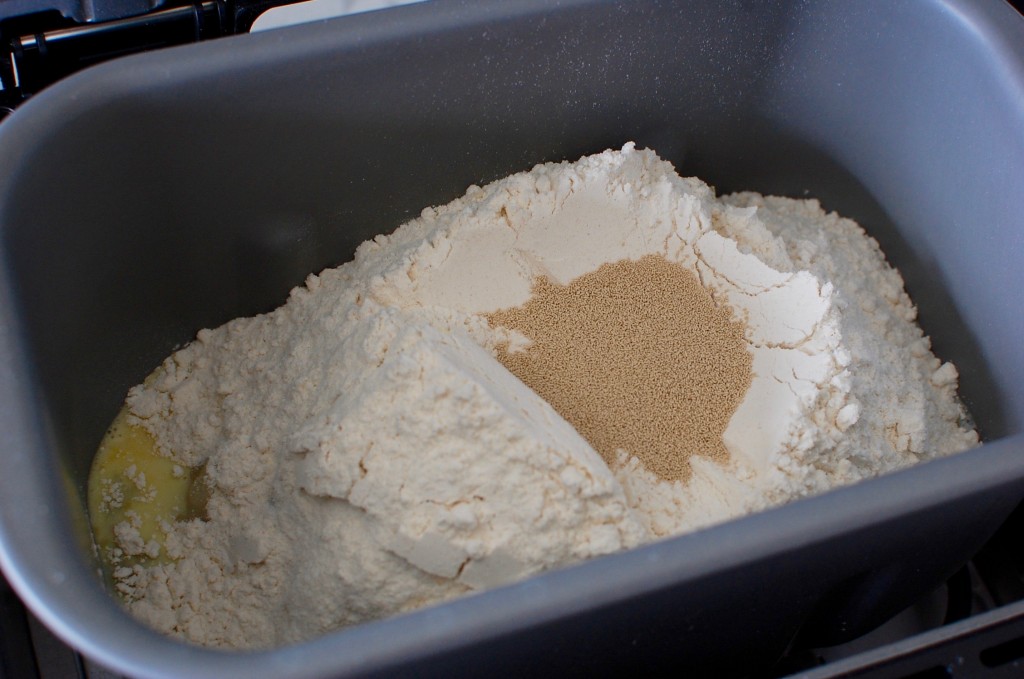 4.  Set your bread machine to its "basic dough" function to knead and raise the dough.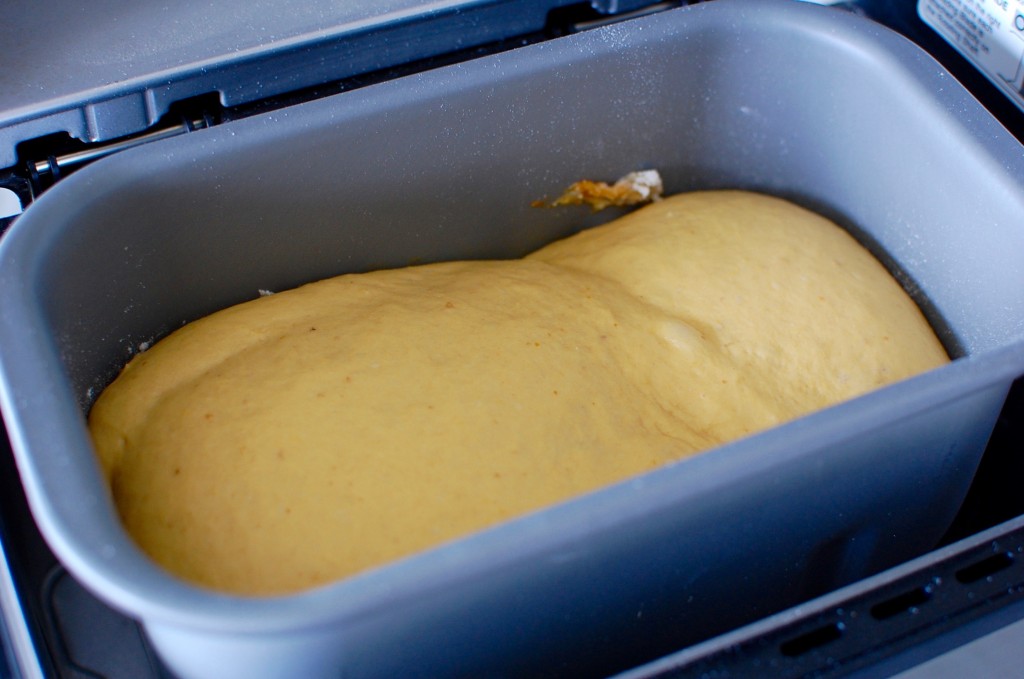 5.  Meanwhile, mix your brown sugar, cinnamon, and softened SALTED butter in a small bowl to make the cinnamon filling.  Set aside.  (If your butter is too cold, or your brown sugar has become hard – you can microwave for 10-20 seconds to soften.)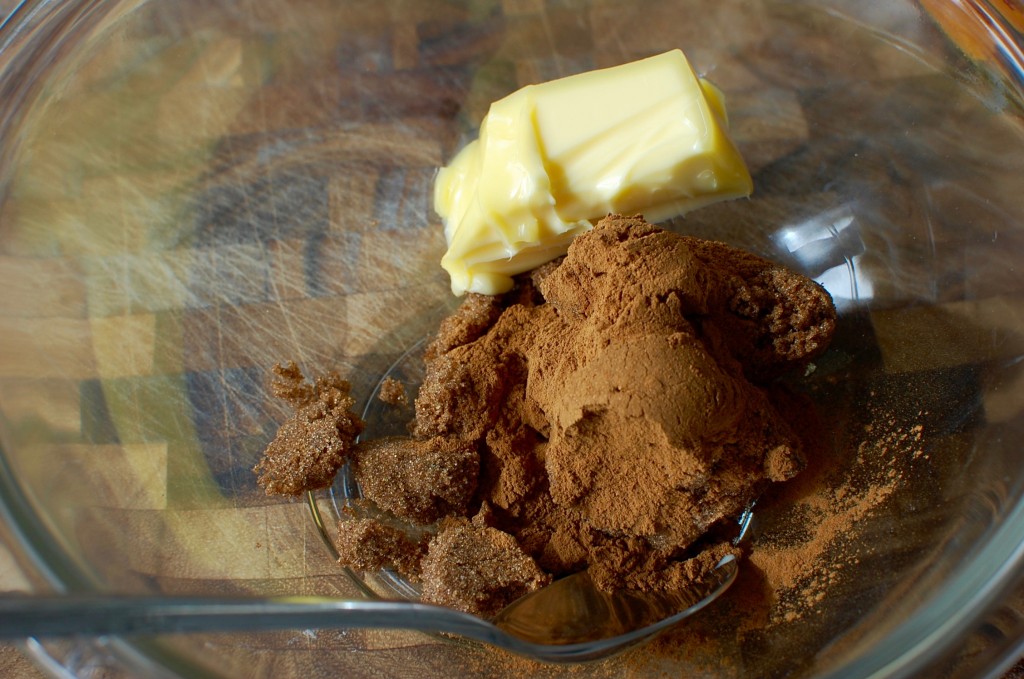 6. When your dough is ready, dust lightly with flour (try not to handle too much because the dough will be sticky).  Roll out into a large rectangle.
7.  Spread the cinnamon mixture over the dough.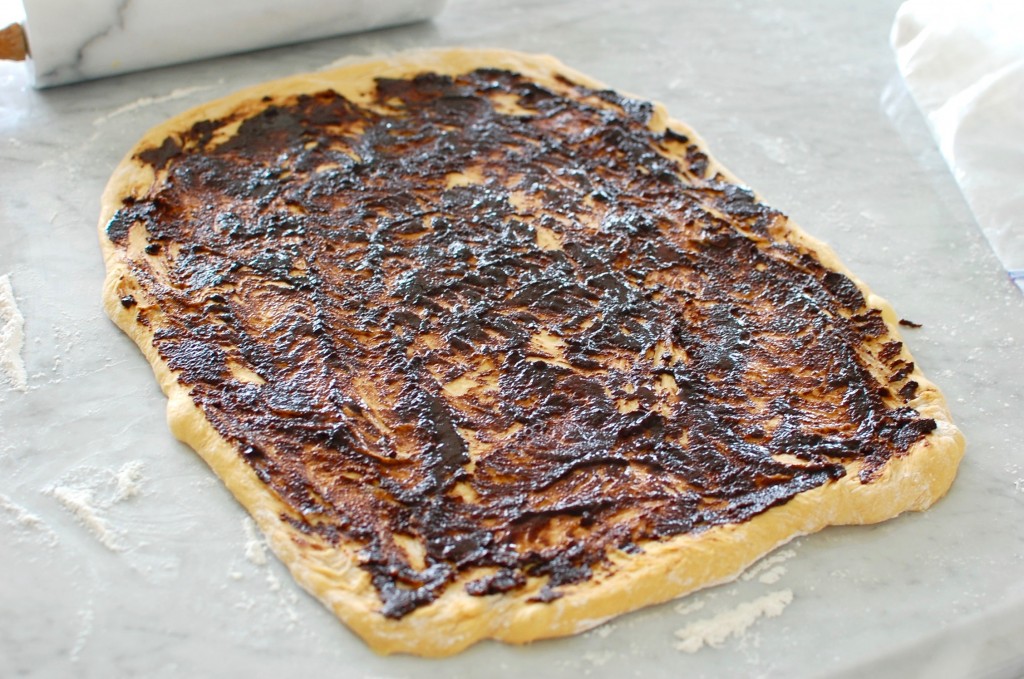 8.  Roll the dough up into a cylinder.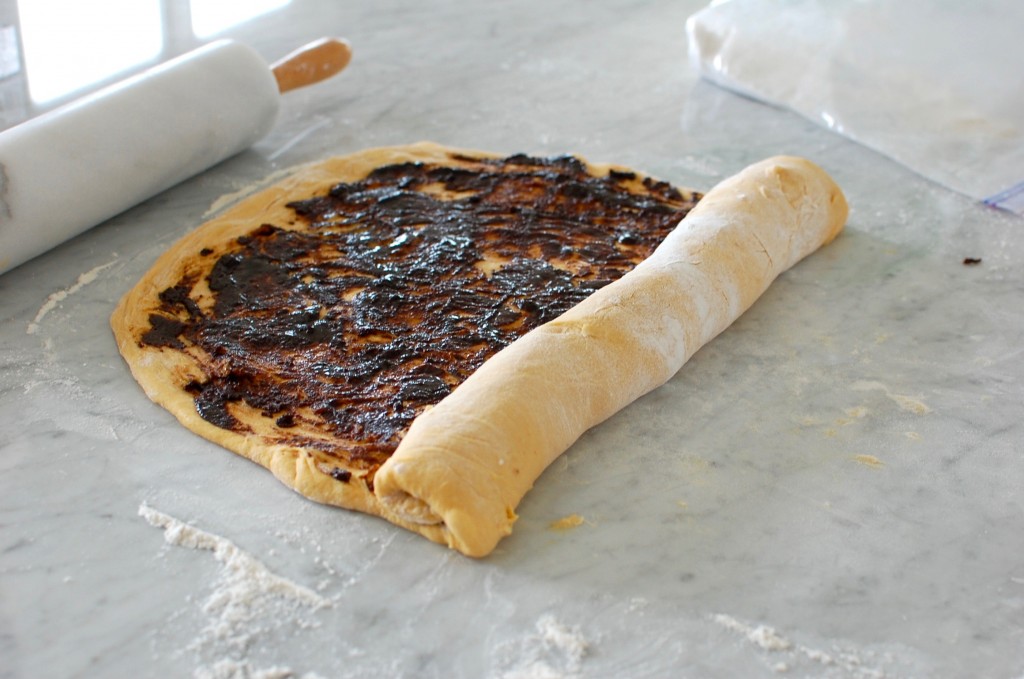 9.  Squash the cylinder, and place in a 9″ X 5″ non stick loaf pan.  Cover loosely with plastic wrap, and set in a warm place to rise for about 30 minutes.  Meanwhile, preheat the oven to 335 degrees F.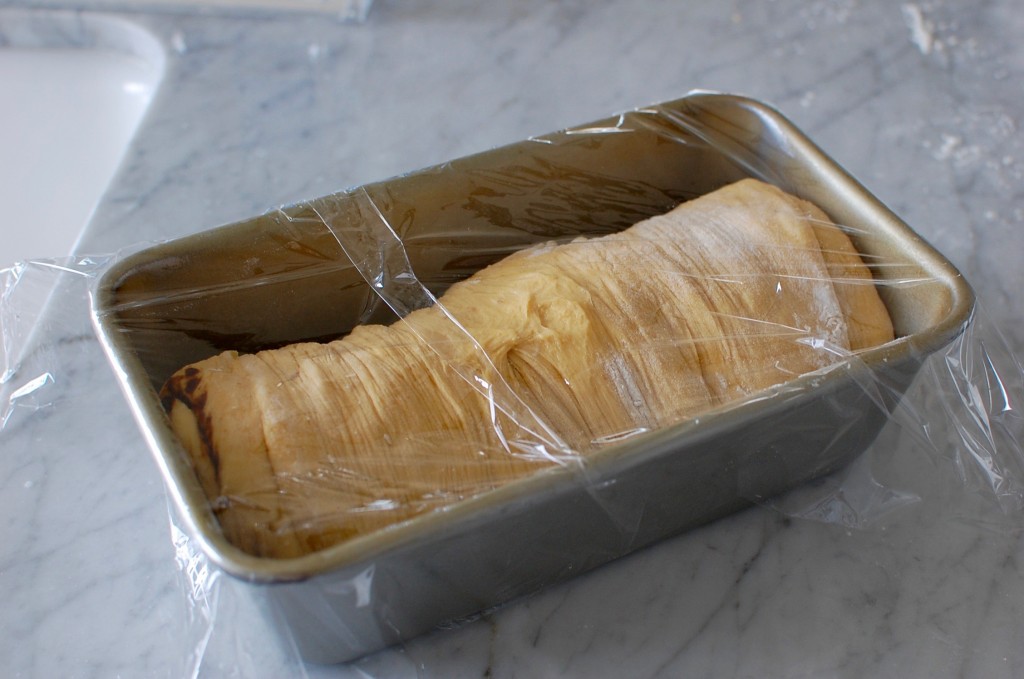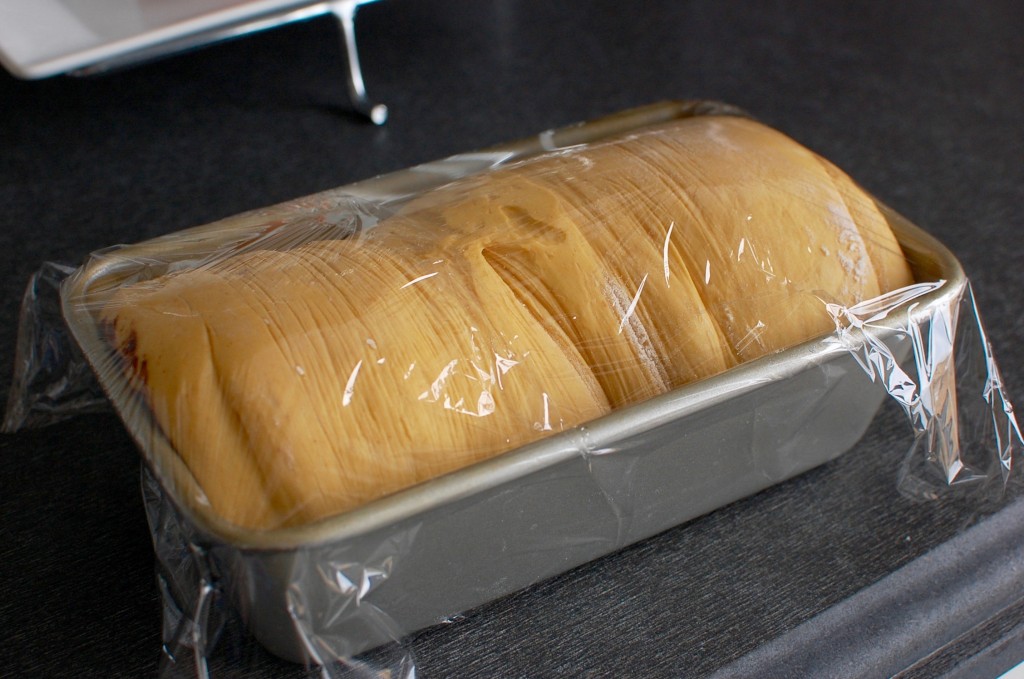 10.  Use a sharp knife to slash a long line across the top of the dough if desired (this step helps to allow the expansion of your dough while it bakes, but it didn't make for a pretty loaf top crust… next time I might skip this step).  Brush the top with egg wash (1 egg yolk + 1 T. water) if desired, then bake for 30-40 minutes.  (For me this was done closer to the 40 minute mark… I think because of the extra moisture in the cinnamon filling.)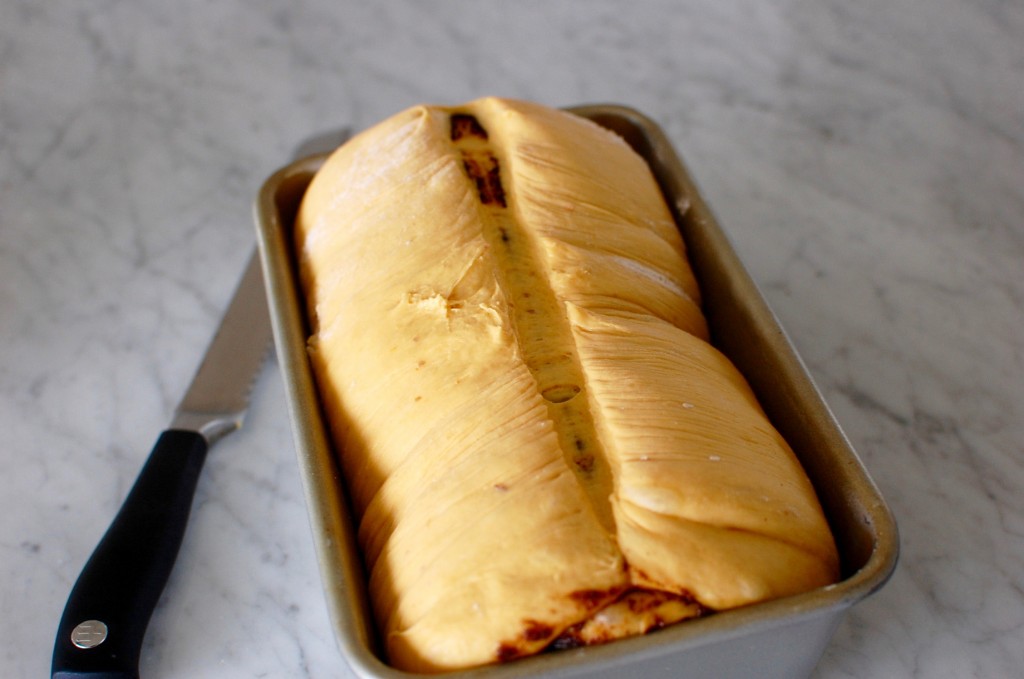 11.  Remove the loaf from the oven, allow to cool 5 minutes.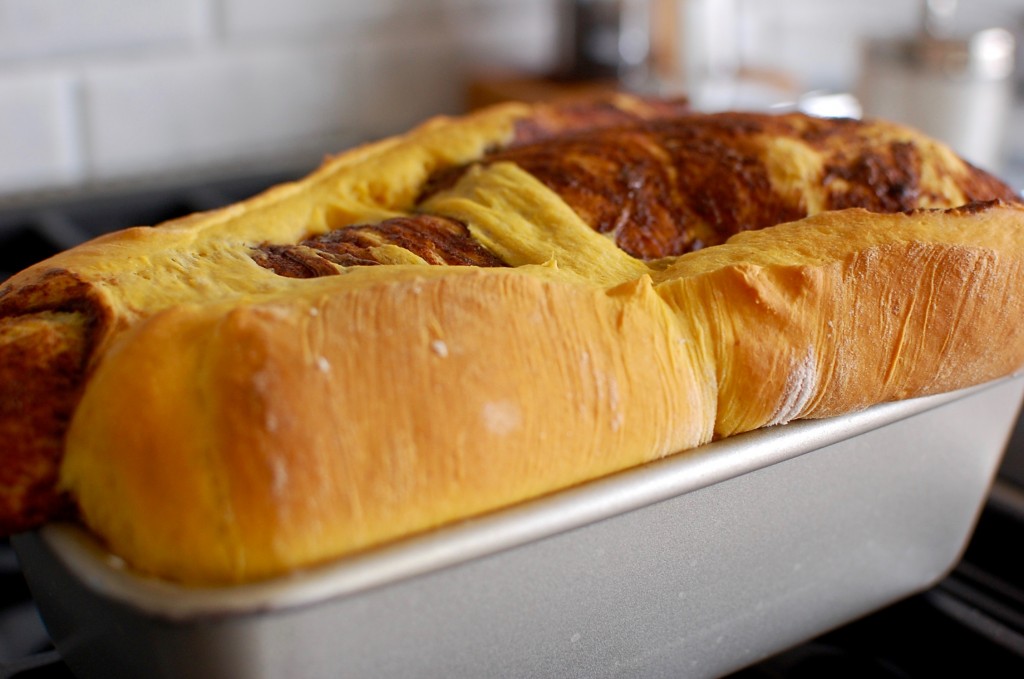 12.  Remove the loaf from the pan, then allow to cool completely before slicing.  Enjoy!